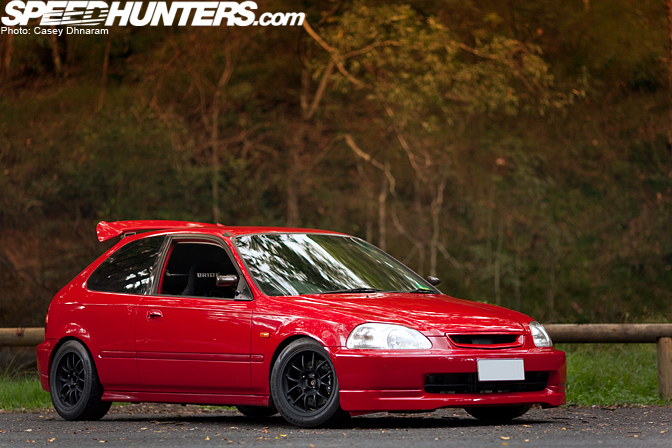 You come across some pretty interesting street cars at your local meets. Like this K-powered EK I recently spotted in Queensland, Australia.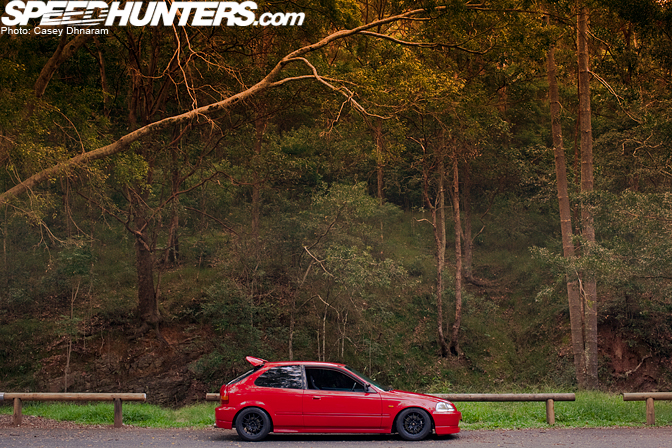 Whilst waiting for Josh to turn up I could tell he wasn't too far away by the echoing sound of VTEC goodness rasping through the mountains. A few minutes later I was faced one on one with this outstanding EK hatch. 
One thing I love about this car is that it's genuinely unique. It doesn't have tight wheel fitment and it isn't touching the ground, as that's not what this Honda is all about.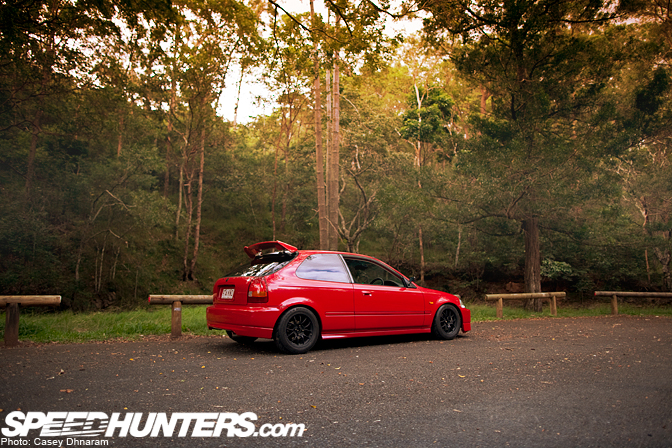 Purchasing the car in the final year of high school the little Civic has come a long way from being a standard car with fake wheels. Josh soon took his car build more seriously, and his EK became the recipient for an engine conversion and a rework of its suspension setup.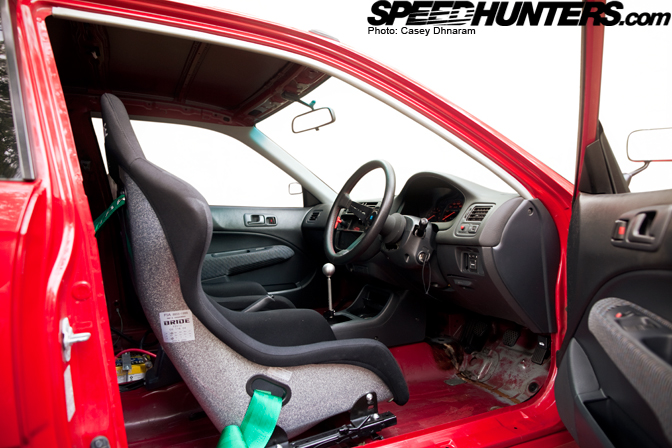 Opening the door handle, I was met with a very impressive interior.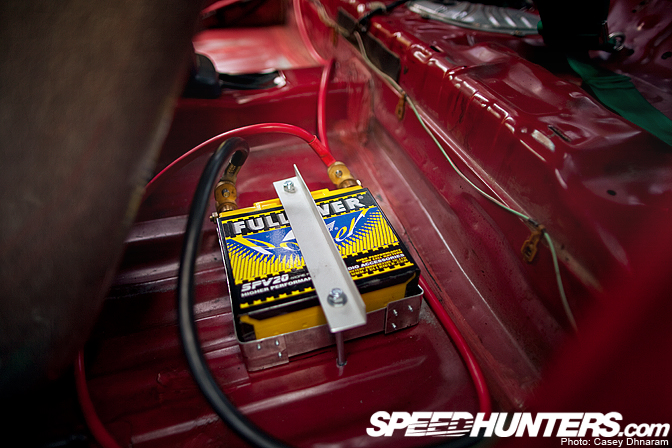 Plenty of things have been relocated and changed in here, if you take a look behind the passenger's seat you'll notice this is the new place for the battery…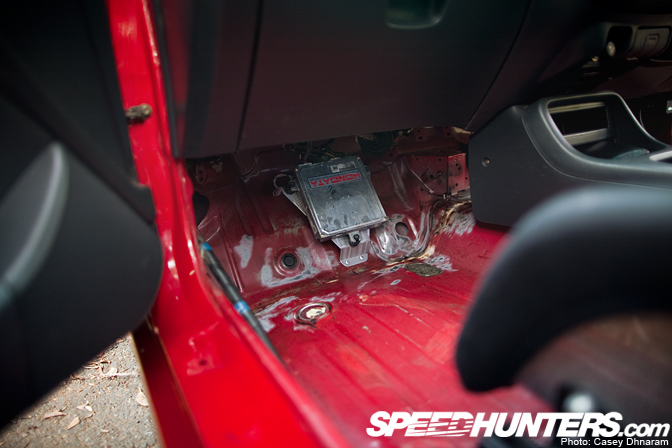 …While the ECU sits at the passenger's feet.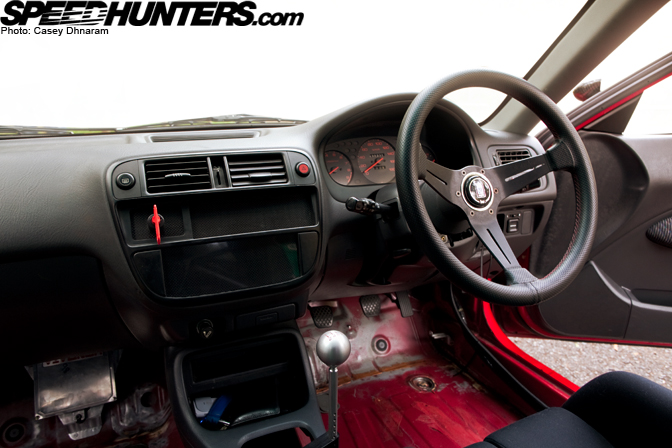 Replacing the standard steering wheel is a 350mm Nardi Deep Corn. I swear these are getting more and more popular by the day.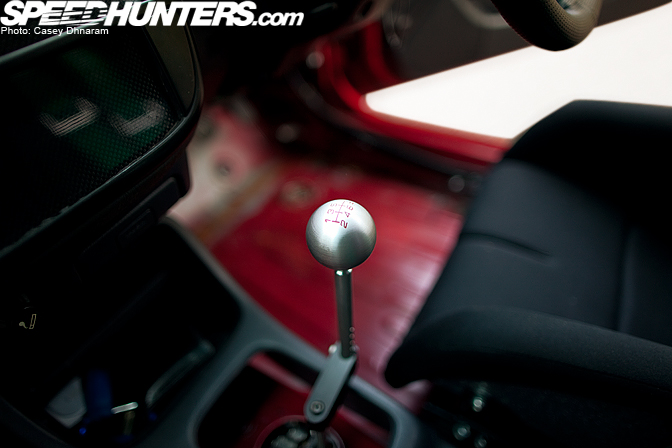 Hybrid Racing shifter box along with a OEM FD2R gear knob.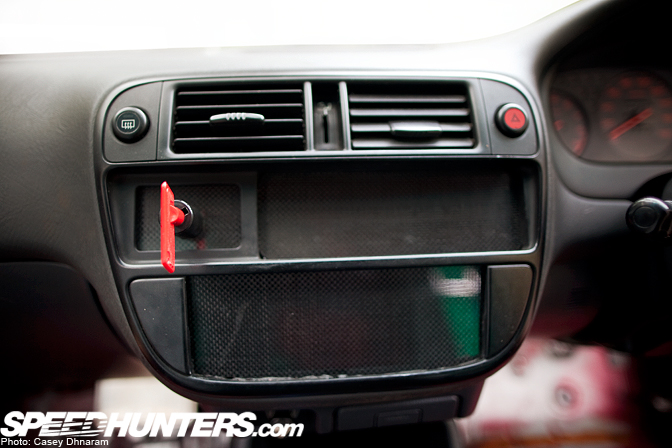 The front centre console has had all of its guts removed such as the stereo, climate control and power steering. Replacing all these components are custom carbon fibre cards.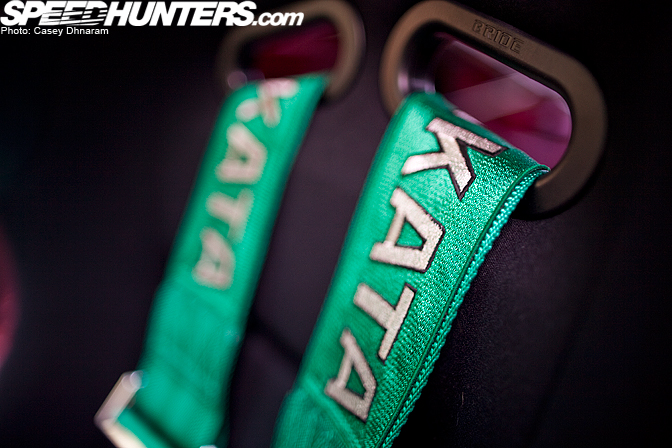 The pair of Bride Zeta IIIs go nicely with some Takata harnesses.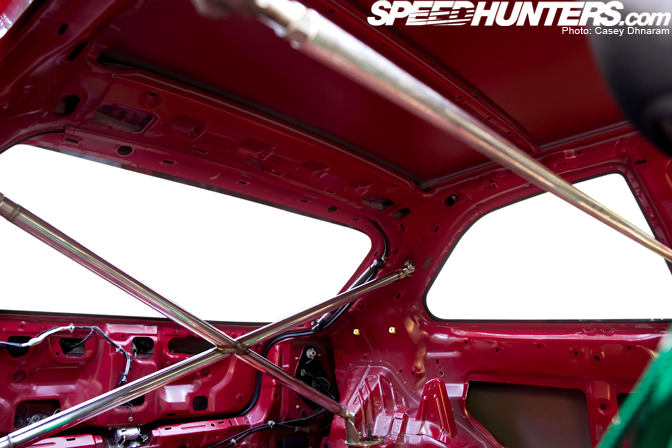 You can see why the EK now weighs less than 1000kg. Taking a look in the rear not only a genuine Miracle X bar has been installed, but a Whiteline B-pillar bar all for added rigidity.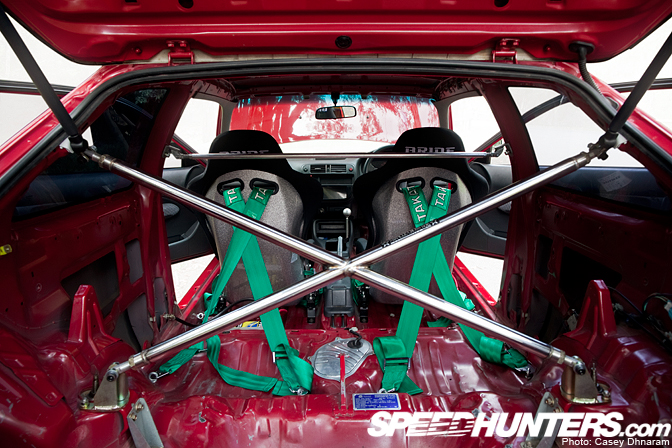 Shooting through the trunk into the front of the cabin the car looks a little more than a street car. I hope to witness this hit the track someday in the near future.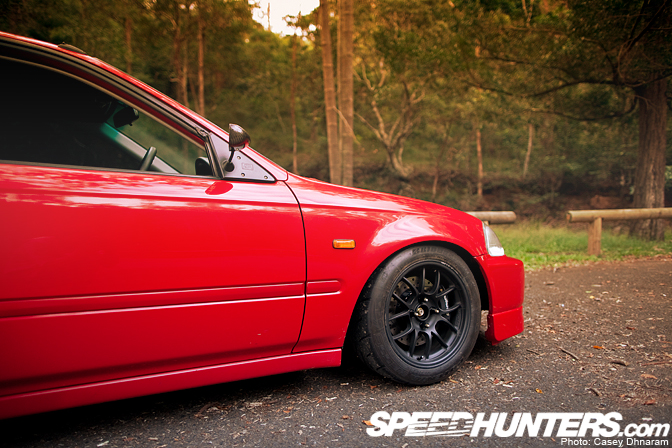 HKS Hypermax Gymkhana coilovers have been fitted both front and rear. The wheel choice are a full set of 949 Racing 6UL 15×8 +38 in matte black.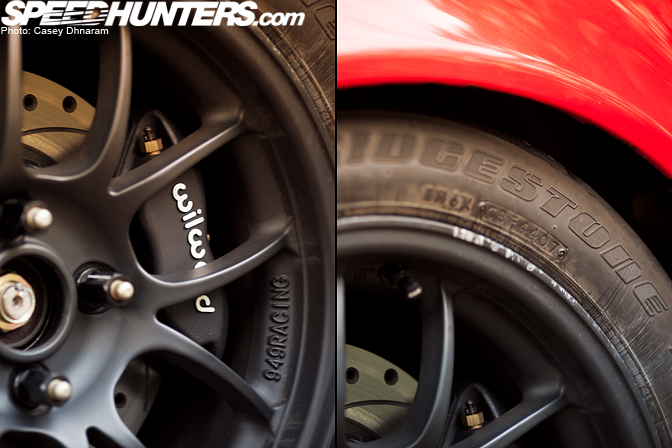 A set of Bridgestone RE55S semi-slicks in 195/50 help give the car extra grip on the track. Willwood 282mm two-piece front rotors and 4 piston front calipers will help pull this little hatch up in no time.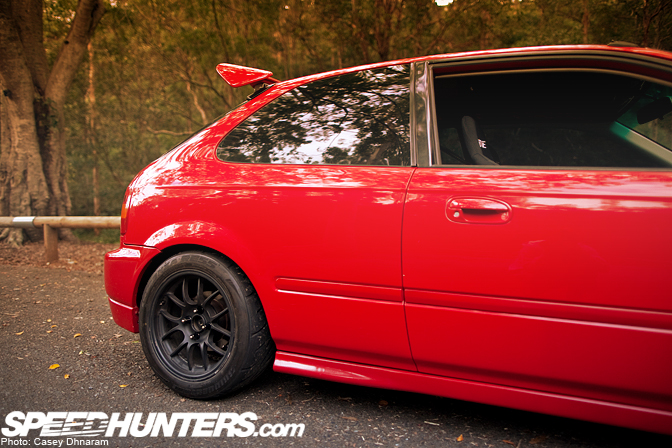 I have to say the 949 wheels look perfect when wrapped in a chunky layer of semi-slick rubber.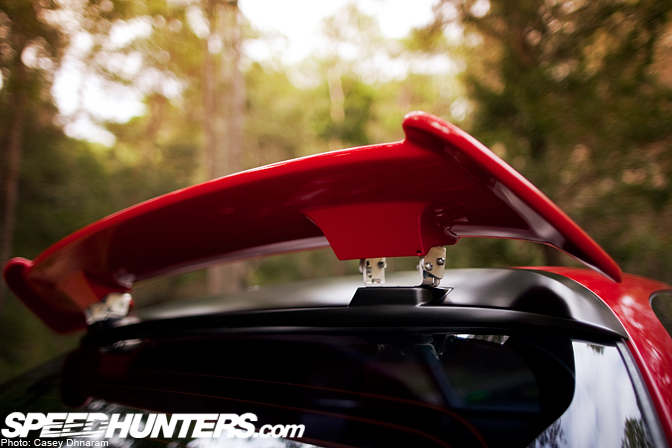 This little car is packed full of aero parts. The rear spoiler your seeing here is an EK9 wing, mounted with adjustable brackets.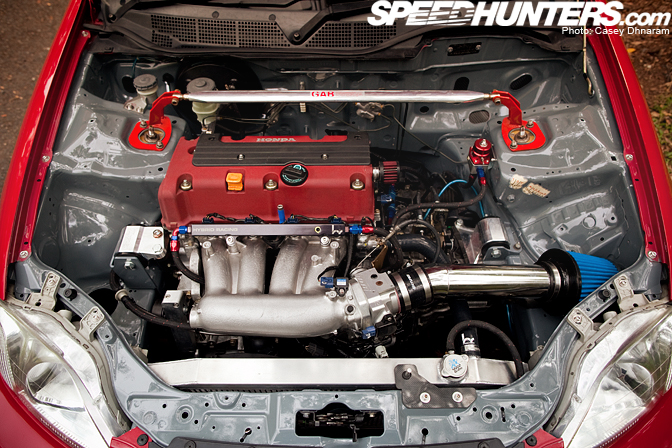 Beneath the bonnet is a K20A2 from an '04-model AUDM DC5R, while the engine bay has been resprayed in, 'Battleship Grey'.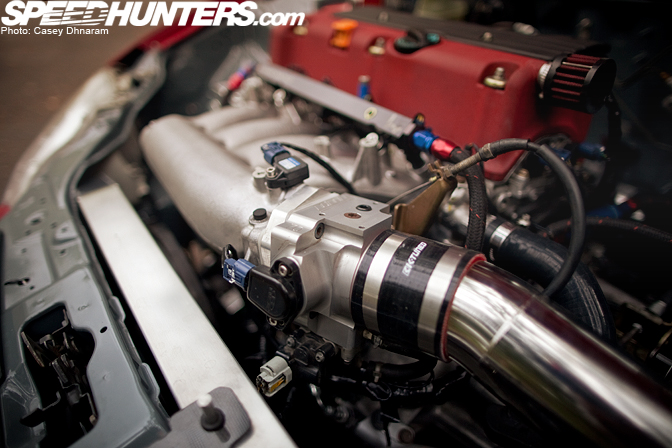 A few changes have been made to the K20A2 such as a BDL 70mm throttle body…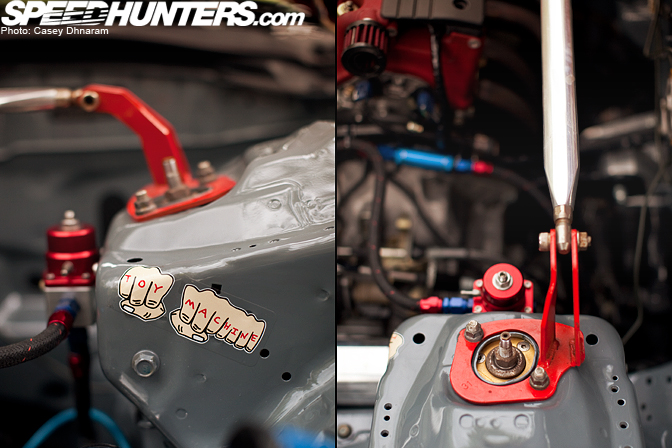 …Along with a Gab strut brace.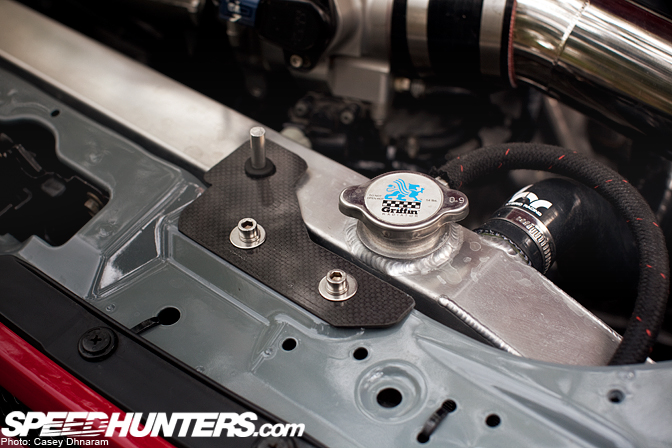 A Griffin custom radiator has been fitted, along with carbon fibre radiator stays.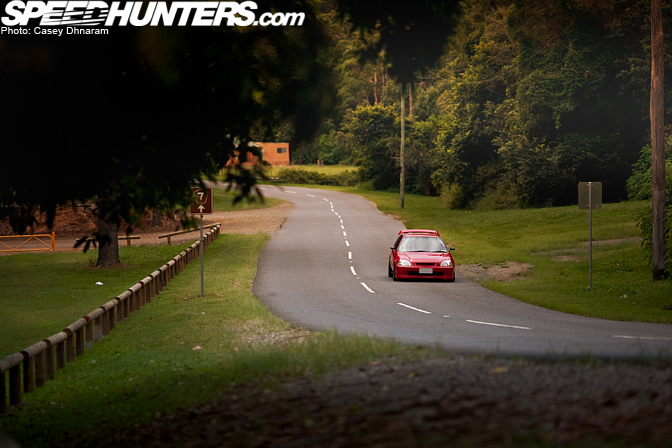 From when the car was purchased to now it's come a long way, but it doesn't stop there. Josh still has some things that aren't crossed off on the to do list such as a weld-in 6-point cage, wider rubber and oil cooler. Regardless, this EK looks like it'll be plenty of fun.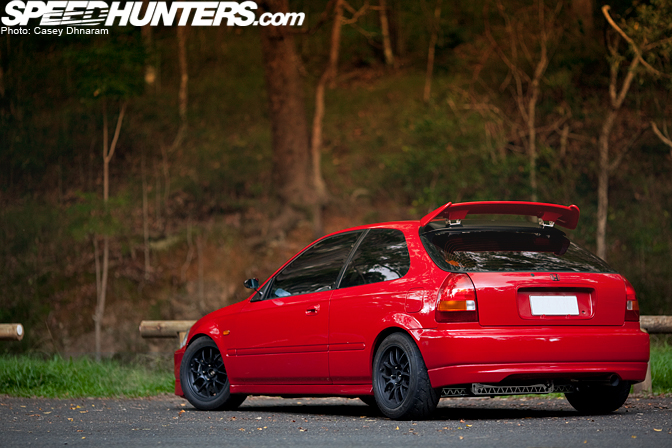 I'd like to thank Josh for his time and patience, I'm so glad I got to shoot this car as something to this quality deserves as much exposure as possible.
-Casey Dhnaram
Spec List
Exterior
-OEM EK9 front bumper
-OEM EK9 front lip
-OEM EK9 rear bumper
-OEM EK9 rear lip
-OEM EK9 grill
-OEM EK9 wing with Mr. Alex wing lifters
-APR Formula GT3 carbon fibre mirrors
-Tinted windows
-Rear wiper delete
Mechanical
-K20a2 (2004 AUDM DC5R)
-NPR3 transmission (JDM EP3R, 6 speed, OEM LSD)
-Spoon baffled sump
-RBC intake manifold (ported) (karcepts adaptor, hybrid racing thermal gaskets, hondata i/m thermal gasket)
-BDL 70mm throttle body
-ORC 390D clutch
-Hybrid Racing shifter box (OEM FD2R 6speed gear knob)
-Hybrid Racing shifter cables
-Custom fuel lines (black kevlar braided lines, speed flow fittings, EARL Inline fuel filter)
-K Tuned heater box line delete plug
-Aeromotive FPR
-Hybrid Racing fuel rail
-Hybrid Racing braided clutch line
-Karcepts a/c and p/s delete
-OEM mixed drive shafts
-DTM header (S/S, 4-1-1, 2.5" collector)
-Custom 3" stainless steel exhaust, mandrel bends (no mufflers / resonators)
-Walbro 255lph fuel pump
-Hondata K-RO ECU (Tuned@ 101 motor cafe)
-Checkered sports ECU stay
-Full-sized Griffon custom radiator to suit k-swap
-Hybrid Racing k-swap radiator hoses
-Custom polished s/s short ram intake with K tuned silicone coupling
-Battery relocated to behind the passenger seat (custom charge harness)
-Fuse box relocated to under the dash (custom charge harness)
-Freshly re-sprayed engine bay in battleship grey
-Complete headlight harness tuck
-Carbon fibre black off plates
-Carbon fibre radiator stay
-GAB front strut brace
-K-tuned heater hose delete bung
Interior
-2 x Bride ZETA III
-2 x Takata harnesses
-Bride FG driver and passenger seat rail
-Nardi 350mm Deep Corn leather steering wheel
-Genuine Miracle X bar
-Whiteline B-pillar bar
-Carbon fibre blocked off radio, climate control and clock
-Heater boxes removed
-Sound deadening removed
Suspension, Brakes & Wheels
-HKS Hypermax Gymkhana coilovers
-EG6 18mm front sway bar
-949 Racing 6UL 15×8 +38 (matt black)(949 dual valves)
-949 Racing open ended wheel nuts
-Bridgestone RE55S semi-slicks 195×50
-Willwood 282mm 2 piece front rotors
-Willwood 4 piston front callipers
-Willwood s/s braided brake lines
-Hardrace extended roll centre adjusters
-Solid poly rear trailing arm bushes
-Hardrace upper front camber arms
-Hardrace upper rear camber arms
-ARP extended wheel studs
-Function 7 sub frame brace
-Function 7 lower control arms