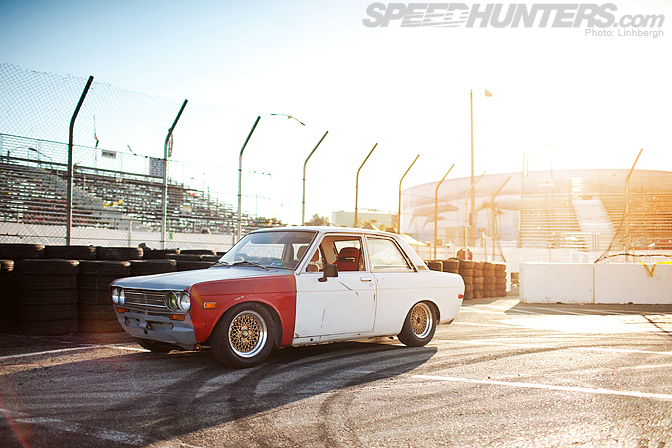 Being a part of the circus that is Formula Drift for a few years now, I had the opportunity get to know quite a few people that run the show in the background. One of these many cogs in the clockwork that is FD is starting line up guy, Luke Crowell.
During the breaks between runs, we'd talk about our lives outside of FD. Luke has always mentioned about his Cressida he's been building over the past few years, but this year, he mentioned about a Datsun 510. When he started talking about what he's exactly done with it, I knew it had to be shot for this month's Honda Month.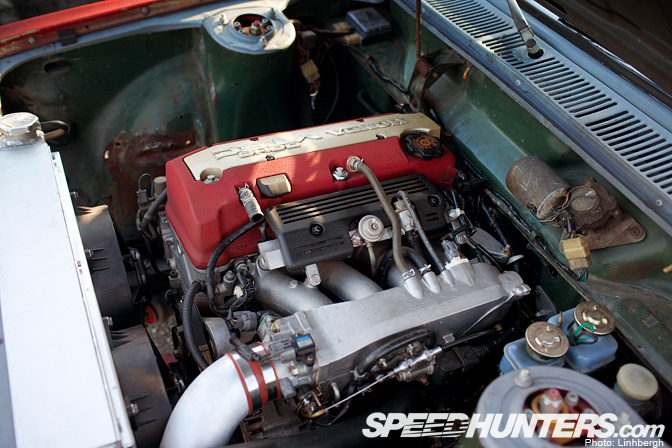 Now you're probably wondering where the Honda bit of this feature was? Guess no further. Sacrilege or not, this 510 features a 2.2L F22C from a 2005 Honda S2000 in its engine bay.  The engine bay is also home to a custom built Griffin Radiator, dual SPAL fans, and an AE86 manual steering rack. Currently, the F22C is completely stock. But then again, you really don't need much horsepower to get this little 510 moving do you?
All of the swap and fabrication for the engine was done by Performance Options in Oakland, CA. Everything else was done in Luke's garage.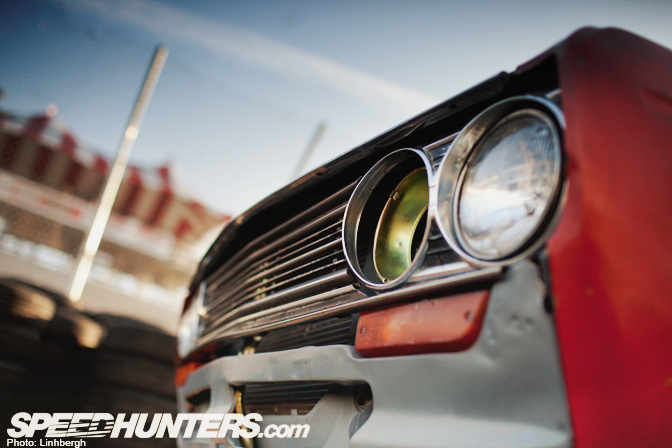 Luke removed one of the headlights for intake ducting.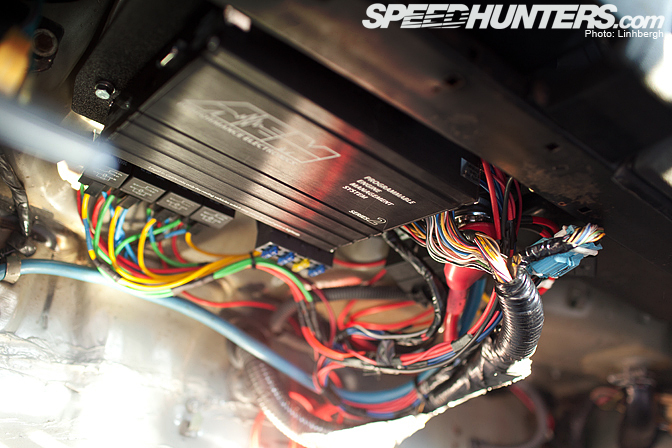 The engine uses an AEM Series 2 EMS for its engine management.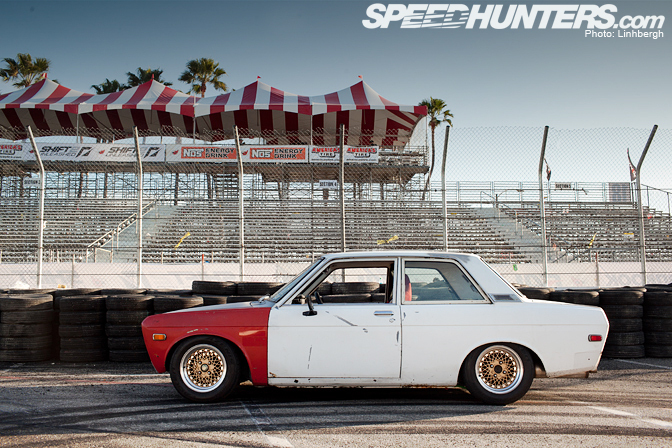 In the Vintage Auto Magazine #18, it featured a shop named "Common Snapper" from Japan. The shop built an F20 powered Datsun 510 built and since then, it was Luke's dream to build a car similar to the one he saw in the magazine.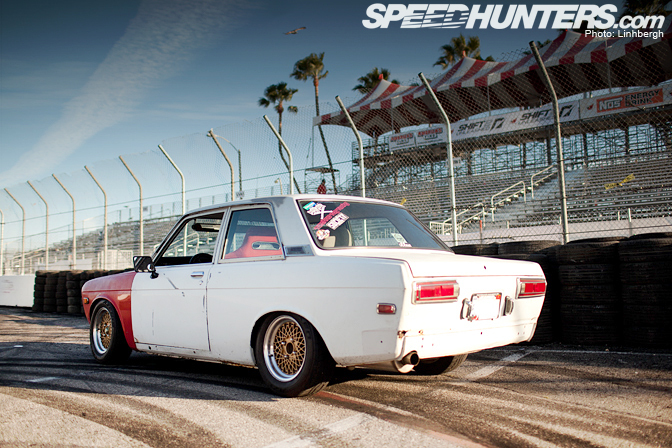 To make a long story short, he bought this 1971 Datsun 510 coupe and not too long after, the Mikunis that were on the stock engine caught fire. Thankfully, it wasn't a bad fire and an extinguisher wasn't far. The car was savable. 
Not long after, Luke and his wife, Lily, bought a house in Northern California and received a tax credit from the government and, thusly, project began.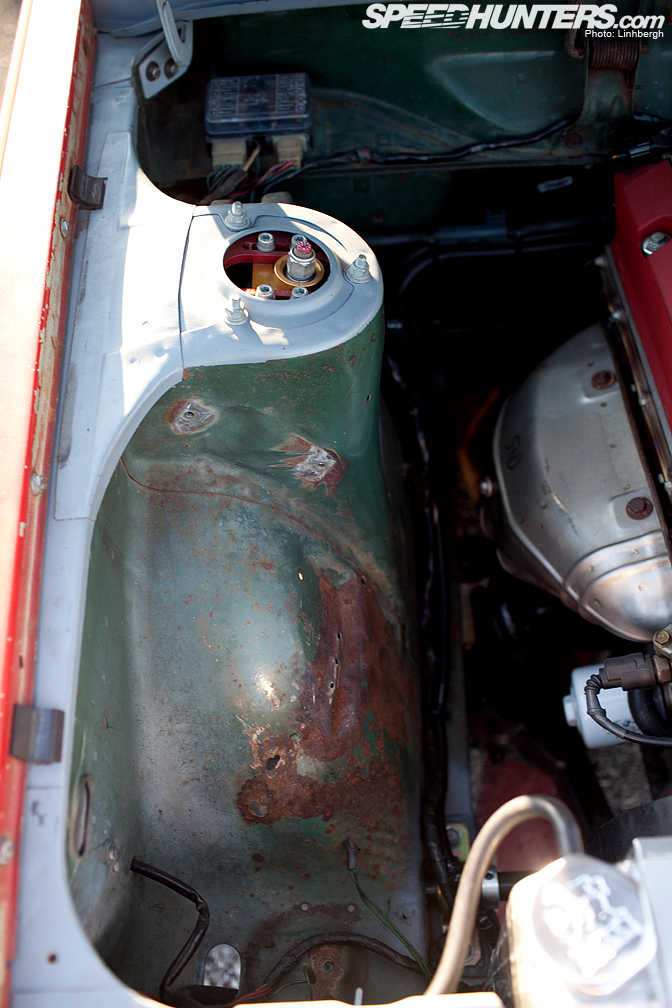 The car has seen a complete suspension overhaul starting with Techno Toy Tuning 280ZX front coil overs and camber plates.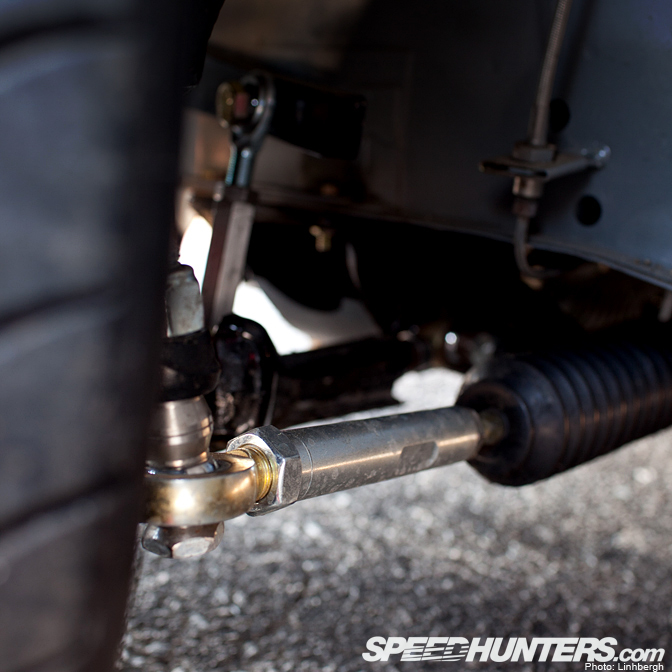 Next, a set of AE86 adjustable tie rods, 510 adjustable TC rods…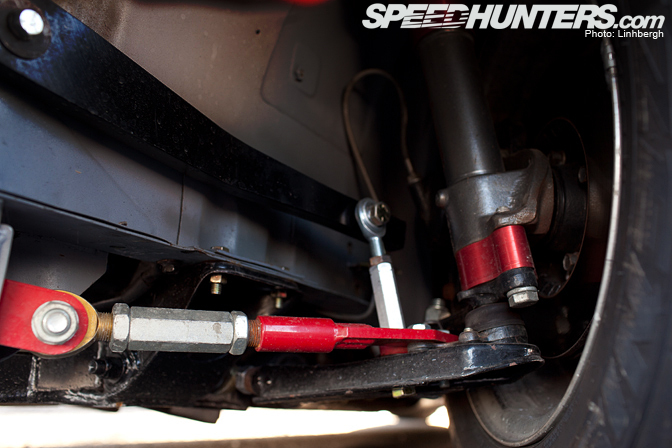 …custom spline swaybar from Speedway Engineering, Ermish racing Front adjustable control arms, and a set of bump steer spacers were installed
The rear has its own set of coilovers, a slotted cross member and a R180 welded differential.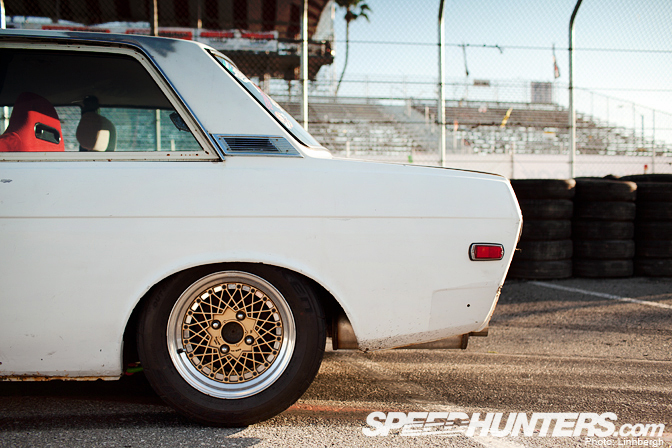 A set of 14 inch vintage Volk mesh wheels dons all four corners of the car…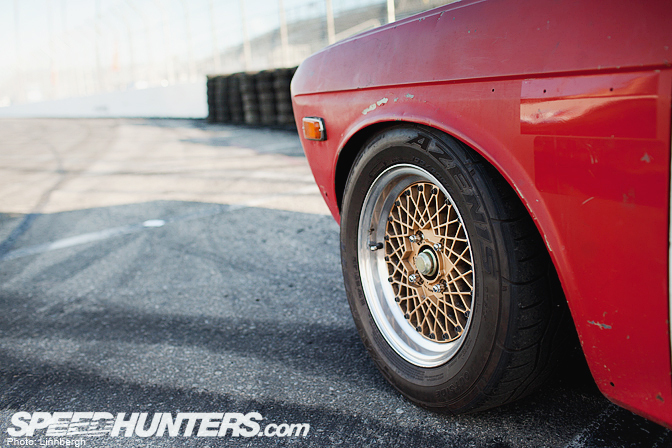 … and are wrapped in a set of 195/60R14 Falken RT615K's.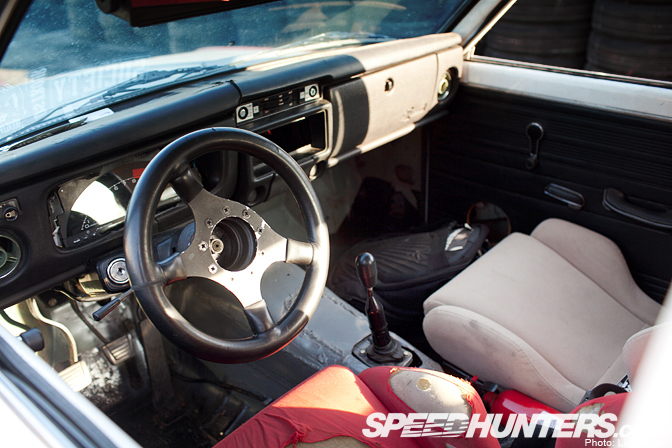 The interior of the car has been stripped out.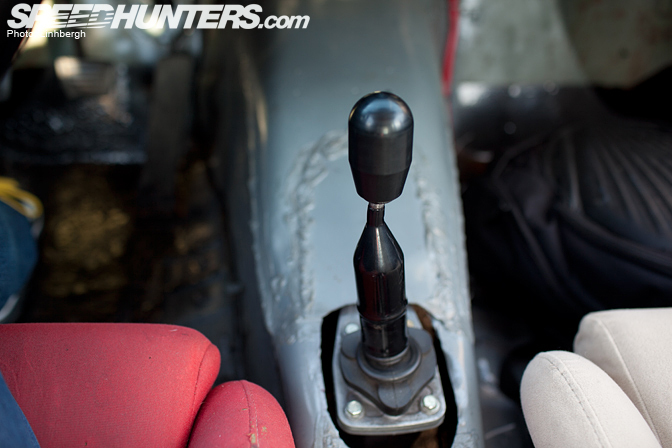 The six speed transmission also came from an '05 S2000. To accommodate the new transmission, a hole had to be cut out lower down from the transmission tunnel and the original hole plugged.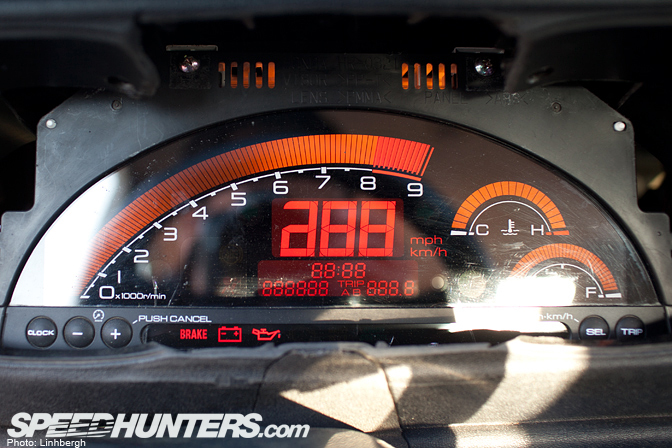 Other AP2 bits? This working digital gauge cluster. Though not everything works….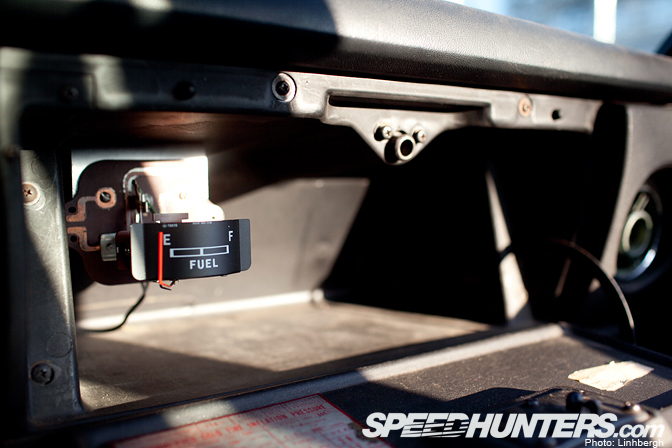 Luke was unable to get the AP2's digital dash to display a fuel tank reading so a much more analog solution was conjured up. Yup, that's in the glove compartment!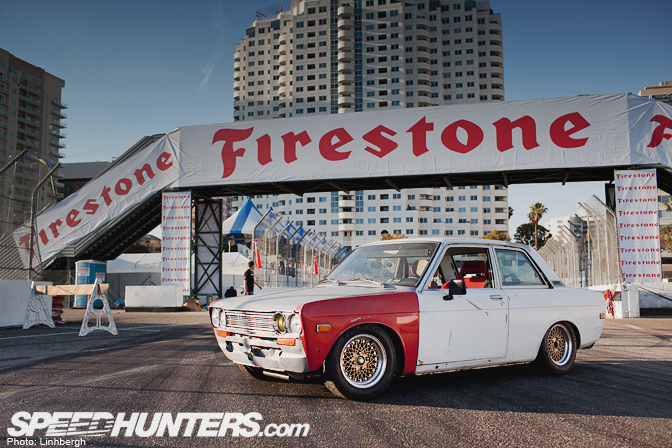 Luke could've built a really nice and clean 510 but opted to just focus on the performance aspect as he knew he was going to beat it up while drifting when he takes it to the track. As you can probably tell by how this car looks, Luke leans towards the function > form side of the gearhead spectrum.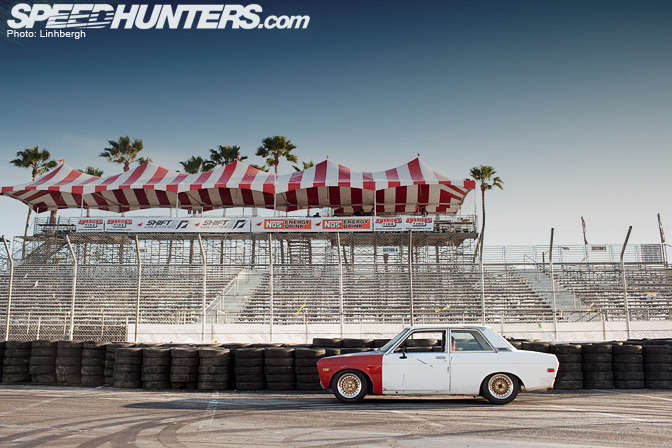 After seeing this car for what it is; its F22C, its gutted interior, and coilover suspension, its hard to believe that Luke drove the car to Long Beach from Northern California to attend the first round of Formula Drift. That's a good 400 miles of driving without AC or protection from the heat that builds up from the transmission!
But if there's one thing we love at Speedhunters more than anything, it's the fact of knowing that a car actually gets to spread its wings out and do what it was designed to do: to be driven.
-Linhbergh