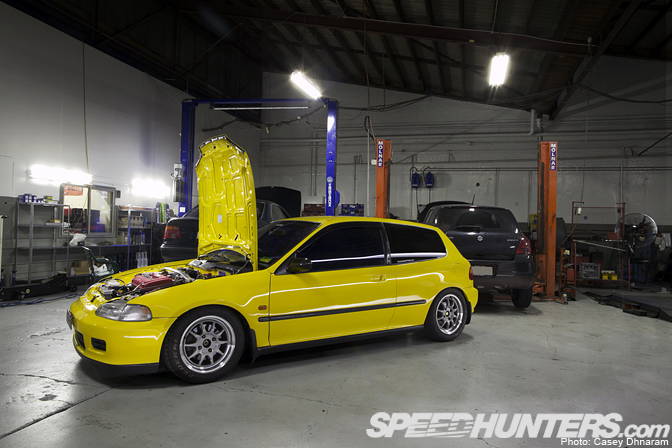 To kick off my contribution to Honda month I'd like to introduce you to Alex Pope's 1994 EG Civic. Although the chassis is nearly two decades old, they are still incredibly popular, and a big reason for this is how versatile they are.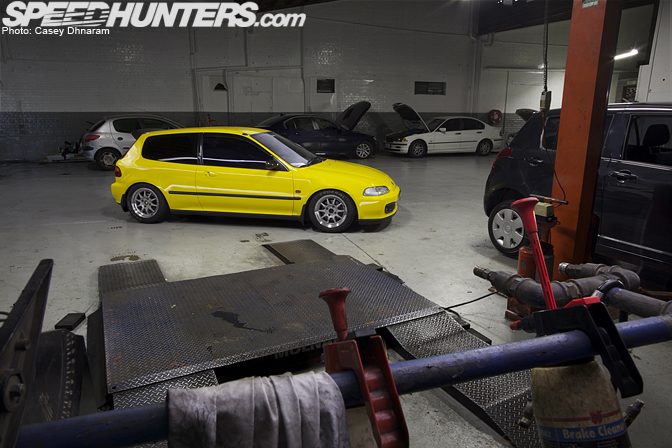 For a person that has been into Hondas, more specifically Civics it's great to see Alex building yet another EG. This particular one was a personal import and is actually a JDM chassis. The Civic serves as Alex's daily driver, but it also sees regular track action as well. Although not extreme compared to some of the other builds, this is a good example of a cleanly modified EG.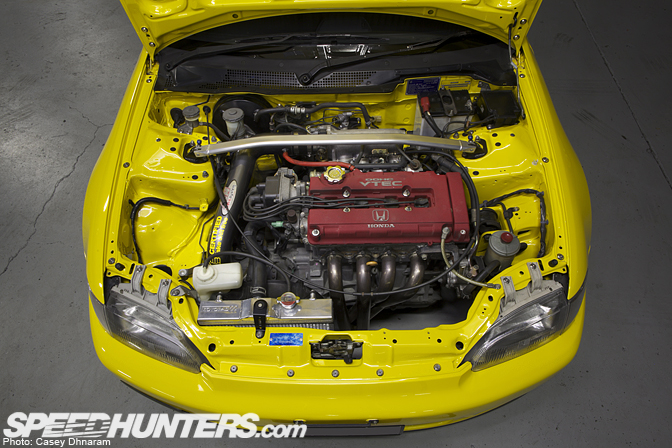 Lets get straight to the heart of this little beast. The standard motor has been replaced with a B18C and transmission from JDM Integra Type R.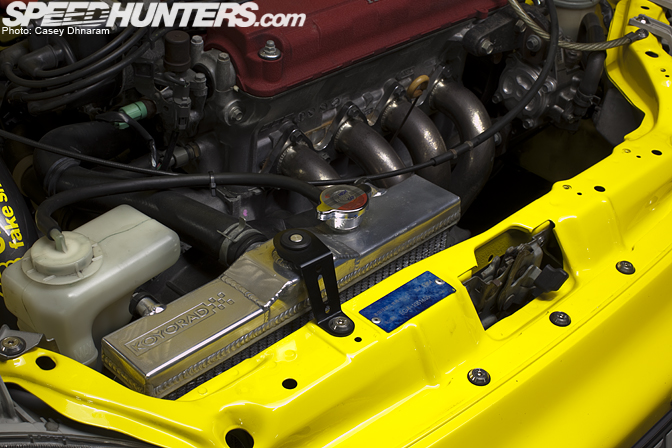 A Koyo radiator has also been installed to keep high temperatures to a minimum.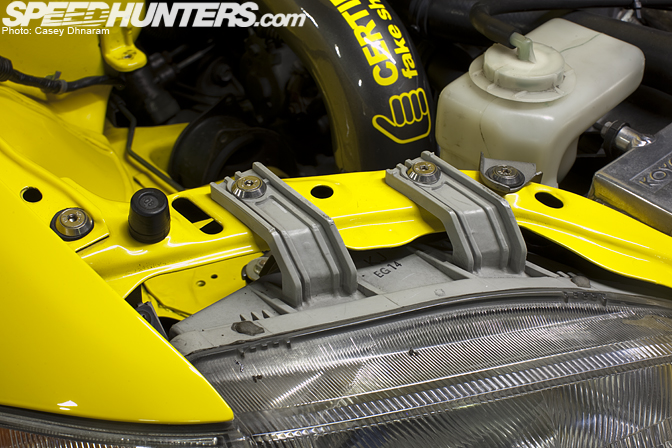 Taking a closer look around the engine bay you'll notice things are very clean and organised. Notice the aftermarket bolts and washers?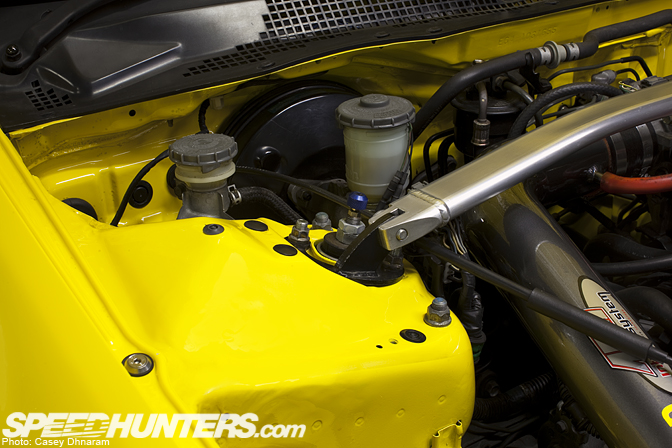 Beneath the EG are Endless Zeal Function X coilovers. The spring rates are 14/kgmm up front and 10kg/mm at the rear… quite stiff for a little car!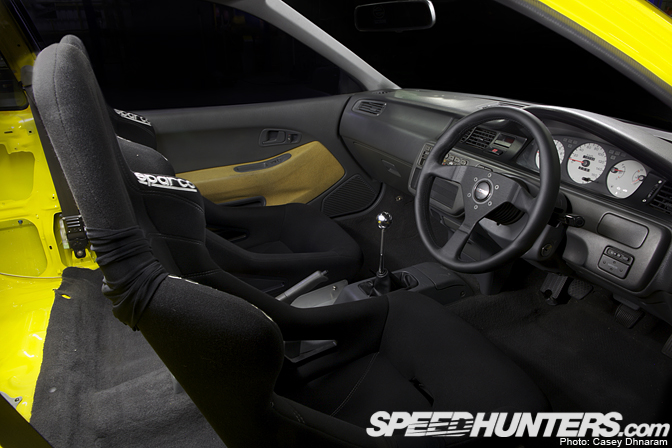 Just like the rest of the car the interior is super clean. The whole cabin has been stripped almost completely. A pair of Sparco Sprint seats replace the standard ones nicely along with a Momo Monte Carlo steering wheel.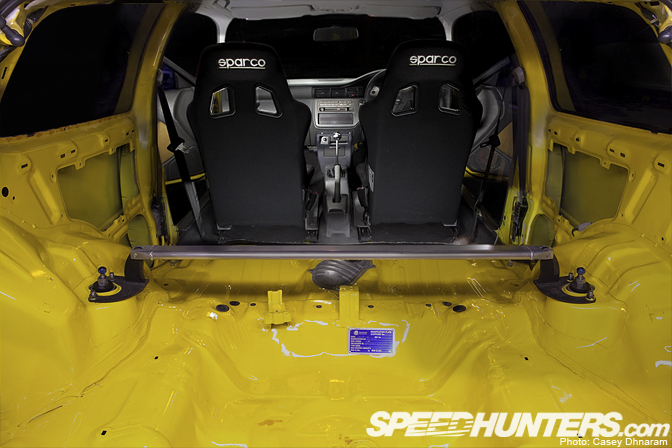 As for the rear, well there isn't too much back here apart from a Spoon strut bar.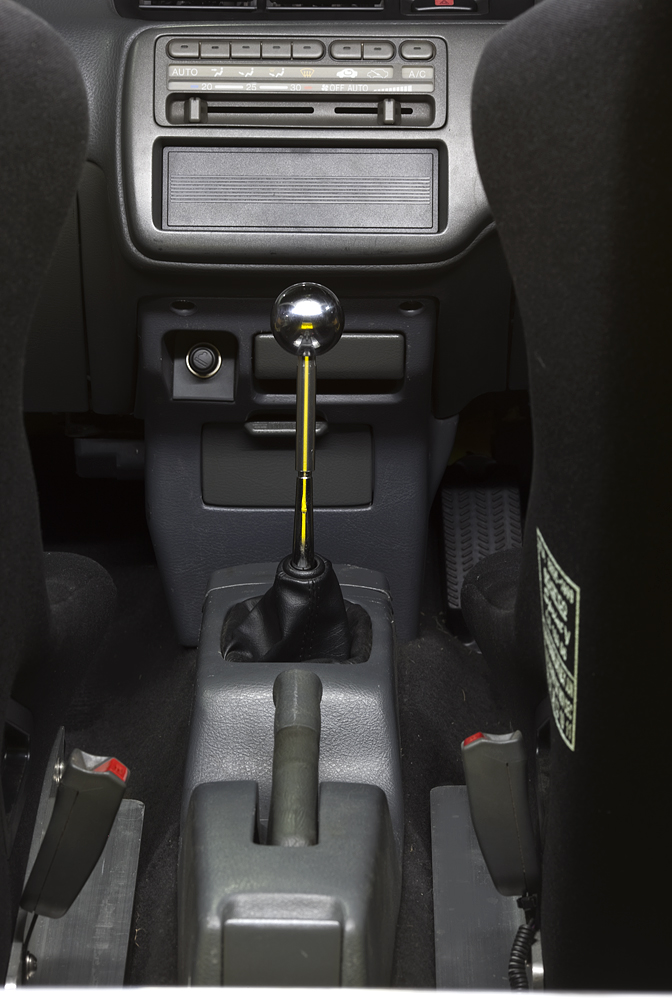 Another thing I noticed in the interior was the Circuit Hero shifter extender. The audio system has also been deleted.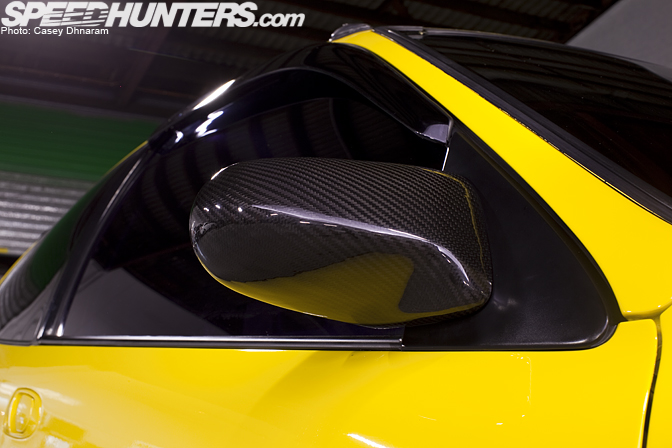 The car has Spoon parts left right and centre, such as these carbon fibre mirrors and rear spoiler.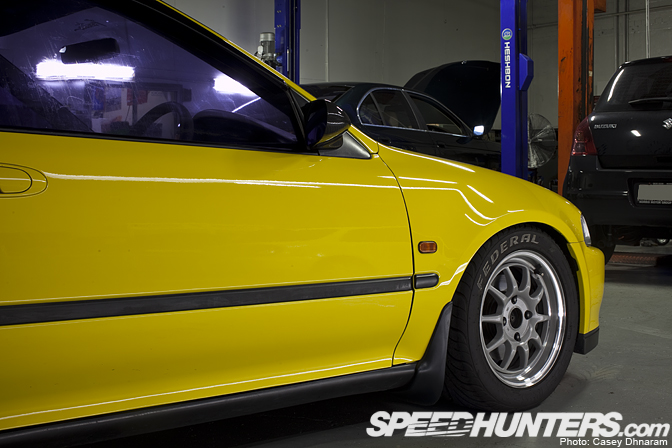 Alex has been through many sets of wheels on this car and actually has more coming from Japan. The current ones sitting fitted are GAB Sports, 15×7 +45…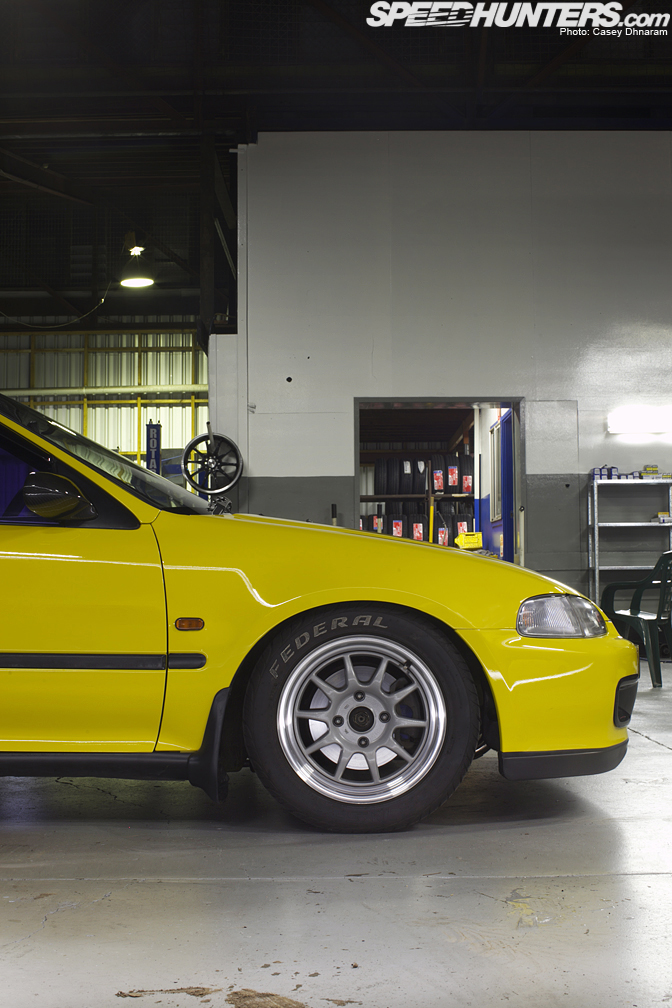 …Wrapped in 205/50/15 Federal 595RS-R rubber.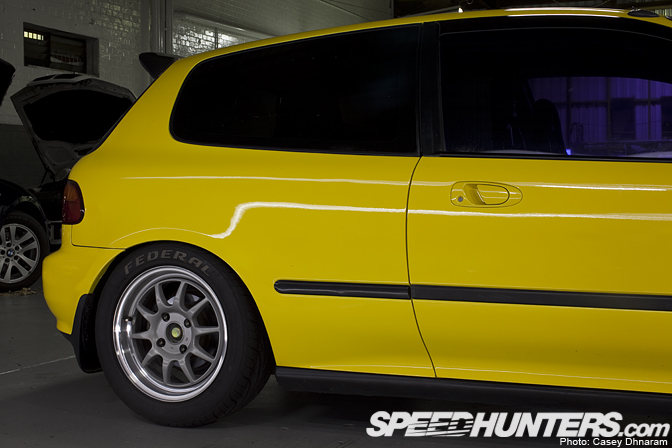 In the rear the exact same size and rubber have been applied. The brakes have also been swapped with those from a JDM Integra Type R. As the donor was a '96 model, the stud pattern is now 4×114.3, which opens up a whole selection of wheel choices.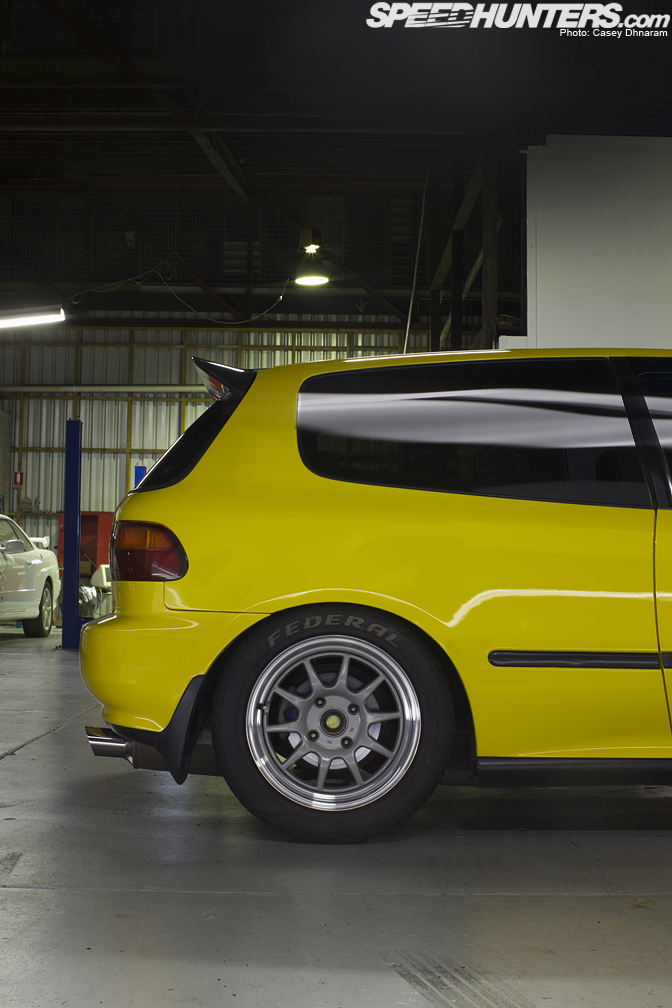 Project Mu rotors and Endless MX72 Pads front and rear have also been fitted to help out on the track.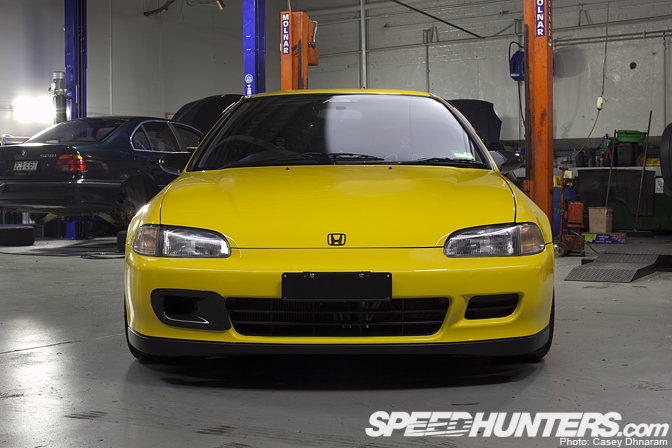 Directly straight on you'll notice a J's racing CF intake duct and if you look closely enough you may notice the extractors through the front grill.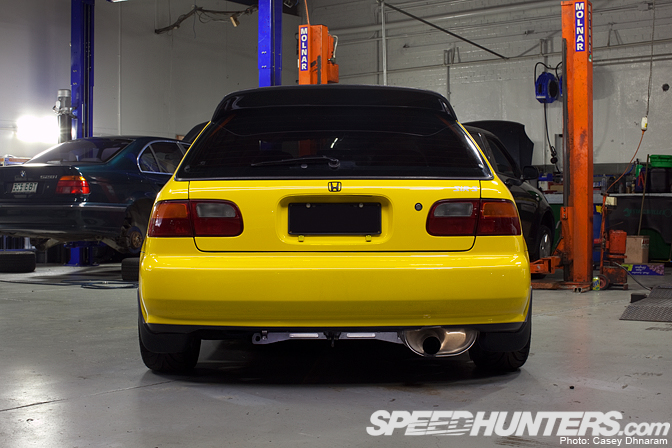 At the rear you can also see the ASR rear subframe brace peeking out from beneath.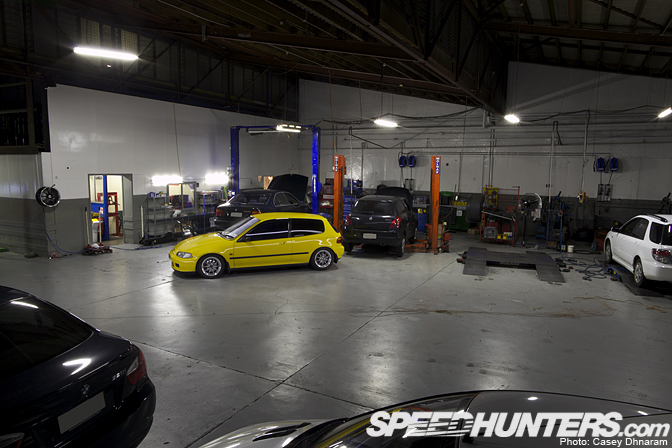 I have to admit I'd be a happy person to not only have this as a track car but a daily driver. I think Alex has done really well modifying this little Civic and even better it doesn't attract any attention from the Authorities!
I'd like to thank both Alex for allowing me to feature the car and Chuong for giving me access to the workshop for the shoot, it means a lot guys!
-Casey Dhnaram