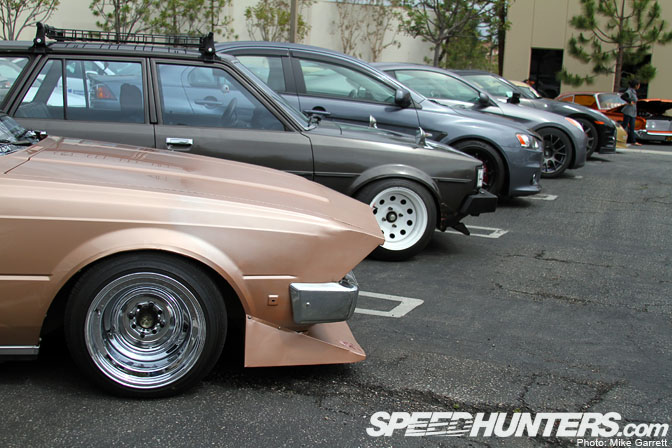 NFS SoCal was a truly unique event for me. Not only would I be shooting the event for Speedhunters, I would be playing a big part in organization and recruiting cars for the event. Since Linhbergh was busy Speedhunting in Texas and Charles was in BC finishing up some SHIFT 2 work, I would be the lone and official Speedhunters representative at the event. Now I'm used to taking photos, but recruiting and being a "representative"? That was new territory for me.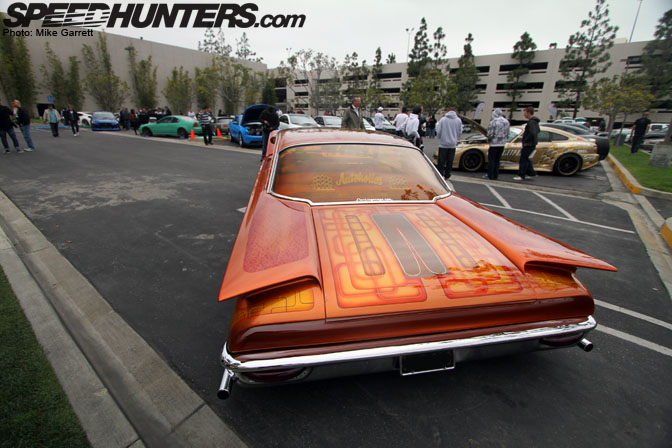 Teaming up with our friends from Source Interlink Media, we knew had the opportunity to do something special with this event. It's not everday that SIM opens up its facilitily to the public. Early on it was decided that Speedhunters and Source Interlink would split the duties of recruiting vehicles in order to assemble a diverse and high quality selection of cars. With a couple weeks to go before the event, Linhbergh and I got to work recruiting some cool machines to come out.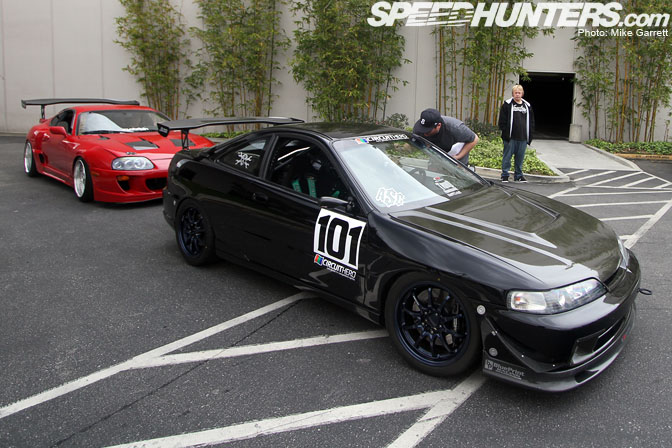 While not all of our picks were able to make it out, the ones that did – along with the Source Interlink selections made for a very impressive lineup. I snapped this photo on Saturday morning as the cars began to roll in. That's Elliott Moran from Source Interlink there in the baseball cap, he did a fine job of handling the logisitics for the meet and getting everyone placed.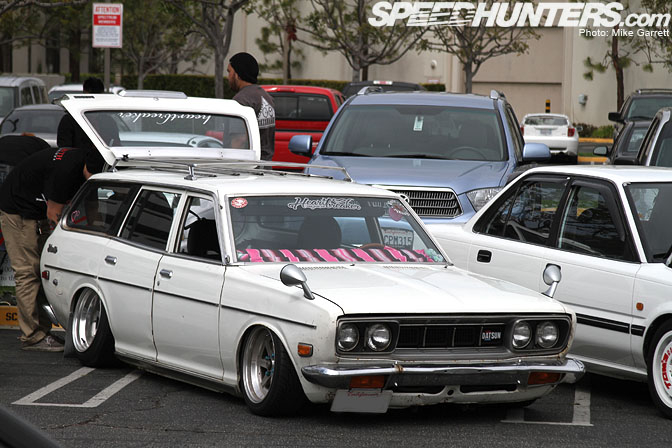 One of the first people I contacted was Justin Hrenko, the owner of the slammed Datsun 610 Wagon that I'm sure youre familiar with. Justin drove the 610 in sketchy weather all the way down from the SF Bay Area to take part in our event. Thanks a lot man!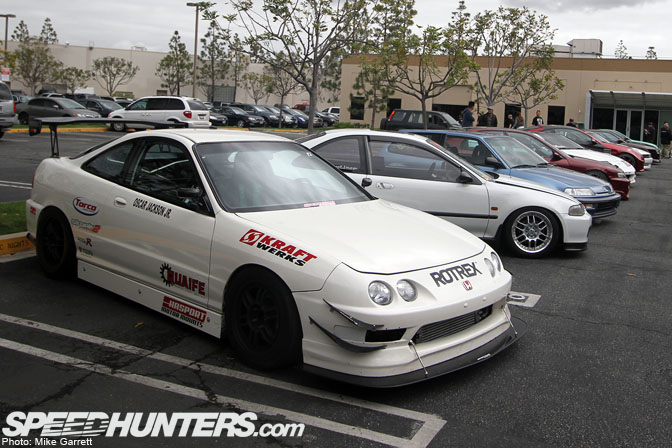 Since we were celebrating the launch of NFS SHIFT 2 UNLEASHED, we wanted to make sure to have plenty of track-oriented cars out there as well. The Sport Car Motion crew brought their DC2 Integra out to represent the motorsport scene.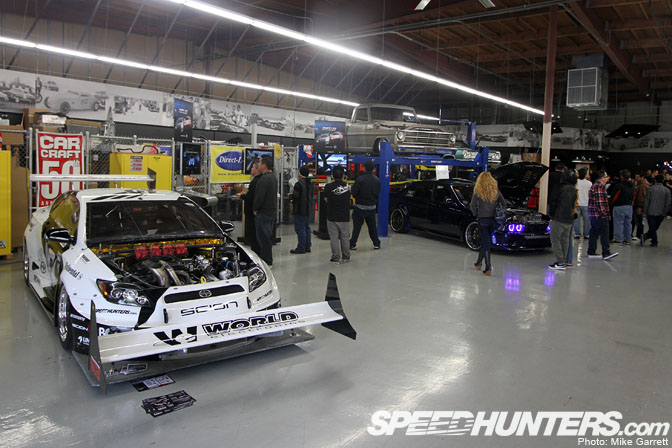 Speaking of the game, the car meet was only part of the event. Inside the Source Interlink garage area and photo studio, there were several displays set up where people could get a hands-on look at SHIFT 2.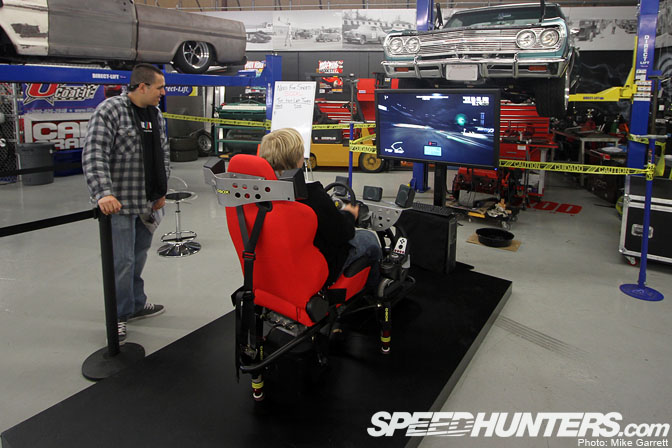 You haven't experienced a driving sim until you've tried it on a D-Box. With full movement, it was probably better to try one of these before enjoying the tacos that were being served for lunch…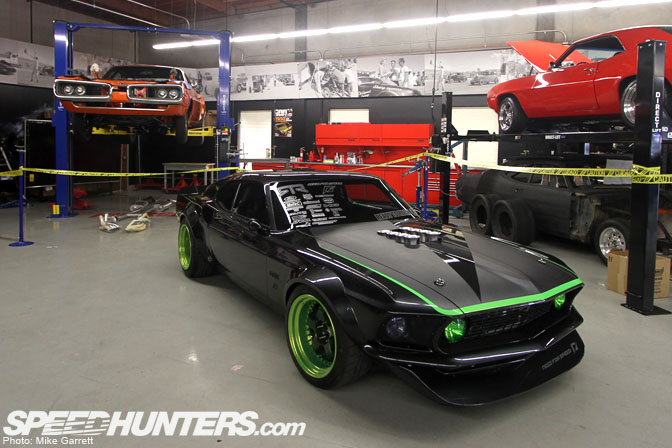 The event also marked the first public showing of the RTR-X since last year's SEMA Show.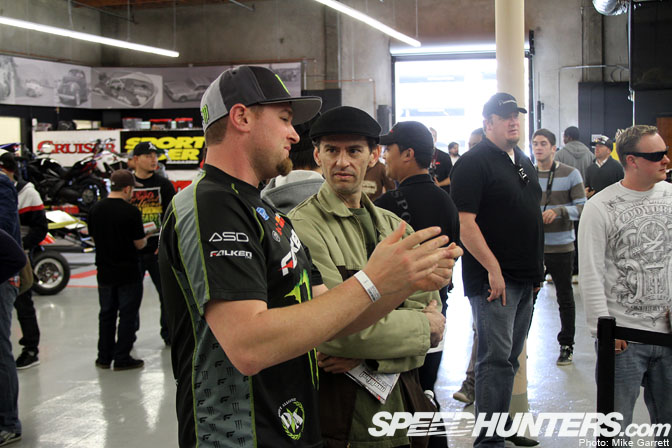 Vaughn Gittin Jr. was there to show off the RTR-X and chat with people with the game, which he's doing in this shot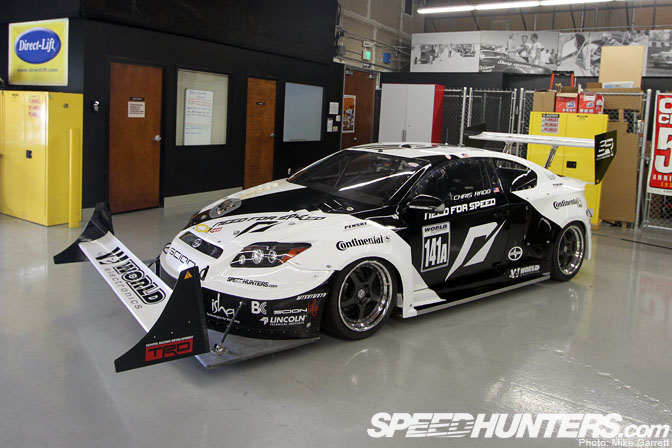 Chris Rado's Team NFS tC could also be found on display in the Source Interlink garage.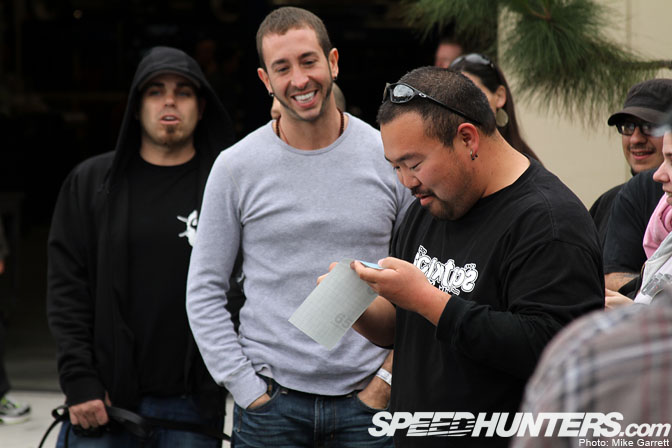 There's Mr. Rado receiving an honorary sticker from a group of local Scion owners.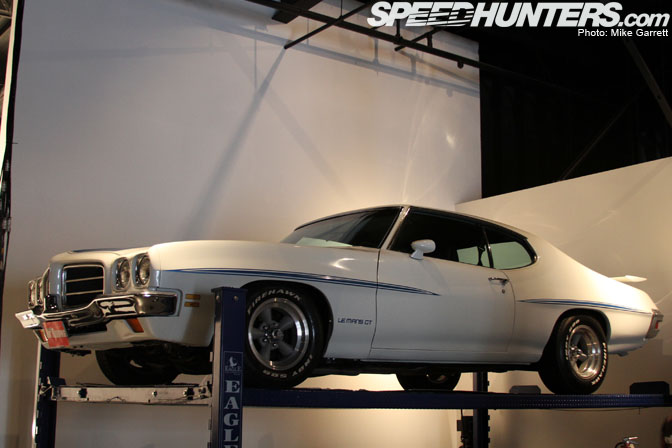 This actually marked my first visit to the Source Interlink HQ. It's quite a place. There were magazine project cars spread all over, this Pontiac LeMans belongs to Popular Hot Rodding Magazine.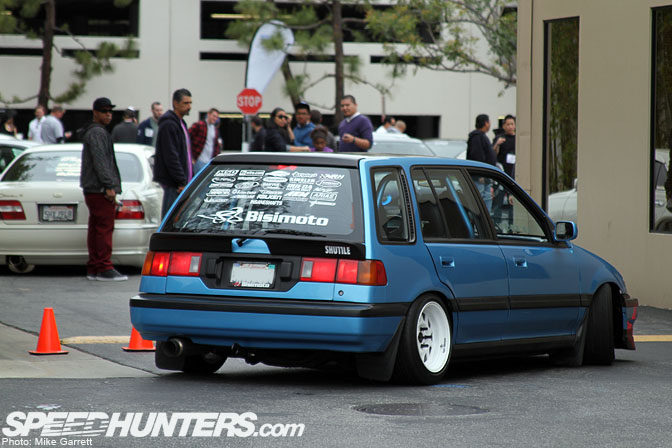 Back outside, we see the Bisimoto Honda Civic Shuttle – another one of the Speedhunters selections for the event.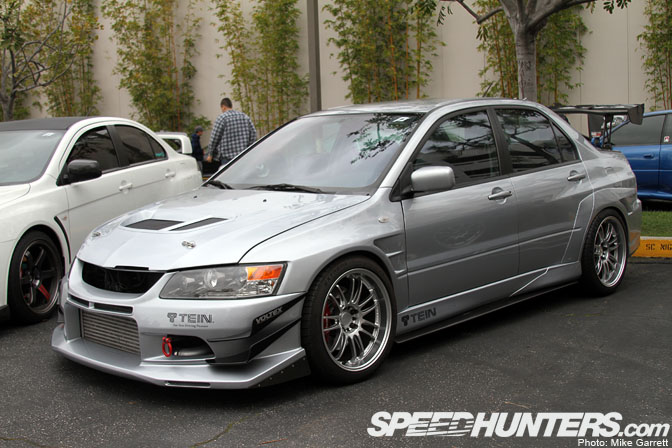 The Evos were out in big numbers as well. You can never go wrong with Voltex aero.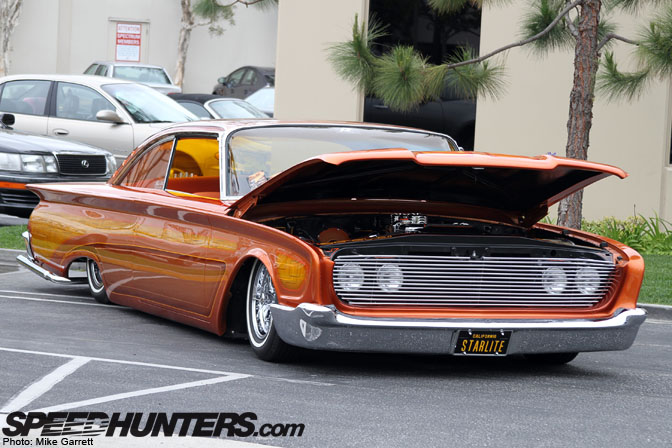 Our friend Jack from Starlite Rod & Kustom even brought out his bitchin' Ford Starliner. I heard several people say this was their favorite car of the meet, if you saw this thing in person you just might agree.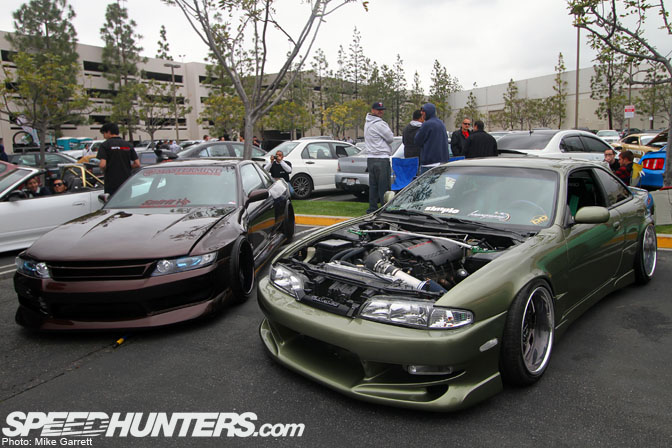 We also had a good number of S-chassis cars out there. These two were both sporting LSx swaps.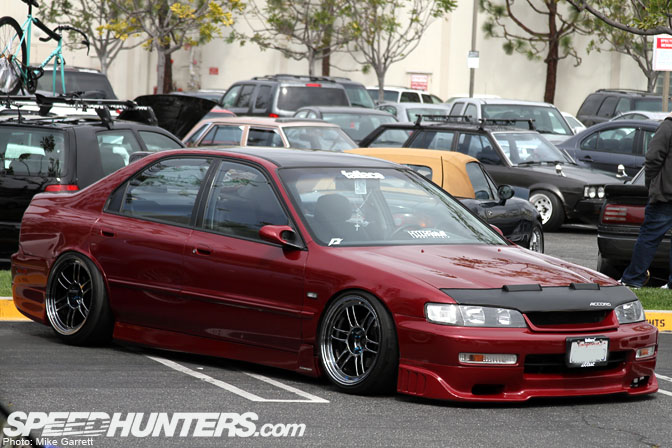 As part of our Speedhunters selections, we also asked you guys, the readers to bring your cars out. We had a handful of "premium" spots to give away and ended up splitting these up among a diverse selection of cars.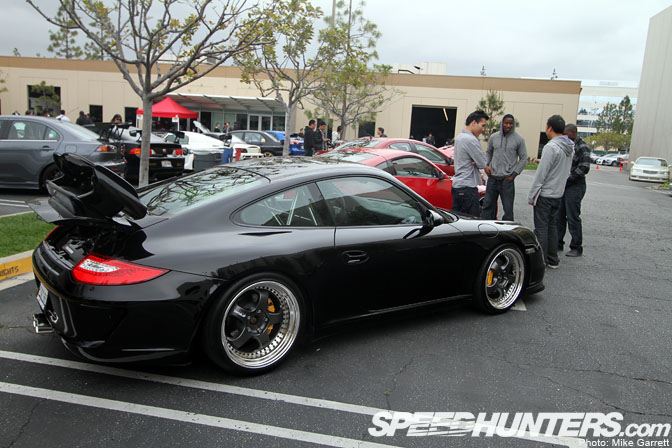 One of the cars we chose for a premium spot was Aaron Ochoco's Porsche 997. On his way to the event Aaron got a flat tire on the freeway, but still managed to get a replacement tire and was out to the meet with time to spare. Thanks Aaron!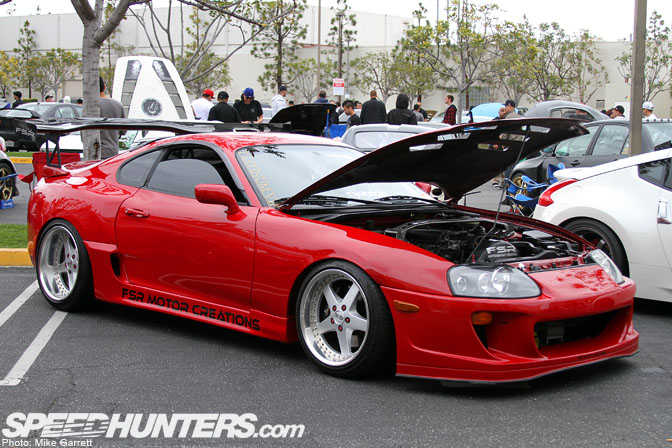 I was also assigned the extremely difficult task of selecting one "Speedhunters Pick" of the event. The prize? A full feature right here on the site. After much deliberation, I selected Brendan Taft's Toyota Supra. Not only does the car look mean, but its naturally aspirated 2JZ with ITB's makes it rather unique. Keep an eye out for the feature coming soon!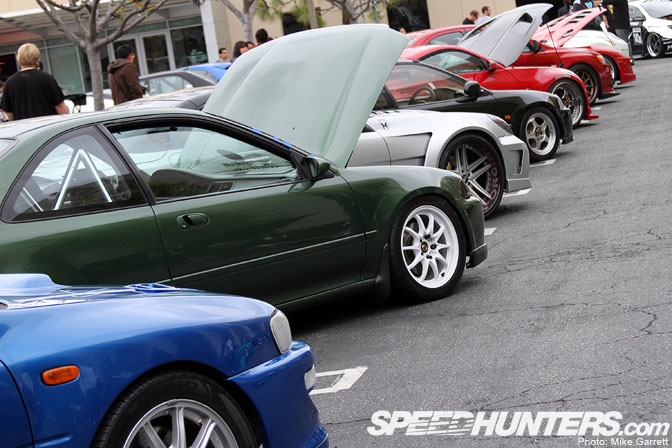 Well, that will do it for part one of my NFS SoCal coverage.
Stay tuned for part two and thanks again to everyone who came out!
-Mike Garrett