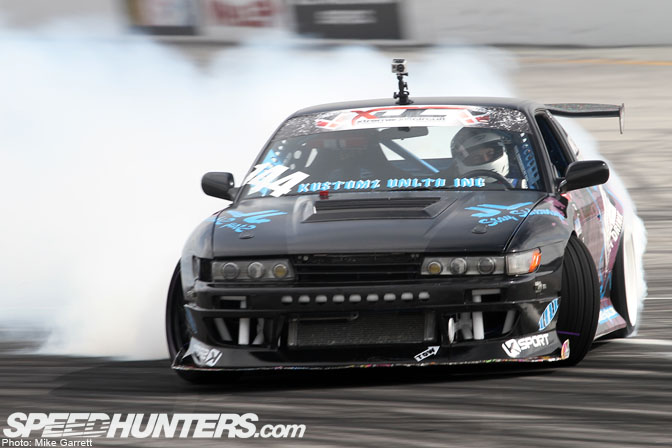 Let's have one more look at XDC round one Irwindale, shall we?
As you can see in this opening shot, Nate Hamilton's V8-powered Sil80 was producing some serious smoke and angle around the final turn of the course. All of us photographers were hoping that drivers would hold their drifts as long as possible, as this section was probably the most photogenic on the entire track.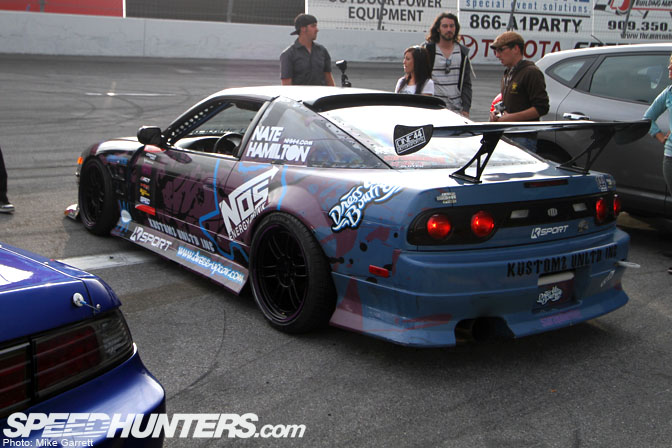 Nate was another one of the several drivers representing the Lone Star State. Pretty tough looking stance on his S13 here.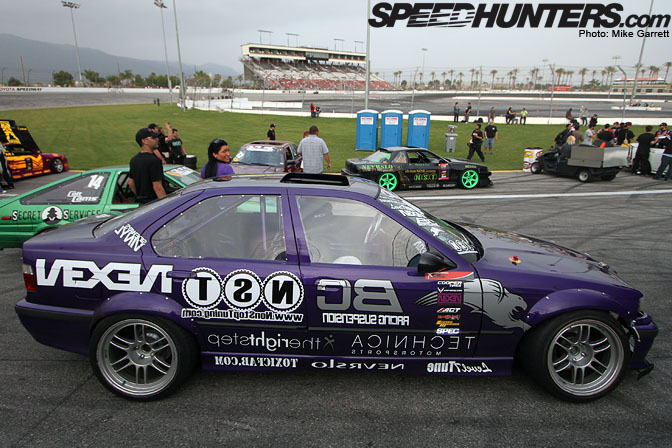 While talking about the state of Texas, some of you guys asked for a little more on Chelsea DeNofa's event winning BMW E36.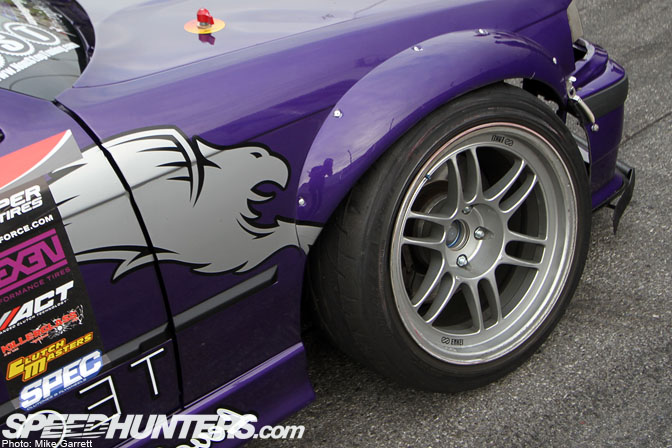 The aggressive RPF1's and bolt-on flares give the car a very wide stance.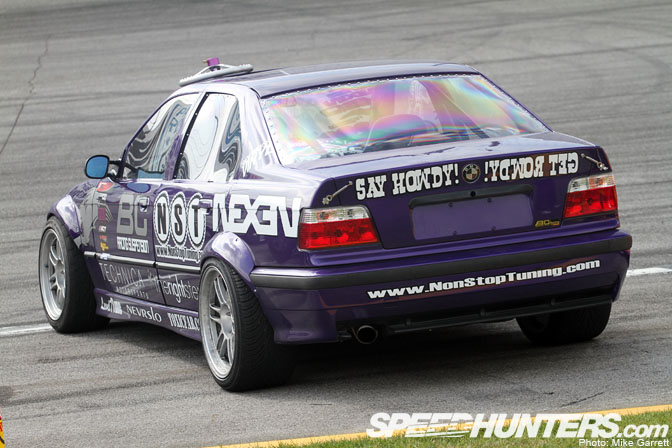 Say howdy, get rowdy. Couldn't have said it any better myself.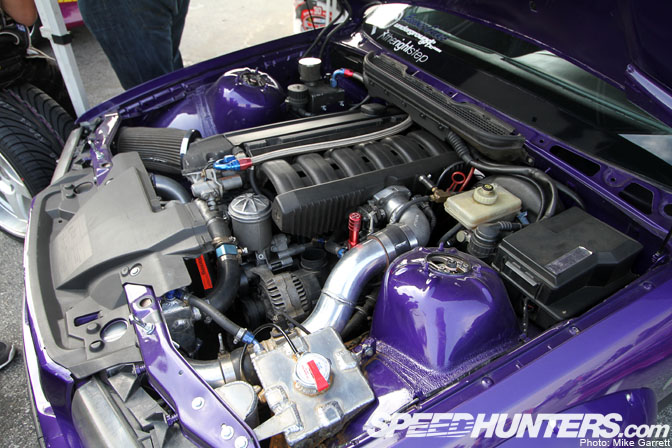 An underhood shot showing the turbocharged inline six which makes plenty of reliable power to push the Bimmer around the banking.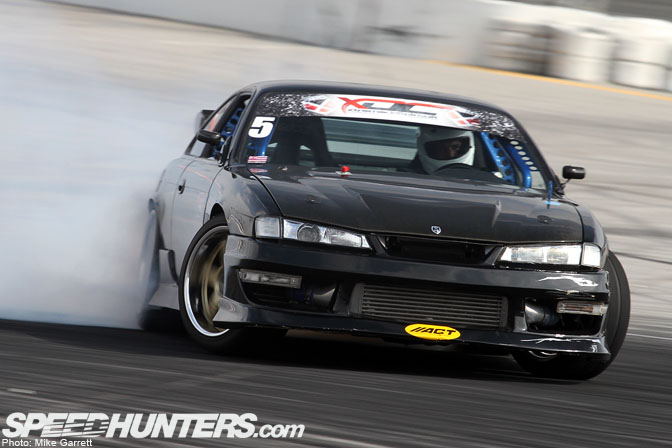 A lot of the cars running in XDC could easily be pro-level Formula D machines, others had a more "street" look to them. This includes cars like Ron Freitas' kouki S14.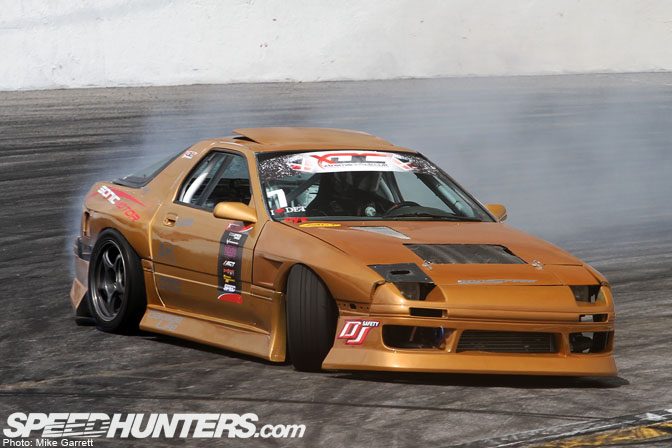 Daniel Kuo's FC3S comes through the inner bank during qualifying.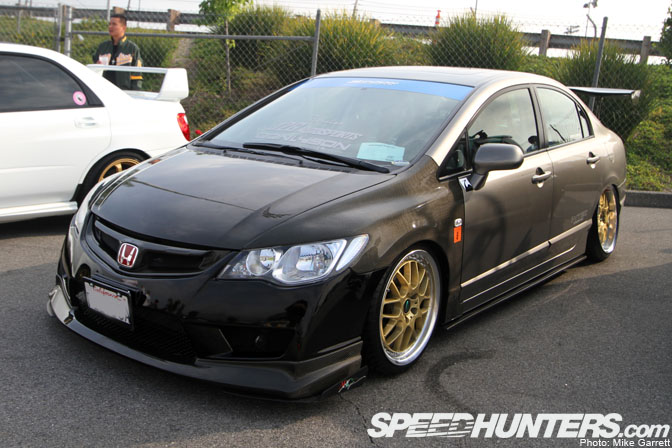 A quick break from the drifting for a few more car show shots. This Civic Si sedan has been converted to a JDM-spec Type R nose.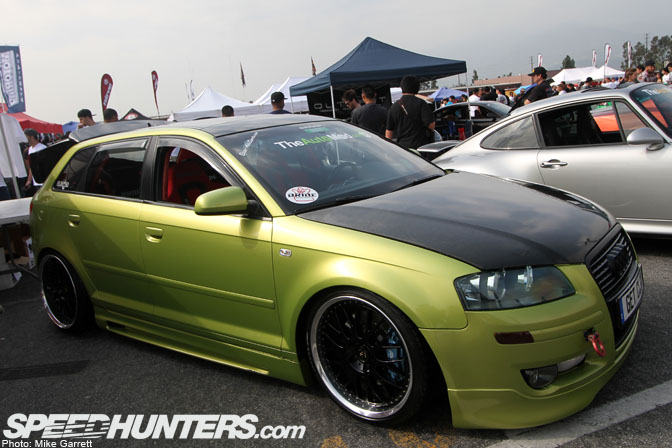 This Audi A3 was one of many European cars in the show. In fact it seemed there were almost as many Euro cars as there were Japanese cars on Saturday.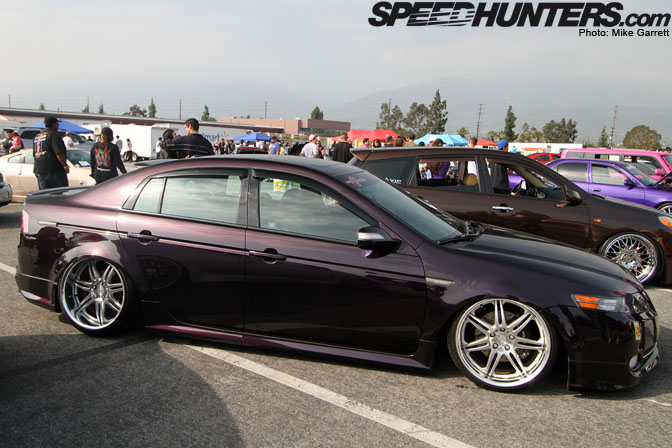 Another VIP'd out Acura TL on air bags. Love the color!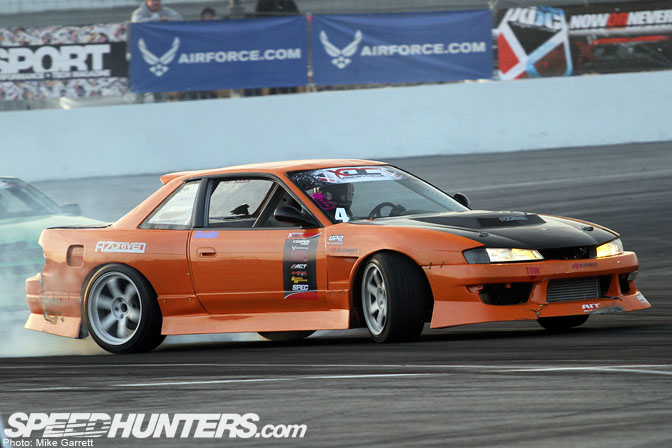 If you've seen photos from the Just Drift events at Willow Springs, this S13 should look familiar. Obviously the new owner, Ben Kunk from Arizona is putting it to good use.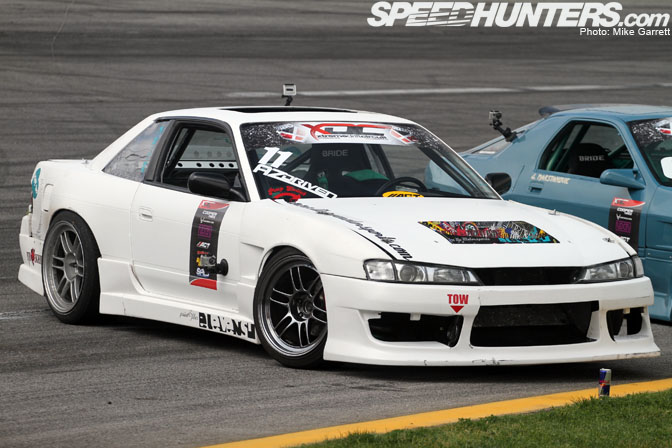 Also repping the state of Arizona, Vitaly Sopkin's S13 (with S14 face transplant).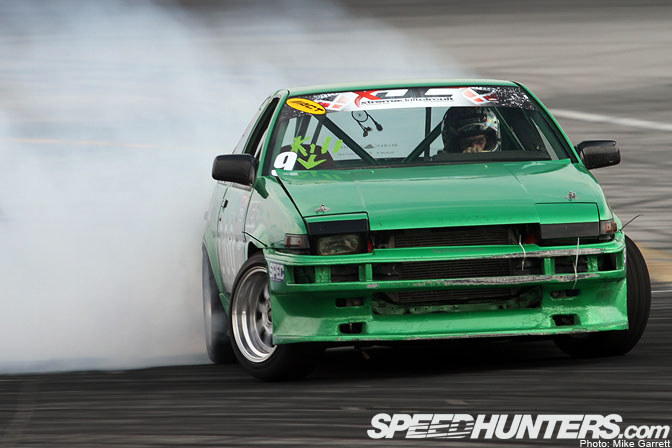 Will Parsons brings his AE86 across the line. The 86 can be at a disadvantage to some of the other cars out there, but drivers like WIll make it look easy.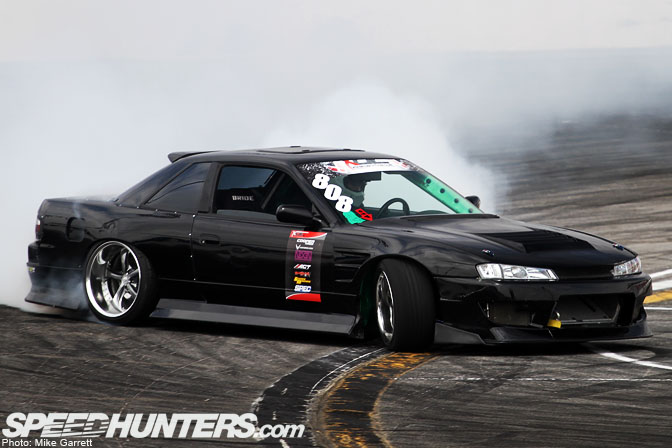 Forest Wang's VS-KF's gleam as he comes through the inner bank. To make things even better, he was blasting Eurobeat tunes the whole time.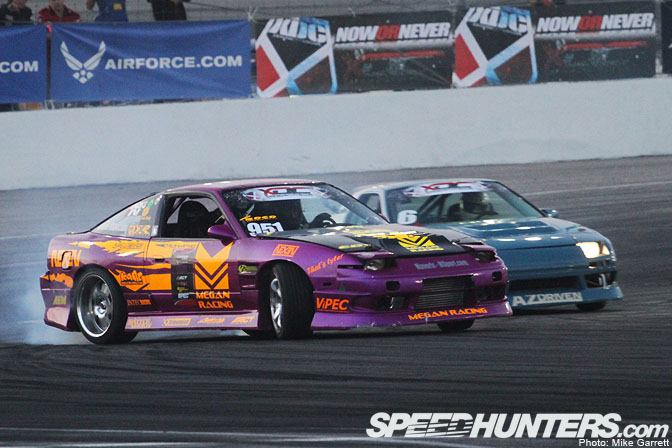 Cyrus Martinez and George Marstanovic battle it out during the tandem competition.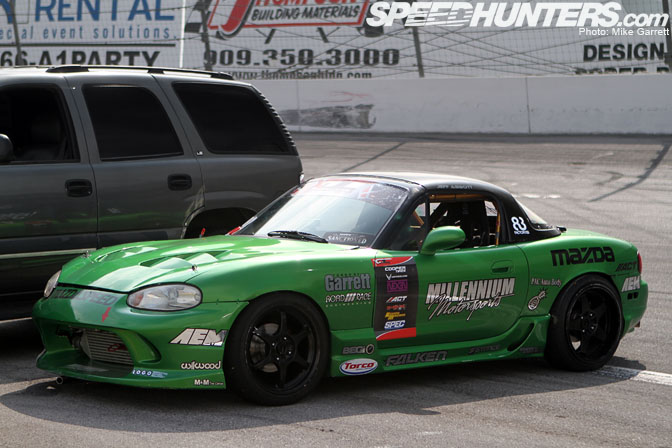 A static shot of Jeff Abott's Miata in the pits.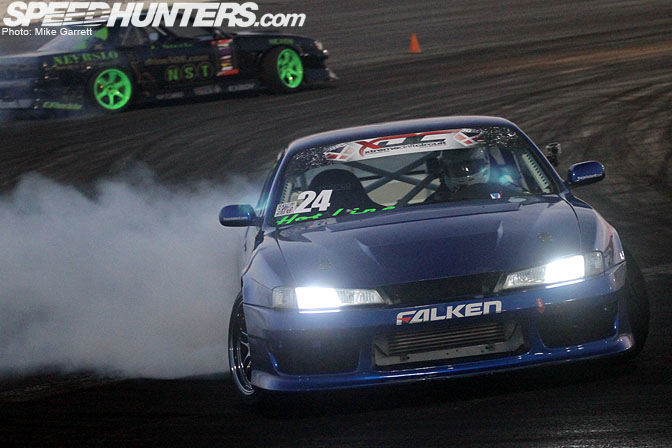 Dave Briggs might be recovering from a spin here, but it still makes for a pretty cool shot, no?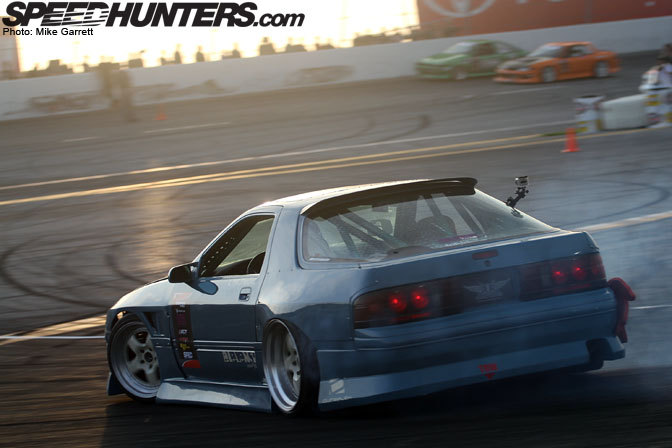 Well, that will do it for my coverage of XDC Rd.1 at Irwindale.
Next month the series will head to Phoenix for round two.
-Mike Garrett