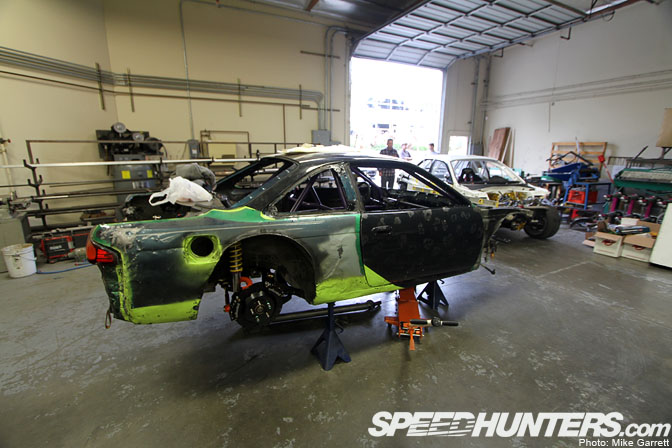 BOOM! Whats up Speedhunters, whats up 2011!
My three year plan:
2009- Bring the heat
2010- Rock on
2011-The final countdown
So that means the goal for this year is to really go for it. In 2012 the world ends, so it's now or never. I'm really excited to be able to announce that I have a solid pit crew for this season thanks to Need for Speed and Nitto Tire's help. I would also like to thank now, GTI, 6666 Customs, STACK,  Holley, Royal Purple, KW, Part Shop MAX, Drift Works, Alpinestars, Earls, Wilwood,  Twins Turbo, Replay, Driveshaft Shop, Gram Lights, Jordan Innovations, GM Performance Parts, and Robot Racing for their support in helping me rock this coming season as well.
Costa Gialamas from GTI will be leading Tom Roberts in a 2 man effort to setup and maintain my car at its best for each round. My long time friend Tommy Roberts (you likely know and love his gold s13 that has received a lot of coverage on here) will be my spotter for this year.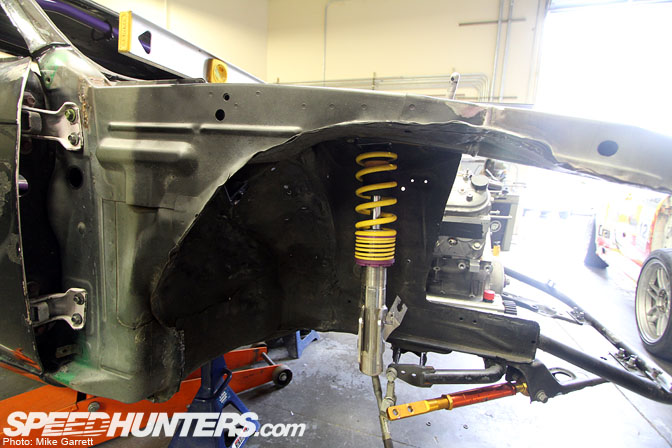 The front of the car continues to use KW coilovers, Part Shop MAX links, and now uses Drift Works front knuckles and will switch to 18-inch wheels with a 235/40 NT05 tire.
Tommy and I learned how to drive together, and progressed as drivers from street drifting all night or by doing tandem at local events over the years with each other. We have similar tastes and thoughts on driving style, and I think his input will be a huge help to take me to the next level in drifting. Through driving with Tommy, his dad (big Tom) started to help me work on my car. Starting with assembling hose ends and intercooler piping, then to wiring help, then to building my engines for pro am stuff, to Formula D engines, to rebuilding my engines while I'm drifting overseas, to helping out with pit crew duties at local Formula D events. He has been an invaluable help and Ive only ever paid him with burittos and hamburgers, maybe a sandwich if he is feeling healthy. They have both been a huge help and factor in my drifting and I'm very excited at the opportunity to form a "team" with them for this year.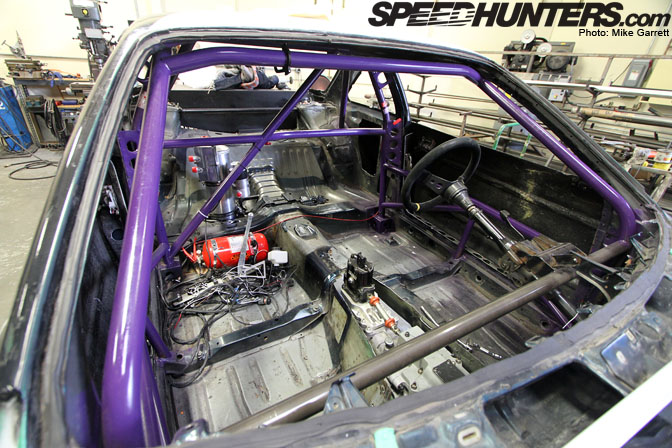 The cage was redone by SPD, you can also see the oil reservoir for the dry sump oil system behind the passenger area.
I'm also excited to have Costa's support this year. He has worked with Rhys, Dai, and Stephen Verdier in Formula D so his willingness to work with me I think is pretty cool. I think with his experience I have overall a very solid crew for this year and a cool group of friends to travel around with and have some fun.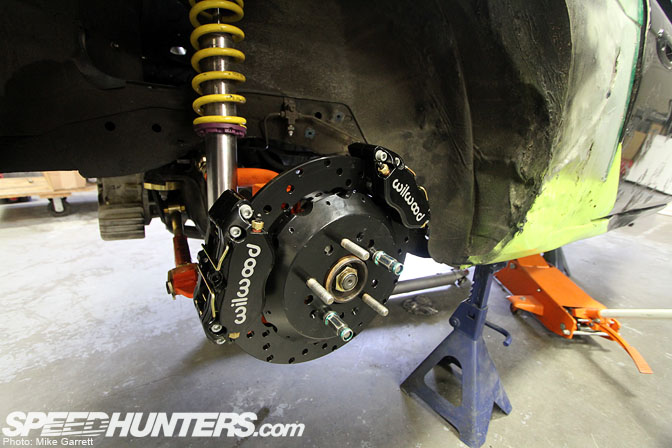 The rear of the car is now using Drift Works rear knuckles, a dual Wilwood brake setup with SPD brackets, and continues to use KW coilovers, Drive Shaft Shop 500m axles, and Part Shop MAX suspension links.
I'm not going to dwell too deeply on the technical side of my build in this post. There is a solid article on MotoIQ.com about my car and its technical improvements for this season, seen here- http://www.motoiq.com/magazine_articles/articletype/articleview/articleid/1877/a-preview-of-matt-powers-formula-d-2011-rebuild.aspx
The goal of this article is partly to introduce you all to the "team." I never really liked the word "team" in drifting. I've always viewed it more as my friends who just like to have fun. I think it's still the same, but now we have a strong hunger to kick some ass in Formula D. Free lap dances after a good weekend?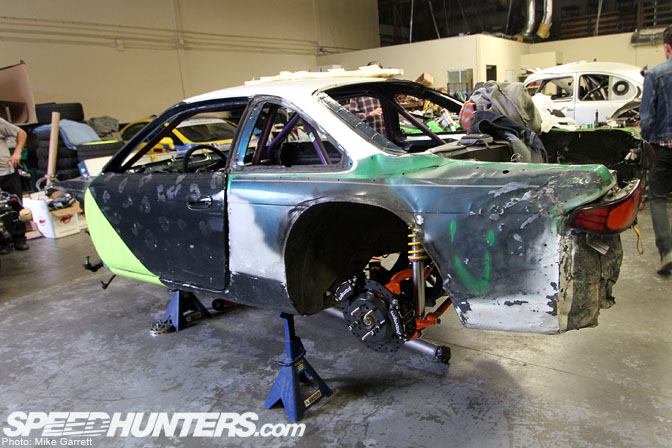 What six years of drifting does to a car.
I also wanted to take this opportunity to explain some of my choices for the new direction my car has taken. After placing 2nd at Pro Am nationals held at the Red Bull World Championship event, Wrecked Magazine asked my plans for 2009, and I said "Street drive my car to Long Beach round 1 with a posse of 80's dudes blasting the Final Countdown, and then retire from pro drifting." Long Beach 2009 was my first attended FD event, either as a spectator or driver. I think I went to one D1 event in 2005. I had a ton of fun at FD, way more than I had expected.
In 2009, I didn't really care about doing well… I don't know if it was because I was new, a different person, or if it was just because it was not a very realistic goal based on my experience and platform at the time.
In 2009 I graduated from college and it was sort of a pivotal moment in my life. I never wanted to be a "pro drifter" or followed Formula D. I could get a normal job, keep my car how it was ("cool" – but also slow and wack competitively), keep drifting as a hobby and go drive a few times a year. Overall, life lived and experiences: average. Bold decisions made: none. Being an artist and architect of my own life: fail. Or, I could do something awesome and go for it. Try to do this drifting thing 100% and see where it takes me.
For 2010 Need for Speed approached me with a serious offer and I had a big and, at the time, seemingly difficult decision to make. Looking back at it, it was an easy one, and I definitely made the right move. Now I want to continue expanding my drifting, having more fun, doing awesome things, and living a rad life. Living the dream I guess. (Although the reality is that I have been working on my car all day every day for the past 3 weeks, it's 2am as I write this, and I'm stressed about getting my car done! But, for the most part, it is living the dream. It's pretty awesome.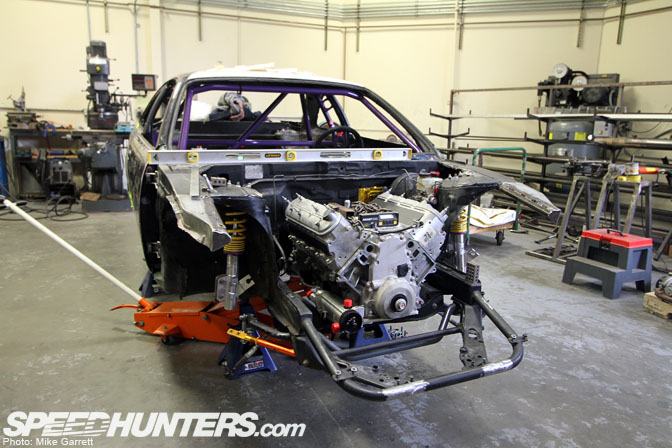 Need for Speed and Nitto wanted to sponsor me again for 2011 and were down to help me step up my game. First thing needed, a pit crew. Second? For me I thought the best plan was to get a simple and more effective motor, and moderately improve the suspension. Nothing crazy. I think a bad ass engine is what will take my car to the next level. Plan, think, compare, mediate on this for a few months- LS7 it is.
The GM Performance Parts LS7 is equipped with a Dailey dry sump system,
Katech Cam, and Quarter Master 7.5 inch twin disk. It is otherwise stock
and should make low 500hp on a pump gas/110 leaded mix.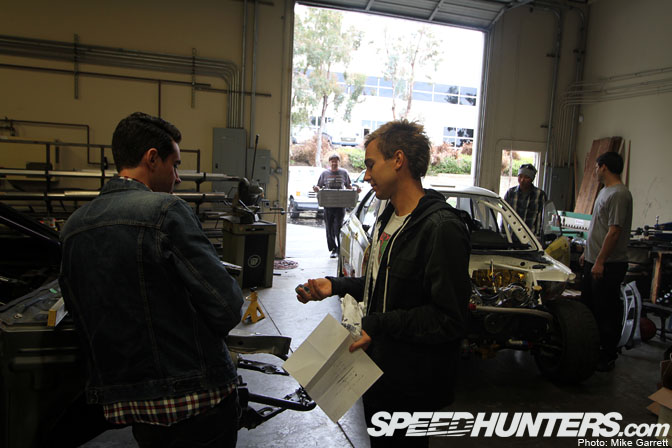 I'm not a car dork, a purist, a soul drifter, or anything like that. I'm
a guy who likes to have fun, and drifting is something that is very fun
for me. This is why I don't think "V8," which is really some junk
blanket term, is lame. I don't believe in convincing you or that one is
better than the other, however, I will say it does have a factory
semi-dry sump, titanium rods, titanium intake valves, stock 11-1
compression, is lighter than my old ka-turbo, and pumps out 500hp on 91
octane in stock form. It's not some poopy engine out of a Suburban. It
should be pretty fun to drive, and upshift to 4th in a second gear
corner for no reason at all.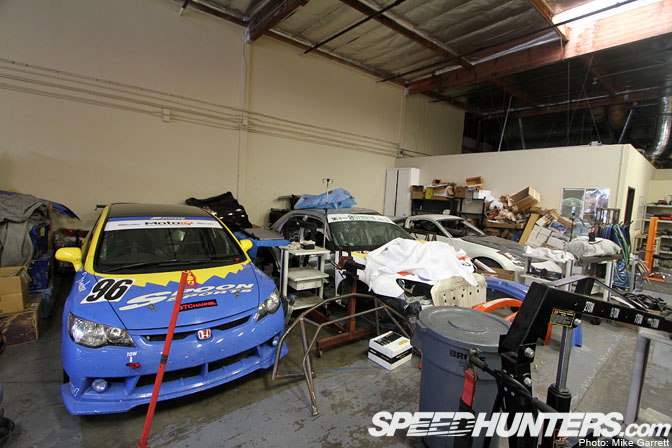 The GTI shop is filled with other race and project cars, drift and grip.
I don't really care what motor is in a car, it has no impact on my life. I'm excited at the opportunity to improve on my car and make it more similar to the top competitive vehicles, to do better, have more fun, and do some tandem. Do you think Kelly Slater would seriously consider riding a wooden long board because its more soul? Right.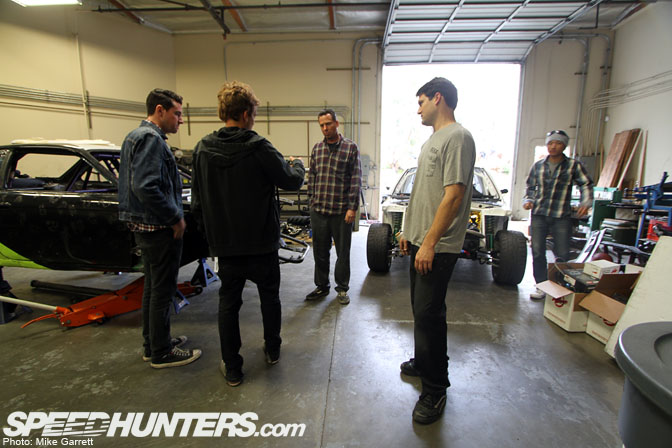 The boys for 2011, from left to right- Tommy, me, Big Tom, Costa.
Keeping drifting fun isn't about "repping the turbo lifestyle" or some lame high school fan boy stuff. Do you seriously think anyone drifts to "defend the 4 cylinders worth and truth"? If someone did, I think they would likely have some sort of personality disorder. I could care less about what engine is in the car I'm following in tandem trying to bash my bumper and rub my tire against. It's about driving, mindset, friends, tandem, blowing minds, hanging out, living, doing it.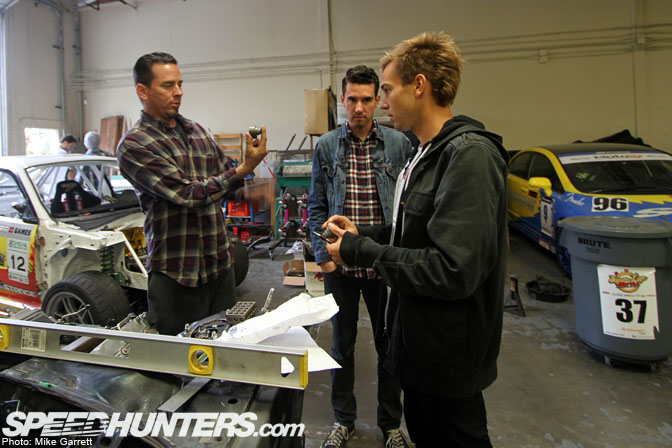 Analyzing and discussing the Drift Works offset rack spacers. Also can see Stephen Verdier's
old drift car in its transformation into a rally cross car.
These guys don't care either. Big Tom is probably your real father.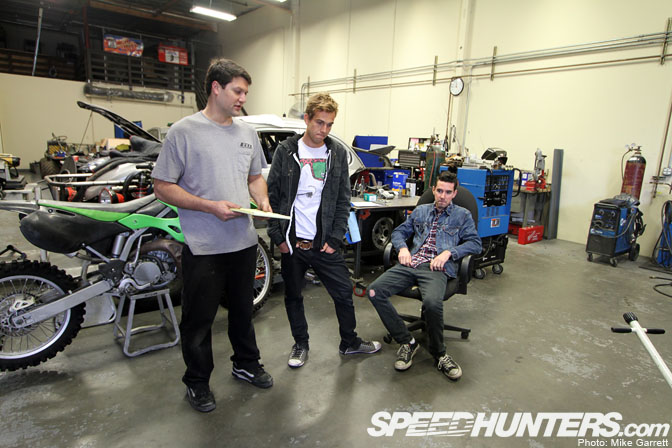 That's really all I have to say at the moment. In conclusion, it's the final countdown.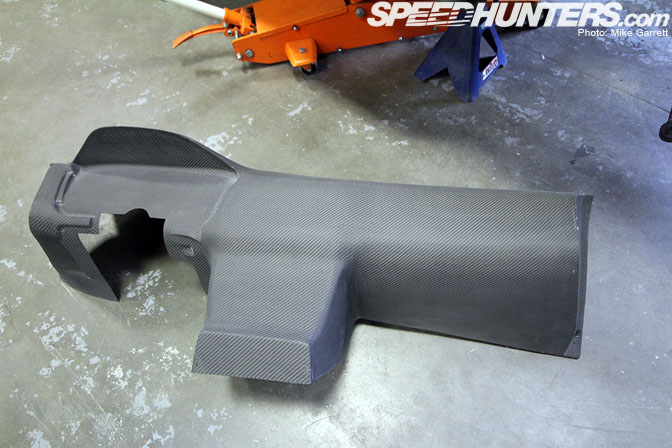 Full dry carbon bolt-in dash from Robot Racing.
It's pretty late. I'm going to sleep.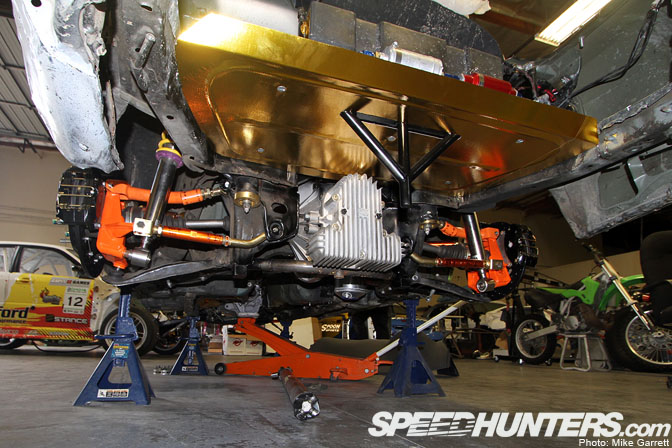 Quick change diff for strength, new jack point for quick tire changes, and a custom rear firewall plated with heat shield to keep the fuel and battery from exhaust heat and debris.
I'm not sure if this article has made any sense…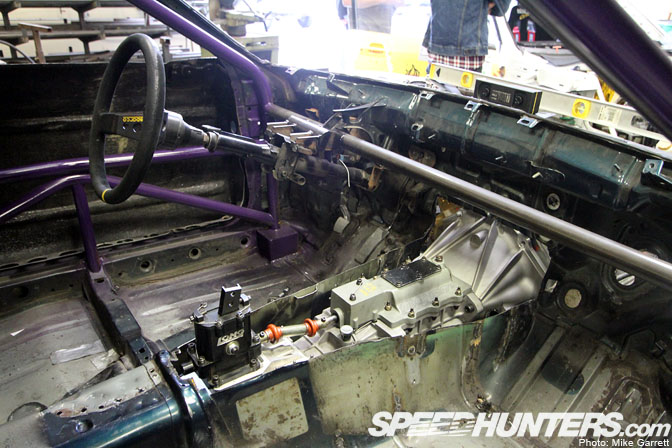 Tranny tunnel top cut out to make room for the new setup, will be replaced with a fabricated cover. The new LS7 setup sits about 2 inches farther back than the KA setup did.
That's it for now. The car goes to Twins Turbo this week, part 2 update soon. I can make it more technical if you guys want, what do you want? Dyno next week, testing thereafter, and then…paint?!?
-Matt