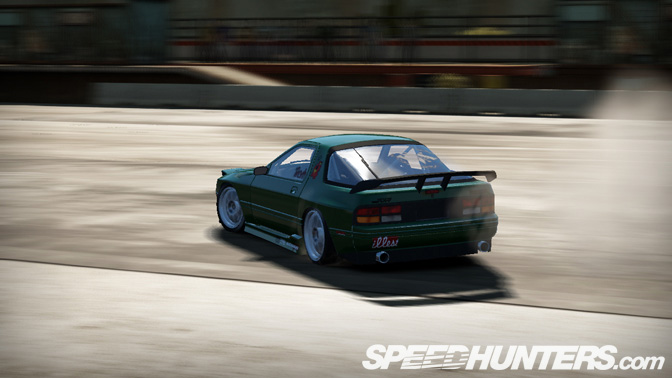 I hope you guys don't mind me continuing to present SHIFT2 UNLEASHED; I'm just so excited to have been involved with such a great project that I can't stop talking about it!
Last week I was able to give some info about the physics and our production process. For this week's article I wanted to showcase one of the new cars being introduced to the SHIFT franchise: the Mazda RX-7 FC3S. It's one of several retro car models we've added to the game, specifically for you guys: the Speedhunters audience.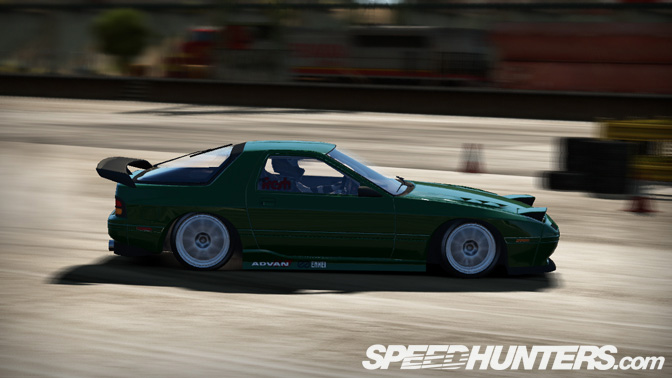 I also wanted to give you a clearer picture of the updated customization system that we've put into SHIFT2 UNLEASHED. For one, we've made sure that you can build up your FC into a grass roots style drift car…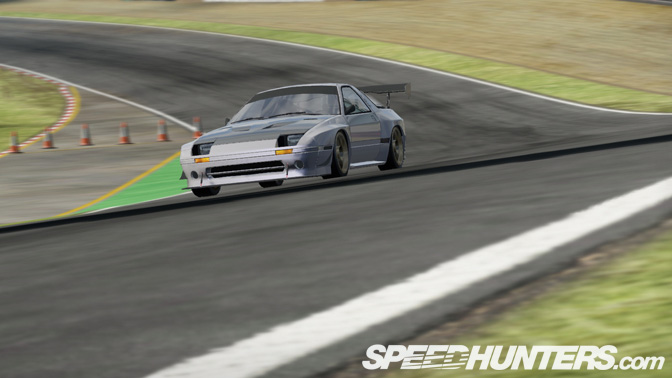 Or time attack special.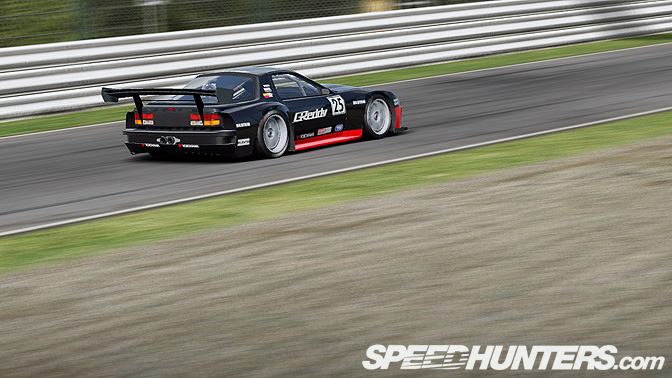 But what I really love about our new game is that is allows you to take practically any car and rebuild it from the ground up into a fire breathing "Works" spec silhouette racer. Whether it's a humble Civic or a Mclaren MP4-12C, all the showroom models in SHIFT2 UNLEASHED can be transformed into full-on race cars.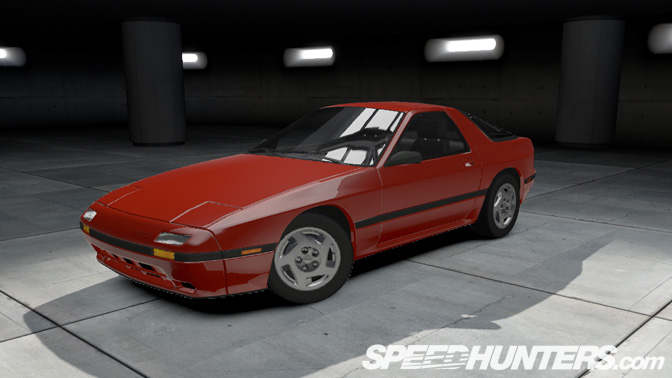 Of course this is what you start out with… a low powered NA model which will need a bit of work to get it drift or track ready.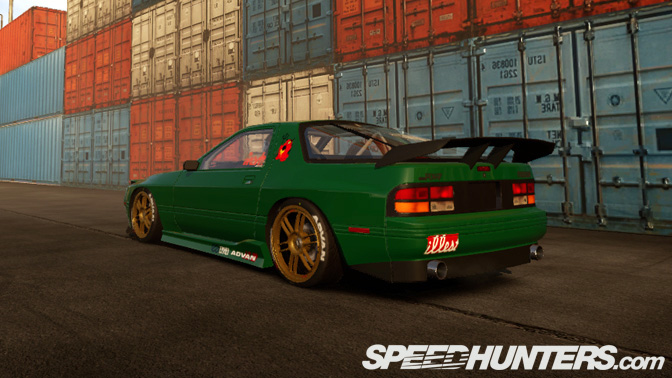 For the first stage of my FC journey, I thought I would build up the car to be a good street drift machine. I just had to honour Justin Pawlak's stolen machine and paint it green. It's not an exact replica by any means, but I thought it would interesting to see  if I could build a car that looked like it belonged at a Just Drift event.
Some of you will notice the Turbozilla sticker from Touge Automotive, the So Fresh sticker from Precision Drift and the Illest item from Fatlace that I've put onto the car. These are part of libraries of stickers that are in the game.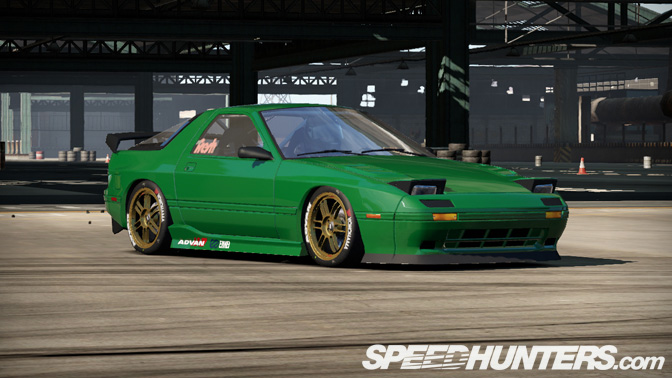 How about that stance? Is this low enough for you?
I upgraded the intake, exhaust, changed to a bridge port setup, modified the injectors, added a slighty lighter flywheel. With the addition of a low end turbo system, power was good for a conservative but useable 190 hp. I also installed a heavy duty clutch and upgraded to a 1.5 way diff with an adjustable final drive.
For suspension I went with a race kit which included full ride height adjustment, four way dampers, and adjustable sway bars. The race suspension kit also gives you adjustable arms which allows changes to the caster, camber, and toe settings. I've even trimmed the bumpstops. The kit also comes with the ability to change your spring rates too. For the time being I've only swapped out the brake pads and lines (still with the stock rotors). 
New to SHIFT2 UNLEASHED are six different Enkei rims. I opted to go with a set of gold RPF1s.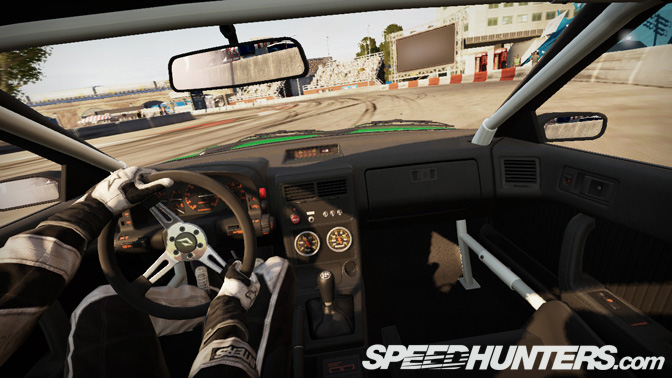 I also upgraded the cockpit of the car which adds a sport steering wheel, race seats, a bolt in cage and some extra gauges (which work!).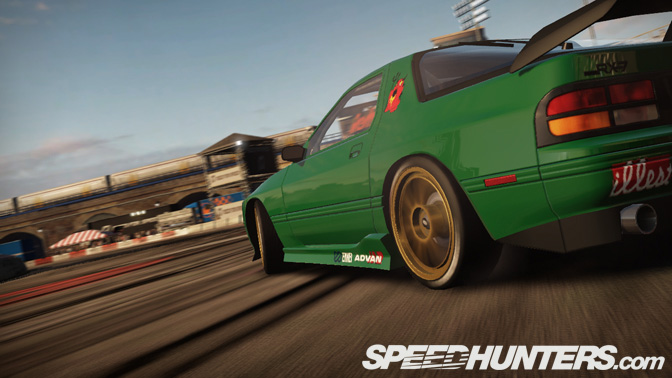 With the car assembled I took it out for a whirl.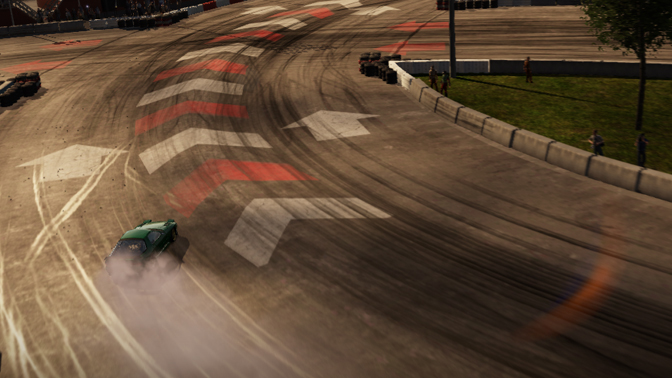 I'm reasonably handy when it comes to in-game drifting and had no problems controlling the car.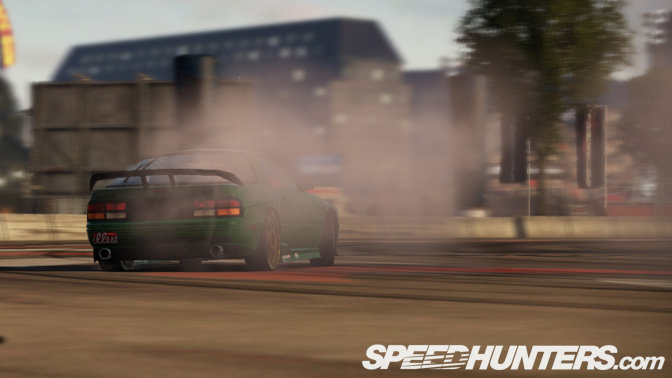 I am JTP!….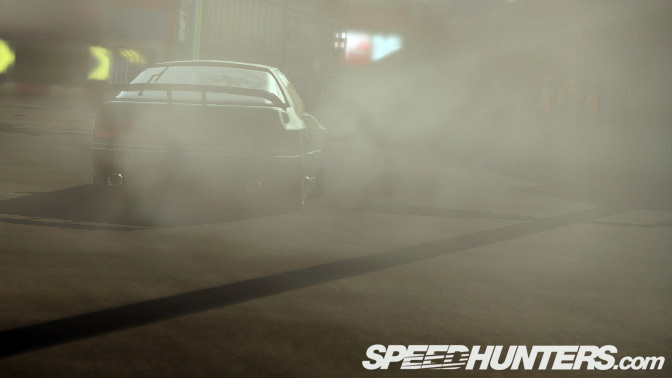 err…. not :>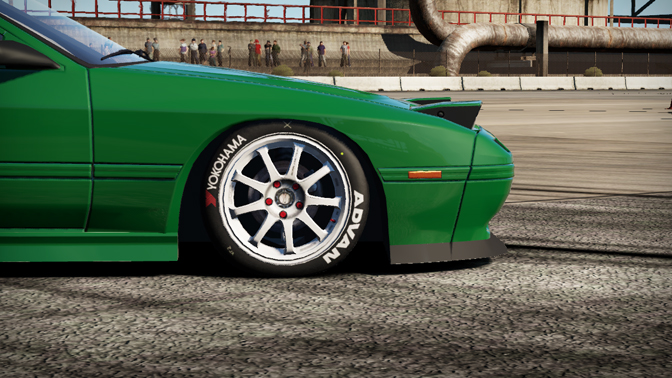 After getting used to the car on the London drift course I thought I'd try out a different pair of rims: some 18-inch Work Emotion XD9s.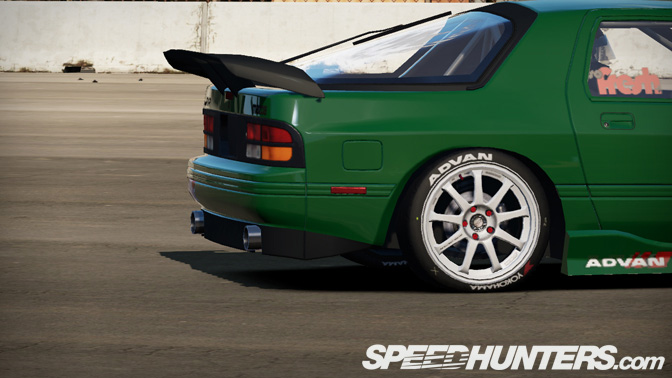 You can also make out in this shot that I've added a big DA logo to the back window.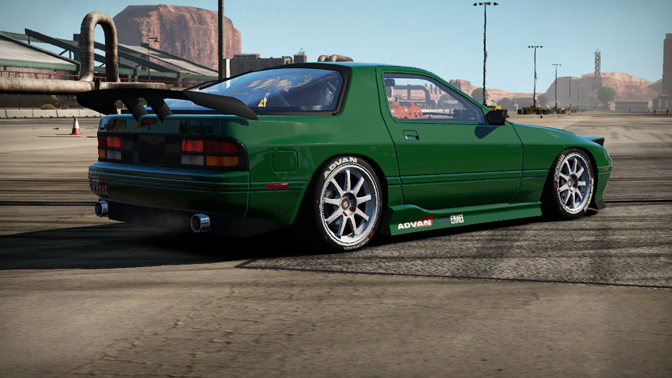 Oops… in my enthusiasm I forgot to change the Enkei sticker to a Work one!… don't flame me… please have mercy!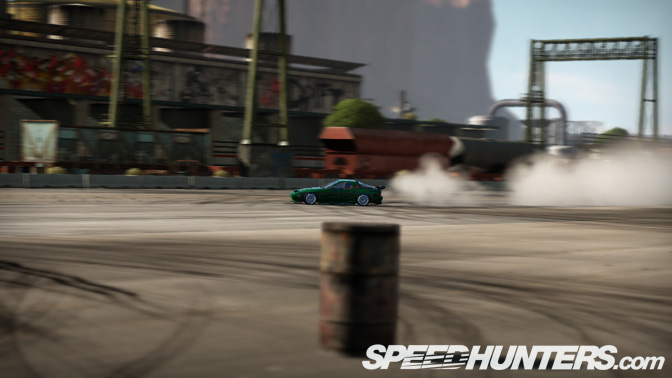 Vaughn may not like me trumping him before he has a chance to write an article about his involvement in S2U, but I wanted to show you a couple teaser shots of the new Nevada Depot area. This was 100% his idea BTW… it's basically a huge industrial estate where you can work on your drift skills and perfect your car setups. The goal here is to give players more of a chance to get the hang of skidding before they graduate to the closed courses.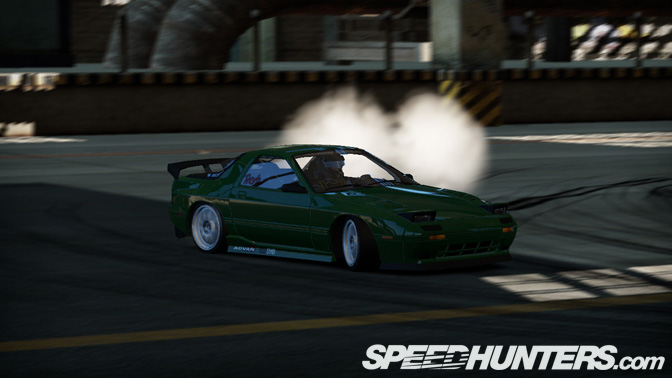 The Nevada depot also includes a few decaying warehouses which are good fun to drift through.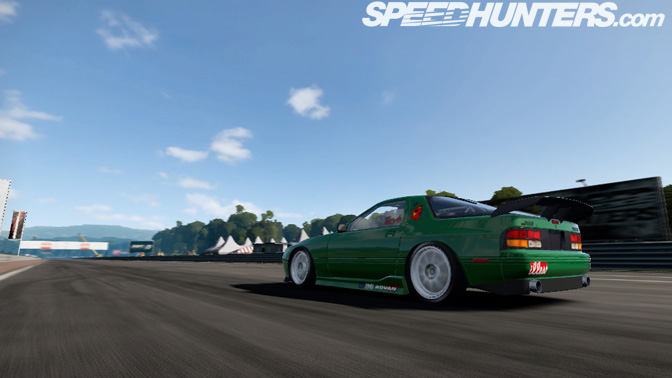 I then decided to take a little trip to France with my green machine.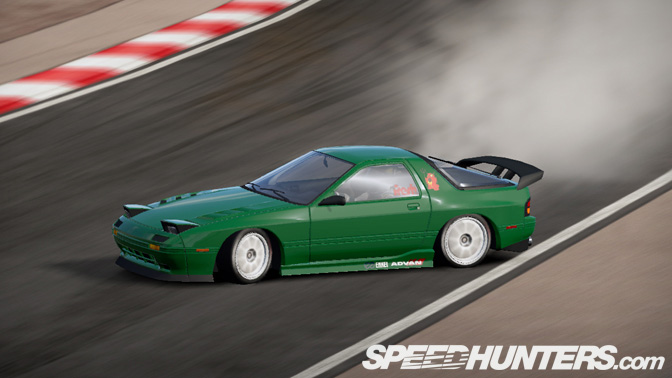 One of my fav tracks for drifting in S2U is Dijon-Prenois..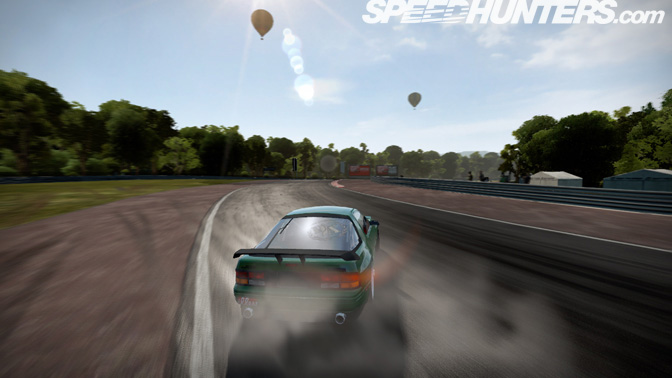 With its high speed, sweeping corners and tarmac run off areas, it's a blast to drift.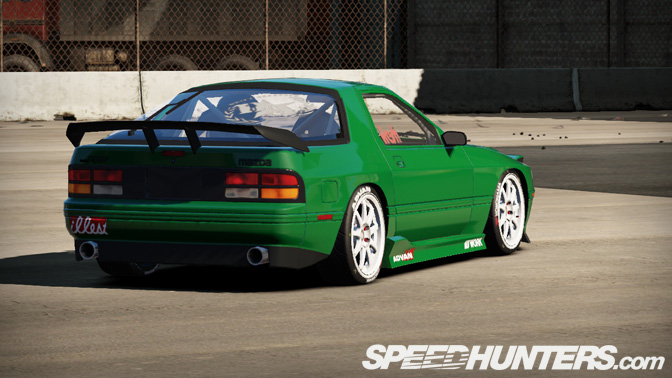 And finally I remembered to add the Work logo to the car! (and yes for those who are interested, the vinyl system got an overhaul for this year's release)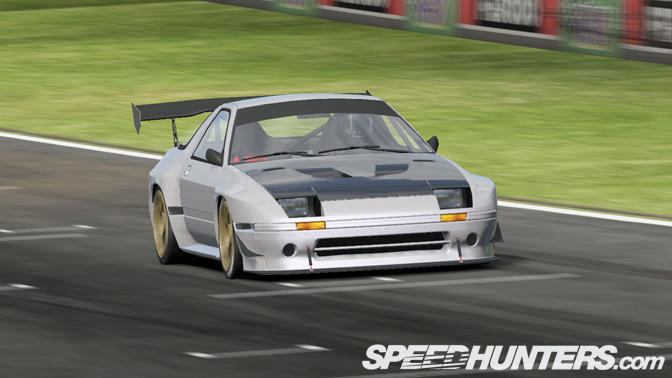 I then decided to further develop the FC into a track day style car, the type you see at time attack events in Japan at this time of year.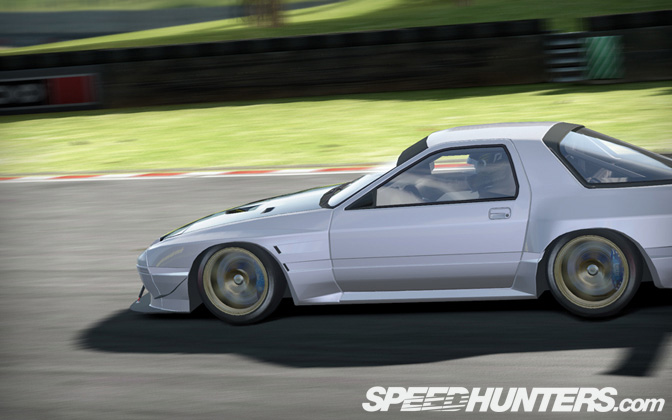 The first big change to the car was the aero and perhaps more importantly a 3-Rotor engine swap. I spec'd out the new engine with a cold air intake system, race exhaust, a J-Port, a full programmable ECU and the biggest turbo I could bolt on. With the addition of NOS, power was now up to 447 hp.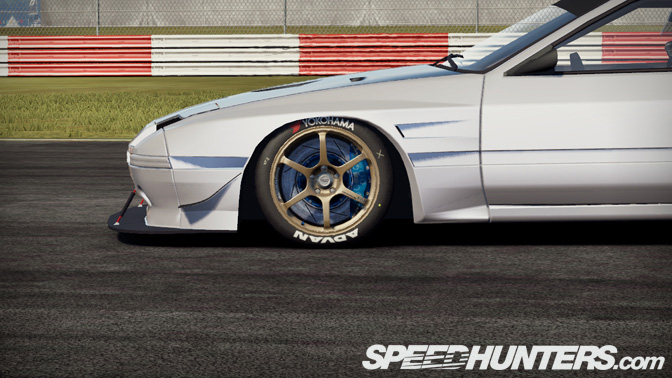 Big competition brakes were now needed and I also installed a dual master cylinder assembly.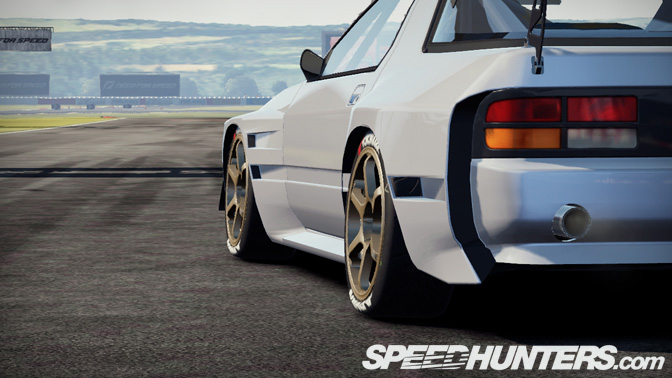 For wheels I went with a set of 17-inch Advan RGIIs. You will notice that the wheels have visible camber here. I can 100% confirm that these are entirely based on car set up geometry. Any changes to the setup are instantly seen in-game. There is even a testing mode where you can make instant changes to the setup direct to the on-track car. This saves the trouble of having to reload the car/track each time you want to make changes and give you instant feedback on any adjustments.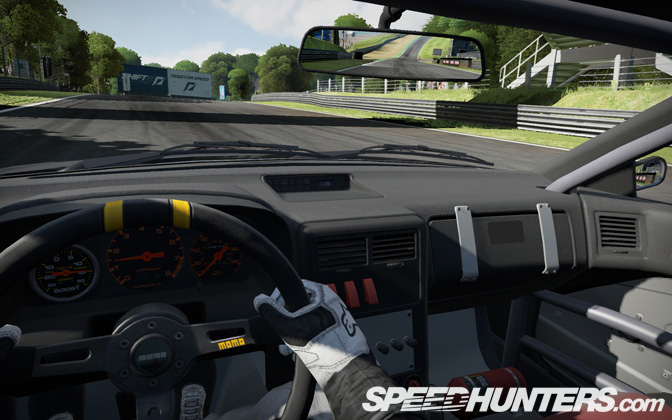 I also made further changes to the cockpit. You can see that the roll cage has been beefed up with more of the interior panels being stripped out to lower the weight.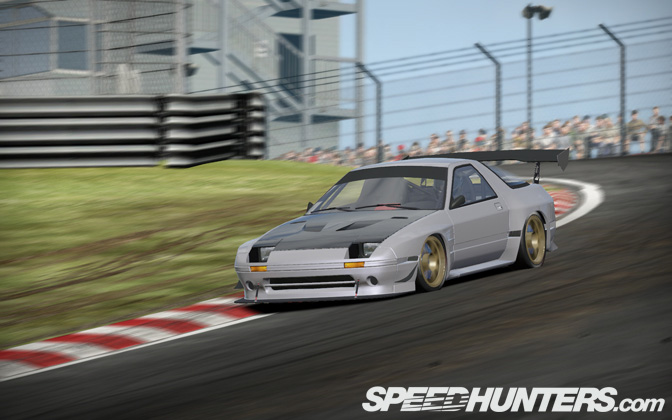 For this solo track session I took the car to Brands Hatch. Here you can see me rounding Paddock Hill corner.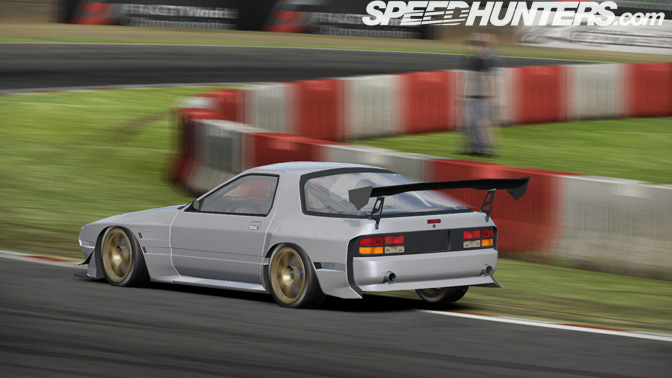 The car was noticeably faster in this guise.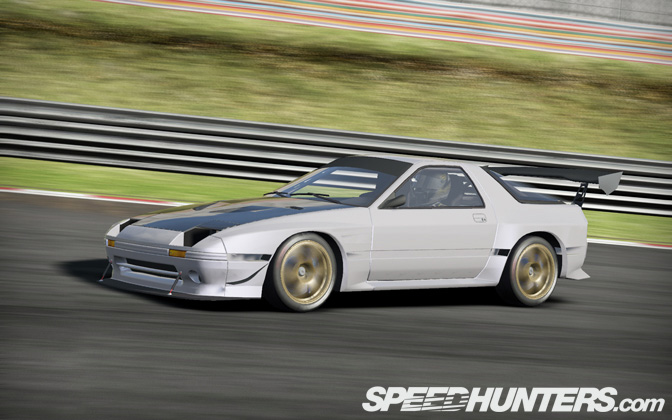 But you can see the suspension setup is a little soft, with the car rolling and pitching far too much for its own good.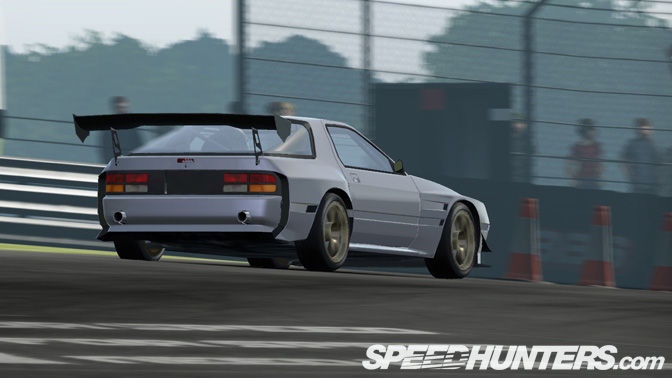 We will need to get you all set up on the Autolog system so we can hotlap against each other.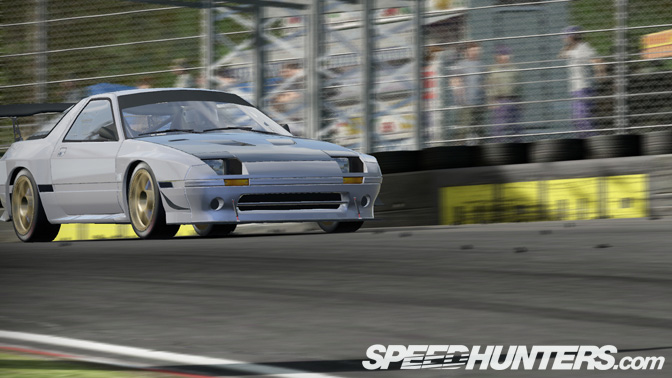 Autolog is a new feature BTW which first debuted in NFS Hot Pursuit. Once we connect as Autolog friends we will be able to asynchronously race against each other… meaning that we don't need to log into real time multiplayer sessions to compete. Rather, an in-game messaging system allows friends to compare times and leaderboards in different modes, tracks and car classes.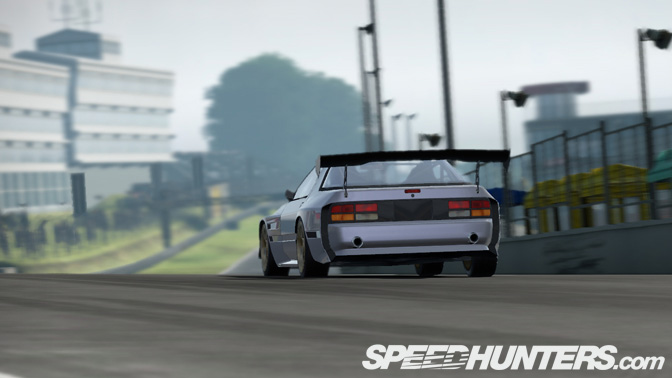 I'll give out my Autolog account details around the release date though and will also look to get the other Speedhunters and Team NFS drivers up and running on this new social competition system.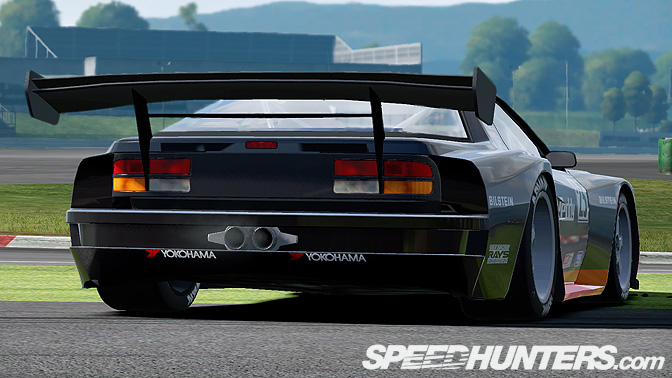 And here's the final "Works" spec version of the FC3S.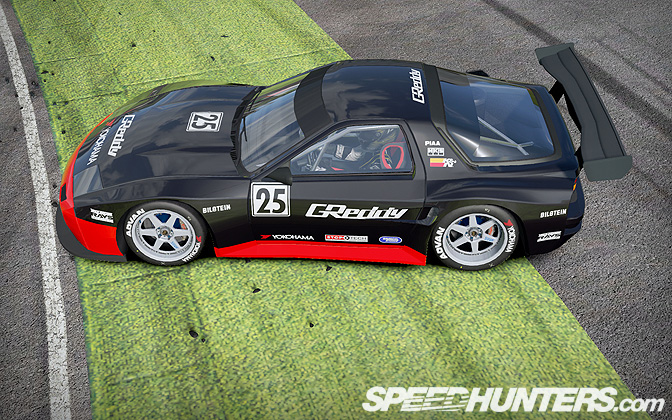 This is a full silhouette racer loosely based on the tube frame IMSA GTO racers of the early 1990s. There is not much left of the original car at this stage with a massive list of full race upgrades added to the engine, drivetrain, suspension/brakes and chassis. Power was good for 607hp with the overall performance spec of the car in the highest class of machine in the SHIFT2 UNLEASHED racing world.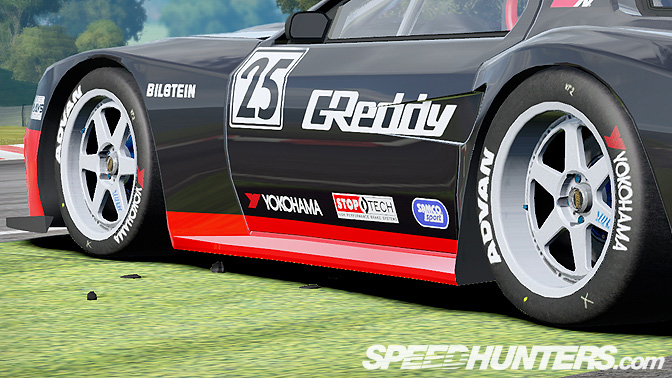 For rims I went for a pair of 18 inch Volk GTPs. You can choose the diameter, but the width and offset is custom set per chassis by the SMS team to make a perfectly balanced prefab race car.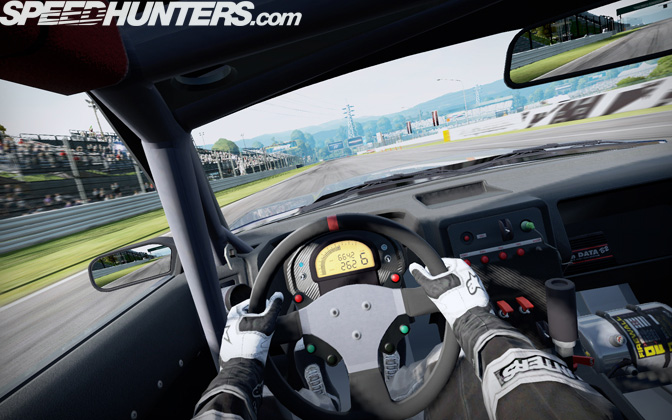 The cockpit is pure race car…. Notice the ECU sitting on the right side of the dash. The shifter action is now sequential with the driver's shift actions being suitably changed to match.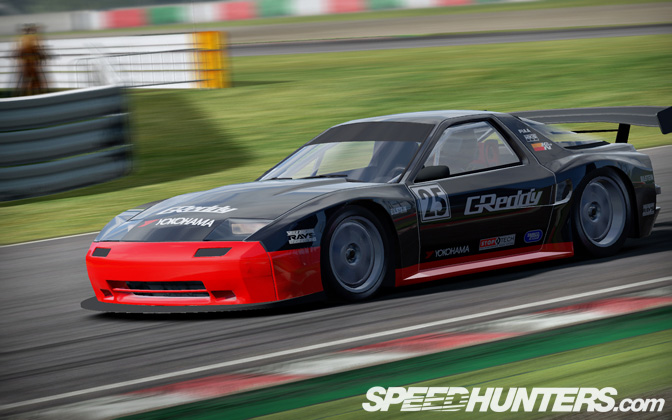 For these series of shots I chose to hotlap Suzuka on my own, but in all actuality, this car should be mixing it up with other GT racers. It's not really meant for solo track action.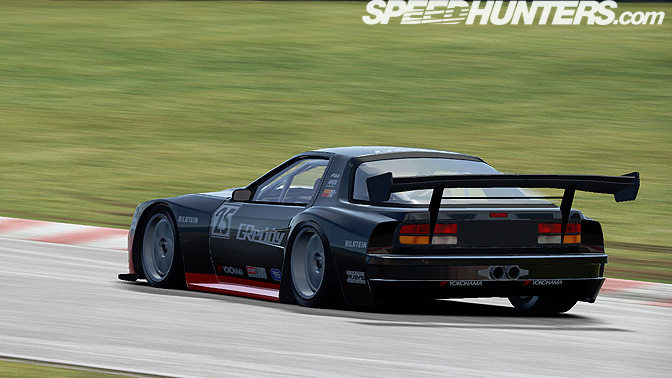 In driving the car I found it needed a bit of setup work to drive how I liked. Out of the box is was pretty soft and loose, with relatively low downforce. I prefer a much stiffer car with stability in high speed corners, so I spent a few minutes fiddling with the spring rates, dampers and sway bar settings and dialed in more downforce. The car also needed a bit of work to get the most out of its new giant brakes and 6 speed transmission. I moved the brake balance, increased the brake pressure and messed around with the gear-ratios.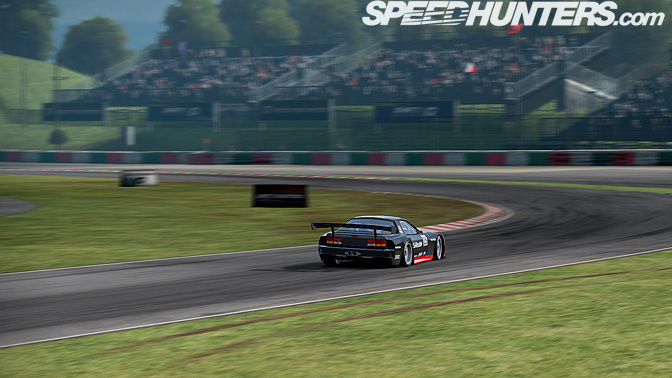 With the live tuning, I've been able to quickly start to make this car handle how I want. I've got the high speed stability nailed, but need to work to get more aggressive turn in. Perhaps I'll also start messing around with the 2-way diff to see how the different settings affect the handling. Right now the diff acceleration, deceleration lock setting are on low with the limited slip preload also set to low. Hmmm… we shall see!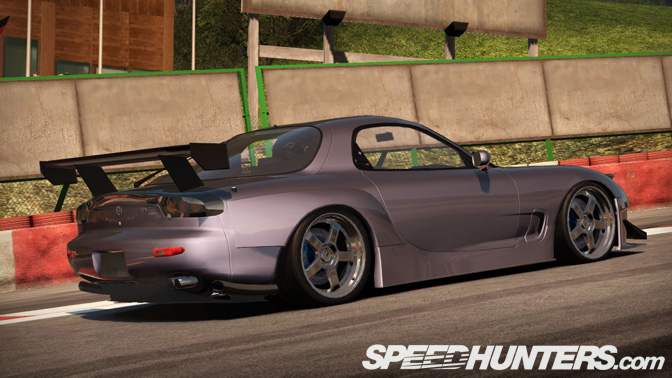 And before you ask… YES all the Mazdas in the game can take a 3 rotor swap!
More soon!
:Rod Chong