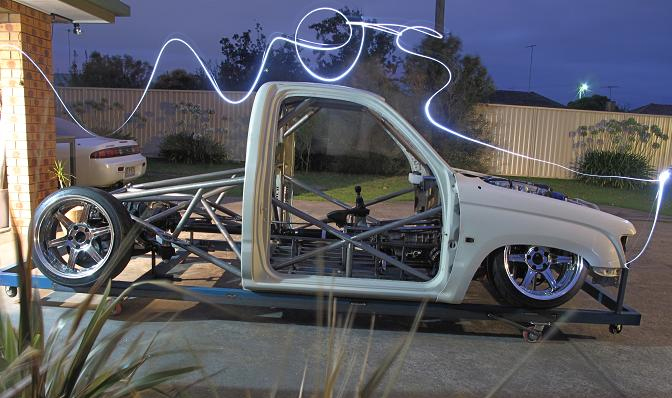 My good friend Nigel Petrie from Geelong, Victoria is keeping himself busy working on cars, which is no surprise. Putting aside his addiction for building S-Chassis Nigel knew it was time for a change. This is his latest creation, a Toyota Hilux built to slide.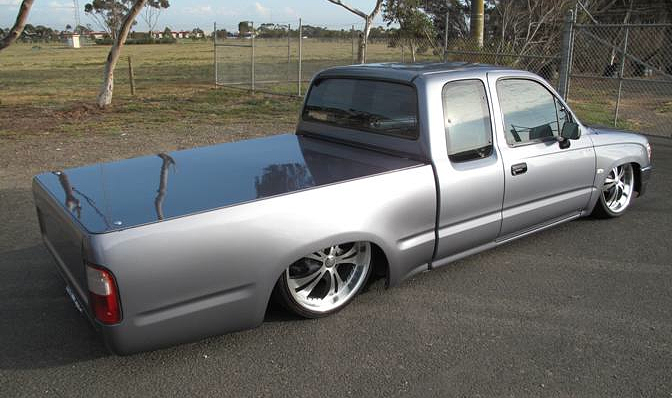 Hello fellow Speedhunters, it's with great anticipation that I show you my latest project. I'll explain to you what has happened from day dot.
In 2004 I built this daily run-about Toyota Hilux which was used to tow my drift car. It was a ten month build and required me to ride my BMW the 30km round trip to work every single day. It was a huge task and I did every single little thing at home by myself. I have always had a passion for this shape Hilux and as soon as I sold it I knew I would have another one.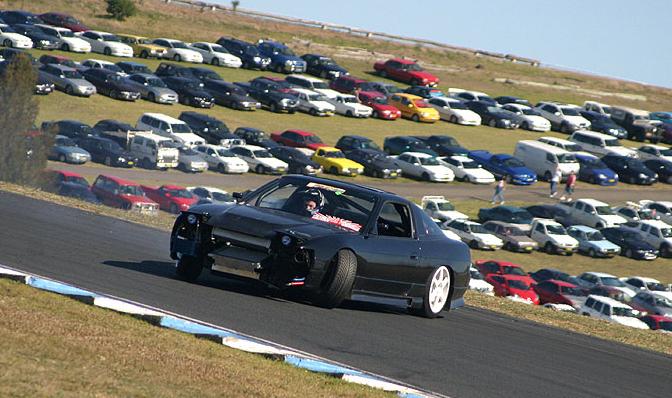 The years that followed I would call S13 years.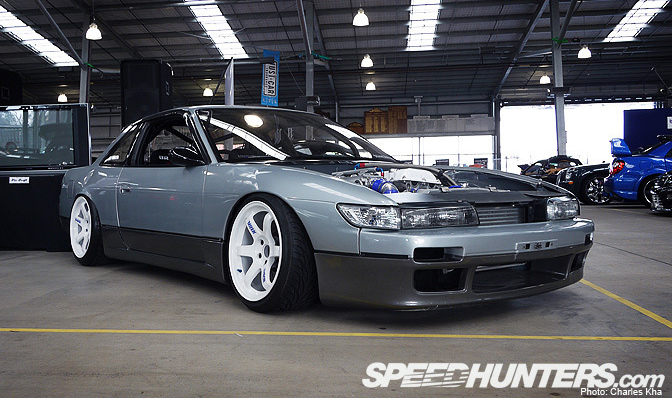 I built my two tone S13 from scratch and then my 180SX soon followed. Everything would be done at home and everything would be solely by me. I would drive these cars regularly in drift competitions all around Australia and have the time of my life; I have met some of the best friends and had the best times in this sport.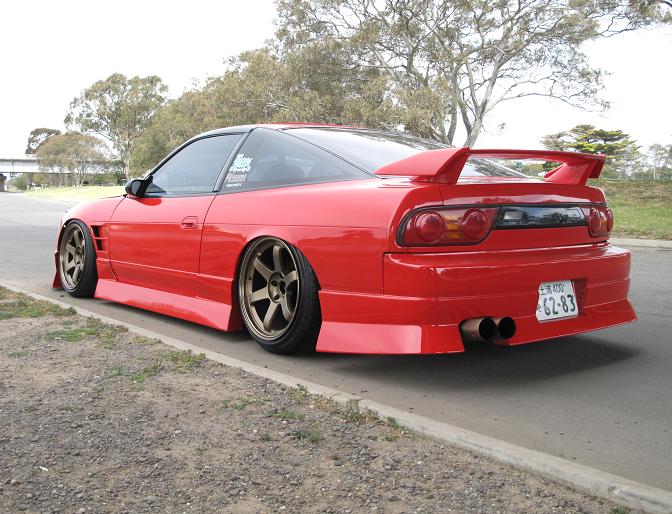 Building my 180SX and competing in it taught me so many things, I knew what needed to be done to the car to make it more competitive but never wanted to go so far that it lost it's style. This was the reason I bought the 180SX, the Silvia was exactly where I wanted it but it needed a lot of rework to be competitive. Doing all the work yourself gives you so much respect for the car you have created, to then go and undo all of that work and redo it is a harder pill to swallow than to just restart with another car. Sometimes the costs can be fairly equal and you will end up with a lot more. I started getting the feeling that I was reinventing the wheel; I had two S15's that I picked up for a decent price and thought I would turn my attention to those.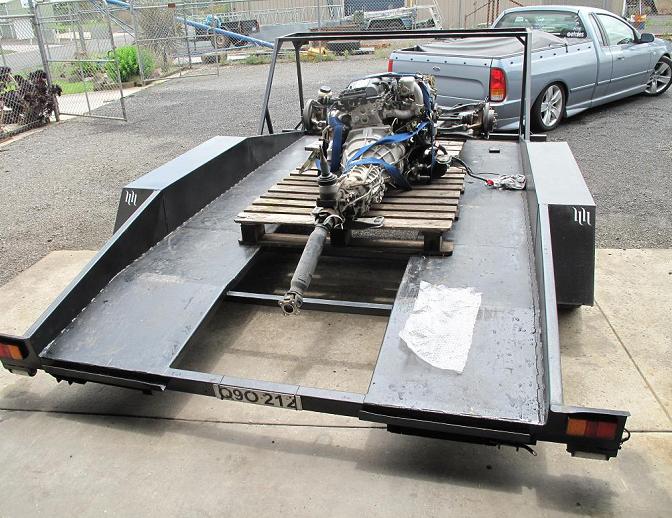 But what could I improve that I had not already done on the previous S13's? I thought long and hard about building the S15 but couldn't work out what I wanted to do. Later in life I want to do club sprints and I would decide to leave the S15 for that purpose. I had owned two S13 Silvias, two 180SX's, one S14 and two S15's, can you see the pattern here? I needed to break the S-Chassis addiction but I had an itch that needed to be scratched. I pulled the driveline out of the damaged S15 and my 5 year dream began to take shape.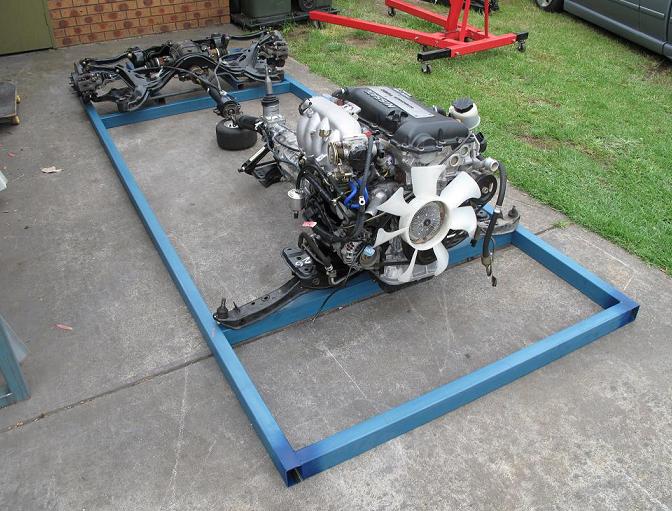 I spent a night drawing plans and getting a rough idea on wheelbase lengths and motor/sub frame heights. This was exciting, I could finally put the S15 driveline at the height I needed it. I would then drive around my city measuring Hilux's that were sitting in car parks, yep weird I know. I then made up a jig to sit everything onto and then the hunt for a body shell was on.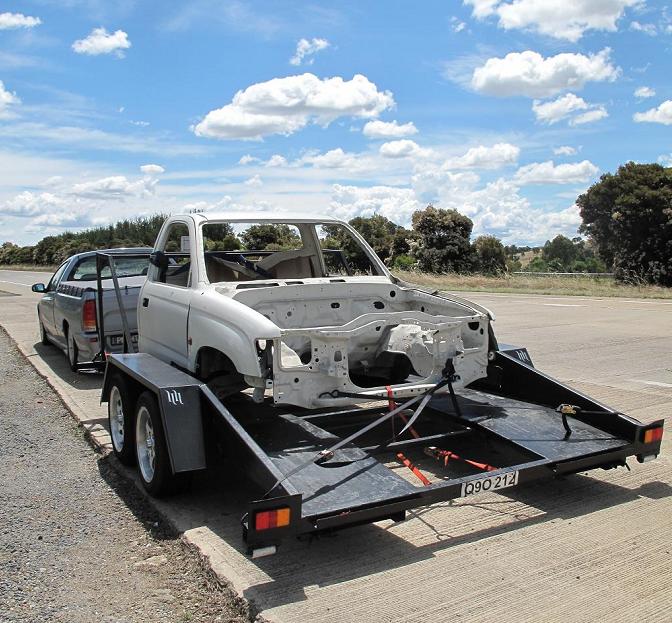 The last thing I wanted to do was to pay full price for a body that I hardly needed any of, it was then I found a drag racer with a stripped 2004 Hilux cab selling his project 800km away. I filled up my ute with gas and started the journey.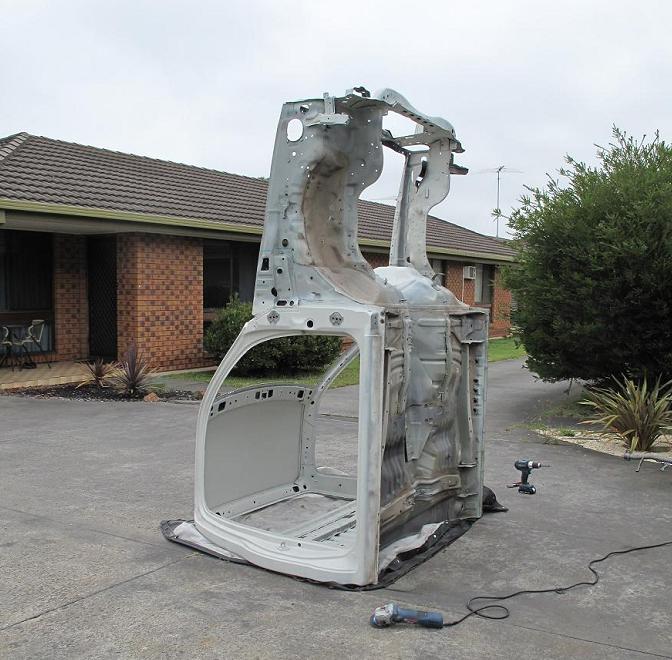 After nearly 20 hours of driving I was home, I waited till my neighbors left and then got stuck into the floor removal job. All I needed of the cab was the outer shell, something to stick windows to, hang doors off and make my space frame car look like a Hilux.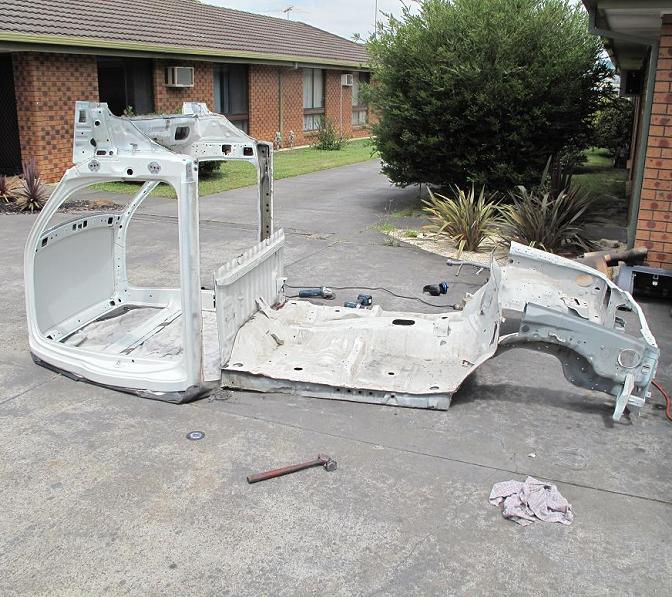 In half an hour I was off to the recycling centre with the majority of the sheet metal I had just traveled 20 hours to get.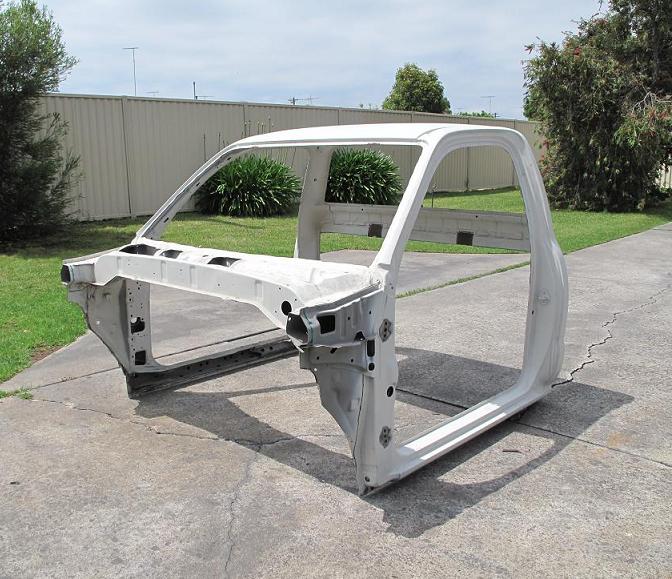 I tried to remove as much factory sheet metal as I could; the plan was to have the cab removable off the chassis. This will allow me to work on the chassis with a lot less hassle.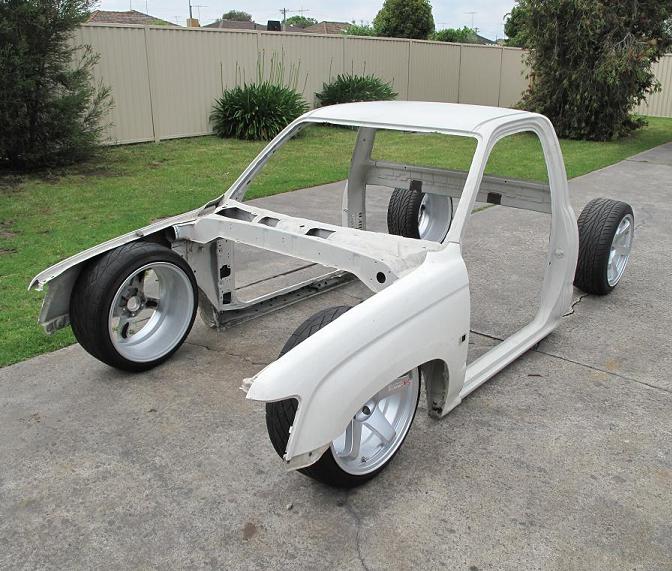 It does however present a heap of issues with sealing the cabin area from smoke; this will be the hardest part of the build and something I am not looking forward to.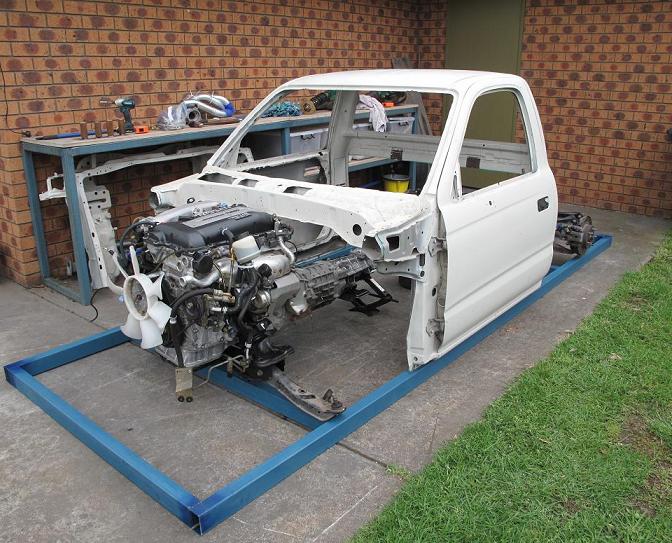 So now the pieces of the puzzle come together, at this stage the angle grinder and tape measure were the biggest part of the build, things were going well and the union of the S15 and Hilux were working incredibly well together.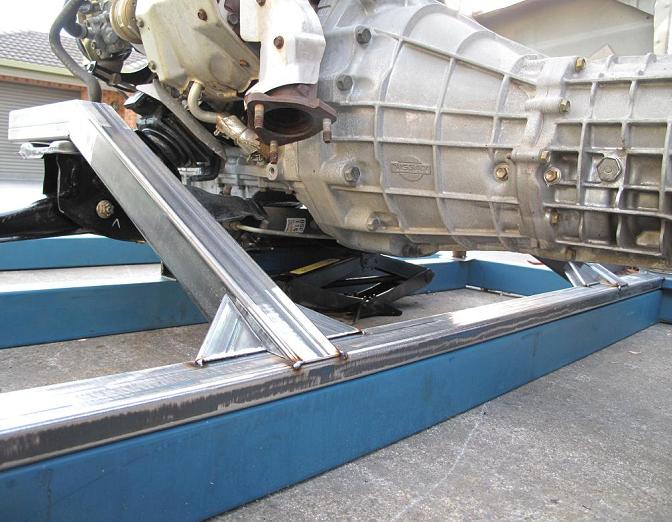 The high snout of the Hilux allowed the motor to sit higher in the engine bay which meant the S15 tie rods and LCA could be at a reasonable height while the gearbox was high enough to run the exhaust underneath. I had worked out the height and position of the motor and made up some RHS rails to work off. Why didn't I make a custom cross member? Why didn't I make a custom sump? Why didn't I make the engine sit lower? Well I wanted this entire front cross member/driveline to be able to slot straight back into the S15 it came from or another of the chassis I own.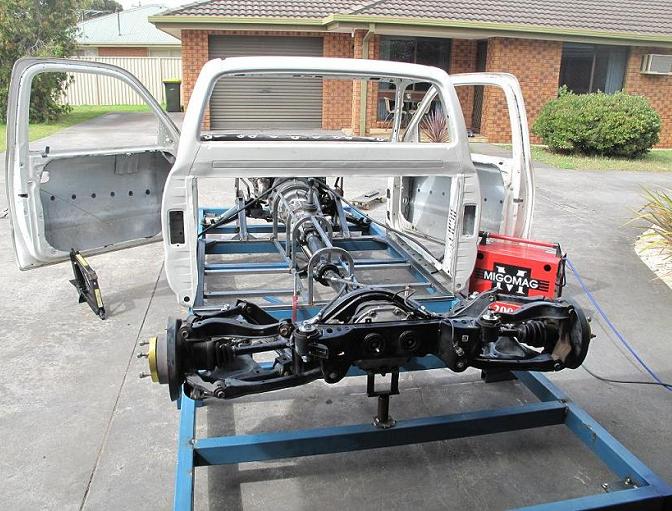 With the driveline and body in position I could then move the entire jig around and wheel it all into my tiny garage. You may wonder how my neighbors put up with me; well we work opposite times of the day so it gives me a good 3 hour window from when I get home from my day job to work on this build. I made up a series of RHS tunnel loops that would be the backbone of the floor and I did what I could until the 40M of Racetech 350 Spec CDS / DOM (CDW) Mild Carbon Steel Round Tube arrived.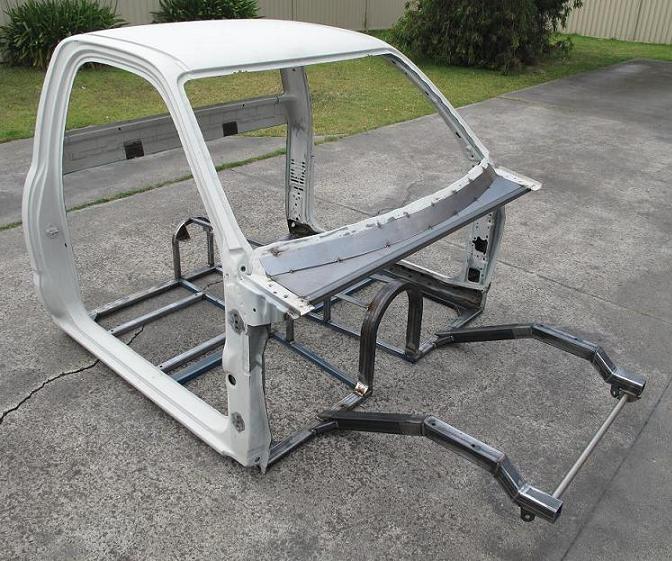 By now I had the floor and trans tunnel and I needed a few items to get ready for the arrival of my tube. As a fitter and turner by trade I knew what tools I needed to progress to the next stage of my DIY ability.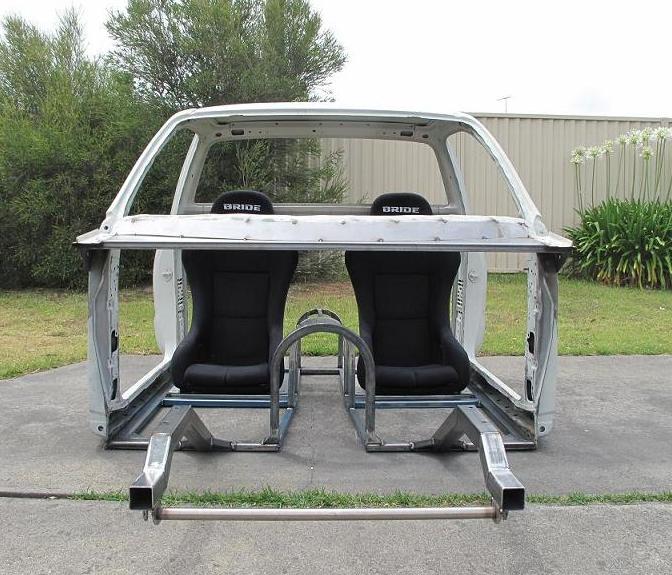 I would need a tube notcher, tube bender and a TIG welder. To buy all these items was going to cost me around $6,000 AUD so I started researching what makes a good notcher and bender because I was sure I couldn't build a TIG welder.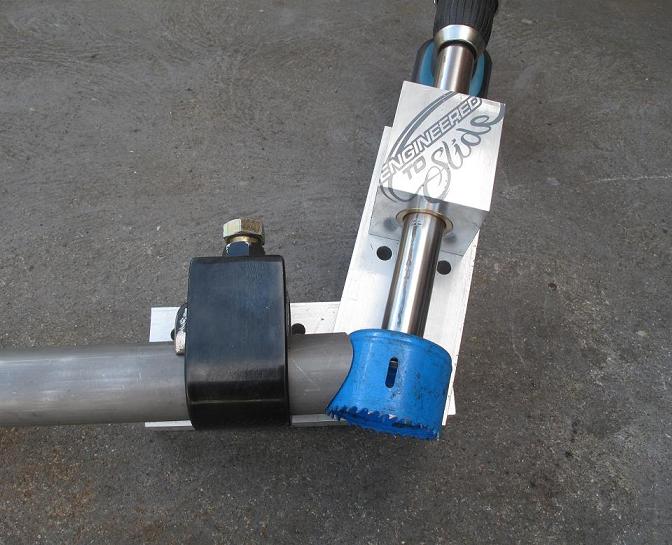 Here is the finished product of my own tube notcher, it's made out of alloy, has a stainless steel shaft, bronze brush adjustable angle and adjustable tube grabber. It cost me around $100 in materials and works unbelievably well. Now onto the tube bender.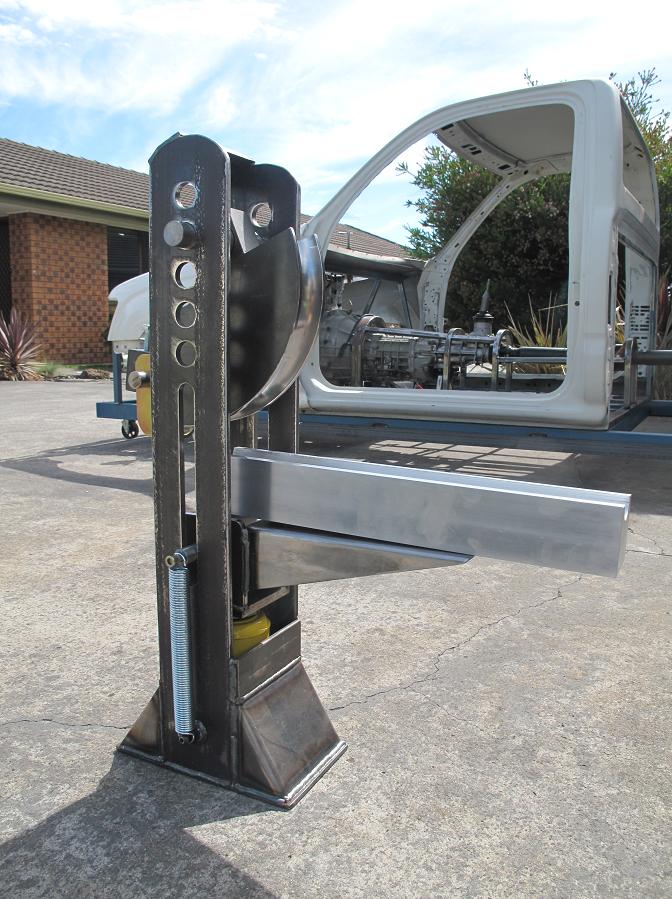 The tube bender was modeled of an Australian company called Speedwerx, I bought two dies of them for the two types of tube I would be using. 13/4 and 1 1/2 and made the rest. I was pretty exciting to see it all come together.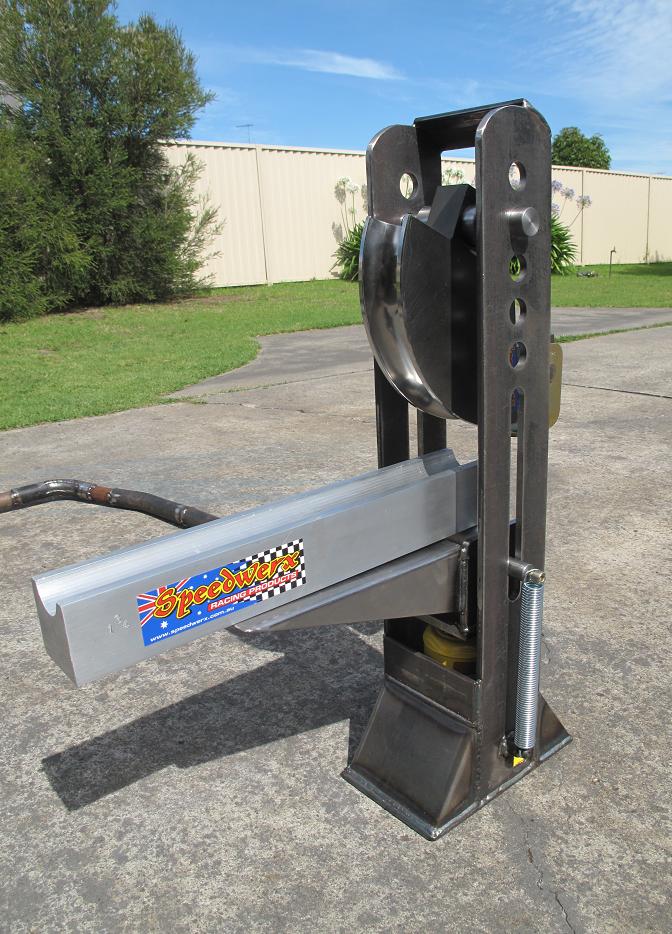 It took a week of planning and building but the feeling of achievement at the end was incredible. These tools I will have for life and will make everyday race car building a lot easier. You see the more you can do yourself the less people you have to rely on, I go by the old saying "If you want something done right, do it yourself".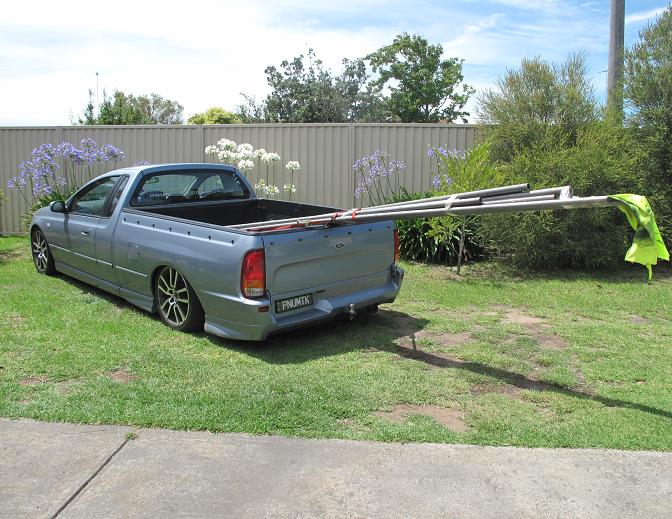 I had a call from my good friend at GWorks Custom Motorcycles and he informed me that my tube had arrived, this was super exciting! My everyday car is a Ford Falcon ute. I made up an airbag setup for the rear end and 1 off coilovers for the front. I tow my race cars all around the country in this thing, it's a great work horse!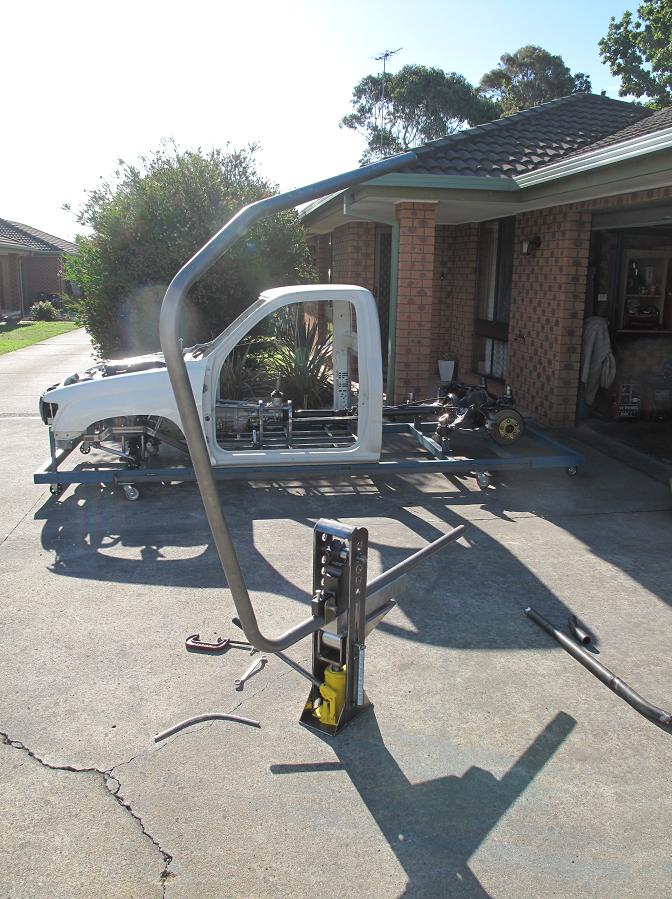 This is the time my relationship with my girlfriend started going down hill, I was addicted to tube work and would spend every spare second in the shed measuring, notching, bending, planning and adding strength everywhere I could. I was in love with my new tools. I bought a 200amp AC/DC TIG which will be used for the final weld of the entire chassis.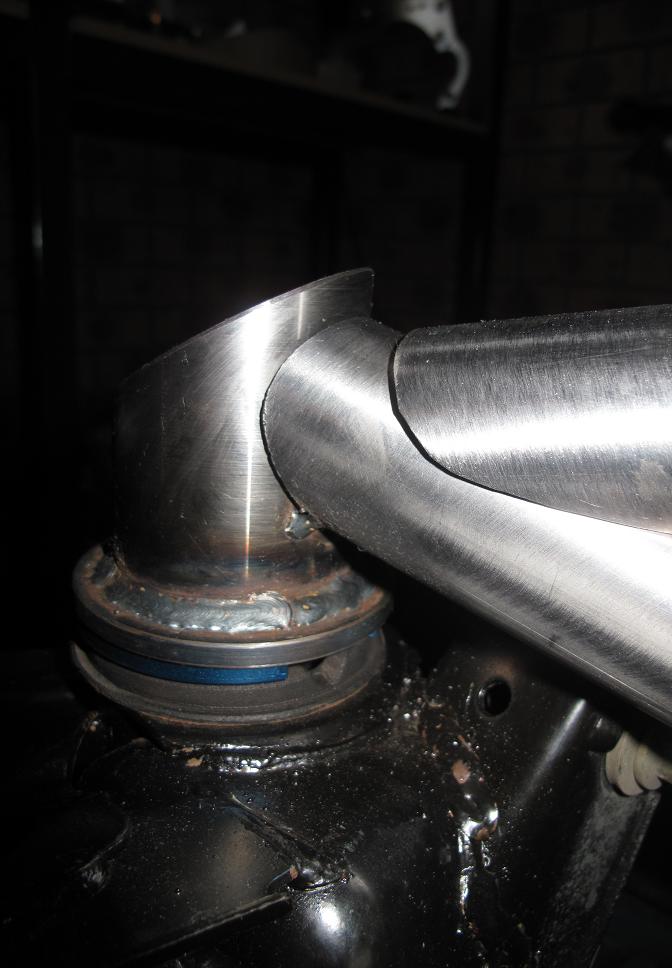 The rear cradle was positioned and tacked up first.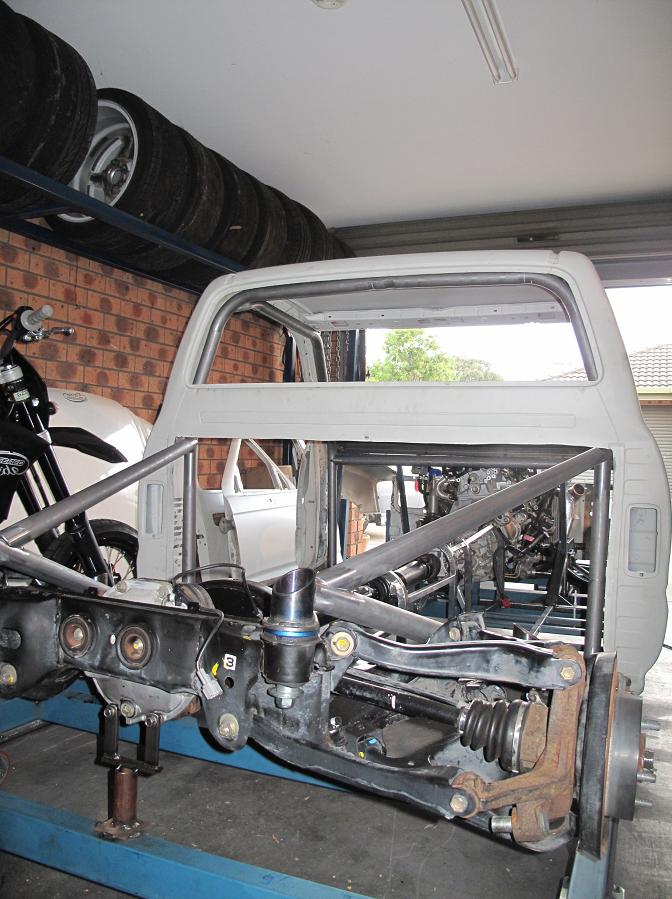 I had all of this bar work planned in my head long before I would actually do it. I would go to sleep thinking about it and wake up thinking about it. The quest for the perfect fit up was always a tricky one.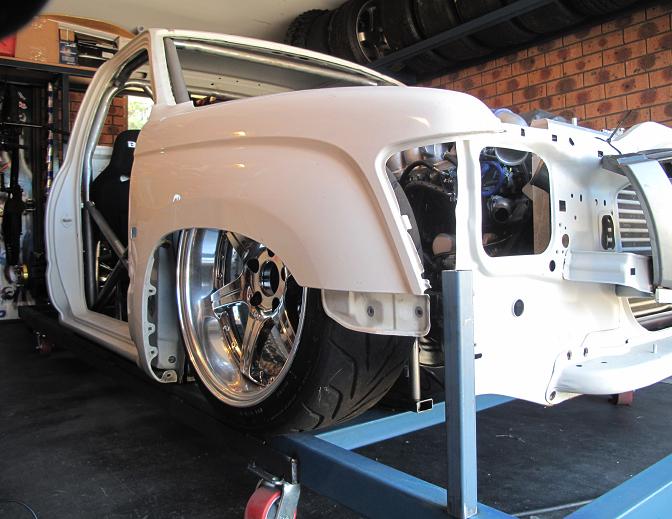 I just love this shot. What is the final ride height going to be you ask? Well, it's planned to be around 65mm from the ground to the sill/floor that makes this wheel drop about 65mm and that's it. How am I going to turn at that height? Well I am thinking custom hinged doors in the guards but I'll worry about that problem when I get to it.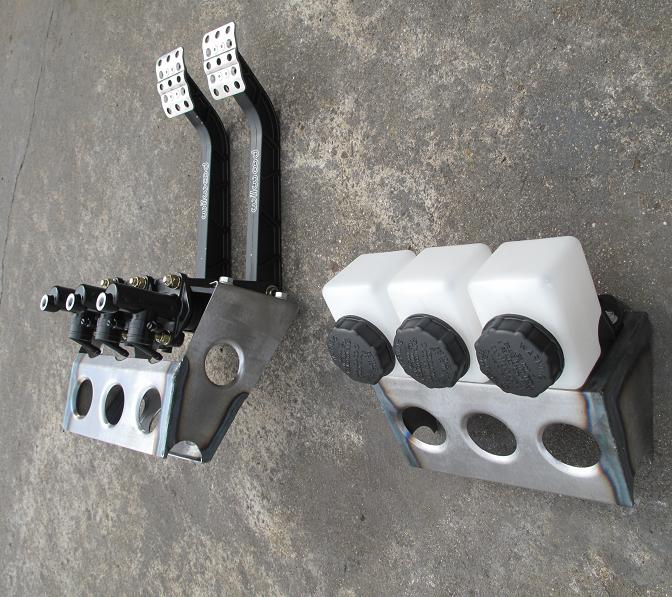 Braking consists of a reverse swing Willwood pedal arrangement with short master cylinders; it's a neat setup with the reservoirs mounted below the S15 dash airbag lid. S15 dash you ask?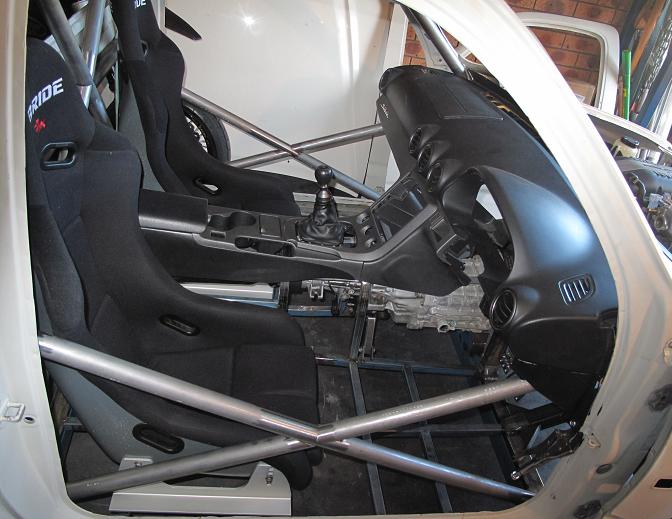 I am retaining the S15 dash, console and ratchet handbrake to make the interior scream out this is more Silvia than Hilux. It works incredibly well together.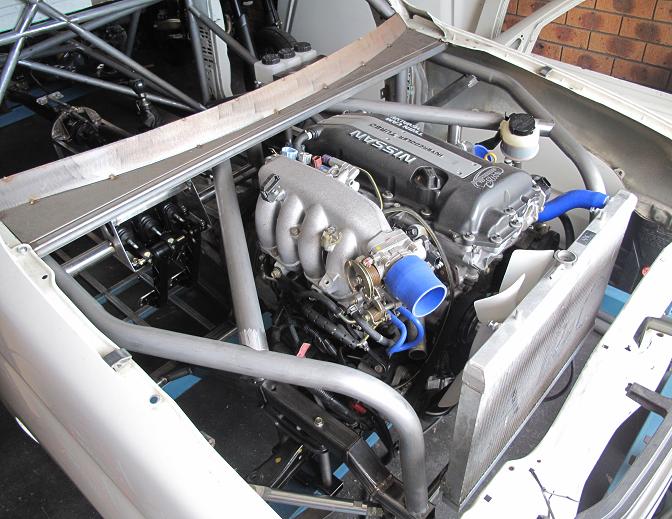 The front tube work is taking shape and I am currently waiting on MCA Struts through my good friend at fellow competitor Josh Coote up in Queensland. Josh and his father are building me S15 front struts and S13 rear struts for the ute. We will be corner weighing it to choose the final spring weights. I am looking forward at a total weight of around 850kg when it's complete.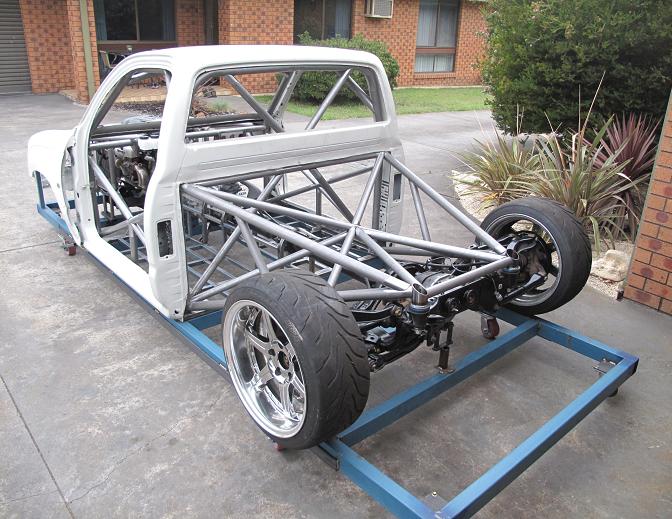 As you can see the tube work is really coming together, I have used just on 50M so far and have ordered another 14m to finish it. I wanted to make the chassis look and be as strong as it possibly can by making sure I use triangulation everywhere.
The wheelbase is about 2700mm, I wanted to try and keep it around the same length as an S15 but the wheelbase of an S15 is 2525mm, this meant the style tub would have to be too short and make it look too stumpy. Using regular long bed tub would make the wheelbase about 2830mm which I believed would make it too long and sloppy on transition. So I went with the final length of 2700mm, just shorter than a JZX100 and I believe the perfect wheelbase for drifting. This means I will be using a short bed style tub and adding 150mm into it's length.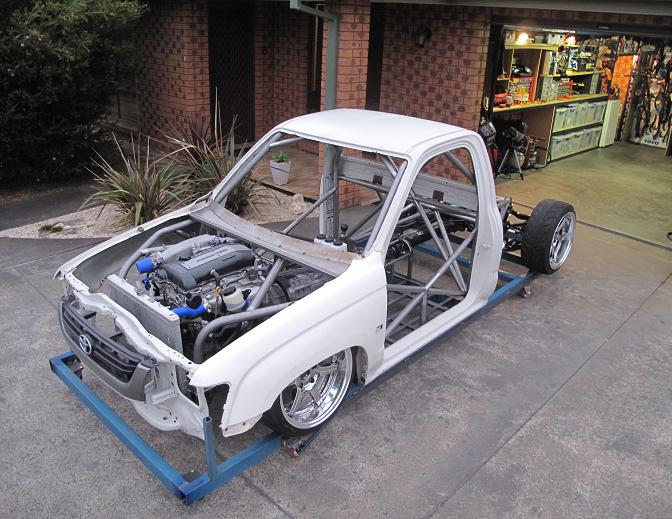 This brings us up to the progress so far, it's been two months in the build and there's still a lot more to go. I have plenty of cool additions planned, the underside of the rear will have a complete flat floor with a comprehensive diffuser setup that will nearly extend past the roll pan of the rear of the tub. The exhaust will exit the centre of this with two neat 3" pipes. The rear guards will be hand moulded to clear the 18×10.5 rear wheels, the front guards will be pumped but the factory body line will remain. A dry carbon front bumper and apron will replace the factory metal, the fuel system will consist of two 3 gallon alloy tanks mounted behind the seats in-between the bar work with a collector tank and internal pump setup. The motor will be replaced with a 450HP SR20DET and dogmission. The deadline is set for August and there's plenty to be done.
I'd like to thank Speedhunters for the opportunity to get this out to the public and Casey Dhnaram for submitting it. Please visit EngineeredToSlide for weekly updates.
- Nigel Petrie, Casey Dhnaram.