For this first part of the HKS Premium Day coverage I thought it would be interesting to take a look at some of the cars I came across while walking through the pits and paddock. Not being allowed to disclose any of the Video Option Fuji Speed Max time attack session results will take away slightly from all the action but we don't want to upset anyone right! It's no big deal as there was just so much to see at Fuji this past Sunday, from the privately owned cars that participated in the HKS Hyper Challenge like the above R35 on prohibitively expensive Neez 7Model wheels…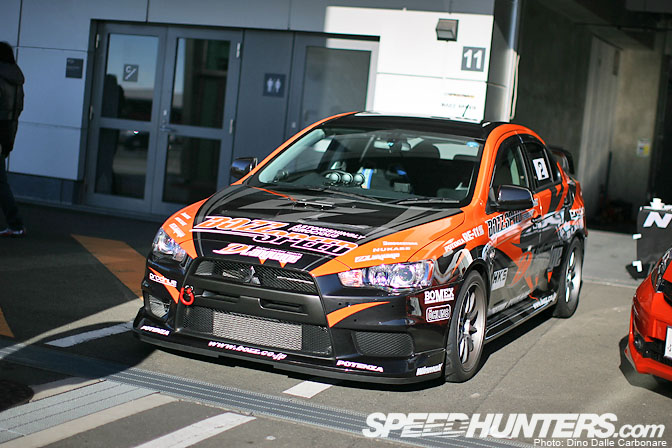 …to cool new demo car's like the Bozz Speed Evo X SST.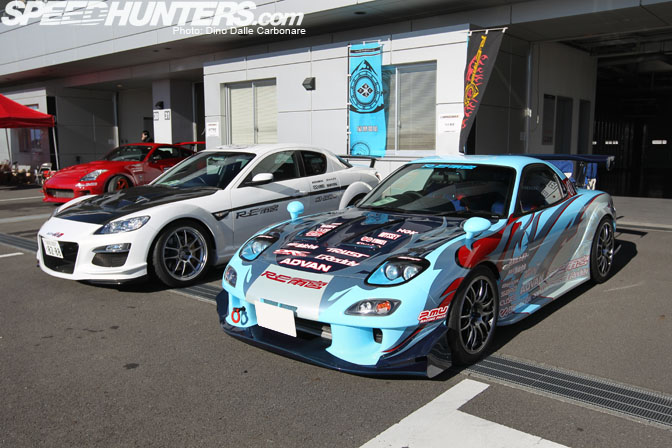 RE Amemiya was also present at the far end of the paddock with these two of customer-owned cars, a pair I had spent some time following early in the morning on the way down from Tokyo.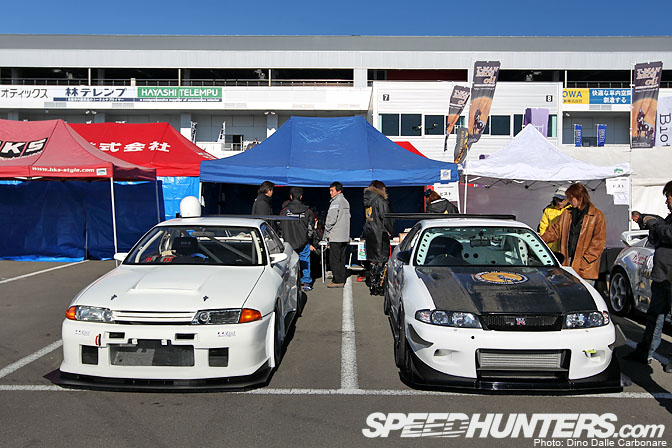 These were probably two of the cars that grabbed most of my attention, both maintained by Pisto Racing. The R33 we saw a few months ago during the R's Meeting…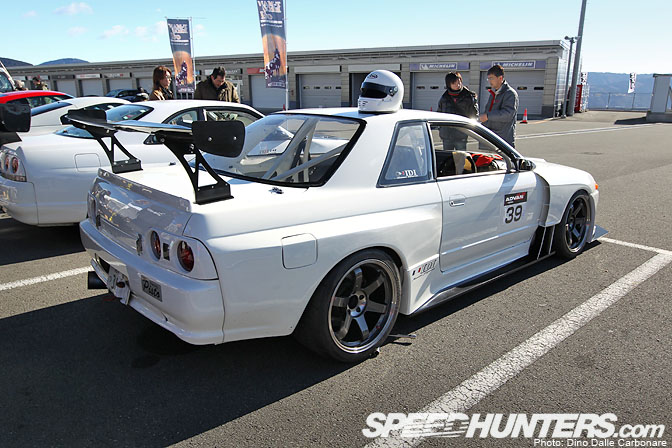 …the R32 I had never seen before. It looked like this car was built with a limitless budget judging from the custom wide body conversion and beautifully welded titanium crossbars for the roll-cage. Amazing GT-Rs!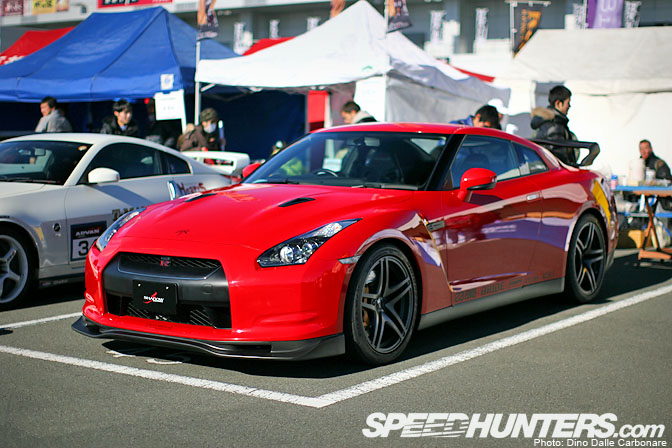 A few cars down was the Shadow R35 GT-R running those very nice lightweight forged magnesium wheels made for them by Enkei. The fronts hit the scales at 9.85 kg, the rears at 10.6 kg, 2.05 kg and 1. 6 kg off the 2007~2010 stock wheels respectively.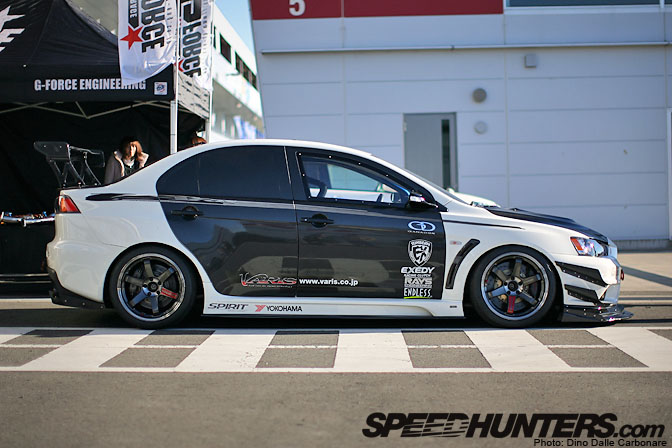 The Varis Evo X, a collaboration between Garage G-Force and Sunbeam, was also on display…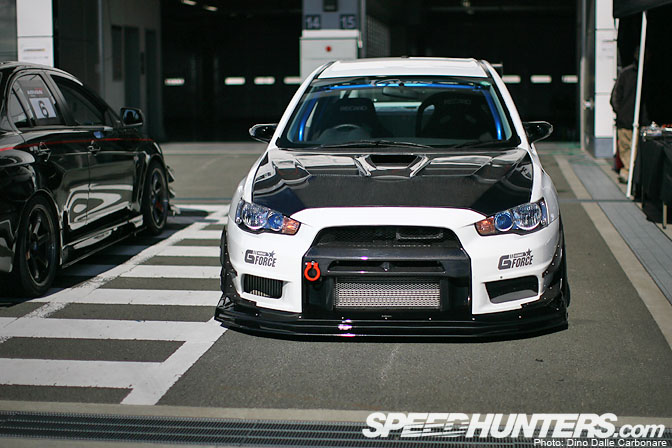 …an imposing car no matter which angle you view it from.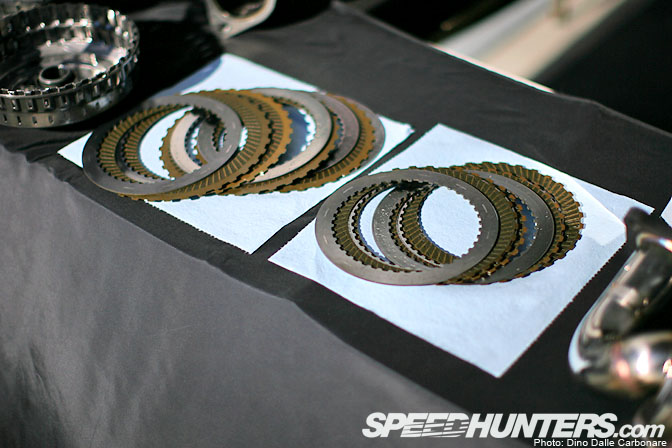 Like all big tuners in Japan it's now the SST dual-clutch version of the CZ4A that everyone is focusing on, and Garage G-Force is trying to get the clutch-packs in the Getrag-built transmission to sustain higher power levels.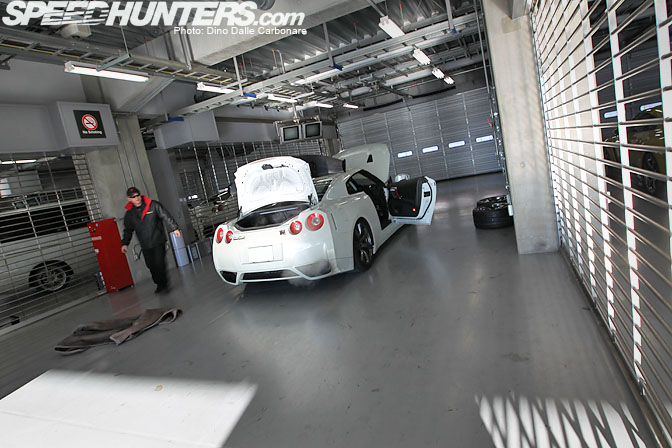 Garage Yawata came all the way up from Nagoya with their Street Special GT-R to participate…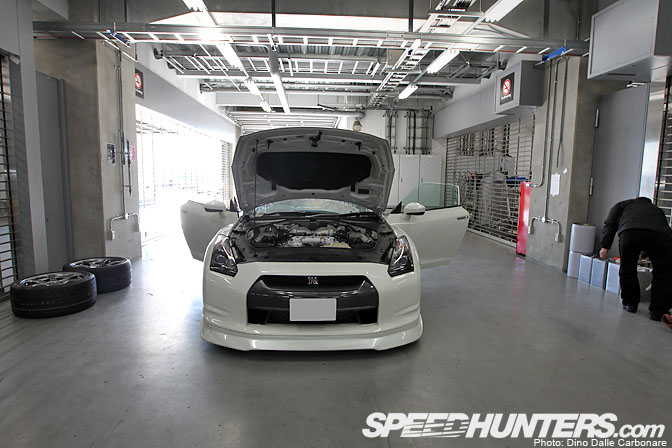 …in the tuned R35 time attack session. The car is easily recognizable thanks to the paint-matched splitter, skirts and lower bumper trim…and the fact that it rides lower than any new-gen I've so far seen!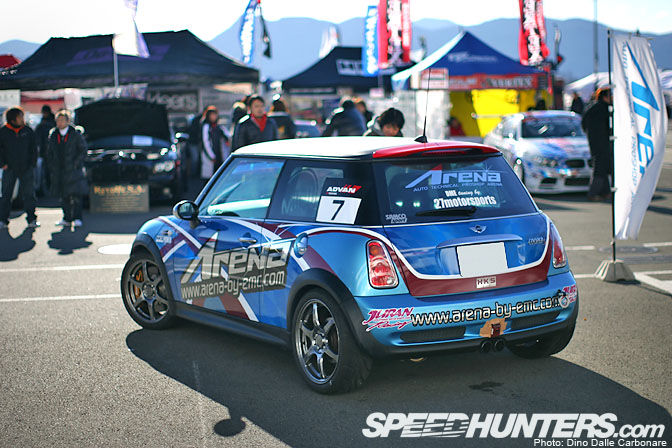 Mini specialist Arena from Nagoya showed up with their Cooper S demo car a car that might have suffered a little on the long Fuji straight compared to bigger and more powerful cars, but caught up through the twisty bits.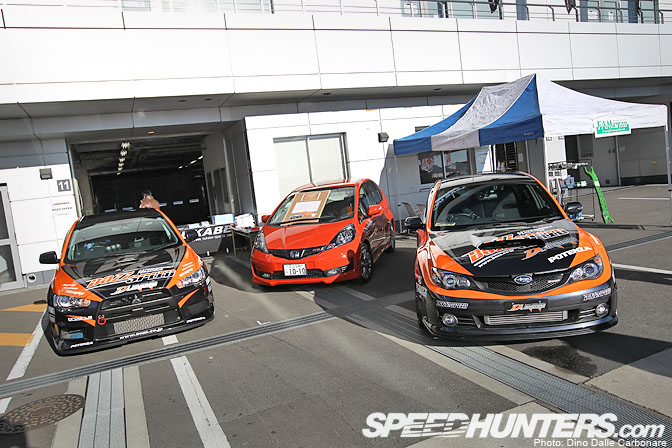 Looks like Hisada-san at Bozz Speed has also began paying attention to the Honda Fit RS, I really liked the look of their new demo car, not often you see orange Fits!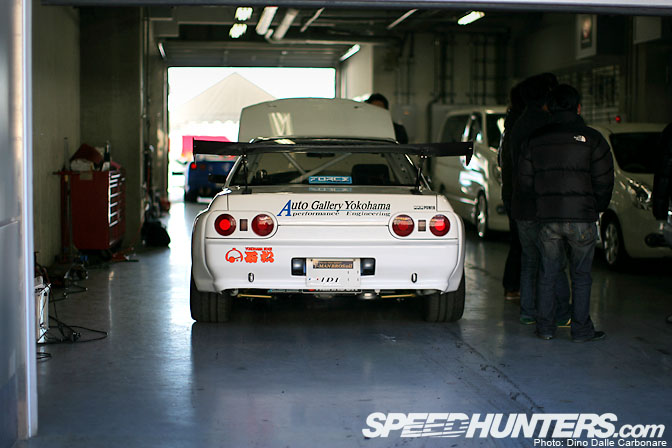 Transmission specialist Auto Gallery Yokohama never misses a chance to stretch the legs of their BNR32 time attack beast, one of the fastest tuner cars around Fuji Speedway.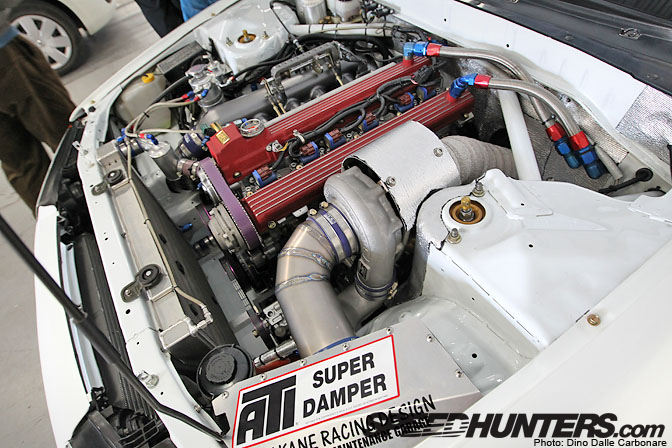 The 800 HP V-cam equipped RB26 looks as unique as always thanks to those modified RB20 cam covers…not to mention that massive T51 blower sitting next to it!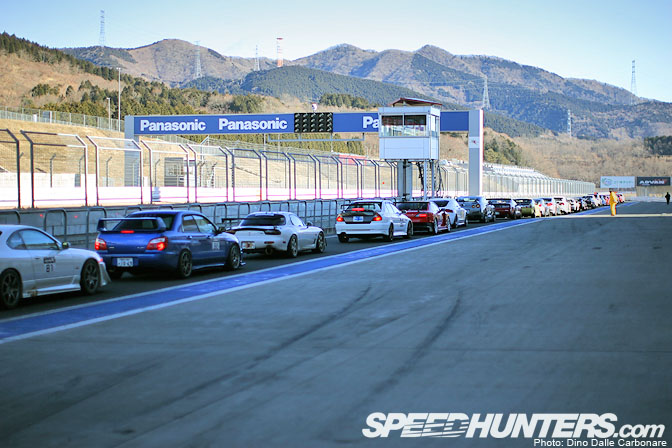 With so many cars participating in the Hyper Challenge there really was a non-stop stream of cars out on track…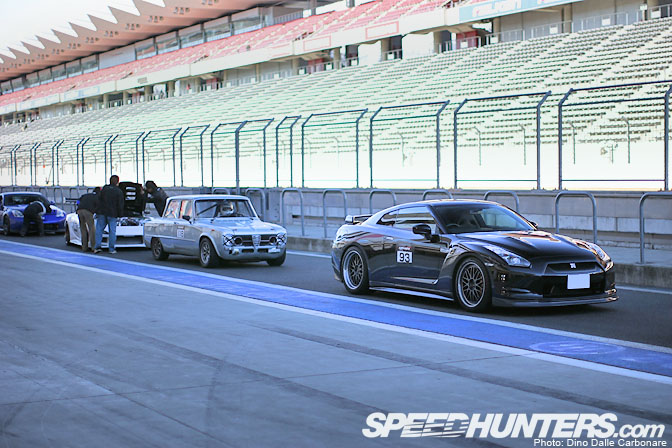 …every driver trying to better his fastest time. The range of cars was really vast as this picture perfectly shows with the tiny HKS-tuned Alfa Romeo Giulia sedan following the big san-go.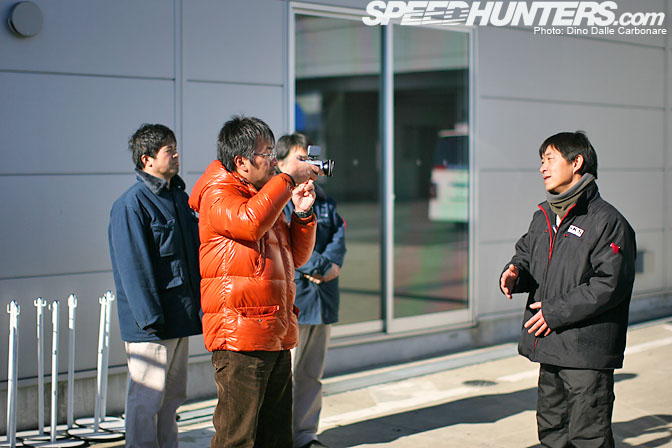 I run across Pro-driver and journalist Ooi-san running a video interview with one of the HKS engineers that worked on the GT800R time attack demo car. The car is developing just under 900 HP now!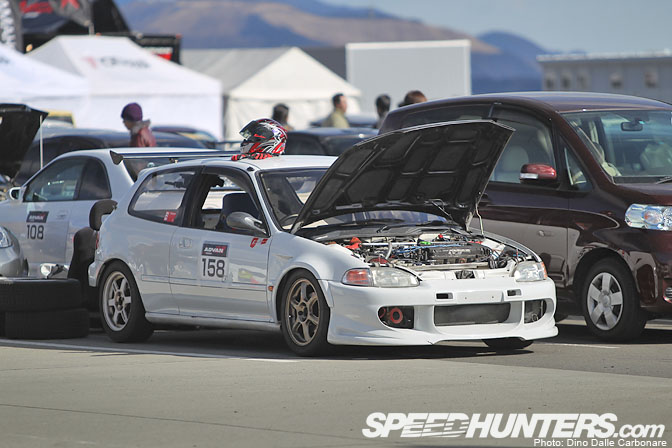 The EG Civic still continues to be a favorite…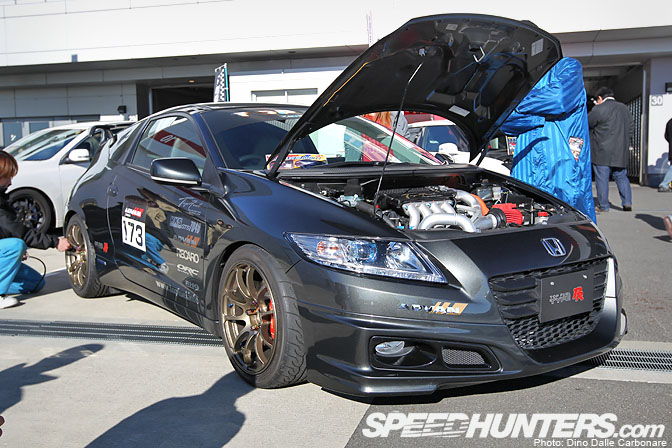 …and it really looks like the CR-Z is the next big thing in the Honda world. True Honda-otaku will not approve I'm sure…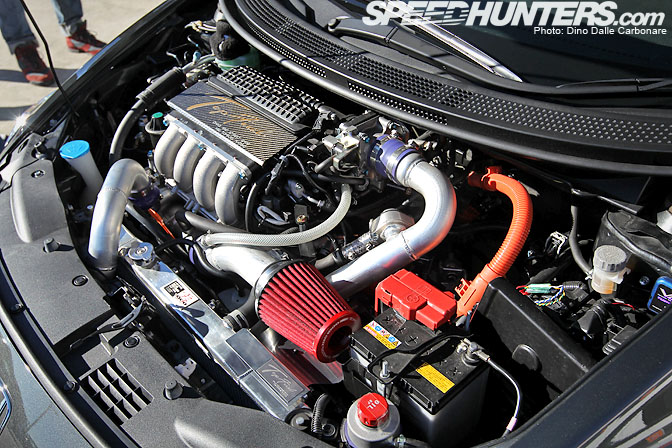 …but the only way to get the little 1.5L IMA engine to really perform is via forced induction like we see here in this Top Fuel built example.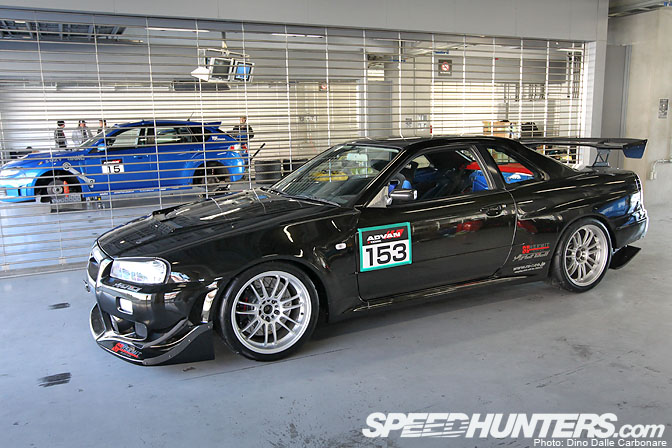 The most important cars of the day were sitting inside the pit garages, being worked on before they went out for the Option Fuji Speed Max session. You may recall I did a spotlight on this Flatwell BNR34 at last year's event. A very unique and blisteringly fast R.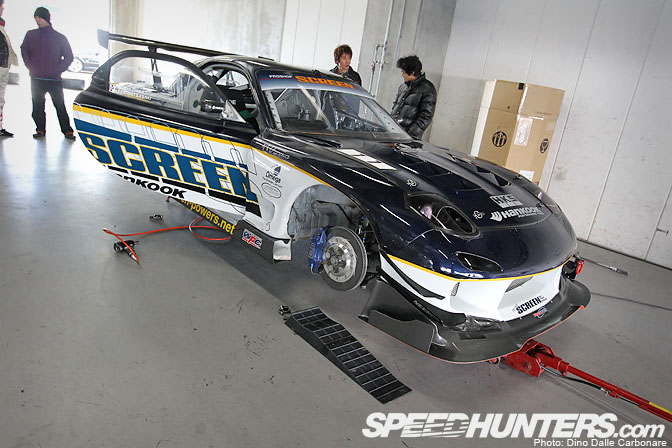 The mighty Pro Shop Screen FD3S.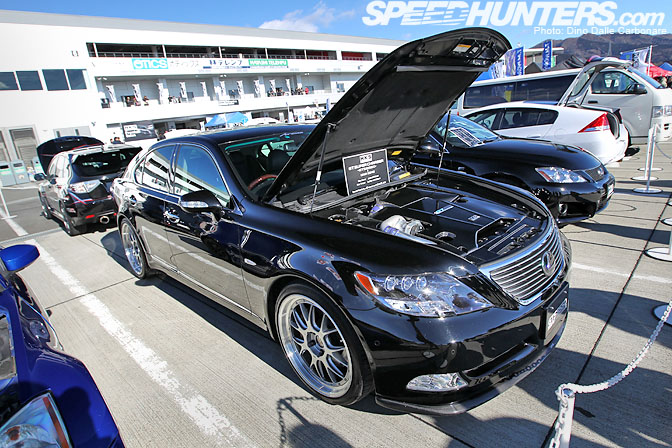 The Lexus LS is not the kind of car you would expect seeing at an event like this but HKS obviously likes to work on pretty much anything that might have potential for more power.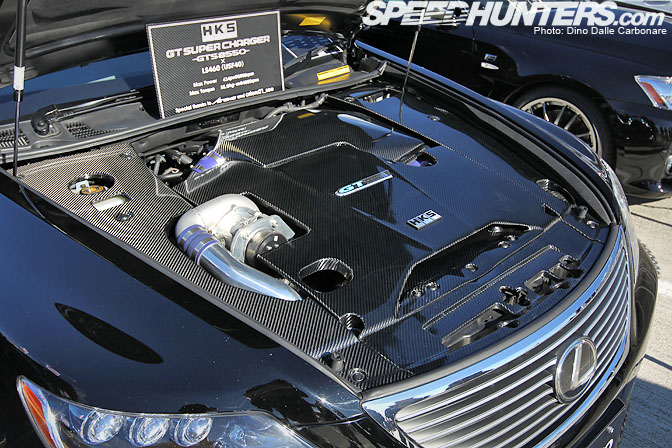 It looks like their GTS8550 supercharger kit for the LS460 is pretty much ready and will probably be hitting the shops sometime this year. It will boost the V8's power to 434 HP at 5980 rpm and torque to just under 400 lb/ft at 4,850 rpm…a good way to get your big Lexus to keep up with those crazy German uber sedans that BMW, Mercedes Benz and Audi keep churning out!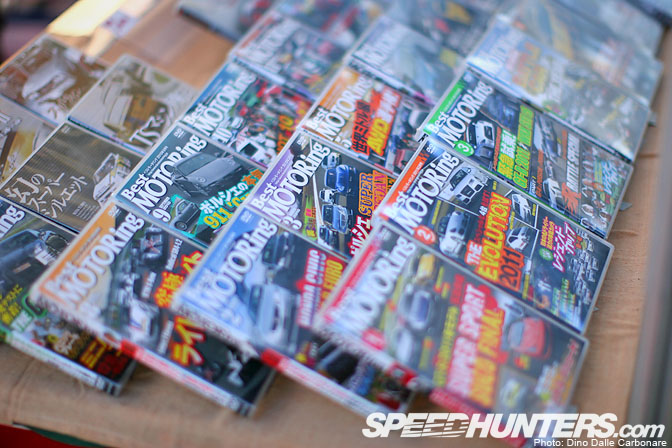 Events like the Premium Day are always a good place to pick up copies of magazines, or in this case DVD magazines, that you may have missed over the months.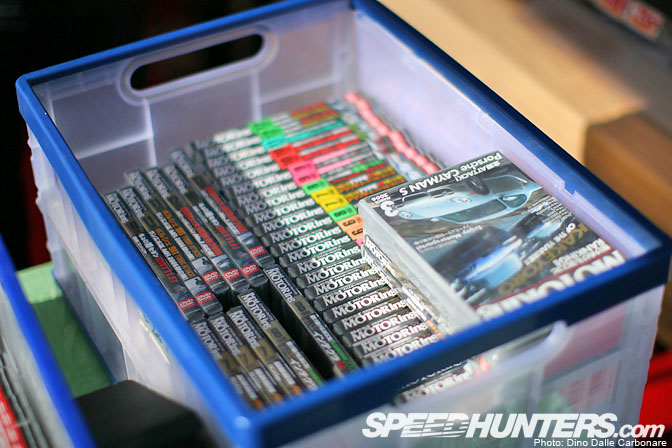 Older volumes of Best Motoring, Hot Version, VTEC Club and AE86 Club DVDs were on sale at a discounted price of ¥1,000 per copy, while latest ones available for a little off the usual retail price of 2,000 or so ¥.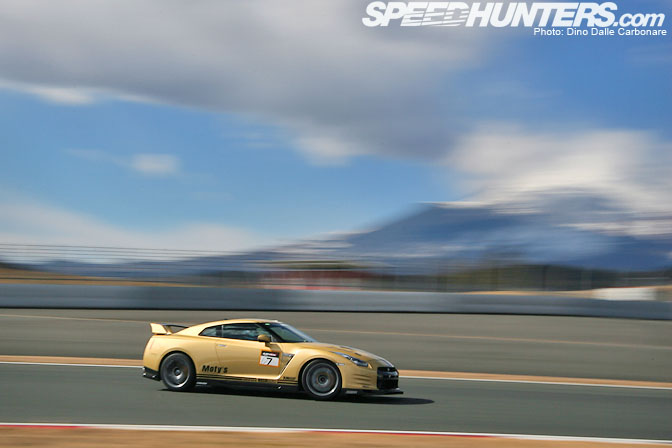 Yes, this is the Top Secret GT-R sideways, the driver trying to warm up the tires! Not something you see every day right? Before we take a look at some of the track action, I'll dedicate Part 2 to another stroll, this time through the parking lots of Fuji Speedway.
-Dino Dalle Carbonare