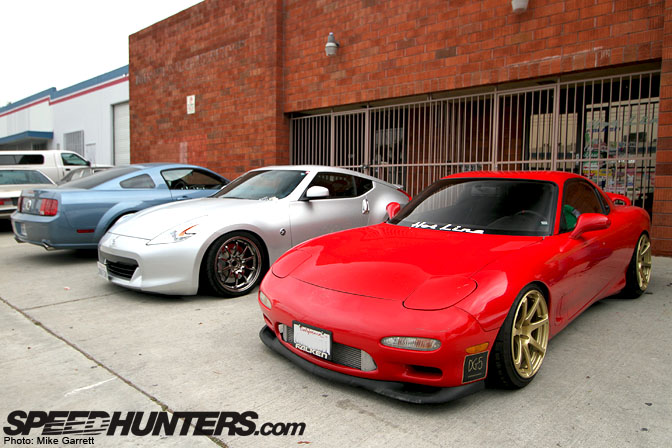 Last week I took a ride up to nearby Gardena to visit Formula Drift competitor and RX7 maniac Justin Pawlak's shop – Hot Line. Hot Line has has been doing business in the LA area for almost a year and half now, and I was long overdue for a visit.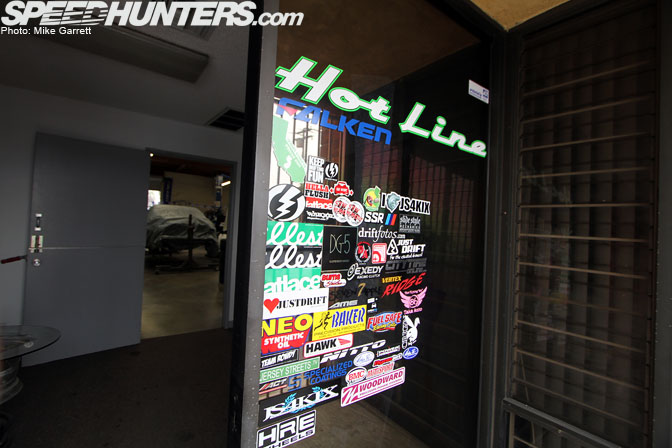 Besides the cool cars parked out front, there isn't much that hints at what goes on inside this building. No big signs, no windows full of parts – it's all very understated. Stealthy, if you will.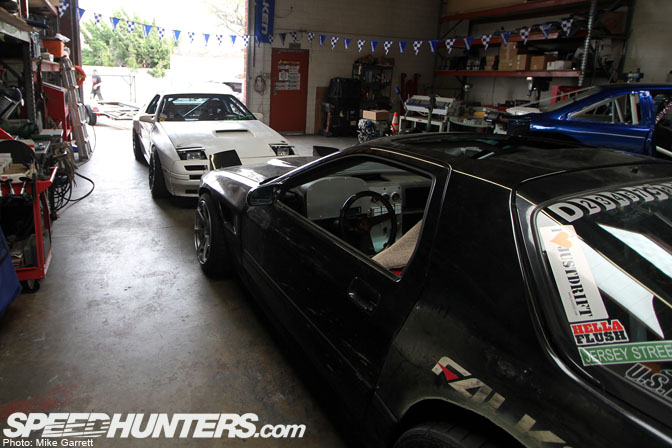 Inside though, you are fully in the realm of the drift car. If you didn't know, not only is Justin one hell of a driver, he's a damn talented fabricator too. Justin and his main man Ryan have established quite a reputation for setting up and building face-rocking drift cars.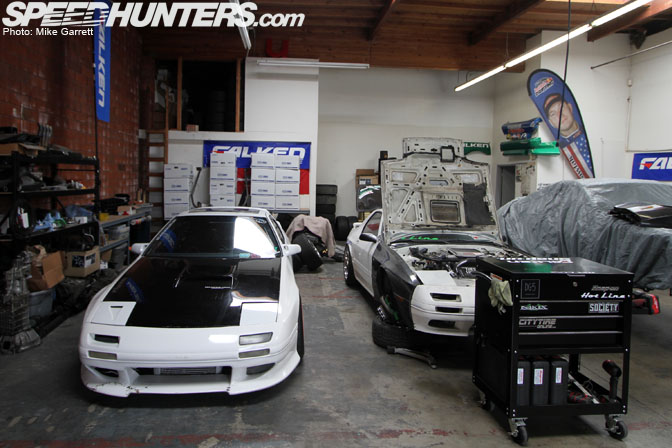 As you probably know, the RX7 happens to be one of their specialties. The shop is quite literally full of FC's.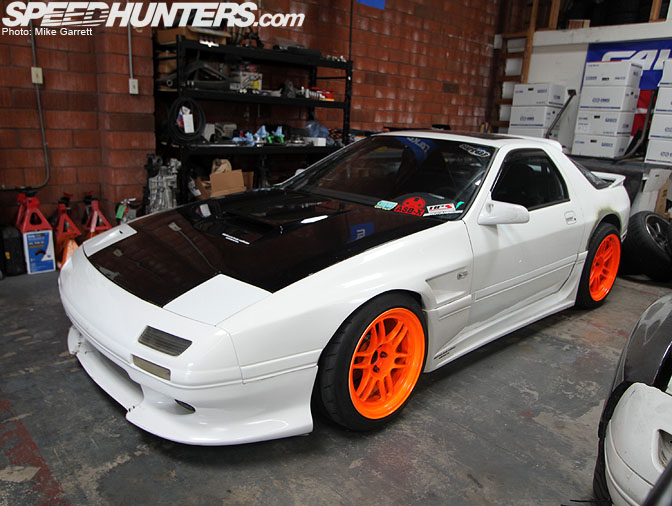 This FC belongs to one of Hotline's customers from Northern California. You might remember it from our past All Star Bash coverage.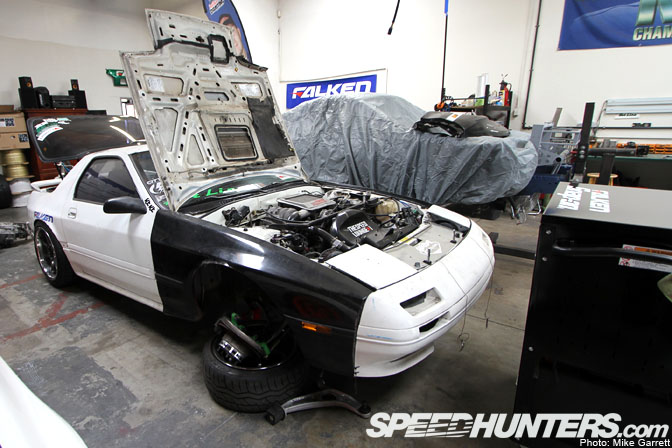 Justin's FC missile car should also be familiar to you guys. Around the shop, these are lovingly known as peasant cars.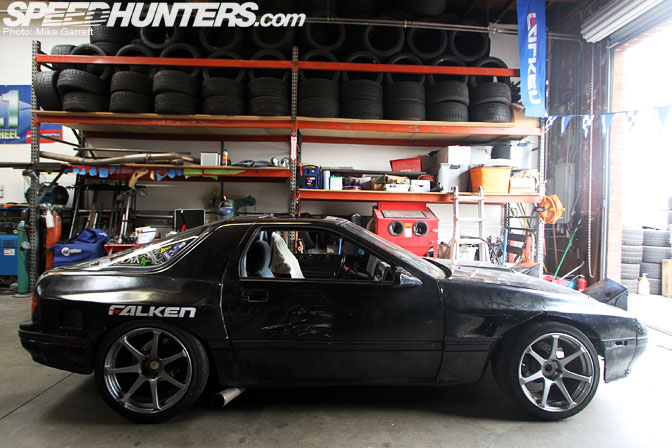 This well-used FC is Ryan's drift machine. Under the hood? Tried and true LS1 power. Just like Justin, this guy can drive!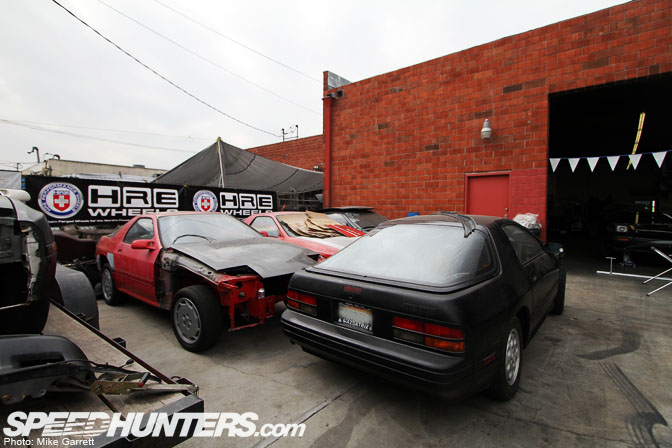 Out back is an FC grave yard of sorts.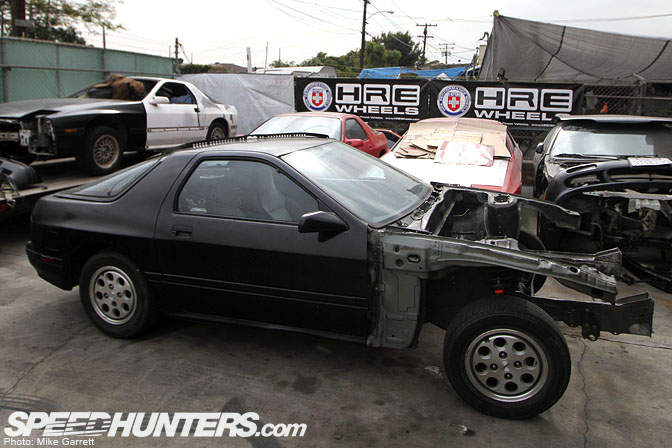 This very straight hard top car will serve as the base for Ryan's new build. It seems he goes through FC's almost as fast he goes through tires…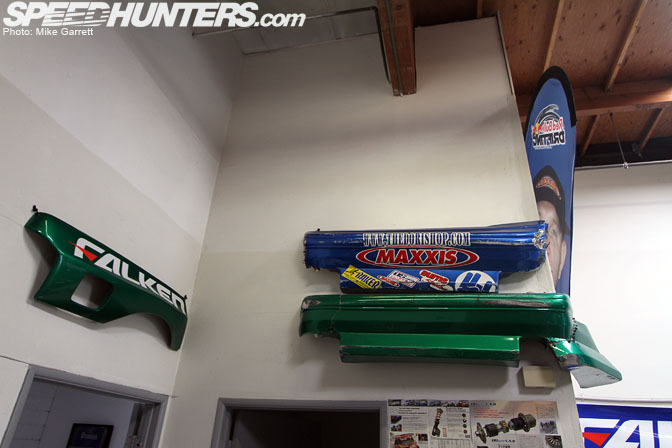 The walls of the shop are decorated with body parts and artifacts from JTP's drift career. Cool.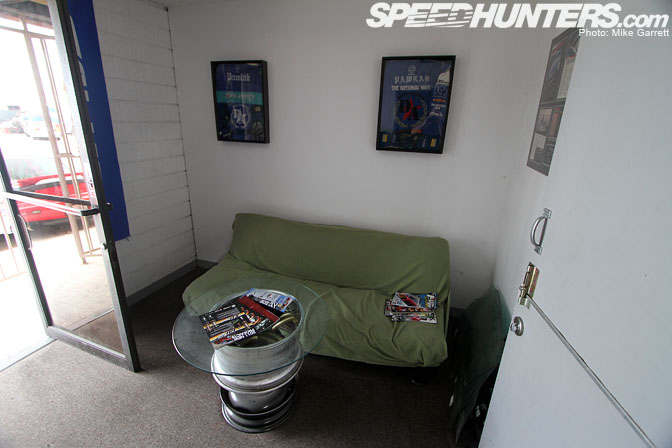 Here's a look at the very plush "lobby" of the shop. Sources tell me that the sofa makes a very comfortable makeshift bed.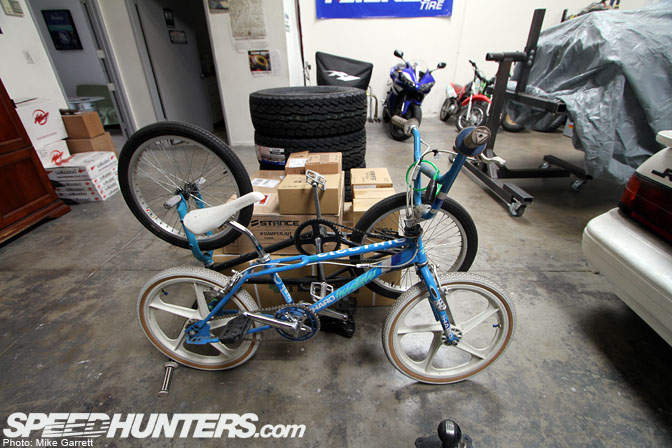 I also found sever examples of two-wheeled vehicles sitting around the shop. Both human-powered…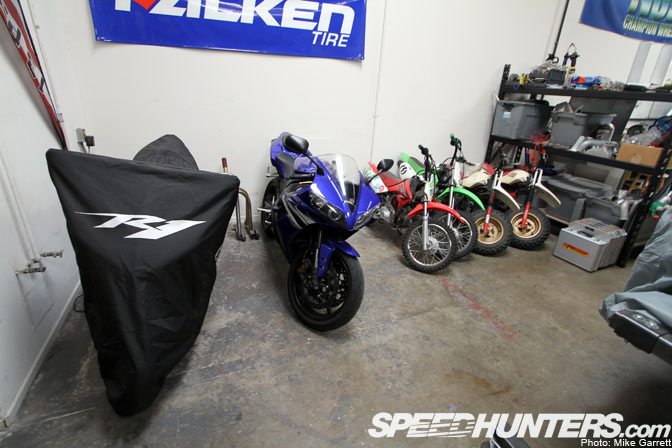 …and gas-powered. Ryan and Justin say that those little bikes can be just as fun as the drift cars at Willow Springs. I don't doubt them.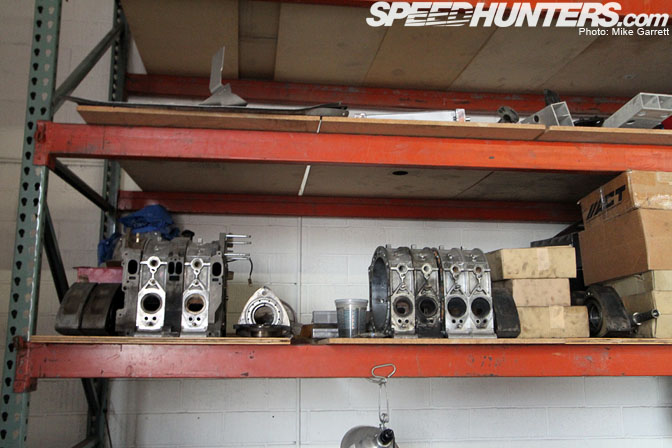 Oh, those fantastic little spinning triangle things.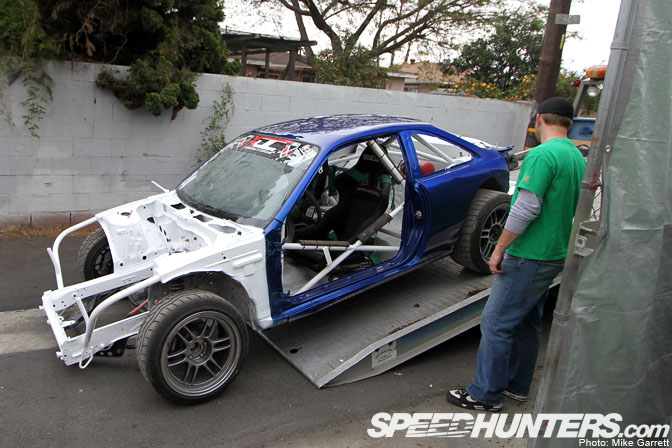 Mazdas aren't the only cars that Hot Line deals with. While I was there David Briggs' S14 XDC car showed up, fresh out of the paint shop. This has been a long-term project for the shop.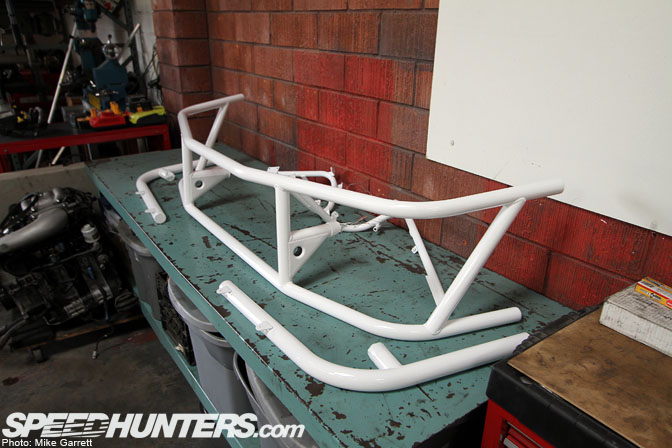 Check out the wicked front bash bar the guys fabbed up for it!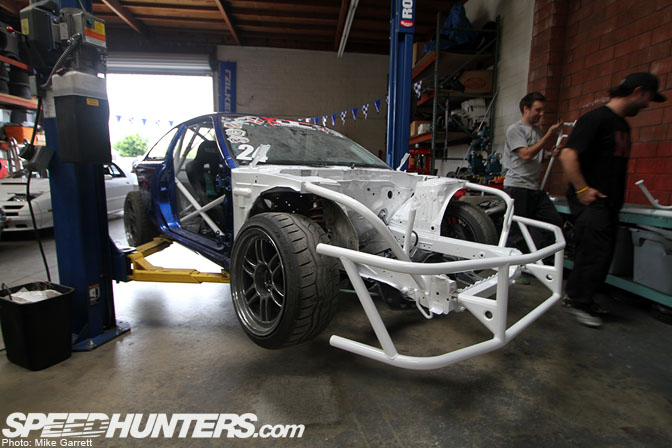 Not only is Hotline working on Dave's S14 rebuild, they are also working on his new top secret drift car project. We should have more on this scoop later!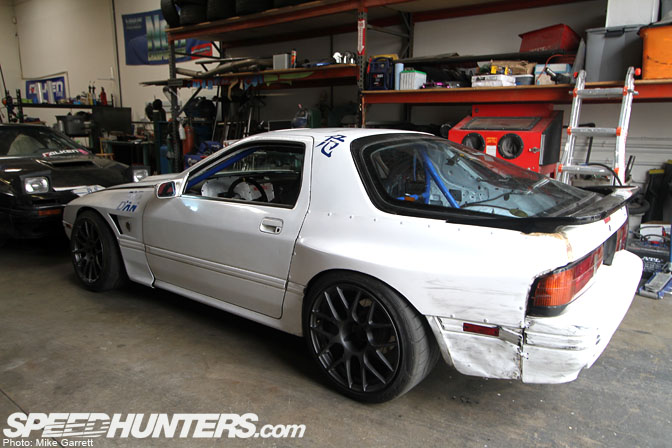 Another customer that stopped by the shop while I was there was Dan and his LS2-powered FC drift beast. By the way, Dan also happens to be the owner of the black Supra that Twins Turbo is finishing up.
Dan brought the FC over for some corner-weighting, another one of Hotline's specialties.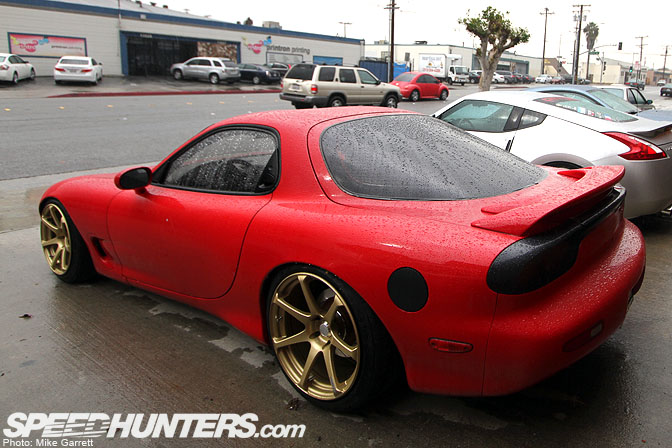 Another one of the reasons I wanted to drop by the shop was to check out Justin's new FD3S project. After the devastating theft of his FC, he's decided to take on this new, very promising project. I'll have a little more on this car in a separate post.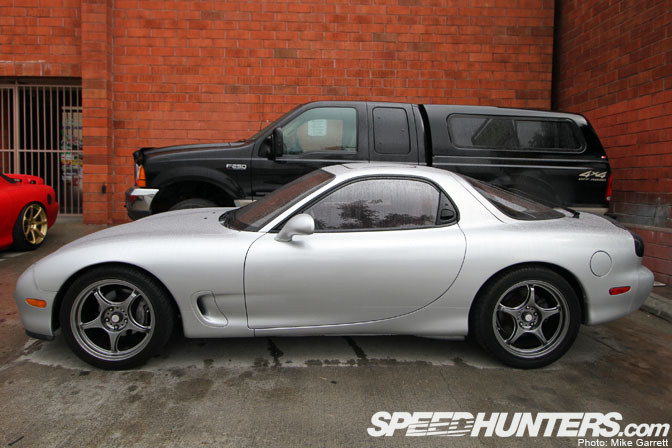 This FD meanwhile, will be put into service as his new daily driver. Yup, JTP does it big.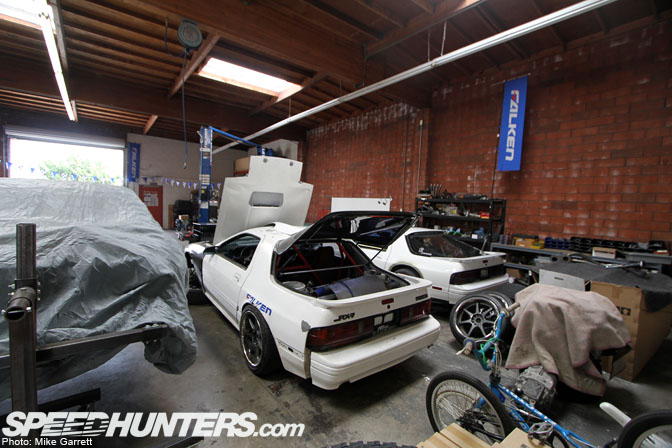 Cool cars being worked on by cool, talented people. You have to like shops like this.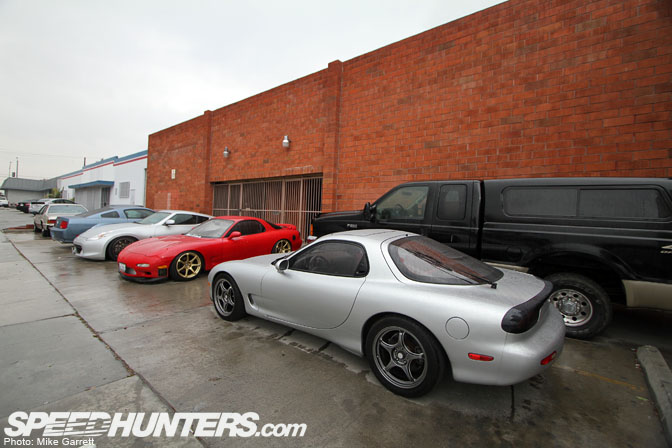 Thanks to Justin and Ryan for showing me around!
Expect to see more projects from Hot Line on Speedhunters in the future.
-Mike Garrett