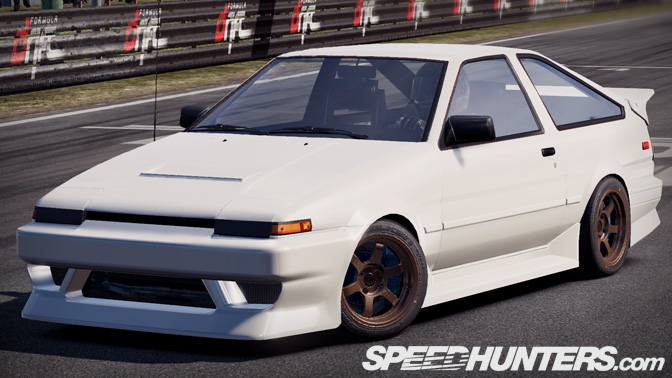 Most of you will remember that last October I announced that I was handing over the day to day operations of Speedhunters.com over to Charles Kha, the former Editor-In-Chief of Auto Salon Magazine. I was simple too busy working as a Creative Director on Need for Speed video games to truly give Speedhunters the attention it deserved. This personally was a pretty difficult decision for me, but at the root of it, I was absolutely determined get further involved in the SHIFT2 UNLEASHED to see if I couldn't help steer the ship a little bit.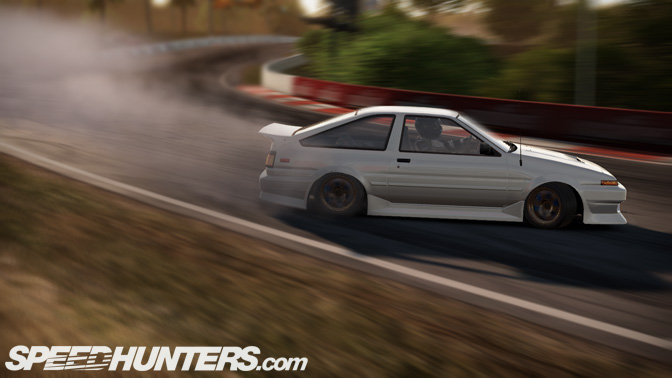 While the game that we now call Shift1 was a great re-invigoration of the Need for Speed gaming franchise, it was still a little rough around the edges. And as a professional Speedhunter, I saw that there were many small car culture details that weren't exactly right. To the broader mainstream they weren't noticeable, but to enthusiasts like you and I, they needed to be rectified.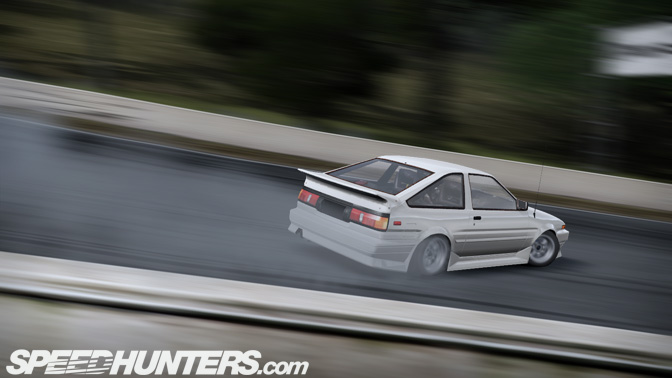 You guys let me know what you thought of Shift1 and what features you wanted to see in its sequel. Armed with this information I knew I could make a difference on the next game project. So around 14 months ago I asked the Need for Speed executives for a spot working on the next Shift game. And they agreed that I could get a seat at the table as a Creative Director, to collaborate with the Slightly Mad Studios crew in the UK. And thus, a year of monthly trips to the UK SMS and Swedish EA DICE studios began.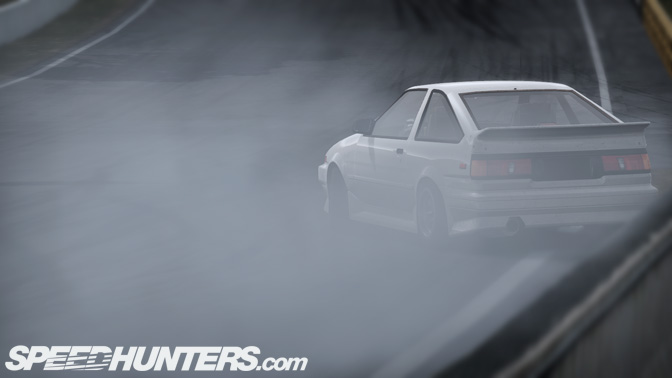 Some of you will remember that in Sept 2009, I did an in depth showcase of a Toyota Corolla in Shift1, focusing on all the body-kit designs we were debuting with the car.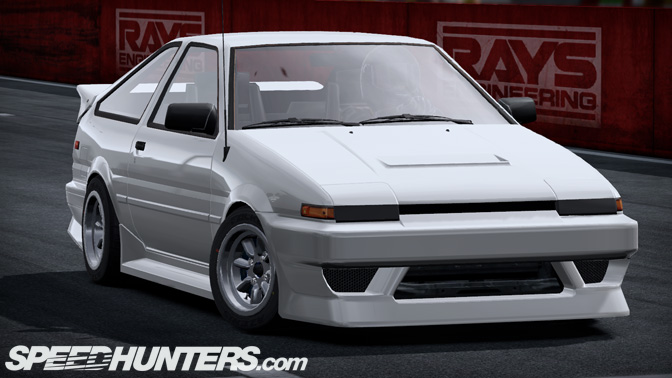 Something new to Shift2 – and something I strongly campaigned for – was the inclusion of Japanese vintage wheels. In response the good people at Slightly Mad Studios were very happy to add a whole ton of new rims to SHIFT2 UNLEASHED and I was able to put a pretty good list of vintage Japanese wheels together to throw into the mix.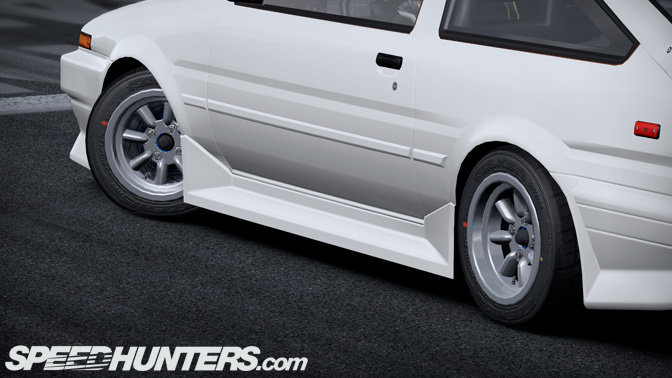 I thought for my first proper article about Shift2, I'd showcase some of the vintage Japanese rims so you can see just what kind of effect you, our Speedhunters audience, has had on this game.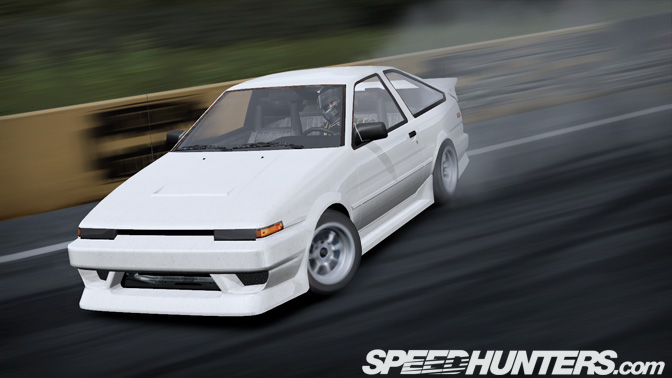 So first up I'm very please to say that you can bolt on a set of RS Watanabes on to your in-game AE86 in SHIFT2 UNLEASHED.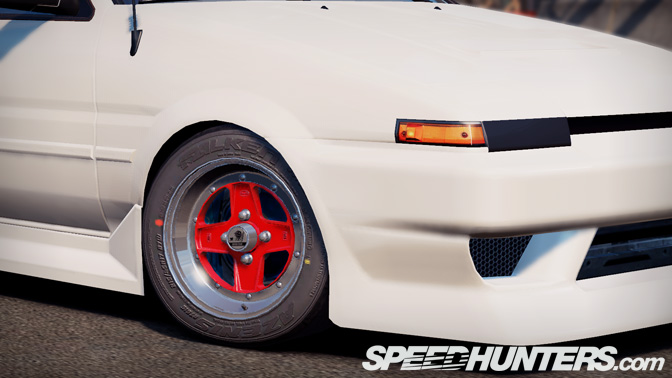 If banana spokes aren't your thing, then how about a set of SSR MKIIs?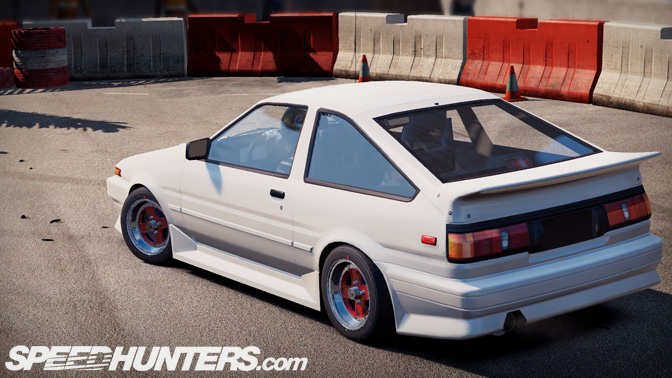 BTW we've made sure that the rims are only available in diameters that match their real-world counterparts. In this case, small is good.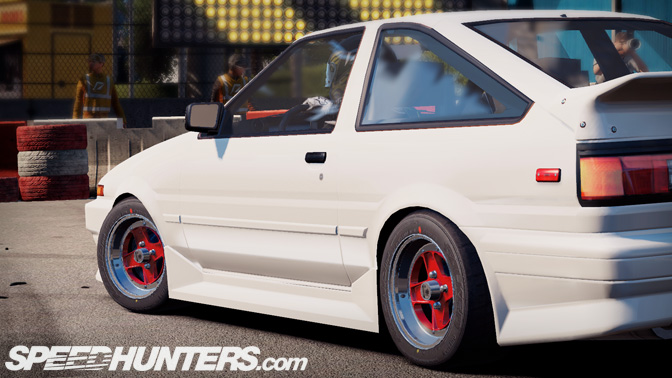 As SHIFT2 UNLEASHED is mostly about closed course racing, we've stayed away from stretched tires.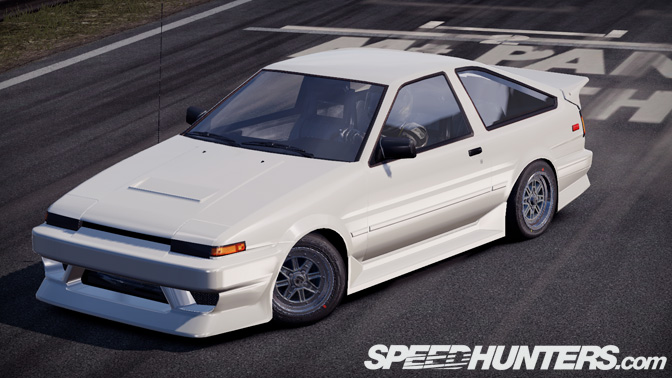 Next up we have the venerable SSR MKIII…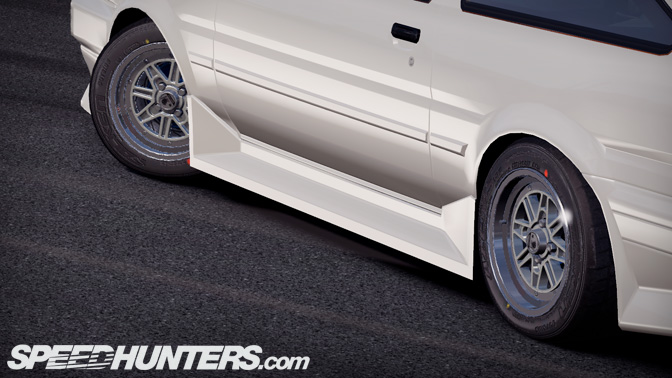 … Which is an absolute must have for this type of car.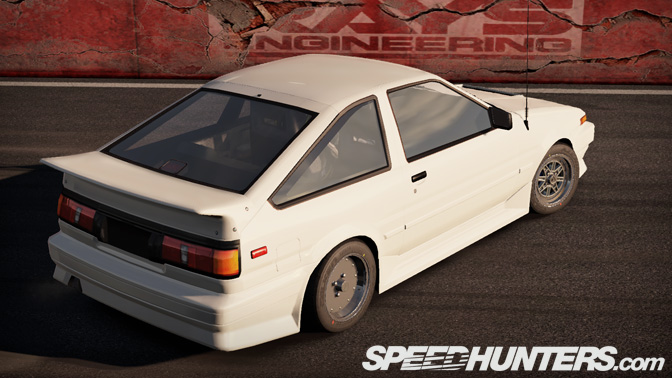 Or perhaps the SSR MKI is more your taste? I stuck a pair on just the rear of the car for this shot.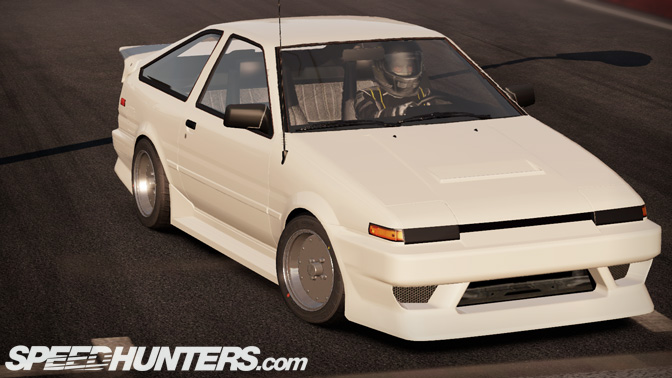 If you wanted to, you could run the MK1s on all four corners – although we know many AE86 fanatics steer clear of running them on the front because of their effect on brake temperatures.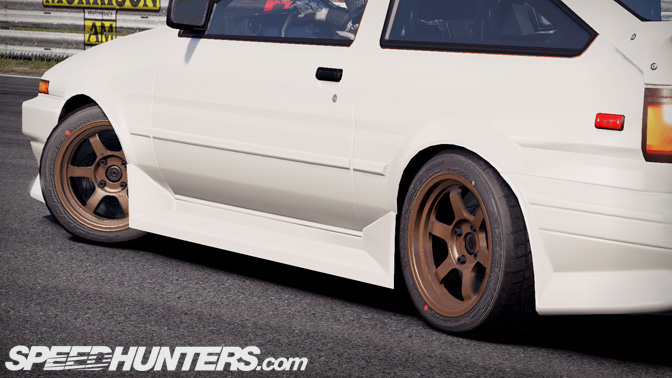 The TE37V was only announced at the Tokyo Auto Salon exactly one year ago, but it seems to have become one of the top new products of 2010.We just managed to sneak them onto our new wheel list, right before the design was locked down.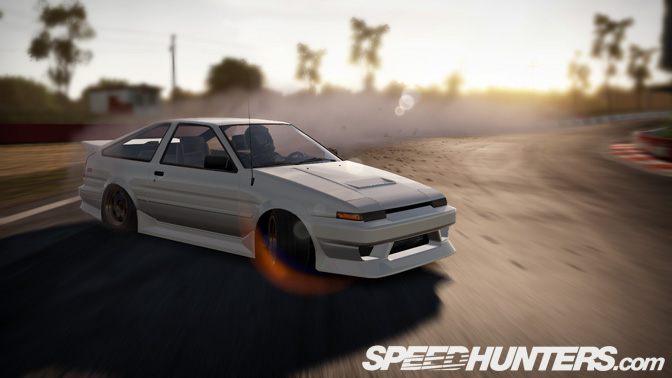 I'm well chuffed to have these in our game… BTW Anyone figure out where I'm drifting my 86?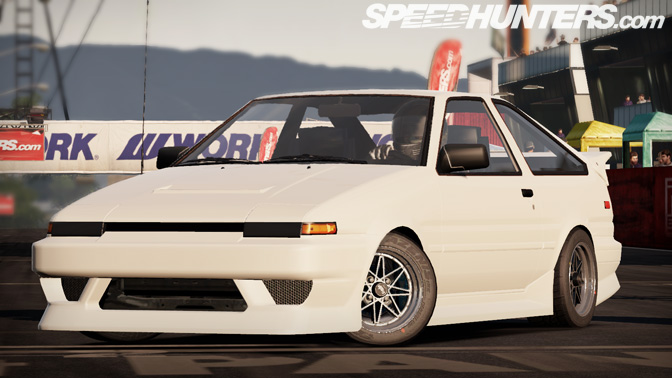 Next up let's look at the Work catalog. The Equip03 is an old fav.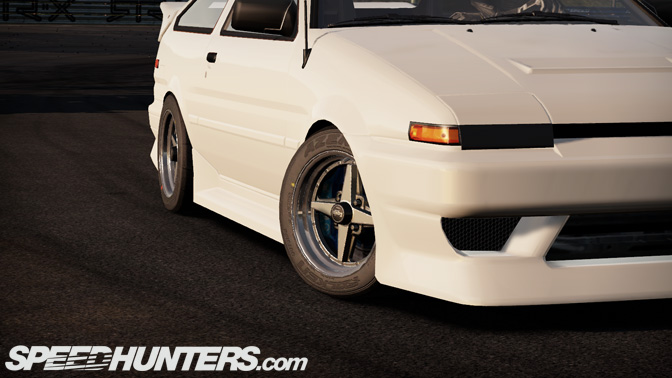 Although personally I'm more partial to the Work Equip01.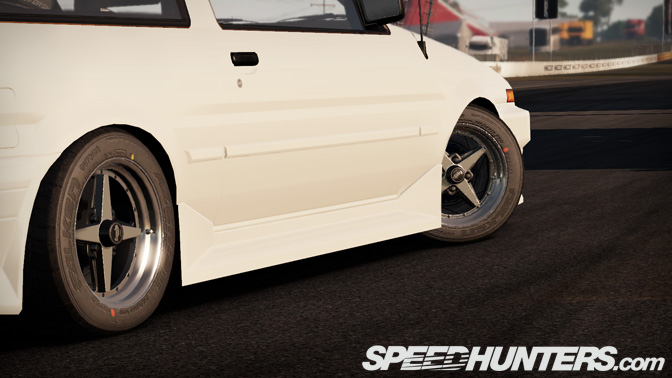 This image looks almost photoreal!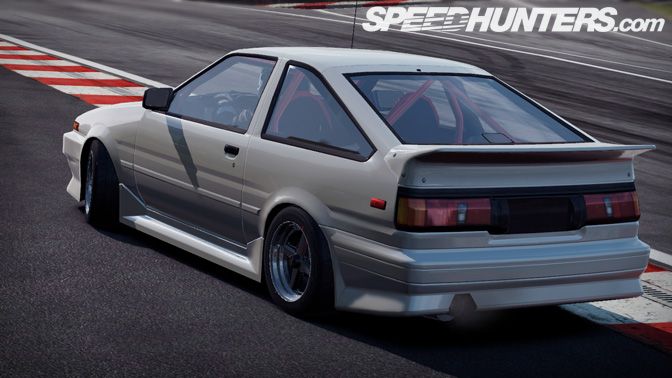 We decided to upgrade the cockpit of the Corolla for these last set of screenshots.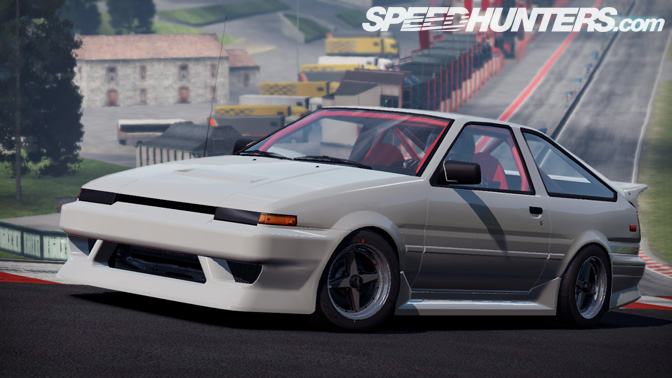 And took some more shots at Eau Rouge.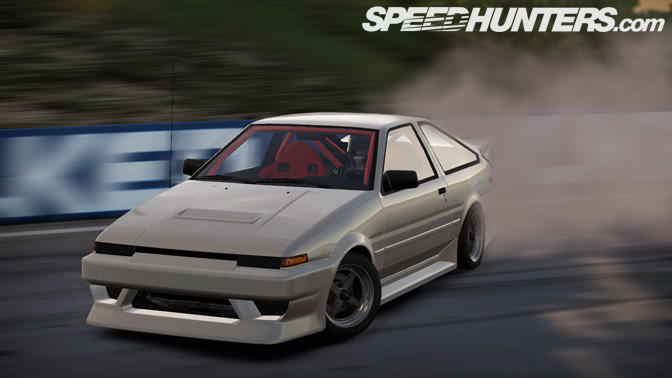 Next it was time for some more drifting, down a particular mountain race track in Australia… I should also mention here that this little Corolla is running some big power… I've swapped in an engine from this car: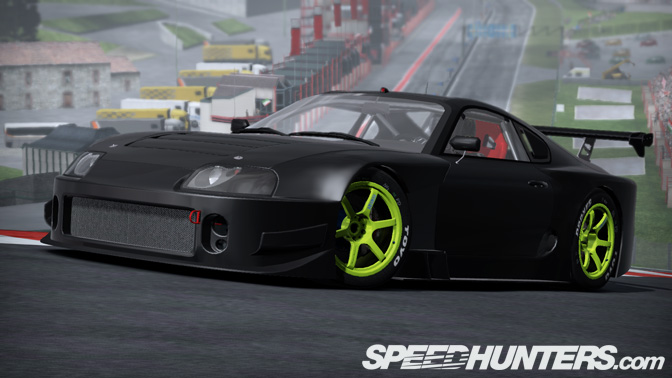 Yes you guys asked for engine swaps last time around, so we thought it would be best to oblige. So it's possible to take a 2JZ out of a Supra and shoehorn it into a Corolla in SHIFT2. Why not?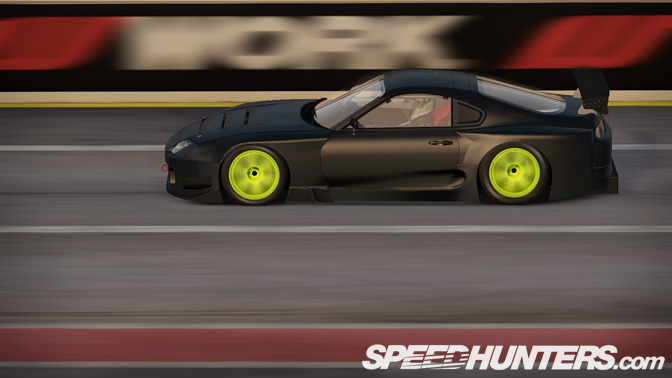 By the same token we've made it so that you can stuff the V10 from the LFA into the Supra. And add turbos!…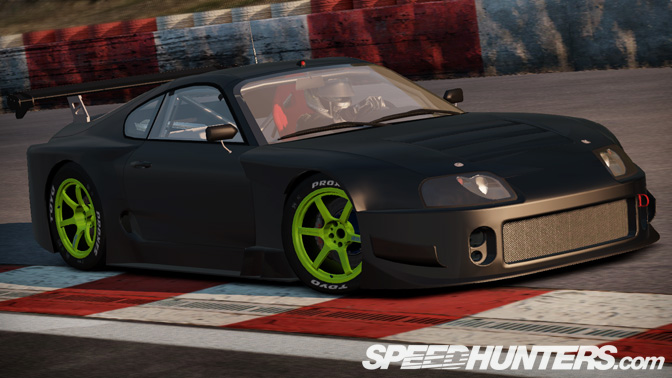 This is the exact type of car mod we like to write about on Speedhunters, so it obviously just had to happen in our new game! BTW do you like the Gram Light 57Ds?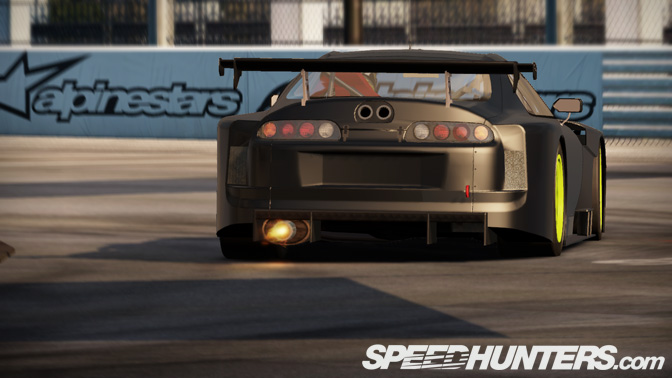 Anyway I'm getting off topic here… I'm just so excited by all the craziness we've put into the game here I don't know where to stop!
Ok I gotta calm down here and get back to game testing… talk to you in a bit!
:R