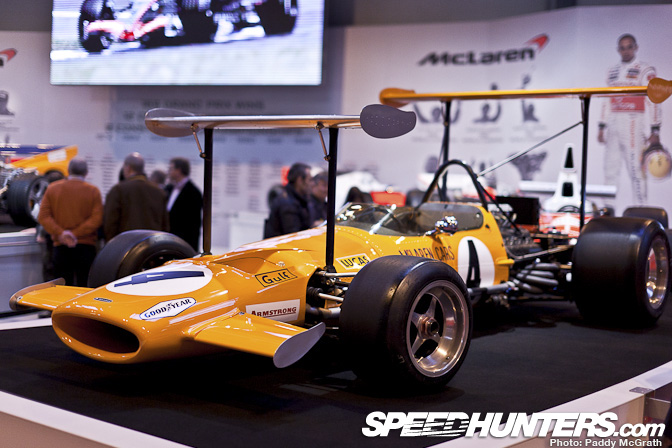 One of the highlights of the 2011 Autosport International show was McLaren's tribute stand to its some of their most iconic and championship winning cars. Some of you may or may not know that our very own Andy Blackmore was a past Lead Product and Automotive designer for McLaren Group, so I was only thrilled when he dropped me an email offering his assistance with this story.I've split the coverage into two posts, covering either side of the stand which should allow us to go into more detail on each car rather than just skimming over them.
Paddy McGrath: Moving through the stand in a counter clockwise direction, the first car on display was Bruce McLaren's 1969 M7C-1 Formula 1 car.

Andy Blackmore: The front high wing was the fashion back in 1969. These were subsequently banned on safety grounds.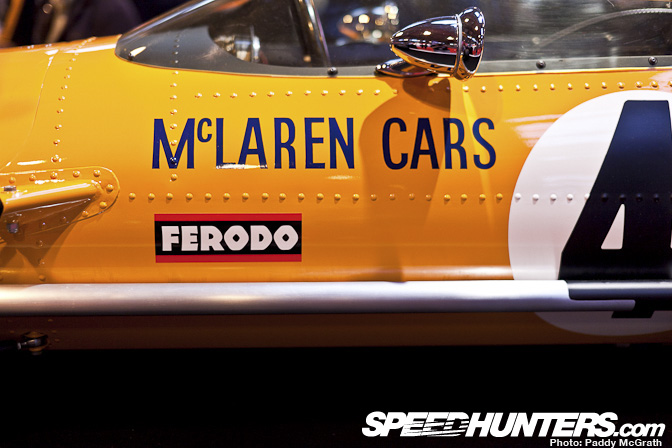 PMcG: Today we're more familiar with McLaren's silver colour schemes, quite a change from this bright scheme that seemed to be shared across the earlier race cars.
AB: This was the original McLaren colour. A slightly different hue to the colour used on the F1 LM and various Formula One test cars. I'm led to believe, that this colour was chosen as it matched a gel-coat for Glass Fibre back in the 60's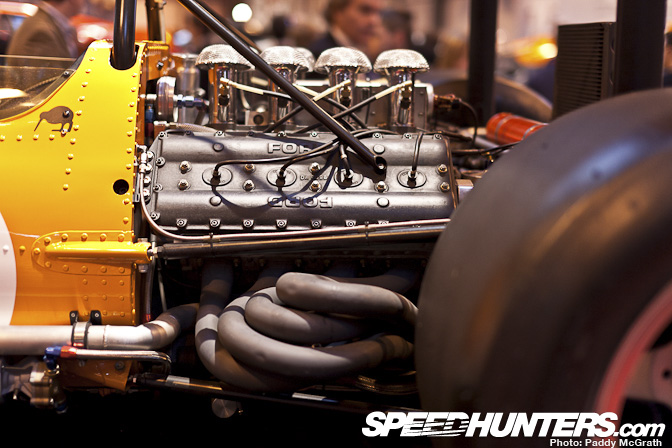 PMcG: The car was powered by a Ford DFV V8, a three litre 405BHP engine introduced in 1967. Previous to this Cosworth had always used a Ford block, but this was Cosworth's first engine that they designed from scratch. Power eventually reached around 500BHP.
AB: Note the Kiwi logo, the original logo for McLaren Cars, founded by its driver, Bruce McLaren.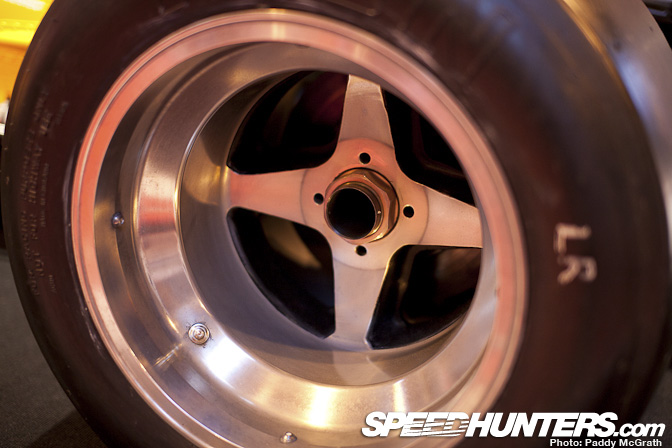 PMcG: I love the simple wheel designs of this era and this wheel style in particular is quite like the much later designed Work Equip.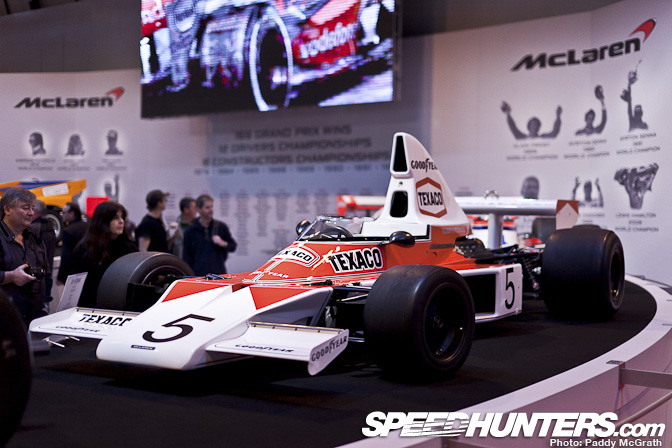 AB: Emerson Fittipaldi's M23-5 from 1974. This was McLaren's first year of Marlboro sponsorship, the cigarette packet livery is very clear and became one of the longest sponsorship relationships in motorsport.
PMcG: I find it fascinating how you can see just how evolved these cars were for their time. The general shape of today's F1 cars are not too far away from this simple shape with an air scoop above the drivers head.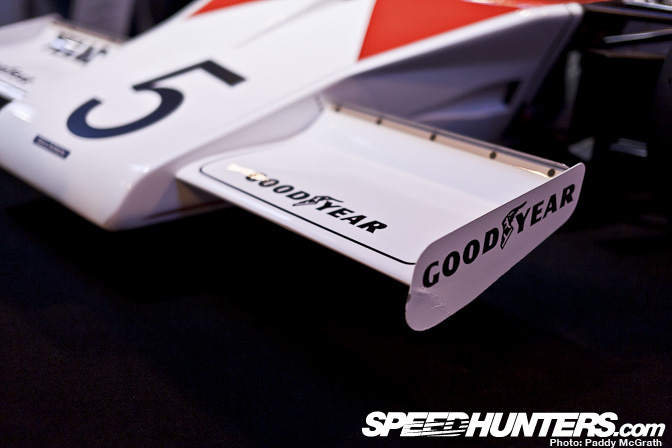 AB: In the 70's all the logos were hand painted on the cars. This was also one of the first times colour was used to identify drivers. Team mate Jochen Mass would often run with a red front wing.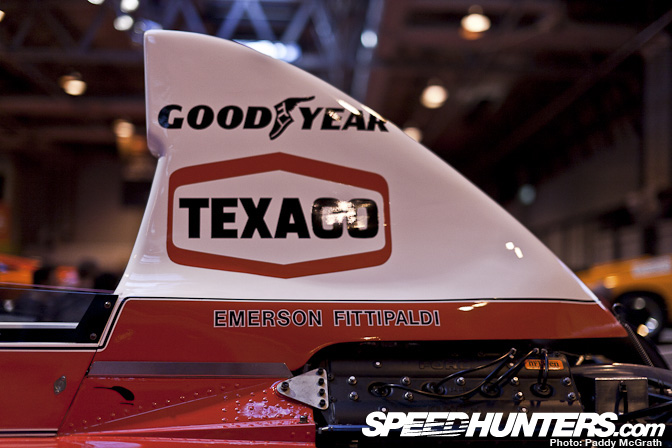 PMcG: I've just included this image to illustrate just how high the scoop is on this particular car. It also gives you an idea of upright the driving position is.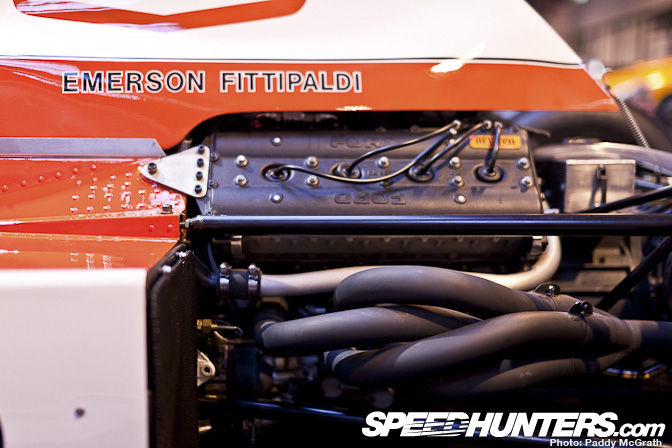 AB: Fittipaldi would win the 1974 driver's championship and McLaren would also take the constructors championship the same year. He would finish second to Niki Lauda in the Formula 1 World Championship in 1975. The following year, James Hunt raced a similar M23 to the World Championship.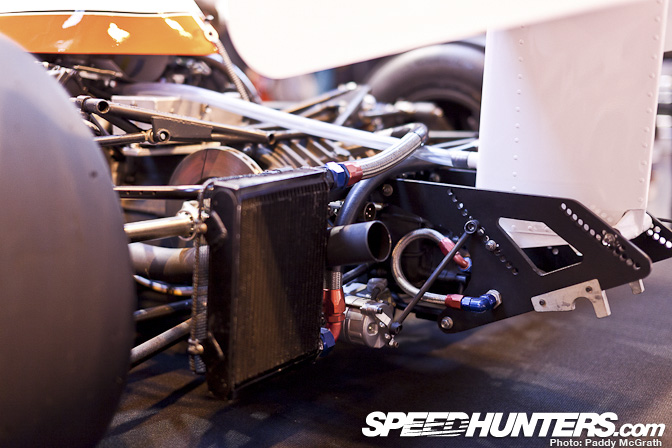 PMcG: Notice how the brakes are inboard and mounted on the axle rather than the wheel hub.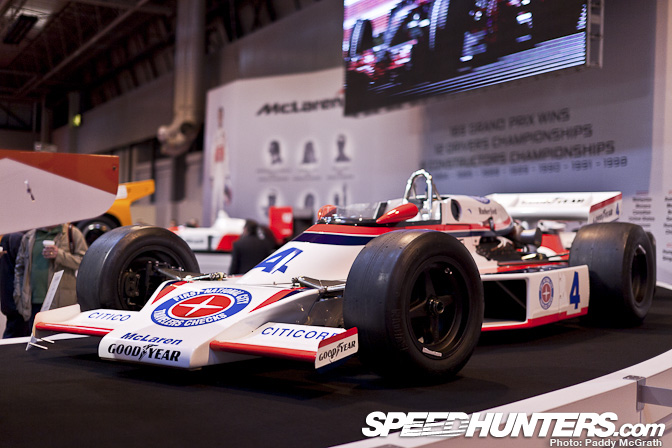 AB: The McLaren M24B of Johnny Rutherford from 1978. This car was a derivative of the M23, built for the IndyCar championship.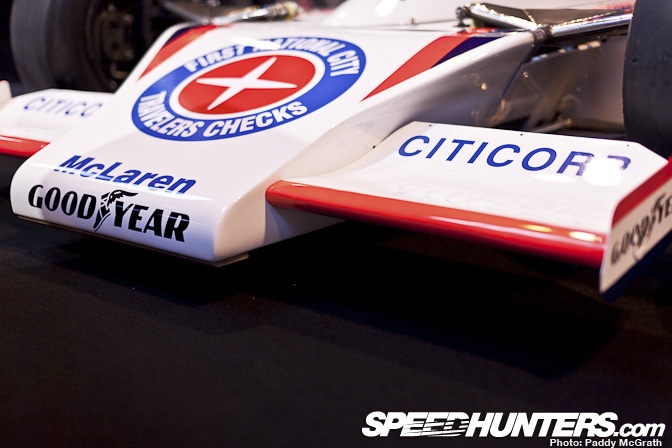 PMcG: In 1978, this particular car finished 13th at Indianaplois.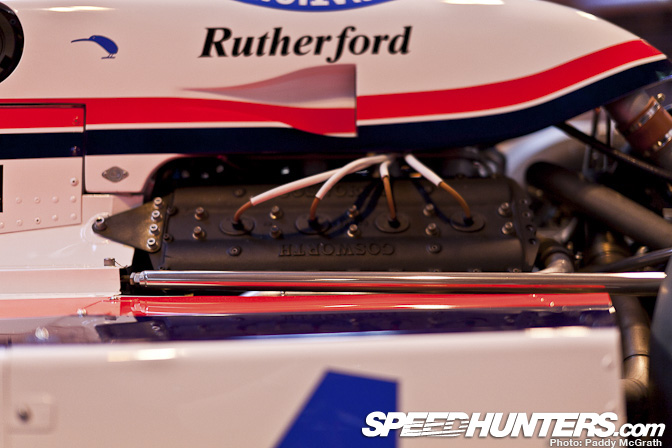 AB: 2645cc Cosworth DFX Turbocharged unit, based on the DFV. Kiwi logo still evident.
PMcG: A shorter stroke and turbocharged DFV, the DFX was limited to 1.7 bar of turbo boost pressure which resulted in a rather credible 840BHP.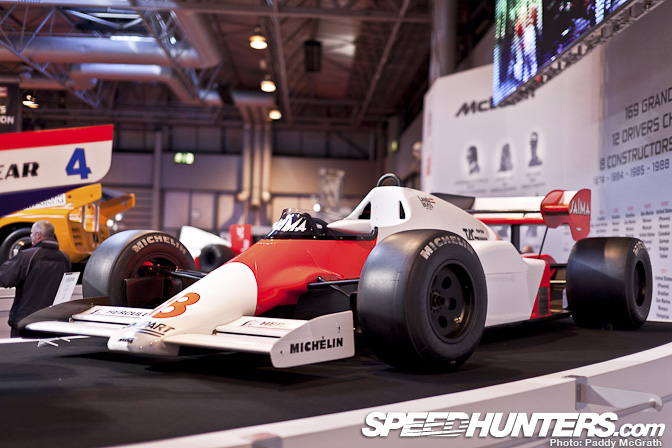 AB: The McLaren MP4/2-1 TAG Turbo. This car was designed by John Barnard under new ownership at McLaren, with Ron Dennis as Director. In 1981, Marlboro, unhappy with McLaren's results brokered a deal where Project 4's Ron Dennis organisation would merge with McLaren.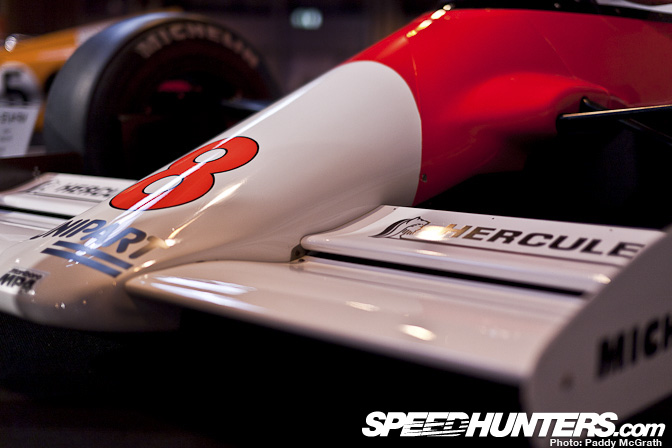 AB: (Cont.) Within a year, the old management was out and Ron controlled the team.
MP4 originally stood for Marlboro Project 4, but was quietly changed to
McLaren Project 4 when McLaren signed West as a sponsor in 1997. It's quite unusual in having a two piece top body, covering the chassis.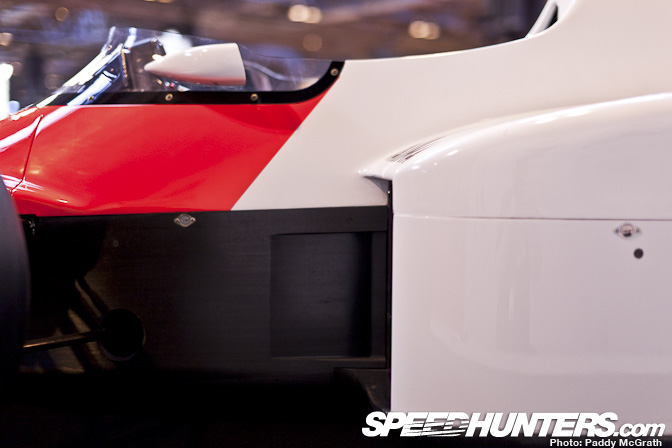 AB: In the 80's the driver sat very far forward, making their legs vulnerable.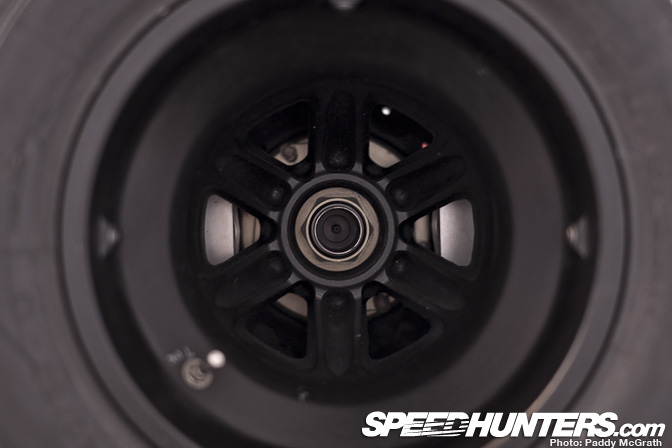 PMcG: Twin rear brake calipers, a slight evolution from it's 1974 predecessor. This particular car was Niki Lauda's 1984 car, which he drove to F1 World Drivers Championship and McLaren to F1 World Constructors Championship.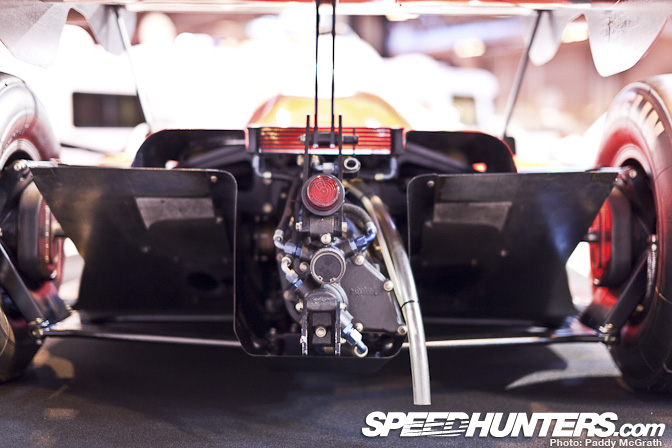 AB: McLaren and main rivals, Brabham were leaders in aerodynamics at this time.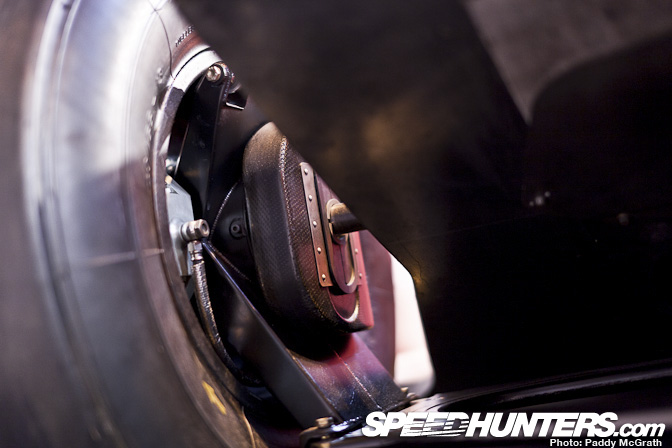 AB: Niki Lauda, who had come out of retirement two years before, would win the championship in 1984, the first championship in eight years. Team mate, Alain Prost would finish second. Prost would take the Championship the following year.
PMcG: I'm just going to start preparing part two of this story so hoepfully it will be online sooner, rather than later !
-
Paddy McGrath & Andy Blackmore