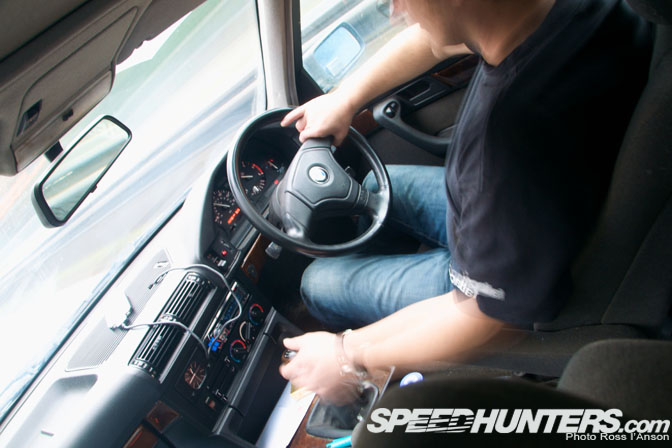 As you know Speedhunting involves an awful lot of travelling. Be it a nip up the road to a local track / garage or an epic global adventure to the other side of the globe, we have to get there to bring you the footage and the stories as and when they happen. The week of Autosport 2011 I think I had it easy, Rod, Mike, and Jonathan were jet-lag laden in Dubai. Paddy was braving the Irish sea and Charles was somewhere between Australia and Canada. All I had to do was jump in the car and drive the 100 or so miles up the M40 motorway to Birmingham …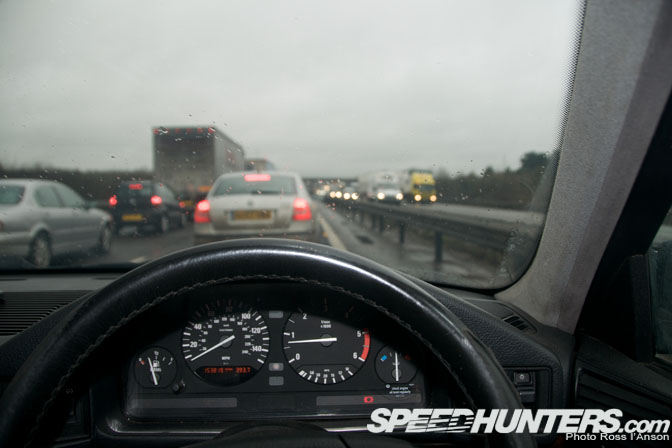 … straight into the obligatory M40 traffic jam. This particular one was because a horsebox had burst into flames on the other carriageway, Thankfully no horses were incinerated in the incident but the resulting three hour jam was a little frustrating.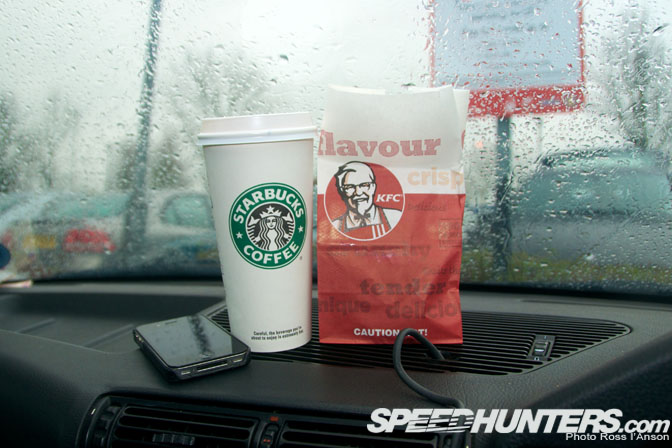 Getting going again my trusty E34 touring decided it would be a great idea to have a near-side front caliper failure, with the front brake binding on so badly it was causing the whole car to shake. I pulled into a service station to investigate. With the grace of God and the help of a hammer the sticking caliper was freed off (note to self.. buy a new NSF caliper ASAP) so cholesterol and caffeine were the order of the day.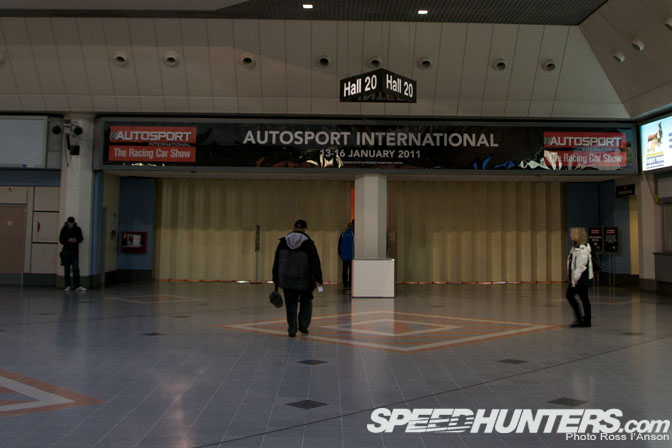 I had arranged to meet up with Paddy the following morning at the Autosport show. Initially it was flawless. No crowds and no qeue in the media center, passes were picked up and I made my way to the show. Only to be confronted with a breakdown in communication between security and the media. Apparently our passes needed photo ID  for them to be valid even though there was nowhere to put said photograph and nobody had mentioned we needed one in the weeks preceeding. None the less we needed to have one.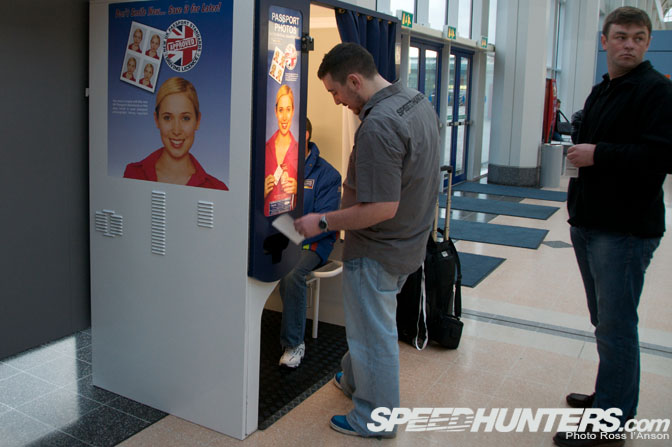 An hour later we had photographs taken and headed back to the media center to have them added to our passes …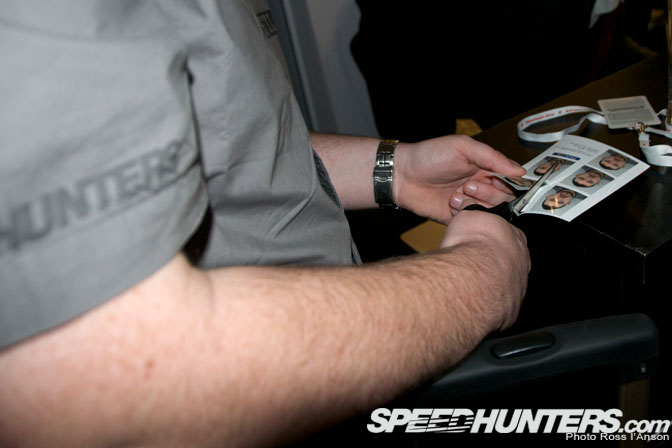 As hard as I tried Paddy would not let me show you his mugshot … this is as close as I got (It's for the best – Paddy)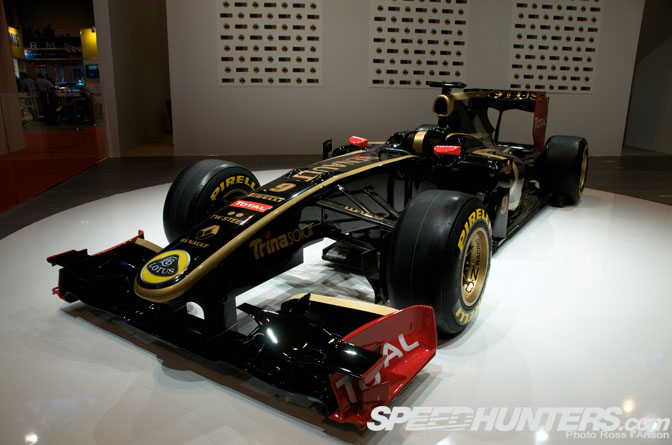 With photos validated and security happy, Paddy and myself were granted entry and went to cover our separate briefs after the F1 Lotus unveiling.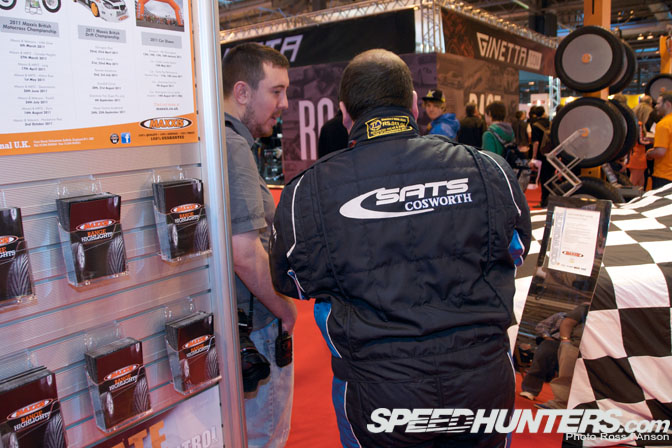 We met up again a few hours later at the SATS Supra launch where Paddy got the low down from Mark Luney on his 2011 plans.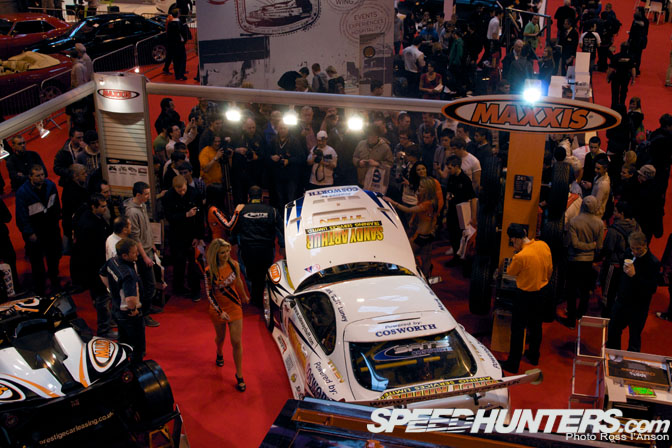 After the SATS Cosworth unveiling Maxxis kindly let me up on top of their stand for a few shots.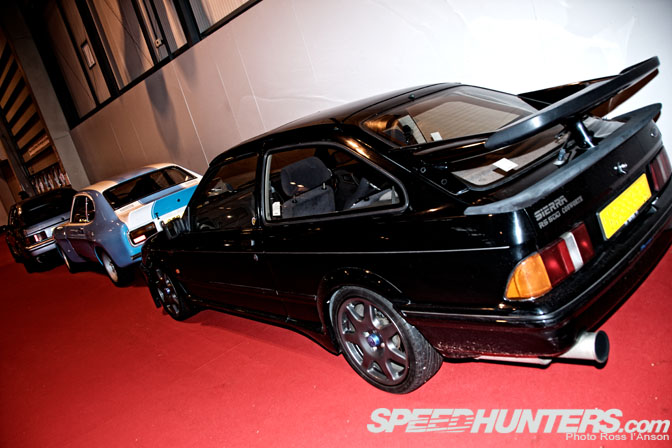 Wandering off on a tangent I found myself in a side hall side hall to discover the waiting que for the Coys auction. A pair of RS 500's and a 3.1 RSCapri were in the process of being prepped for the show.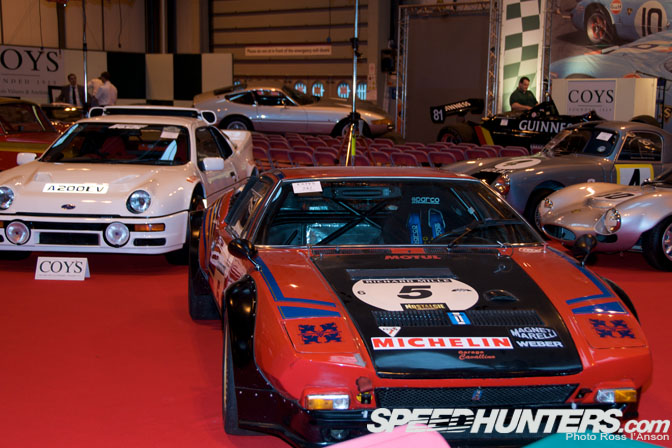 Initially I was not allowed into the Coys enclosure. Unless you were registered to bid in the Saturday auction, behind the tapes you stayed.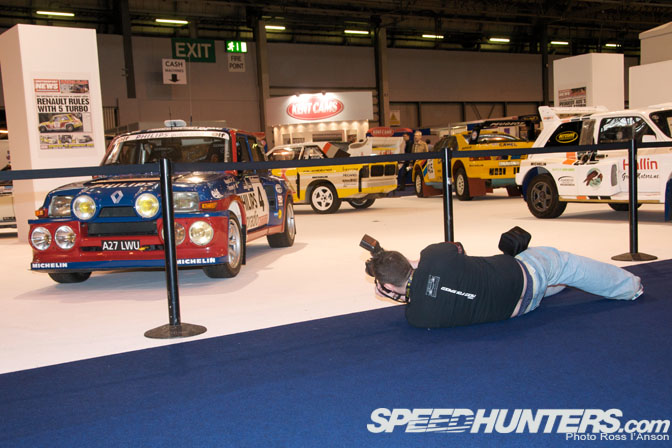 A problem Paddy also encountered while shooting his upcoming Group B feature (Oh Holy Crack, If my mother saw this I'd be killed – P)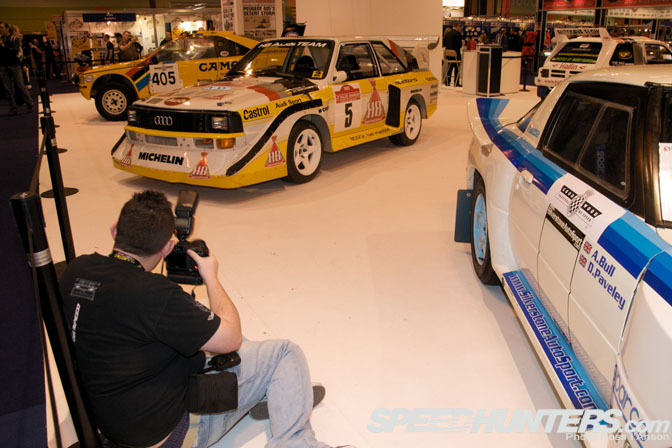 But a chat with the very friendly security allowed access on both counts for a closer examination of the cars … as long as we didn't touch anything.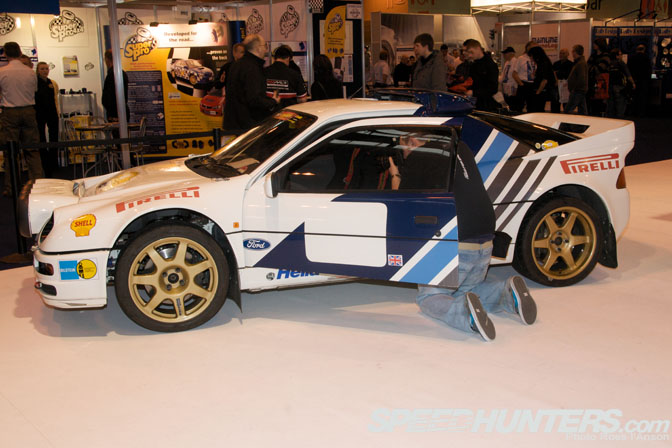 The door just fell open I swear.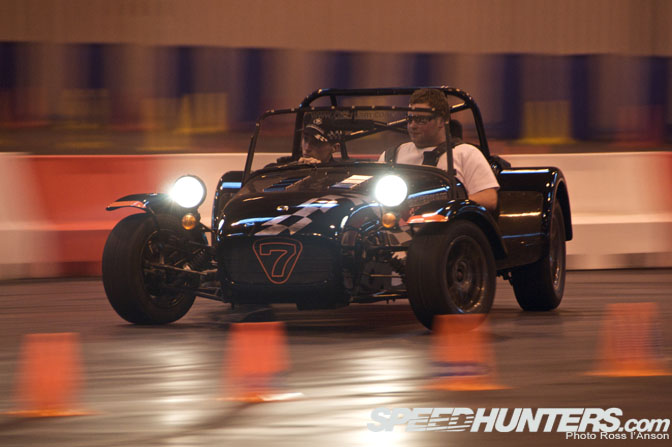 It was quite a walk between the main show and the live action arena. But in between the two massive halls Caterham Cars were running their Caterham experience. You could pay a little money and be taken round a gymkhana style course by one of Caterham's trained pilots. I watched these guys for 45 minutes running lap after lap of the course and to be honest they would have given a few professional drift drivers a run for their money!  Practice makes perfect but in 45 minutes I did not see one spin.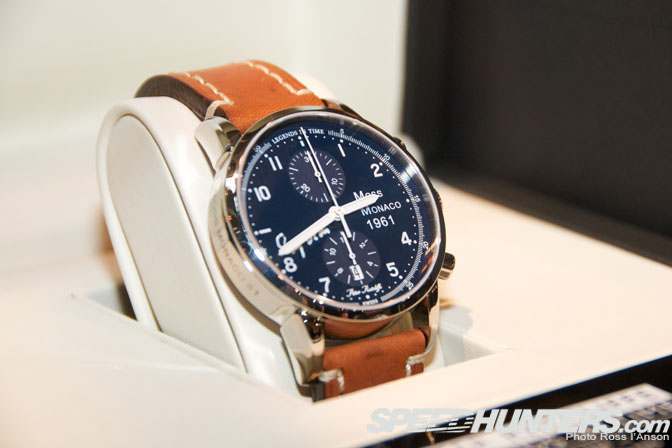 Everybody has their guilty pleasures and for me it's watches. With the exception of the Heuer Monaco and Panerai's Ferrari partnership I am not normally a fan of automotive based time pieces, but when I stumbled across Legends in Time's stand showcasing the Moss Monaco range signed by the man himself … Want want want!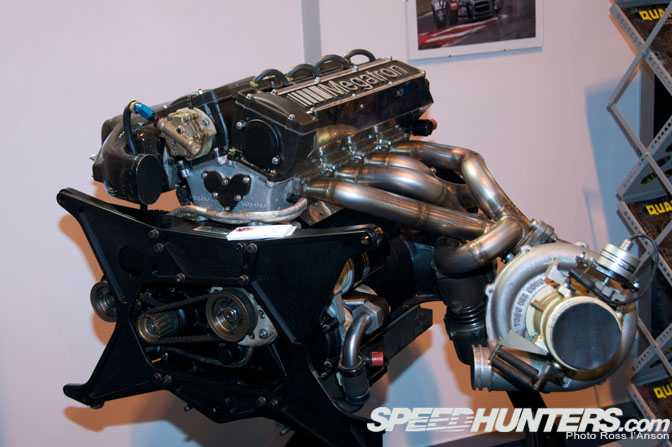 I had a very interesting chat with Geoff Page Racing. They are specialists in historic restorations and are the number one in the UK regarding F1 cars, in fact you could take a 1980s F1 car to them in boxes and they would restore it to its former glory including re-manufacturing unavailable parts. A future feature in the making for sure.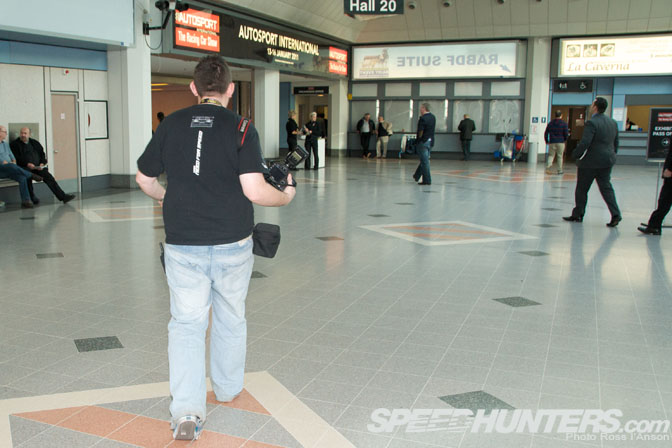 Late afternoon Friday, Paddy and myself parted company. Paddy went off to do what a Speedhunter has to do and I hit the road off to another job. Stay tuned for Paddy's in-depth look into some of the stands from Autosport international 2011.
Ross.