Just like year, I was invited once again by my good friend Yves Faber to check out the International Motorshow Luxembourg. Unlike the bigger motorshows, the exhibitor lineup is mostly of a private or dealer nature, with no real manufacturer taking part. For the fifth year in a row, Yves, along with a few other drifters have been doing drift demos at the show, entertaining the crowd with a little more than static action.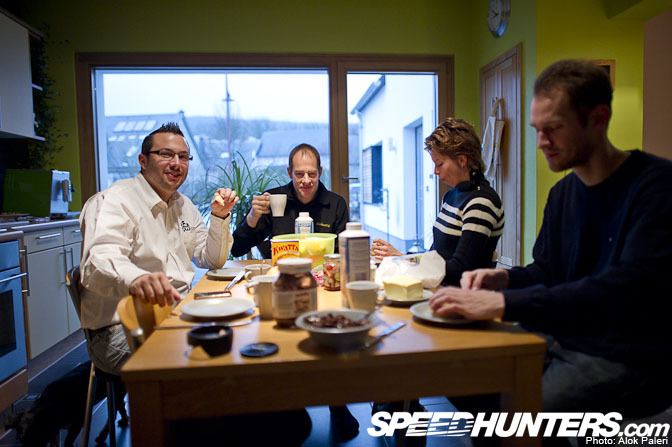 I arrived on the second day and started off with a nice drift family breakfast. Here we are at Yves' house, with Paul Vlasblom from Holland and on the right Martin Reinsch, a pro drifter from Germany. Yves' employer, Grande Garage Paul Wengler, that runs Wengler Racing and sponsors him has recently acquired the sole European dealership of the 2011 Ford Mustang RTR. Yves himself owns the first European RTR and the car was to make its European public premiere at the show.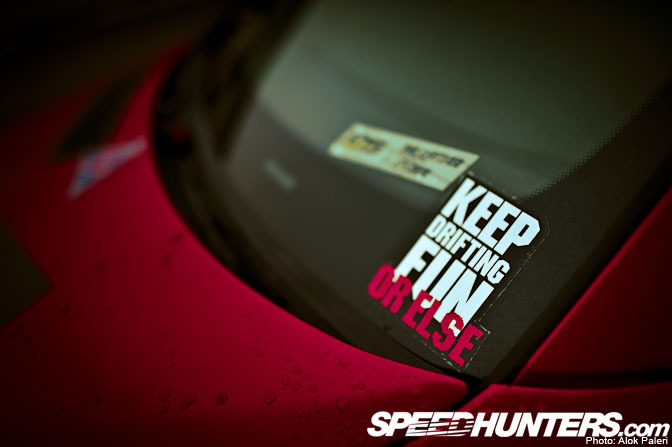 Oh look, what do we have here? Will and Josh will be happy to see this …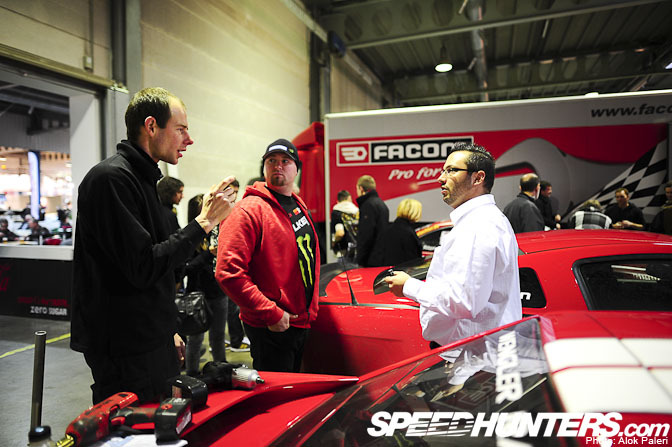 Vaughn Gittin JR was there himself to present the car to the press and the public.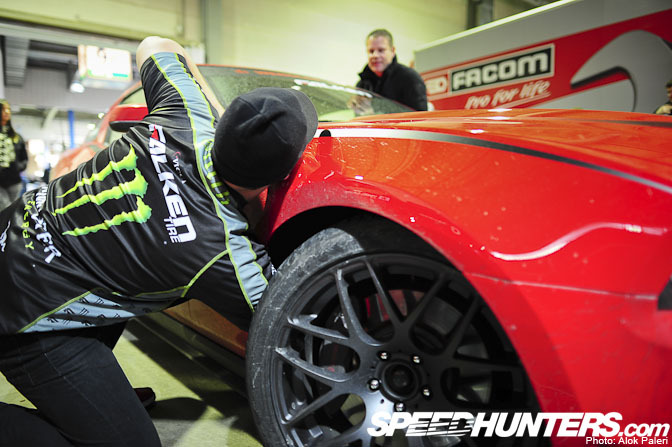 During the show on the first day, JR noted that the suspension setting on Yves' car was set up too soft and there was an observable amount of wheel hop, but since this particular car came with adjustable suspension, JR just stiffened everything up a bit.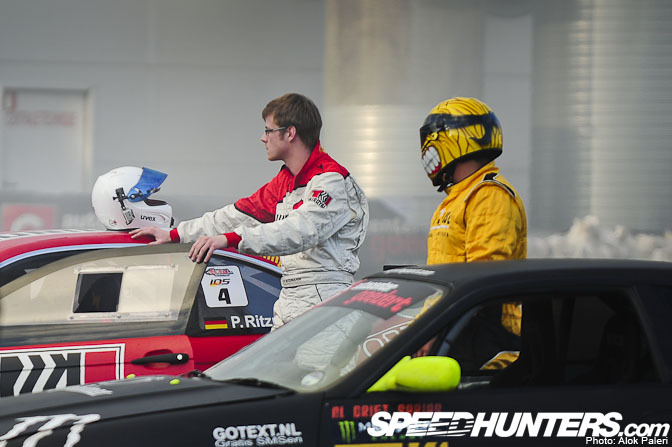 There was yet another new face this year – Patrick Ritzmann from Germany was also invited along with regular Vernon "Driftpinda" Zwaneveld.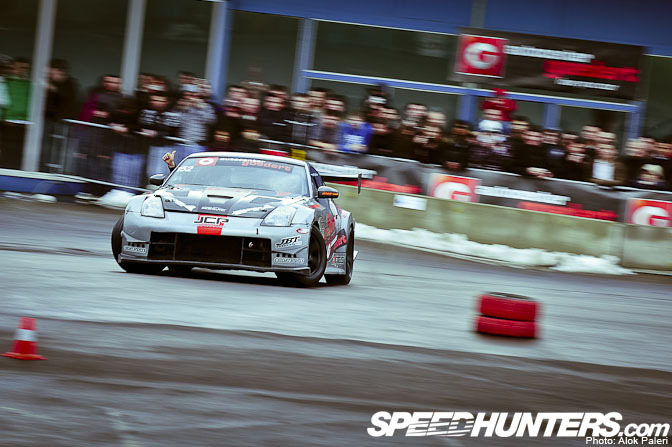 Bas Plugge came with his enormously wide bodied Nissan 350z with a 'vette V8 under the hood. In Europe the war between JZ and V8 swaps is heating up.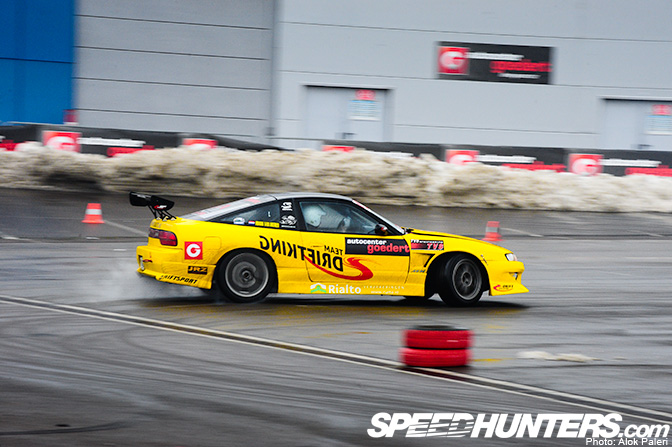 Frank van Heeren from Holland also joined forces with his "Silvette". Unfortunately I got to see very little of this car in action because of transmission troubles.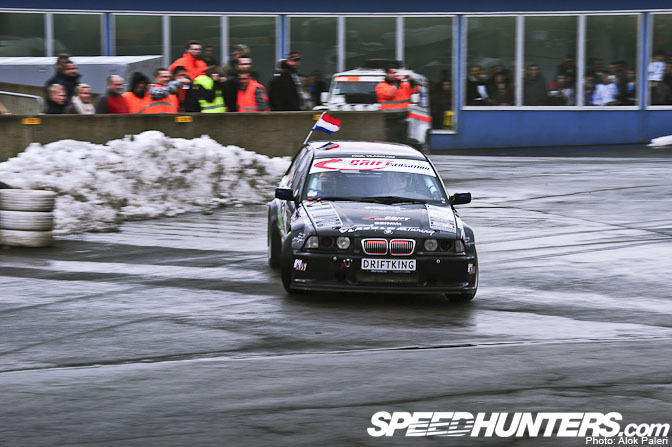 On the screaming NA inline straight six side, there was Paul Vlasblom in his E36 estate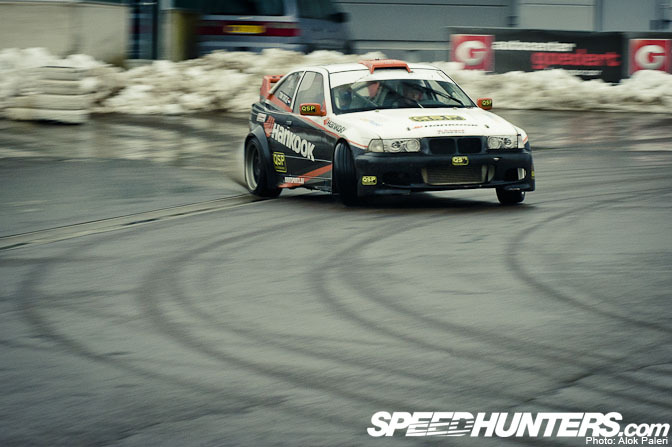 … along with Tim Tatje in his Hankook E36 Compact. Check out the mounds of snow in the background.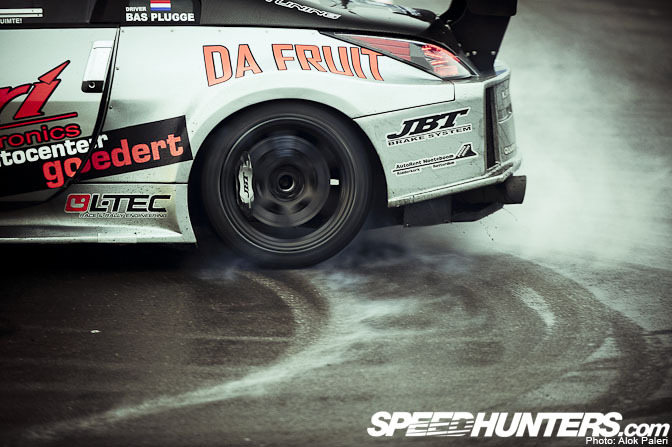 On the first day there was snow and ice that the drivers cleaned up with showels and on the second day it was mostly wet.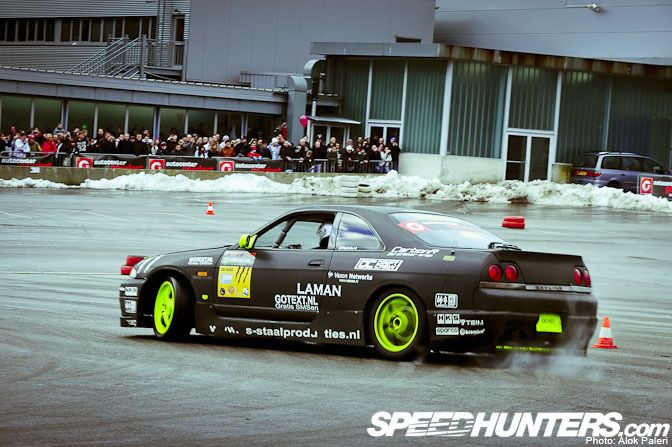 Since the area given to the drivers was very small and the course being very technical and wet, it wasn't as spectacular as it could have been for the audience.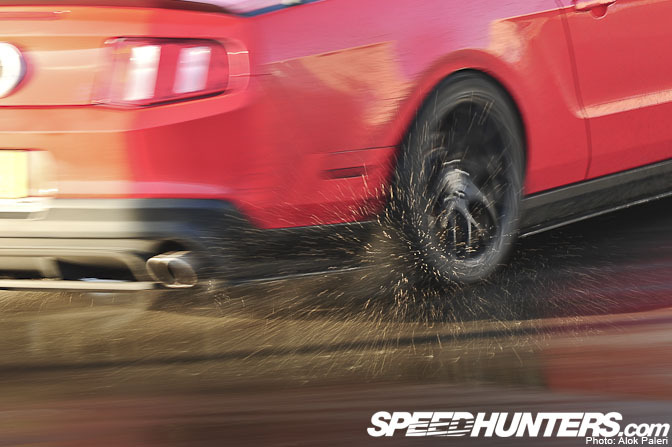 Wet wet wet. Every time JR went round, I was covered in yet another layer of fresh dirt. Ah the hardships us photographers go through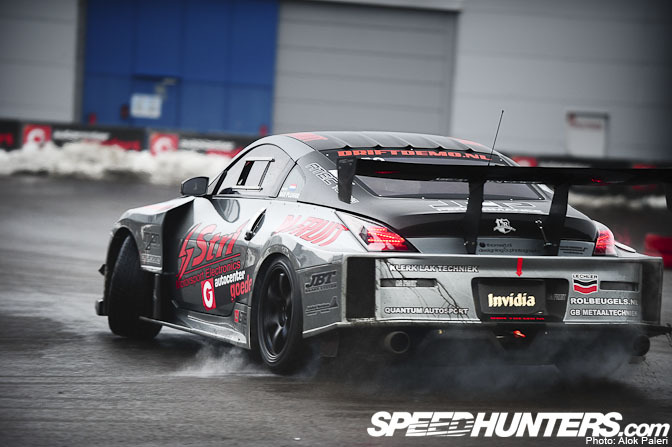 Over the runs, the track started drying out and the air slowly started to smell of rubber.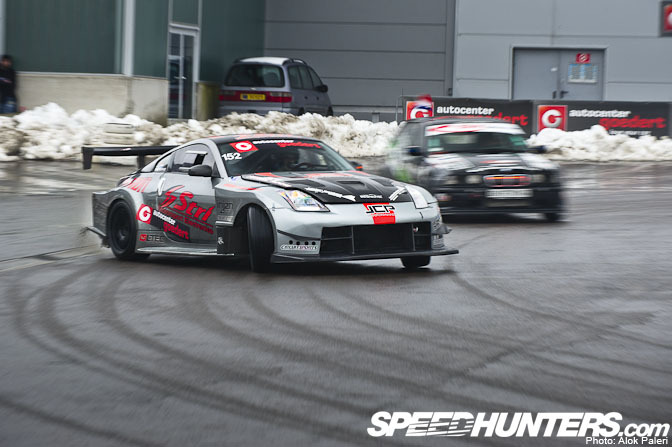 The demos were done in teams of two and three…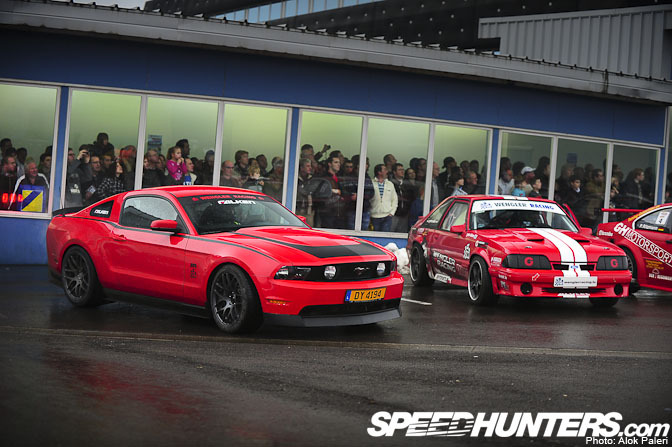 The two 'Stangs were always paired up together…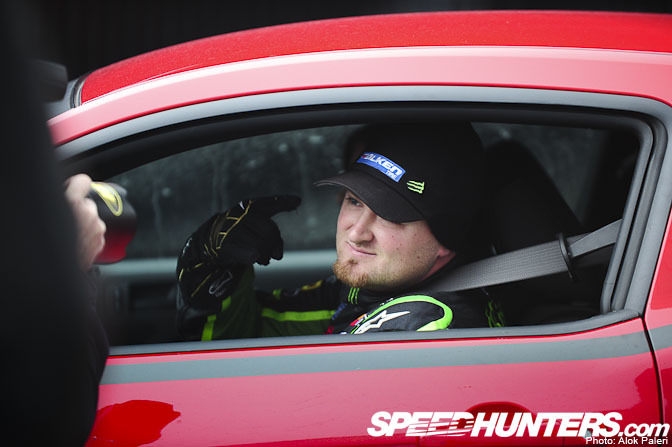 JR was in chill mode all weekend. With no competition stress, it was just fun fun fun, click click click.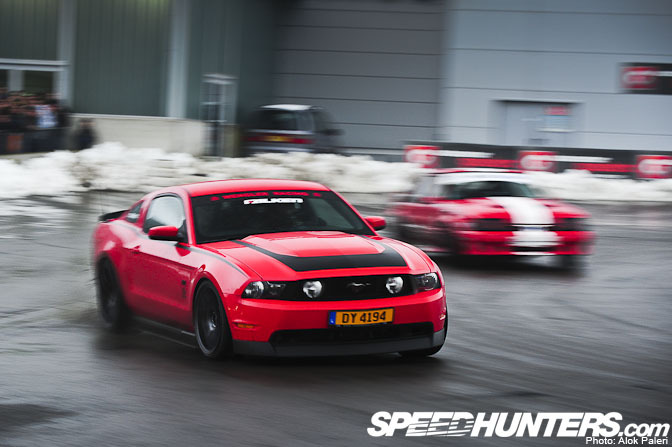 That said, making a street car dance on such a tight course was hard work. The track had a sharp dip which came into a tight hairpin, making some of the drift cars go into tripod mode.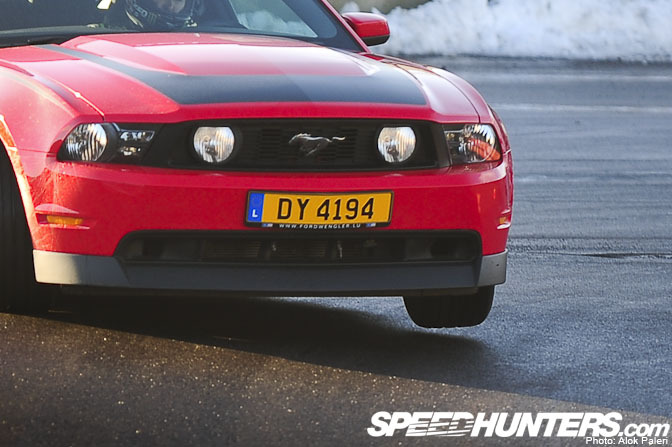 After the little tweaking on day two, the RTR followed suit.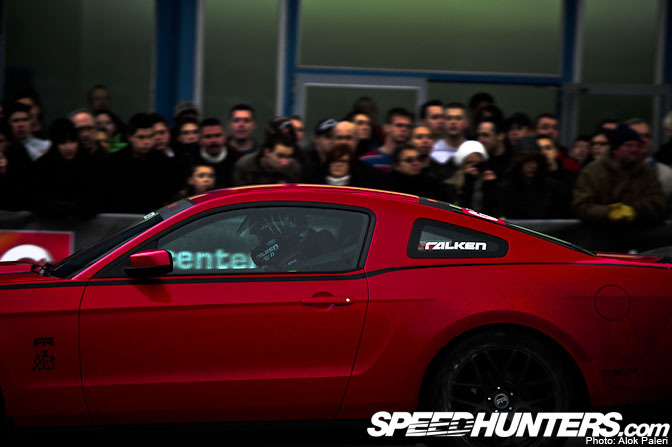 Having been to the same show last year, I remember seeing a large part of the audience not even knowing what drifting was. Things seemed to have changed a lot since, as a jetlagged JR was nearly ambushed for autographs on his first day.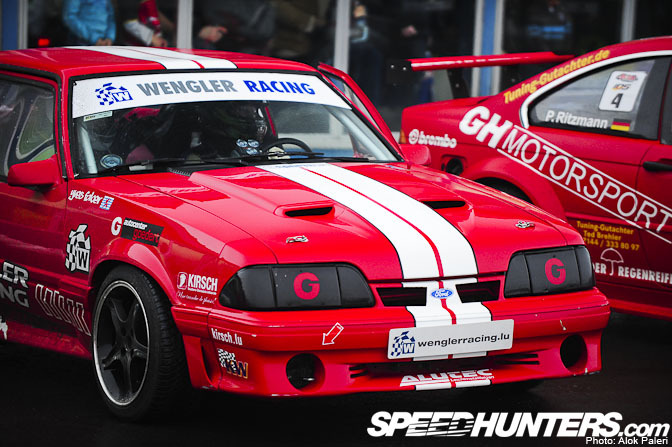 Sitting next to the RTR, the fox body 'Stang definiitely showed a little age. Sort of like a Rocky-esque fighter coming back for one last kidney punch. Except with 450 horsepower and 700Nm of torque, it can more than hold its own.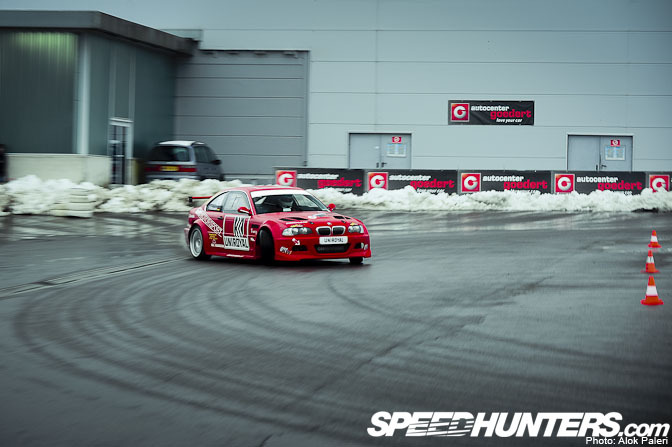 Turbo'ed cars seemed to be quite some work on this lot, with most of the power coming up on the top end and a slippery track, the guys did a good job keeping the cars together in shape.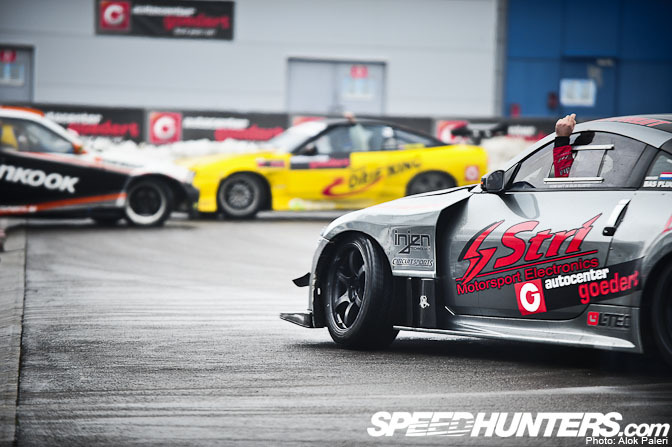 The demo was always topped off with some good old messing about and the audience were all on their feet.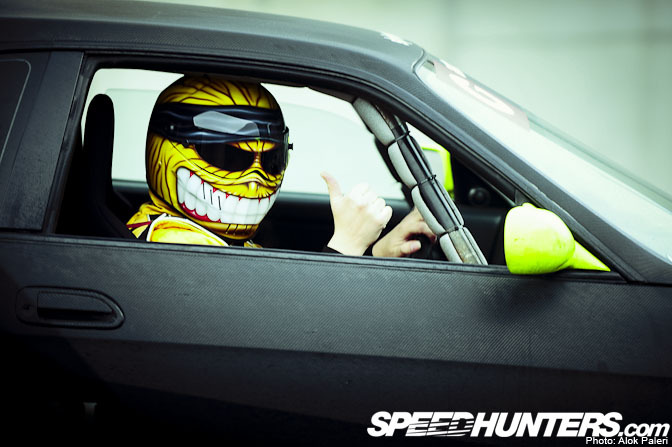 Unlike others, Vernon didn't take his helmet off during the demos, so I have no idea if the grin on his face matched the grin on his helmet.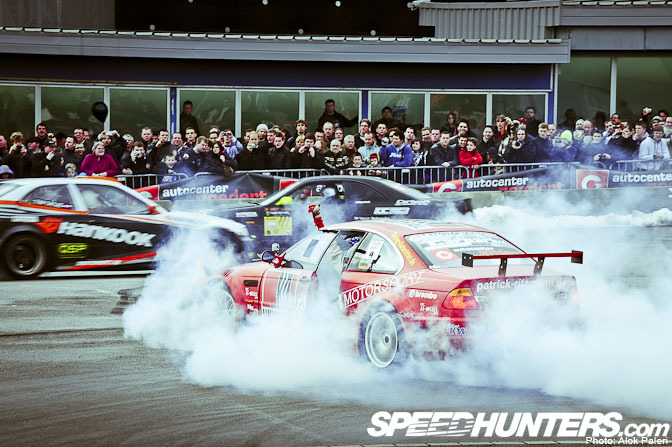 I think the drifters got bored of steam at this point and just decided to let it burn.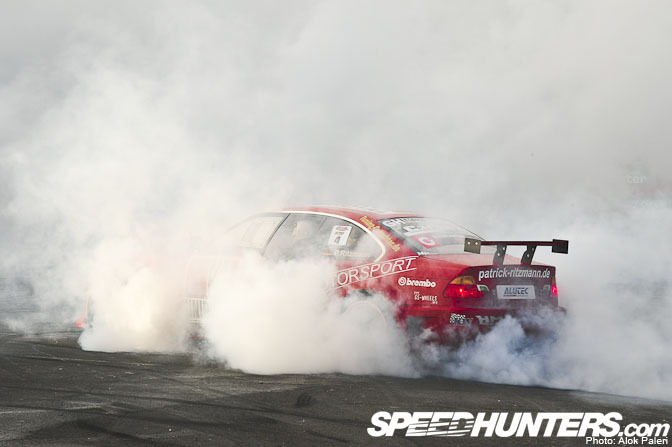 There was smoke, a lot of it. Funny isn't it, a car running tires from and sponsored by a company making rain tires smoking up a wet track…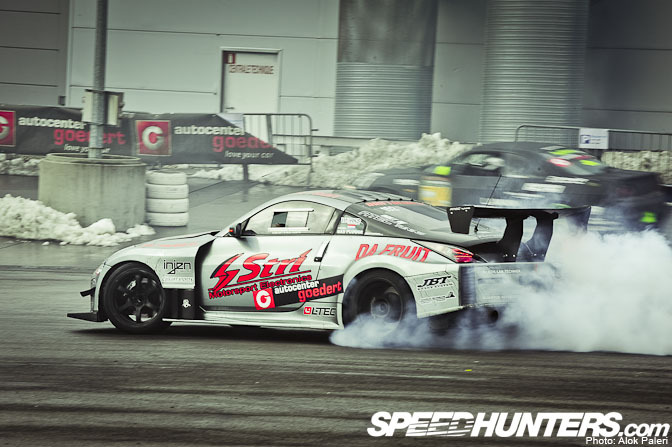 Bas joined too, I loved the sound of his V8 bouncing off the limiter. I know it makes no real difference in forward traction but yet it appealed to that ten year old in me.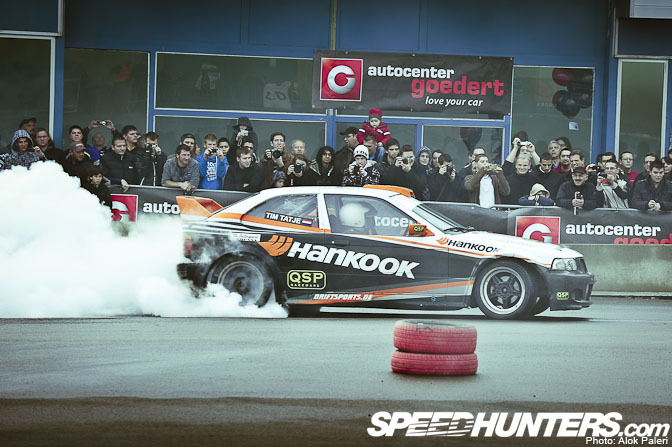 Very rarely do I get to see smoke of different brands in unison. We had Hankook, Federal, Falken, Uniroyal …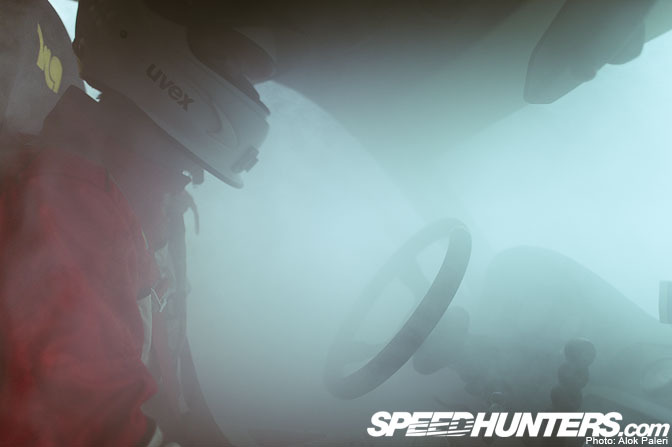 Earlier that day I had ridden shotgun with Patrick and after the final run, this is all we could see. Chain smokers.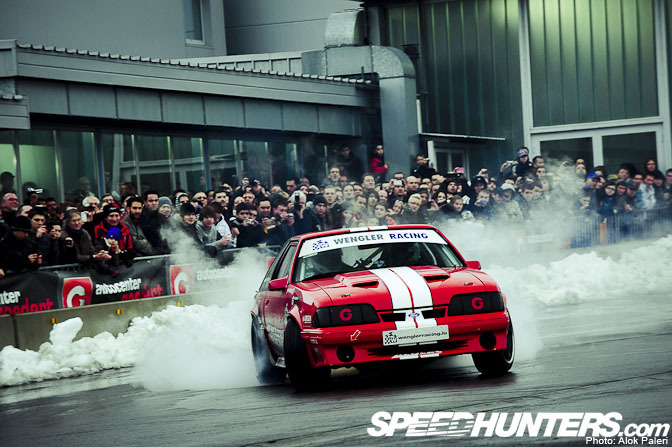 Yves told me last year he did not like burnouts but after winning the International Drift Series 2010 Championship, winds of change had blown over him. He helped punch a hole in the ozone layer above Luxembourg city.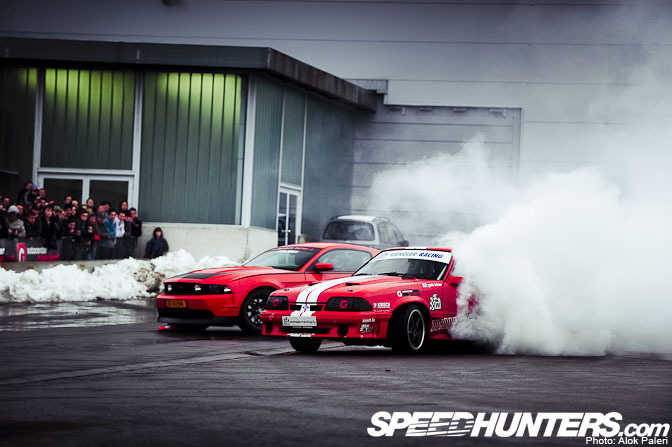 This was one of the moments when I wished I had filmed. How JR came up from behind through the smoke was a class act.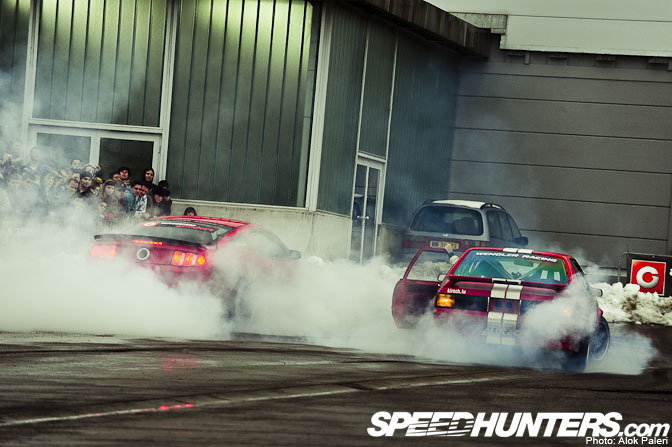 More smoke…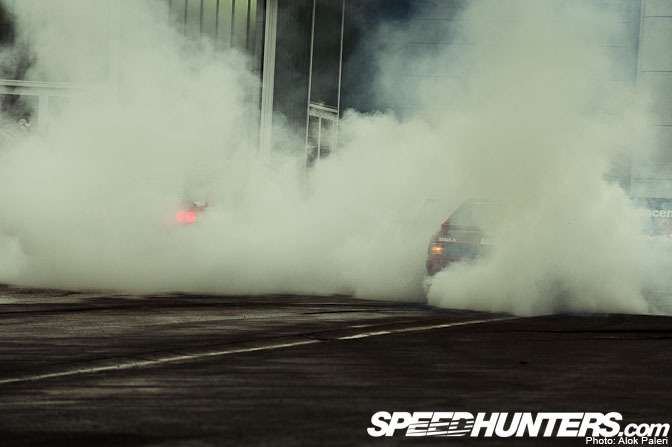 Will it ever stop? Somewhere in there, there are 900 horses…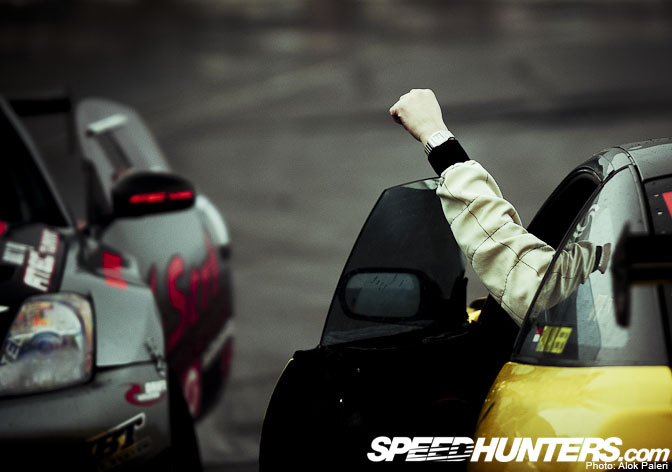 The fist pump has landed in Europe…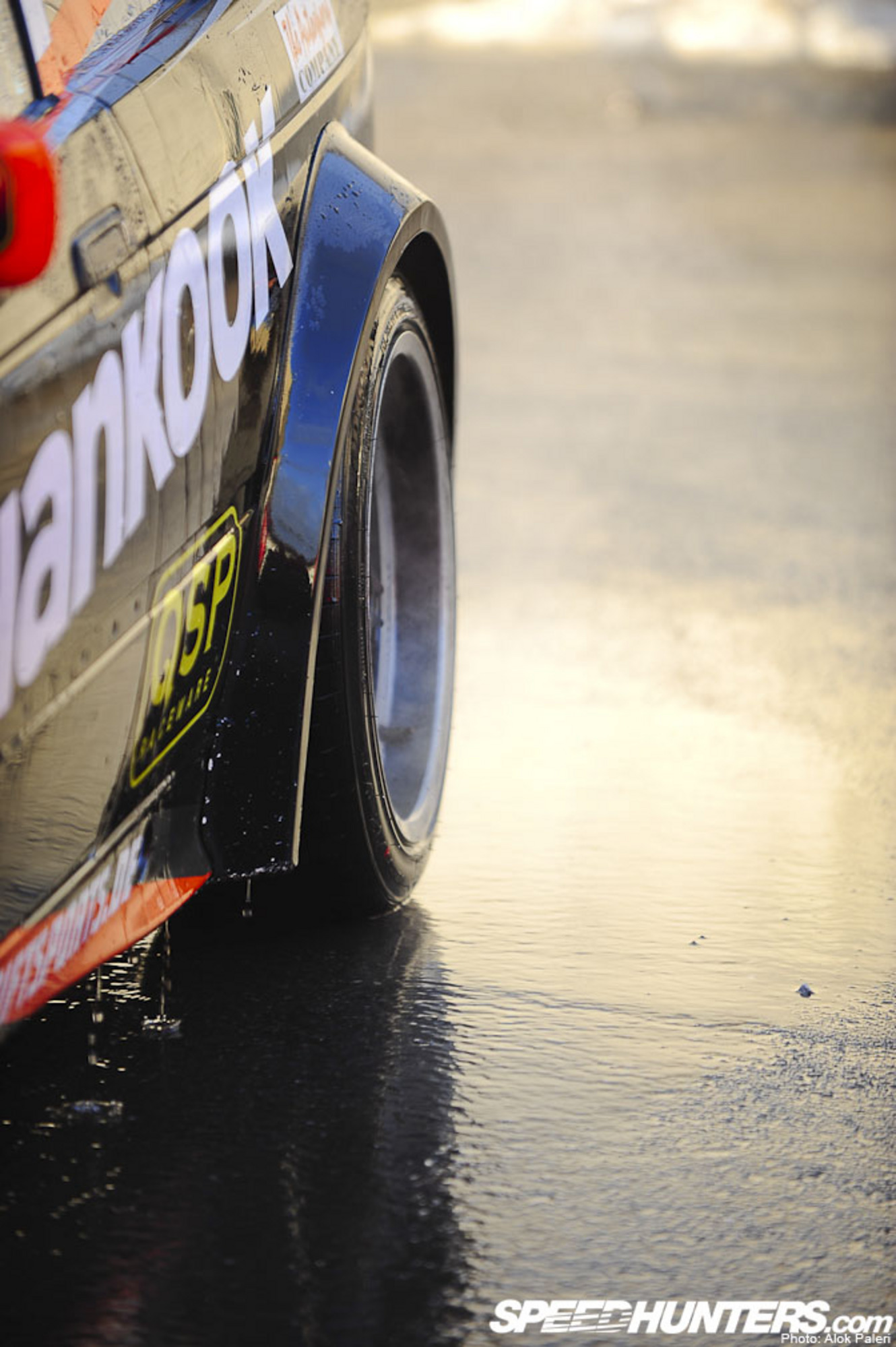 As the crew hosed dirt off the cars, I took a second to look at the rear track widening of Tim's BMW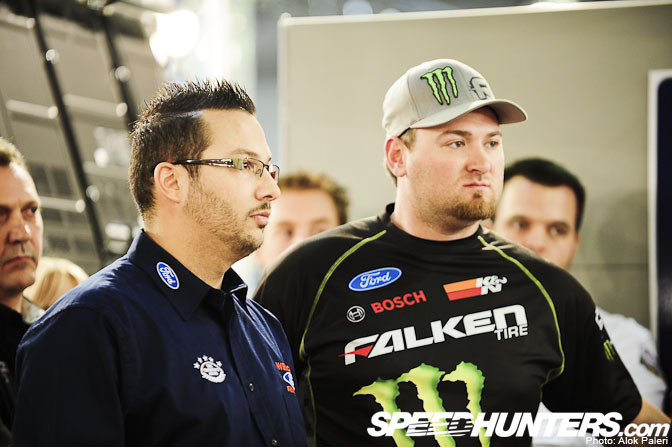 Once the demo was over, it was time for interviews for the press and television. I took some time to briefly skim over some of the show exhibits.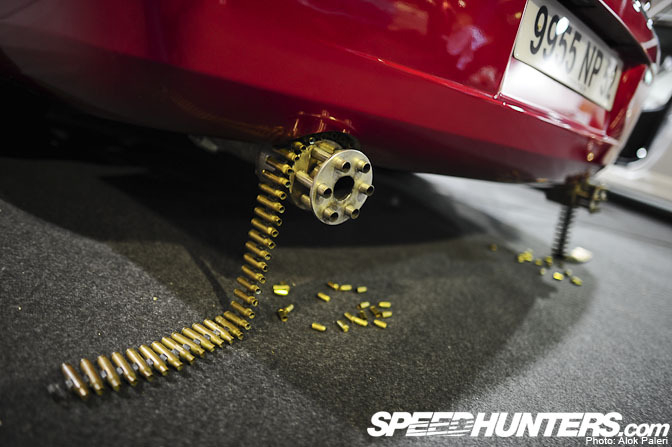 I think the owner of this Chrysler 300C was fed up of tailgaters and wanted to scare them off…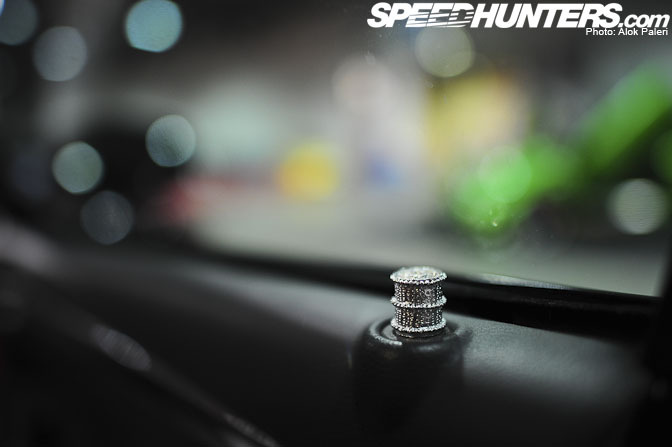 I never thought I'd see a lock-knob jewel accessory. Now I have.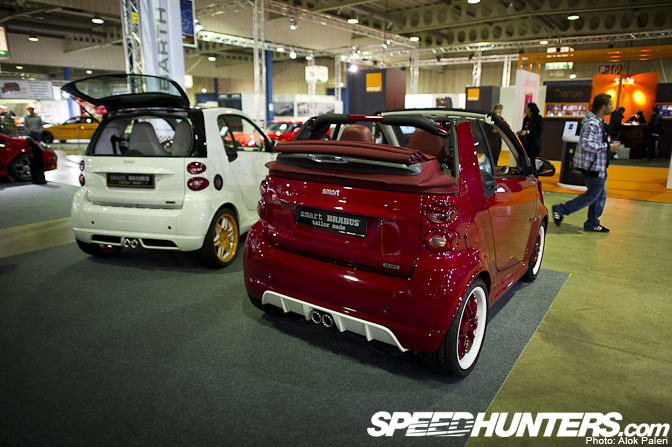 There were a couple of Brabus Smarts with custom finishes..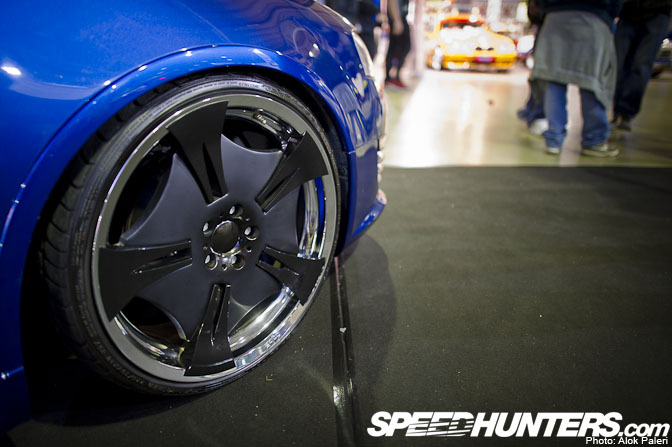 …and a Passat R36 with rims the size of Saturn's rings.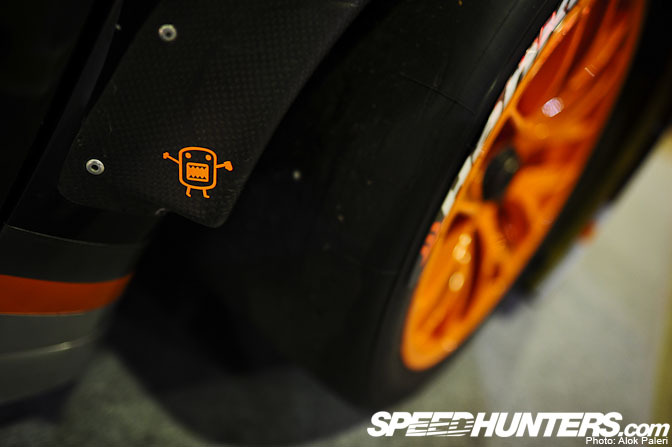 The Hankook F430 Challenge race car was also on display. I had seen this car before at Nürburgring several times but this little detail made me stop and snap.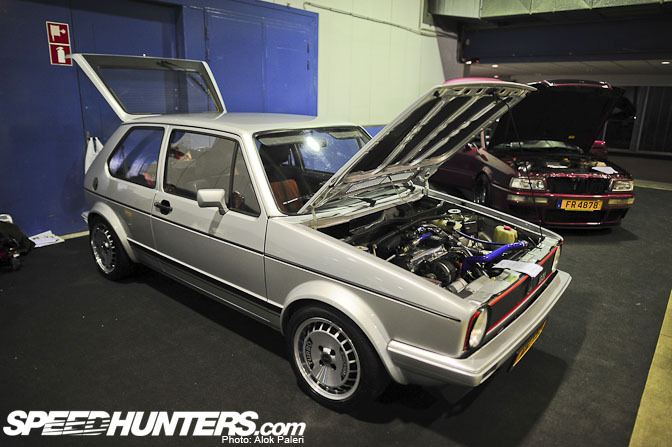 The Golf scene showed its presence with a few clean MKIs.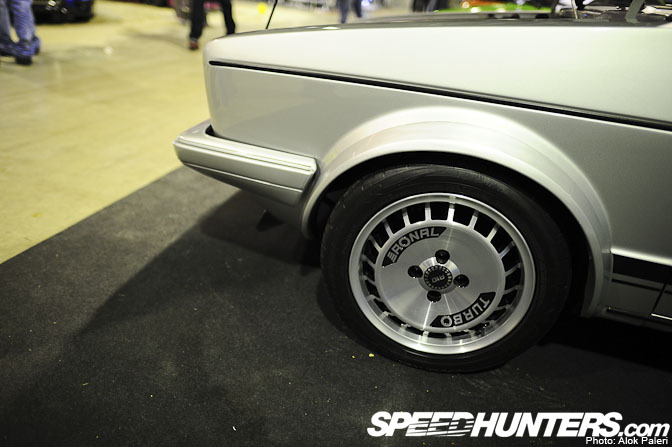 I quite liked this rim-color combo.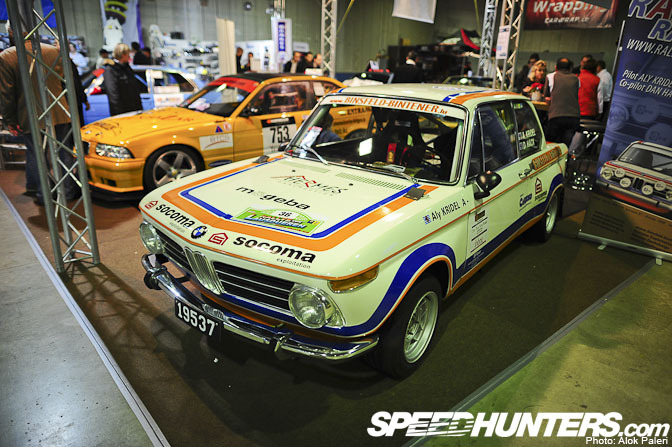 You don't see chrome on racecars these days anymore…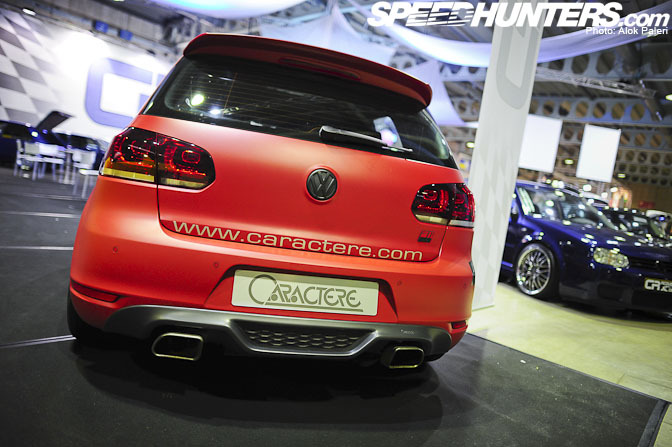 I am usually not a fan of aftermarket body kits for hatchbacks but this one from Caractere bolted onto a MkVI GTI in flat red looked the part.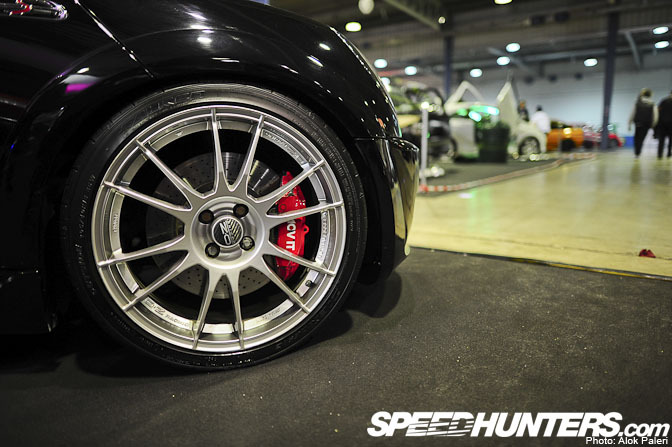 One of the few times in life when form and function go so well hand in hand. Super light and super good looking, the OZ Ultraleggera set.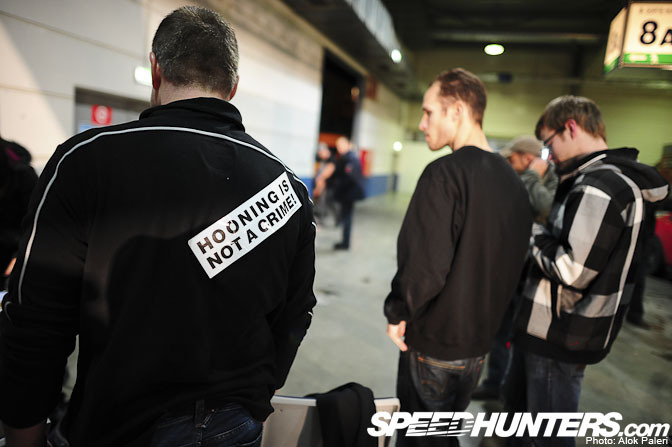 Just before leaving, JR cheekily slapped this on the back of Frank "Wank" van Heeren. I wonder how long it took him to notice…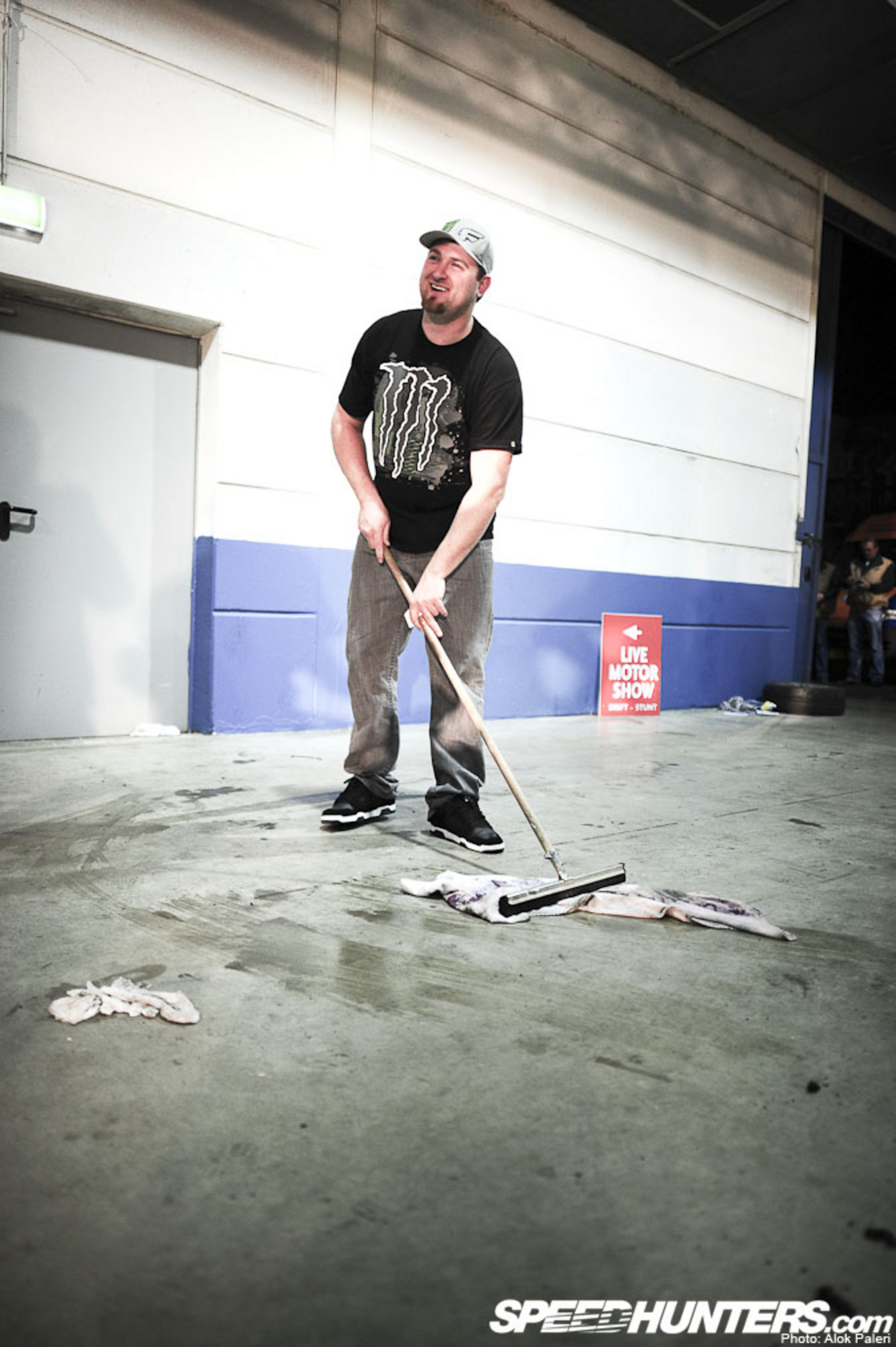 I love this very last picture I took, JR cleaning up in the end. That board in the back was not rigged. Honest!
-
Alok