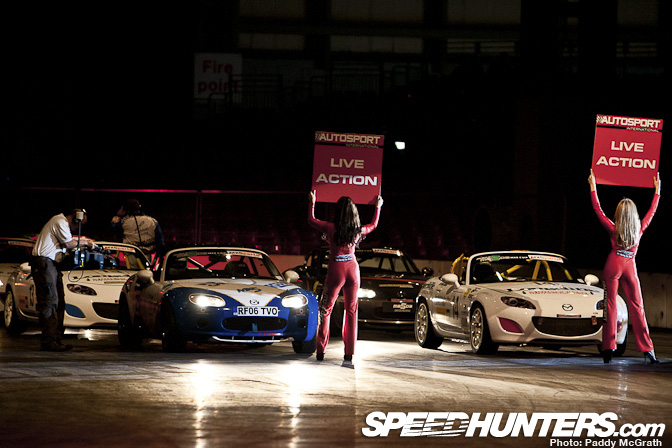 One of the main attractions of the Autosport International show is the live action arena. The arena showcases several different disciplines of motorsport for the viewing public, giving them a taste of disciplines they may not have previously experienced or considered.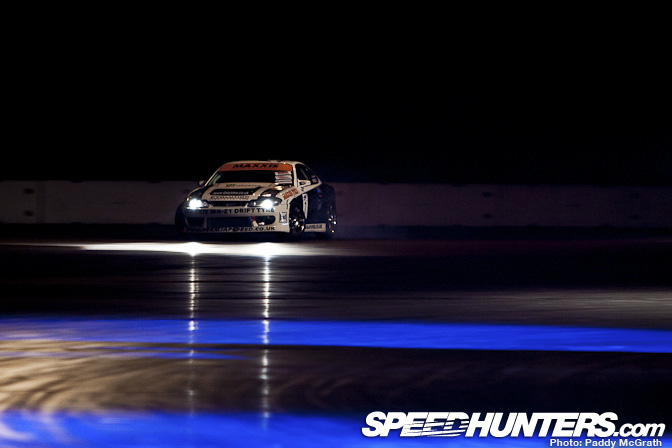 The show opened with a drift demonstration by Japspeed drivers Danny Eyles and Shane Lynch.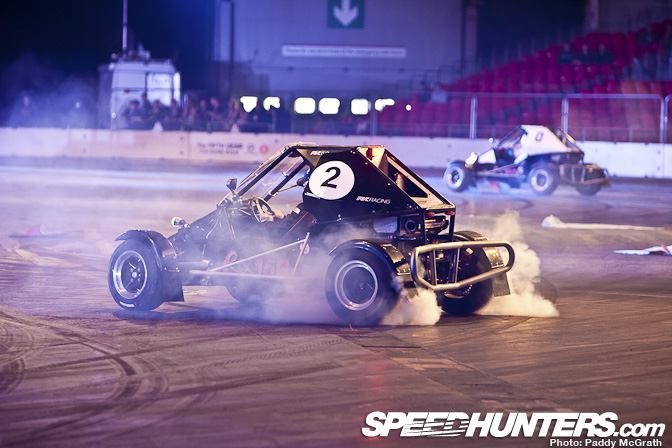 Next up was a set of demonstration runs by these RX Buggies. You'll have to excuse the empty stand in the background as this was the Thursday trade day. On the public days, the live action arena would run six shows on each day !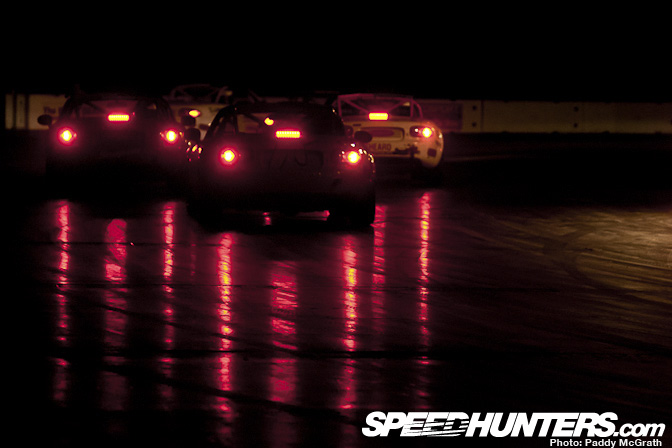 The MX5 cup put on a nice and short display of racing from a standing start.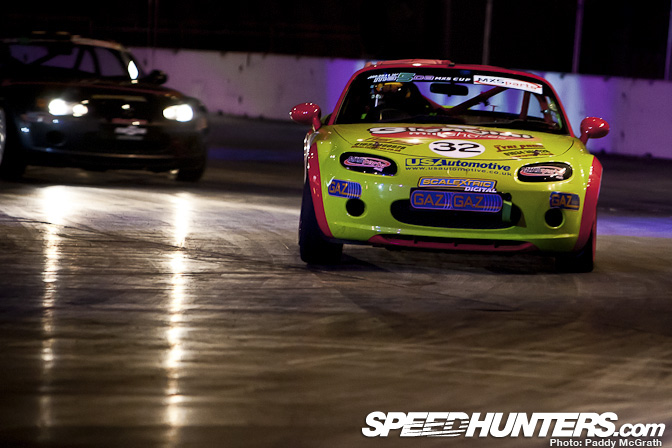 The lighting inside the arena was pretty hard to work with, so you'll need to excuse the higher noise levels.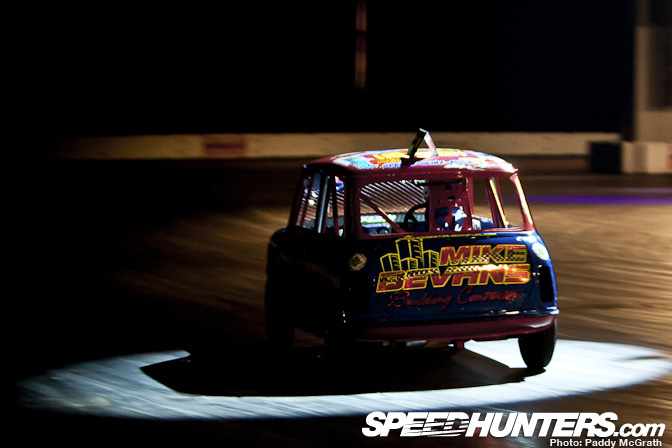 The format for the arena was simple – Each discipline would arrive through the entrance, perform a full race from a standing / rolling start (depending on how they would normally run) before disappearing out a separate exit.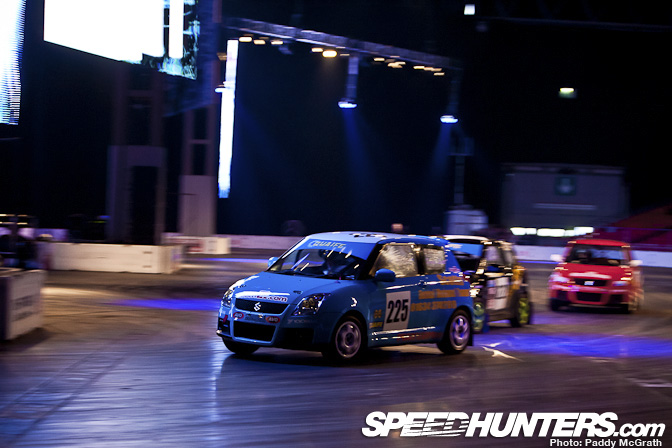 The polished concrete floor made it difficult for the drivers but more entertaining for the assembled audience.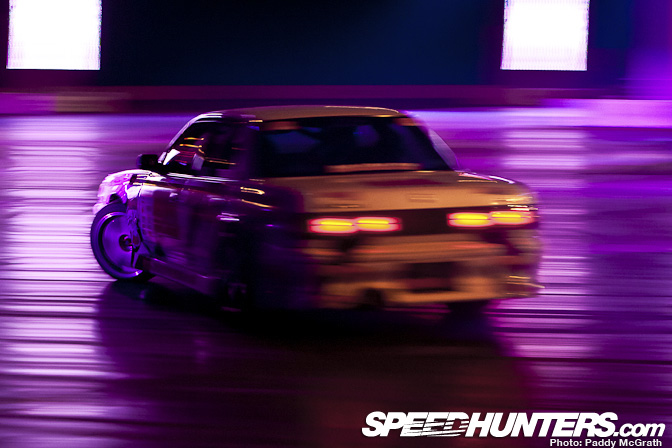 A second drift demonstration was put on by EDC who had put together a really interesting train of cars and routine to mix it up for the spectators.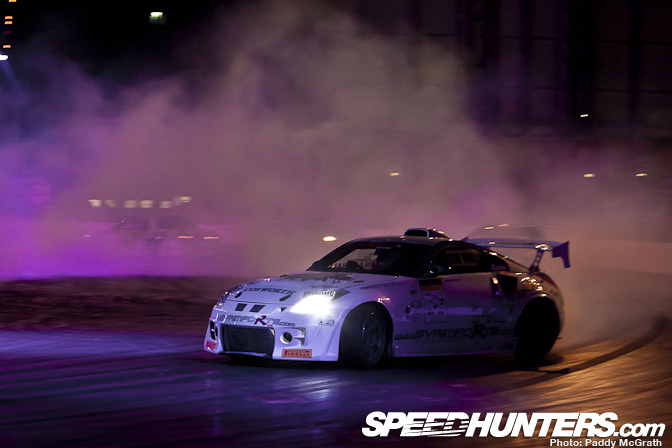 It was also revealed that Tim Marshall will be driving the SVA Imports 350Z, replacing Mark Luney who has moved full time to the SATS Cosworth Supra.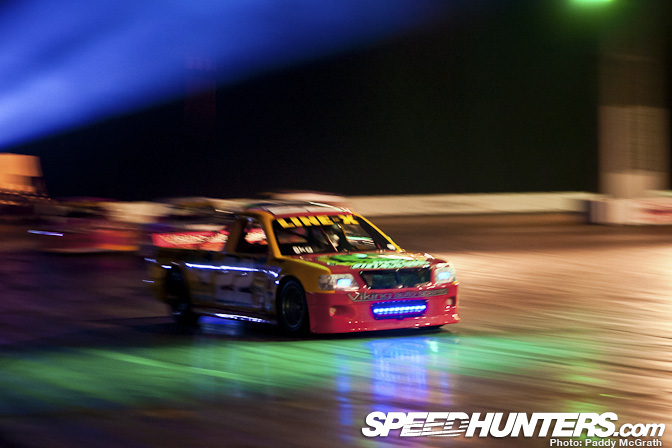 V8 pickups in an enclosed space = Aural Heaven.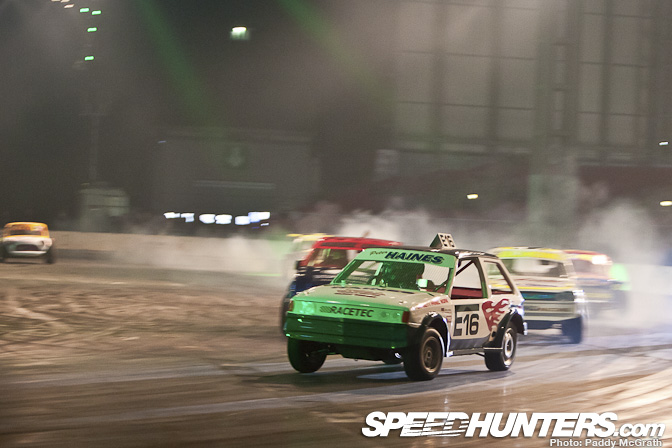 These hot rods were running seriously soft suspension setups but went like sh*t off a shovel !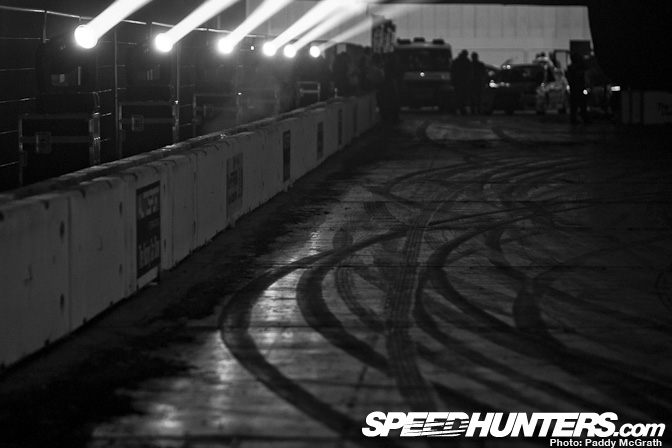 Check out their tire marks from four wheel sliding the cars past the concrete wall !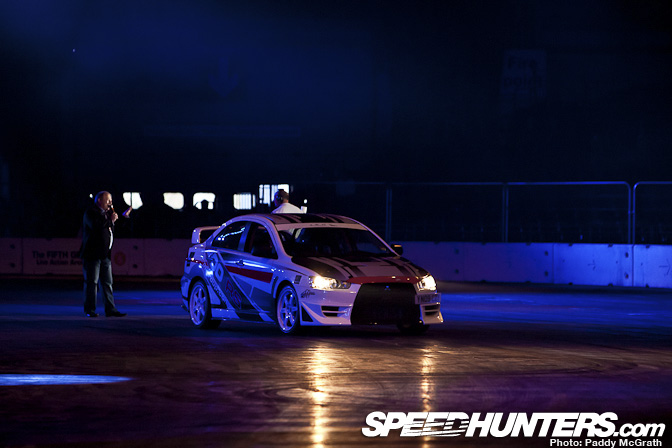 Terry Grant made an appearance in a JRM prepared Evo X …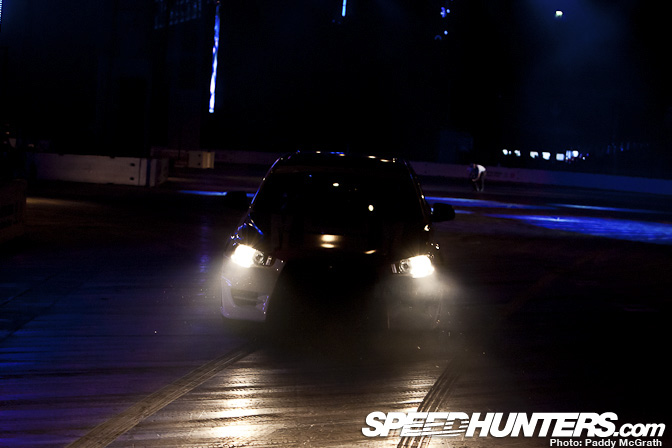 … where his first trick involved scaring the life out of those of us unfortunate enough to be in the press pen.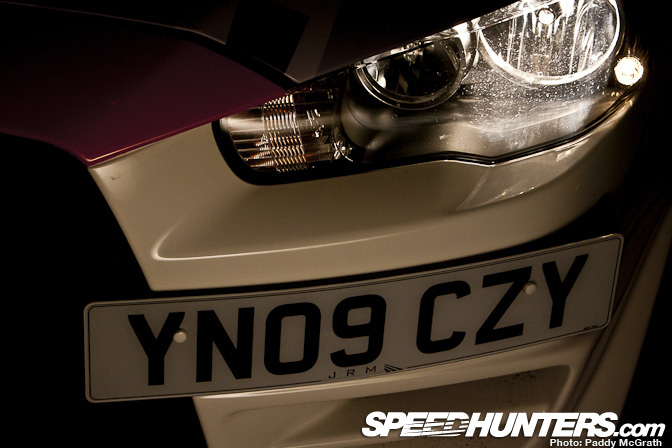 To say he got close would be a bit of an understatement.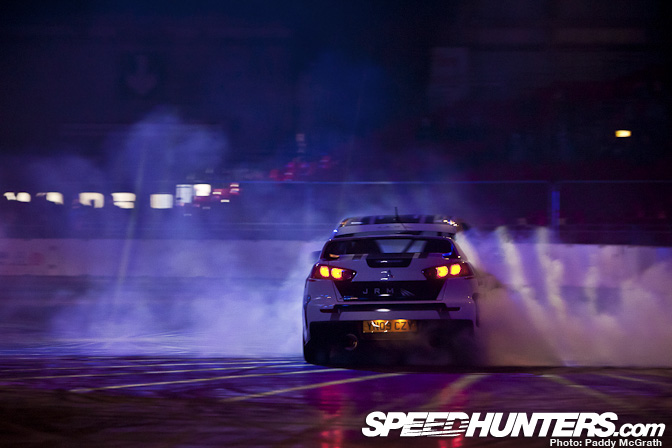 I don't know how he doesn't get ill from these rather violent 4WD donuts.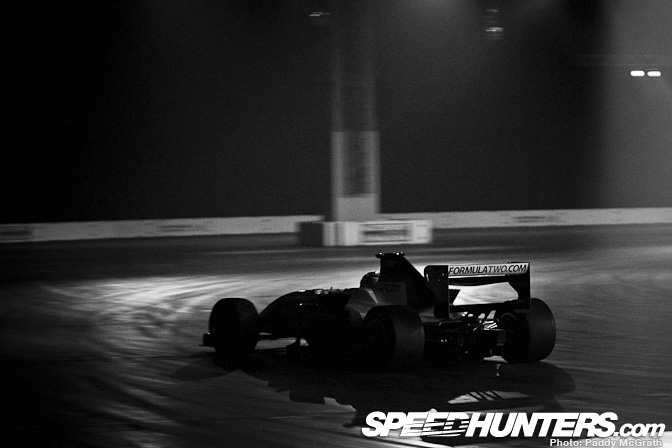 The lone F2 car was a little bit underwhelming being honest. They need to be watched in their natural habitat to be truely appreciated.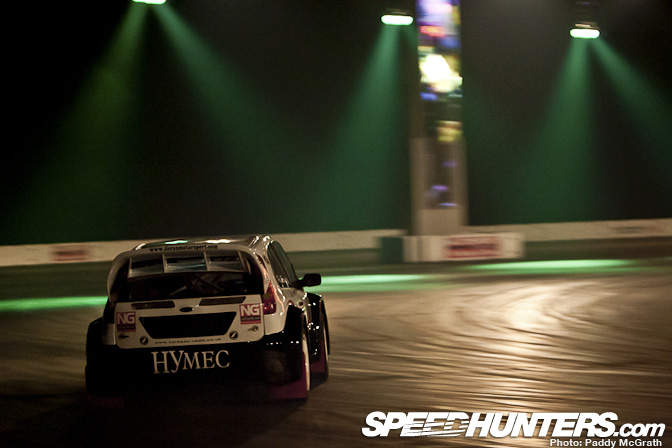 Pat Doran was accompanied by some of his fellow Rallycross competitors for the Rallycross demonstration. His son Liam could not compete after damaging his car earlier in the morning during a practice jump which you can check out on our Facebook page.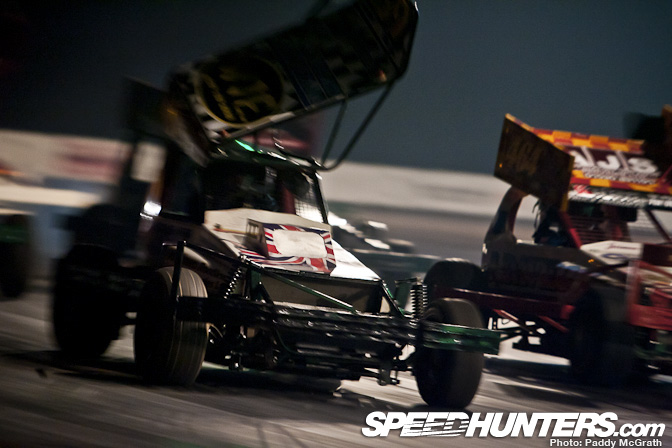 The BRISCA F1 Super Stocks offended Rod's tastebuds back in 2009 but I'm quite fond of their eccentricities.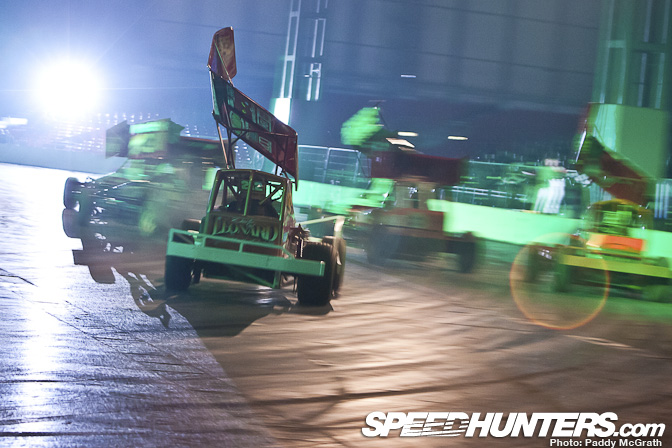 They always provide close and action packed racing.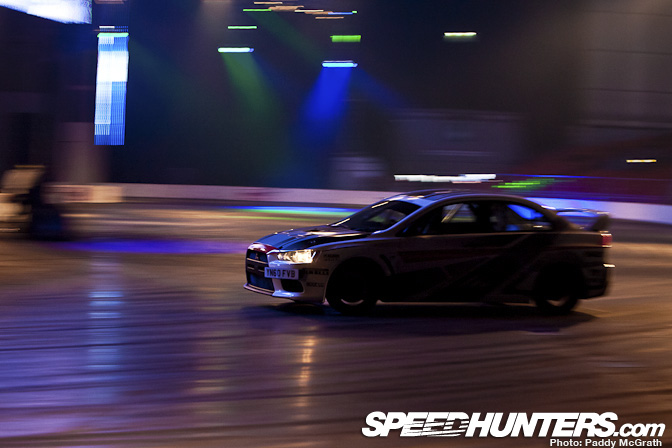 Welsh rally legend Gwyndaf Evans put on a display in another JRM prepared Lancer Evo X.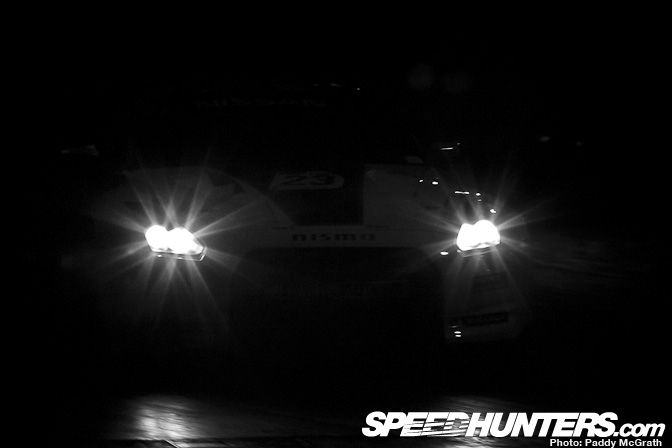 The sound of a normally aspirated GT1 car echoed around the arena …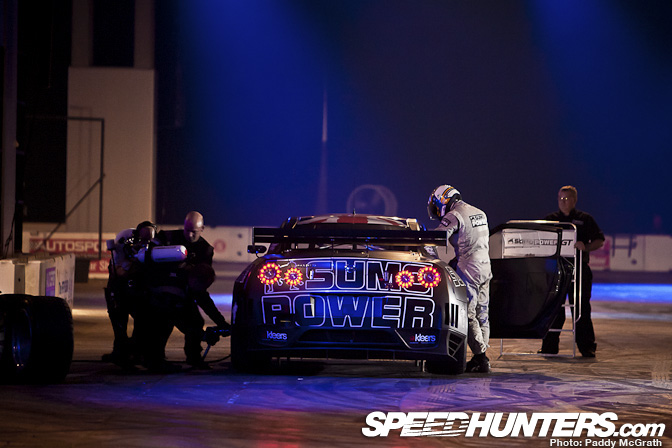 … as the Sumo Power GT1 GT-R arrived for a demonstration including a full simulated pit stop and driver change. I think the FIA should seriously consider introducing the two men only working on a car rule into F1 pitstops !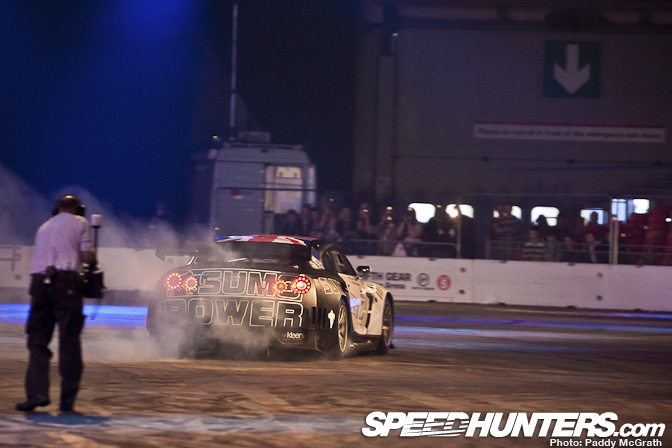 Once the stop was completed, it was time for a tire smoking launch across the smooth surface.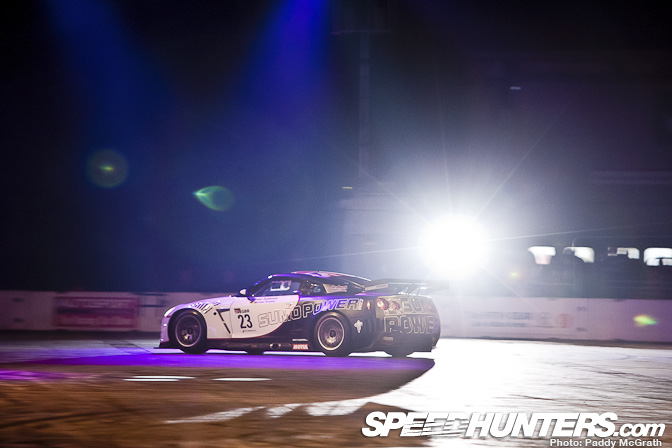 I eventually captured this shot on it's third and final pass around the arena. I was watching the photographers in the opposite press area hoping one would use some heavy flash and got lucky !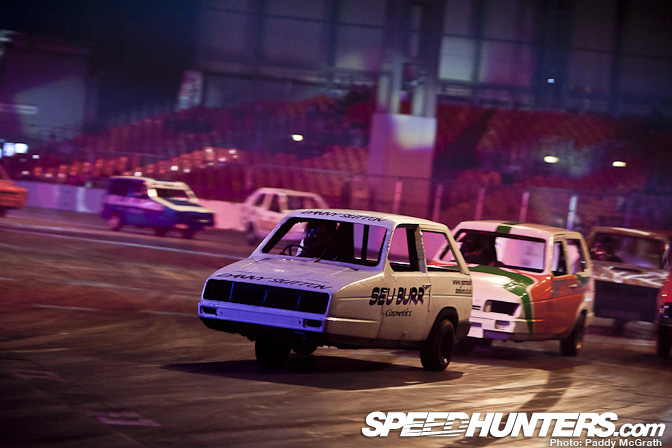 But GT1 is only childs play compared to the epic Robin Reliant races. If you were to believe one Jeremy Clarkson, you'd think that these cars roll over at the slightest touch but …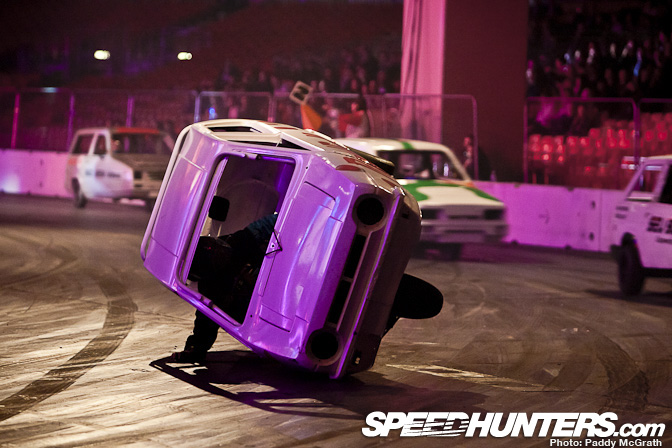 … you would be right. To be fair it's not cornering speed that turns them over, it's usually another competitor or an overly enthusiastic turn in. Watching the drivers trying to rock their cars back onto their wheels is comedy gold.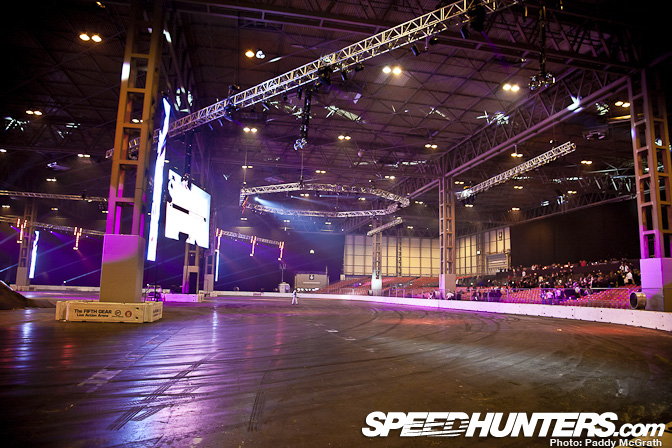 Although short, the live action arena provided a great sampler of the different series'. Here's looking forward to 2012 !
-
Paddy McGrath