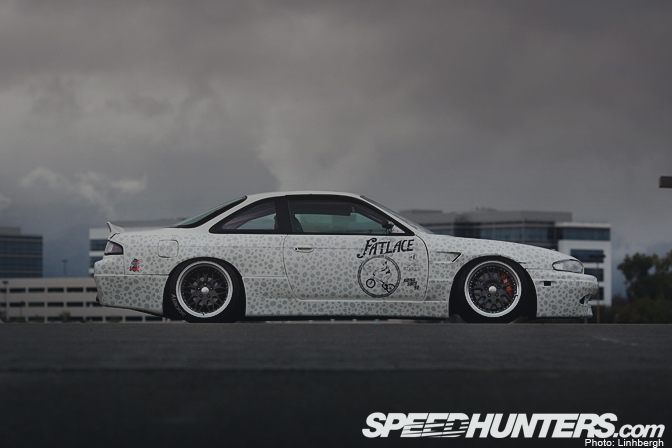 The Fatlace S14 has seen a lot of different looks over the years. But of all the different variations, its current state is my favorite.
When Mark gave me the opportunity to drive this car to learn the basics of drifting, I was expecting the car to be this untamed beast which will take hours to get used to. But oh was I wrong. The car was extremely easy to drive. There was more than enough power to have fun with and how the car was going to react was very predictable.
That's all thanks to Mark's years of experience building his own car and going out to drive it. But we're not here to talk about Mark, or how I loved driving it. We're here to talk about the car itself.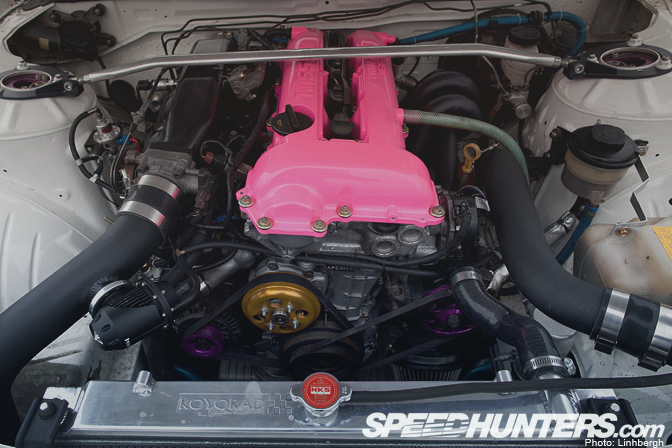 This S14 features a fully built SR20 producing around 450 horses. More than enough power to have fun drifting. The motor, an S15 block with an S14 head, was built by the guys at Performance Options & assembled at DGR Fabrication and features a block bored to 86.5mm.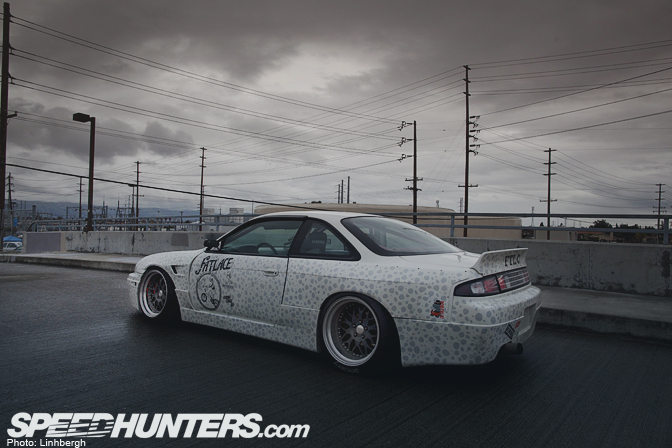 When it came to the selection of the body kit, Mark chose both Rocket Bunny & Supermade. A Rockey Bunny kit flows all the way around, but he has two front bumpers just in case he decides to switch things around. The Supermade front bumper is currently the one shown in these photos. The Porsche 911 GT3 White paint job looks great
You're probably wondering about the S14's overall animal print at this point, it's Mark homage to his sneaker roots –Nike to be exact.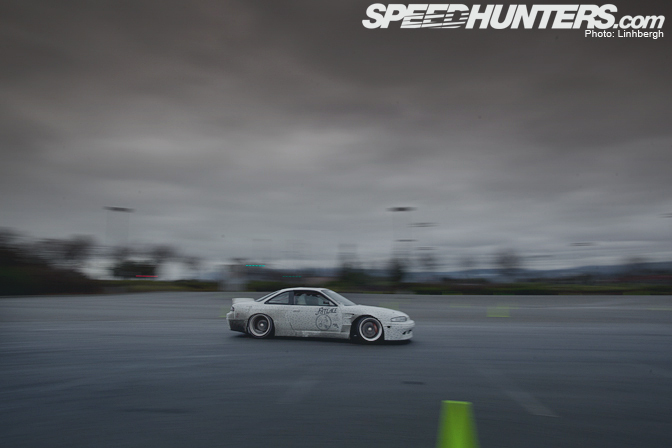 Mark wanted a car that produces enough horse power for fun, but also wanted it bulletproofed.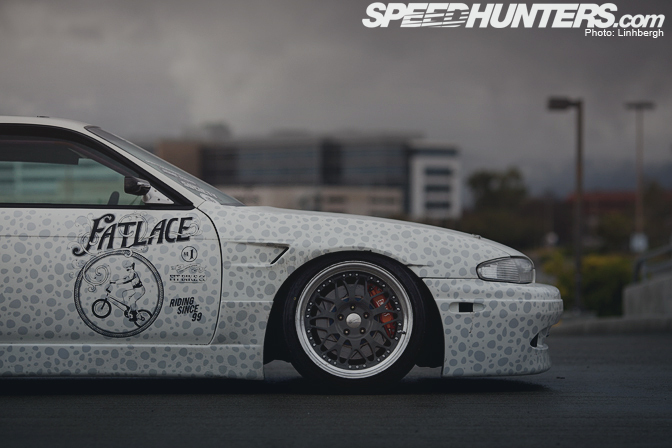 Having had the opportunity to drive this car, I can tell you on personal experience that Mark has set up his HKS Hipermax D coil overs perfectly for drifting. There's little body roll, and the rear squats just enough. The suspension also features Peak Performance inner and outer tie rods, a Peak Performance pillow upper link for the rear traction bar, Peak Performance rear upper camber arms and a Peak Performance Tension rod.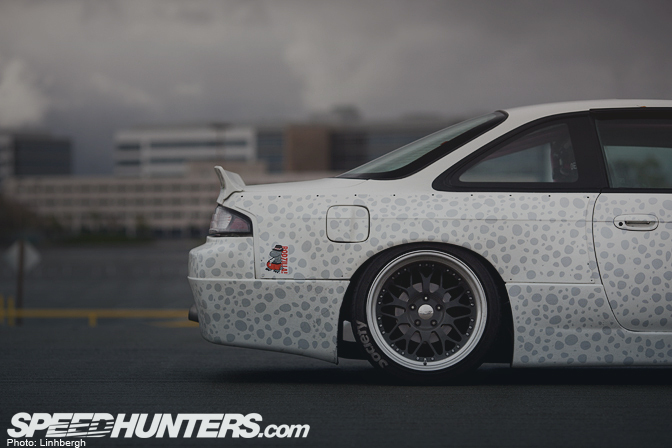 I like the placement of the RodZilla Sticker.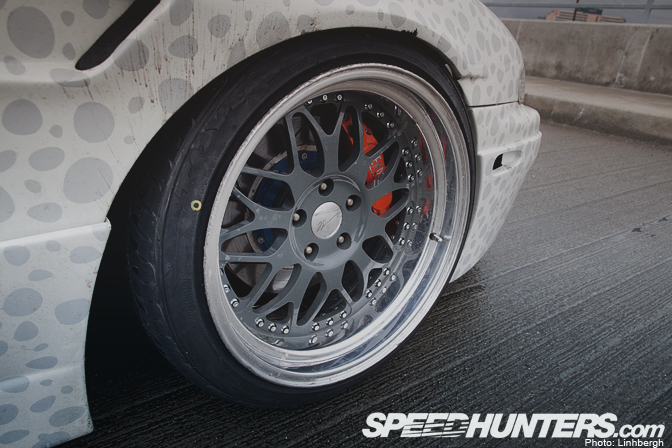 Mark chose a set of J Line SDMSL2. The wheels fit perfectly with their front size and offset of 18×9.5 -10 and 18×9.5 -35 in the rear. That sort of fitment is, in my opinion, a good balance between looks and performance. Mark also sourced out a Peak Performance 5 Lug conversion kit.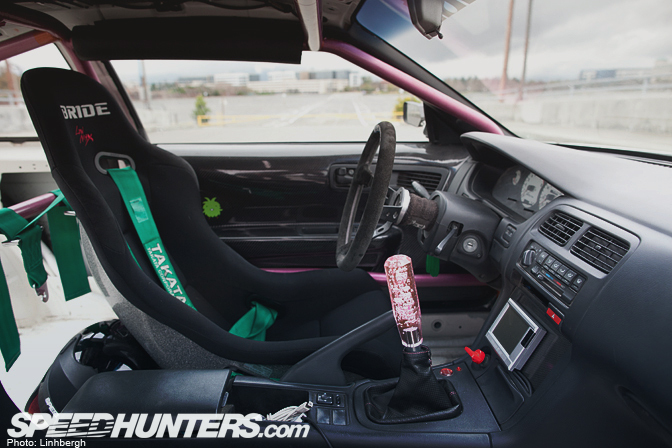 The interior has the usual dedicated drift car treatment: a completely gutted interior, Bride Vios III Lomax bucket seats, Takata harness, Keys Racing steering wheel, and of course, a pink JDM bubble shifter. It matches the roll cage!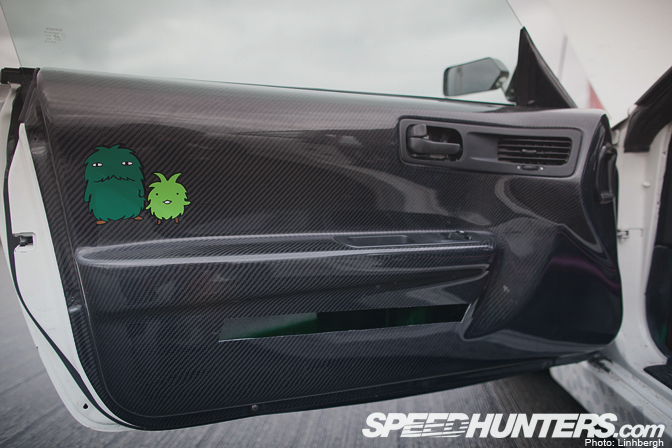 The heavy OEM door panels were replaced by a much cooler looking carbon fiber one. Notice the hole that was cut at bottom section of the door panel so that the door can close properly with the cage's door bars. Pretty cool.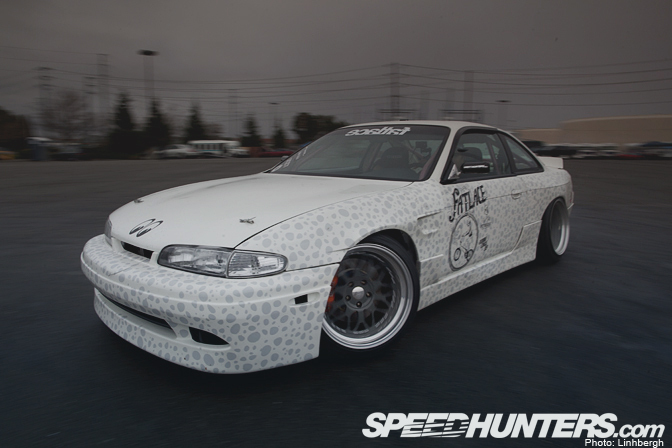 I love this car for the fact that its a seemingly perfect marriage of performance and looks. And after my experience behind the wheel I loved it even more.
Happy S14 day to you all!
-Linhbergh
Complete Spec List:
1995 Nissan S14 (2nd Owner since 2002)
Engine:
- Fully Built SR20DET
– S14 head/ S15 Block
– T2871 Turbo
– Built by Performance Options / Oakland & assembled at DGR
– Block bored to 86.5mm
– CP Pistons: 86.5 9.0:1
– S15 Rods
– New Calico Rod & Main Bearings
– New Thrust Washers
– Greddy Oil Pan
– ARP Rod Bolts & Head Bolts
– Apexi Head Gasket
– 16 New OEM Valves
– BC0205 Cams: Stage 2 – 264 / 12.06 in & ex
– BC Valve Springs / Titanium Retainers
– Rocker Arm Stoppers
– New Oil Squirter Tubes in / ex
– SARD Fuel Pressure Regulator with Braided Lines and Fittings
– Garage Saurus Ex Mani
– Exedy Hyper Single Clutch
– Greddy E-01 Boost Controller w/2 extra Wiring inputs
Suspension:
- HKS Hipermax D Coilovers
– Peak Performance 5 Lug conversion
– Peak Performance Inner Tie Rod – PRO
– Peak Performance Outer Tie Rod – PRO
– Peak Performance Pillow Upper Link (Traction Bar – Rear)
– Peak Performance RUCA (Rear Upper Camber Arms)
– Peak Performance Tension Rod
Exterior:
- Rocket Bunny & Supermade bodykit 2 Front Bumpers (Supermade shown & Rocket Bunny)
– Paint: Porsche GT3 White
Interior:
- Bride Vios III Lomax
– Takata Harness
– Stack Gauges
– Keys Racing Steering wheel
Wheels:
- JLine SDMSL2 18×9.5 -10 / Rear 18×9.5 – 35
– Toyo Tires