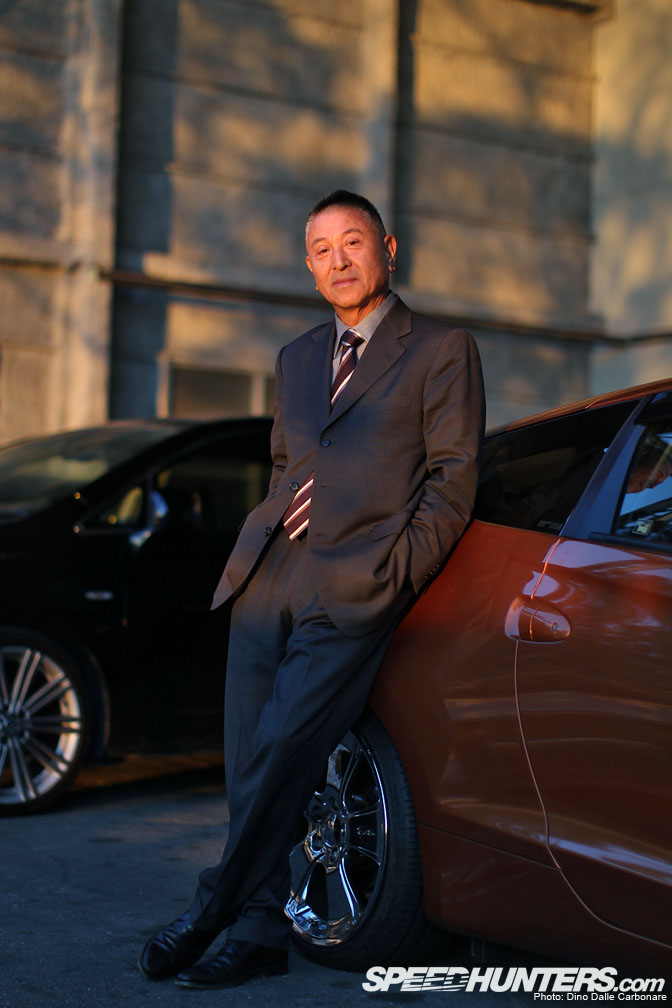 We've all heard the rumors that have spread through the internet recently regarding the split between D1 and its two biggest personalities, Daijiro Inada and the great Keiichi Tsuchiya. D1 and these two guys go hand in hand like drifting and tire-smoke, or so that is what everyone thought until last month. Rumors started spreading through the Tsukuba paddock at the Rev Speed Lap Battle, most people shocked at the news that hinted Yokohama had also pulled out, leaving 12 or so drivers without sponsorship. Since then we've heard all sorts of things from D1 not having enough entrants to continue in 2011, to Dai-chan and Tsuchiya setting up their own rivaling drift championship.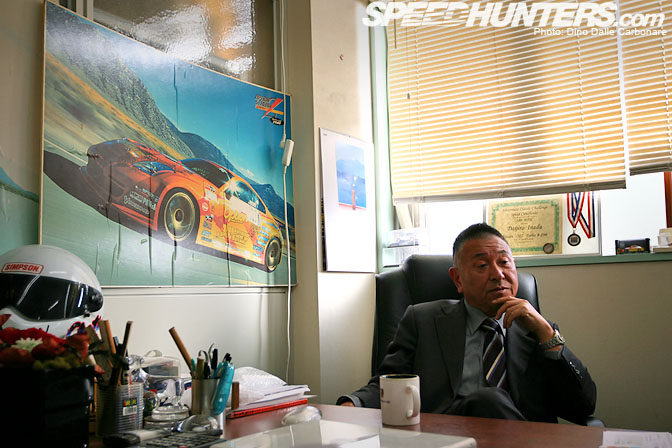 With the need to find out what really happened we thought there would be no better way than to ask the man himself, Dai-chan.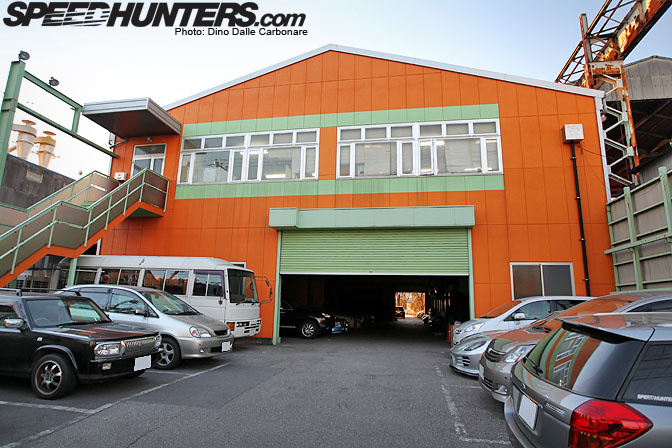 So a few days ago I headed to the Dee's Club Headquarters in Tokyo, the place where Option, Option 2, Drift Tengoku and G-Works are all born from. The huge orange building is located in Shinkiba right next to the wangan. It's pretty easy to spot due to all tuned cars parked up along the street, obviously the guys that are involved in the above publications are very passionate about their work!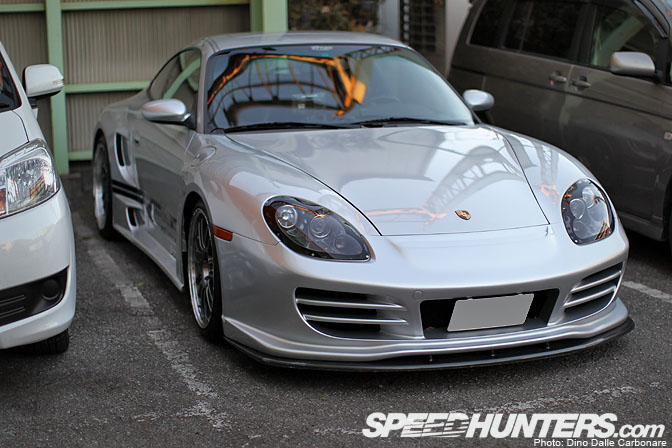 When I arrive I spot Dai-chan's Porsche parked up outside, meaning the big man was already inside waiting for me.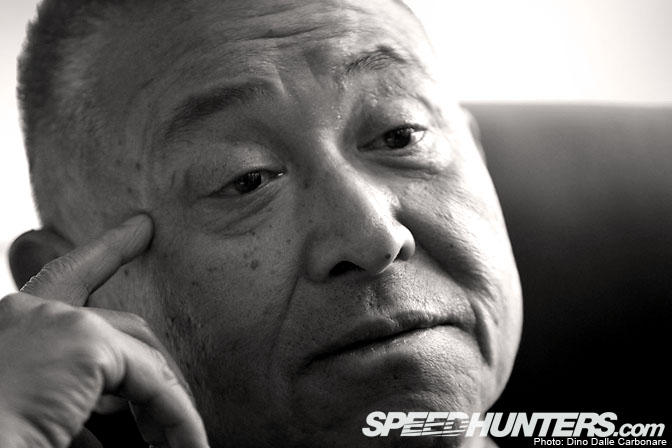 Stepping into the office I'm greeted by Mamina-san, Dai-chan's daughter, who mentions it's a really good time to ask some questions about what happened as things have settled down since the split.  Daijiro is his usual casual self, greeting me at the door with a well-defined "usssss," acknowledging my presence in a very Japanese way. Without wasting any time I place a tape recorder on the desk and begin the interview…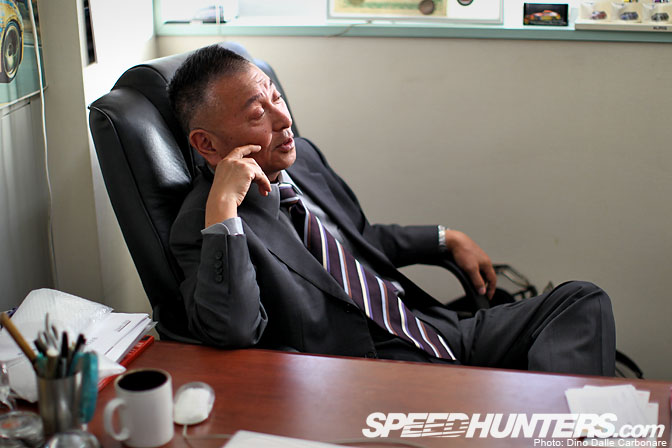 SH. First off thanks you for giving us time today. Before we get into D1 let's talk briefly about your history and how you got started with Option, the Tokyo Auto Salon and D1 Grand Prix.
Dai. It all began from my love of cars and racing. With racing being out of the hands of most people it was tuning that allowed enthusiasts to get their thrills but it was all very strict and illegal back then. So I though that if everyone got into it, it would be impossible for the Police to arrest everyone that would tinker with their car, so basically that is where the idea of Option came from. We began to show how you could modify your car and soon the movement started. People in the publishing industry initially associated Option with illegal tuning; people thought that if you read Option you would end up getting arrested! I even heard stories of people reading the magazine on the sly, hiding for fear of being recognized as hashiriya! The Tokyo Auto Salon came two years after Option and with it I wanted to diffuse the notion of tuning more publicly so even people that didn't understand what this movement was all about could get into it. I got resistance from the Police, as they were afraid of allowing me to hold the show since tuning was "illegal." It all worked out in the end however once I explained that it wasn't going to be a bunch of bosozoku that would come over but true enthusiast. I couldn't believe the resistance I got initially, it was fine for import cars to have tons of power but if I touched my car even a little, moving the rearview mirror position to the fenders for example, the car would automatically fail the shaken test. This really bothered me, as it just didn't make any sense, like the 280PS power limit for domestic cars. Plus with the lack of space in Japan, most people can only have one car, so what is wrong with making your daily driver a little more fun to drive. As for drifting, well that was something that developed up in the touge (mountain passes) around Japan and with it gaining so much popularity we wanted to take it away from the public roads and bring it to the track to make it safer and easier to watch. From there competition developed into Ikaten and then D1 followed a little later.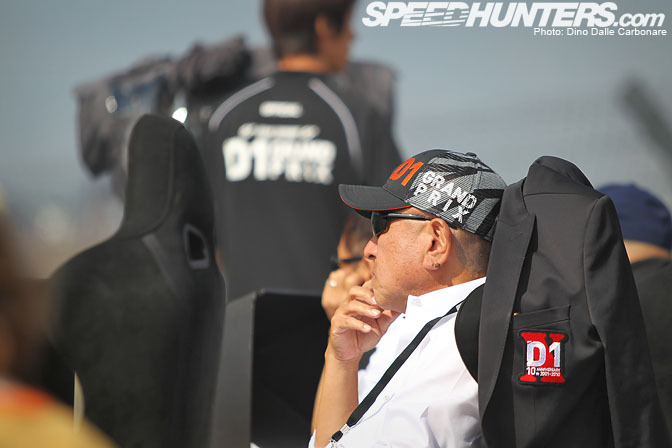 SH. What were the differences of opinion when it came to D1-GP in 2010?
In the beginning D1 was a coming together of friends, the drivers, Keiichi Tsuchiya, Option Video and myself. To make things more official we had to create a separate company and appoint a head of operations which was given to the person in charge of Option Video. All went well until about a year and a half ago when this person was replaced. The new director began to make us feel like it was only the D1 Corporation running things, and doing so for the wrong reasons. We got the impression that we were only a part of it all to bring money in and since we didn't have a majority stake in the corporation our word didn't count for much even if we were the guys that originally started it all. We think of ourselves as "pure drifters" and wanted to improve the sport, but we were met with objections as our decisions apparently, wouldn't have brought enough people to the each round. We were told that if we didn't get at least 5000 to 10,000 people at each event the whole D1 would have been pointless. They were trying to turn D1 into a series as big as Super GT, just looking for the business side of it and forgetting what the fans want to see. I even offered to take over the D1 Corporation but was rejected, so even if Tsuchiya and I were begged to say we decided to leave, as we just don't believe in what D1 are shooting for these days. We were told that D1 would continue with or without us, but with them not managing to make any sort of profit even after taking the sport to huge circuits like Fuji and Okayama I don't see how they can survive.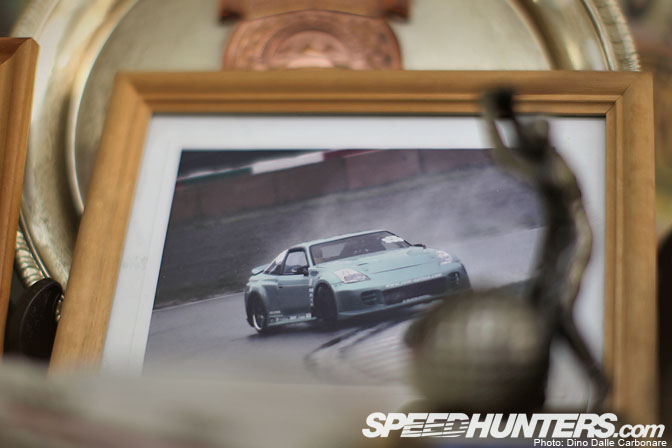 SH. Have you had any sort of feedback from the drivers and sponsors since breaking the news?
Yes the drivers didn't want us to leave as we have all developed a good relationship with each other over the years. The judging in D1 is pretty much up to Keiichi Tsuchiya, he is the Drift King, he is respected and revered and everyone strives to be awarded that perfect 100-point run from the great Dorikin. Without Tsuchiya there, who are they driving for? That's why everyone is interested in what we have planned, now that we finally have the chance to start from scratch. 2011 will be a trial year to start off with, we will concentrate in bringing drifting back to smaller courses and begin to make it more official from 2012. The reason D1 drivers have improved so much over the years…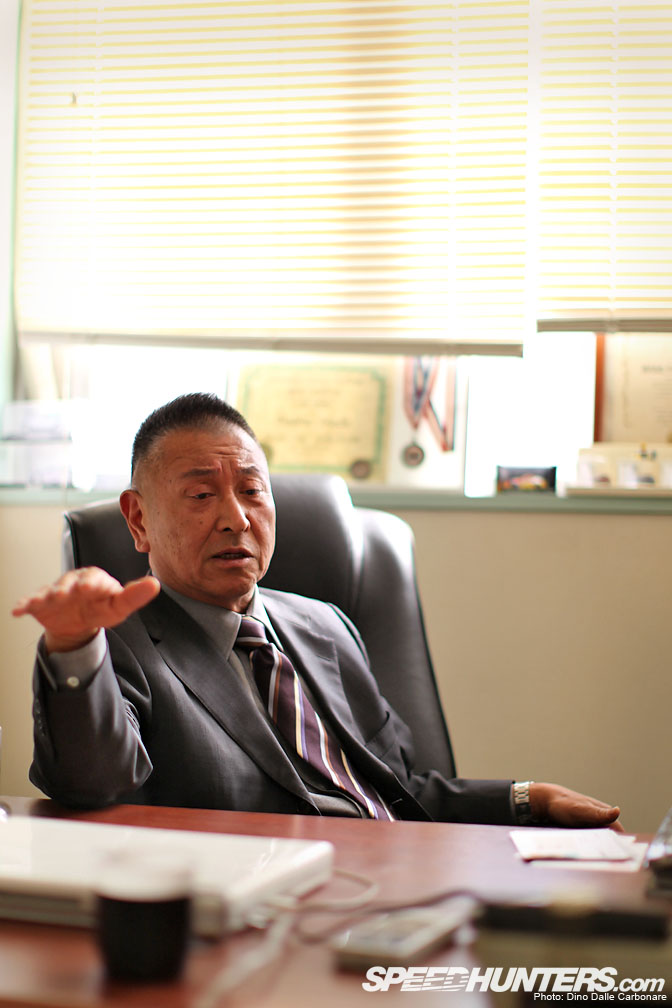 …is that they have pushed themselves to satisfy Tsuchiya's requests, be it in the racing lines he wanted to see at various circuits as well as special moves and techniques. This is why everyone has shown an interest in what we will come up with soon. Our aim for this year is to keep focusing on improving the overall skill of drifting in Japan.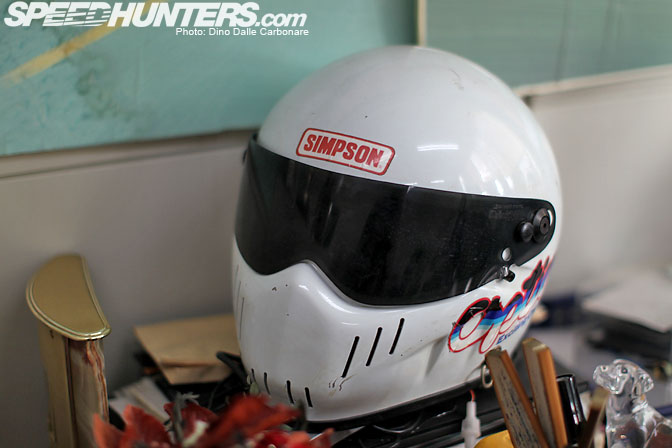 As soon as the new D1 Corporation president took over and pushed to commercialize the sport more and more, Tsuchiya often argued with him and I knew that sooner or later he wouldn't stand for it any more. I tried my best to keep everyone happy but it was just too hard. A break up was unavoidable for the future of drifting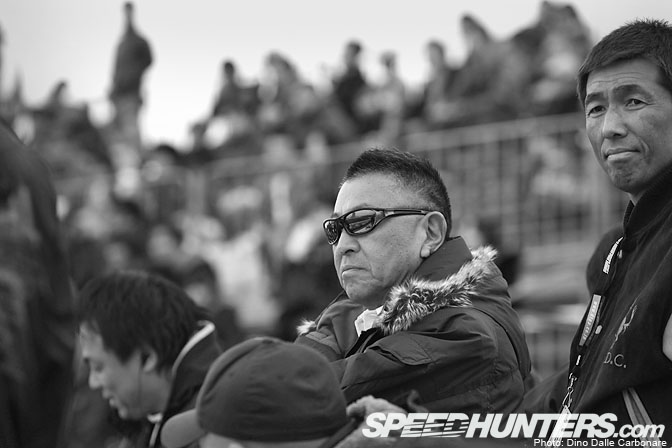 SH. Any thought on the US drift scene? Would you and Tsuchiya-san ever hold another event in the US?
I think they have already developed their own unique style and with so many cars running big V8s they definitely have something that is identifiably American. That's why if we do end up going back there in the future we could collaborate to organize something fun with them. So if you guys want us to come to the US just let us know, we will be there!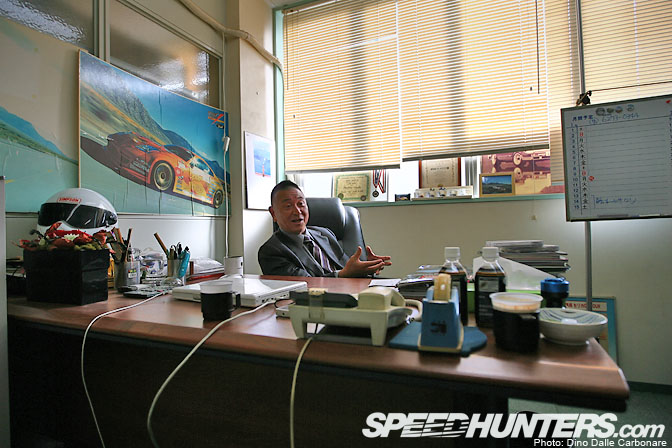 SH. What are your thoughts on the impact of the financial crisis on Japan's aftermarket scene?
Well tuning is obviously a luxury. Like with any similar kind of hobby, in times of trouble you have to cut down so it's no surprise that following the economic crisis tuners and parts makers have been struggling. Enthusiasts have compensated by finding economical ways to tune and upgrade their cars and holding back on the big stuff so you might not see as many people running big turbines, but just making do with "boost-up" modifications.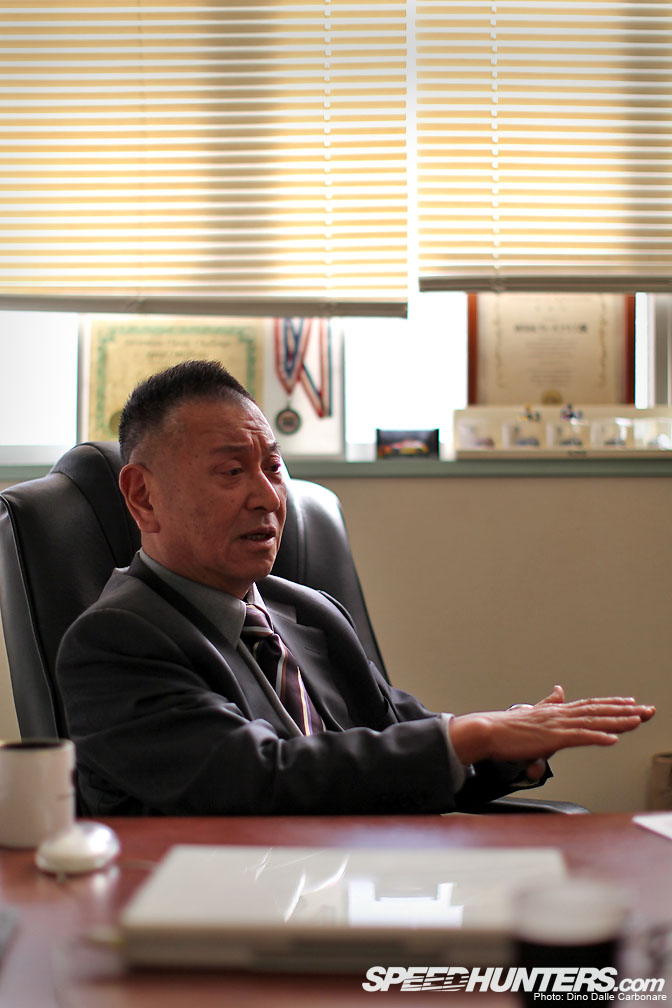 SH. Any future plans? Where do you think the tuning scene is heading towards? 
With cars moving towards hybrid and electric power I think we will find people sticking to older cars, the modern classics. Tuning will continue to evolve and people will keep modifying so they can stay faster than expensive modern exotics. That's what modifying is all about right? Perfect example is the new car I just had built in the US, a first-gen LHD Toyota Celica with an SR20 and Silvia running gear! It only weighs 900 kg. It should be arriving in Japan soon, so make sure you check it out at the Exciting Car Showdown.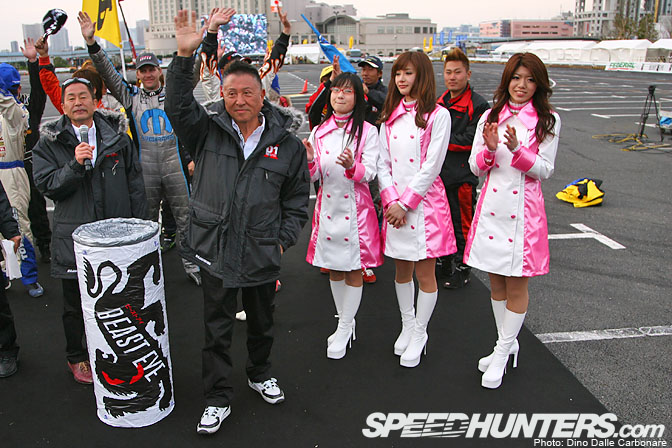 SH. What is in your opinion the most influential tuner car you have come across all these years in the JDM scene?
Uhm, it probably has to be the S30 Fairlady Z. That's the car that really kicked off the whole Japanese tuning scene and I have fond memories of it.
SH. We always see you do high-speed runs and tests on Option DVDs; what's the scariest car you have ever driven?
That would be the Veilside R34 GT-R I drove in New Zealand. That thing was a beast and just wouldn't go straight down the narrow road we were doing the speed run on. It was so hard to drive I just wanted to let go of the steering wheel so it would all be over quickly!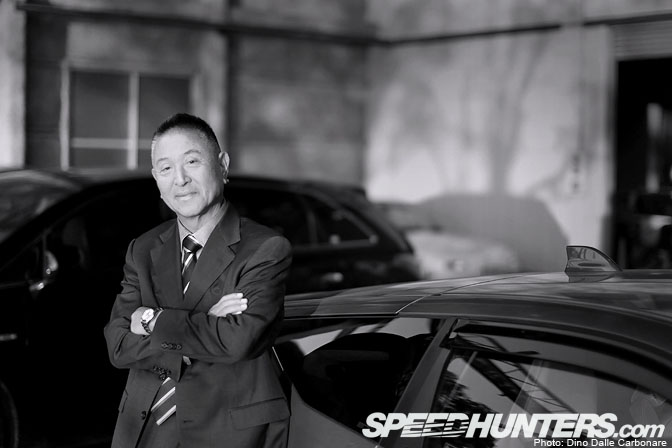 SH. What's your most proud accomplishment?
Getting tuning accepted.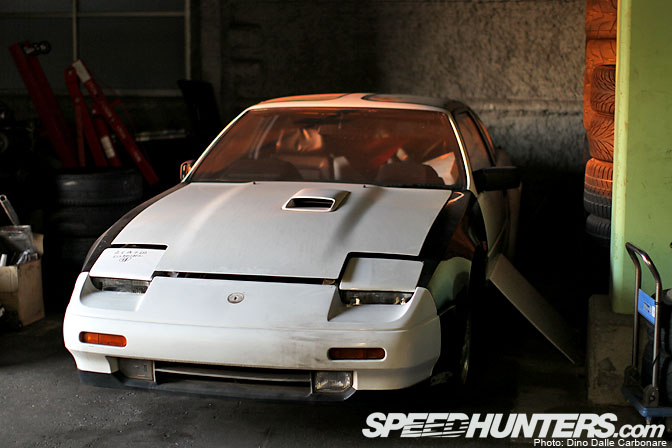 After the interview Dai-chan took us down in the garage area of the building where all the project cars of the various publications are kept. I spotted this Z31 in a semi-abandoned state. Maybe waiting for a restoration?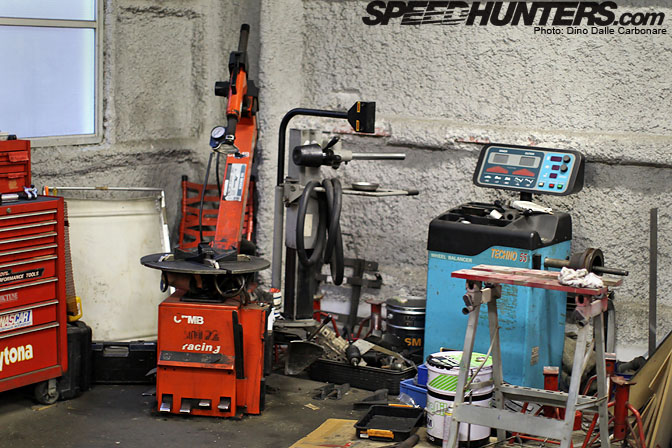 The place is like the best "man cave" ever with a few car lifts and a dedicated space where project cars can be worked on. This is the changer and wheel balancer Dai-can often uses to change or rotate his tires. Not a bad set up uh?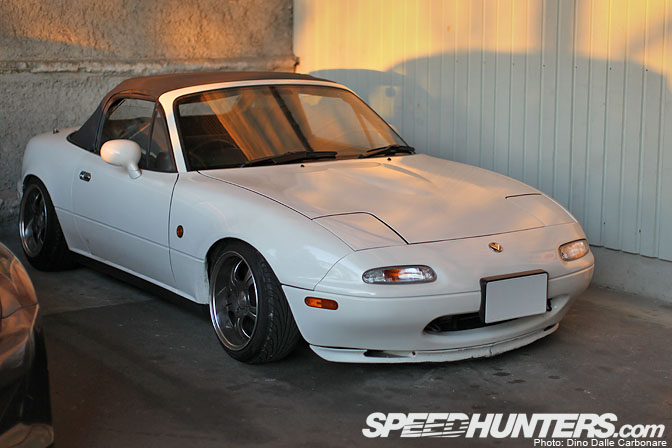 Out back there is a makeshift studio area, where a black drape can be slid over the walls of the building for those last minute photoshoots. Another great find was this slammed NA.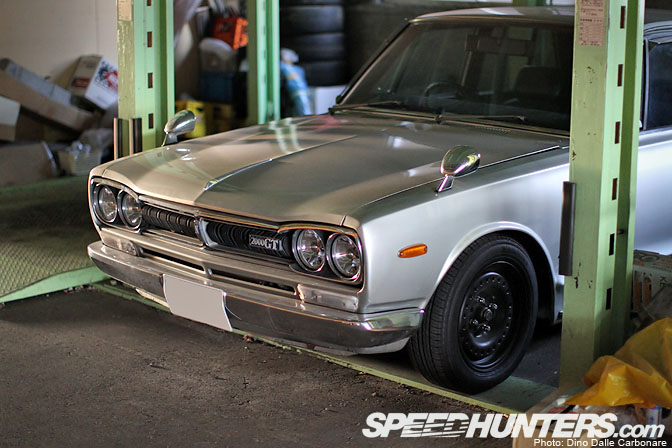 Nice Hakosuka!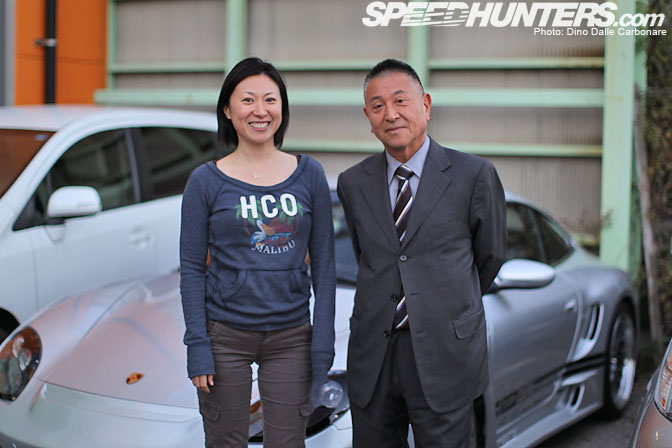 I'd like to thank Dai-chan for his time and his daughter Mamina for all her help in setting up the interview and visit! 
-Dino Dalle Carbonare