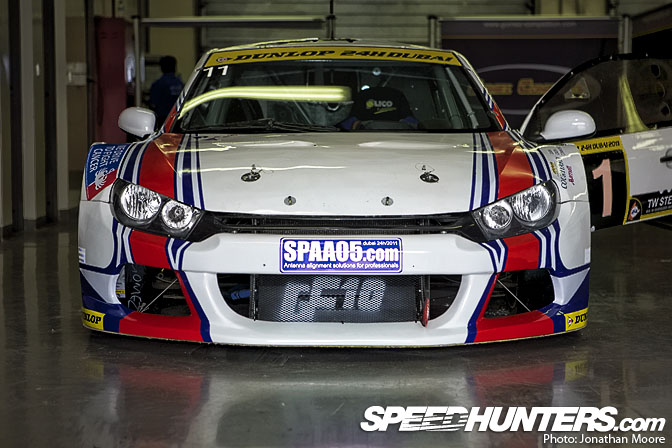 Rod:  My jetlag is starting to hit me like a wall now, so I'd better get this post done before all braincells stop functioning. I thought it would be fun to write this article with the help of Jonathan Moore… the two of us together will make this article half interesting to read!
Jonathan: Or alternatively less than half of it will be half as good as it should be. Something like that, anyway. I can't believe it's already a year ago that we were last here – but the lack of sleep has dropped us right back into the same feeling we had when we left 12 months ago.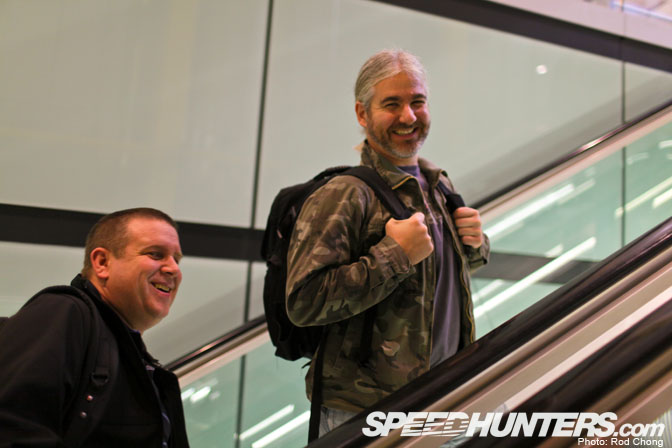 Rod: We pick up the leg of our rather epic journey to Dubai at Heathrow where Jonathan joined our travelling circus. You are looking rather chipper Jonathan!
Jonathan: It's my eternal optimism. And by this stage I was full of sushi and beginning to look forward to the complimentary drink on the plane. Also, we were on our way to a race after all. What's not to be chipper about?!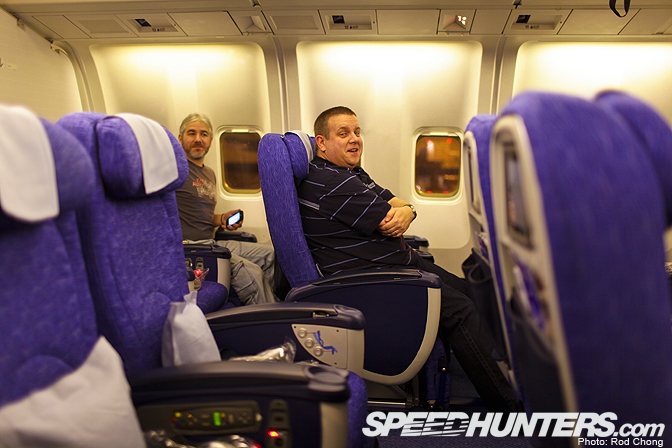 Rod: I think I fell asleep within 2 minutes of shooting this snap…. I completely failed to sleep on the Vancouver to London redeye flight, so by the time we boarded the Heathrow to Dubai leg nothing was going to keep me awake!
Jonathan: You, Andy and Melinda really had a day of it. I had it easy in comparison!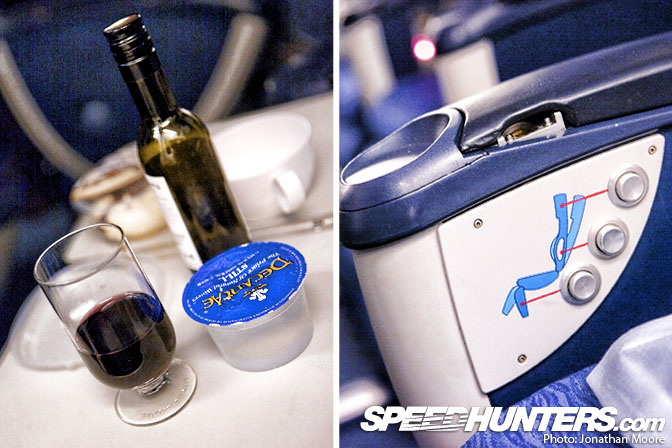 Jonathan: My good mood continued with the fact that the wine was server in a real glass. I felt so dangerous! And then I found out that our chairs had three positions. Amazing. It really couldn't get better. Unfortunately I got over-excited about all that, so forgot about trying to get some sleep at first…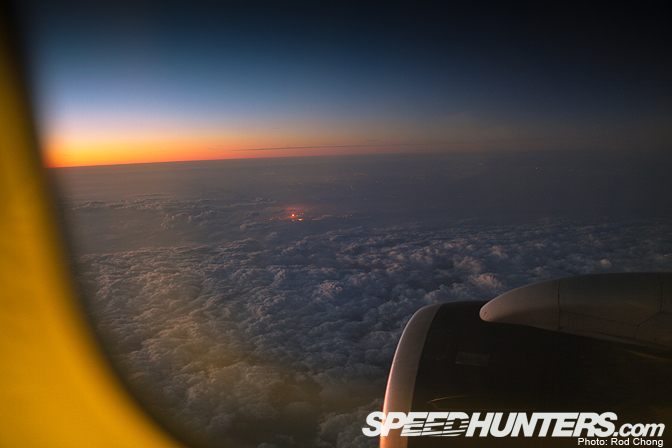 Rod: After four or so hours sleep I awoke to this magnificent view. That must be an oil refinery under the cloud layer there.
Jonathan: The sky was incredible as dawn broke. I saw a couple of refineries on my side of the plane as well. It was very primeval.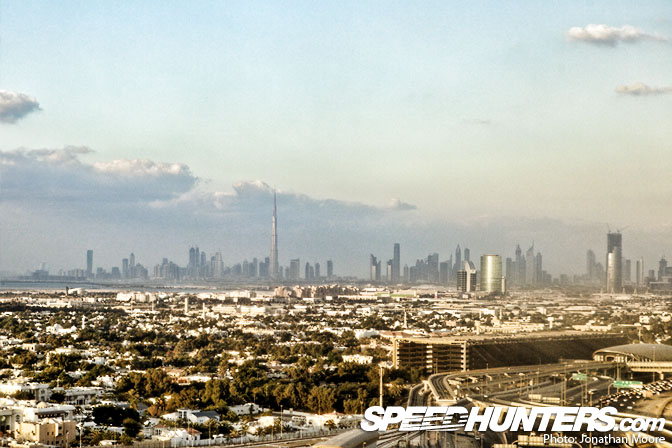 Jonathan: I just love the vista you're treated to as you fly into Dubai: the single-story sprawl of the old town with the ultra-modern Blade Runner-backdrop of the downtown skyline.
Rod:  I feel like I'm 100 years in the future!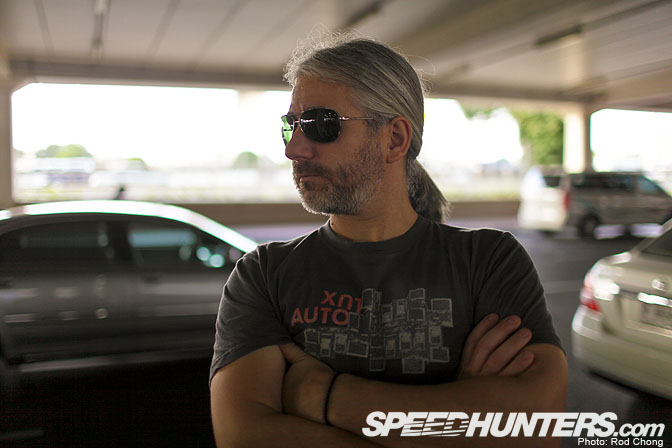 Rod: You getting yourself pumped up there for 24 hours of shooting there Jonathan?
Jonathan: I think that's survival mode. That says, "I'm basically blind and unconscious. I need coffee. And vitamin C. And some more coffee."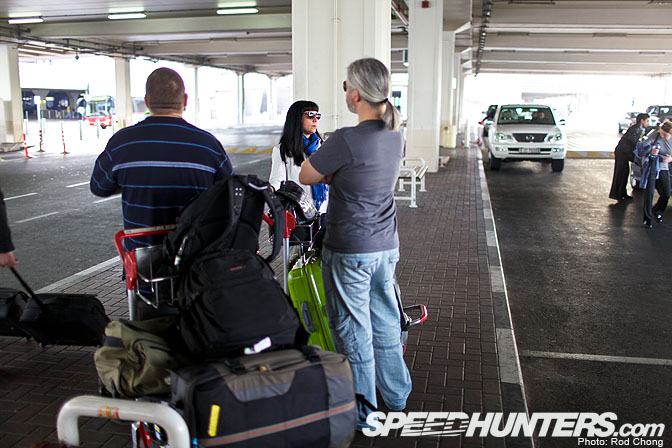 Rod: Interestingly, at Dubai airport, the rental companies will deliver your car right to the front of the arrivals area. Here we are waiting for our Ford Flex SUV.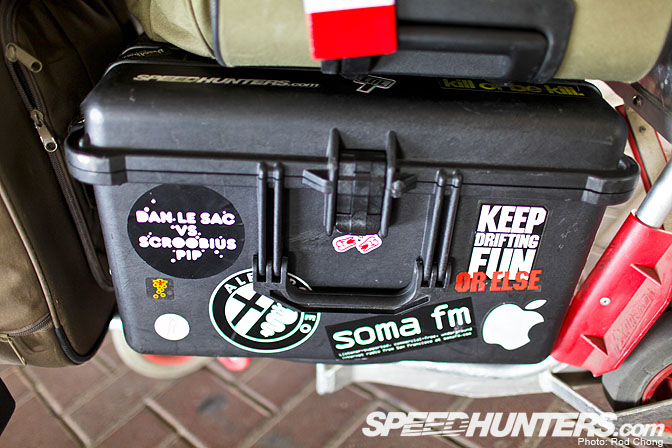 Rod: I got bored and decided to photographically observe Jonathan's photo case.
Jonathan: The top is the best bit. It's got a good covering of stickers from all the World GT1 races last year. You can never have enough stickers though!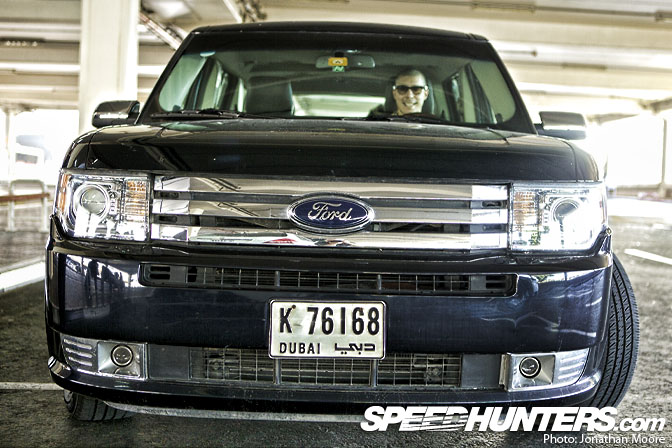 Jonathan: Our mount for the week: it isn't the Mondeo, that's for sure. I'm not sure I can be the one to break it to Will when he arrives…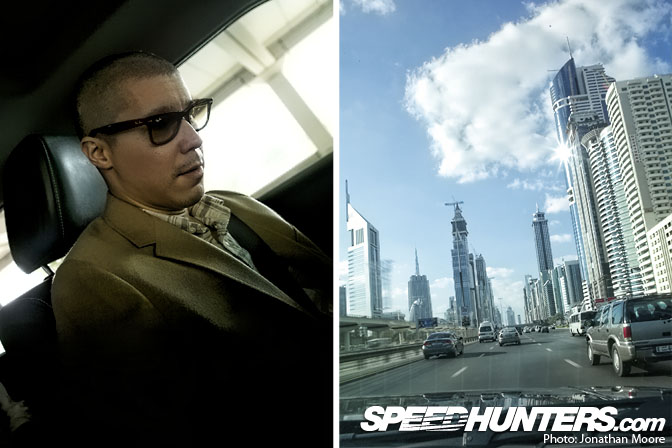 Jonathan: Another thing that brought last year's experience back was driving in Dubai: it's like they build a new road every day just to make it as difficult as possible to navigate your way round. It also might be because we're too busy talking and fiddling with iPods.
Rod: I swear that half the roads are completely different to last year. Our poor Tom Tom is completely confused.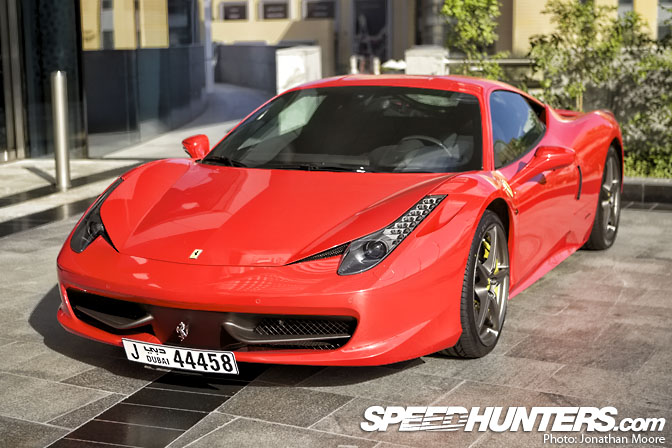 Jonathan: I think we all salivated over the styling of the 458 in the hotel car park. I'm looking forward to seeing these racing later this year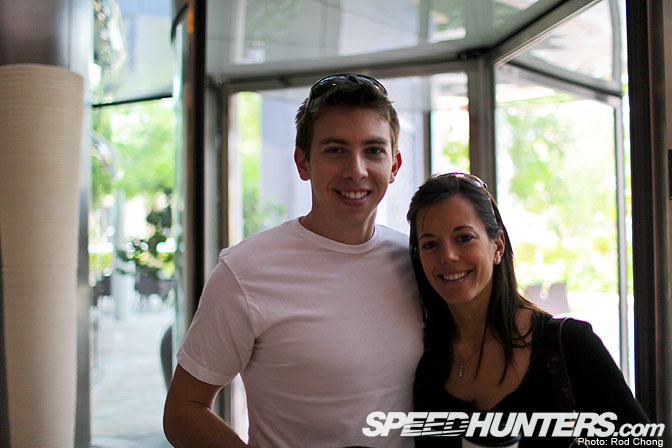 Rod: Arriving at the hotel we arranged to meet up with Tommy Milner and his lady, Evin.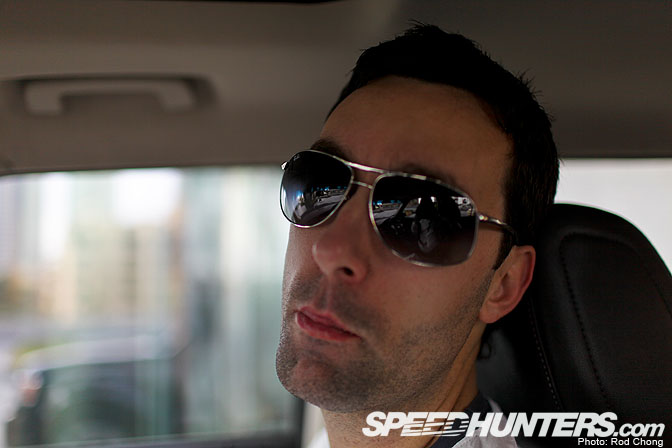 Rod: After a quick breakfast we piled in to our car for the rather complex and confusing drive to the circuit. Patrick Soderlund joined us for the ride too. 
Jonathan: With Tommy in the car as well, the two of them talked racing lines and handling all the way to the track. I find that kind of conversation fascinating: it's another level of driving that you simply never get to experience on the normal road.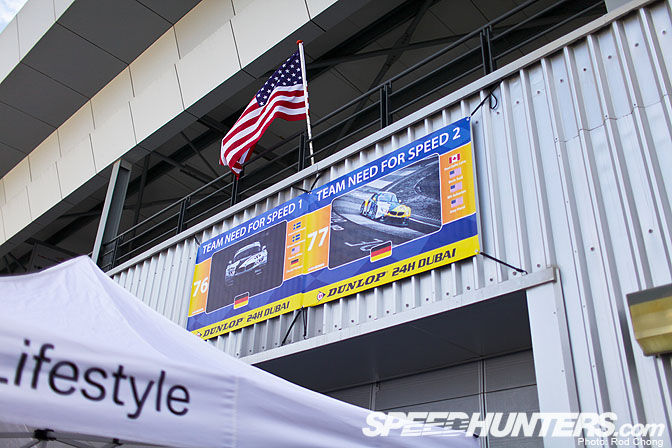 Rod: Here's the scene arriving at our pit garage. Not sure what the American flag is doing there though!
Jonathan: Ah, there's a line of national flags running along the balcony of the pit building. There's about a dozen US drivers across the field, part of a big mix of nationalities. There are over 80 teams here this year! That's over 400 drivers.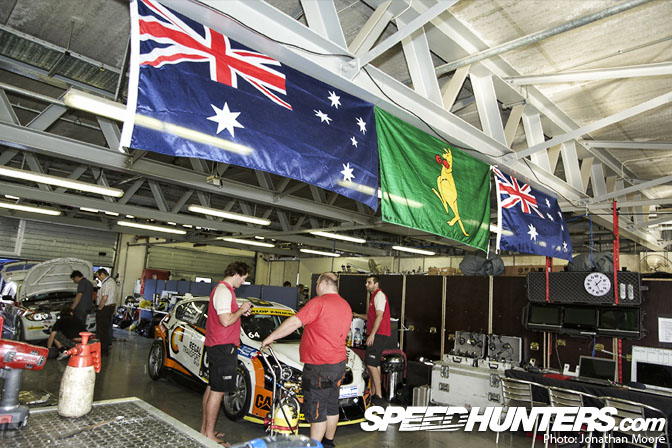 Jonathan: On top of the regular European involvement, it's great to see local teams from the Middle East, plus a couple of Australian entries with a pair of SEAT Leons and an Opel Astra. Although it's a shame that the Al Faisal team aren't running Z4s again, and there aren't any Japanese entries this year either.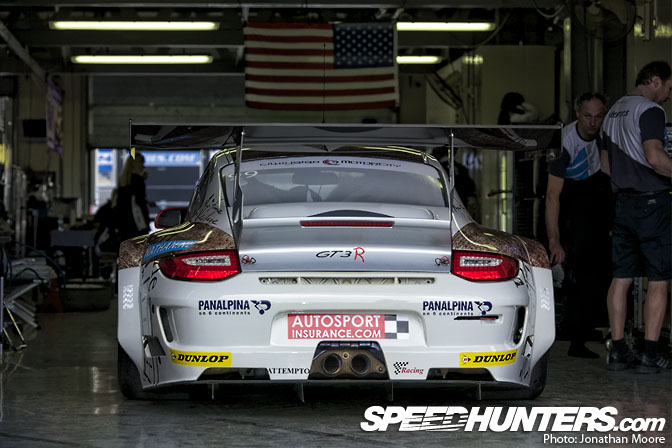 Jonathan: This Stars And Stripes is for a US-run Renault Clio of all things! Because of the number of entries two or three teams share one garage: up front is a German-entered GT3 Porsche. They are SO wide – hardly any less aggressive-looking than the GT2 911.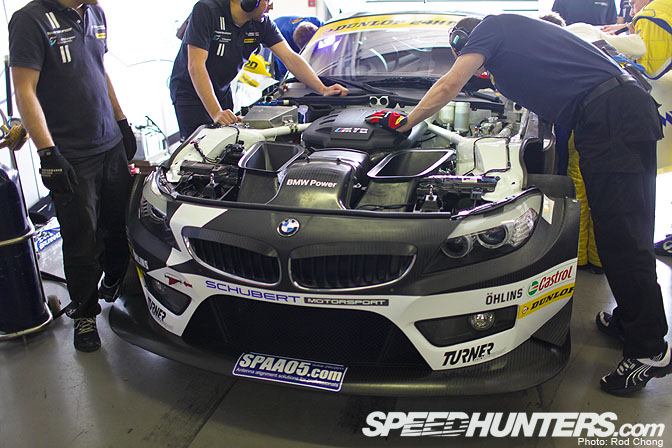 Rod: we have two cars entered in the race. The one with the reversed livery is going to  be driven by Americans Boris Said, Bill Auberlen, Matt Plumb and Canadian Paul Dalla Lana.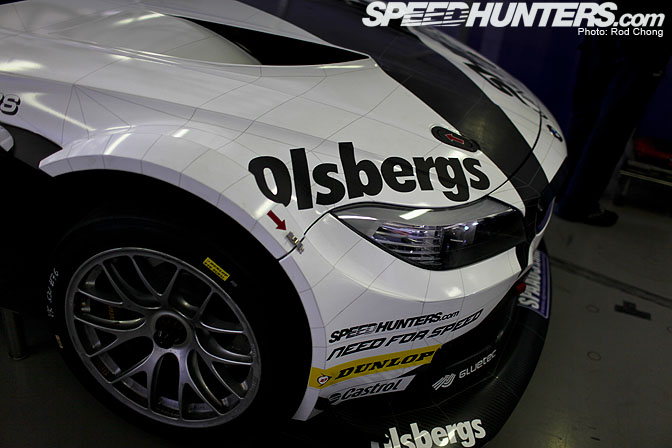 Rod: Here's my first shot of the new wireframe livery on Team NFS car 76. We now have an all star cast of Tommy Milner, Edward Sandstrom, Claudia Hurtgen and Augusto Farfus in the car. It's quite the line up.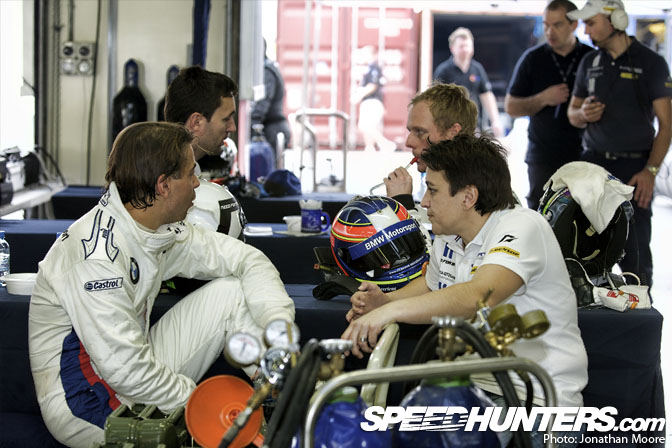 Jonathan: Team NFS have got a very strong driver roster, but they need it when you look at the opposition. You can tell that Patrick wishes he was out there driving…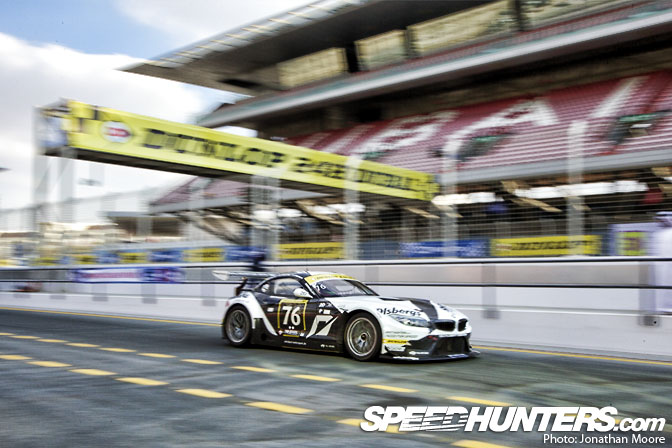 Jonathan: The livery looks good in the daytime, but I'm really looking forward to seeing that wireframe glow in the dark!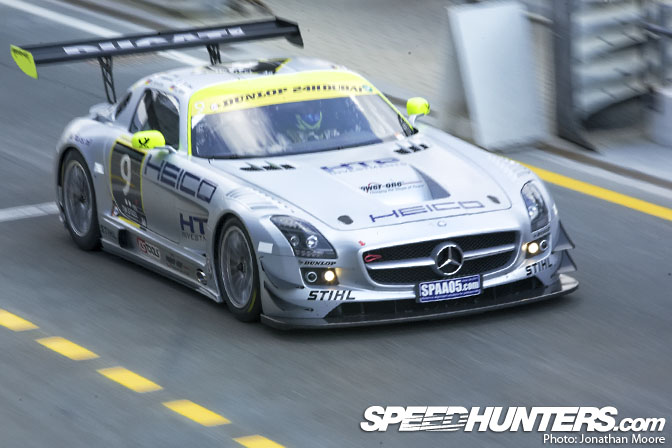 Jonathan: Another stunning car: the Mercedes SLS AMG GT3. Wide and long, there are three teams running an SLS. It might be new, but it's already won at the Nurburgring. It's going to be incredibly tough at the front amongst the faster cars: and very German! There are just a couple of Ferraris to challenge the BMWs, Mercs and hordes of 911s. 
Rod: I LOVE THIS CAR! Much shooting of it there will be!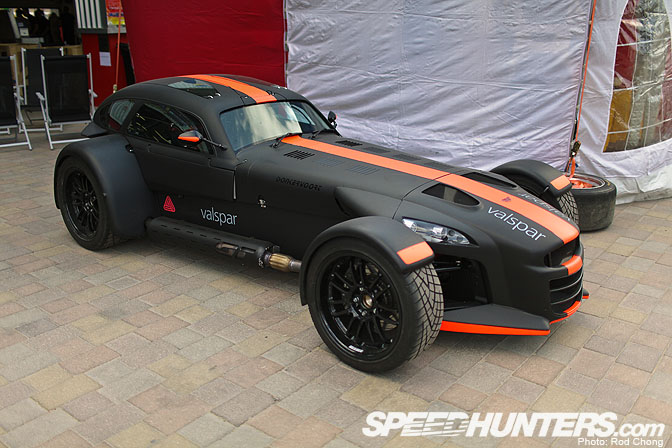 Rod: Wow check out the Donkervoort! It looks amazing in flat black.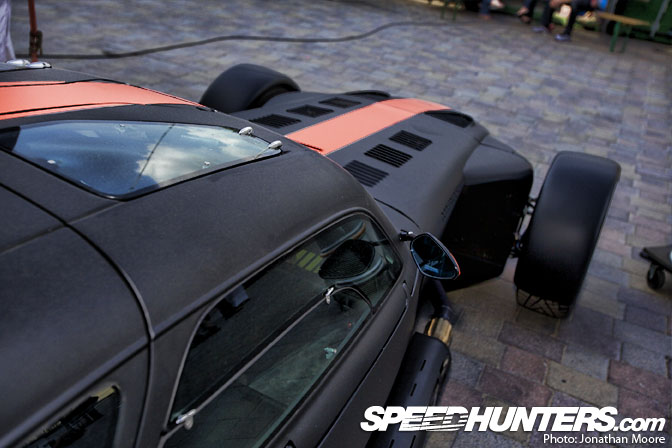 Jonathan: Fully stealth. I can't say I'd want to race it for 24 hours though. It looks so cramped in the cockpit. I wonder how long the drivers will be able to stay in for?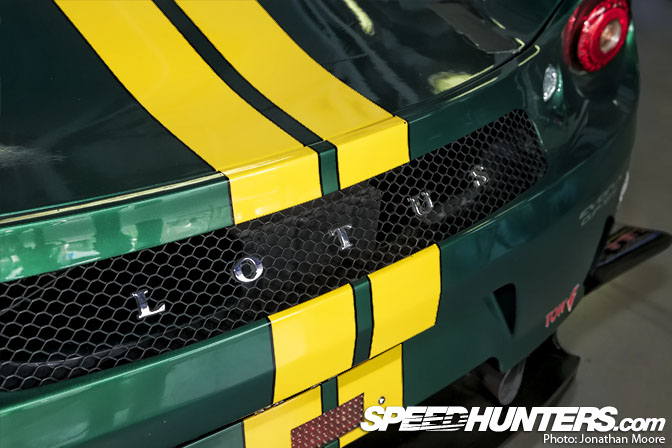 Jonathan: There are plenty of other interesting cars around, like this Lotus Evora GT4. And this has an interesting line-up as well: both the sons of F1 World Champion Nigel Mansell are down to drive.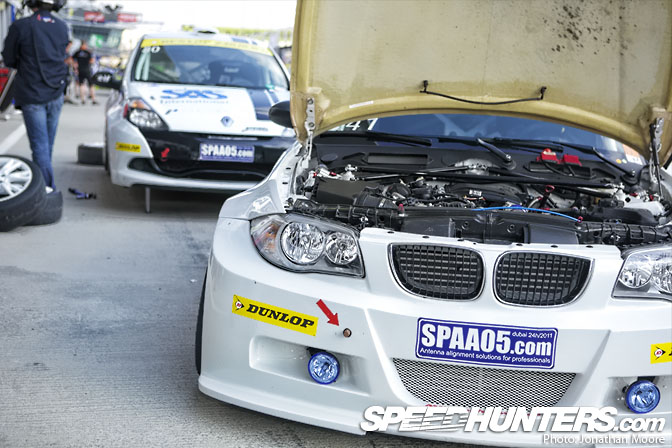 Jonathan: But what makes this event great is the variation of cars: from Ferraris down to diesel BMW 1-series! 
Rod: Wow what a day… it started in the UK and ended up here in Dubai… I think it's dinner time… talk tomorrow!