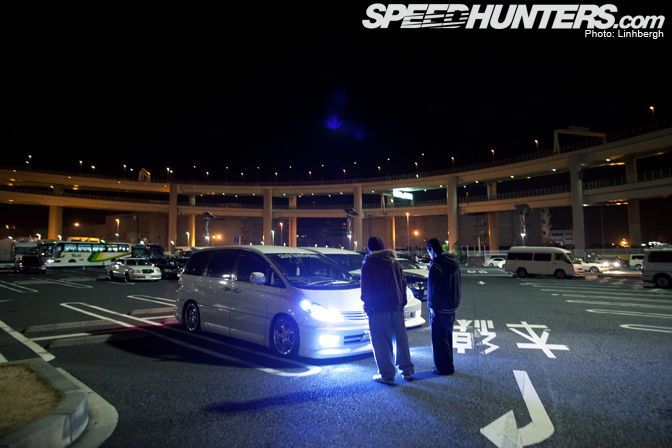 A week in Japan is not enough for a first timer. It's not enough time to experience all that Tokyo has to offer, let alone the rest of Japan. But a week is what I got and so tried my best to soak in as much Japaneseness as possible in that time.
Here's a second look at my Japanhunting adventures.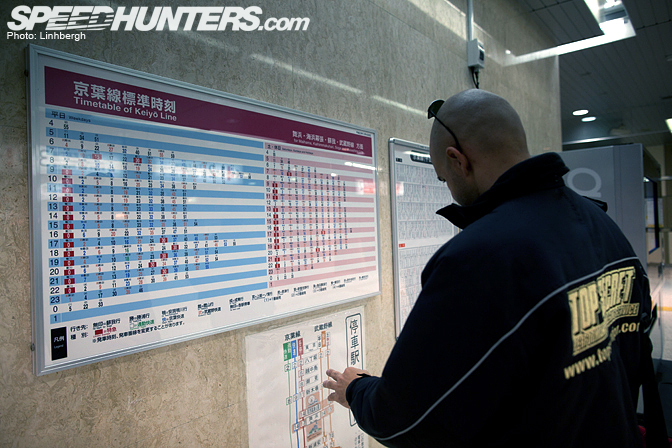 Shaking any bit of jet lag we could, we got up early to start the day and to catch a few trains. From our hotel in Shinjuku, we took the train to the Tokyo station terminal to switch lines where John got a bit confused.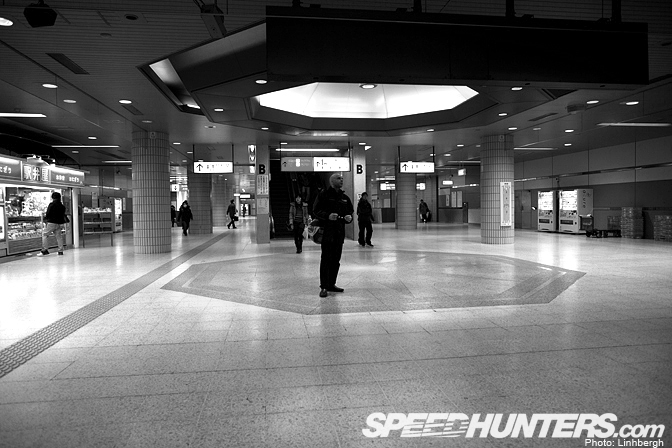 After a minute of checking the maps, then the signs, we found our train.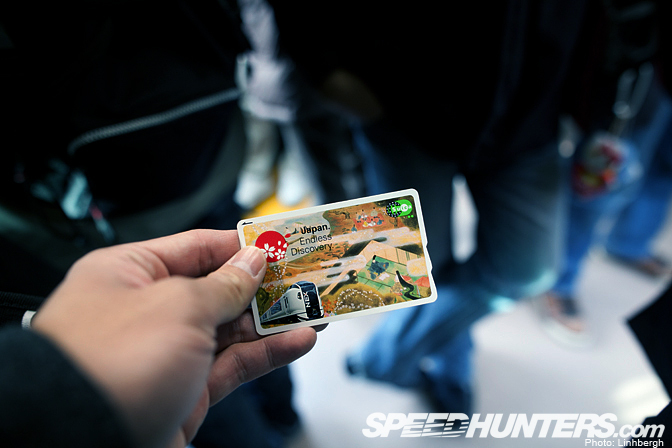 This is a Suica card. It's the system that the Japanese train system uses. It acts like a gift card: throw in some money and swipe! The Suica card system is also being used for other purposes, like vending machines and convenience stores. It's like cash, but way quicker. Even quicker than using a credit or check card since you don't have to enter your PIN number or sign anything. 
Makes me wish for a universally used system like this in the States….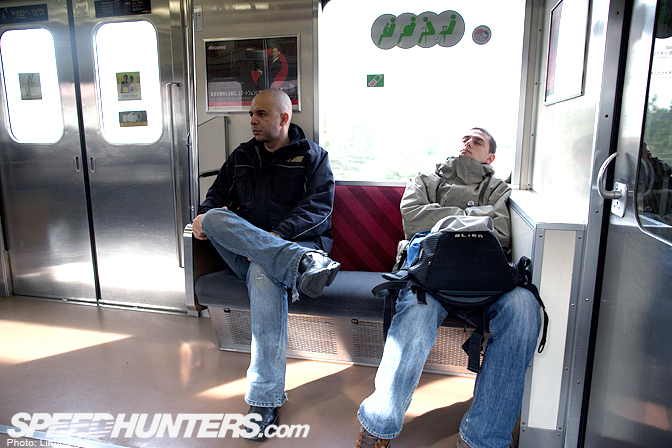 The train ride from Shinjuku to Tokyo Auto Salon took approximately an hour from first stepping my foot outside my hotel room, till I enter the convention hall. John has been visiting Japan for years so he's become used to the constant walking and train rides. His web developer and media guy, Alin (the sleeping fellow), on the other hand is not.
Look at that sleeping westerner taking up so much sitting space on the train!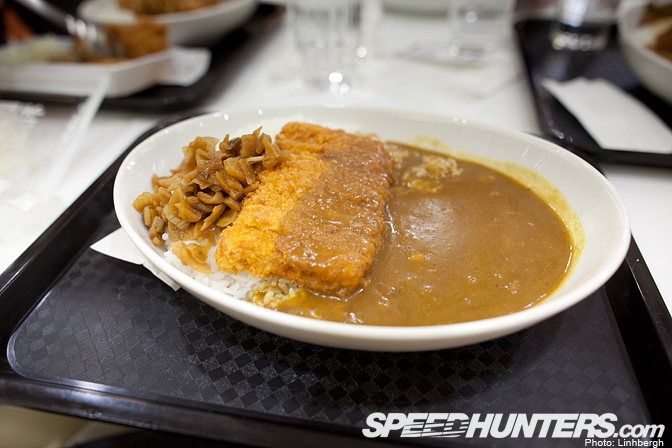 After getting off the train at the Kaihin-makuhari station, we headed to a cafeteria relatively close to the convention center. What does someone eat when its 40* Fahrenheit out and need plenty of calories to burn? Chicken Katsu curry of course (and with plenty of pickled radishes….)!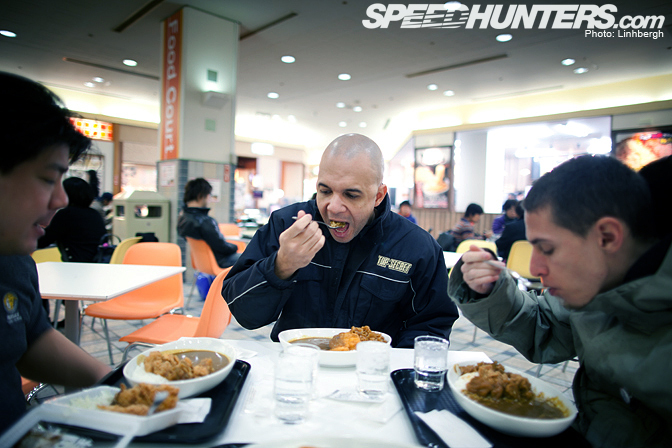 The others followed suit. A round of curry all around!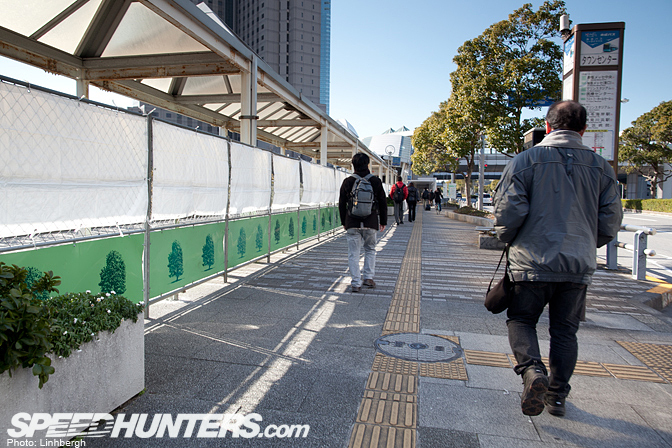 After a quick brunch, we made final leg of the journey to the Tokyo Auto Salon.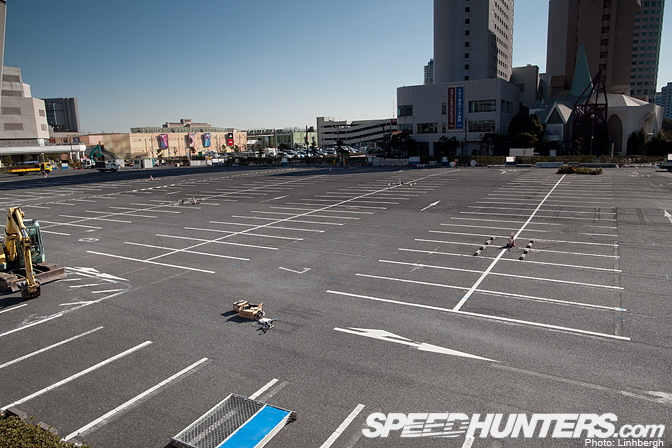 This apparently, used to be the infamous parking lot used for Tokyo Auto Salon. I was a bit sad to find it empty but luckily, we were able to locate the new parking lots.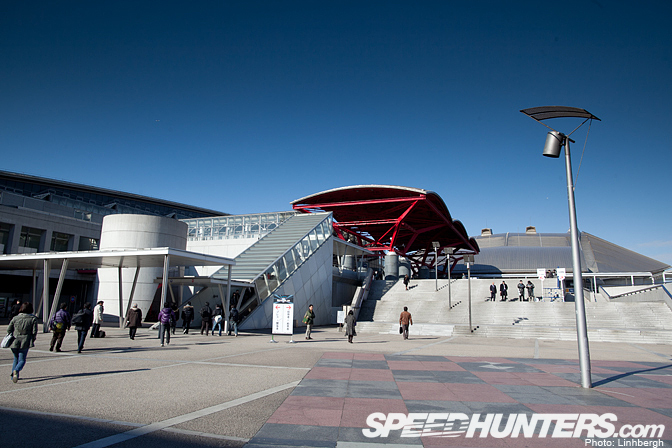 This is the entrance to Makuhari Messe International Convention Complex where TAS is being held. One thing about Japan is that there's amazing architecture all everywhere. This convention hall is no exception.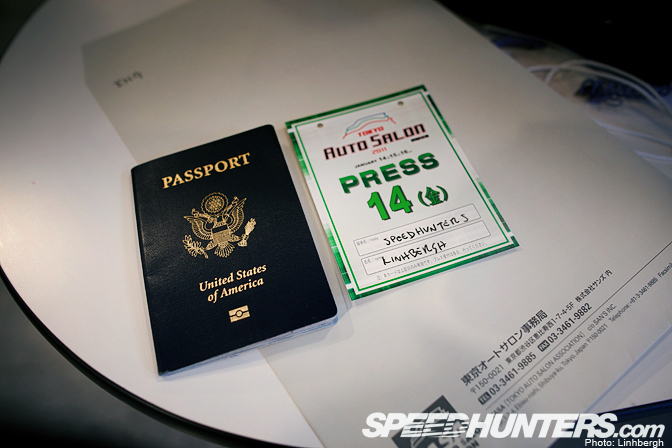 Inside the convention hall, I went straight to the press accreditation booth and filled out the press form. A passport photocopy and one John Hancock later, I was accredited and was issued my press badge.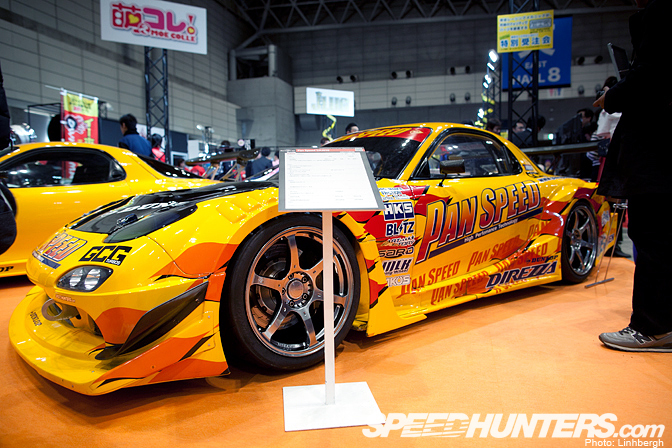 The first few minutes inside the three actual TAS convention halls was a sensory overload. There were amazing cars all around me and throngs and throngs of attendees to jimmy around. Usually brain farts last half a second, this time it was a couple of minutes before my brain decided to work again. I didn't know where to start.
The Pan Speed RX-7 was a car that existed only through Option videos and Dino's blog posts. It was something else to actually walk around it in person.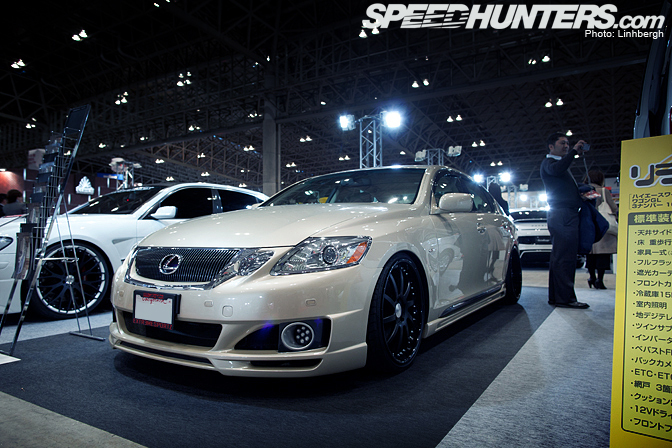 This GS was a bit understated compared to a lot of cars around it. Actually like it for the fact that it doesn't have insane amounts of camber or is extremely low. It seems usable on a daily basis and it has California plates!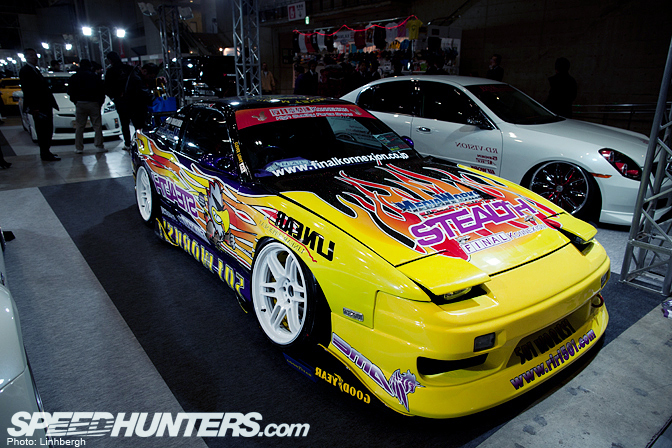 I found myself drooling over the Final Konnexion/501 Works 180SX. If I was to wish for one thing for Christmas this year, it'd be wishing for FormulaD cars to look this good.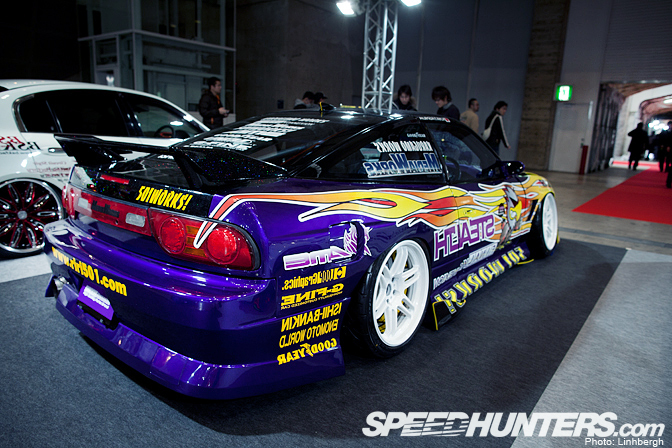 The view from the back. What an amazing 180SX.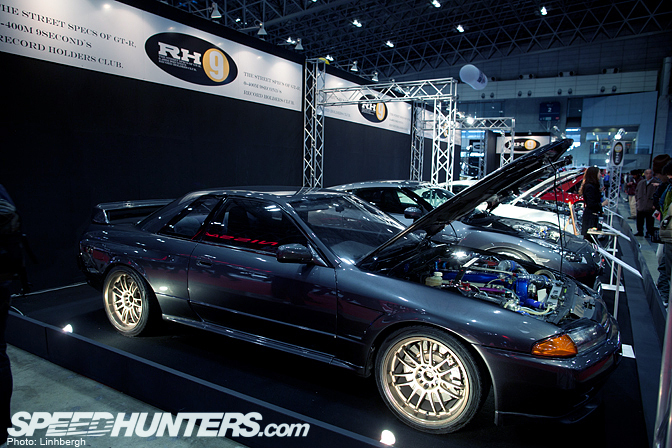 RH9 had the strongest line up of cars at TAS. These cars all had simple exterior modifications: a nice drop, with a set of nice fitting wheels. But it was what they did to each engine that demands desire.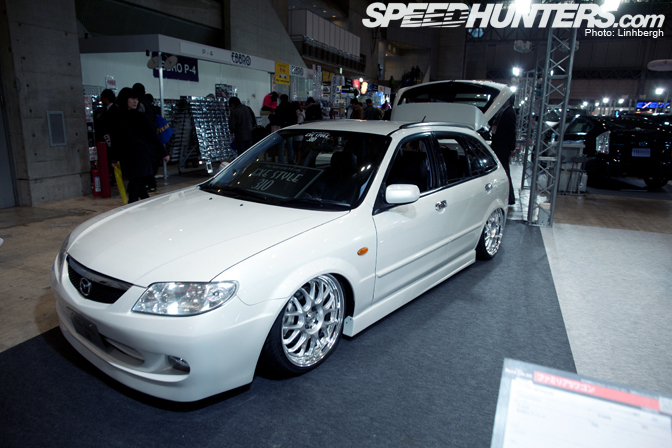 I took a rather big liking to this bagged out Mazda Familia Wagon.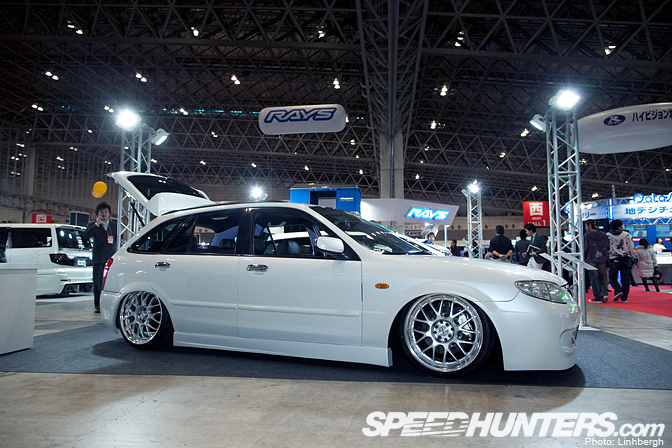 It looks amazing with such a drop, no?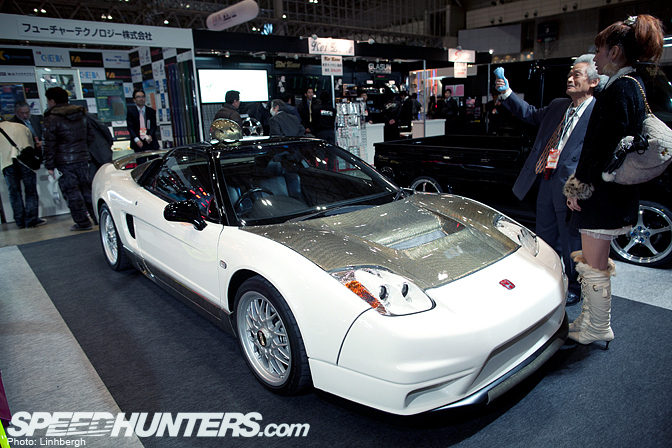 This NSX looked pretty tame compared to the rest of TAS. It had a carbon kevlar hood, rear spoiler, intake system, as well as a few interior bits.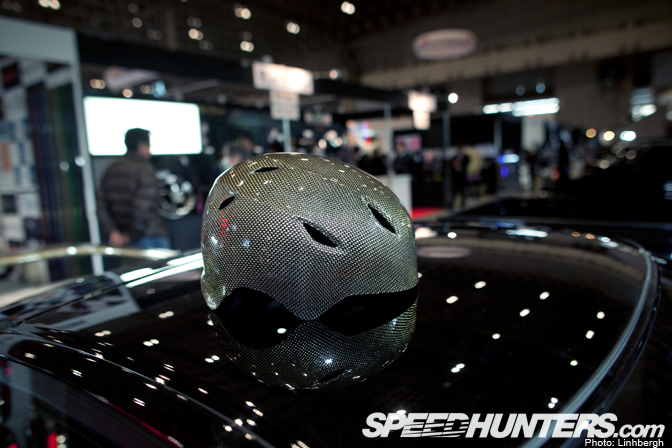 It also had a matching bike/skate helmet.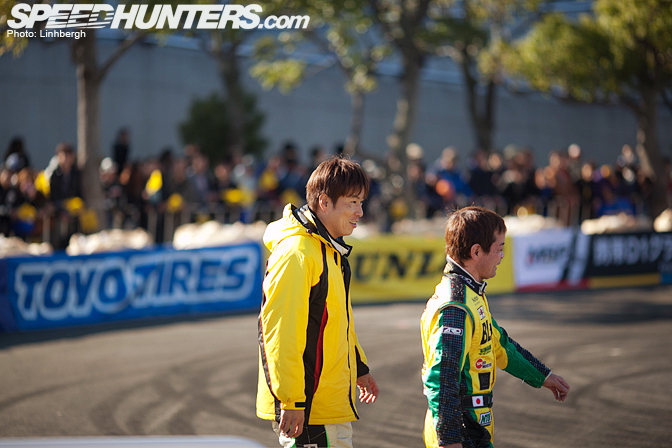 Outside the convention hall was the D1GP exhibition area. I couldn't help but feel a bit of JDM fanboyism as Youichi Imamura and Ken Nomura walked past. It saddens me to think that a good portion of the US market has lost their taste for these amazing Japanese drivers. English speaking drivers who connect so much better have filled their shoes to their American demographic.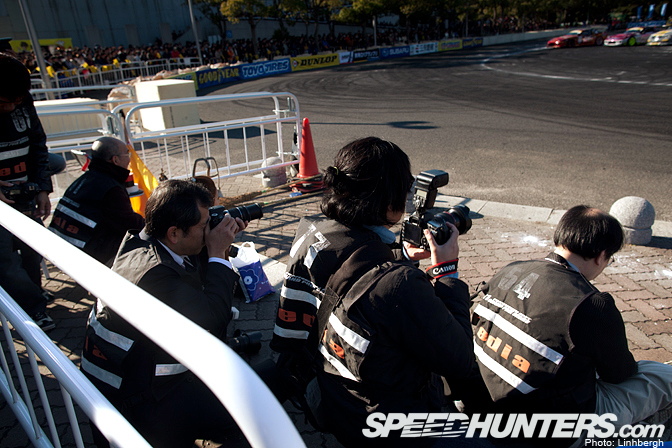 Formula D media, these guys are your Japanese counterparts.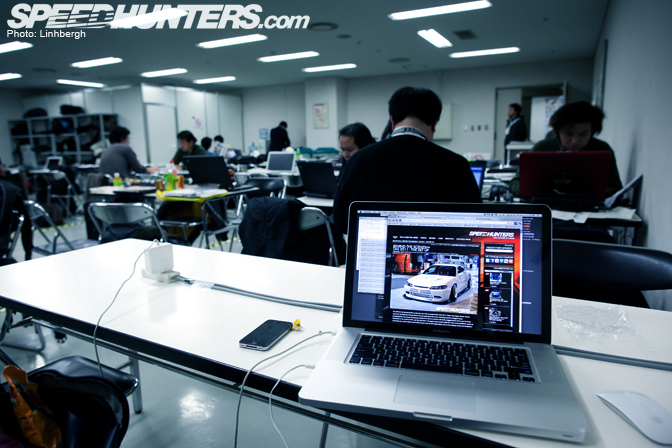 After a quick session of breathing in tire smoke at the D1 Exhibition, I headed to the TAS press room to connect to the internet and start plugging away on my first TAS post.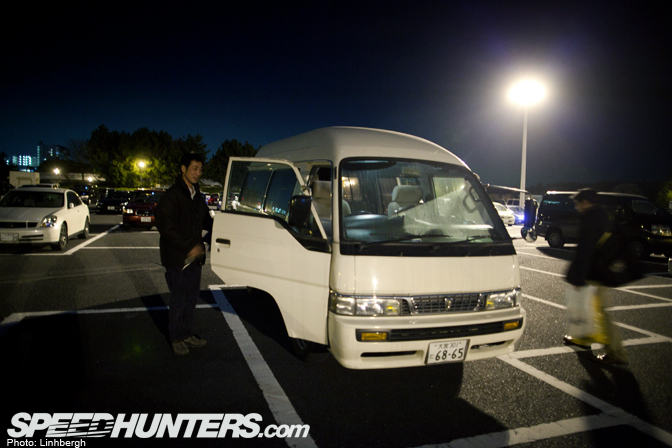 Before I knew it, I was being kicked out of the press room since TAS was closing its doors for the night. We met up Fukuda-san whom is a friend of John's, of Top Secret's, and our translator. He graciously offered to take us to the Daikoku that evening as their was rumored to be a big meet.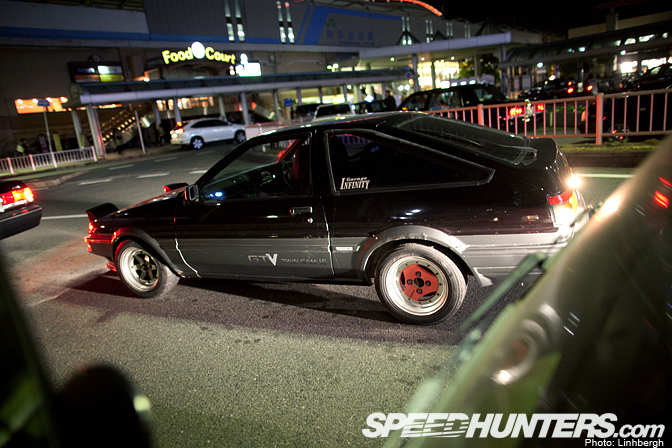 Just outside where Fukuda-san was parked, we spotted this Toyota Corolla GTV with a set of Long Champs in the front and old school Advan wheels in the back.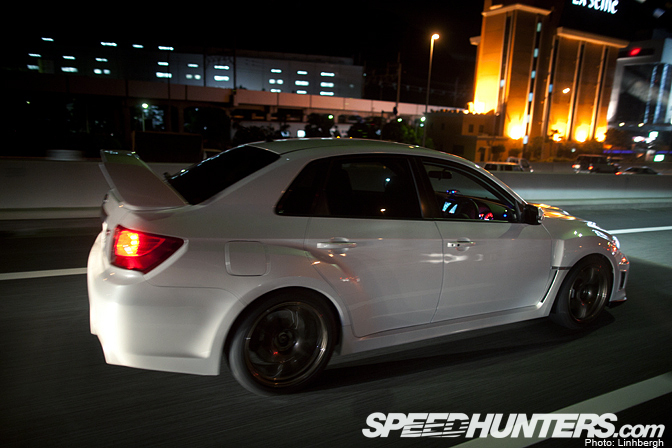 On the highway to Daikoku, I spotted my first sighting of the new Subaru STI. I rather like this model compared to the previous hatch back model.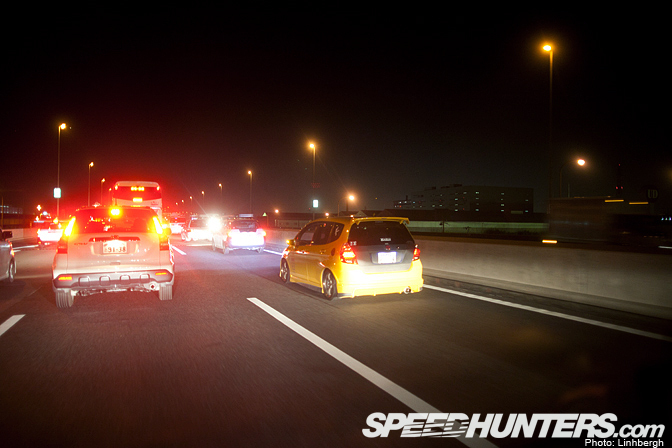 A rather modified Honda Jazz. Sadly, it was not heading to Daikoku.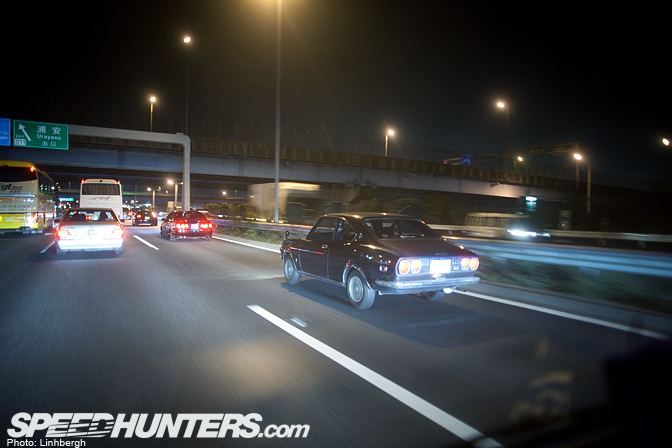 Not too long after the Jazz spotting, we spotted this immaculate Mazda RX-4. Sadly, it was not headed to Daikoku either.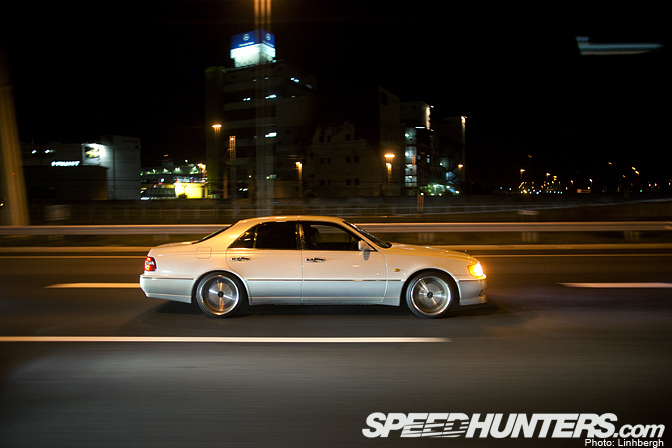 And neither was this Y33 Nissan Cima (or Infiniti Q45 for you stateside folk).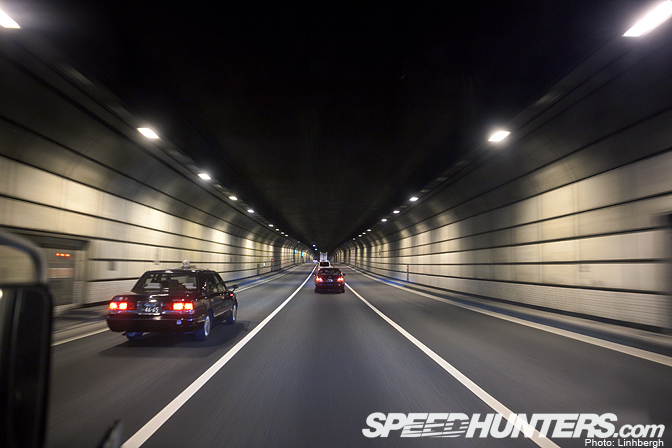 Tunnel vision.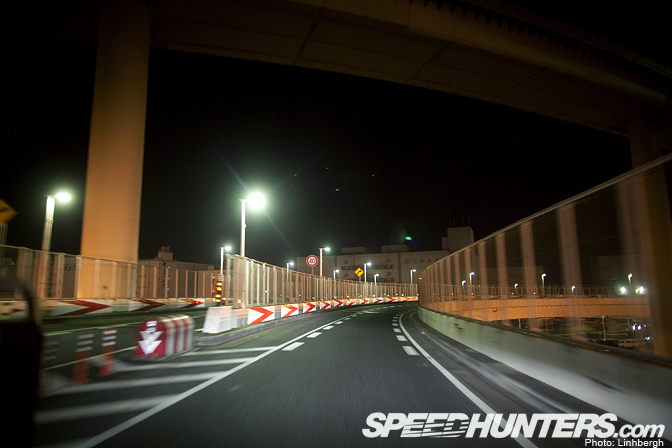 After an hour or so drive from the convention center, we finally exited the highway.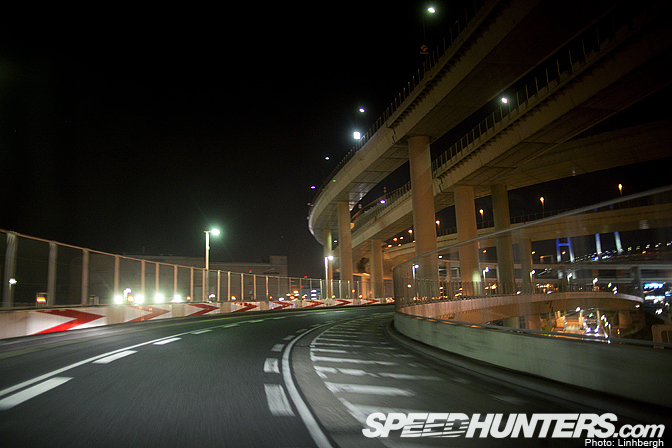 This is the access road to the Daikoku parking lot. Just beyond lies the mother of all rice parking lots.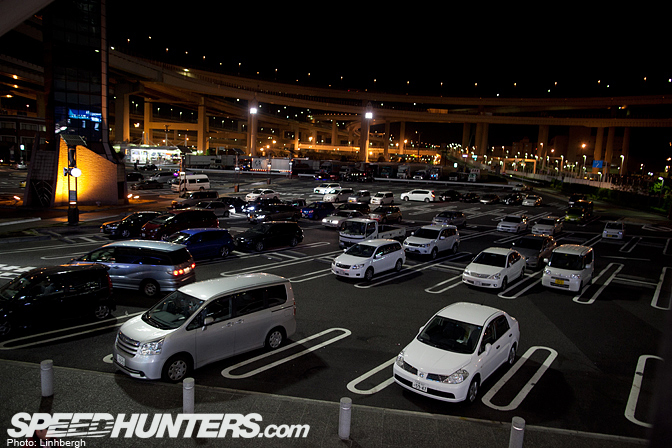 And here's Daikoku lot in all its glory! Well, minus all the modified cars and vans since we arrived a bit early.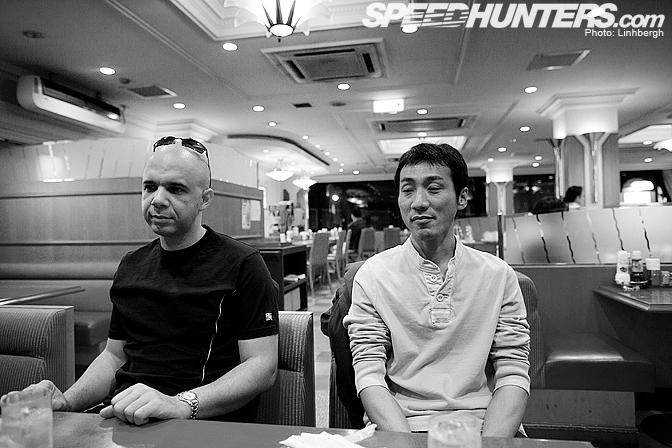 And since we were early, we decided to grab a bite to eat at the Daikoku restaurant.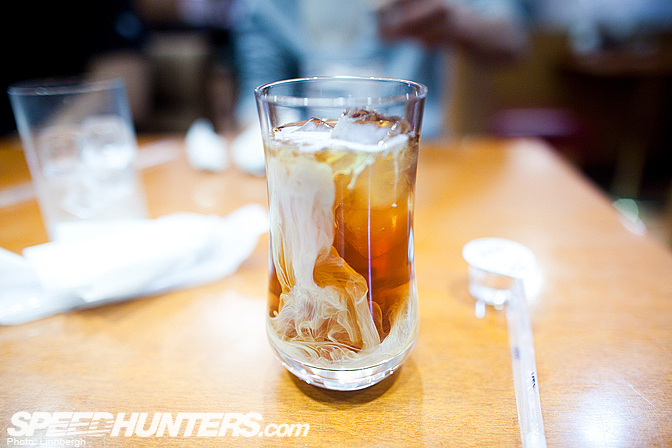 For dinner, I ordered an iced milk tea…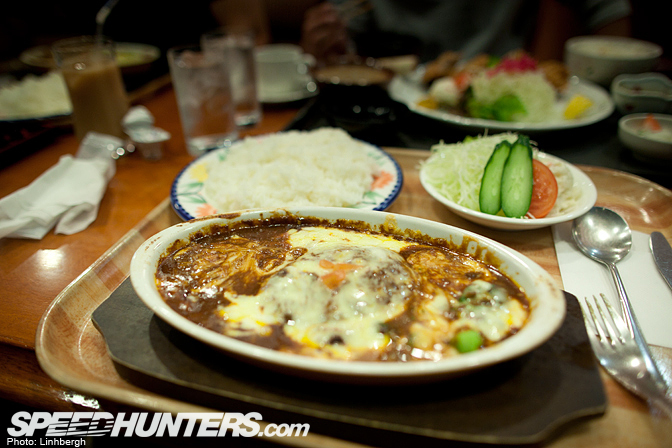 …and a mighty plate of hambagu (hamburg) steak! Basically, it's a ground beef paddy with a lot of sauce around it, melted cheese on top and then baked. Its served with a side of white rice and a salad of shredded lettuce.
I apologize the photo as I've already had a few bites before I took a photo.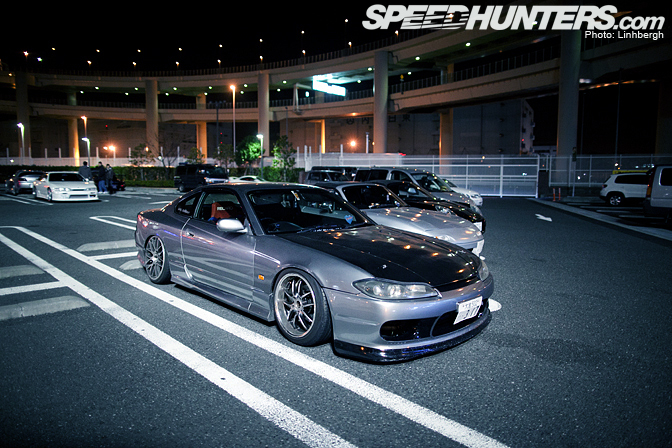 After dinner, cars started to finally show up. This cleanly modded S15 was one of the first.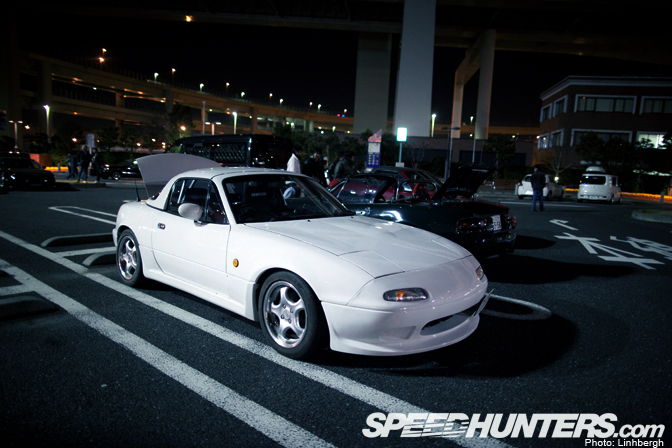 I was happy to see a few Mazda Roadsters show up!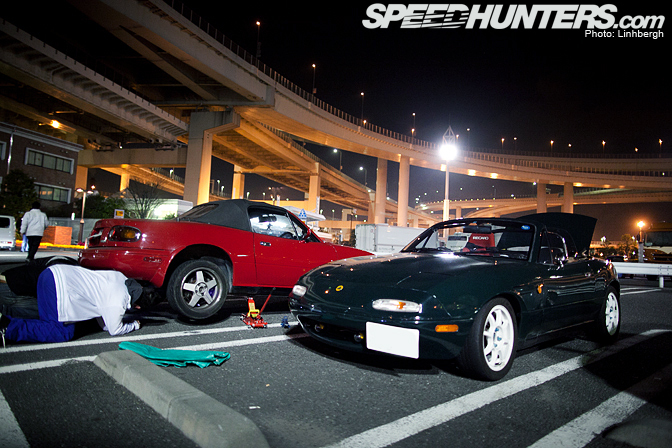 The owner of the red Roadster had his car jacked up so he can change the exhaust. Many of these car owners don't have any space at home to work on cars, so the Daikoku parking lot is used for that.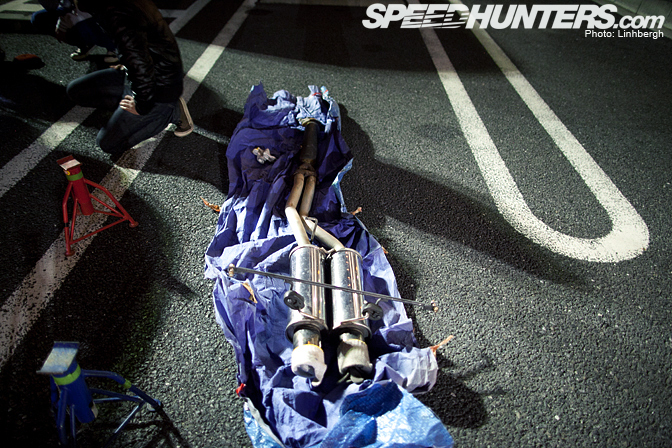 Here's the exhaust. A St. May center exit Shotgun exhaust.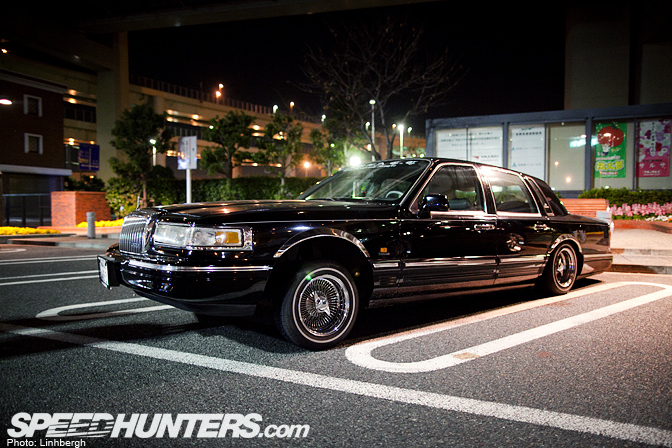 A low rider Lincoln Town Car in Daikoku. Who would've thought?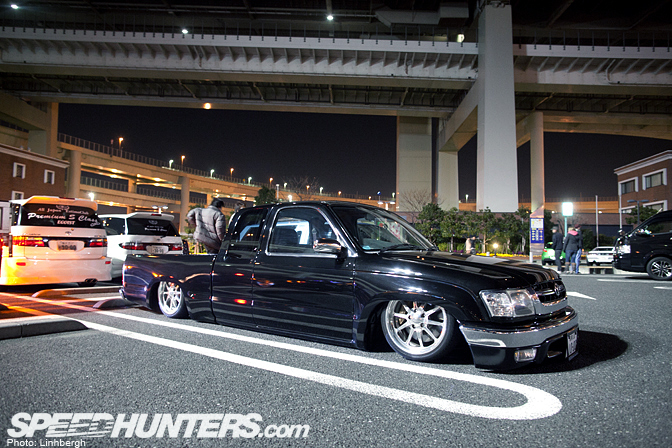 In addition to the low rider Town Car above, there was this low rider Toyota truck.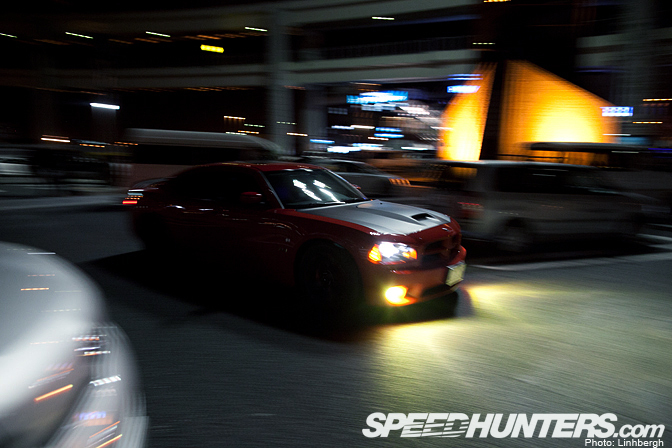 Surprisingly, there were quite a few American cars that showed up during the course of the night. There were a few 5th gen Mustangs, a Dodge Viper, a 5th gen Chevy Camaro, and this Dodge Charger.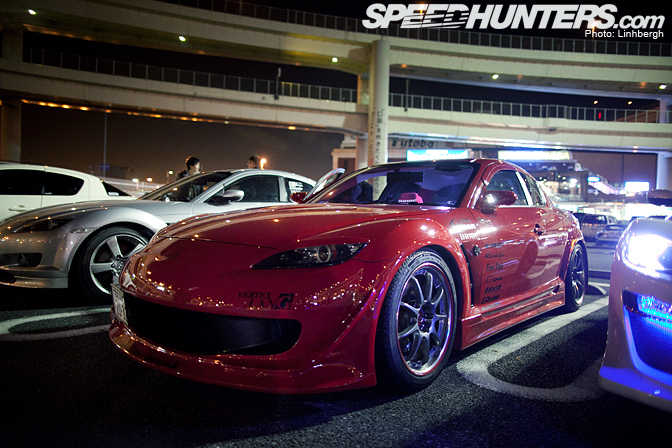 RX-8s showed up in great numbers. This Vertex kitted RX-8 is a nice clean example.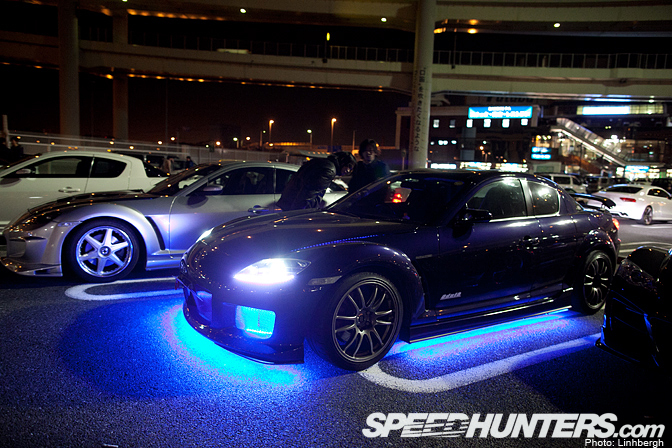 Japan is probably the only place in the world where you can get away with underglow. John and I both agreed that if we lived in Japan, our cars would totally have underglow.
John and I also agreed that we're both huge ricers.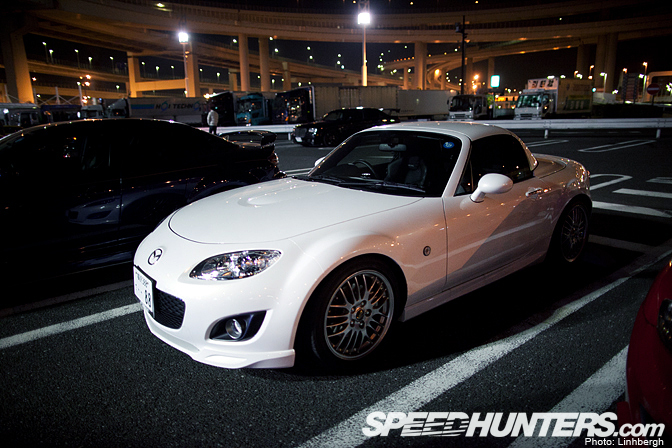 Tucked in-between all the RX-8s was this power hardtop NC Mazda Roadster.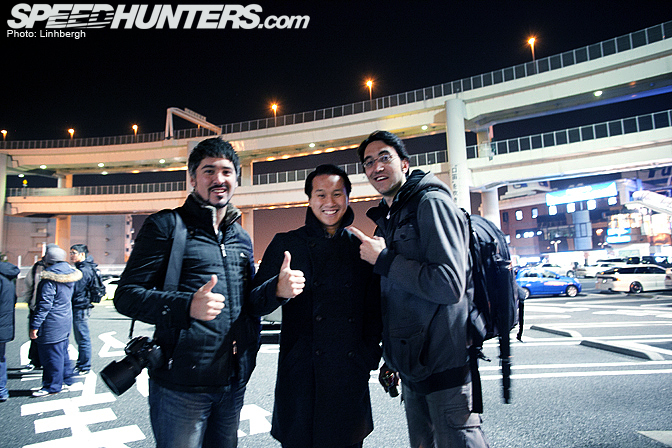 I was surprised by the amount of westerners that come out to Daikoku with their respective cars. Sprinkled within the crowd westerners were these two notable bloggers: on the left is 7Tune's Adam Zillin and to the right is Noriyaro's Alexi Smith!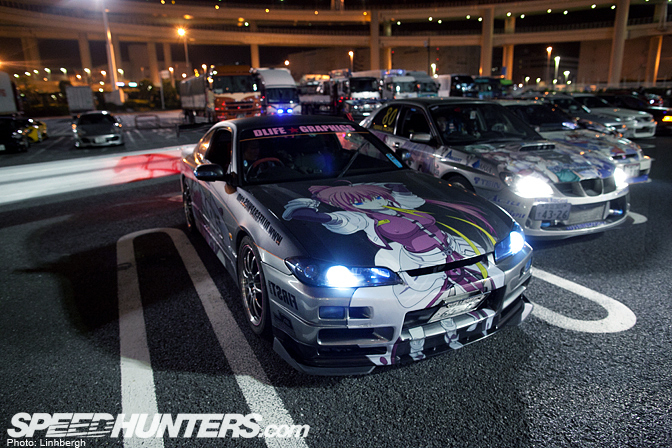 Itasha styled cars also came out in good numbers. For those that don't know what Itasha is (I didn't know before coming to Japan…), it's best explained as car owners who are into Anime and Manga, but are also into cars. These people decorate their cars with characters, mostly "cute" females, from various anime and mangas.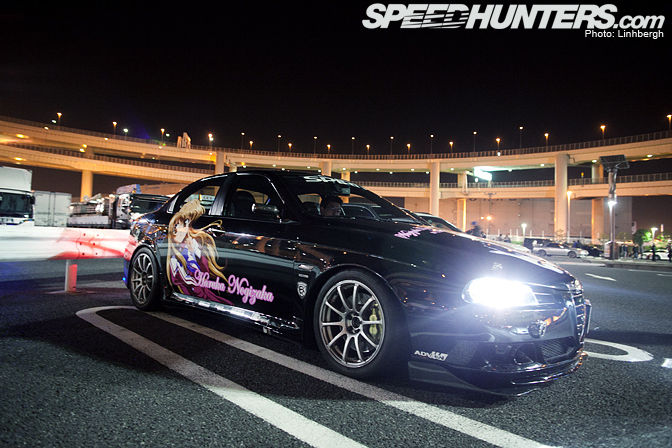 An Itasha-ed out Alfa Romeo 156.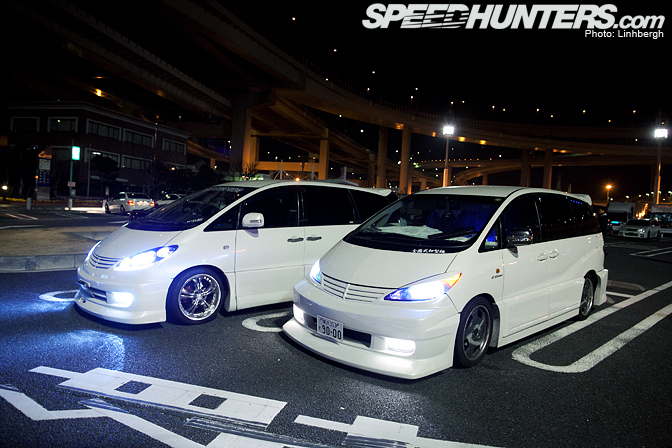 Even a few vans made it out. Why doesn't the States get a mini-van as cool as these Toyota Estimas?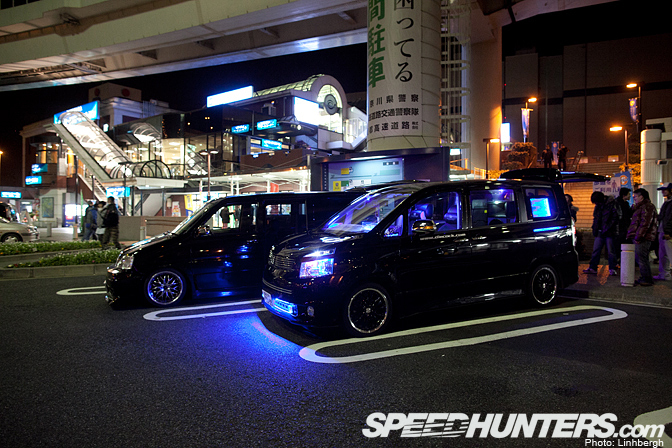 A blinged out Toyota Noah and Honda Stepwagon.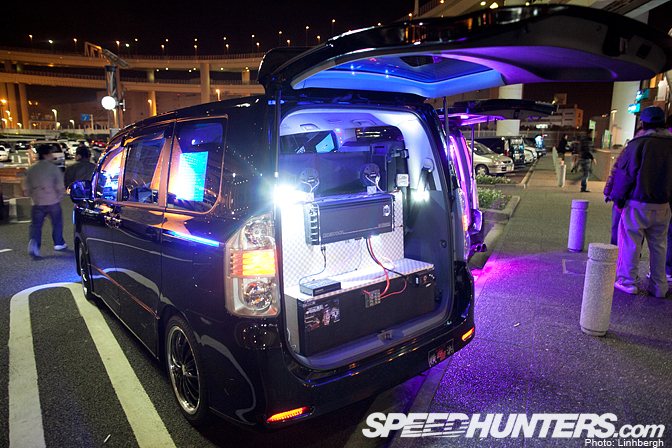 These two vans had some huge stereos which the owners were blasting their tunes at max volume. They can heard from across the whole parking lot. Now, imagine a parking lot that sounded like a dance club…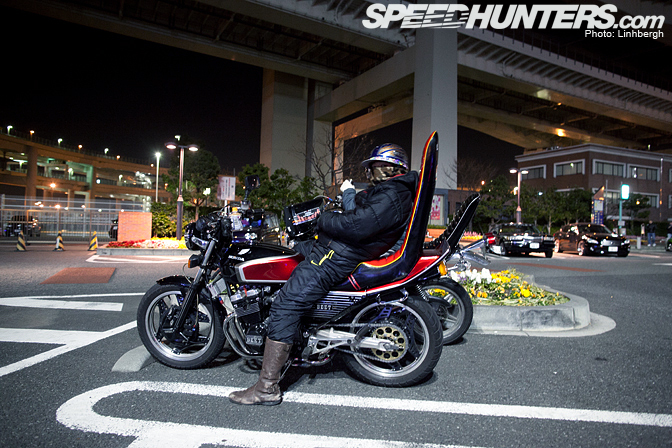 …only to be invaded by the sound of a million-trillion buzzing bees. Thats the noise that the Bosozoku bikers brought when they arrived.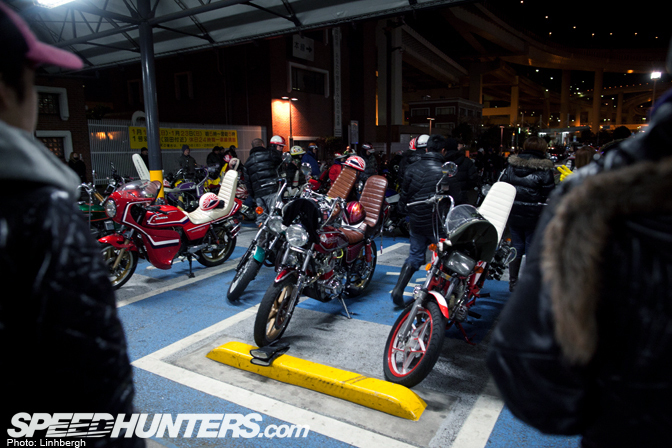 I managed to get a video of the noise plus the bumping of the vans. I've never been in a parking lot car meet which exuded with so much energy! Check out the video here. It does not show to what actually was happening justice.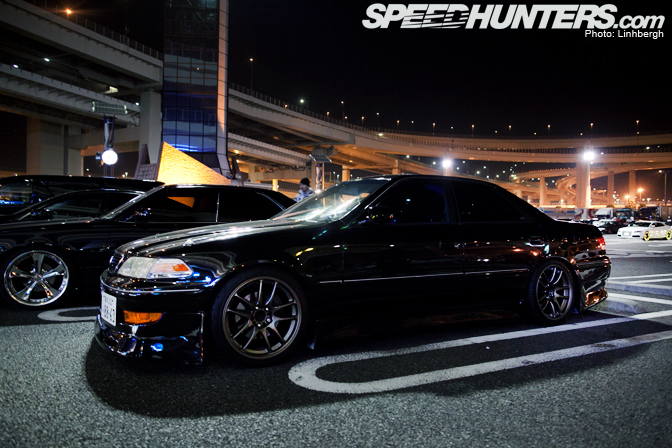 Excuse this terrible excuse of a photo, but squint and you'll see a pretty cool Toyota Mark II on a set of Work Emotions CR-Kai. Cool.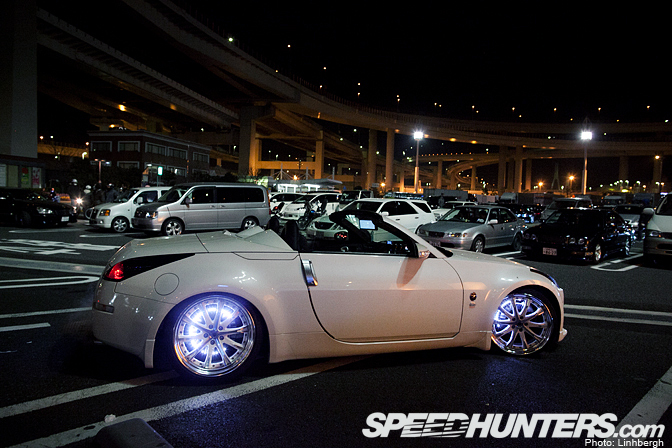 This convertible Nissan 350z. Wow. Like I said above about the underglow, you can only get away with things like this in Japan….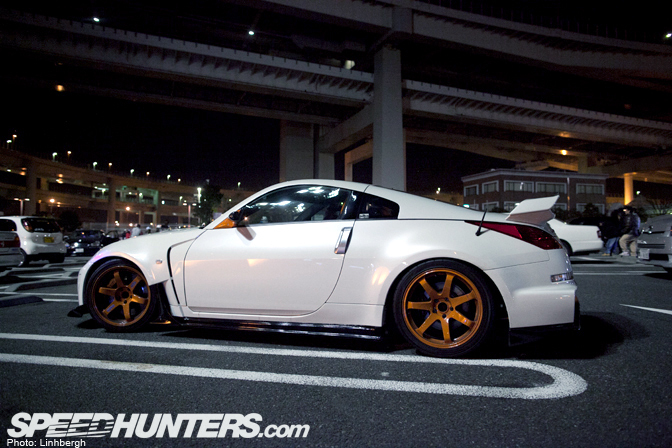 Though, I'm sure this Nismo 350z is more to the tune of Speedhunters' taste.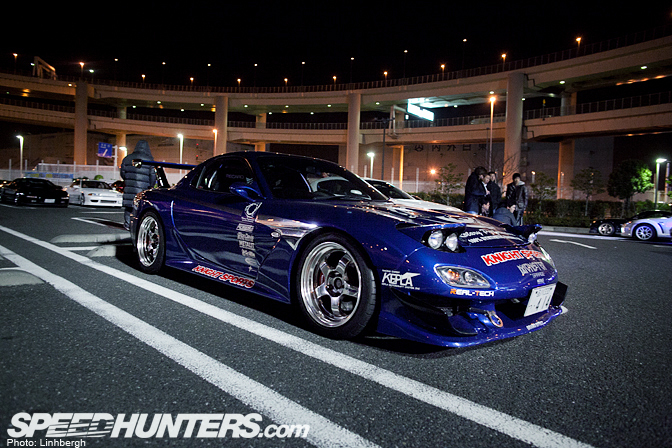 This Knight Sports Mazda FD RX-7 came just as I was about to leave. That didn't stop me from taking a moment for a quick snap though. How can you not love FDs like this one?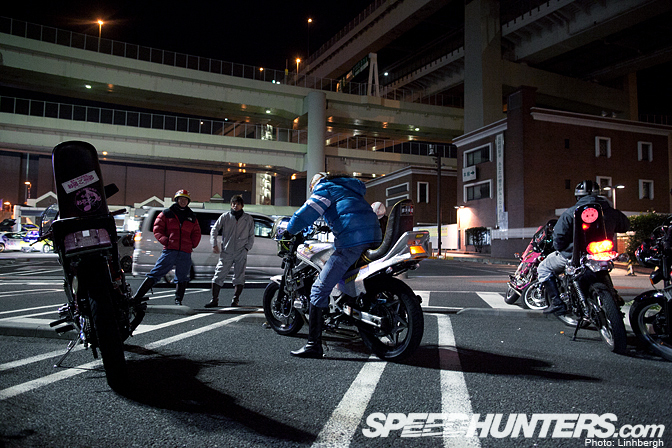 Even though a good amount of cars showed up at Daikoku, the cacophony of sound coming from the boso bikes is what has been ingrained into my mind. It's such a distinct sound that is completely unforgettable.
Japan. Trains. Curry. Tokyo Auto Salon. Daikoku. Speedhunting. 
Next, we'll take a last behind the scenes look at my trip to Japan!
-Linhbergh