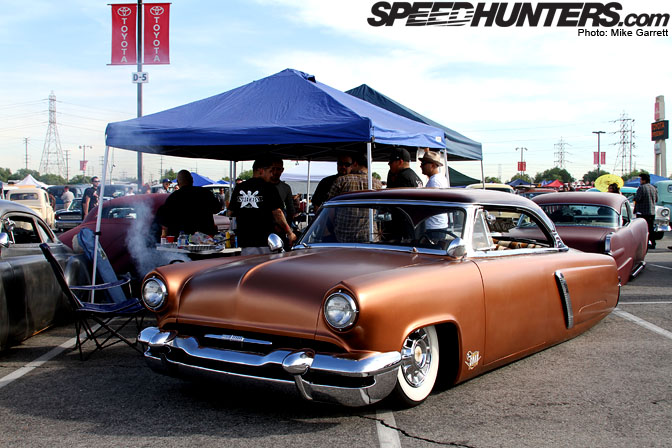 Oh what a difference a year makes. Last year we were dodging puddles and shivering at the Mooneyes X-Mas show at Irwindale Speedway. This year though, it felt more like mid-August than mid-December. Temps were climbing into the 80's, the skies were clear – and the hot rods, sleds, and race cars came in droves.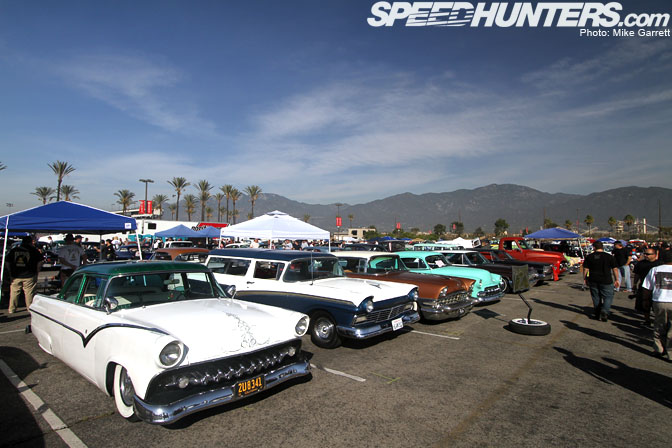 In fact, I think in most of these photos you'd be hard pressed to tell the difference from the Mooneyes Summer Show, which was held in July. The parking lot at Irwindale was packed. Only in Southern California…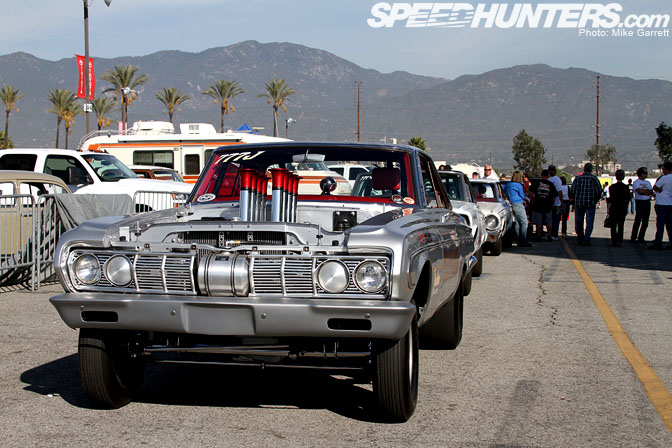 Drag racing and rain don't mix, and the track was quiet at last year's event. Different story this year though. The staging lanes were filled with hot rods, gassers, and A/FX cars.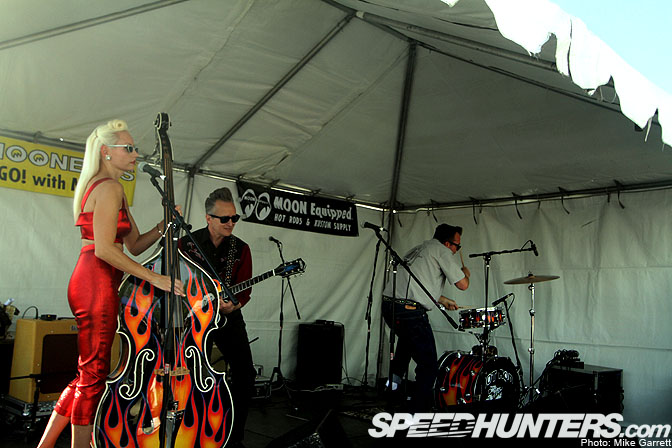 As always, there were a number of bands cranking out cool rockabilly and instrumental tunes throughout the day.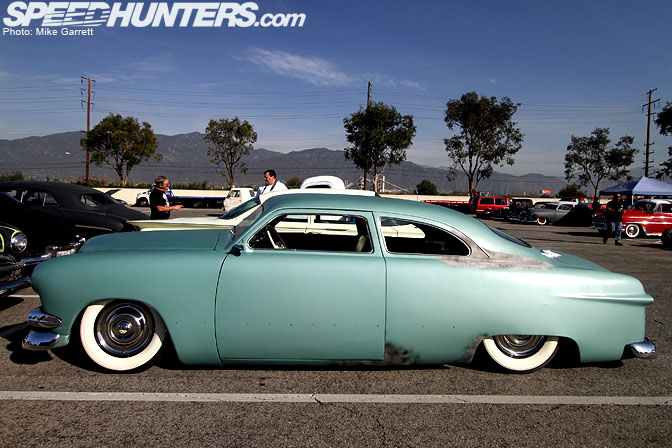 But first and foremost, we come for the cars. There were lots of vehicles from previous events, but also plenty of new ones.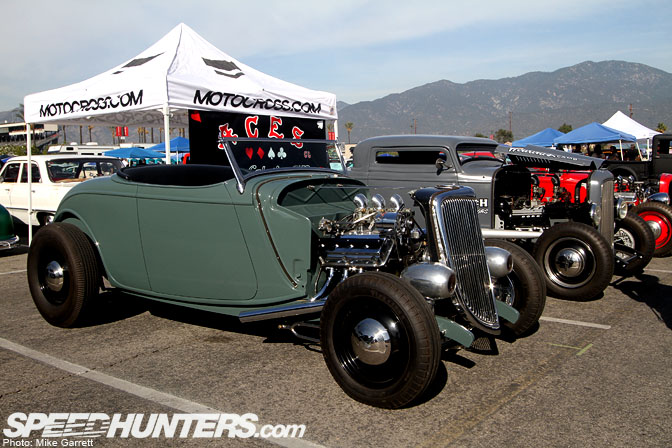 This mega clean traditional roadster caught my eye. Great body color.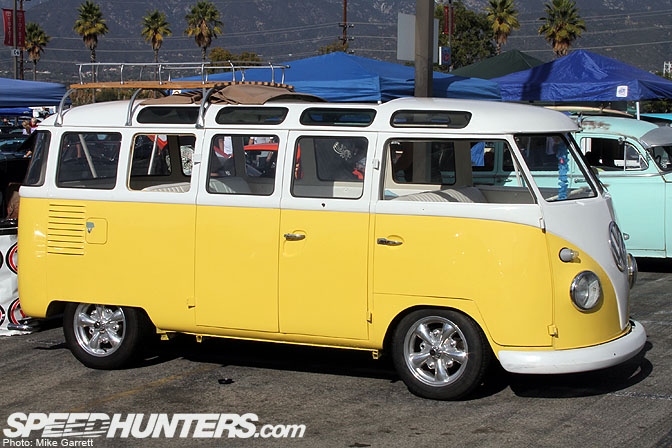 One thing I noticed this year is that there seemed to be more VW guys participating in the show. Very cool to see.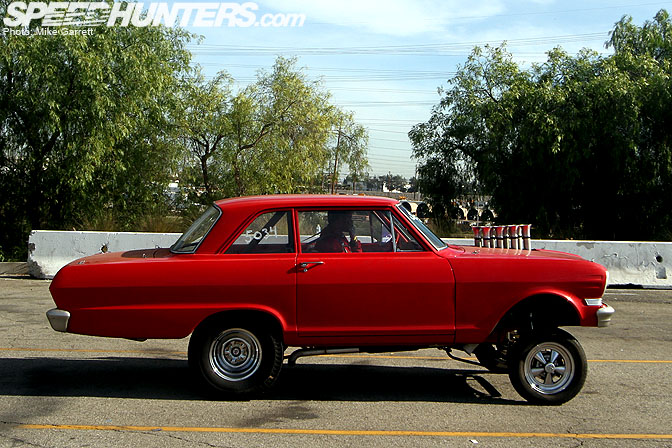 This wild altered-wheelbase Nova was running in the drags. Funny looking, but very sweet.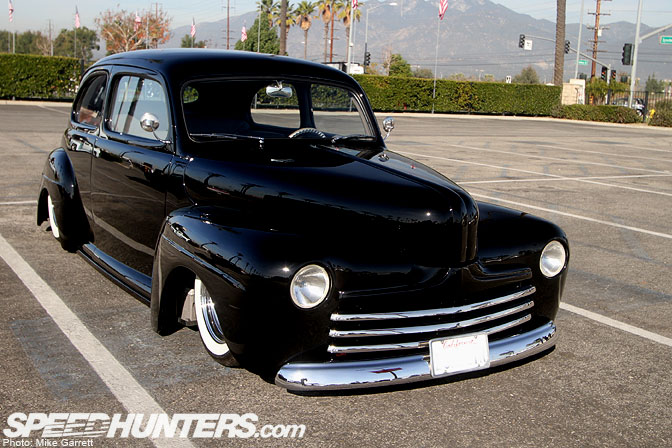 This coupe had had an interesting mix of the modern and the traditional. Shaved and bagged with white walls and chrome steelies.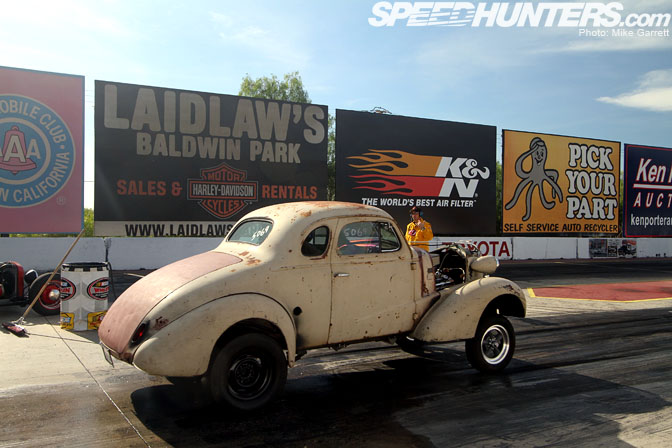 There's always something right about seeing big fendered hot rods on the drag strip.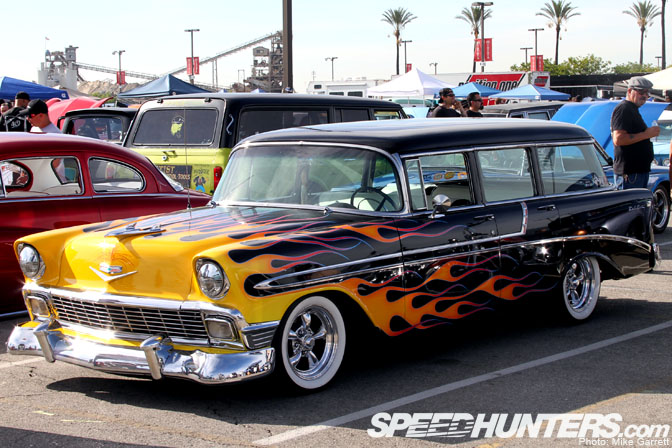 This flamed out '56 Chevy wagon was majorly cool. Very 60's looking.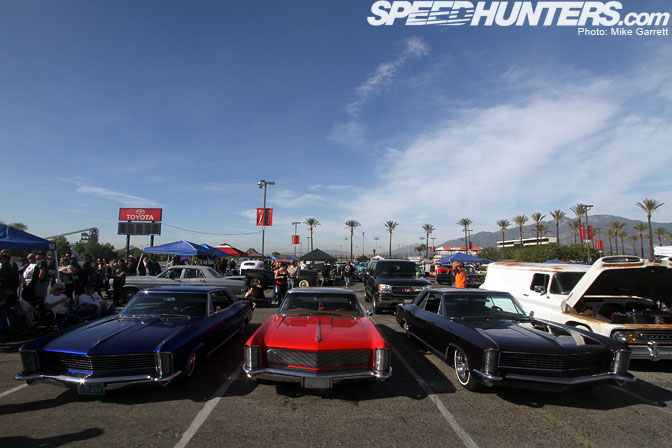 Speaking of the 1960's, here's a fine looking trio of Rivieras.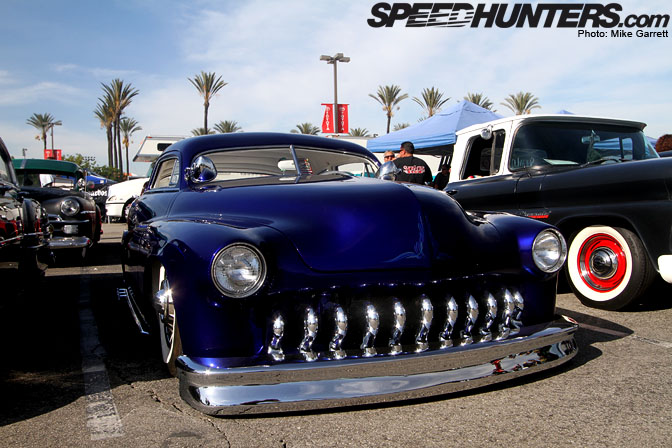 A beautiful lead sled shining in the California sun. What more do you need?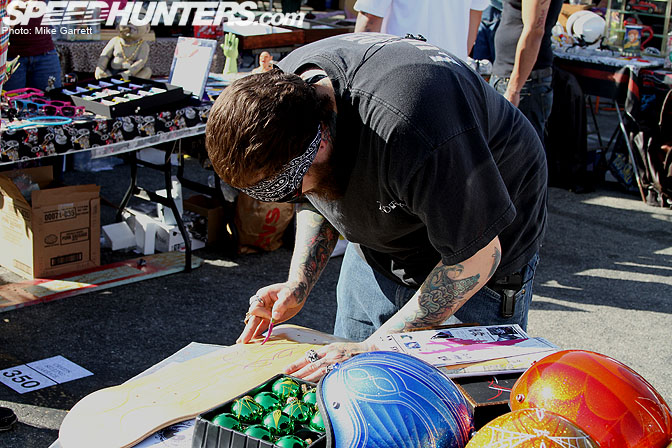 Pinstripers doing their thing.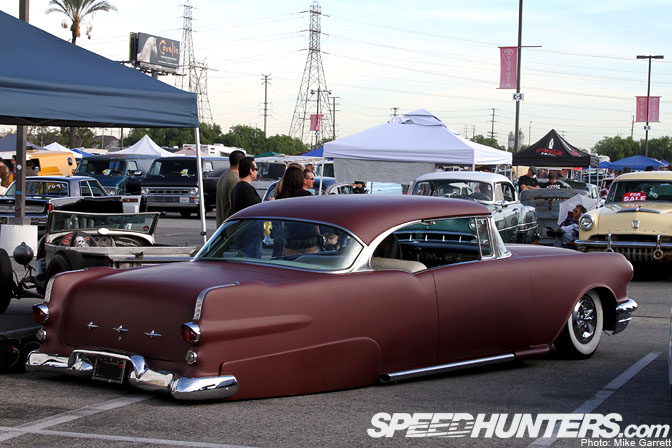 Smoothed and slammed Pontiac hardtop looking great.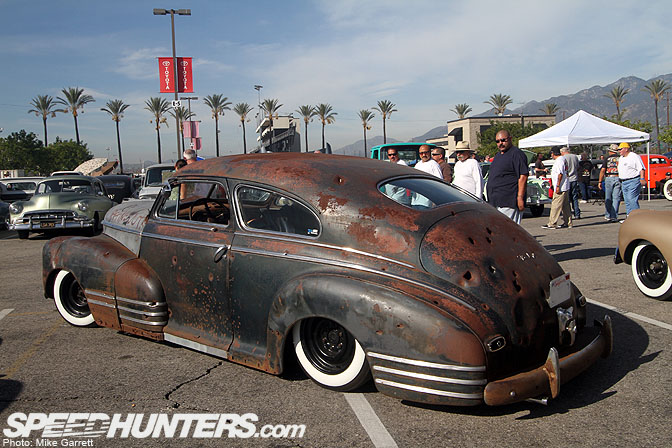 You just can't make patina like this. It would be a shame to paint this car.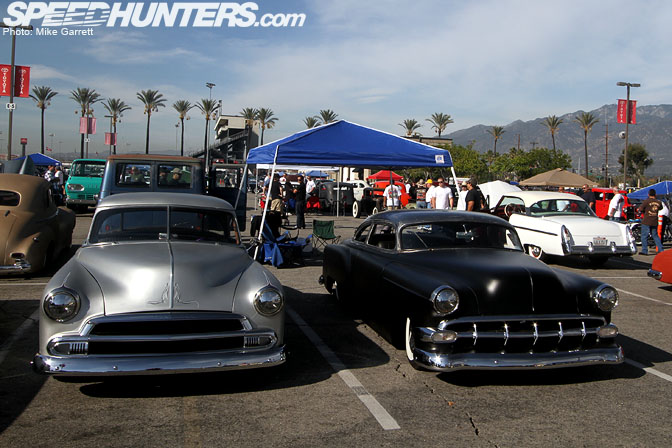 '49-'54 Chevys. The standard.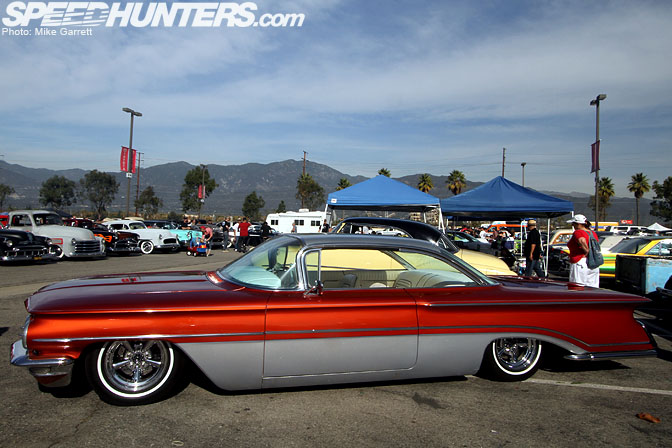 You can do no better for a cruiser than a big coupe from the late '50s-early '60s. This Oldsmobile is the evidence.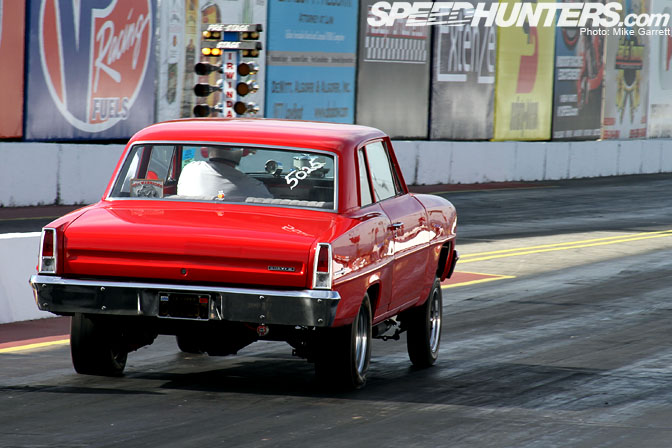 Nice little Nova coming off the line for its run down the 1/8 mile.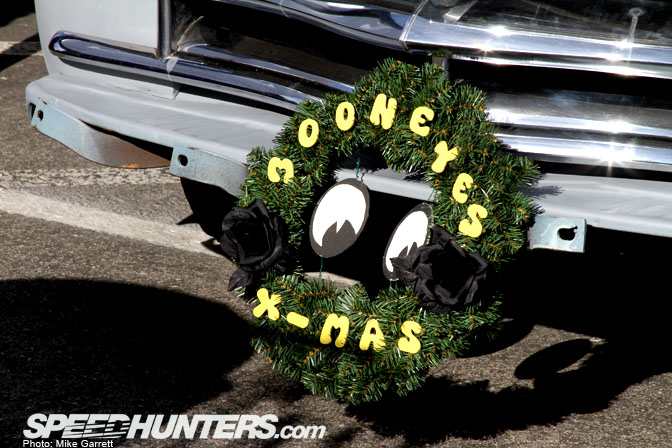 If shorts, t-shirts, and hot rods don't get you into the holiday spirit. I don't know what will.
More on the way from Irwindale!
-Mike Garrett