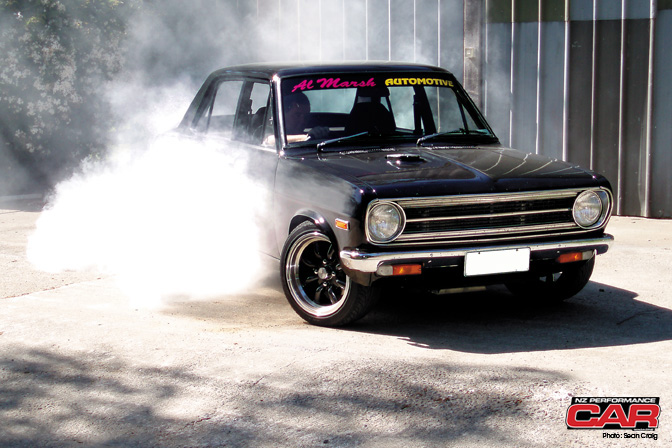 In a world where some car enthusiasts change their vehicles more often than their underwear, it's refreshing when someone embarks upon an automotive escapade that spans more than a decade. This '75 Datsun 1200 is definitely one of those escapades. Well, it's more a labour of love in the eyes of its Christchurch-based owner, Kade O'Keefe, who admits to having a visual affair with the sedan's box-shaped lines for as long as he can remember.
Known as a Sunny back in its Japanese homeland, the Datsun 1200 was a very successful car in its prime, and a popular car on New Zealand roads in the early-to-mid-1970s. Although the factory-spec A12 1.2-litre four-cylinders can't really pull the skin off a rice pudding, they're strong engines that are very tuneable.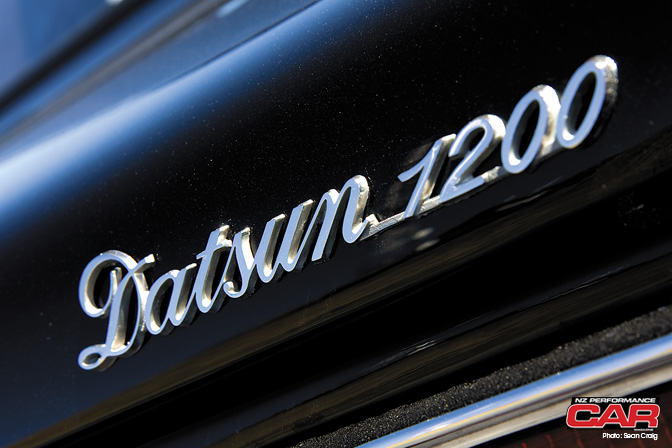 For the first seven years of his ownership, Kade slowly modified the mill until it was a seriously warmed up version of how it left the showroom floor. Everything was just about finished and ready for cert when for some reason an urge came over him to pull out the A12. Quicker than you could say "engine conversion" the four was sold and the Datsun was left sitting in the garage waiting for a new heart to start beating under its glossy bonnet.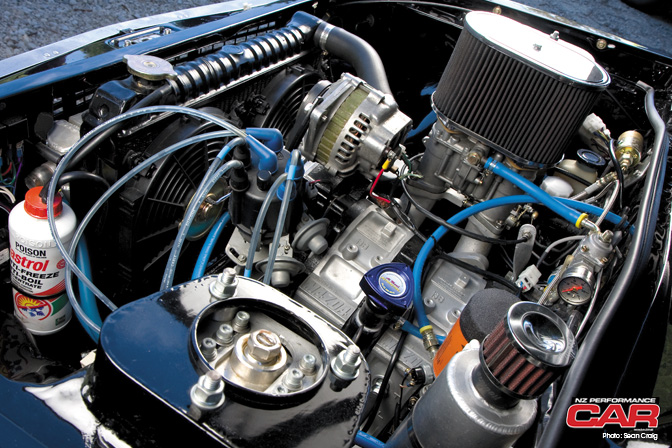 The 'keeping it in the family' story was hastily tossed out of the ideas box when a decision was made about what would sit between the strut towers. Kade knew that for him to be completely satisfied, this '70s sedan needed to emit an angry pulse when he twisted the ignition barrel. In the first instance a 13B J-port was recruited for the rotational duties, but that was a mere interim fix —  more serious plans were soon put into effect.
The Datsun was taken to Christchurch's Al Marsh Automotive, where another 13B block became the starting point of a hardcore new build. Torque at low RPM and fuel economy were of no concern, so instead of grinding and shaping the side ports for some monster bridgeport treatment, they were completely filled, and new circular ports were fitted directly to the rotor housing to create the crazy mother-in-law of the rotary family: the PP.
The peripheral porting works in conjunction with a custom ported intake manifold, a must in this particular application. The block was then mated with a bunch of RX-8 goodies including apex seals, stationary gears and rotors that now live in brand new housings straight from Mazda. All of the internals were balanced to perfection and a competition-spec oil pump makes sure all of the moving parts get their share of lubrication.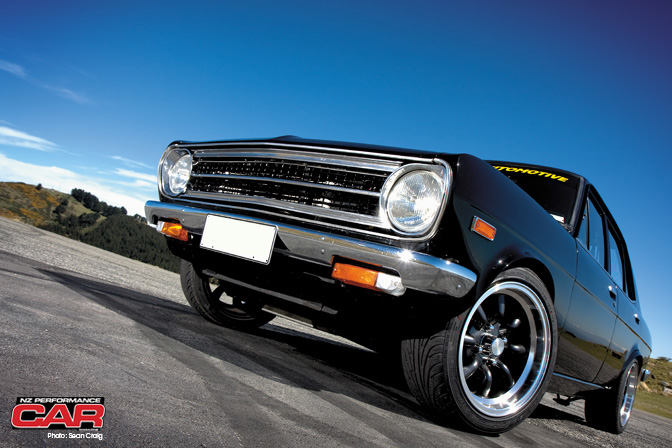 The PP's hefty appetite is well known in rotary circles, so much attention has been paid to making sure there is enough on this beast's plate to keep it from starving. The engine's lifeblood is stored in a custom alloy drop tank that has been baffled and fitted with a surge bowl to reduce fuel surge. Then a Holley blue fuel pump passes fuel through 10mm lines until the pressure is controlled by a Holley regulator. This is where the star of the engine bay gets to perform, and with two 51mm downdraught trumpets the IDA carburettor definitely doesn't let the team down.
With Kade knowing the engine was now a package not to be messed with, the focus switched to the engine bay. Neatness in the bay is a must with naturally aspirated rotaries, so it was fully seam welded and custom wired to deloom it of excess wiring. The battery was taken out and sent to the boot, where it's tucked tidily out of sight.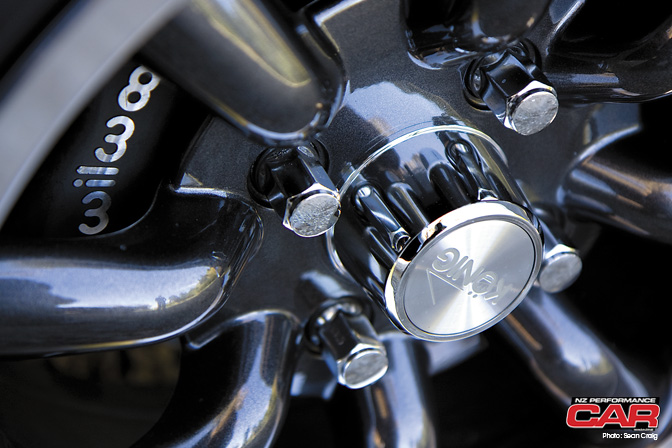 The Glasurit 2K black flows flawlessly over the panels, which have been carefully straightened by Kade's father, Noel. The paintwork gracefully highlights the chrome trims that make any vehicle from the '70s great, and retro JDM-style 15×7-inch Konig Rewind rims wrapped in 195/45R15 Nankang NS2s really do the body style justice. They tuck up nicely underneath the custom metal flares created and fitted by Kade himself.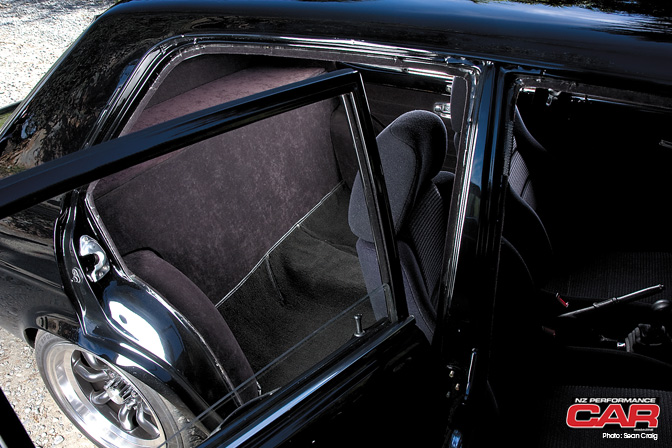 The black theme carries on into the cabin of the sedan, although the rear doors are now only for show, since there is only accommodation for one other passenger and that's alongside Kade up front. As you enter, custom headlining and carpets are immediately noticeable — they also span under the boot lid. There's a Momo wheel and shortened shifter, too, and on closer inspection it becomes apparent that a lot of work has gone into making sure the driver is fully informed at all times.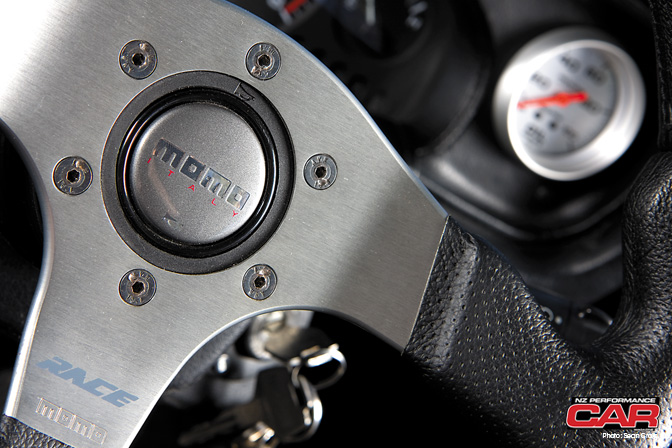 Auto Meter oil temp and pressure gauges have been mounted either side of the Nissan Pulsar GTI instrument cluster that has been carefully massaged into the 1200's dash. Revs are kept under control with a rev limiter installed in the dash, and when Kade feels like warming up the rears — an urge that overcomes him quite often — it's as easy as flicking the electronic line locker and side stepping the clutch.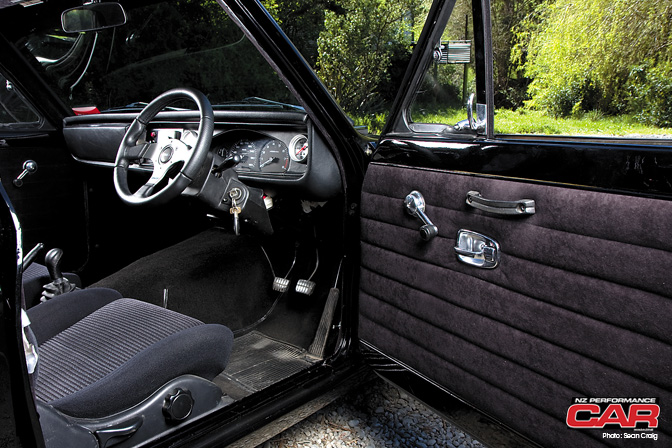 All of this hard work amounts to an estimated 300hp at the flywheel — pretty impressive for a naturally aspirated engine.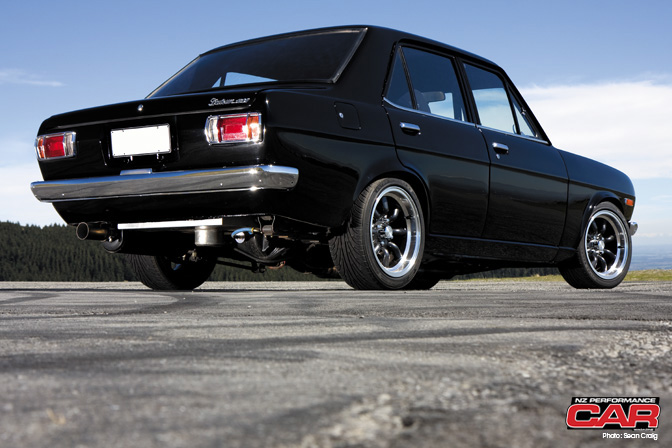 Even though the rotary engine is renowned for its N/A performance, there is a myth that it's easy to achieve good power from one just by getting the die grinder out and hacking away at the standard ports. This is where running a car down the quarter mile is a measure that never lies, and on pump gas Kade and his Datto have sliced through the deep end traps in 13.2 seconds at 176kph. That ain't mucking around.
Props to Kade and everyone who helped put this top-class Datsun streeter together. But as is the way of so many of these stories, it's not over yet. There are already bigger and better plans in the pipeline, including an injection system for the IDA, and the possibility of a Vortech blower being strapped to the rowdy beer keg currently under the bonnet. Whichever way Kade goes, this isn't the last we'll will hear of 13B DAT. Literally.
Photos by Sean Craig