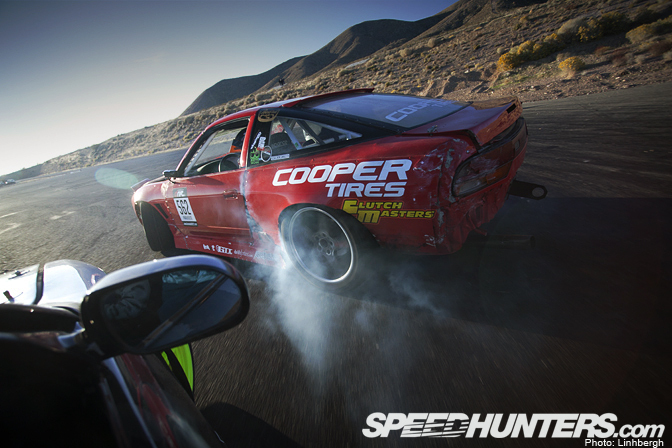 With the Formula D season now over, it came time for the drivers to take off their competition caps, relax, and have a bit fun. Same goes for me.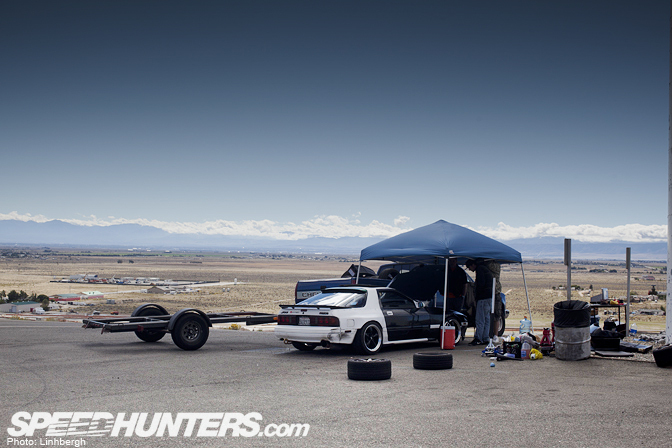 You see, being a Formula D driver and a photographer is almost the same thing –almost. We're both in danger of getting hurt or killed at a moments notice. And like many drivers, when I was out on track, I was in the zone.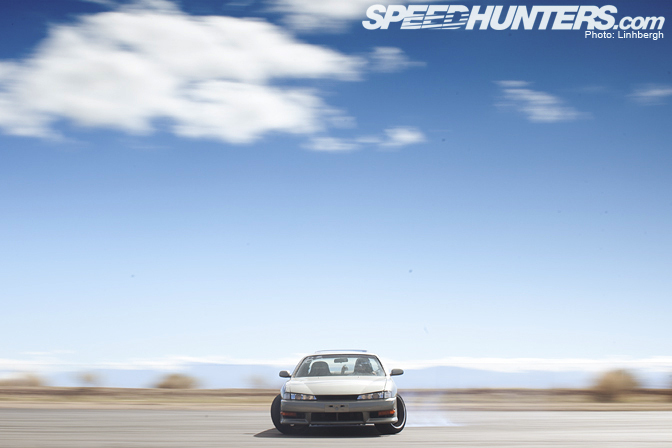 So when I heard about the Just Drift Halloween Bash taking place at Willow Springs, and with no plans for the weekend, I knew I had to go. It'd be a great way to stretch out my legs, relax, enjoy shooting drifting, actually watch some drifting, and experiment with some drift photography.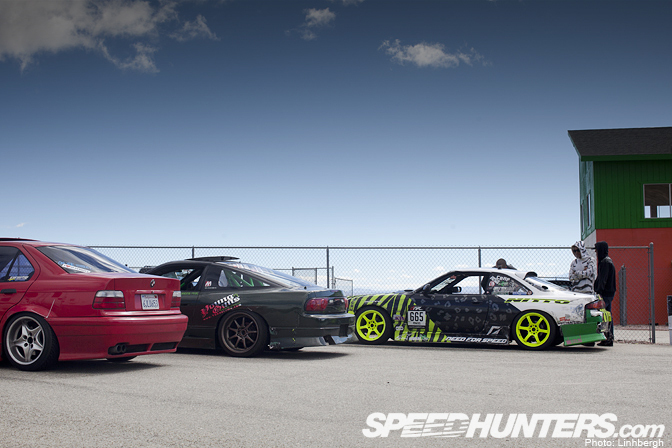 I was surprised to find that Team Need for Speed driver, Matt Powers, even made it out. He thought the same as I to come out to the event to relax and just have fun.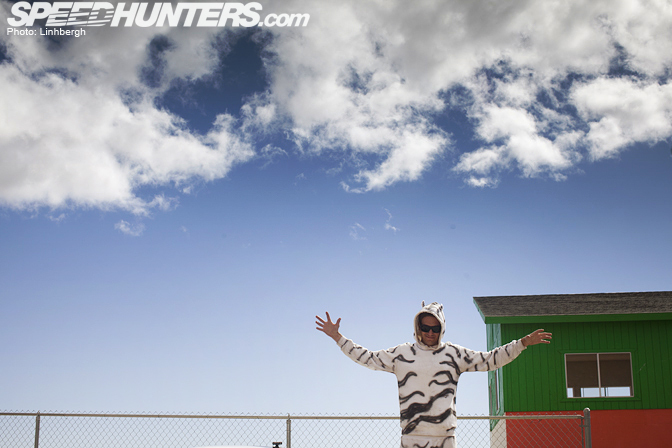 He even came dressed for the occasion. A white Tiger.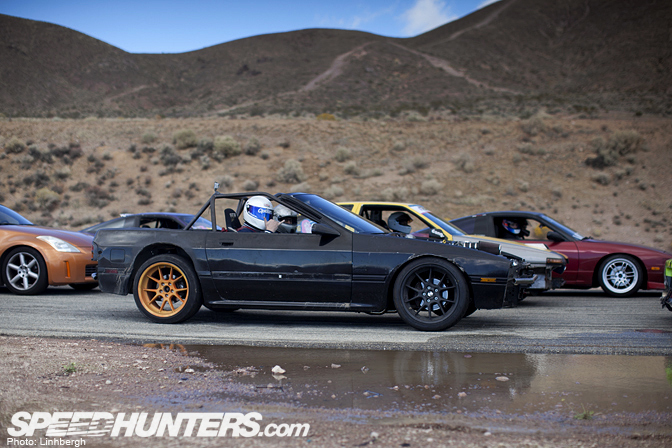 Another Formula D driver to grace the event was Michael Essa. Here, he debuted his LS powered FC RX-7 drift missile.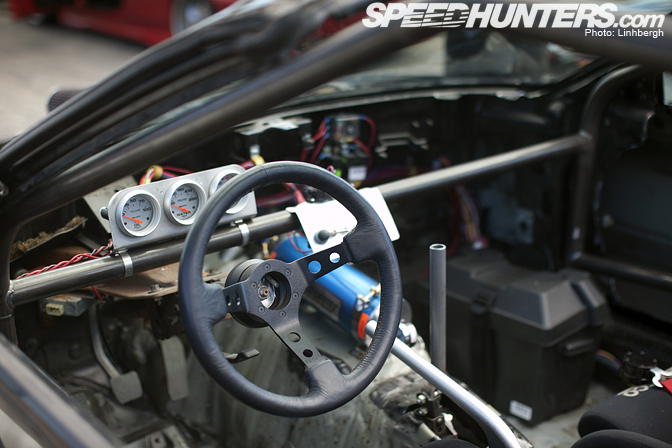 It's only purpose is to be drifted. Creature comforts and aesthetics are not a concern. 
Being a drift missile doesn't mean Mike had to skimp out on some performance details. On top of his LSx V8, he also has a sequential gear box.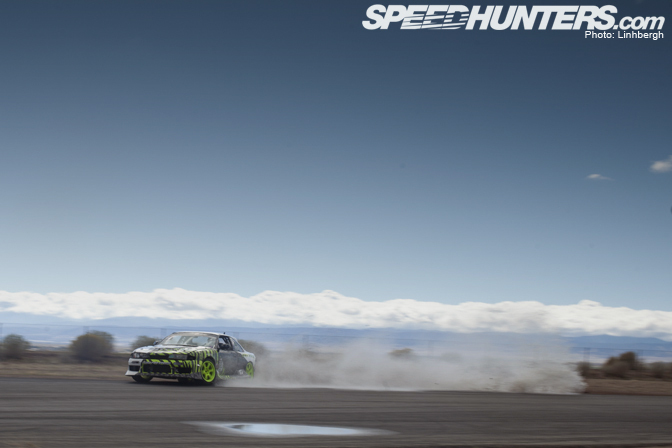 Matt was dirt dropping all day long. I somehow failed to capture it all day long. Luckily, Just Drift staff photographer, Paul Lopez was able to capture an amazing shot. Seen here on our Facebook page.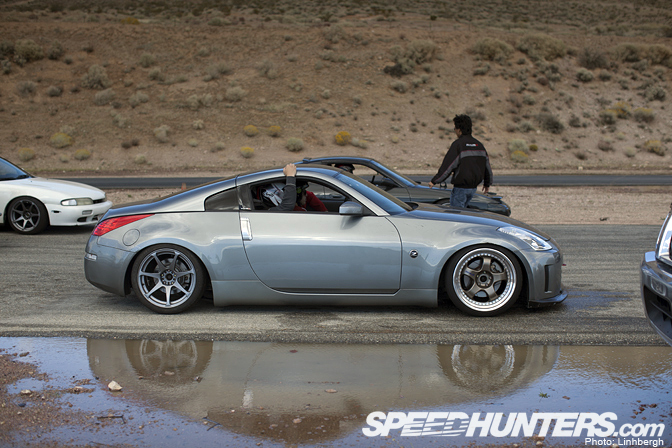 I found myself being magnetically attracted to this super low 350z. It looked good parked…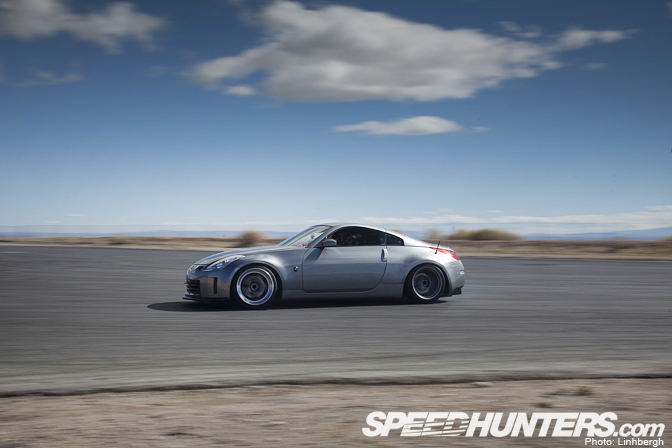 …as well as in motion!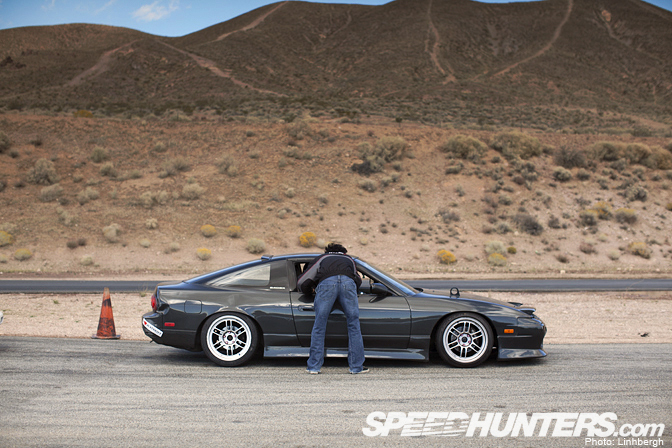 You can't ignore a clean example of an S-Chassis like this hatch on RPF-1s. It just looks so right!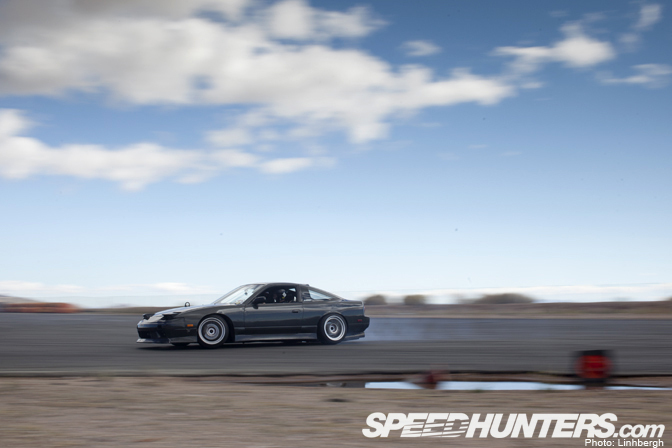 So clean.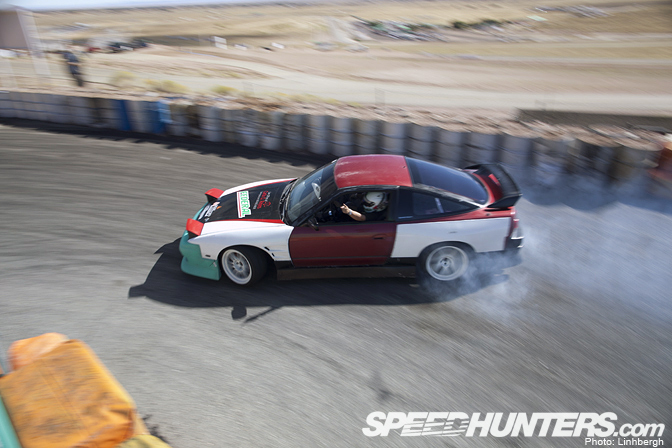 This multi-colored work-in-progress S13 hatch put in some great runs.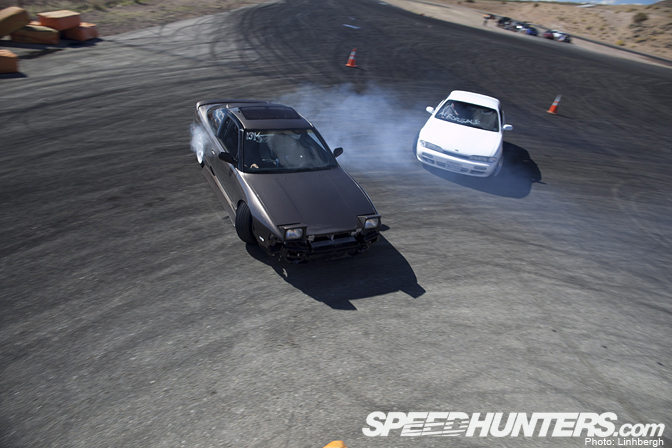 The tandem action started to heat up after lunch. Even the six Taco Bell tacos I had for lunch were dancing in excitement!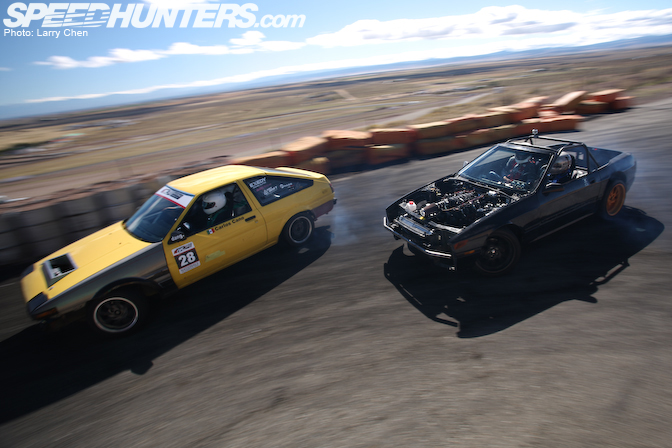 The accident-of-the-day award goes to Mike Essa. While in tandem with FD Pro-Am Driver, Carlos Cano, they were looking good together. The action was tight and close…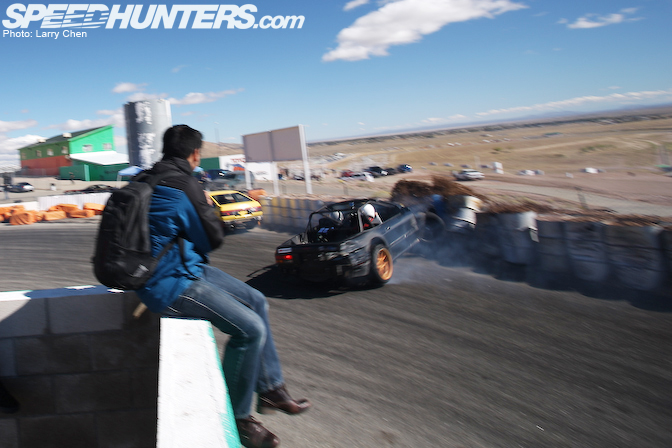 …until things just got a little too close!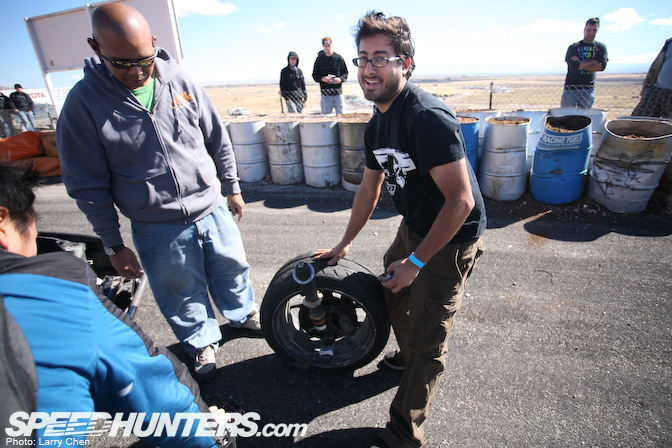 The lower control arm sheared straight off and broke the coil over. Mike left the track immediately after the accident to get his car fixed so that he can come back the following day for some drift action at Horse Thief Mile.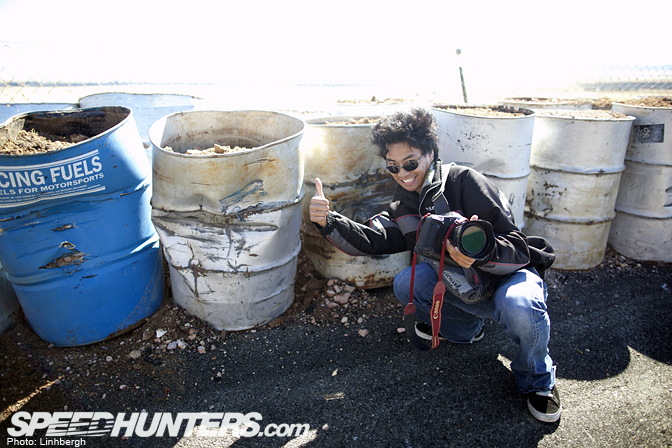 The damage to the barrels. Some of the damage on the barrels were from previous sideways engagements, but the big dents have been produced by Michael Essa himself! Larry Chen approved.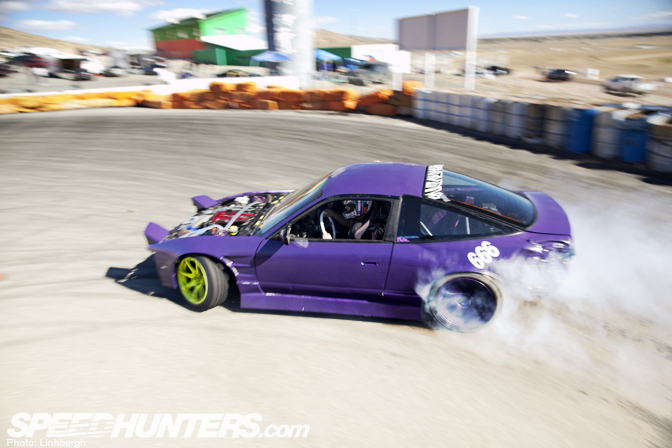 After the mess was cleaned up, the drifting started once again. This purple S13 hatch with neon green reminded me of Formula D driver, Matt Fields', car….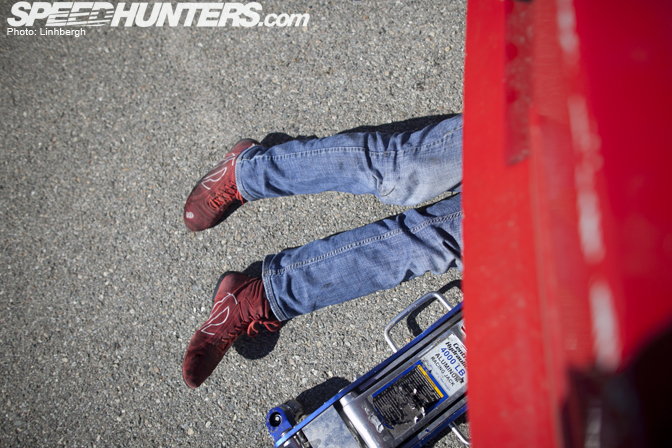 Another FD driver, Cody Parkhouse, found himself relaxing under his red S13 for most of the morning….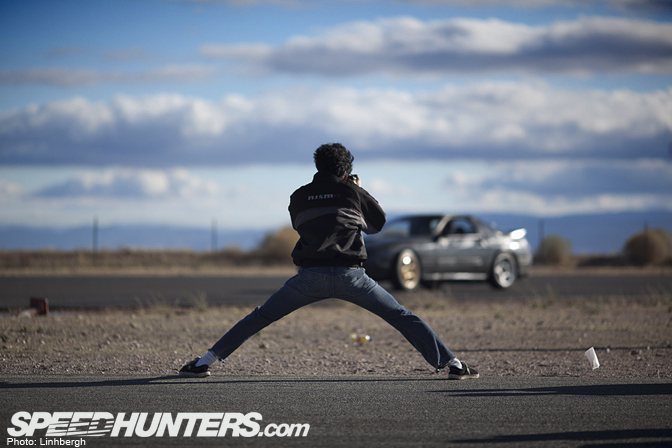 Larry demonstrates that proper stance isn't just for cars.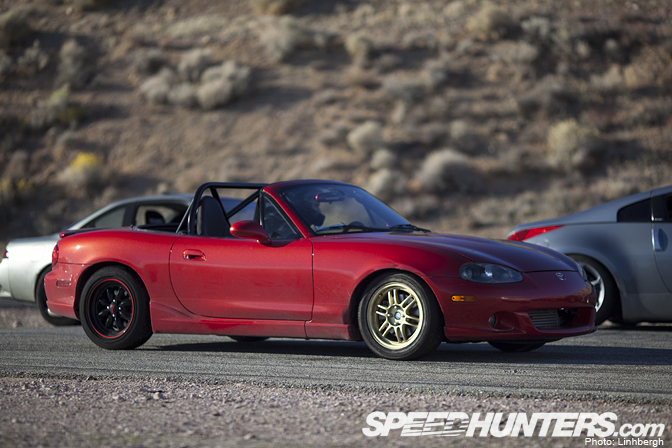 I do love me a good Roadster…. I was surprised to see this Mazdaspeed Miata out sliding. The shorter wheel base of these cars make it a lot harder to hold a drift. So the people that can slide these things have talent for sure –including the driver of this car.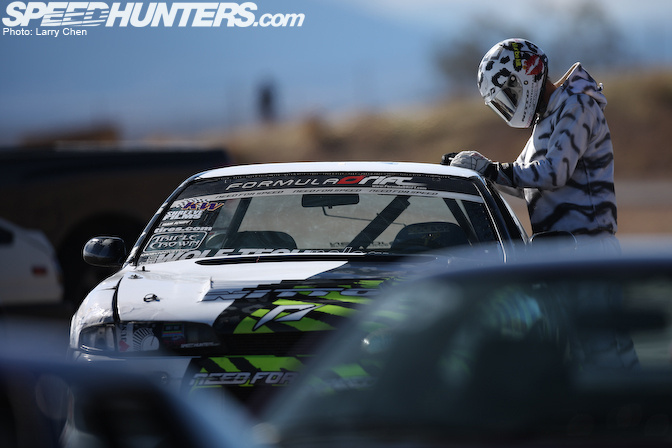 Matt, here looking like The Stig from the 1980s, received an XD Replay camera to play with for the weekend. Before every run he would mount it in different spots to get as many different possible angles and shots.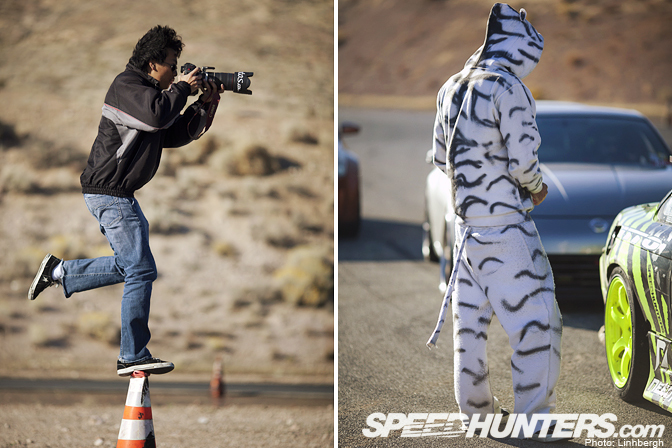 Larry also demonstrates that it takes a fair amount of Zen to properly become a photography master. There's no wax on, wax off to photography, its all about feeling. So feel it!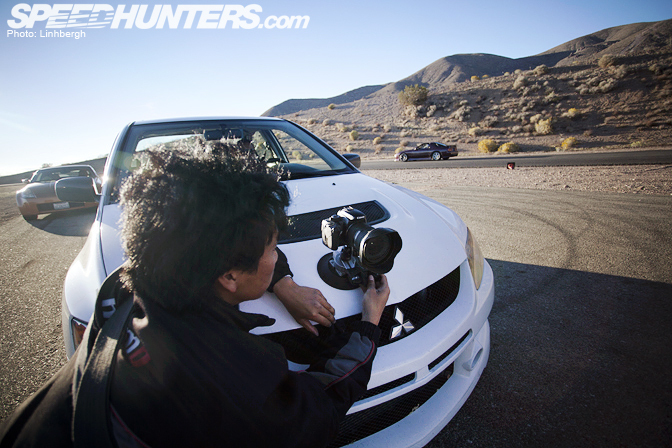 Here's Larry getting stupid and mounting up a camera to the front of a chase car.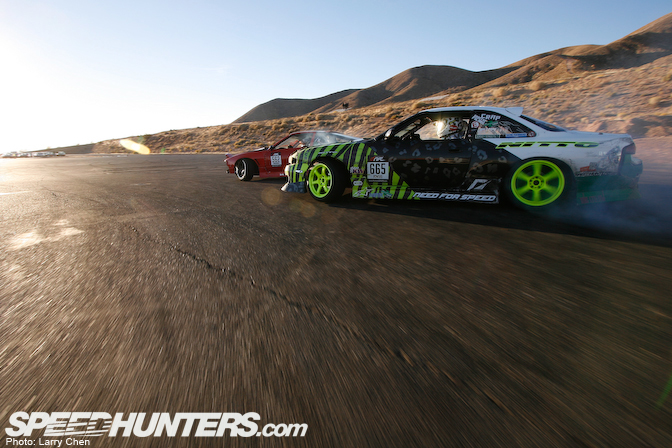 The result? Shots like this…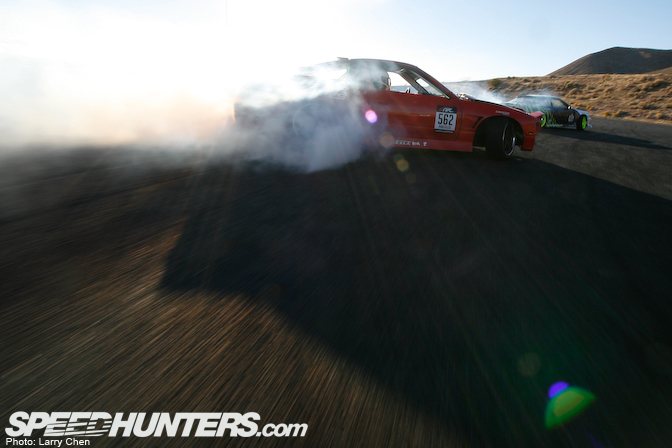 …and this. Spectacular!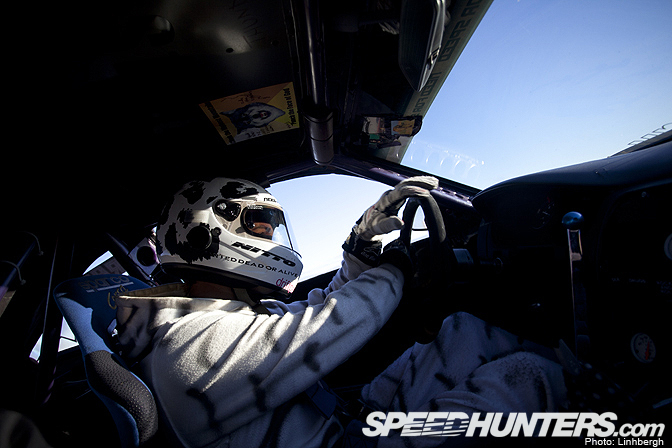 As Larry was sitting in the chase car, I was sitting in Matt's car snapping away the action where I can. The opening photo for the blog was shot from the passenger seat of Matt's car with my arm sticking out of the window!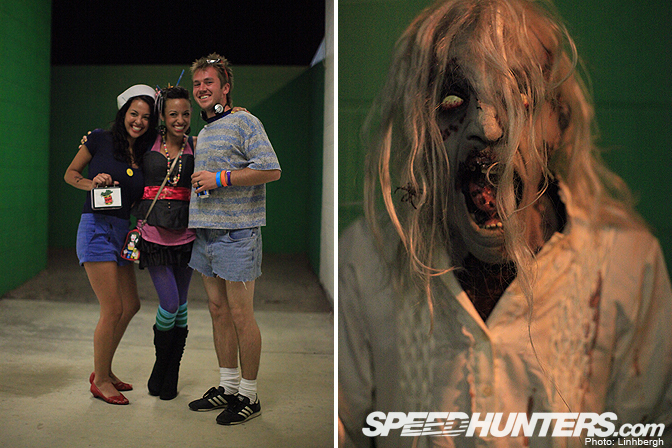 What's a Halloween bash without a costume party, no? The owners of Willow Springs decided to throw a Halloween party that night and invited all the Just Drift guys, as well as everyone else that was present at the track.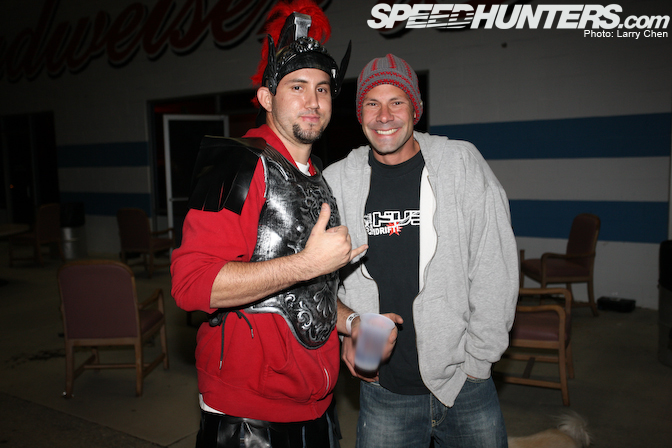 Formula D driver and Roman Centurion, Jeff Jones, was the DJ for the evening. Alex Pfeiffer even made an appearance! Though, I'm not quite sure what Alex came dressed up as….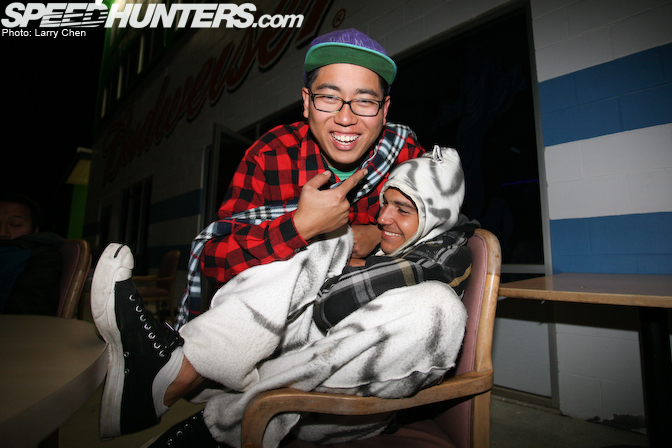 Two Formula D drivers, Kelvin Arreola and Matt Powers, having a private moment inside the Willow Springs bar.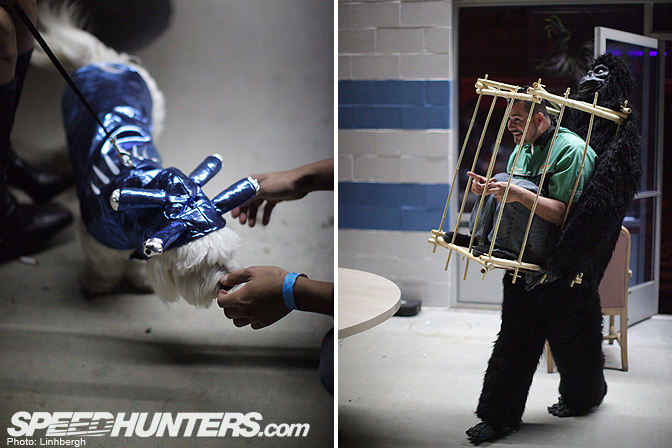 Even dogs came dressed up for the evening's festivities. The gorilla carrying the man costume, without a doubt, took the cake for the evening's best costume.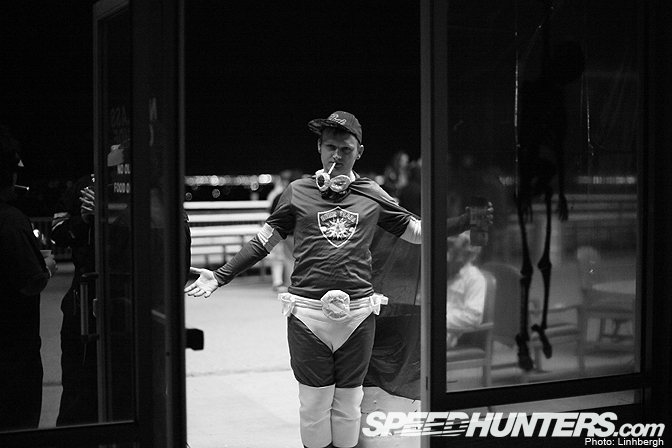 Not quite sure who or what this guy was dressed up as but the costume's eclecticness is amazing!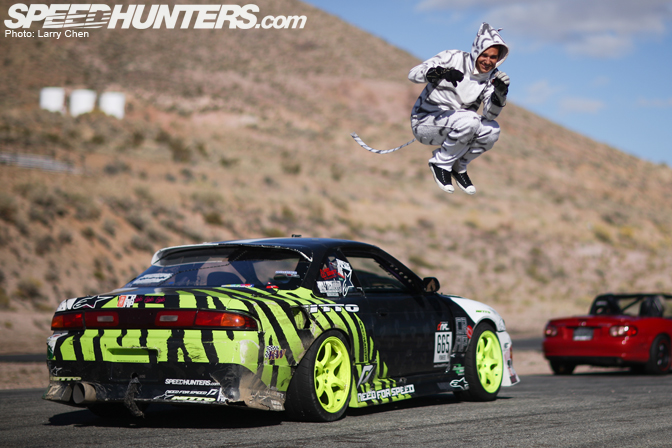 More from Halloween Bash soon. We'll be looking at the second day's action at Horse Thief Mile!
-Linhbergh