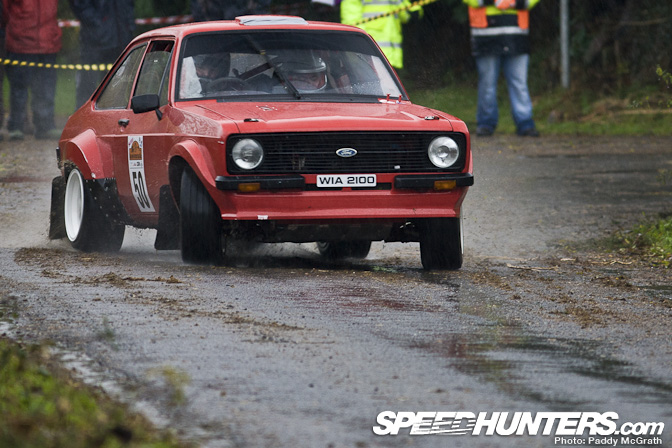 Rallying was always my first love. It's a family thing really, an entire lineage before me was involved in the sport in one way or another. My father was a photographer, my uncles built cars and competed themselves, an entire side of my family has past or current involvement in the sport so it was never going to be an option to not get involved. From a young age I'd accompany my Dad to the stages as he'd photograph and I'd cheer my uncles on. I was really, really young so most of this is just vague memories and I constantly live in envy of them recollecting stories from the hey day of rallying, which is approximately the entire decade before I was born.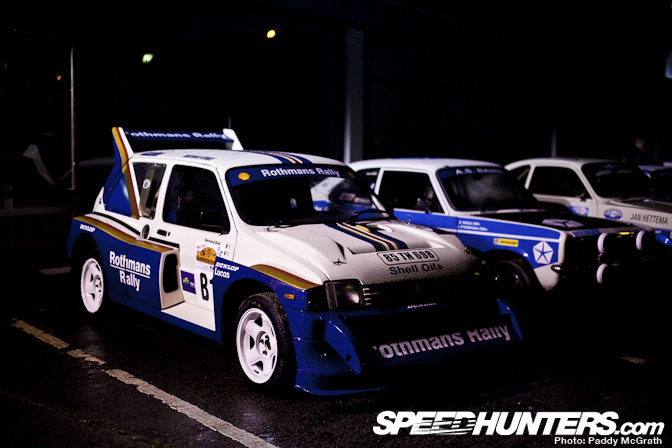 I'm jealous because I never got to see what they've seen, I've never heard what they've heard nor have I experienced some of the great battles on the Irish stages between Jimmy McRae (father of the late, great Colin), Russell Brookes, Ari Vatanen, the late Bertie Fisher and Billy Coleman to name just a small few.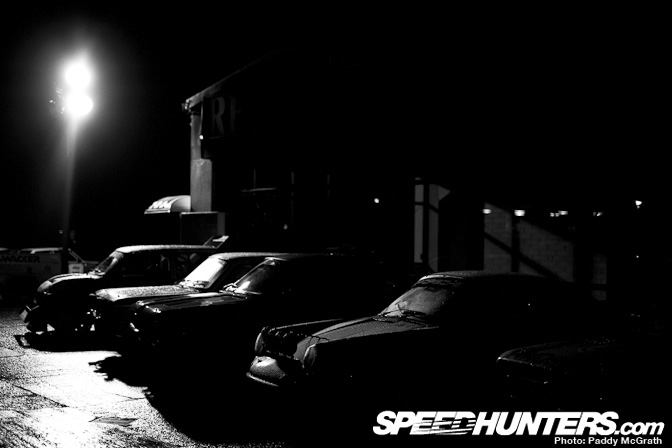 The Escorts, Mantas, Sunbeams and Chevettes of the era tearing up the Irish countryside in anger. That was even before the Group B monsters were unleashed on these shores.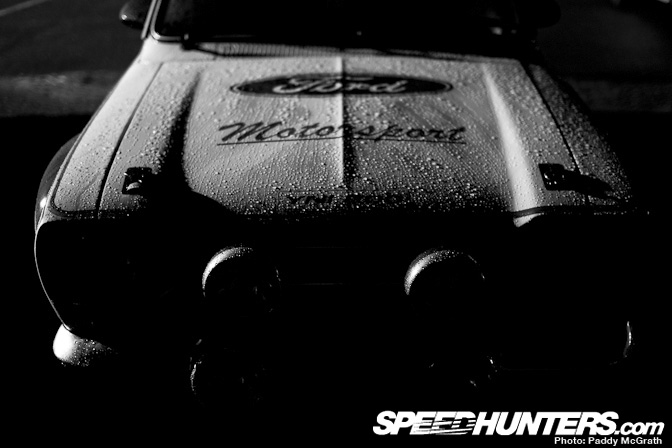 Due to the tight schedule a speedhunter must abide to, I've only been able to make it to one rally event this year, the Carlow Stages MKII Escort Challenge, Rather strangely, I find the WRC and Group N cars rather boring to watch on the stages as they make it all look so easy so it's the Modifieds and the Escorts that make me set up camp in a wet ditch at 7am on a Sunday morning.
During the summer I began to hear whispers of an event to take place in October where I might just get the opportunity to re-live the glory days of rallying. Jimmy McRae, Russell Brookes and Kenny McKinstry all to be followed by a field of Modifieds on some of the old Circuit of Ireland stages. Thanks to the Carrick-on-Suir Motor Club, this dream became a reality on October 31st, 2010.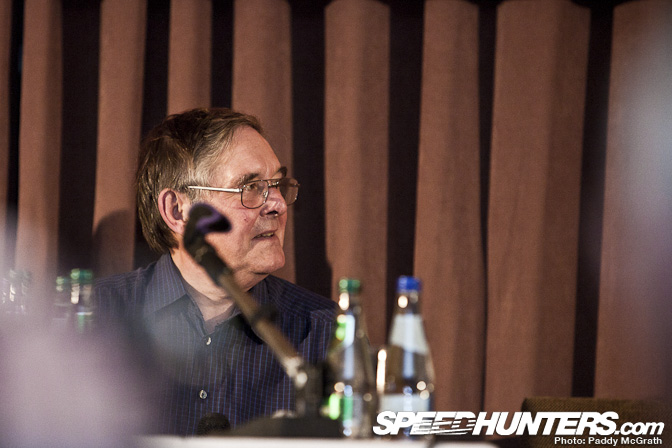 The night before the event, the club arranged an audience with Brookes, McRae and McKinstry amongst others. It was a fantastic experience listening to some of the legends of rallying talking about they hey day of the sport and sharing their opinions on modern rallying. Brookes definitely won himself some extra fans by describing Ireland as 'God's own rallying country'.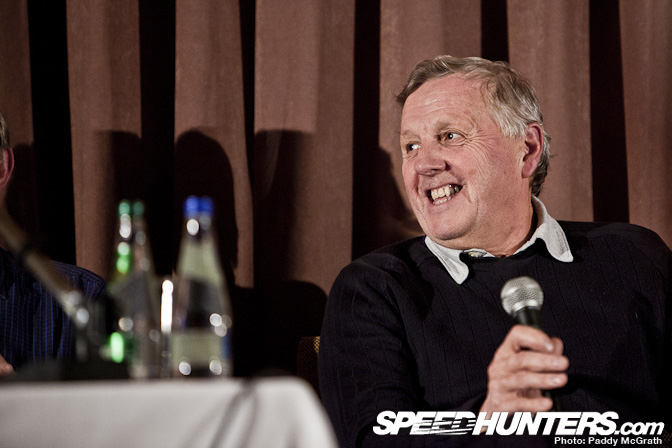 Listening to the banter between the drivers was just amazing. McRae was asked by a member of the audience who the greatest rally driver of their era was to which McRae replied 'I'll say Brookes, if Russell says McRae'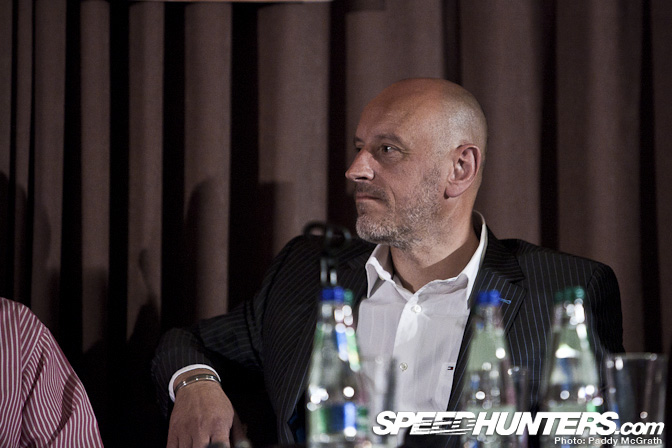 Also in attendance at the forum was Gerard Quinn, Director of Motorsport for Ford Europe. He offered some great insights the current state of WRC and what the future holds. It's such a great thing to see a fellow motorsport fan with a lot of passion for rallying in a position to influence the future of the sport.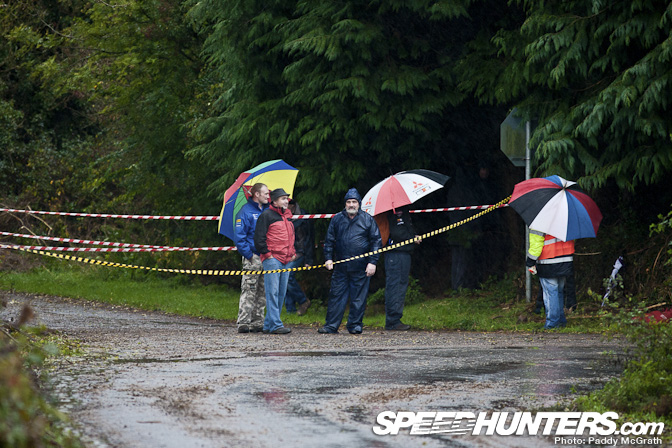 From the comfort and warmth of the Carraig Hotel on Saturday night, the stages based around the Waterford countryside early on Sunday morning weren't quite as hospitable.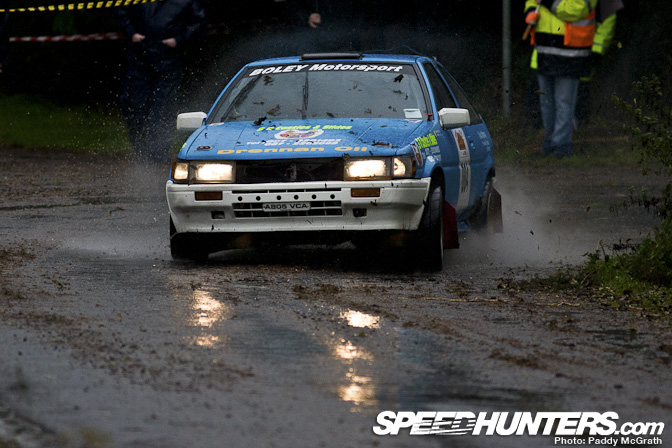 As the '00' cars began their passes, the rain began to fall that little bit heavier with gusts of wind also present to really welcome you to the true hospitality of an Irish rally stage.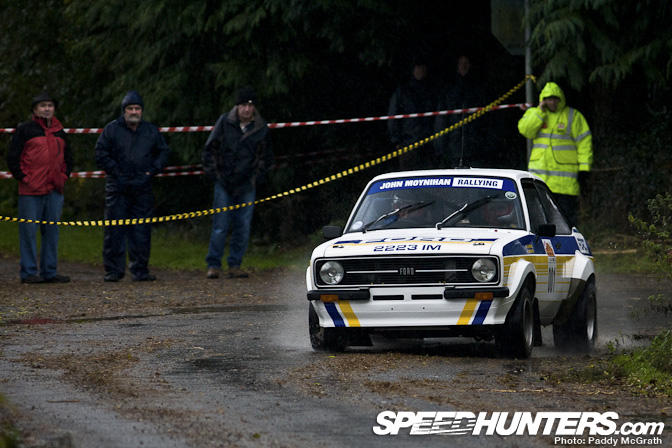 John Moynihan must be credited for the stunning work carried out on the late Frank Meaghers MKII Escort which was the honorary '001' car of the event. Meagher was a legend in Irish rallying and who is very much sadly missed.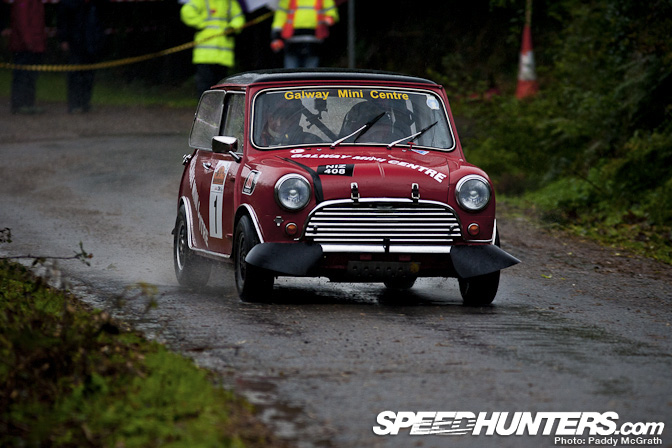 The first cars to pass through SS3 were the historics and it was this man the rest of the class would be chasing. Ray Cunningham's 11:38.7 was quick enough for eight overall on SS3 and first in class. He'd go on to finish the event top of his class.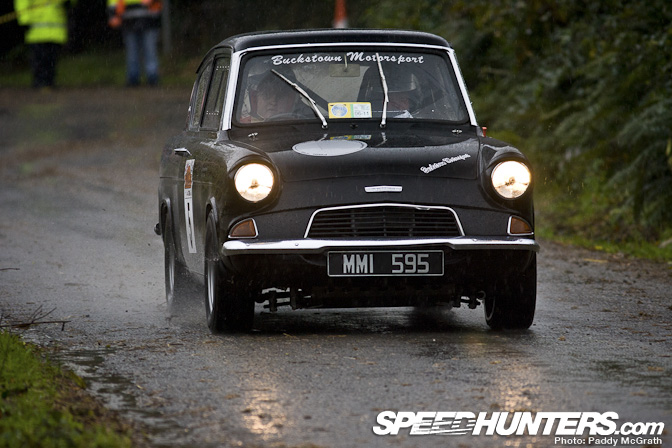 Just behind him in the historics class was Seamus Anderson in the Ford Anglia.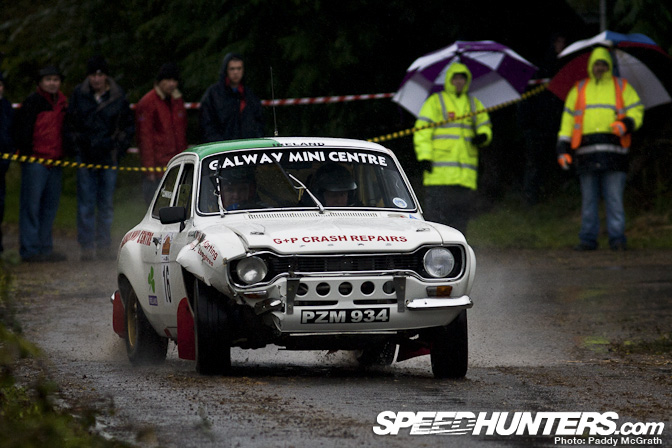 It was evident that somewhere in the previous stages, there may have been a need for a 'Don't Cut' pace note somewhere as Frank Cunningham's MKI Escort shows some damage. However, it wasn't slowing him down as he was the fastest in Post Historics on SS3 and would win his class outright at the end of the day.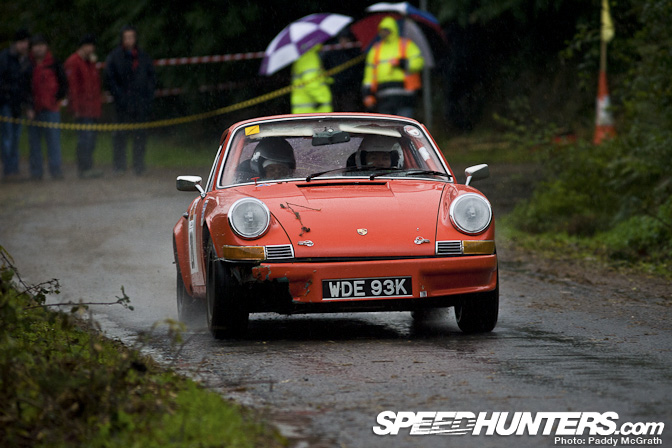 Another victim of similar damage to Cunningham's Escort was Wynne Jones's Porsche 911. Jones would finish the day third in the Post Historics class.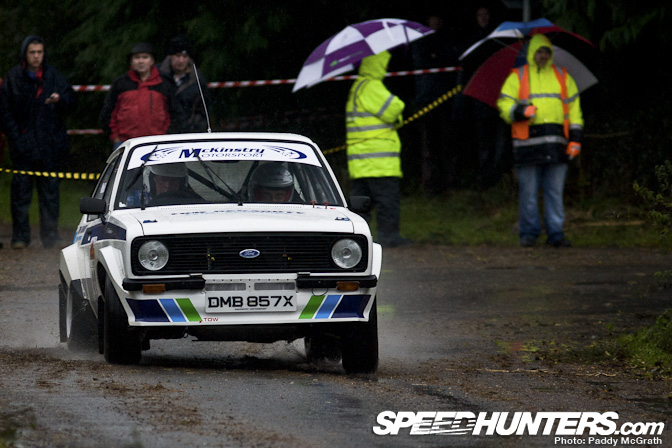 With the rest of the Post Historics out of the way, the first of the Classics came through. Kenny McKinstry in an ex-Vatanen MKII Escort was first through and finished the stage some twenty nine seconds ahead of the nearest competitor in his class.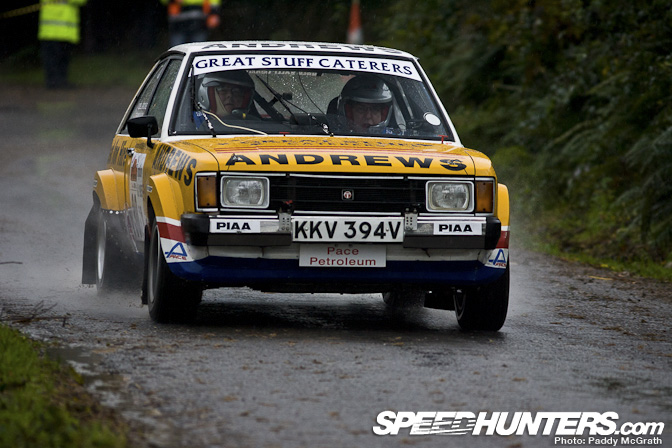 Brookes was next through, sitting third in class. 
Disaster had struck McRae after SS1. Having put down a fastest class stage time, three seconds ahead of McKinstry, the ex-Robert Droogman Belga MKII Escort's oil pressure light came on. Rather than risk ruining an engine, McRae returned to service where the problem was diagnosed as a damaged piston ring. McRae was out after SS1.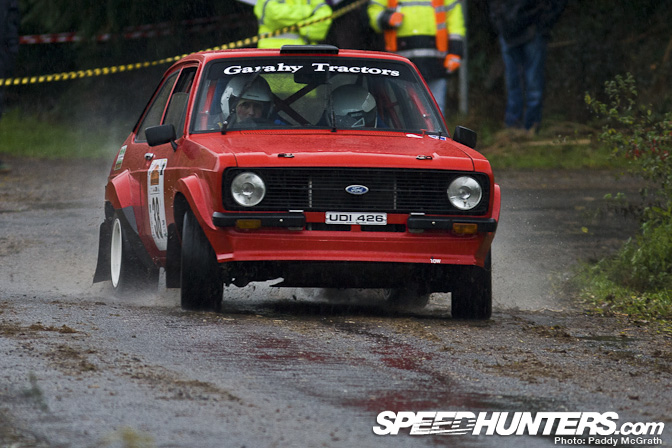 Mike Garahy was another who wouldnt see the end of the day, retiring somewhere later on this stage (SS3)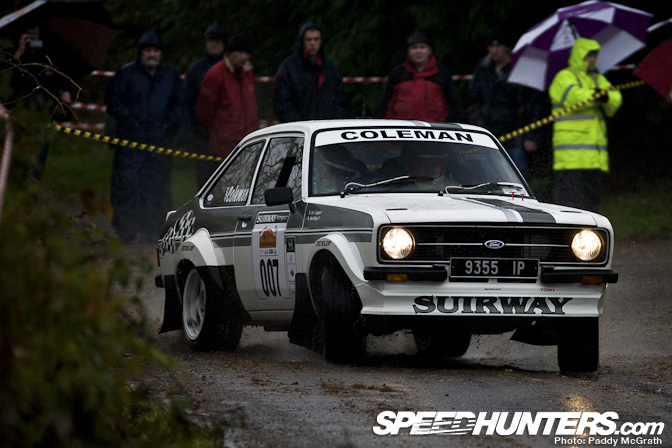 Leading in the Modifieds in '007' was James Coleman, MD of Suirway Forklifts one of the largest supporters of rallying in the South East. It's not very often you see one of the main sponsors get down and dirty with an event, let alone pilot a MKII Escort at full tilt on wet roads.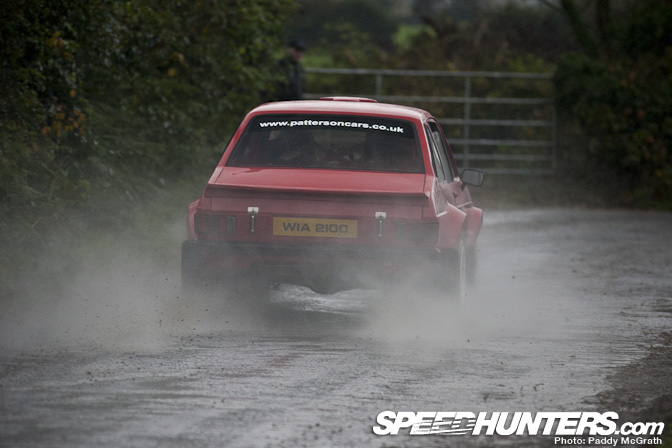 Vivian Hamill was on flying form through SS3. Although he retired on SS4 but not before removing one of this Speedhunter's nine lives.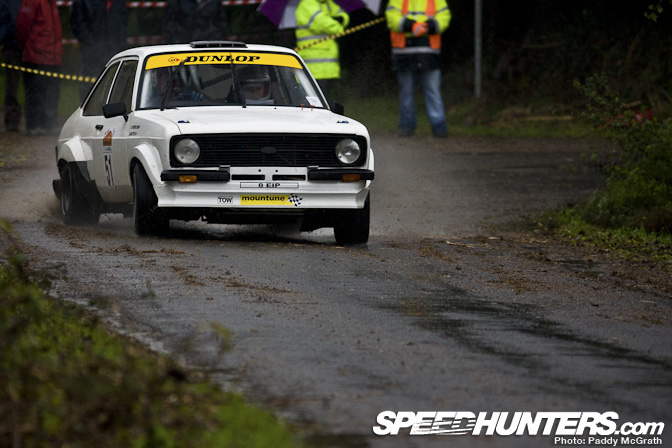 Shay Power would finish sixth overall on SS3.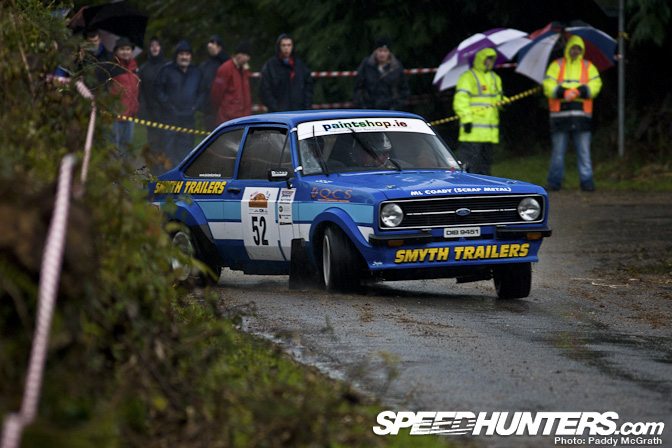 While Sam Smyth would finish fourth overall on the same stage.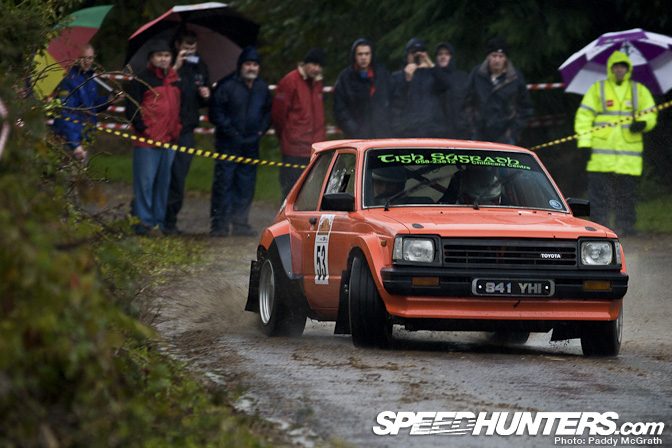 It was Paul Mulcahy who would lay down the fastest time through SS3, with a rather quick 10:42.6 in his modified KP Starlet.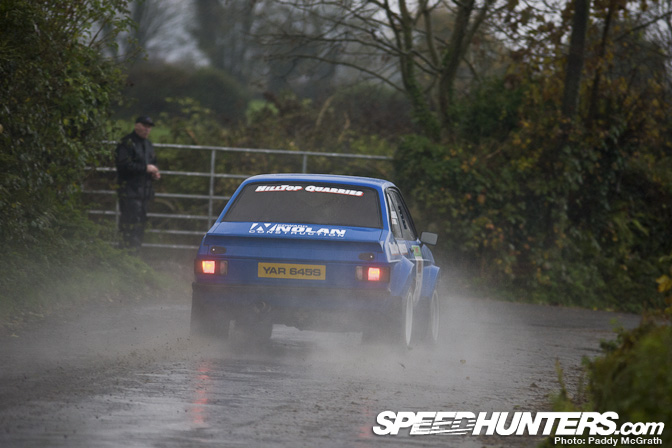 It's easy to see why the Modifieds are so much more entertaining to watch than their 4WD competitors. Simple chassis, modern suspension and technology and the proper side of 300+BHP normally aspirated engines make these cars as close to Group B cars as you'll see on the stages today.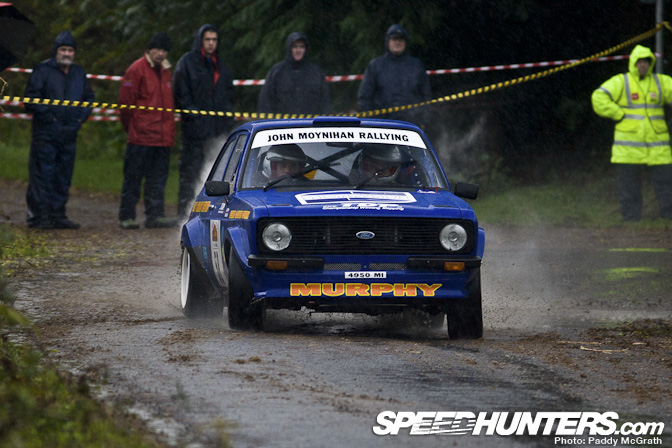 They may not have the power of the Group B cars but the pure violence of a MKII Escort attacking a stage is something you need to see in person to really understand what makes these cars so special.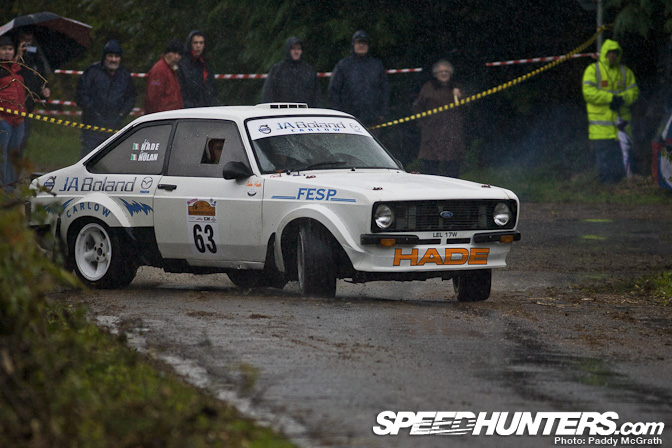 John Hade proves the age old saying of driving looking through your side windows.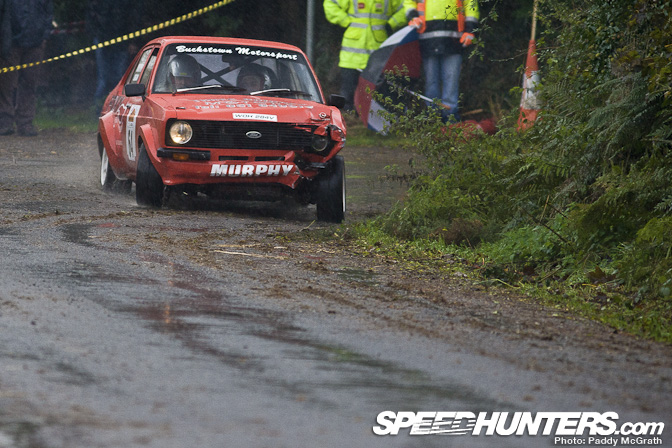 John Murphy lost some four minutes on SS3 to the class leader but would struggle on for the rest of the event and make it to the finish.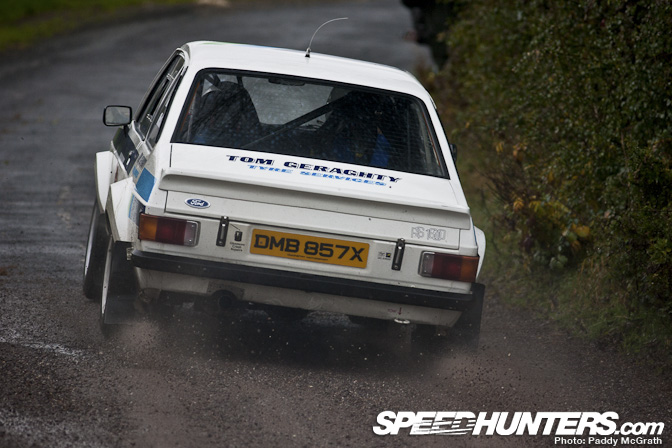 Arriving just in time on SS4 to see Kenny McKinstry storm to another class fastest time and fifth fastest overall.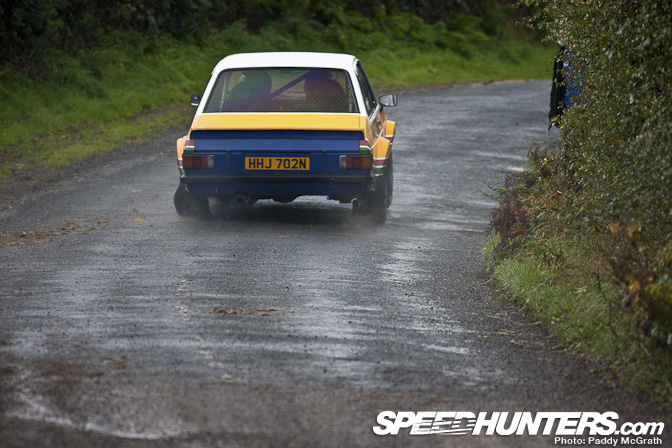 Donie Keating was less than three seconds off McKinstry's pace on SS4.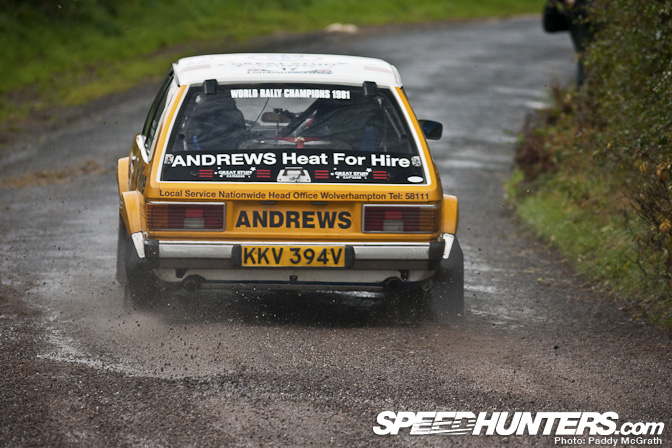 With Brookes following them up in fourth place on this stage.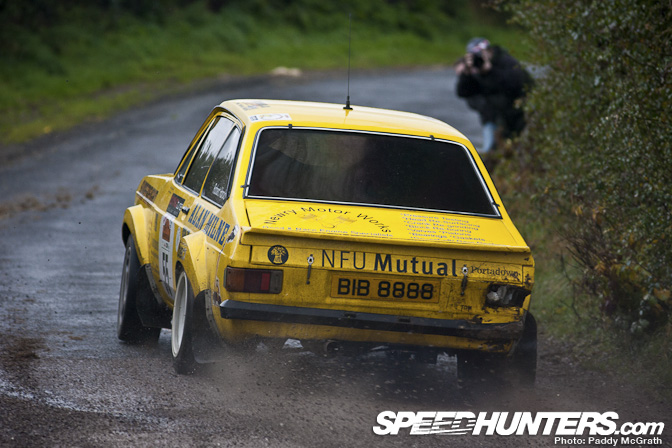 MKII Escort rear lights become even rarer again …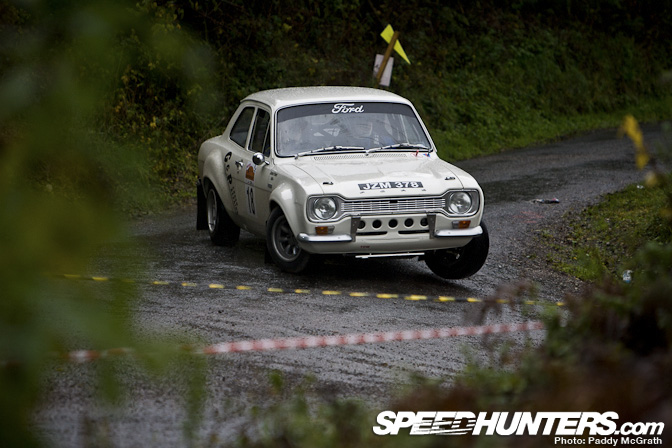 One of the best parts of covering a rally is the thrill of hunting the stages. Armed with an Ordinance Survey map it's a race against the clock to make as many stages as possible.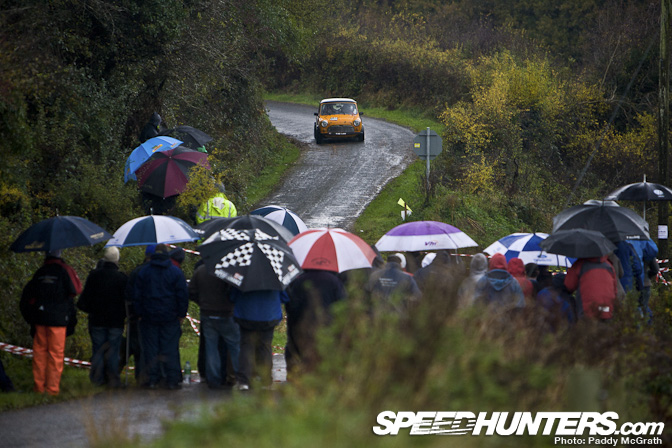 However, sometimes you're too late and all the decent vantage points have been taken so run back, get in your car and start searching for a good spot on the next stage.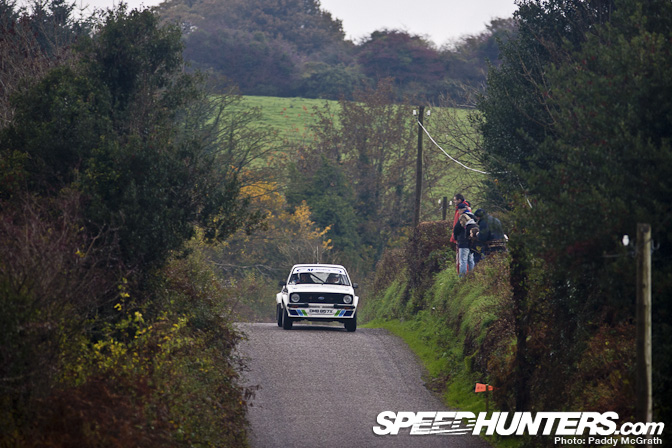 SS7 was the last of the stages we managed to take in on this one day event. McKinstry would oly be quick enough for second in class on this stage, being narrowly beat by Todd Falvey's 911 RSR.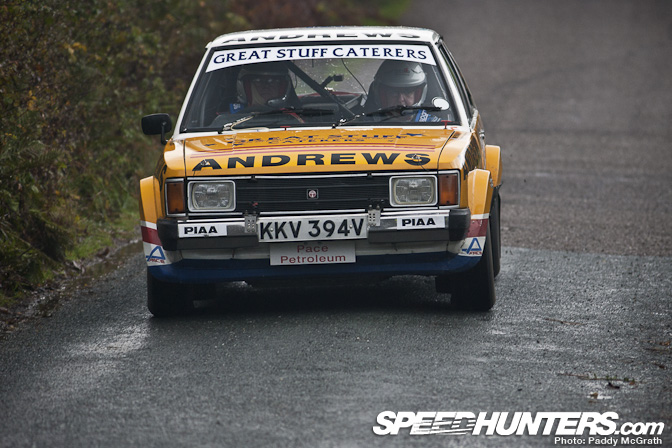 Brookes was fourth again in class on SS7, the Sunbeam struggling for pace against it's Ford and Porsche rivals.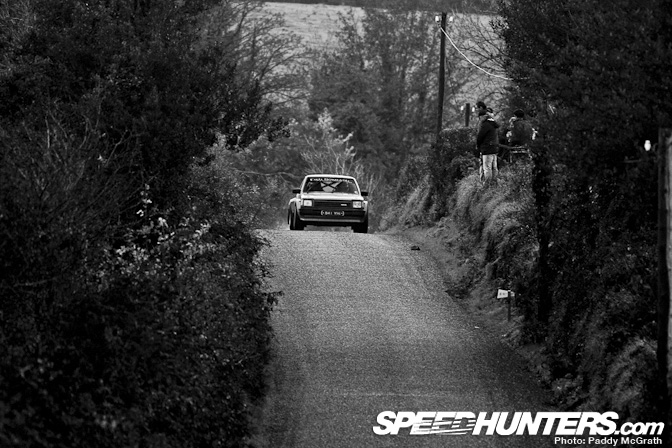 Mulcahy had cemented his grip on the class and overall win and cruised through SS7 to fifth overall on the stage.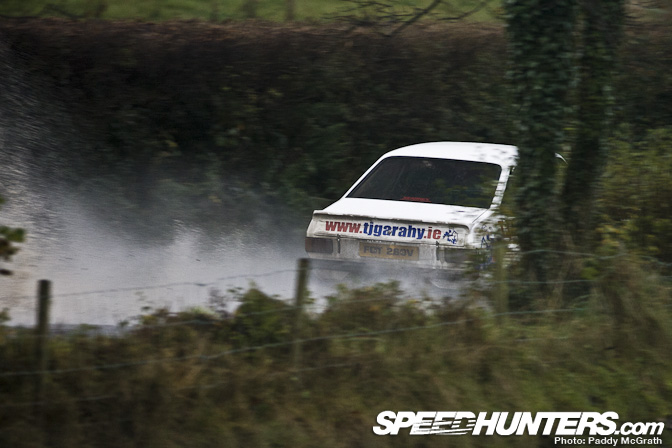 Trevor Culbert was quickest through with a time of 7:52.4 and an average speed of 110.7KM/H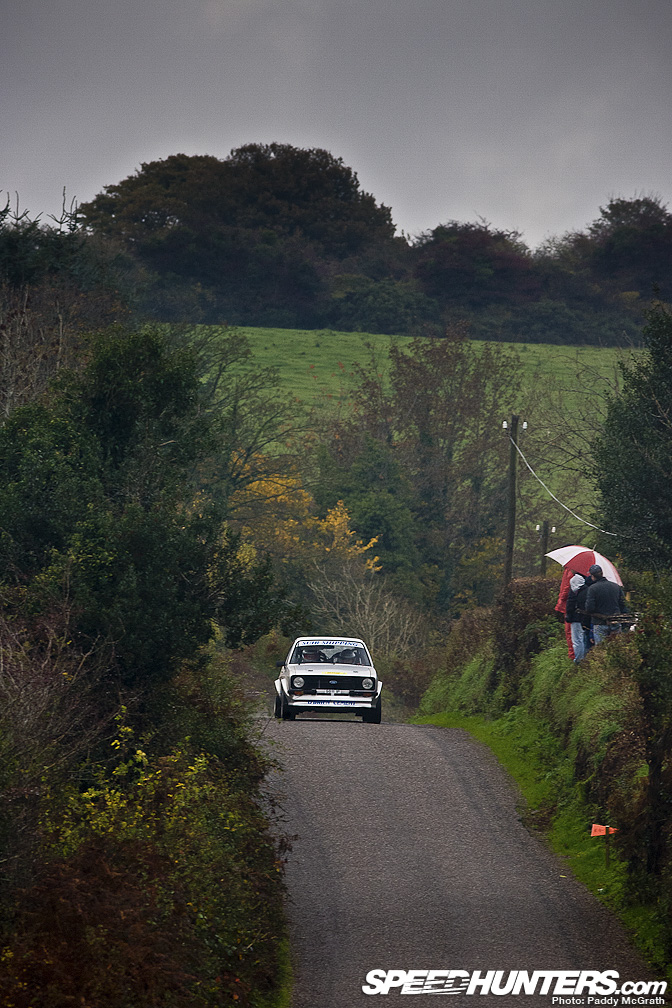 110.7KM/H (69MPH) for an average speed is pretty damn fast. Considering that's pretty much the motorway speed limit in the United Kingdom and the United States but instead of the safety of multiple wide lanes and crash protection barriers, you're hurtling down backroads barely wide enough in places to allow a car through. Add to this rain, mud and wet leaves on the road and you can really begin to appreciate how brave these guys are.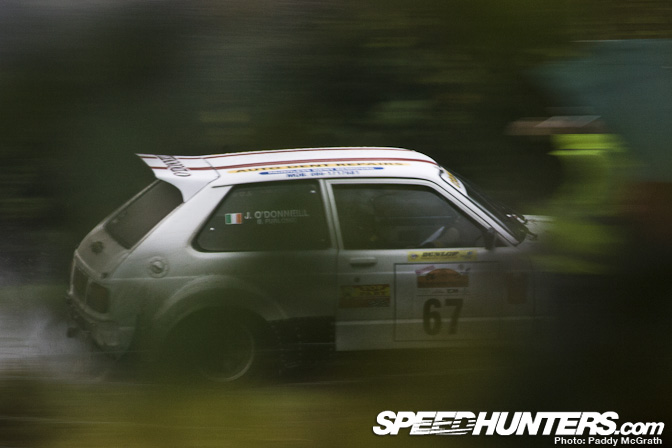 Leaving the stage early to make finish ramp, we could just about spot the cars passing through the trees on the next road down.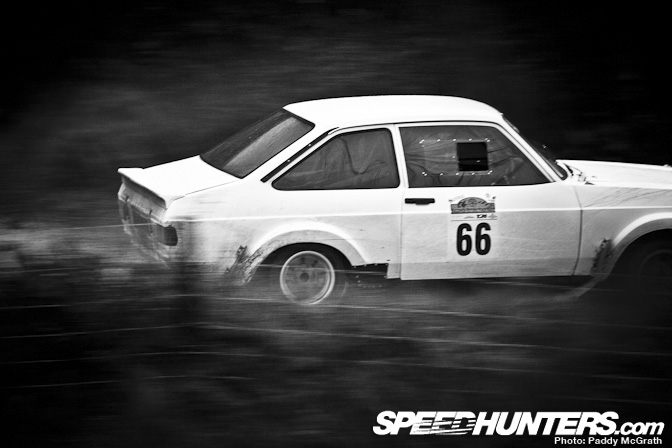 Even though we were soaked through, cold, tired and hungry ,you can't help but extract every last moment out of stages like this.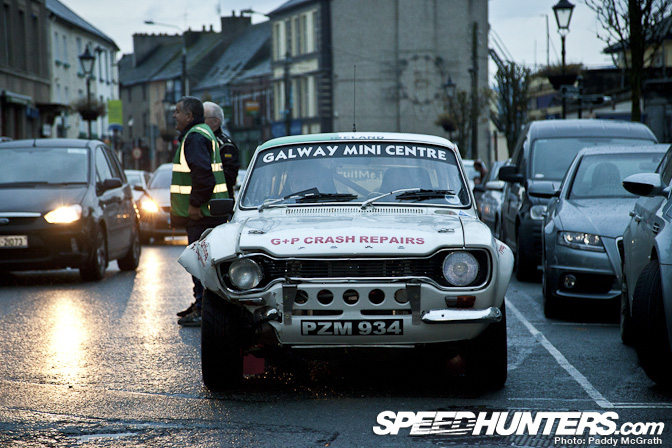 Despite an incident earlier in the Frank Cunningham's Escort made it through to first in the Post-Historics class. A result he'll be surely pleased with having travelled from Florida to compete alongside his brother Ray who also won his respective class,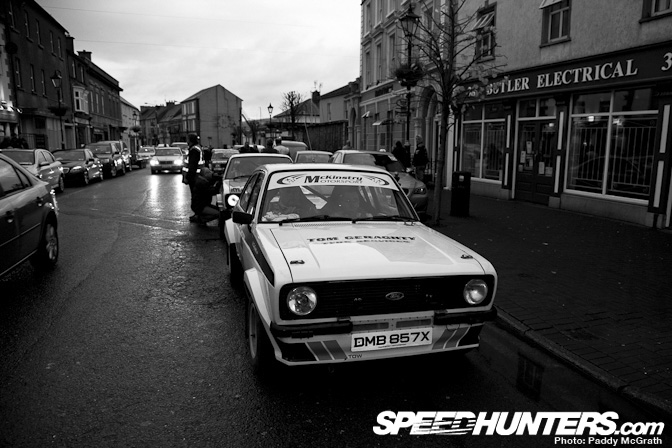 As the Classics lined up for the ramp in the middle of the small town of Carrick-on-Suir, it provided the locals passing through an up close and personal look at what had survived the day on the stages.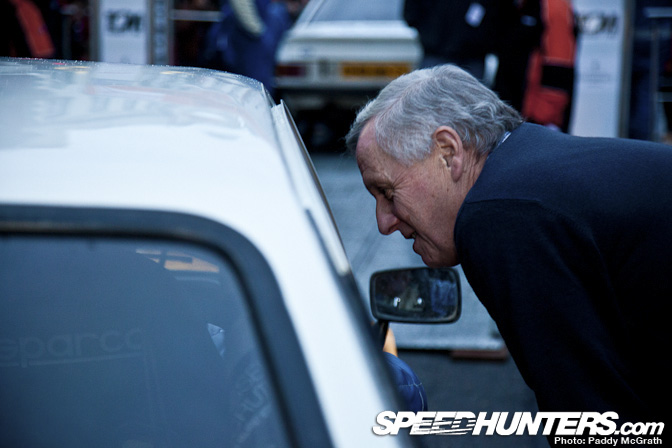 Although he retired after SS1, Jimmy McRae was first on the scene to talk to and congratulate each of the drivers as they made their way to the finish ramp.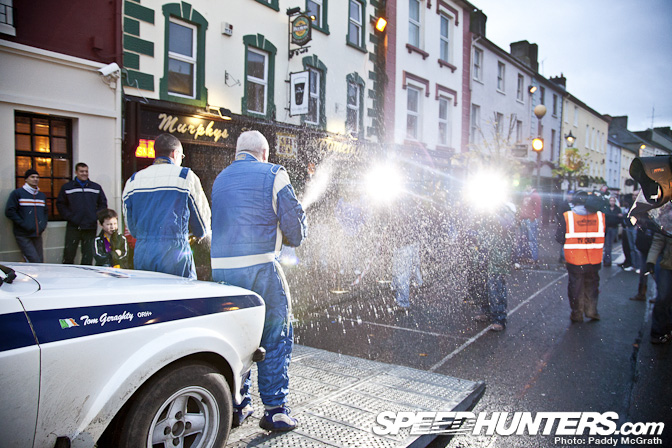 It was Kenny McKinstry who took a comfortable win in the class that everyone was watching, some three minutes ahead of Donie Keating.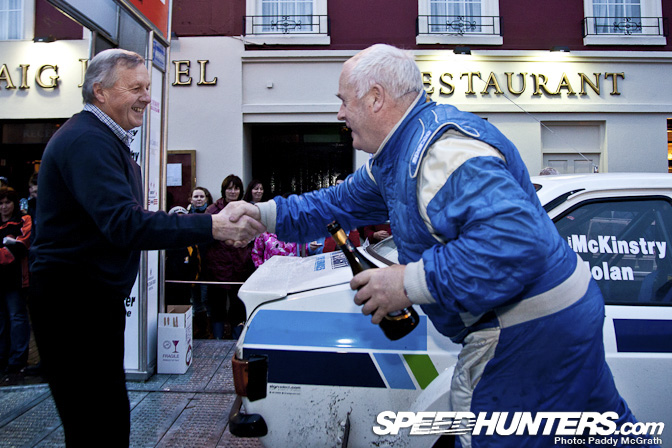 The respect everyone had for McRae and Brookes was plain to see as McKinstry hands McRae his champagne bottle.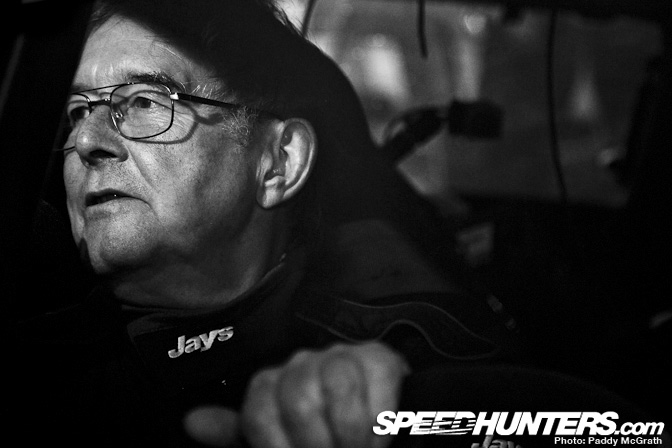 He might be an OAP, but Brookes was still quick enough for third in class at the end of the day on stages he hasn't driven since the 1980s.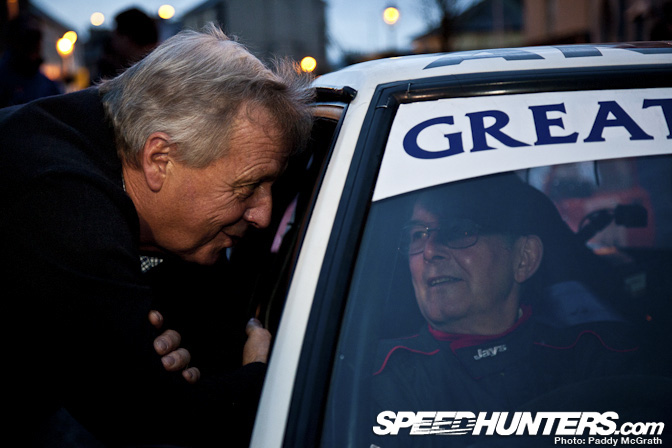 Watching McRae talk to Brookes after the event was just an incredible feeling. Here were two of my all time favorite drivers casually chatting to each other just twenty minutes from home. I was finally getting a chance to experience what those in my family always talk about.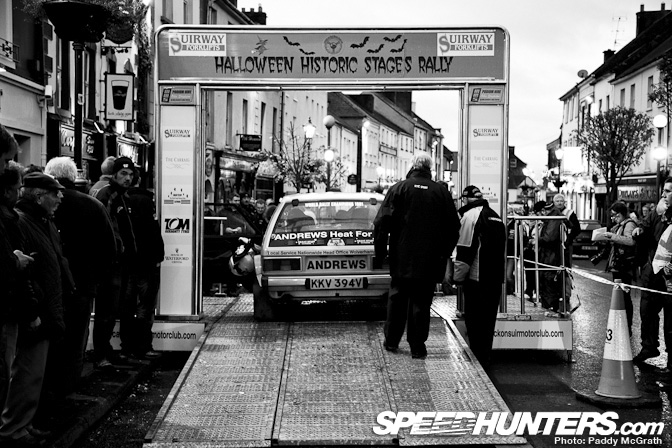 As he rolled across the finish ramp, Brookes was asked would this be his last event. He smiled, looked at the person and politely said 'I doubt that'.
Just want to add a small thanks to the Carrick Motor Club Chairman Terence Kearney and Press Officer Trevor McGrath for their hospitality during the event. I'm looking forward to seeing what they come up with next !
-
Paddy McGrath