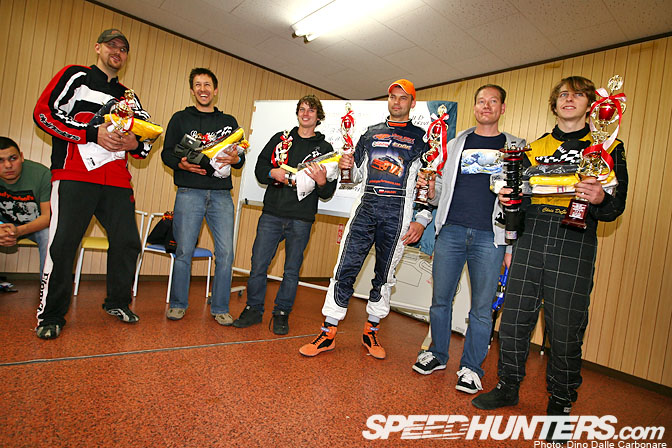 The final of the first full year of G1 Grand Prix came to a great end with an afternoon full of well-fought battles. After a quick ballot session where the pro drivers picked who they would go against, it was on to the tsuiso runs that kept everyone entertained right up until the final. Chris DeJager has become the first ever G1 champion and in the process not only took home an impressive selection of prizes from the many sponsors of the event, but was awarded a D1 Grand Prix license!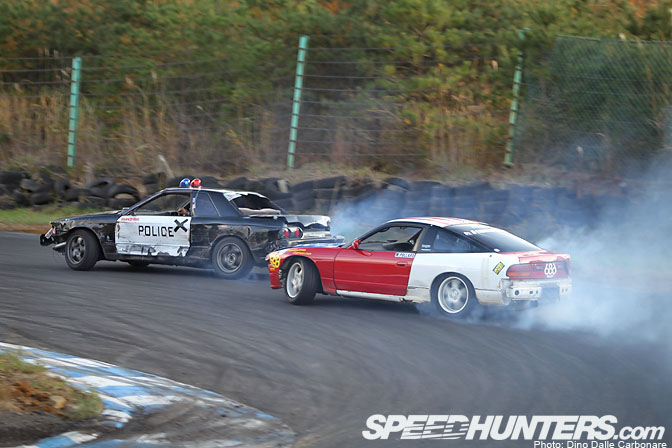 John Dreyer and Mike Pollard wrapping up their tsuiso run as they power out of the last corner. John ended up in 17th position while Mike finished his first G1 in 7th.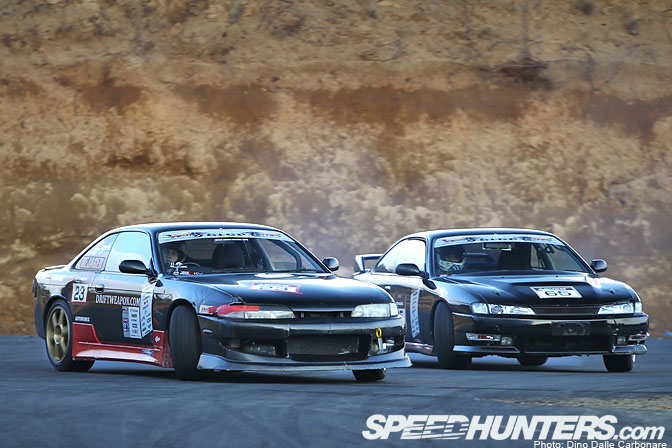 The 2010 WDSC Nations Cup winner Federico Sceriffo was back out competing in the G1 with a black kouki S14 Silvia. Here he is chasing Chris DeJager in his zenki S14.  Federico finished his first G1 in 12th place.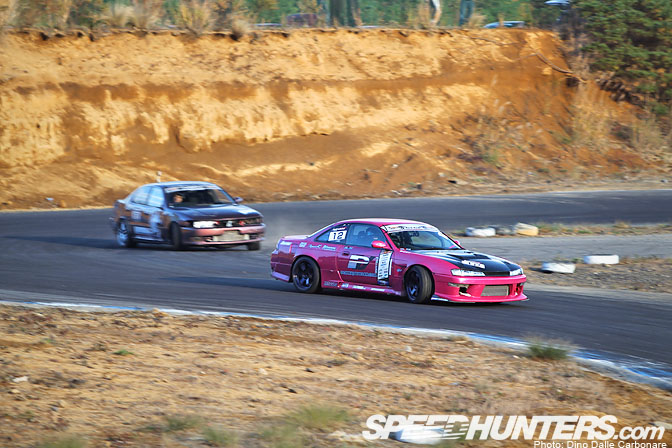 Emily Loudon in her Koyama-tuned pink S14 ended the day in 16th position.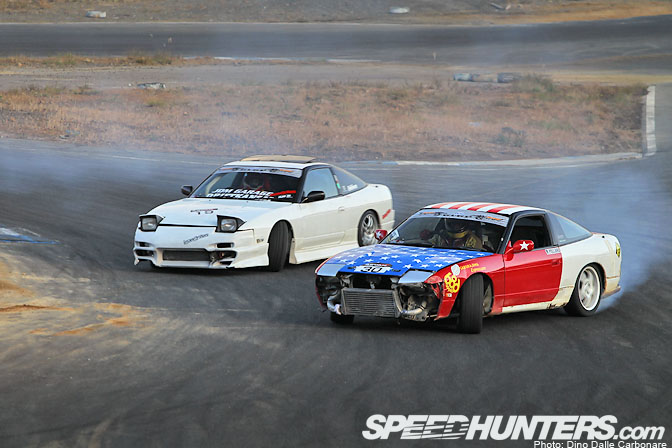 Pollard again this time against Daniel Buchner in his 180SX. Daniel grabbed 11th spot.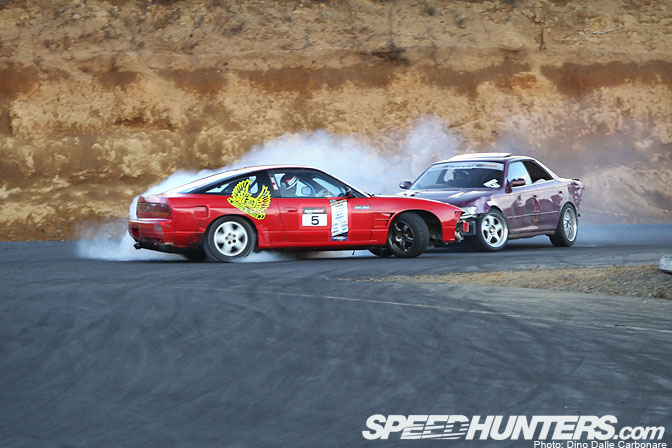 Aussie driver Andrew Paraskevas ended up spinning his RPS13 in the transition after the hill during his battle with Leigh Pidwell. Andrew placed 10th while Leigh managed a 4th spot finish.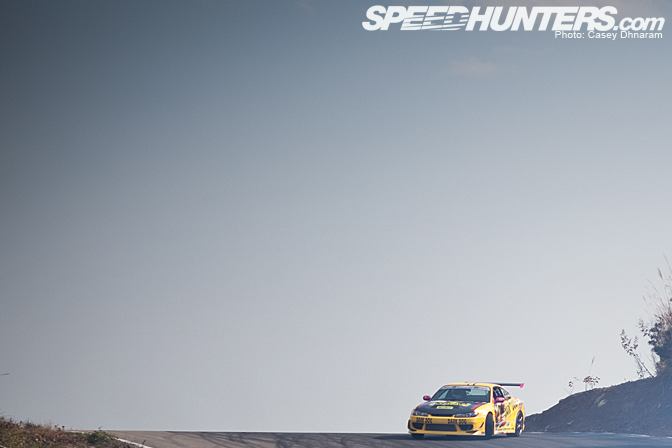 To allow everyone to have a go at some tsuiso runs a novice class was created where the top six drivers that impressed the judges, but didn't qualify for the Best 16 battles, would get a chance to go against each other.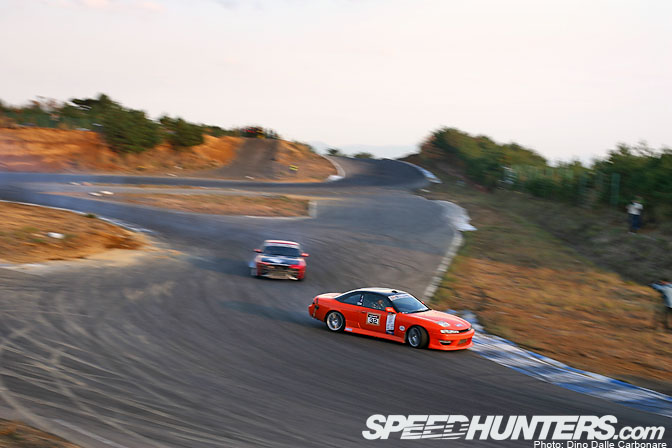 The professional way in which all drivers approached the battles…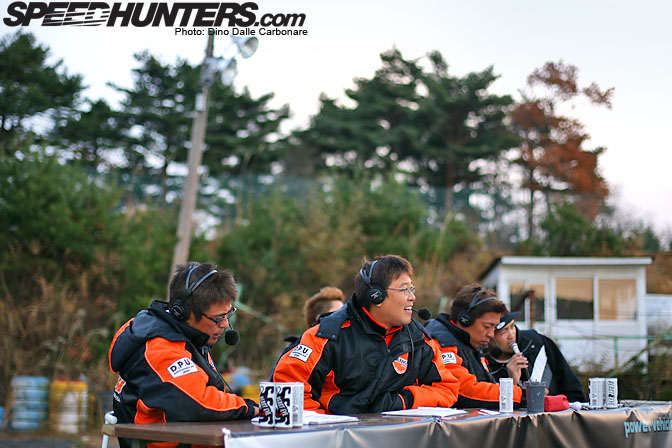 …was really impressing the judges who, with so many foreigners let loose on the Nishi course, were probably expecting some kind of mayhem. With everyone so well behaved Kumakubo seemed to really be enjoying the show! It's when things go this smoothly that allows great events like this to continue to grow and attract more interest, so respect to all drivers!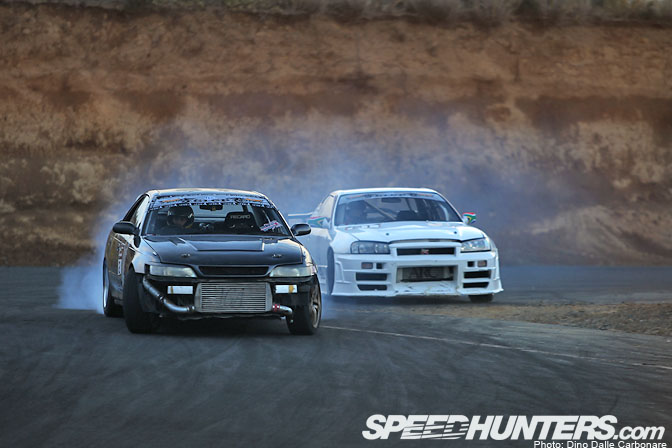 Leighton Fine, who won the previous round in summer managed a 5th spot finish. Here he is against South African Wade Zummeren in the Bee-R R32 who placed 9th.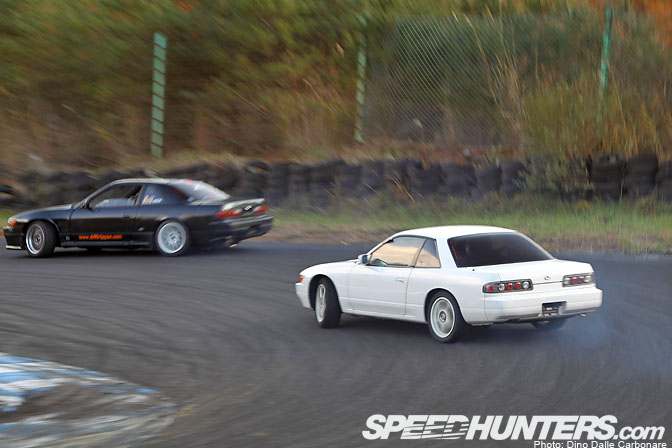 "Disco Stu" Sterling up against South African Sean February. These two guys, both behind the wheels of S13 Silvias, finished in 13th and 18th spots respectively.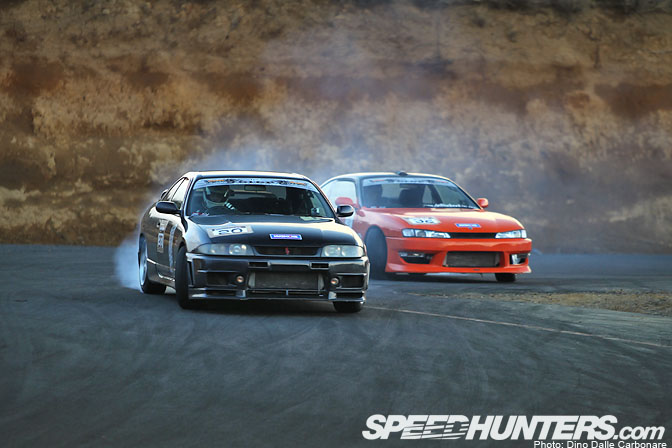 Paulo Cristovao from Portugal in his big R33 Skyline was having a great time at his first G1. He managed to finish the day in 8th spot while Maciej Plody from Poland did a superb job with the Team Orange school S14 ending up on the podium in 3rd spot.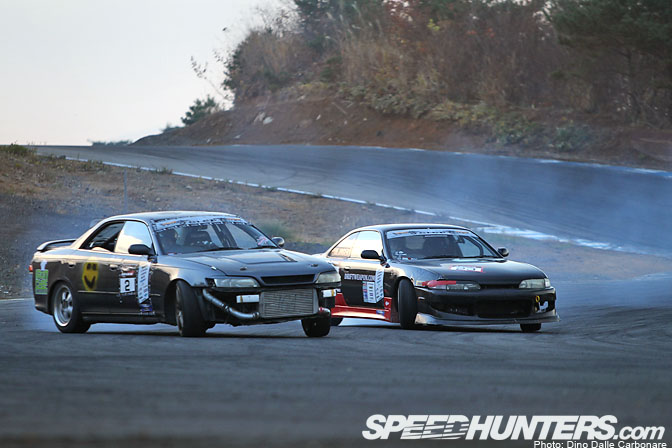 The driving was superb as the battles progressed towards the semi-finals. Here is Leighton and Chris going up head to head…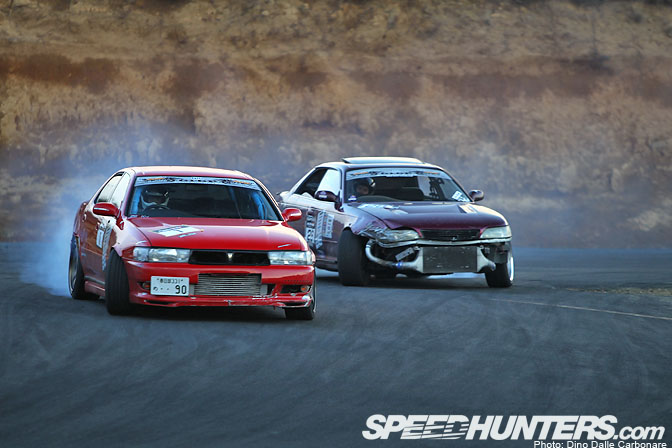 …and Andy versus Leigh in a battle of the 1JZs!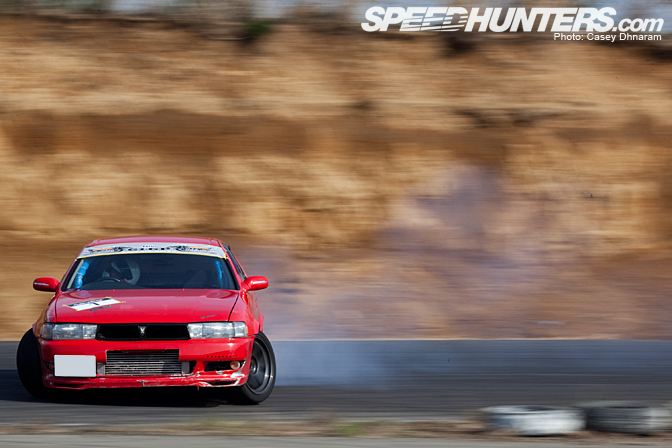 Andy in his Powervehicles-red Cresta ended the day in 6th position.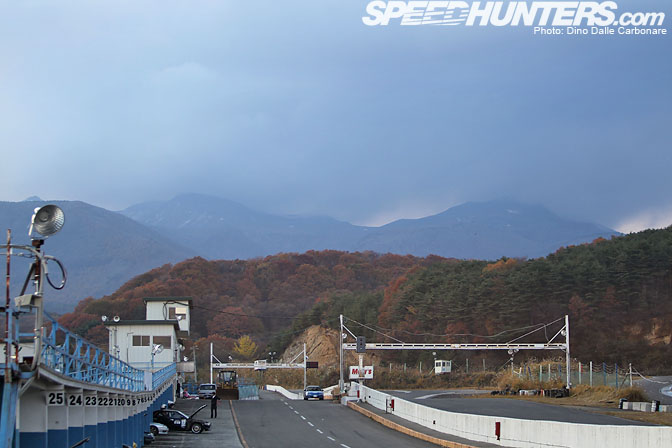 The menacing clouds that seemed to slowly make their way from the mountains towards the circuit…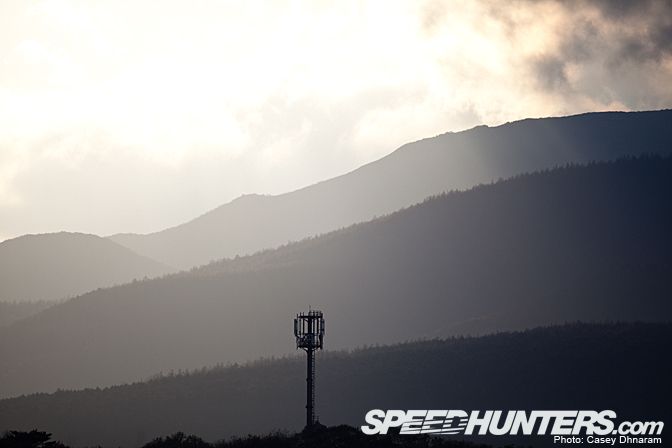 …,arrived just in time for the final bringing strong winds…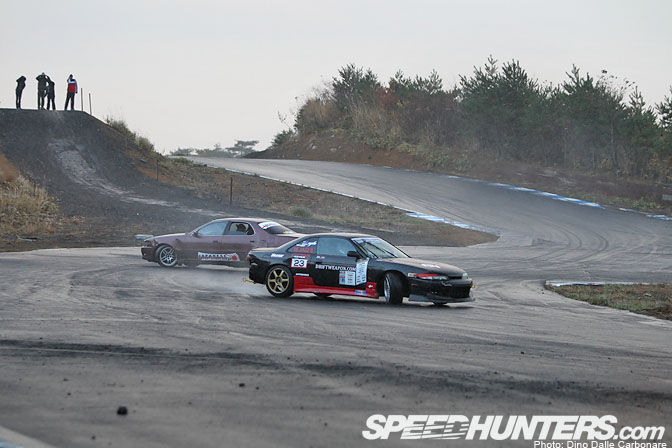 …and a cold sprinkle of rain. This instantly made the track extremely slippery and on his chasing run Andrew Sunderland spun out, allowing Chris to claim the win for Round 3.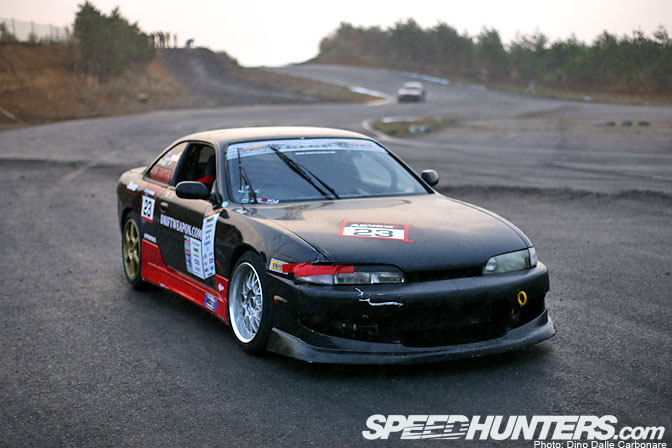 As we will see in the next few days Chris's S14 wouldn't stay this pretty for much longer!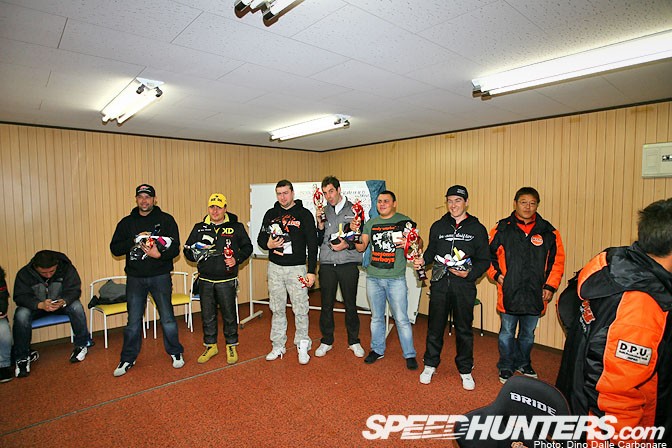 The six drivers in the novice group were first called up and given their prizes.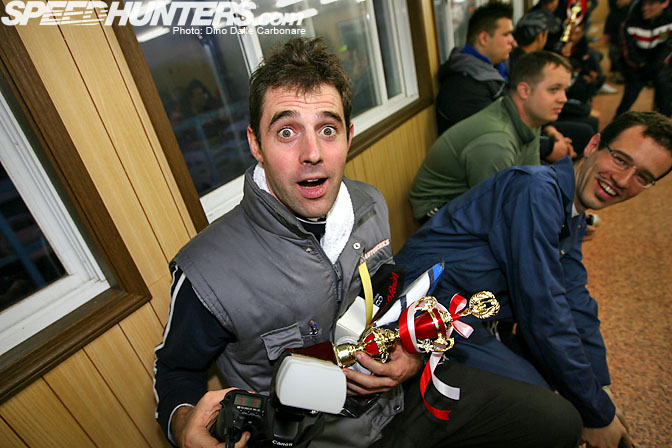 JC Pepino of AutoWorks magazine thought he did really bad in the first event with his S14 but a third place in the class had him extremely surprised. Congrats JC!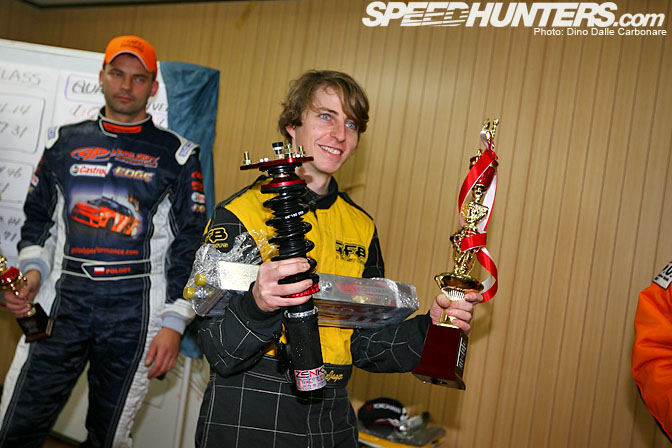 Chris was looking rather pleased with his win and even took home an adjustable Zenky Racing suspension kit for his car! With a D1 Grand Prix license in his pocket Chris couldn't get rid of that grin for the next few days!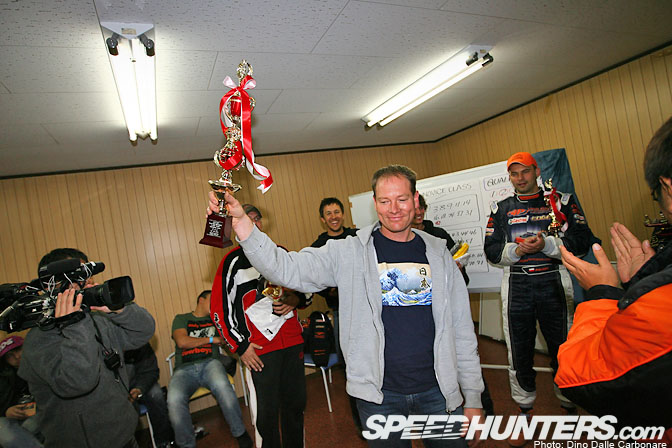 Well-deserved second place went to Andrew Sunderland who, despite the unexpected wet conditions in the final, put on a great show.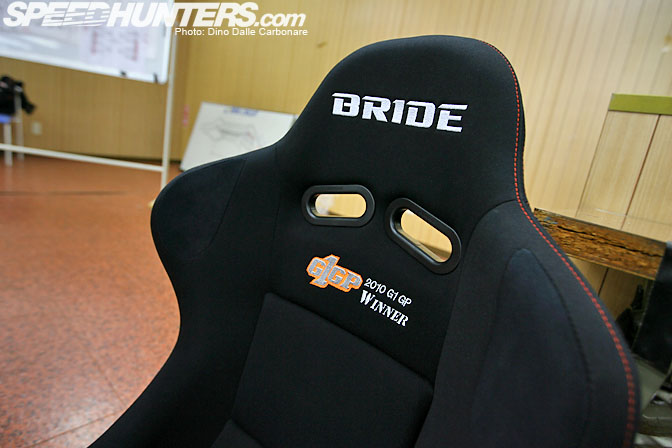 Chris also took home this very cool Bride seat, with G1GP logo and everything! Very nice!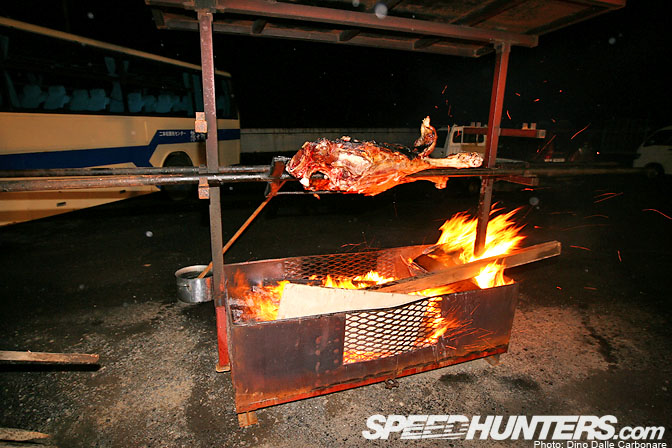 The G1 celebrations continued late into the night with the massive BBQ Team Orange put on. 150 kg of meat kept us all very nicely fed!
Needless to say everyone involved is already looking forward to the next G1 event, which as ever will be held on the Friday before the next Spring Drift Matsuri! See you all there!
-Dino Dalle Carbonare