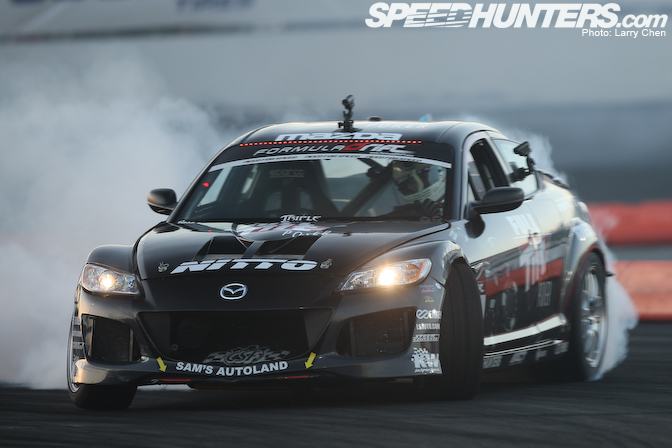 What an amazing 2010 season! I learned so much in the Full Tilt Poker Mazda Nitto RX-8 this year and enjoyed every moment from getting behind the wheel of the drift vehicle to interacting with all of the dedicated fans.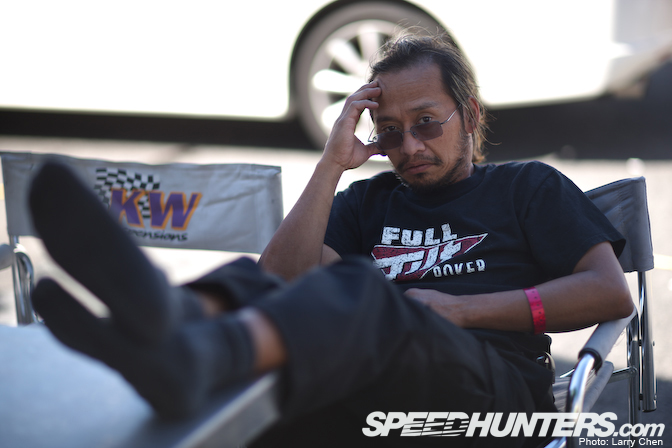 Here is the man, team manager Ron Bergenholtz plotting out his day while relaxing on the KW Suspension chair. He was up all night making sure the Mazda is at its prestige condition. Although the RX-8 didn't have any issues he made sure every piece on the car is at 100% ready to battle it out at the Formula Drift Finale!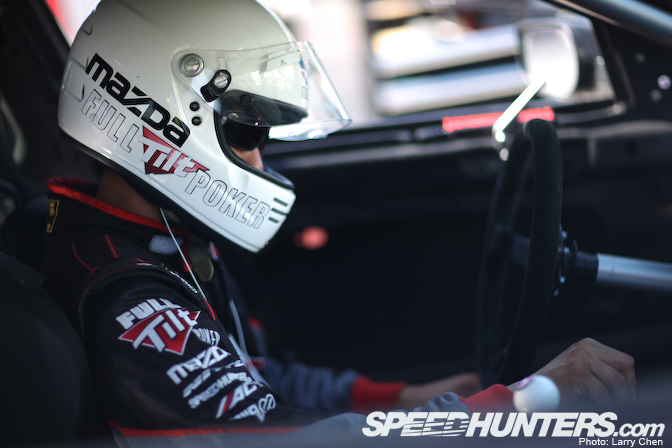 Got my Sparco helmet and gear on before getting behind the wheel of the well engineered Mazda RX-8. I learned this year that being comfortable in the cockpit is very important. Thanks Ron for hooking me up with all the Sparco USA gear!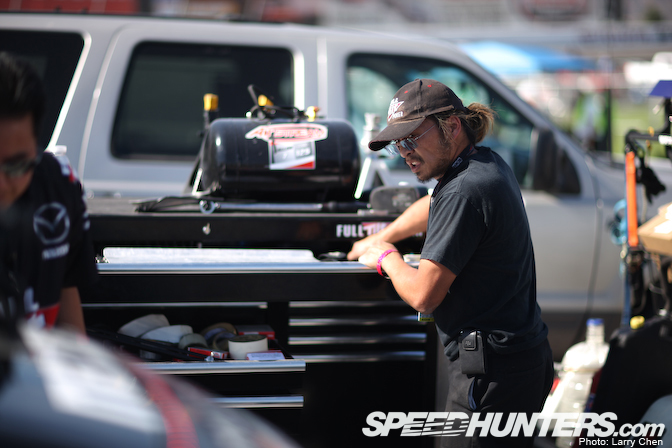 That expression you see on my Team Managers face is the expression you'll see when it's time to take out the Mazda out onto the track. He is completely focused on the BR program, full of passion, dedication, perseverance and does his utmost best to be a perfectionist. I'm glad that the team prepped a Genius Tools pit kart. Being organized is one of the key point in running a successful racing team.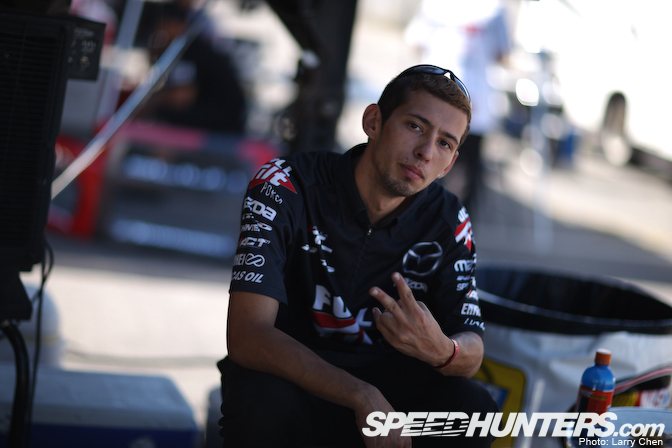 Mario Bergenholtz, Ron and Ed's cousin joined us for the weekend to give us an extra set of hands. Thanks for your help Mario!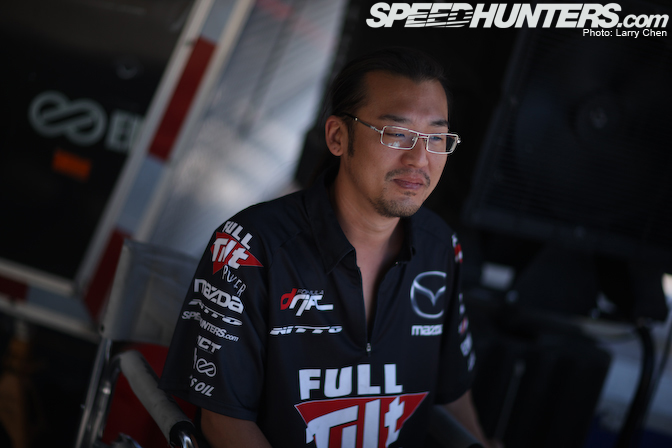 Much respect for David Nam to show support to the Sport of Drifting all the way from Dallas Texas! We all appreciate your time David Hyung!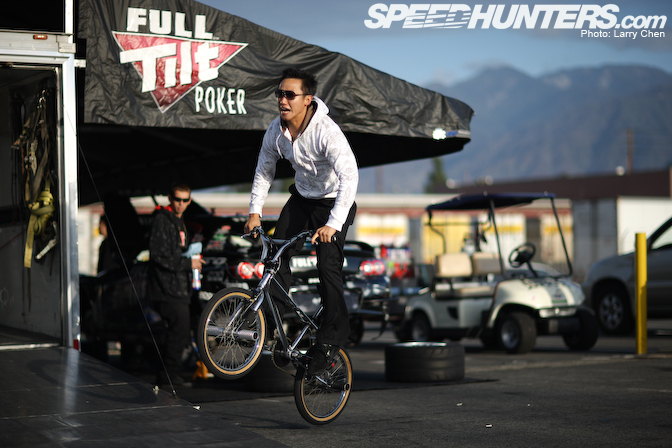 Morning exercise on Ron's BMX. I need to work on my bunny hops! Need more air!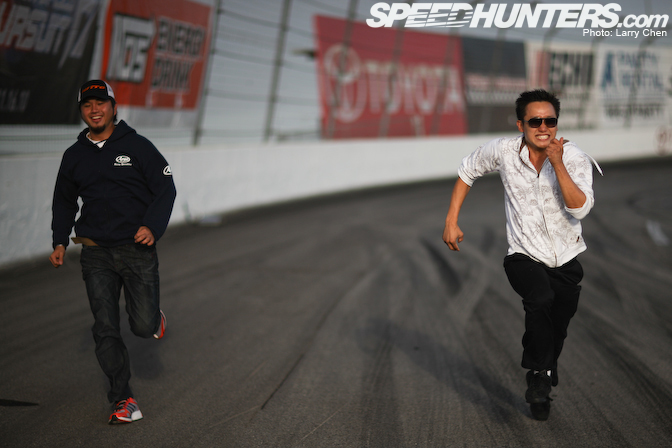 Prior to Formula Drift Round 7 I invited everyone via twitter/facebook to join me for an exercise session at the track early in the morning. Thursday morning Charles Ng driving the Nitto Tire Mazda RX-7 joined me running the track and bleachers at the House of Drift! Exercising before a race keeps the drivers mind and physical condition strong throughout the important weekend.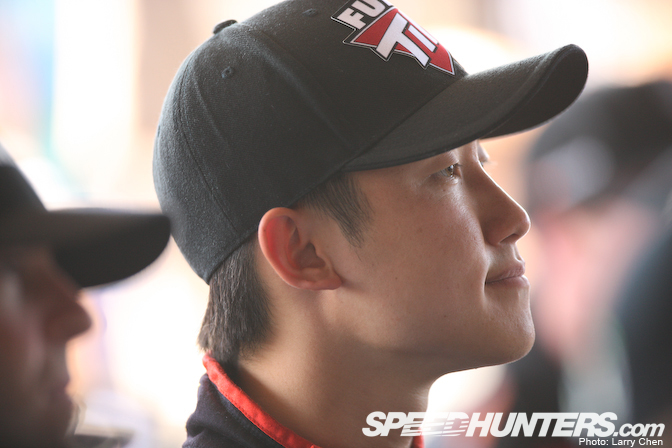 I'm so happy to be living the dream driving for Bergenholtz Racing in Formula D. My heart will always be grateful and be faithful to those that made my dreams come true for eternity! During the drivers meeting it's very important to be focused 100%.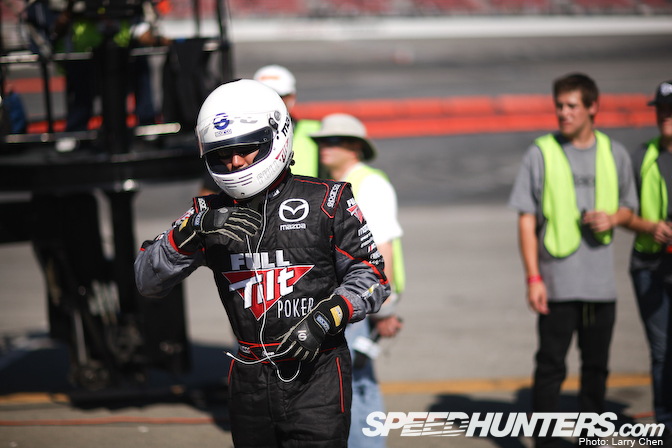 During practice I spotted a heat wave on top of the hood of Samuel Hubinette's SHR Dodge Challenger. The safety crew flew in and put the fire out in a jiffy. But meanwhile I was still buckled in the Full Tilt Poker Mazda Nitto RX-8 and inhaled all the chemicals from the fire suppression system. Once I was ejected from the Mazda I was relieved to inhale some oxygen.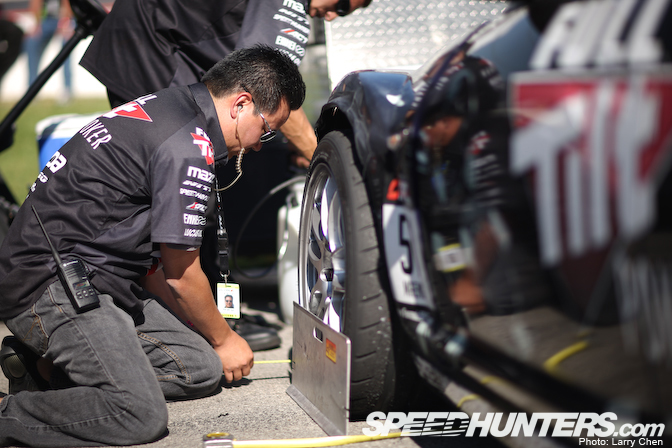 That's my crew chief Derek I. doing the alignment after having contact with Eric O' Sullivan during practice. I'm glad we have durable ENKEI PF01 wheels and the Baker Precision A plates on hand. Thank God there were no major damages!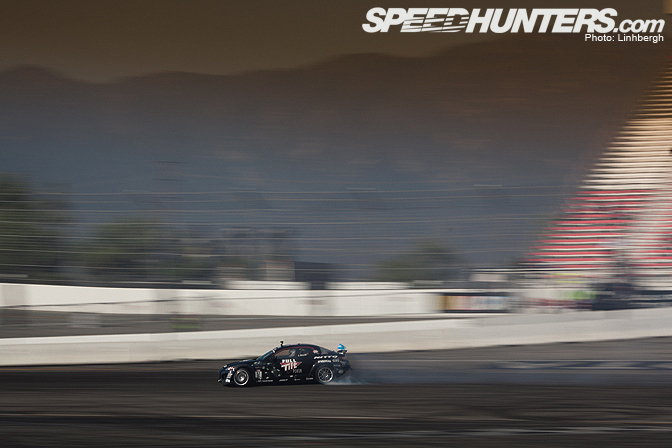 We made a few changes on the Mazda for the Finale and it felt phenomenal!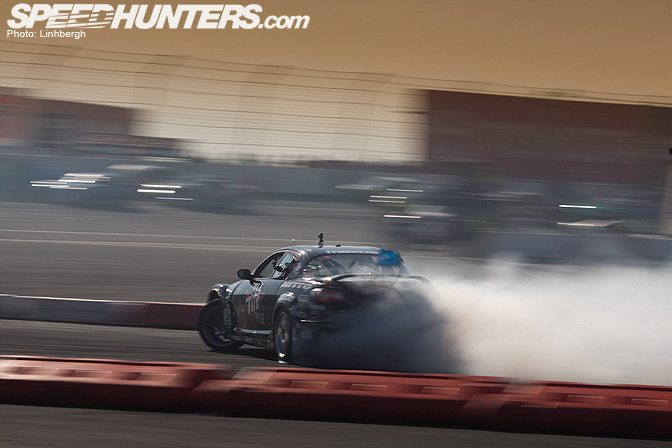 During practice I was checking off my "to do" list that I had on my phone.  With the new driving techniques and changes we've made on the vehicle it seems like the Full Tilt Poker Mazda Nitto RX-8 is faster throughout the course and smokes up the Nitto NT05's even more! ? Good stuff!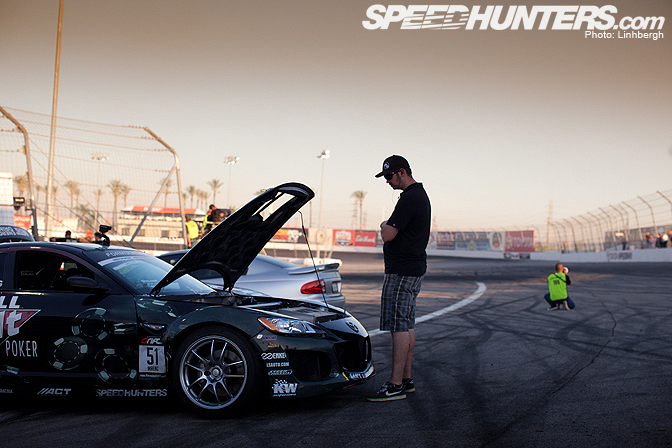 This is where we parked the drift car, near the start/finish line. Before we were up for qualifying the Pro-Am drivers were on track. So instead of going back to the pits, we decided to stay on track to support and cheer on the up and coming drivers! It was awesome to see so many talented drivers on track! 
The gentleman checking out the 3 Rotary MazdaTrix setup is Chirs Forsberg's manager, Blair Stopnik, from MMI (Motorsports Management International).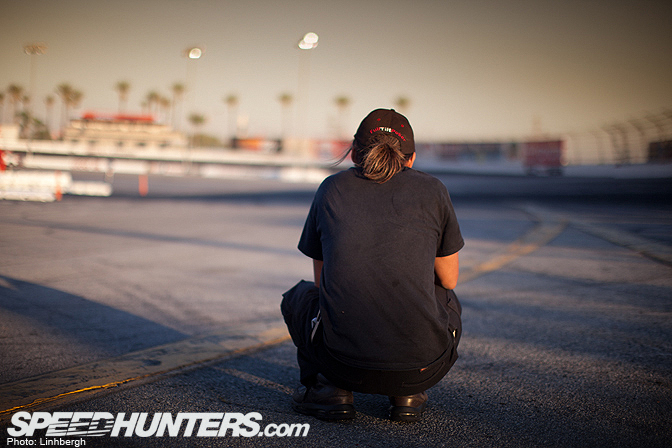 We had the best seats during the event. Viewing other drivers on track is the best angle to witness precise driving techniques. So many different styles and through it all their true character shows from the way they drive.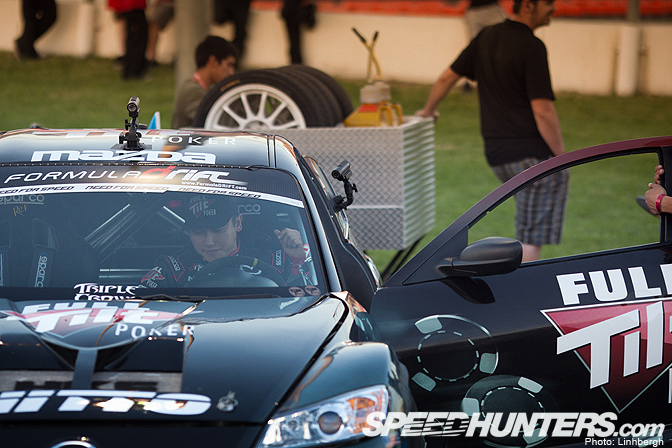 The other day one of the guys I met told me to stop smiling, be more fierce and show no mercy. But that is not who I am. So I told him I'll smile for the both of us and smiled even bigger. The only time I have no mercy is when taking off from start to the finish line.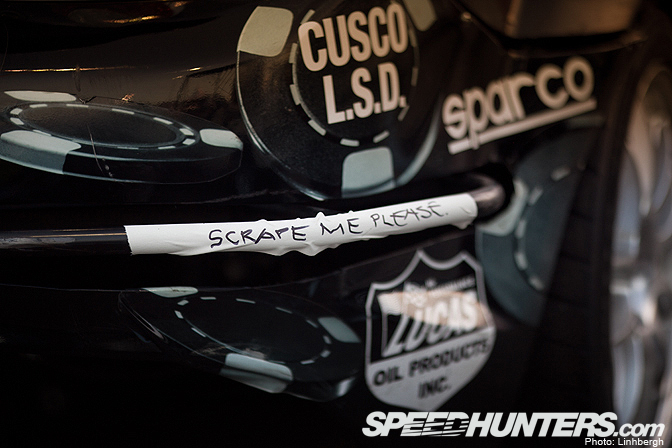 This white race tape reminds me of the word "Fail". Ron @ Bergenholtz Racing told me to scrape off the tape from the rear bash bars. I tried my best but was not close enough to scrape it off the Irwindale Speedway Bank! Sorry, mission failed. But I'll make sure to accomplish that mission in 2011! Gotta think positive!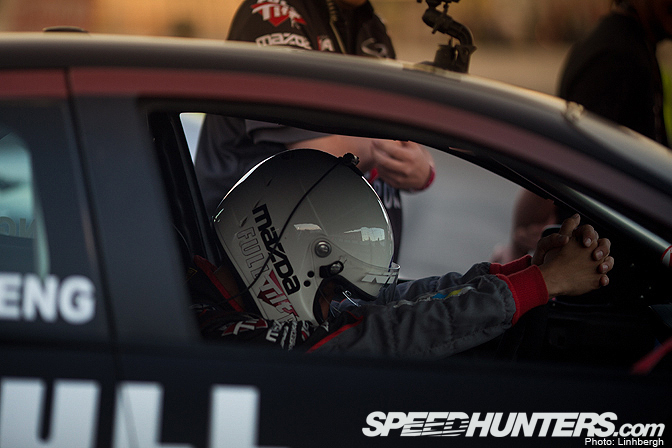 Since the first day I started drifting and got behind a wheel of a drift/race car, I always pray for guidance, strength and for HIS will be done. As much as I want to win and be on top of that podium every event I want what is ultimately God's will/plan for my life. 
I'm trying not to be selfish and don't ever want to catch myself praying for me, me, me, me and me. I want to pray for others and want to serve to make this world a brighter and better place! 
That's my ultimate goal in life. Without faith in the Lord and patience I would have given up a long time ago. Jesus Christ is the center of my life and I wouldn't be who I am without HIM in my heart.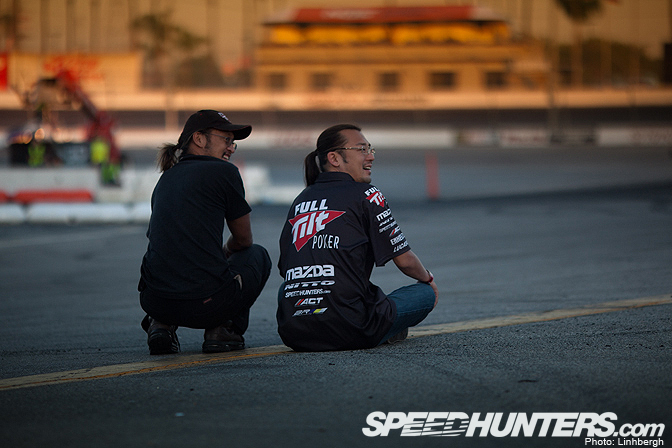 Everyone was having a good old time! We cherish every single moment we experience on the track!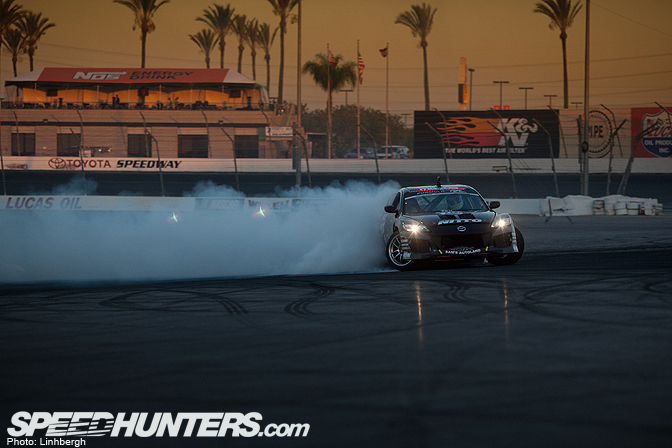 That's a cool shot! Looks like there is an invisible car beside me running tandem….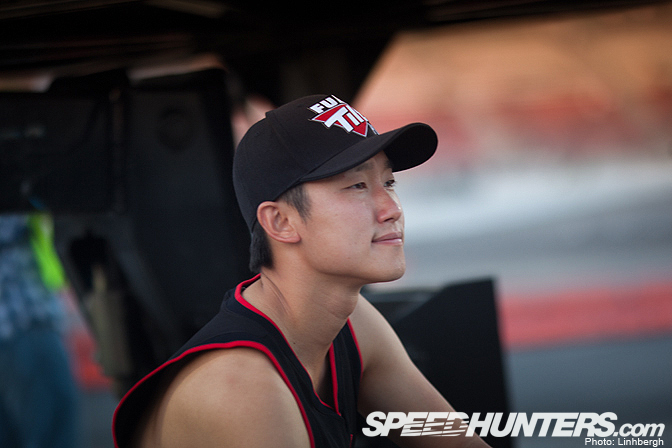 Thank you Full Tilt Poker for the FTP jersey! It kept me cool and dry under my pits during the event! I didn't stink as much after the event.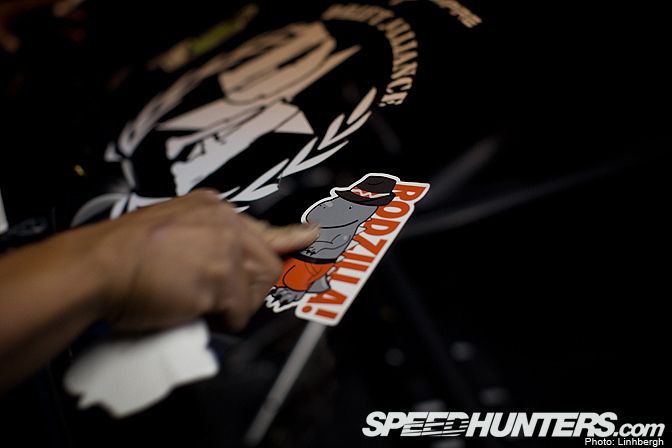 That's a Rod Chong special edition sticker called RODZILLA! That fancy hat resembles Rod very well. Thanks for the VIP tickets during SEMA, Rod!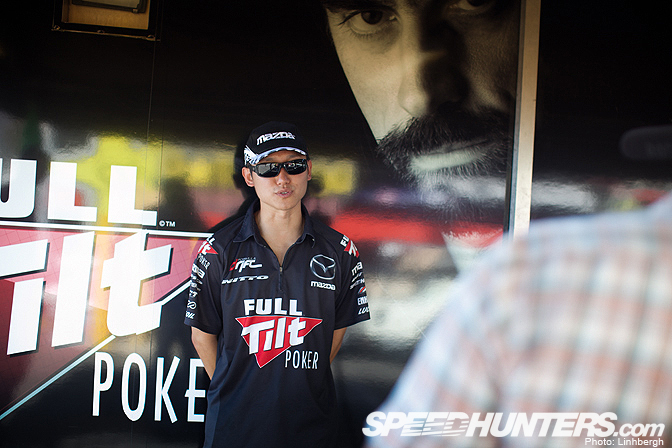 I was grateful to have so many interviews during the finale. Thanks for your expertise film crews! Hope to see you all at local events during the off season!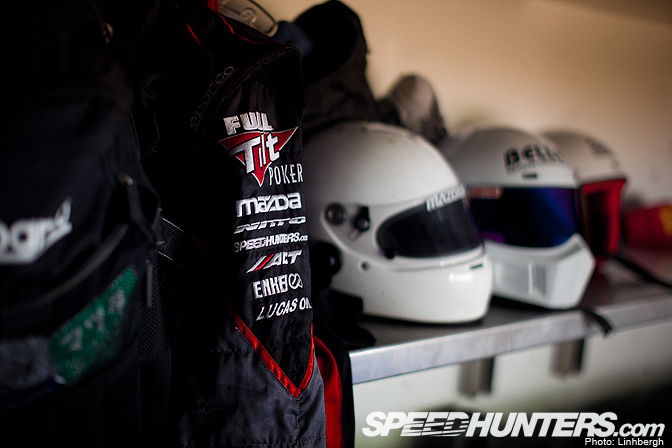 This is where I change into my Full Tilt Poker Race Suit. Ed brought a lot of spare helmets and my backup suit so that Laura Nativo can get a ride along in the Mazda! Here is the video.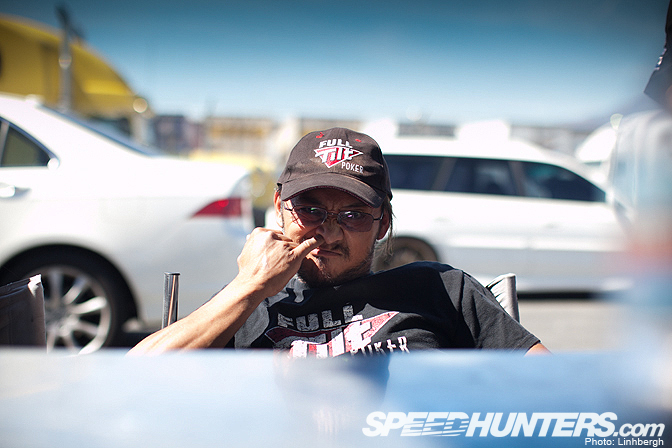 Wrong finger Ron, the thumb picks up better! Lol….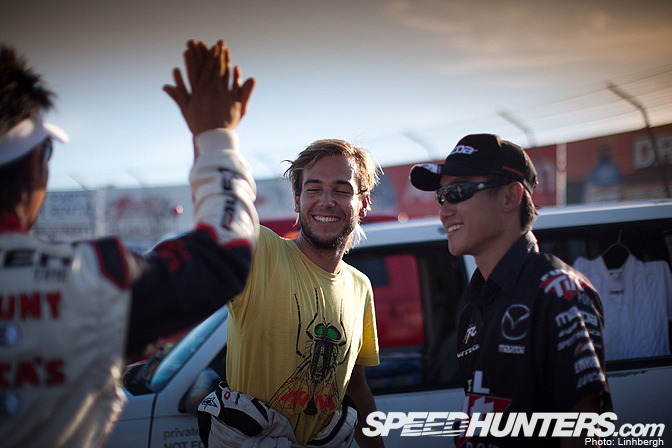 I was filling up the tank on my daily driver on Saturday morning and saw green and black zebra sunglasses and it reminded me of my fellow Nitto Tire teammate, Matt Powers driving the Team Need for Speed S14! So I had to get those for him. 
Glad you like it Matt! Keep up the great work and looking forward to seeing one another on top of that PODIUM!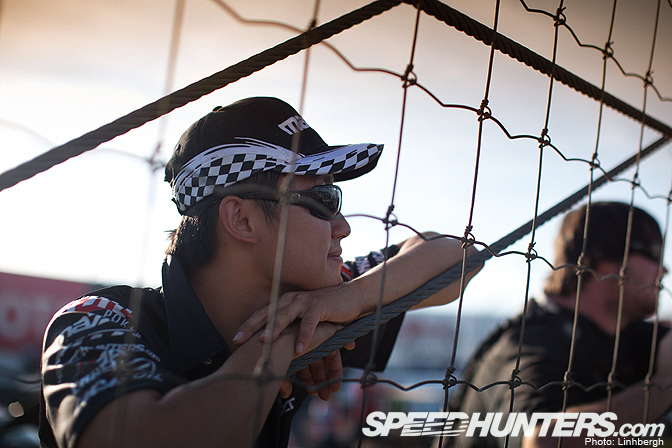 I'm not only a driver but a big fan of drifting. On my spare time I enjoy watching other talented Formula Drift Drivers!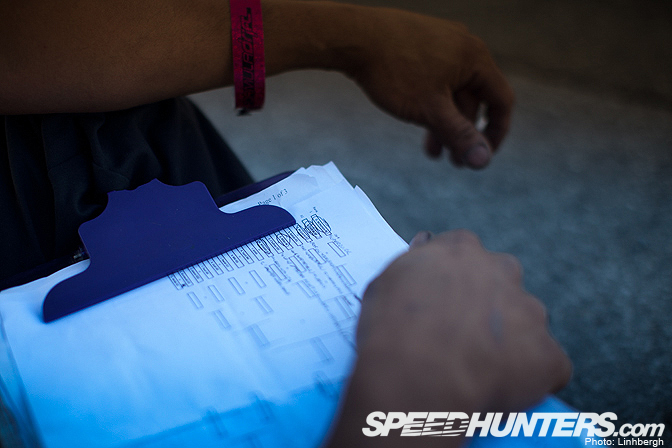 Let's see how the bracket is looking…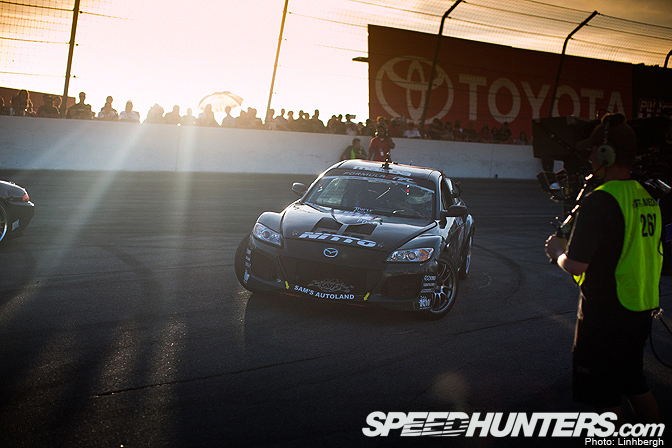 Time to grid up.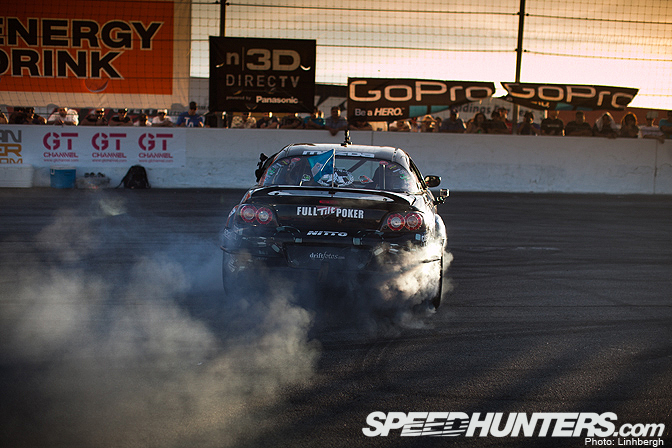 Warming up the Nitto Tires.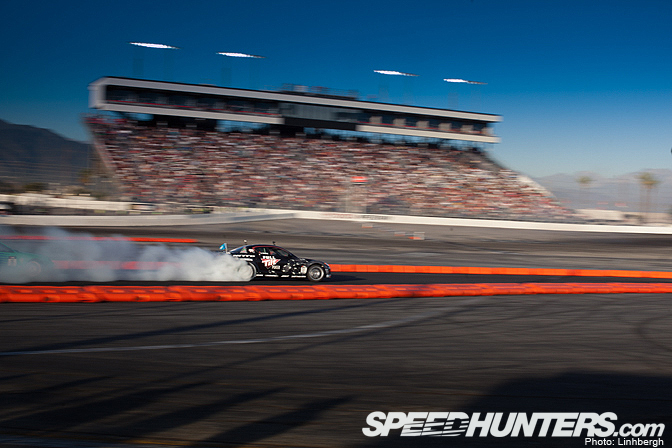 Look at the grand stand. It was a full house, packed with hardcore drift fans! Thanks for making it out and joining us at the Formula D Finale!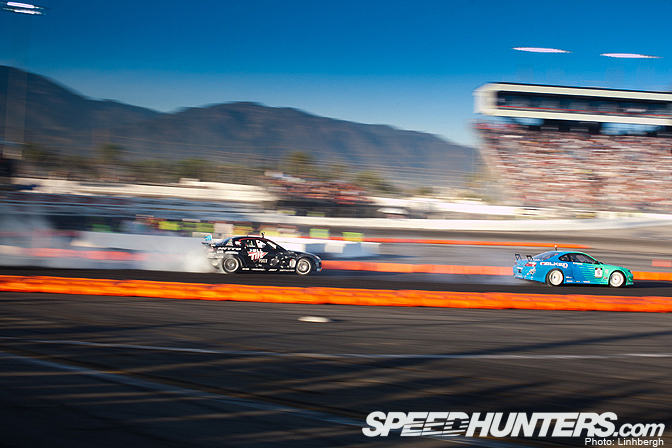 For the Top 32 battle we were matched up with James Deane driving the Falken S15. Wow, I was amazed of how great he drove! I lead the first run and was a pretty even battle.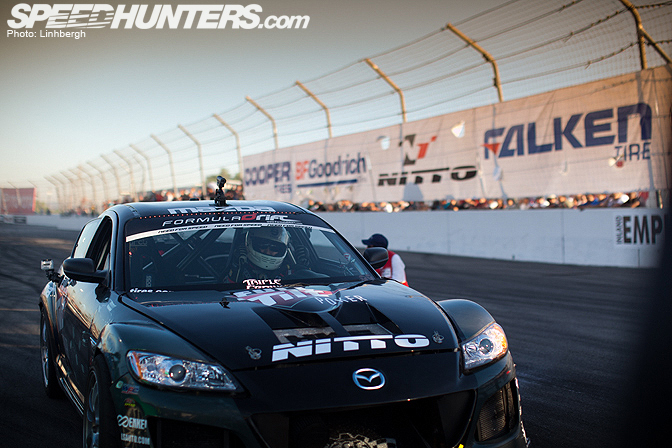 This was it, the last round of Formula Drift! Time flew by so fast! I was so excited!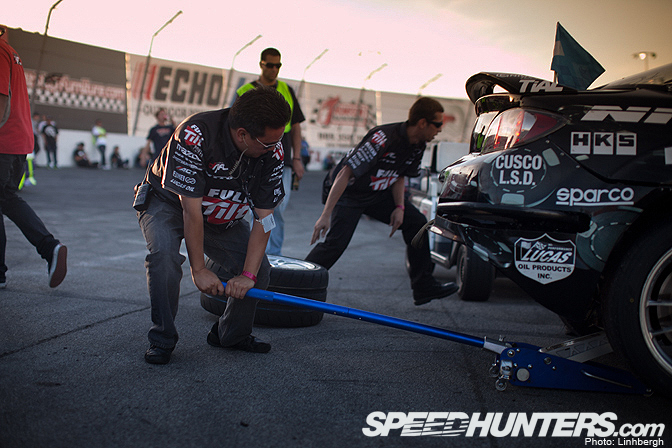 Looks like the judges decided an OMT (One More Time)!!! The team was on top of it and got the Full Tilt Poker Mazda Nitto RX-8 up in the air in no time!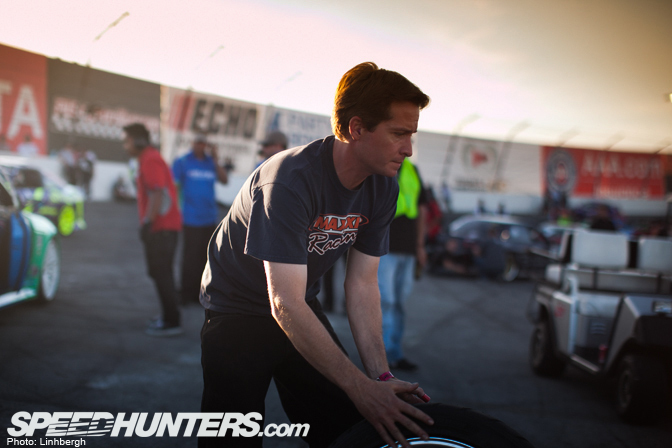 Ah, Kevin Wells, of LSAuto.com and crew chief of Chris Forsberg Racing, is highly respected amongst all the drifting/racing teams! He is very talented in building reliable, efficient and competitive drift cars!  Without Kevin Wells, Sergio Ramirez and Chris Forsberg's expertise in the 2009 Formula Drift session I wouldn't have been able to progress as fast in the drifting world!
Thanks Bros! I owe you big time! Love ya!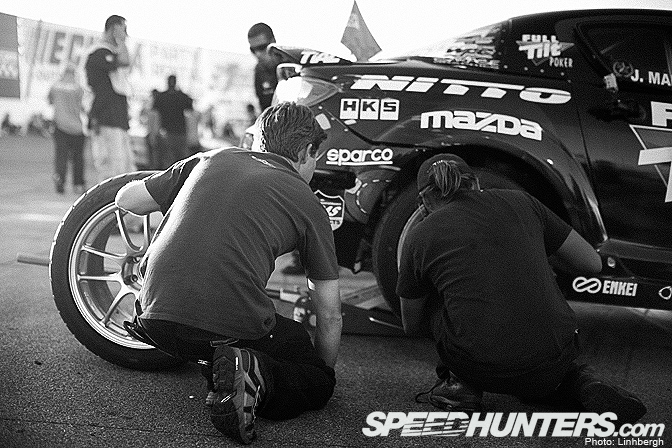 Ron Bergenholtz and Kevin Wells are like brothers from different mothers! So many similarities! When it come to engineering parts and setting up the drift vehicle they are always coming up with creative and effective ideas in setting up the drift car to its best potential for the driver!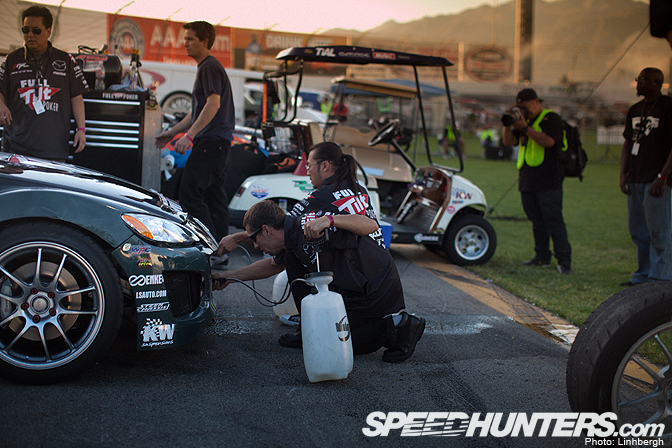 Wow, what a great shot from Linhbergh! By looking at this picture I can relive the moment of the team working so hard and Kevin Wells not hesitating to give a helping hand. We are all in it to bring a good competition to the drift fans. So it's very important to help our fellow neighbors and even our competitors.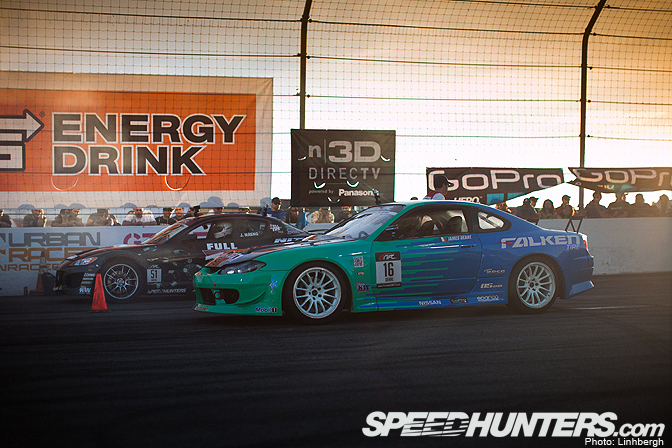 Here we go! Prayed, lined up, focused and ready to give it our all! Red, red, red and red off we go!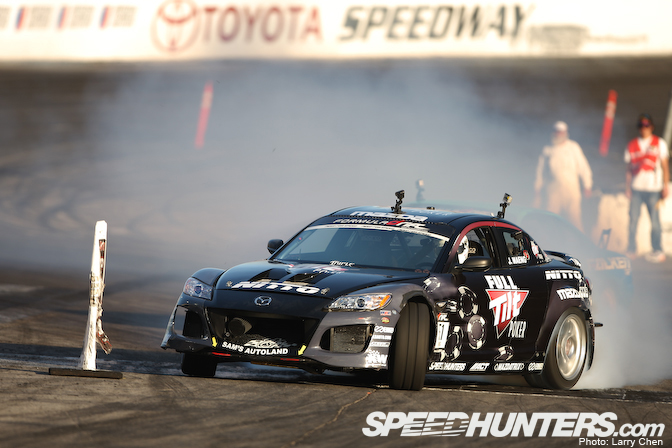 My plan of attack was to go as fast as I can and be tight on all the clipping points and zones. All the drivers in Formula Drift are advancing so fast. So during competition there is no room for errors. So my goal for this battle was the same as always; attack mode.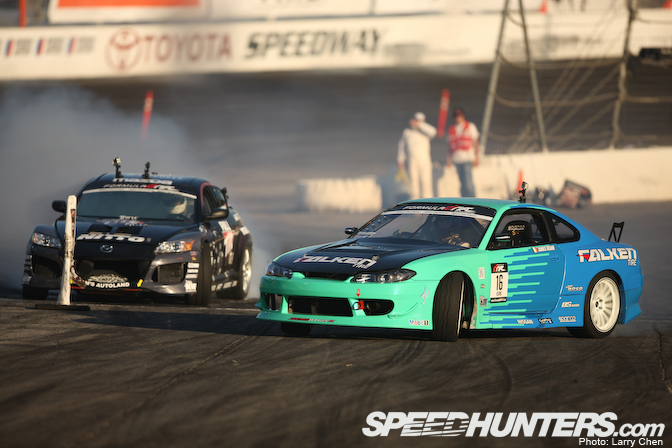 When Chasing James Deane, I couldn't get as close as I wanted on the straightaway before initiation. His car with that SR power plant is pretty darn fast. I was trying my best to catch up on most part of the track. I wanted my side mirror to touch his rear quarter panel and was a couple feet shy on the infield portion of the track.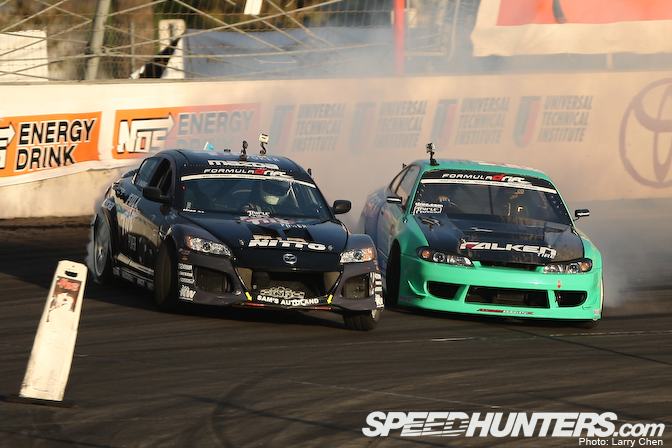 Looks like the Mazda and Nissan are holding hands on that run. All we need is popcorn now. Lol….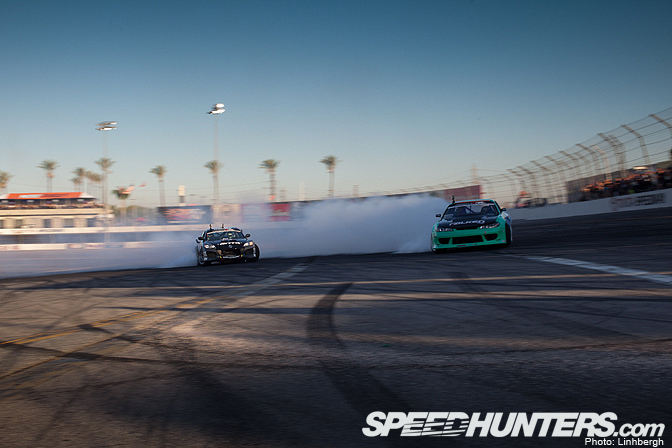 What an adrenalin rush. My blood was flowing so fast and wanted to drive again with James Deane just for fun sake! I had a great time running tandem with a phenomenal young talented driver like Deane! But I want a rematch in 2011! Good job buddy! Keep up the awesome clean driving style! I'll get ya next time!!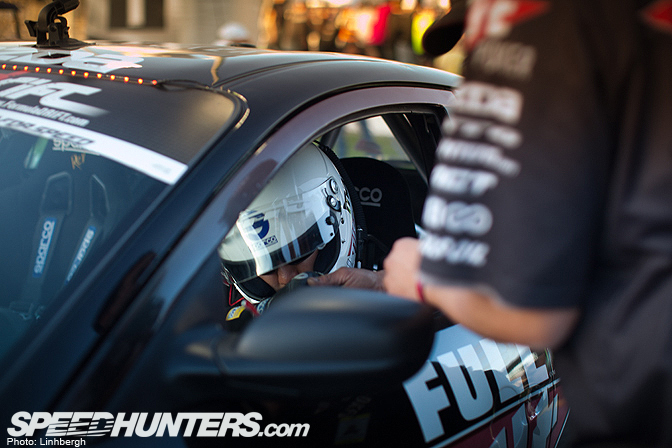 We didn't get to advance and I took it pretty hard on myself. It was so hard to accept so I sat in the Full Tilt Poker Mazda Nitto RX-8 for about 10 minutes and kept replaying the runs in my head to see what I could have done to have advanced.
The good part of losing is that I learn from it so that it won't happen again in the same fashion. My heart was hurt but at the same time it made it stronger and more hungry to win in the future!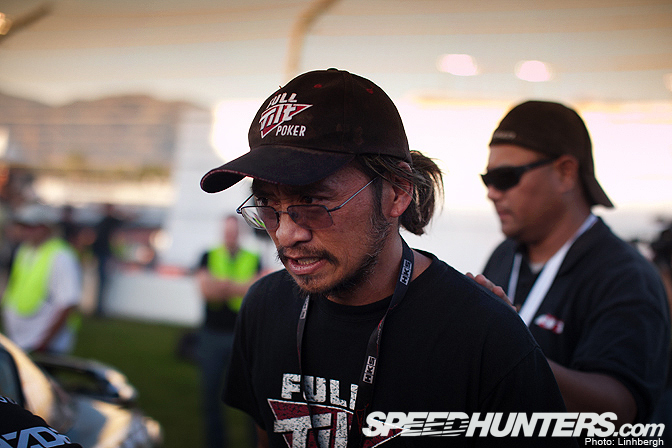 I wasn't the only one hungry to win, you can see it in Ron's eyes. I felt just the same as what my team manager felt. It's such a hard feeling but after having some alone time in the car I came out with a smile thanking the team, fans, partners, friends…..
I want to make everyone proud but ultimately God, so it's very crucial to have a positive mind/attitude no matter what the result may be. 
There is a time for everything; whether it be losing or winning. Since the beginning of my drifting career I told myself it's not only me that I'm representing, it's the integrity of God, team, fans, sponsors and the list goes on and on. So as a driver it's very important to deliver their passionate integrity in the racing world!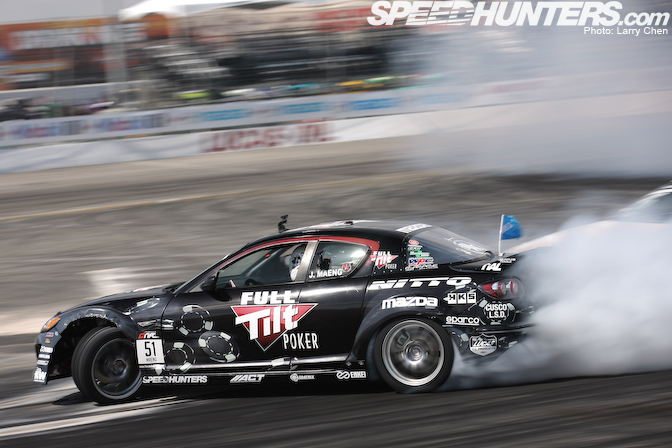 After talking with all of our dedicated fans in our pit area we cleaned up and was heading out. As I was driving home I was still hungry to drive. Only if K1 Speed was open 24 hours I would have gone there to kart all night long. But since they are not, I decided to go drive down the freeway in my daily driver until I hit Las Vegas. Once I got there I got a nice cup of coffee/bakery and started heading back to Orange County to make it out to the Formula Drift banquet. 
It was nice driving down the open road, looking at millions of glowing stars in the sky and thinking about how I can improve as a driver for 2011. I guess you can call me crazy. I'm crazy to get behind a wheel of a race car! I can't help it and want to drive for the rest of my life at the track!
Driving for Bergenholtz Racing in Formula Drift is my priority for the 2011 season. During the off season we are planning to get testing and making sure it'll be perfect and ready for battle at FD Round 1 in the Streets of Long Beach!
My personal vehicle, Lucas Oil Nitto Tire S13.5 will be competing in Gymkhana Grid events, attending local drift events, running in the Moto IQ Pacific Tuner Car Championship, Nasa events, etc. This should help me improve as a driver during the off season. 
It looks like I'll also be involved in the Lucas Oil Off Road or the Modified Open Wheel Racing Series in 2011 if not 2012.
Thank you so much family, friends, fans, Team Bergenholtz Racing, Full Tilt Poker, Mazda, Mazda Speed, Nitto Tire, Enkei Wheels, LS Auto, Lucas Oil, ACT, Mazda Trix, Genius Tools, Speedhunters, Steen Chassis, K1 Speed, Sam's Auto Land, Golden Eagle, MoTec, Baker Precision, Seibon, HKS, KW Suspension, NGK, WPC, CUSCO, Contour HD, Garage Graphics, XS Engineering, Formula Drift, The Driveshaft Shop, RC Injectors, Burns Stainless, Tial… You all played a role in our success!
Have a wonderful day! 
Cheers! 
Joon.