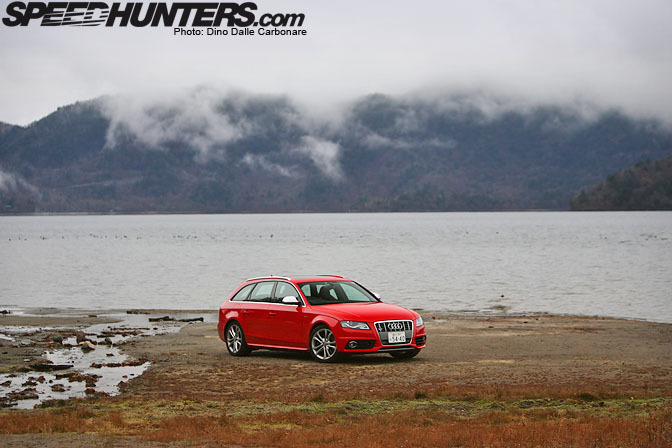 Ever since I can remember I have had a curious fascination with station wagons. Throw a little bit of performance into the equation and to me, there is no other type of vehicle that would appeal as much. I see a fast and capable station wagon as the perfect all-rounder which, when it comes to the profession I'm in, has to not only haul around a ton of camera gear but at the same time double up as a comfortable cruiser, an efficient daily driver and a fun drive when I do happen to find interesting roads to play on. Sounds like I'm expecting too much from one single car? Probably, but in my quest to find a hauler that ticks all the boxes I not so long ago found something that comes very close. I give you the Audi S4 Avant.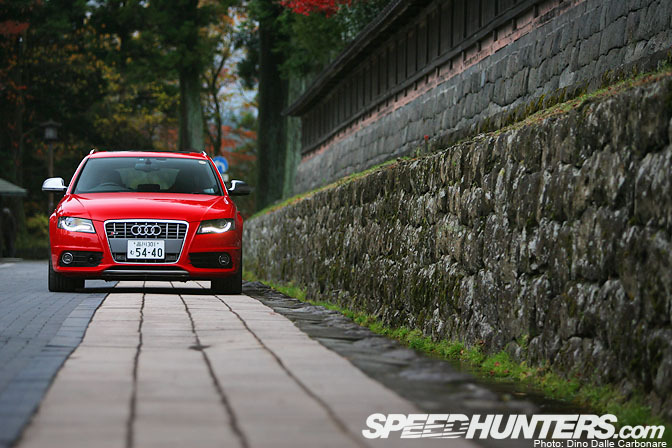 Audi has over the last decade or so created some of the most powerful and capable wagons and after the monumentally fast twin-turbo V10 RS6 Avant it's the new S4 that keeps the tradition going. Audi have taken an interesting decision when it comes to the engine in their latest performance variant of the A4, deciding to drop naturally aspirated and turbocharged routes, in favor of a supercharged motor. Last time Audi used a supercharger on one of their engines was 78 years ago, so you can understand why their decision has raised a few eyebrows. Still, I'm not one to dismiss anything without first trying it for myself, especially knowing the amazing engines the guys from Ingolstadt are known for creating. And after getting behind the wheel of the beautifully built S4 it quickly became obvious that the choice to go with a 3L supercharged V6 over the previous model's 4.2L V8 wasn't such a bad move.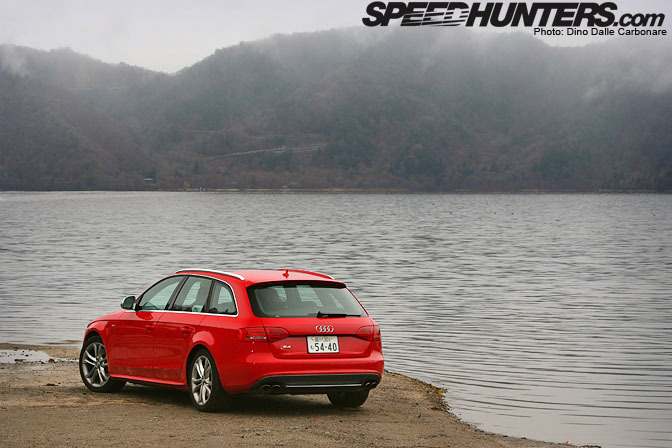 There's no ignoring the fact that a naturally aspirated V8 will sound infinitely better than any type of V6, but like all German manufacturers a move to smaller force-induced powerplants seems to be an unavoidable thing in the quest for better fuel consumption and lower emissions. The S4's V6 is down 11 HP compared to the 4.2L V8 that was used in the previous generation S4, but it boasts a slightly fuller torque curve peeking at 324 lb/ft (up 22 lb/ft). 90% of that is available from 2,200 rpm so you can imagine just how eager it is off the line. Throw in Audi's new 7-speed dual-clutch transmission and the S4 really begins to impress. After picking up the car form Audi's HQ in Tokyo I headed to lake Chuzenji close to Nikko in search of a nice backdrop on which to immortalize the S4 against.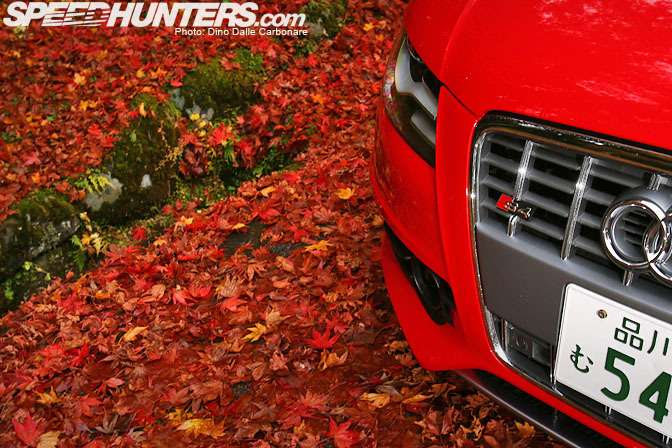 The Japanese autumn always offers some great colors!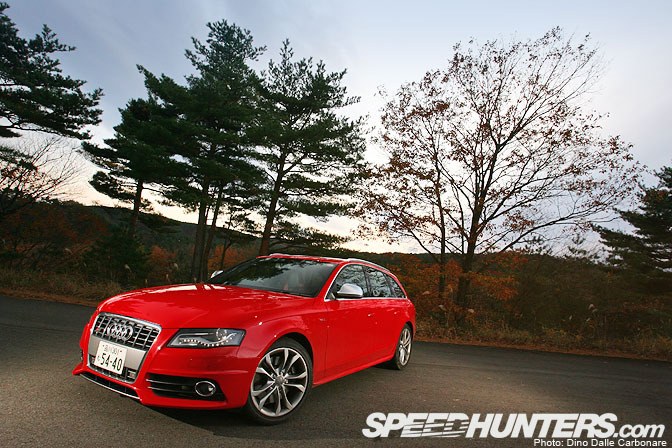 In usual Audi fashion the exterior may seem a little understated, only a few visible details like the slightly more aggressive front bumper differentiating the S4 from more run of the mill A4s. From the driver's seat this is one wagon that truly satisfied in an impressive number of areas. It is, to begin with, extremely comfortable…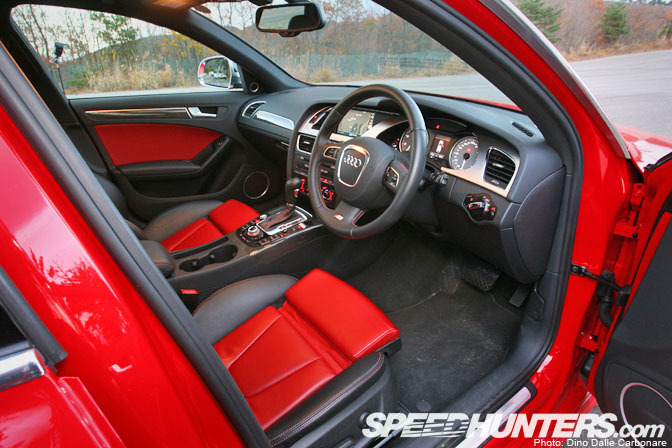 …the interior sporting the usual tank-like build quality and coherent design and layout we have all come to expect from Audi. The leather seats are supportive and infinitely adjustable, the navigation system easy to control via the intuitive MMI interface which even sported a DVD player and digital TV tuner, a must-have in Japan to entertain oneself when stuck in those massive traffic jams! The 7-speed gearbox can be left to do its thing in automatic mode, seamlessly shifting through the cogs in comfort mode or with more urgency in sport mode. In manual mode the steering wheel mounted selectors come into play and allow you to machine-gun through the gears instantly. This really allows you to get the most out of the V6 and its impressive low-down torque, something I really got to play with when driving up the wet roads to the lake, with traction and stability controls turned off. The S4 would throw the tail out slightly on the exit of each hairpin-bend, an immensely satisfying feeling.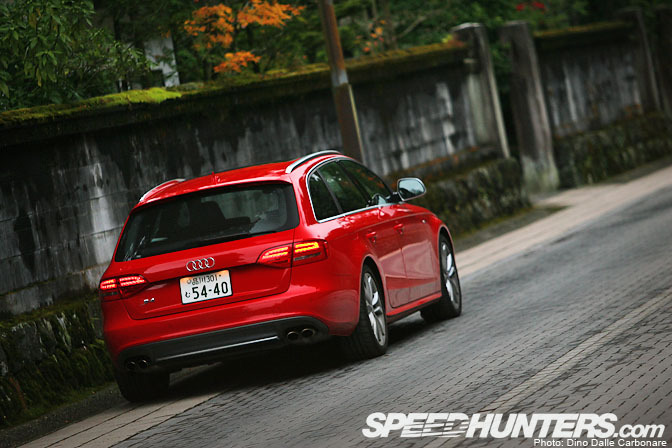 Parked up along a traditional Japanese street in the center of the historical city of Nikko. The quad tail pipes hint that this is not your ordinary A4 Avant.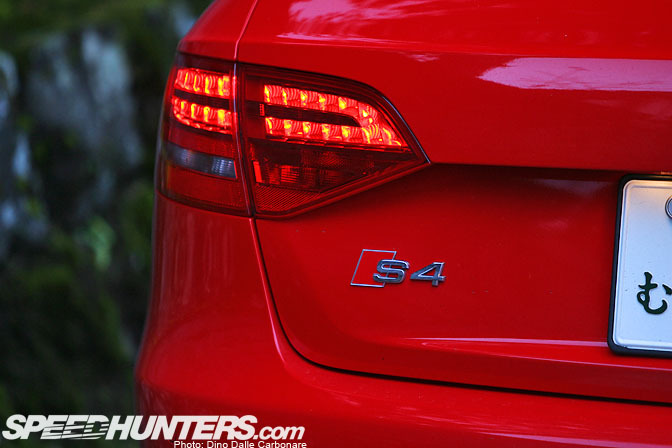 Audi have really taken LED use on headlights and taillights to new extremes, something that has helped them differentiate themselves among the competition. Now everyone is doing it!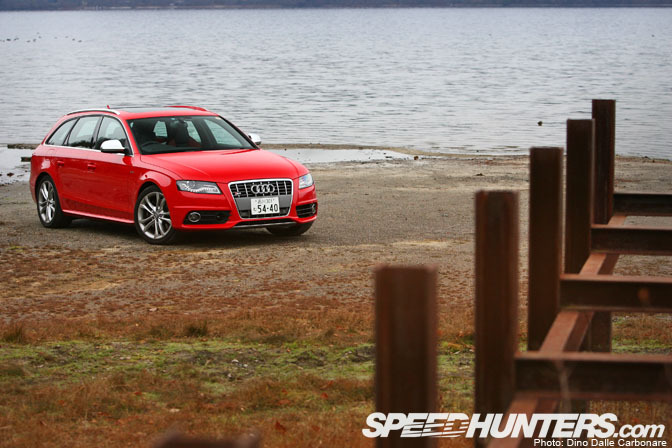 The S4 was fitted with the Drive Select Adaptive Dynamics system, which ties in suspension control with the optional sports differential as well as traction and stability control settings. This can be varied through the three selectable modes, Comfort, Dynamic and Auto allowing you a choice between driving styles to suit your mood. Add to this Audi's Quattro AWD system and the S4 feels exceptionally surefooted in every condition, with all of this never taking away from the driver's enjoyment. If I do have to fault something it would have to be the brake feel, slightly wooden and not as communicative as that of say a 3-series BMW for example. This aside however, the S4's brakes are more than up to the job of keeping the mass of a fully loaded modern station wagon in check.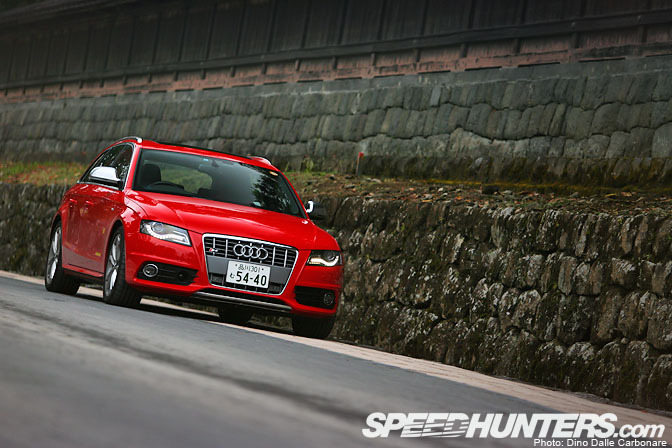 No matter what I asked of the S4 it more than satisfied, the quick blast around Nikko's mountain roads, a comfortable and relaxing drive when moving around Tokyo, returning 28 mpg when cruising on the highway and offering plenty of space to carry all my gear and the occasional grocery load from the local supermarket. Until the new RS4 Avant comes along I think Audi are really on to a winner with the S4 Avant…if you are as obsessive about wagons as I am that is!
-Dino Dalle Carbonare