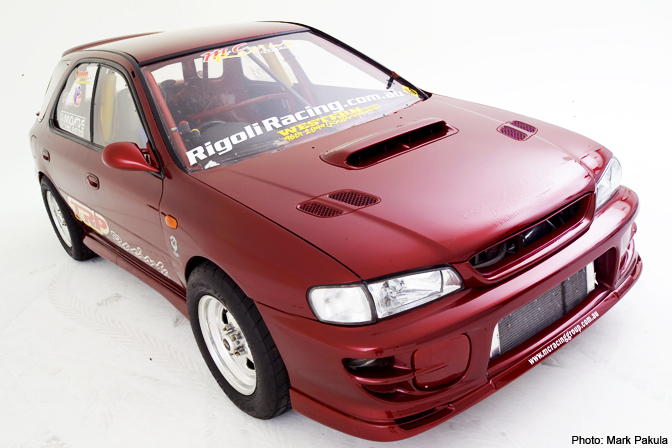 At one point, this was the fastest Subaru WRX in the world. That's right, this wagon was numero uno. Late-model wagons aren't synonymous with drag racing, but thanks to a healthy sprinkling of Tony Rigoli Performance's legendary secret herbs and spices, this '99 WRX has hurtled down the quarter mile in just 8.881 secs.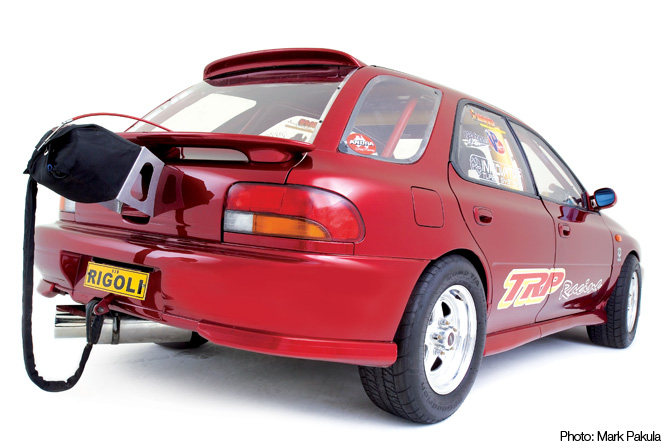 TRP are world renowned Subaru specialists, building hard-tuned WRXs for a variety of applications. The intention for this wagon was clear from the beginning. "Before the Easy St WRX, we owned the record for being the fastest WRX" said TRP's Domenic Rigoli. "So this wagon's initial goal was to take back what was rightfully ours."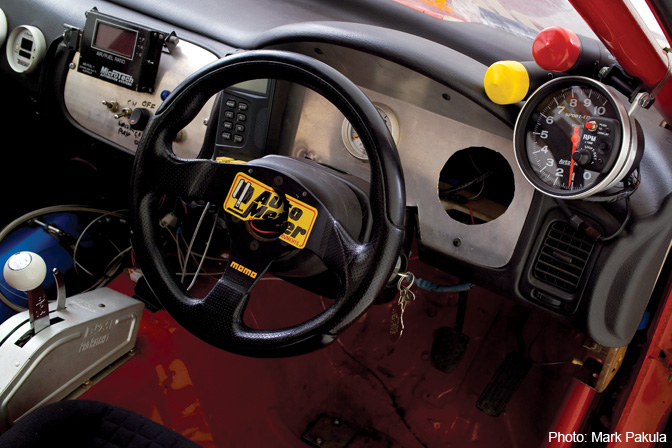 I was rather surprised to discover that, in spite of this being an 8-second weapon, you still need to put a key into the ignition barrel!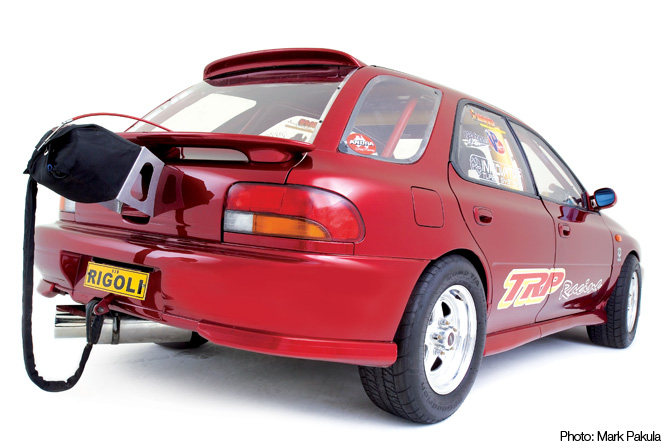 Show car paint, polished radiator and detailed manifold aren't the usual traits of an 8-second drag car. But beneath the cosmetic enhancements is a pretty serious heart. Stroked to 2.5 liters and inhaling methanol, this EJ20 produces 594hp (437kW) at all four wheels. That's a significant amount of power considering it comes through an automatic gearbox. And that's before the Nitrous is switched on too.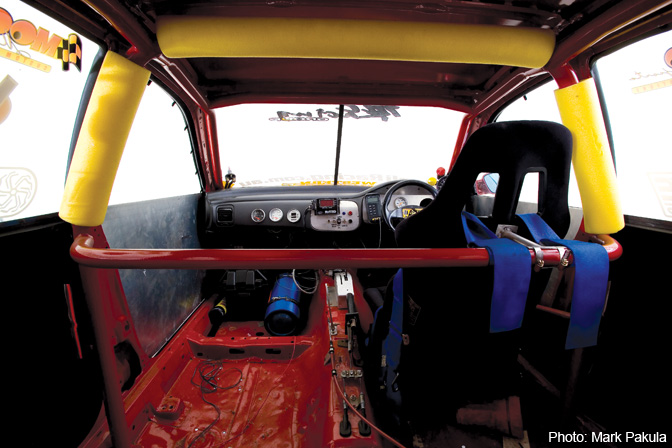 Inside the beast. This is a full-bodied racer, so the floor hasn't been cut-out and the chassis remains intact. It's all kept basic: gutted interior, simple cage, dash skin and a seat.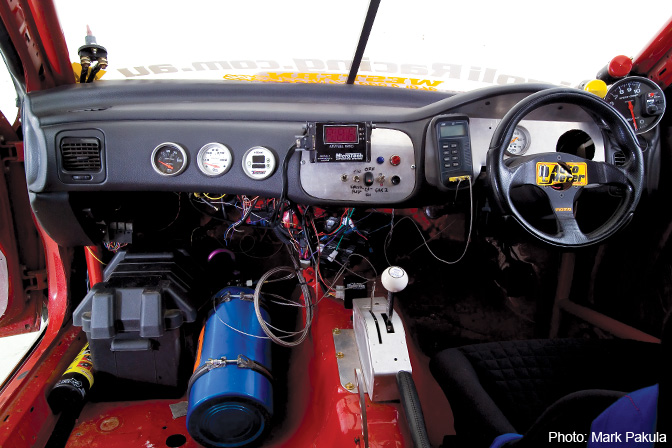 The trademark blue NOS bottle and battery box are mounted in the passenger foot well to balance out the driver's weight.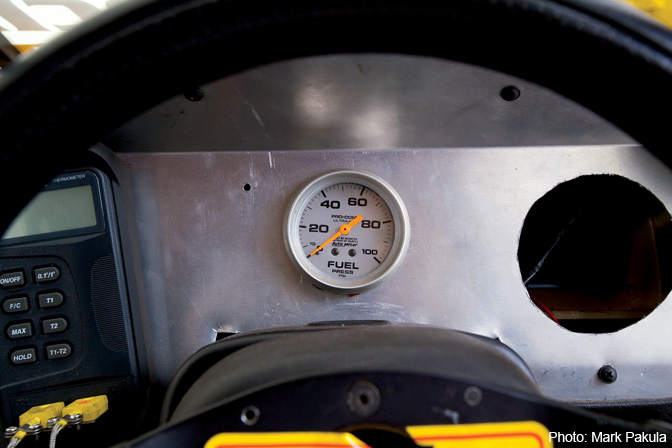 No nonsense here; just a sole gauge to monitor fuel pressure.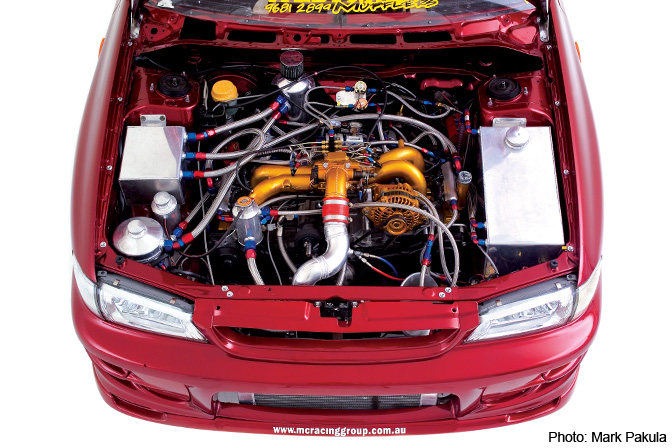 Hang on, where's the turbo? TRP have re-routed the manifold so the throttle body sits at the front, with the rather large Innovative GT76 turbo now low-slung behind the radiator.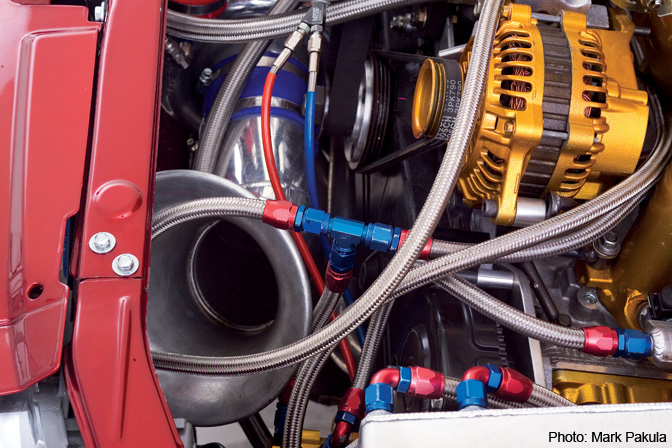 Best to keep hands – and small children – away from the velocity stack that feeds the GT76.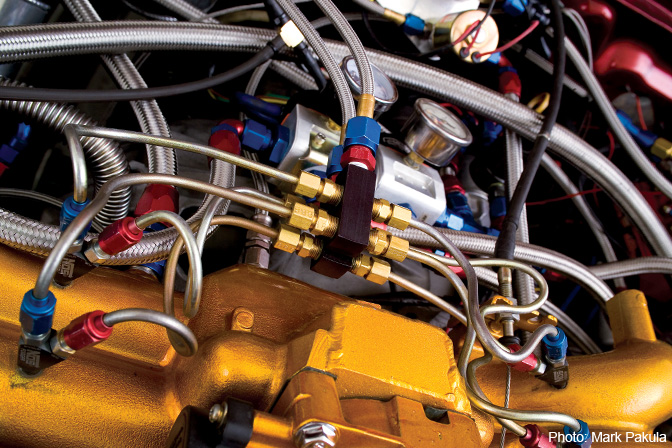 Here you can see the modifications done to the manifold to move the throttle body from its original position.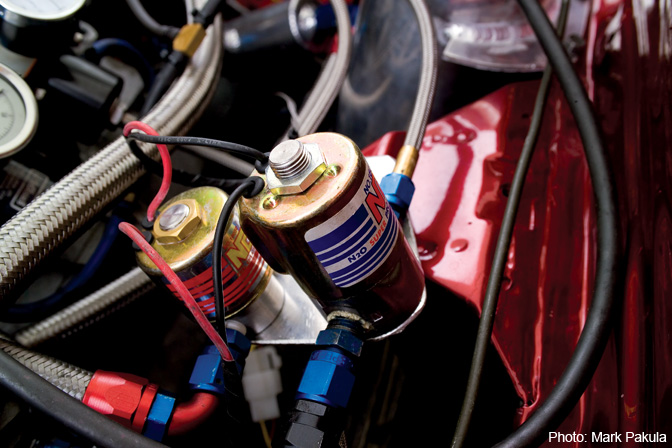 The 2.5 liter Boxer is built to withstand a 200hp shot of Nitrous, however that much giggle gas is rarely needed. "Most of the time we run the car with a 100hp shot" said Sam from TRP. "The world record pass was done with that much Nitrous. Any more means there's simply too much wheelspin."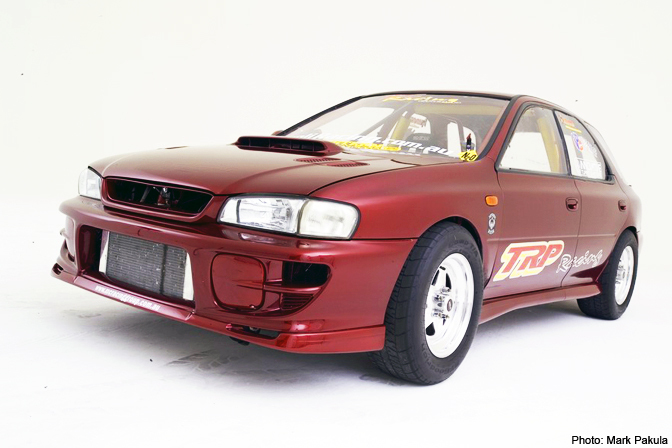 The WRX driveline has long been criticized for being fragile, which means the standard fare had little chance of surviving the brutality of this WRX out of the hole. Through trial and error, TRP developed a reliable setup that not only withstood their wagon's full-blooded launches, but also didn't cost the earth to build. The transmission is a modified Subaru 4EAT box, with the rear diff and axles from a Holden Commodore VL Turbo.
Click here to see a clip of its 8.881 run.
Photos by Mark Pakula
- Charles Kha