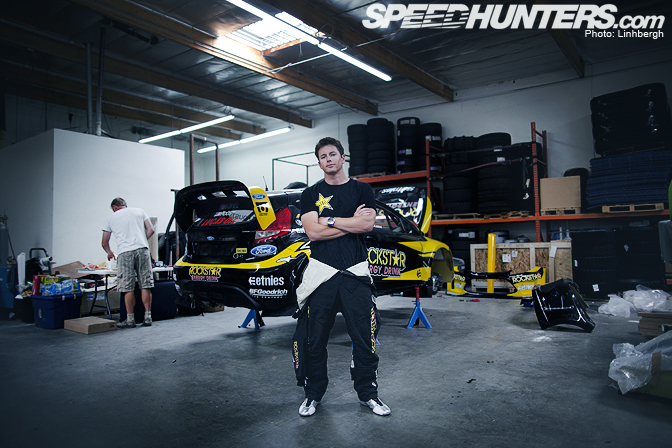 Speedhunters: You are a man that usually needs no introduction in the automotive world. But for those that don't know who you are, just who the heck are you?
Tanner: I'm a car enthusiast who has been lucky enough to make driving my profession.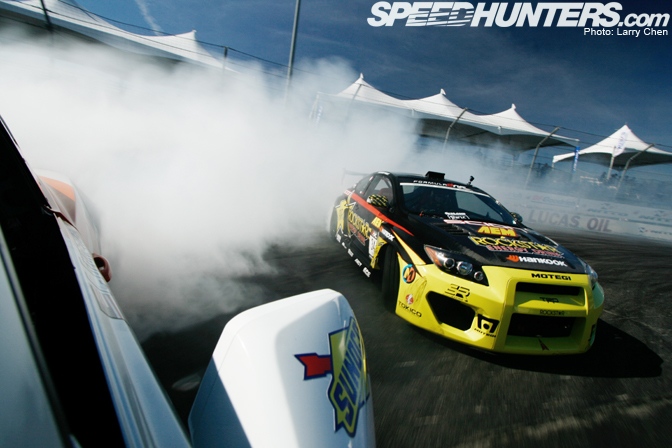 Speedhunters: Can you talk about how you got involved with all your latest ventures this year? 
Tanner: Over the last seven years of drifting I've worked hard to spread the news about the sport that I owe so much to and to promote the idea that drivers in the drifting world can compete at the top level of other motorsports. I still think drifting and rally racing are two of the best places for grassroots racers to find their sponsorship legs and make a living behind the wheel.  Lately, European rallycross events and US rallycross events have crept deeper into my calendar. Whether it's racing in these sports, stunt driving for films, or hosting shows, it's all an excuse to relive the boyhood rush we all got when we pushed down on the gas pedal that first time.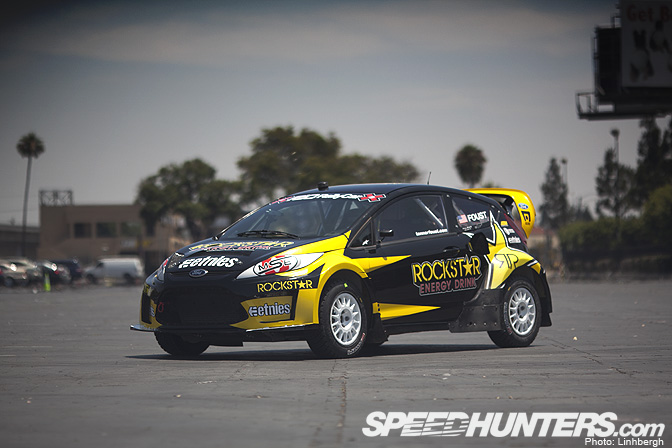 Speedhunters: You recently joined etnies' first Rally team. How did this come about?
Tanner: etnies has a long history in action sports but this is their first venture into rally. Timed with the addition of a second car-based event in X Games 16, etnies was a natural fit for a rally team. Rally racing has attracted athletes and sponsors from the action sports world for a reason: the racing is friggin' nuts!  With the insanity of a full US rallycross series next year I think we'll see even more action sports crossover."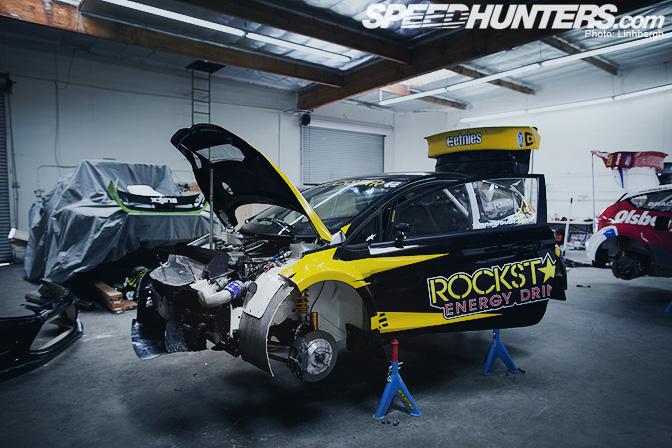 Speedhunters: How did it feel to take the top spots with Brian Deegan, fellow racer and Rockstar/etnies driver, at X Games?
Tanner: X Games is such an incredible competition, with so many talented competitors and high stakes. We had bet this season that getting some rallycross experience in Europe would help prepare for X Games and the new discipline of Super Rally, but getting a pair of golds and having Brian take a pair of silvers was beyond our wildest dreams.  Brian is as competitive as it gets, so trust me, he wasn't satisfied with second place at all.  There will be some epic battles in next year's X Games and hopefully at rallycross events throughout the country.
Speedhunters: Can you talk about your RallyX car?
Tanner: The car I drove in X Games, the European Rallycross Championship, and the US Rallycross Championship in 2010 is an all-wheel-drive Ford Fiesta with a turbocharged two-liter engine. It boosts nearly 60 pounds and puts out almost 600 horsepower. It's got twice the horsepower of an Open class rally car and hits 60 mph in 2.2 seconds! It has less suspension travel than a rally car, but is much more precise through the corners.  The turbo is Garret, the dampers are Tein and the Ford engine is built by Olsbergs MSE of Sweden.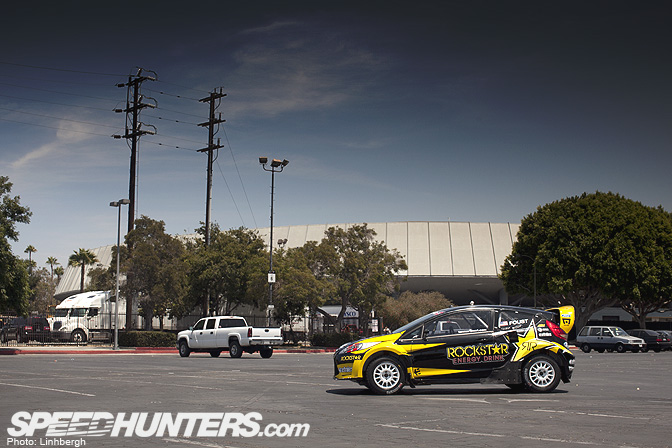 I heard from the grapevine that your parents are gynecologists and you were planning on following in their footsteps. true/false? If true, what made you change your mind? How did you become involved with racing? 
Tanner: True. I graduated from the University of Colorado with a Biology degree but worked on the side for an amusement ride inventor; one summer I had enough money saved to take a few months off work so I traded seat time in race cars for mechanic work on a team. That led to three years of road racing, ice driving instruction, race coaching, rally racing, drifting, TV shows, stunt driving and rallycross… in that order, more or less. It's been a 15 year road and I'm extremely thankful for every step along the way.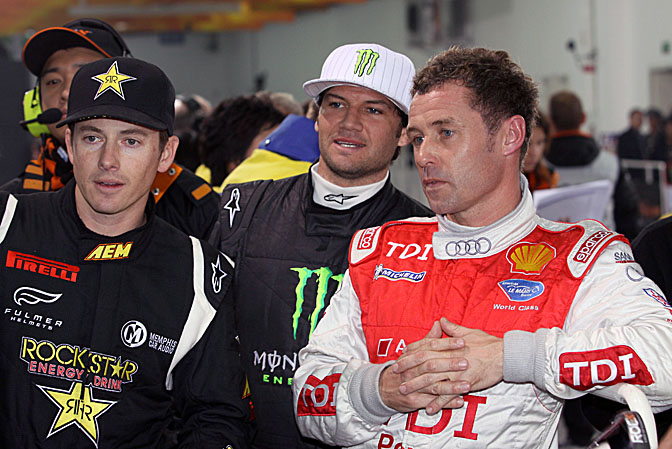 Speedhunters: What was your childhood like? 
Tanner: My folks divorced when I was three. They both remarried and my stepfather was in the Navy.  We immediately moved from our house in Monterey, CA, to Scotland (I was 9 and didn't know where Scotland was on a map).  We lived there for four years.  This is where I started driving: on the country roads around our town of 49 people.  Police never came out to our area so I took the family VW bus and right-hand-drive Fiesta (ironically) often until we moved back to Napa, CA when I was 13.  I battled it out in RC cars for the longest three years of my life until I finally was licensed to drive at 16.  That's about all I remember.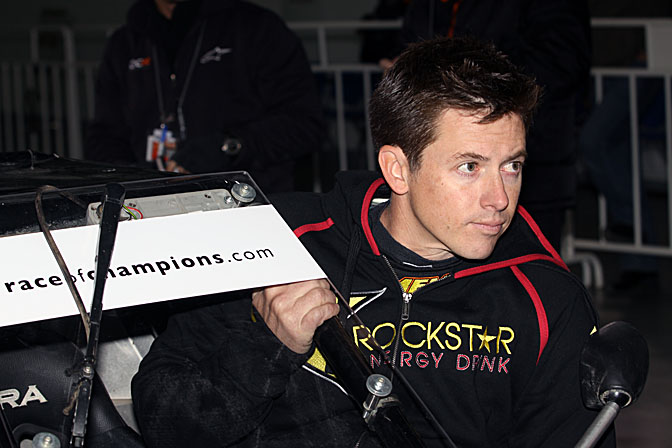 Speedhunters: Tanner, at what point in your life did you realize racing was your future? – Jared Holley
Tanner: I was just out of college and making a slim living coaching people at the track.  The guys I coached were usually 'gentleman racers' so the fact that I didn't know much didn't seem to matter.  I just came up with four or five different ways to say, "accelerate earlier" and "brake later."  Seemed to do the trick. This system made just enough to pay for my race weekend and not enough for a hotel so my trusty F-250 was my hotel for the first few years of racing.  My parents (like most would) wondered when the hell I was going stop playing and get a real J-O-B.  It didn't phase me. I had the scent at that point and had heard instructors could make decent money doing coaching at automotive marketing events. Once I established a base income doing that while also learning about the racing world, I knew I wasn't turning around.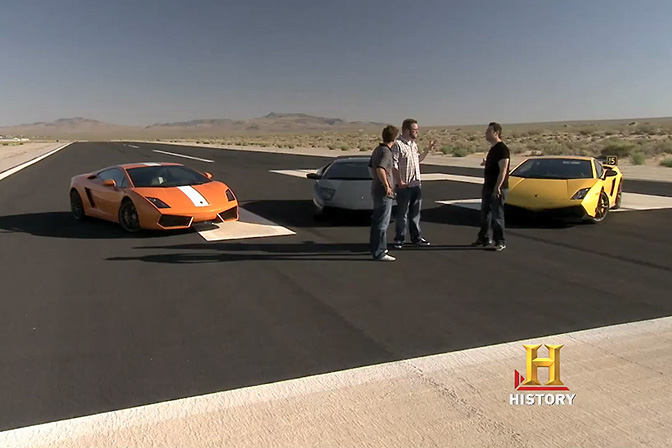 Speedhunters: To become a Top Gear presenter is quite an honor. How did this come about?
Tanner: I was asked to audition for the NBC pilot, things worked out and we had a blast shooting it.  When History went into production with their episodes my name was already in the mix so I was lucky enough to audition again.  Through the process I met a lot of the people responsible for the British show we know and love: The UK cast, producers and directors and yes, it's truly an honor to be working on such an iconic show.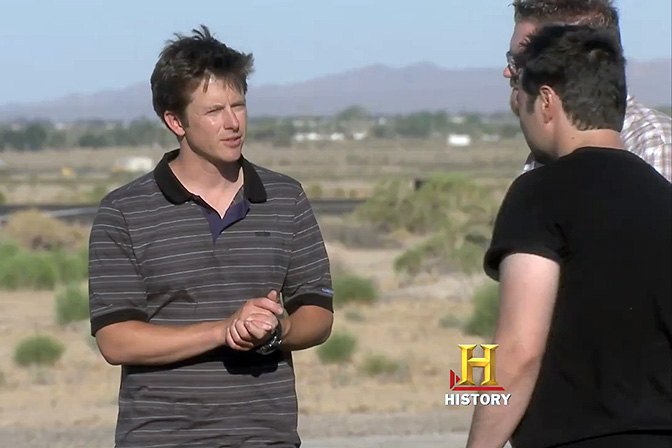 Speedhunters: Top Gear is a program that is more about the chemistry between the presenters than a car show, do you feel that Top Gear USA has this chemistry yet?
Tanner: I'm not sure that original Top Gear started out 15 years ago knowing that the chemistry was the key; it started out as a car show.  We have a head start with the US version because guys like Andy Wilman and Clarkson have discovered a formula over the years that makes for a great show about three guys: It just happens to revolve around the automotive world.  Even with that head start we are clearly finding our feet and it's working out really well.  As three car guys you'd think we'd have a lot of similarities in our opinions but I can honestly say that I genuinely don't understand what could possibly be going on inside Rutledge's and Adam's heads sometimes.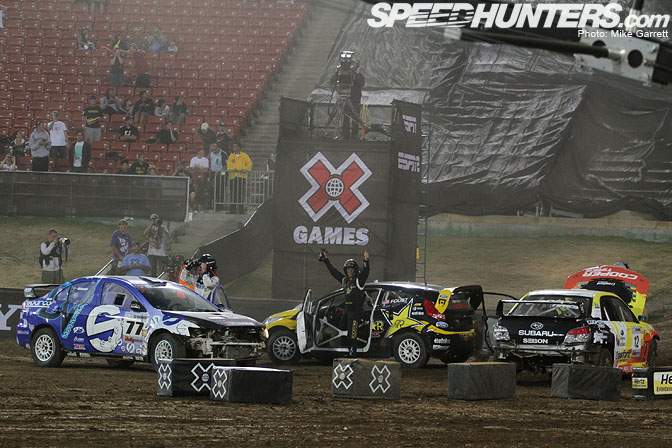 Speedhunters: Being hungry is a huge part of being successful. How hungry are you and will you ever be full?
Tanner: I've been going seven days a week for more than eight months with hardly a break and it still doesn't feel like work.  I'm constantly amazed at how resilient the human psyche can be when a little fun is mixed in.  But I'll admit there's a bit of grey sneaking in under the hat.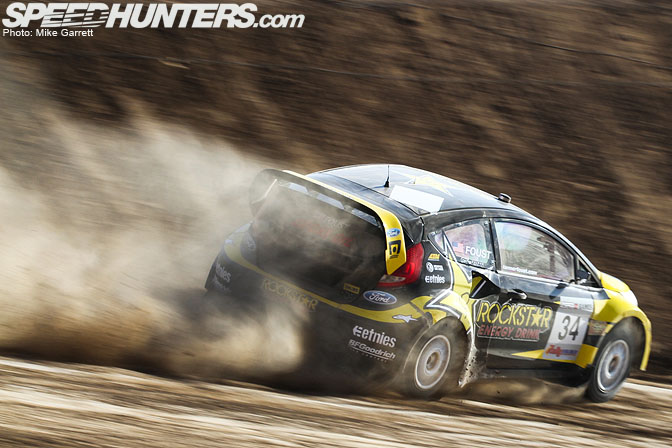 Speedhunters: What's your alcoholic drink of choice? – Jeremy Lee
Tanner: Jack and Coke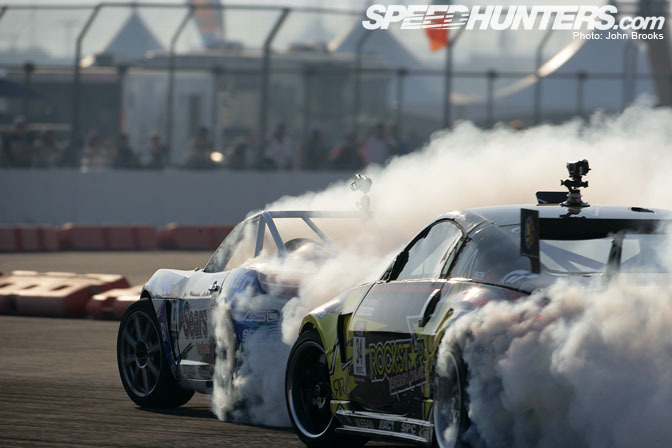 Speedhunters: What is your favorite form of racing and why? – Justin Moore
Tanner: SO FAR, rally racing is probably my favorite. Every form of racing is about passion, skill and teamwork. When it all comes together and it works, that's amazing.  But rally racing through stages, tearing at 100mph+ on dirt roads you've never seen before, trusting a co-driver's every syllable with your life, is such a mind tweak; it's awesome!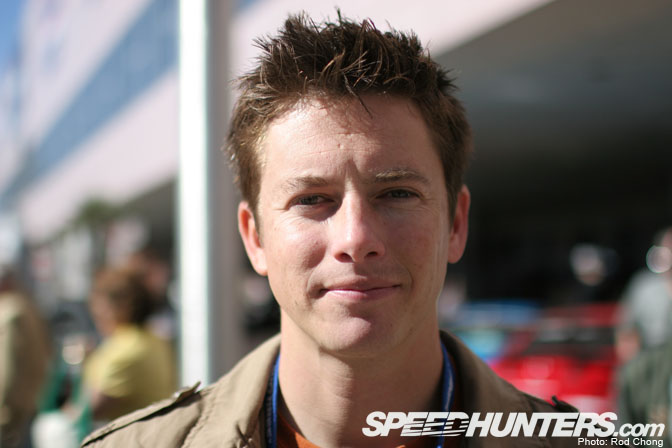 Speedhunters: Why are you so FOXY? – Jacob Leveton
Tanner: Hahah: my mechanic said he couldn't pronounce my last name (actually, he didn't know it) so he just started calling me Foxy.  Unfortunately, it stuck and the drift team owner [Stephan Papadakis] made a license plate for the drift car to seal the deal.  That's OK: he'll always be 'Min Vin' to me (mini Vin Diesel).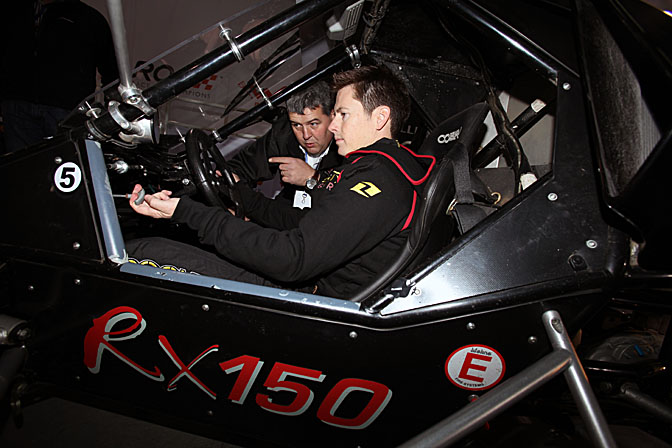 Speedhunters: If you had $10k to buy a car and prepare it for light track use what would it be? – Marco Garcia
Tanner: For road course, grip driving I'd go normally aspirated for the precision of it.  RWD would be preferred but isn't mandatory.  With $10k there aren't too many RWD, N/A options that can get out of their own way and avoid lighting themselves on fire.  Because "light track use" can get boring without some cars around to learn from and school, I'd go with a spec car of some sort.  If I had a trailer it would be a Spec Ford Racer (SFR, pretty much a wedge shaped generic tube frame racecar), if I needed to strap race tires to the roof and drive it to the track I'd get a spec Miata.  You can always find a pick-up match with some of those.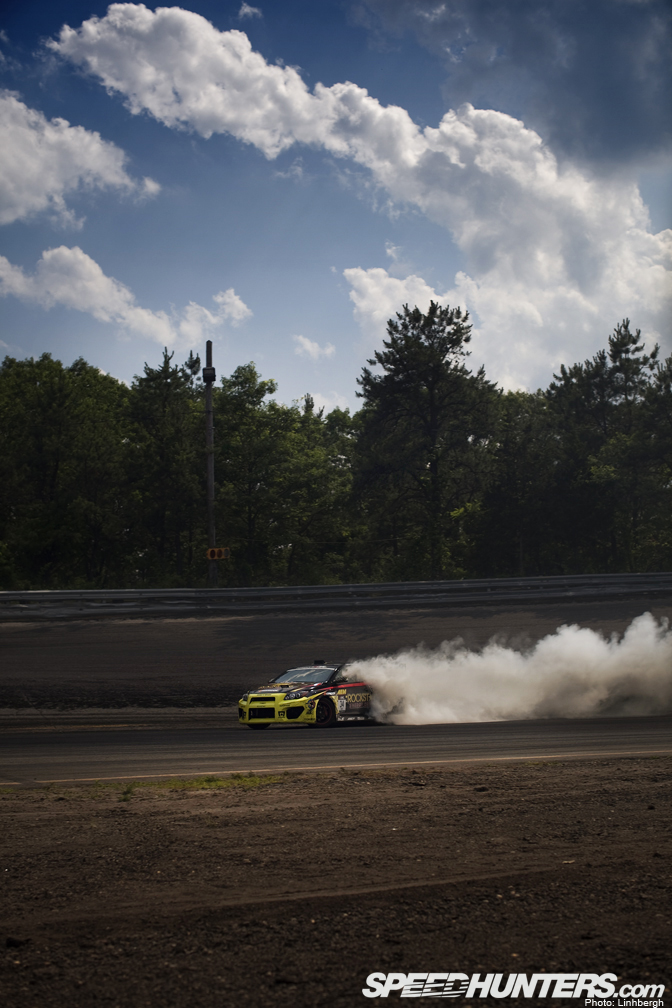 Speedhunters: Formula D is progressing very quickly. In the coming years, what can you see will be a part of FD?
Tanner: A few years ago, I don't think anyone would have predicted a Scion TC with a NASCAR V-8 motor so it's really hard to see into the future of this sport. When we started out in the US, drifting was such an iconic Japanese motorsport but it sure didn't take long for drifting to form it's own identity in the United States.  I do, however, like the push to keep suspension and engine parts in the car's family, or "make."  I also like that there may be a long-overdue move to equalize the weight of the cars.  This will make for much closer tandem battles I think.  A weight minimum is the easiest solution or a tire size gradient that gives the teams a choice; light and skinny or heavy and wide.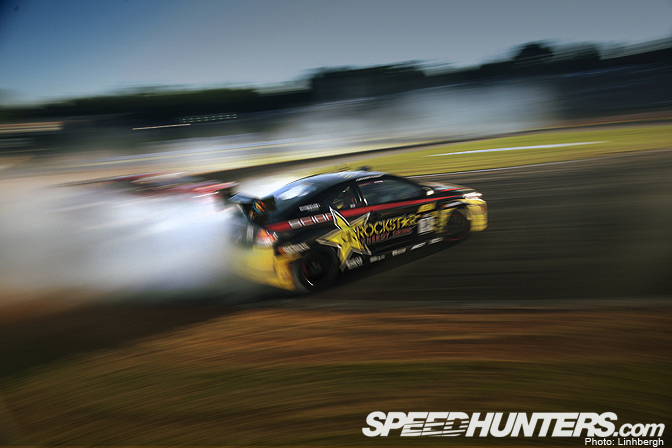 Speedhunters: Will you still be competing?
Tanner: I love the sport of drifting.  I've committed to it for a long time.  At some point I will be too old to listen to 22-year-old judges telling me what to do; I'll have my pants hiked up to my chest and will be busy complaining about the government with Rutledge, but for now I'm having fun.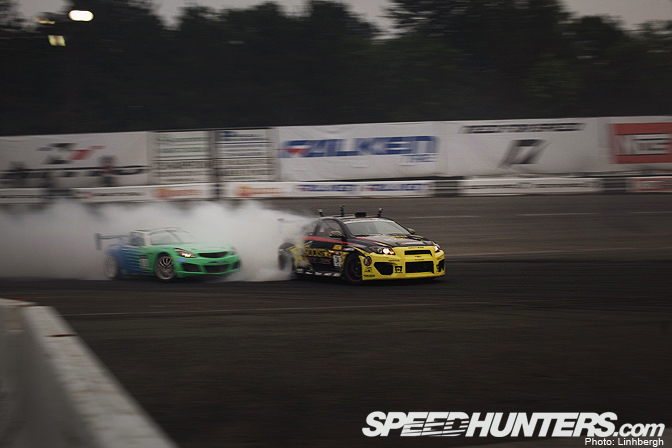 Speedhunters: What's your daily driver? – Finn Stanaway-Dowse via Facebook
Tanner: For any trip to the city I've got an AC Schnitzer BMW M3 E46.  I still think that inline-six is one of the greatest production car motors built.  I bought my dad's 1976 Porsche 912E: he purchased it new and I grew up thinking this little yellow leaky thing was the mega ultimate… turns it's possibly the slowest Porsche ever built.  I use an F-350 HD to tow the Rockstar trailer and for everything else there's a 2010 supercharged Tundra.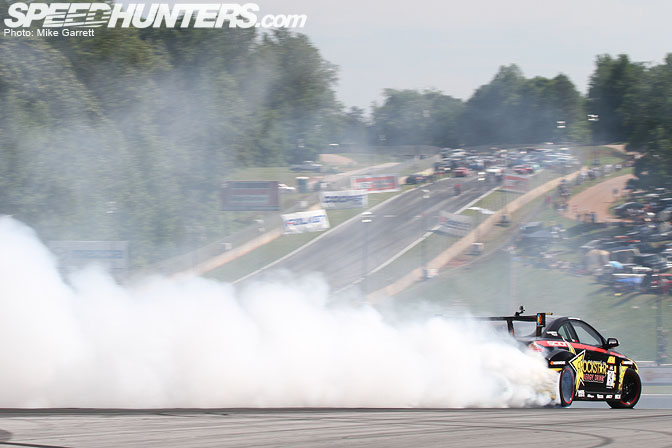 Speedhunters: Do you like Nutella?
Tanner: Yes.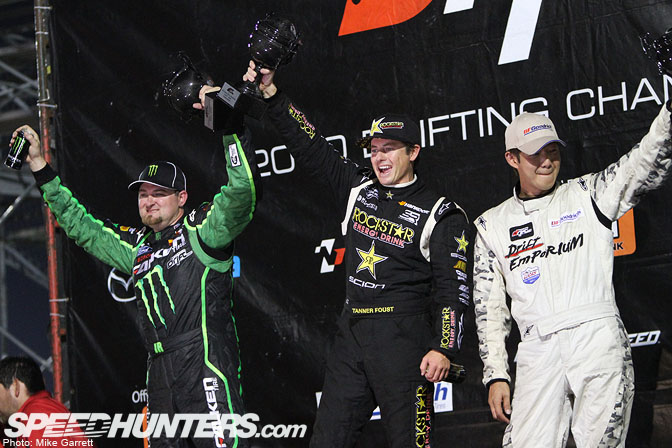 Speedhunters: Do you prefer cheese cake or flan?
Tanner: Neither. Cheesecake leaves that film on the roof of your mouth like Capri Sun drinks, and flan is just gross.
Thank you Tanner for taking time out of your busy schedule of professional Speedhunting to answer a few of our questions. I'd also like to extend a thank you to all of those that commented on our and supplied us with some great questions. If you're not a fan of our Facebook page yet, head on over and do so!
-Linhbergh