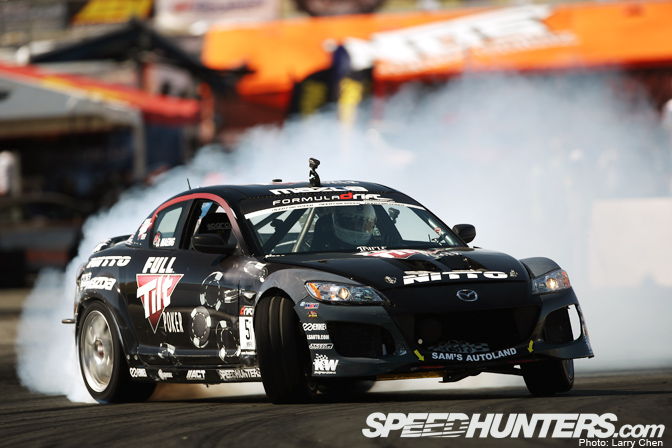 Joon Maeng is a driver that really needs no introduction. He has a nickname of Joon "Gentle" Maeng for a reason. When you meet him and get the chance to have a chat to him (which he's more than happy to do even if that means he'll be a bit late to practice or qualifting…), you'll find out that he's quite literally the nicest person you'll ever meet. But there's a bit of Dr. Jekyll and Mr. Hydeness from his out-of-car personality and his in-car personality. He's an absolute animal once he gets into a car. 
Luckily, he wasn't an animal when we interviewed him. We don't necessarily like to be eaten….
Speedhunters: Hey Joon! For those that don't know who you are, can you introduce yourself?
Joon: Hi, my name is Joon Maeng, the driver for Bergenholtz Racing in the Full Tilt Poker Mazda Nitto RX-8. I would like to thank you for cheering me on and off the track! I couldn't have made it this far without all your support! My heart is ever so grateful for you believing in my driving!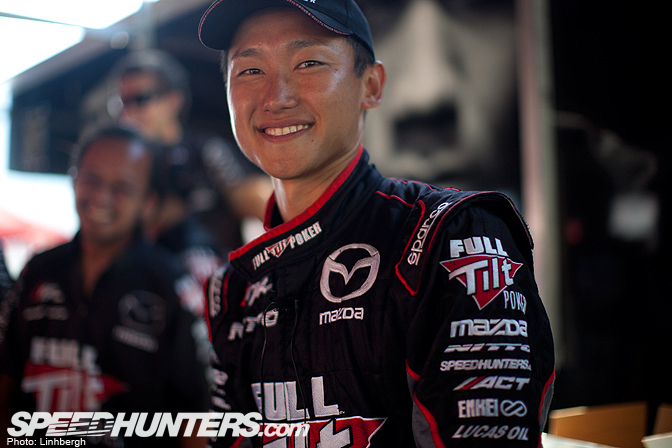 Speedhunters: How did you first find out about drifting?
Joon: I first found out about drifting back during the High School days through my racing crew in 1999. Lod Tongkul and Art Thavilyati at S-Empire introduced me to the option drifting videos and started watching all the episodes once a week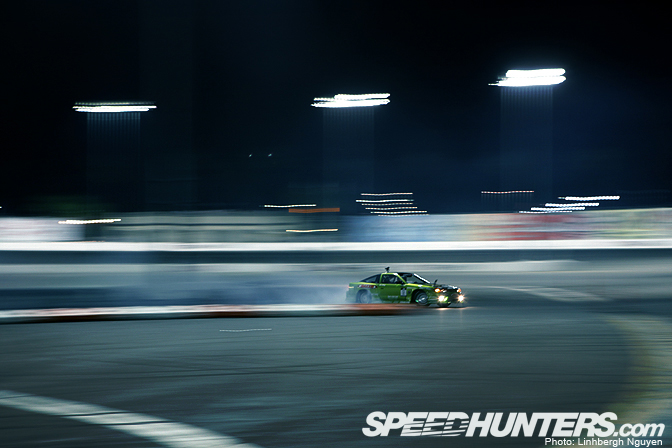 Speedhunters: How did you get started in drifting?
Joon: I started drifting by purchasing a 1985 Toyota Corolla SR-5 for $500 and attended local drifting events like DriftDay.com and JustDrift.com. The first 3 events I was a master at spinning out the vehicle. Purchasing junkyard tires didn't help me as the tires would just chunk off because of the hardened rubber.  After 3 events, I got the hang of it I was able to maintain drift.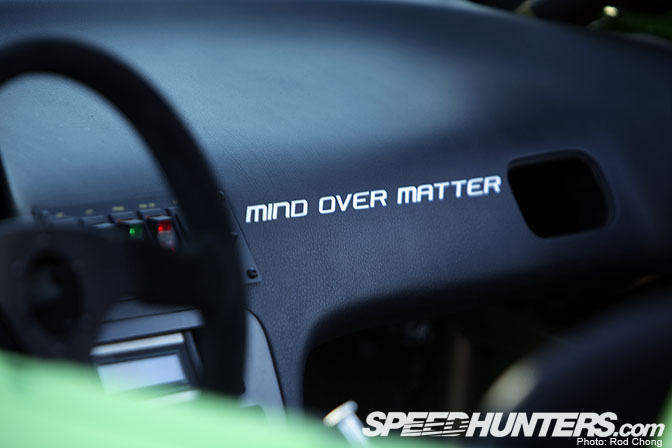 Speedhunters: Why did it appeal to you so much that you wanted to actually do it?
Joon: It appealed to me how precise the drivers have to maneuver the vehicle. Once I saw the in-car action shot of a drifter, I was amused! It looked like he was having a blast and got me hooked ever since.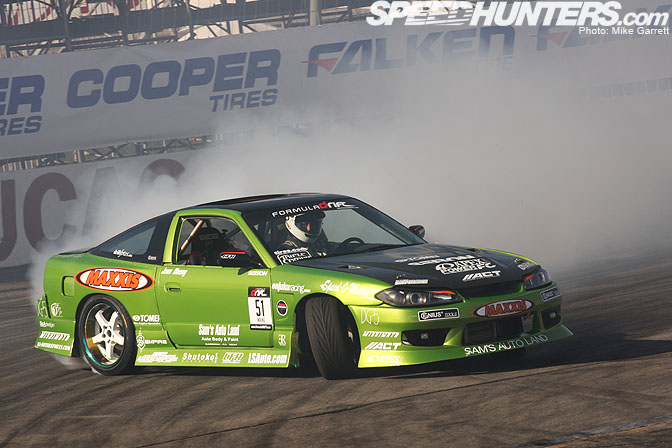 Speedhunters: Discuss your amateur level involvement. What did you learn as you progressed from amateur to pro-amateur?
Joon: Back in the amateur days I started getting more involved with Thursday night drift at Irwindale Speedway presented by DriftDay.com and Top Drift Battle Rounds presented by Justdrift.com It was a great opportunity to be able to drift the actual Irwindale Speedway bank in my very first 240sx.
The S13 coupe ran on 15" tires with a stock sr20det. Bare minimum is the only choice I had. With 3 jobs I still couldn't afford to purchase the parts I wanted, so the junkyard and e-bay was my best friend. I learned to tell myself that I had the best car although it was pretty much stock. Because I figured if I can drive well in a $3,500 drift car I'll become a better driver once I get the opportunity to get behind a wheel of a well setup drift car.
After 6 practice runs I noticed I wasn't improving in my driving skills. So I told myself to go over my limits and, "crash if that's what it takes to become a better driver!" So I did just that and tapped the wall in the infield with my rear bumper! What a great feeling that was!! I thought I was at my limit but nope, there was more room for improvements. I learned that I didn't know what the limit was until physically feeling and hearing it in the driver seat.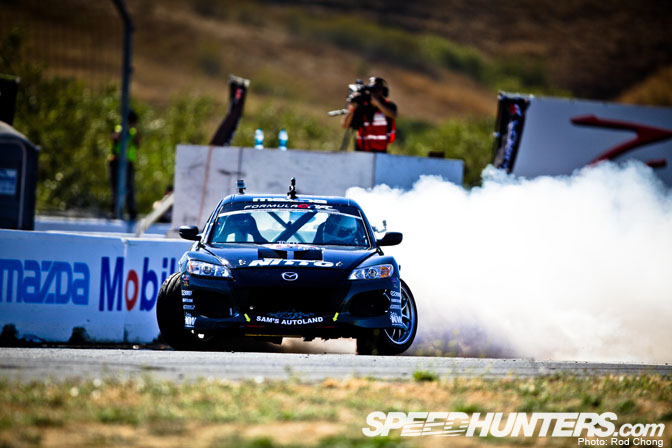 Speedhunters: How did you get involved in the professional level of Formula D?
Joon: After making the qualification round at Drift Association Pro-Am Irwindale, I was so blessed to achieve an invitation to the Pro-Am Nationals in Laughlin, NV in 2006. That's where I earned my Formula D License and my dream just begun. I was so happy but three hours later I started to worry about how I was going to afford to transport the race car, pay Formula D registration/hard card, purchase tires, trailer and the list never ended.
The very next day I started to work harder and every hour that I put into my jobs was with a smile telling myself I will get closer to my dream to compete in the full season of Formula D as long as I work hard and spend $ smart.
Lod, Art and my good friends at S-Empire located in Paramount helped me fabricate Formula D approved roll cage in the backyard, installed the Sr20det and got tuned on the 710 Freeway 3 in the morning (highly not recommended). He was kind enough to stay awake with me working all night on the 240sx coupe then off to work during the day. I respect him very highly! I'm sure he was tired of working on cars after finishing up his day job at Road Race Engineering with Mike Welch.
My goal back in 2007 (my inaugural season in Formula Drift) was to show what I can do with what I can afford. Many others kept telling me to run bigger rim/tire combination but as much as I wanted to, the 15" tires were stacking up interest on my credit cards. I'm not the type to be in debt but to be in debt from chasing my dream is a great investment! I hope that is!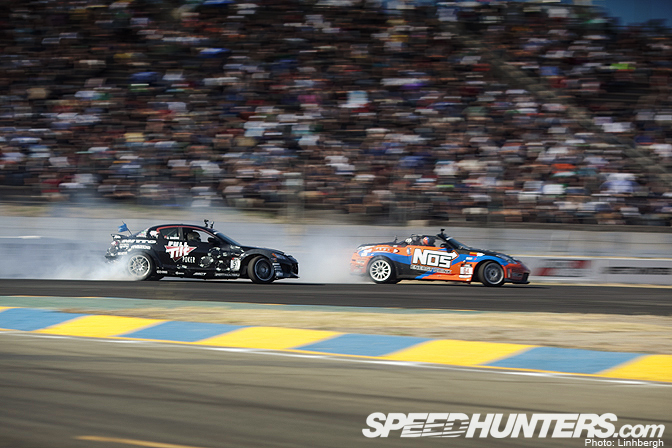 Speedhunters: What do you like most about Formula D?
Joon: I enjoy the family oriented environment in Formula Drift! Every one of the team members is like one big family but once we are behind the wheel at the started grid, fierce competition is all that we see! No mercy buddy!
During my first experience out in Formula D, I remember starting up my S13.5 out at Evergreen Speedway and broke a rocker arm when warming up the engine. I had no spare parts or no idea on how to fix this issue. Kevin Wells at LS Automotive/CFR came by and fixed everything for me.
Kevin and the team seemed like they were very busy in prepping their NOS Energy Drink Maxxis Z33 but yet came over to fix my car. Now that is what it's all about! Good heart, phenomenal attitude, amazing friends and intense competition!
In conclusion, I respect Kevin Wells very highly! I'm very blessed and grateful to meet phenomenal friends like Kevin and others in Formula D!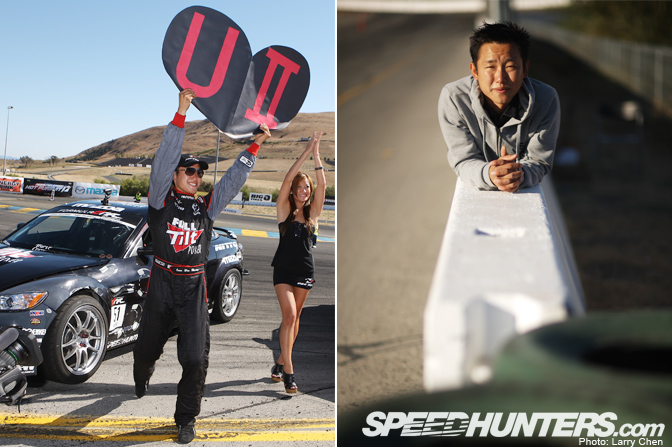 Speedhunters: Is there anyone on the FD grid that sticks out to you the most as a person, driver, contributor, manager, fan of the sport?
Joon: That would have to be our fans. They've been there cheering me on ever since I've started to pursue my dream as a pro driver! Without their constant inspiration I wouldn't have made it this far in the Formula Drift Series! Thanks you Drift fans for making my dream come true!
You always say that I'm your hero but I know that you are my hero!!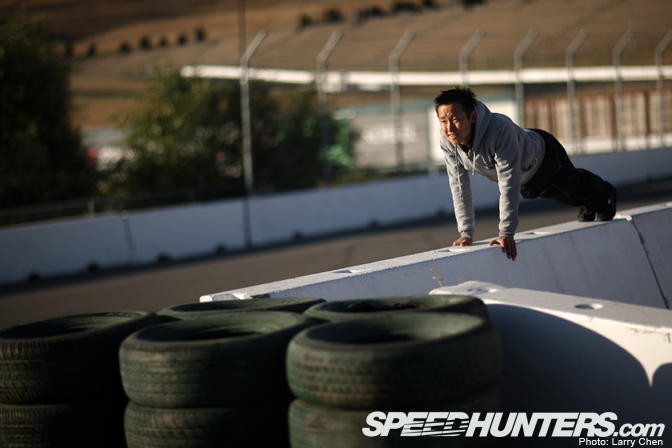 Speedhunters: What was the hardest thing you've ever had to do in your drifting career?
Joon: It would have to be juggling three jobs, working on the car late nights and sleeping around 4 hours a night or none to get the job done. But to tell you the truth it wasn't as hard as I thought it would be, because I enjoyed every single moment.
My heart was broken at Round 1 of Formula Drift in 2007. It was my very first race in F.D. and I ended up totaling my 240sx at turn 9 on Long Beach Grand Prix course. I was full of tears at the drivers meeting because of all the work that my friends put into the car just went down the drain. I felt like a failure.
That very night I got on my knees and prayed for guidance and strength. Thank God I got myself together that night and ended up coming out with a smile and talking to every single fan on Saturday. It was hard to tell each and every one of the fans that stop by my pit area what exactly happened, because the wound was still fresh and uneasy.
That following Monday S-Empire and I started working on a different chassis (currently the LS Auto Nitto Tire S13.5) and finished it before round 2. After this big wreck my fire and drive to compete in Formula D only got bigger. It's weird how hardships sometimes give you more energy/drive to go further.
Although I might have been tired or hungry working on the vehicle it didn't bother me one bit or slow me down. The fire and passion to drive in my heart was far greater than any hardship I faced. So bottom line, the hardest things became the greatest moments that I will store in my heart eternally.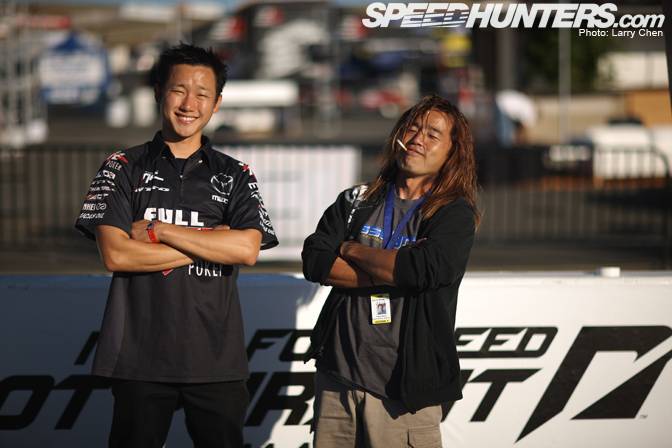 Speedhunters: What do you dislike the most about Formula D?
Joon: There is not one thing I don't like about Formula D. They are doing a phenomenal job and I appreciate their hard work! It's not easy to organize a series like Formula D! I give props to the Formula D team members! Thank you F.D. for making all of our dreams to come true. It's a team effort! We all got to work together as one big family!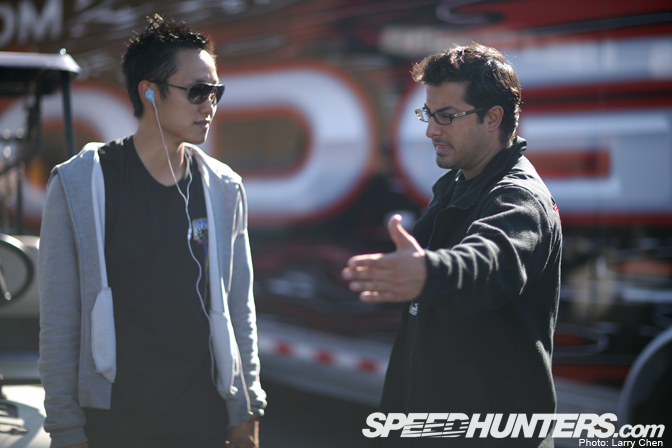 Speedhunters: Do you have any rivals on the 2010 grid?
Joon: No rivals. Just a lot of phenomenal friends! It's great to mingle with fellow teams and I highly respect everyone's talent! I'm thankful to be driving with so many amazing drivers!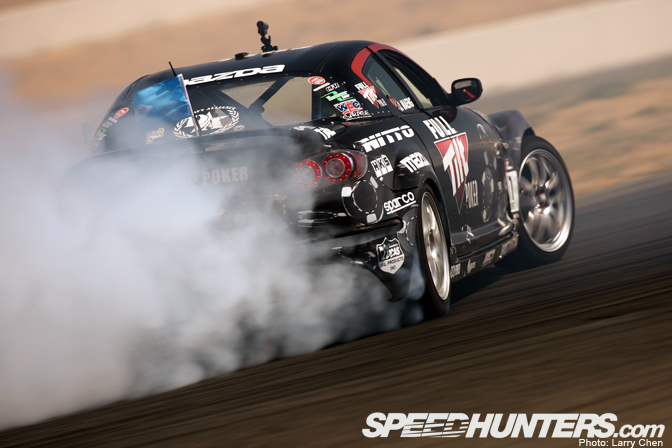 Speedhunters: How do you like the Sonoma round of Formula D?
Joon: I'll never forget the great battle I had in Sonoma! It was my first time going against my Drift Alliance Bro Chris Forsberg! I highly look up to Forsberg for his amazing driving skills, character and how his always giving a helping hand to anyone and everyone!
He's like a robot when it comes down to driving. Chris puts down a perfect run every time in my eyes. Thanks Forsberg for all of your expertise, letting me use your shop CFR all last year and playing a big role in making my dreams come true!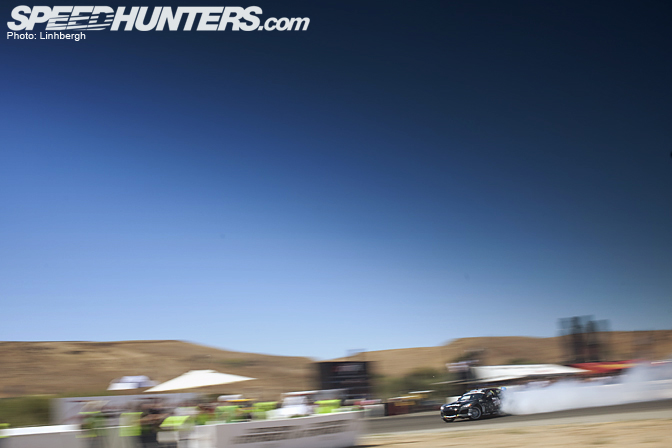 Speedhunters: Discuss your qualifying runs.
Joon: Out of two runs my best qualifying score was a 75.8 with speed 1 at 86.2 M.P.H. (entry) and speed 2 at 19.6 M.P.H. (tear drop inner clipping point) Qualifying 15th. My plan of attack was to go fast as I can throughout the course, carry as much angle as possible, smoke up those amazing Nitto NT05's and let those Mazda Trix rotary's scream towards the Grand Stand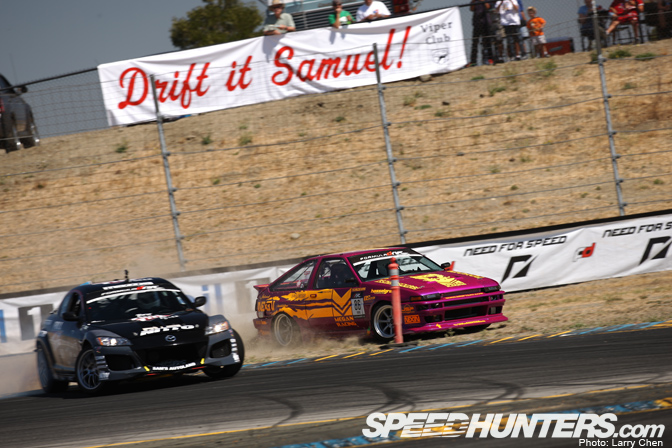 Speedhunters: Discuss your Top 32 battle.
Joon: For the top 32 battle we were up against Taka Aono in the Nexen Tire Megan Racing ae86. On the first pass we took the lead with Taka Aono following. Unfortunately Taka Aono would run into mechanical problems on the first turn and spin out.
I felt bad Taka had some issues with the vehicle because I know he would have been able to put up a good fight against us. He is a very highly calibrated driver and his 86 is like the little engine that could. Nevertheless, I am excited we made the Big Top 16 show!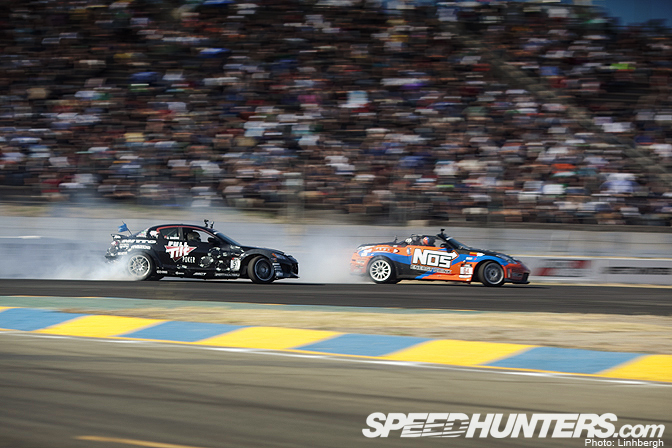 Speedhunters: Discuss your Top 16 battle.
Joon: I enjoyed spending quality time with all the drift fans for two hours in between the Top 32 and Top 16. I appreciate all of your patience and taking the time to stop by our pit area. Thanks for waiting in the long line.
For the Top 16 Battle we were up against the 2009 Formula D Champion Chris Forsberg in the NOS Energy Drink Maxxis Nissan 350Z. When following Chris I positioned the Mazda within inches of the Nissan but unfortunately Forsberg would gain a car length after the transition and create a gap.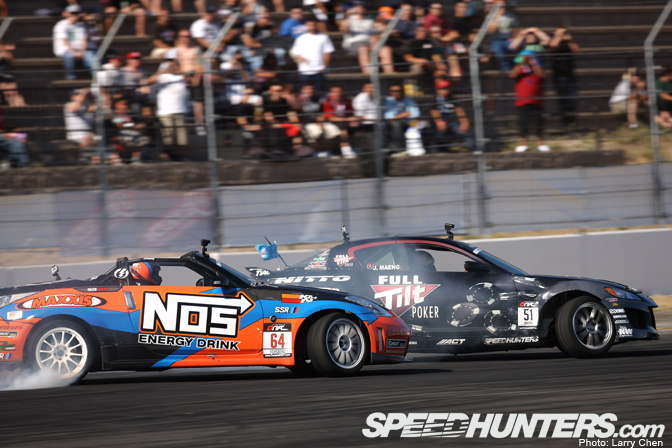 On the leading run Forsberg was right there on my rear quarter panel! He was emulating my every move and can hear the roar of his new engine setup right next to me! The judges gave the win to the 2009 Champ Chris Forsberg.
"Nevertheless, we got a taste of how we compare against the best. We went up against the champ and know we just have to make some minor changes to ensure that no one gaps us ever again. I know Joon and the Full Tilt Poker Mazda Nitto RX-8 has what it takes to win. Formula Drift Irwindale Finals is a week away and we are excited to battle again. Success is on the horizon and we can see it for the team!" Said Ron Bergenholtz Team Manager of the Full Tilt Poker Mazda Nitto RX-8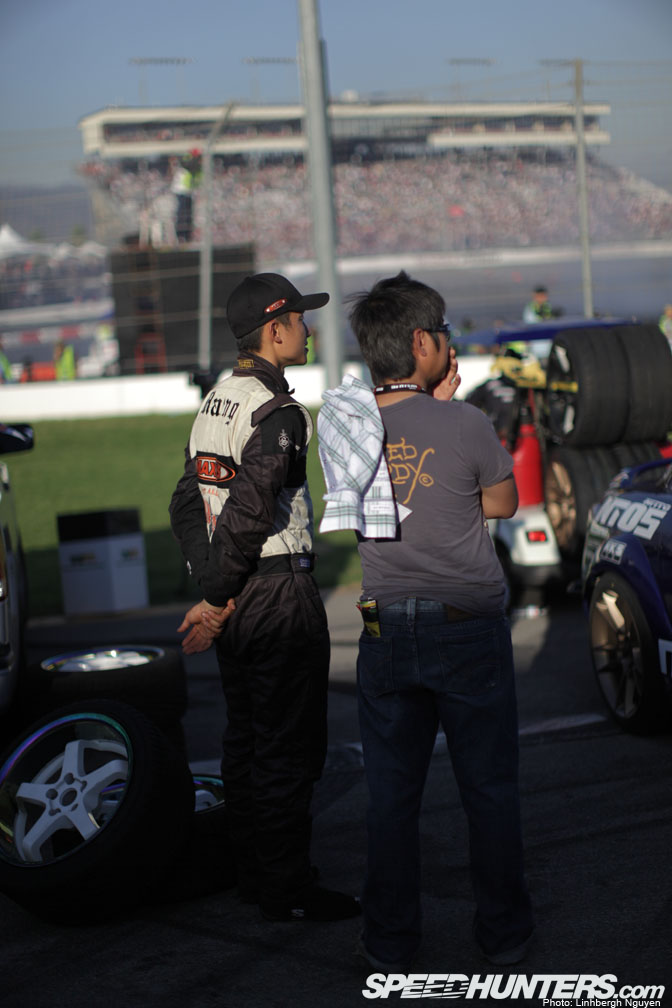 Speedhunters: We're now coming into the final round of the 2010 season, what preparations are you doing mentally and to your car for Irwindale?
Joon: I've been mountain biking and karting at K1 Speed to prepare mentally and physically. Building mental and physical endurance will keep me sharp for the finale.
Ron lathed a custom shift knob, made a few adjustments on the KW suspension, got a brand new HKS sequential transmission, ordered more ENKEI PF01's are few of the changes we made. I really enjoy looking at all the data that Ed Bergenholtz shows me on the MoTec M800! I'm learning so much this year. It's just the beginning.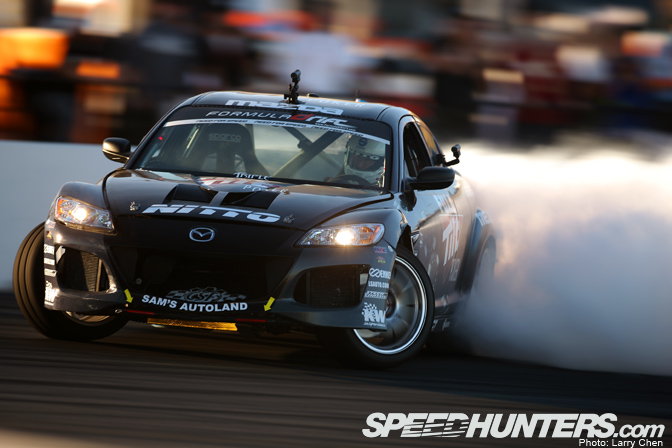 Speedhunters: Where do you see yourself next year and in the years to follow?
Joon: I see myself with Bergenholtz Racing for the long haul and achieving better results next year. This year was full of trials and tribulations. Every event this year the vehicle felt better round by round! Couldn't have done this without the teams' dedication, partners support and most importantly our fans inspiring us to go further in our dreams!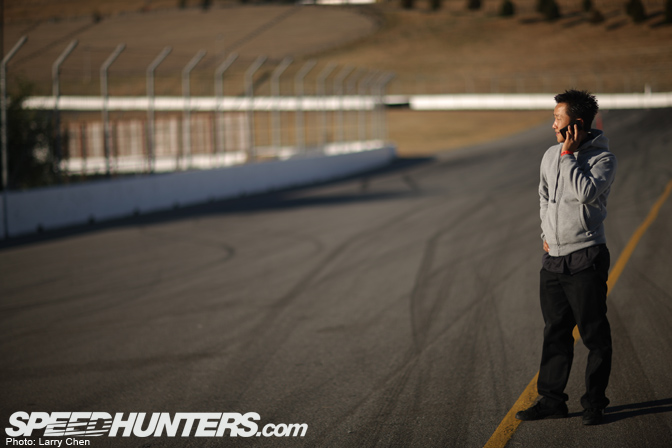 Speedhunters: Closing thoughts?
Joon: Formula Drift Finale at Irwindale Speedway is just down the road! I'm so excited and it's going to be full of excitement! Make sure to stop by our pit area to pick up the Limited Edition JM shirts!  
The Team has produced a phenomenal car and I'm looking forward to next year! Every day that goes by I'll be working hard, training hard and living the dream to improve/learn as much as I can as a driver! I'll keep you updated on twitter.com/joonmaeng Thank you Speedhunters for giving me the opportunity to share my life to the world!
Thank you all for making my dreams come true! Couldn't have done it without everyone's inspiration!
Cheers to that!!!