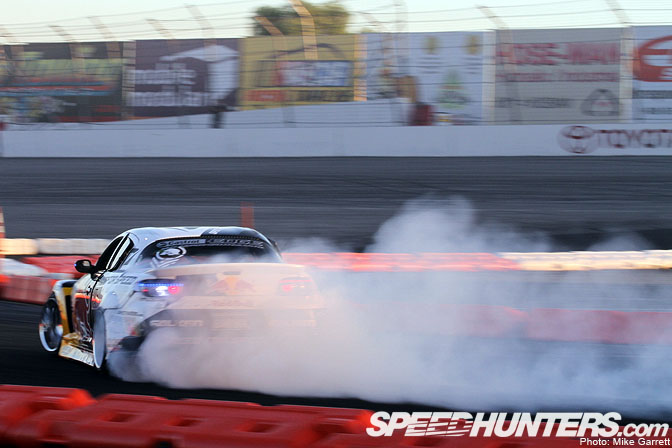 Just got home from a long day at Irwindale Speedway where final round of the 2010 Formula Drift season is under way.
As usual, I thought I'd throw up a quick gallery of the day's action for you guys.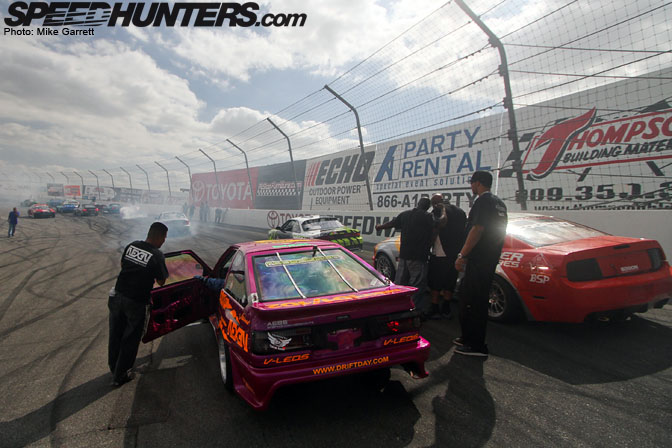 There's just something about Irwindale that brings out the best in the drivers. You can tell they are pushing it just a bit harder than usual. This was apparent even from the practice sessions on Thursday.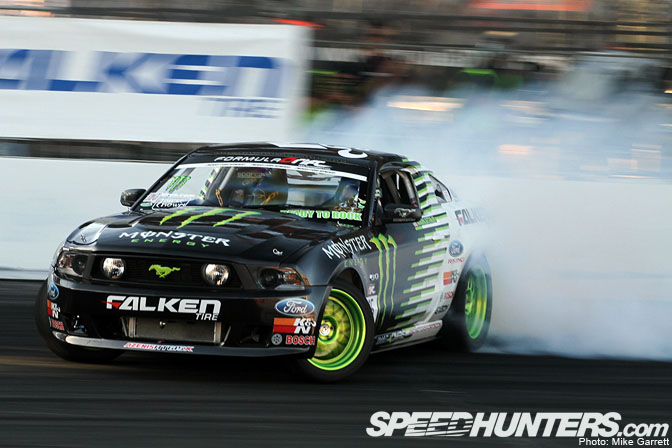 In less than 24 hours from now, Formula Drift will have a new champion. Vaughn Gittin Jr. qualified in the fifth spot, putting himself in a solid position to clinch the title during the by winning his Top 32 match tomorrow.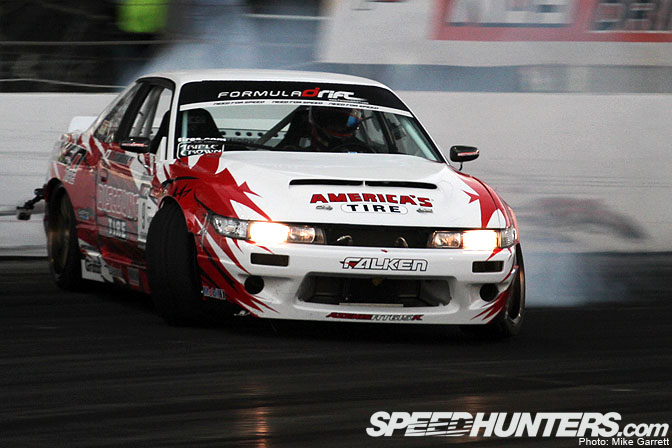 If there's anyone out there who's matched Vaughn's success this year, that woluld be his Falken teammate Dai Yoshihara. There's still a small chance Dai could take the championship, but regardless of who takes the title I think everyone wants to see him and Vaughn battle it out under the lights one more time this year…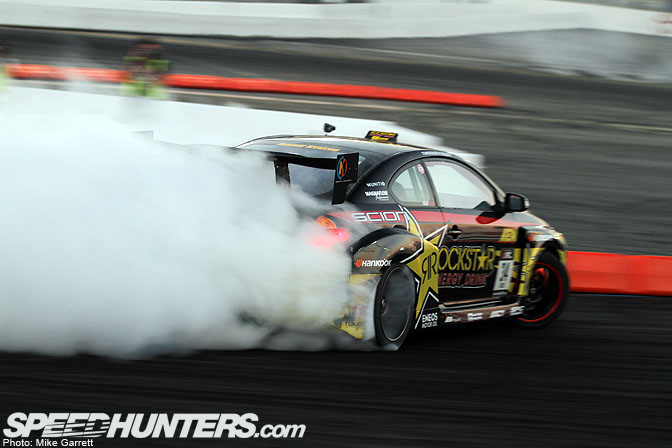 Currently sitting in third place in the season standings, Mr. Foust will also be looking to close out 2010 on a strong note.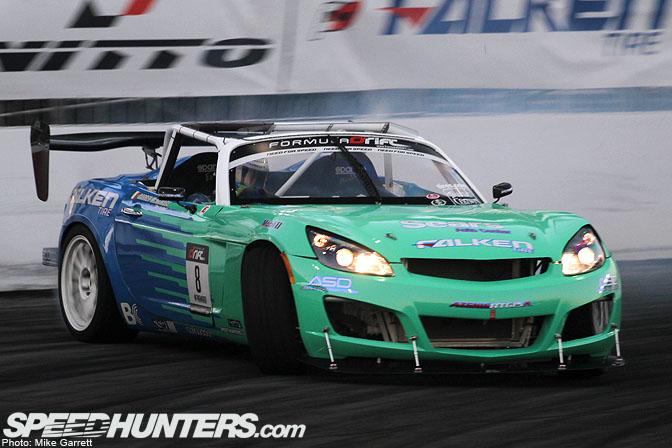 Darren McNamara always seems to do well at the House of Drift, and when the smoke cleared from this evening's qualifying session, he was the one sitting on top.  Will he be standing the podium tomorrow night?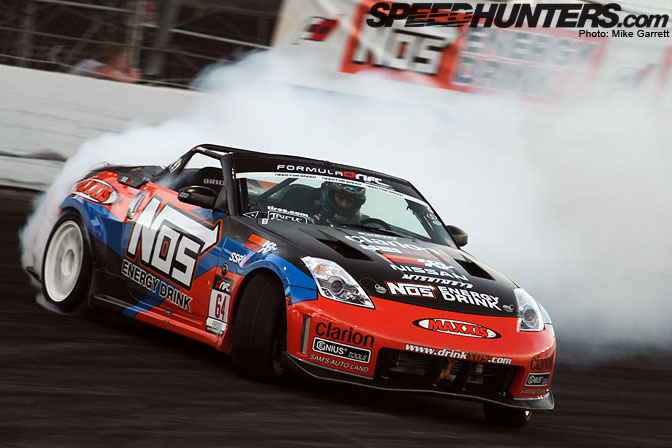 Chris Forsberg is another driver who looked damn near unstoppable in practice and qualifying. That new motor seems to have made a huge difference for him!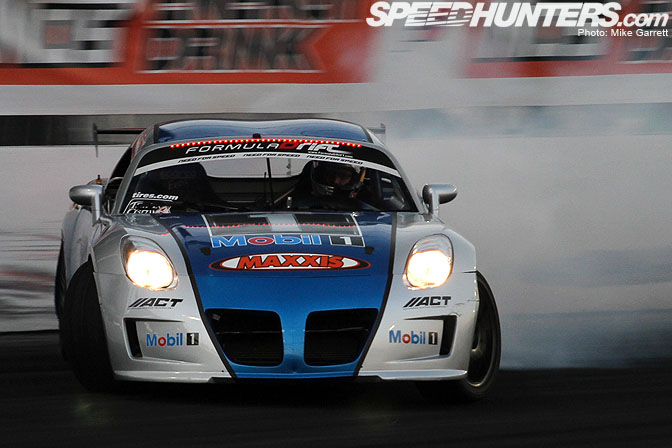 Ryan Tuerck also seems totally at home with his new LS7 powerplant, with a great showing so far this weekend. As you might remember, this is the guy who won last year's Irwindale event.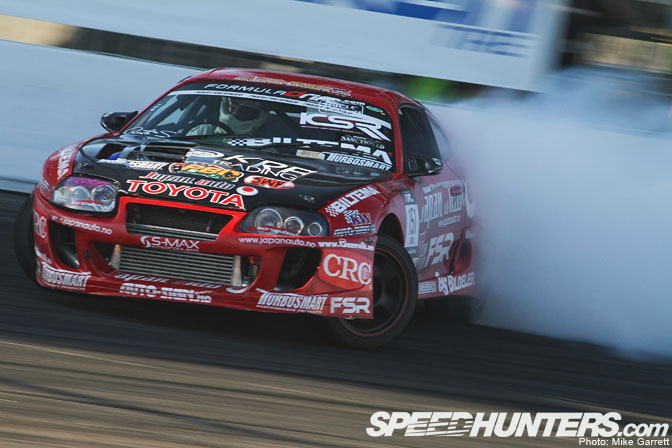 Could Fredric Aasbo earn his first FD podium finish tomorrow night? He was dropping jaws during today's solo runs, just as he's done all season long.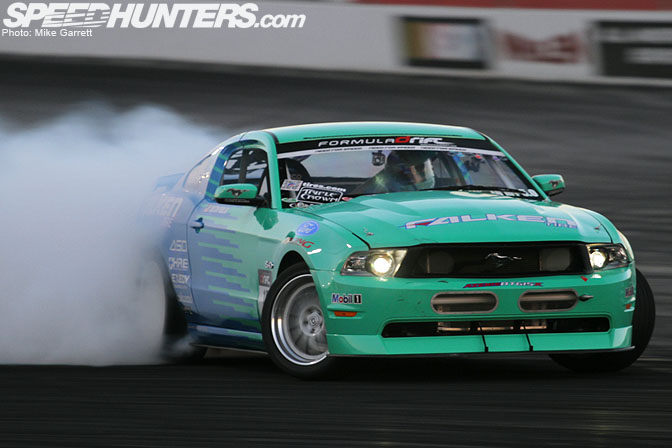 What would JTP do? This is another guy that always does well at Irwindale.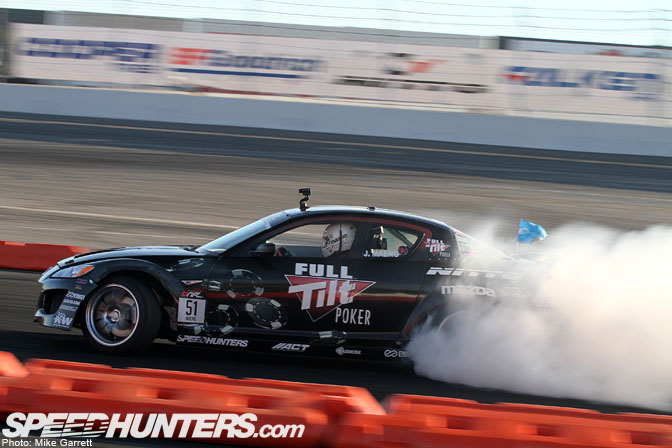 If any of you guys watched the Driftstream, then you'll probably agree with me when I say that Joon Maeng's driving looked incredible today.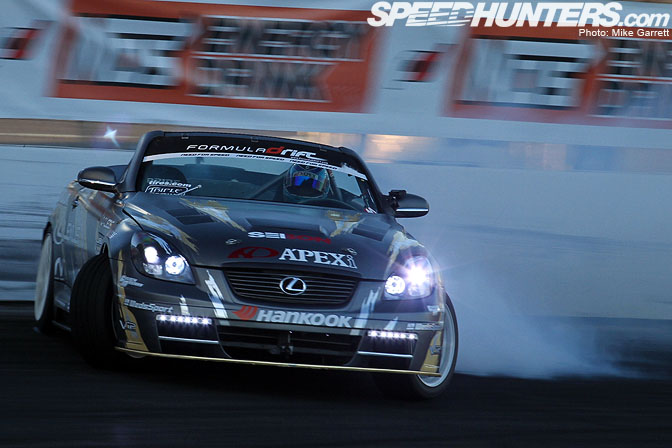 Ryuji Miki was also looking fly in his 430 Lex with convertible tops…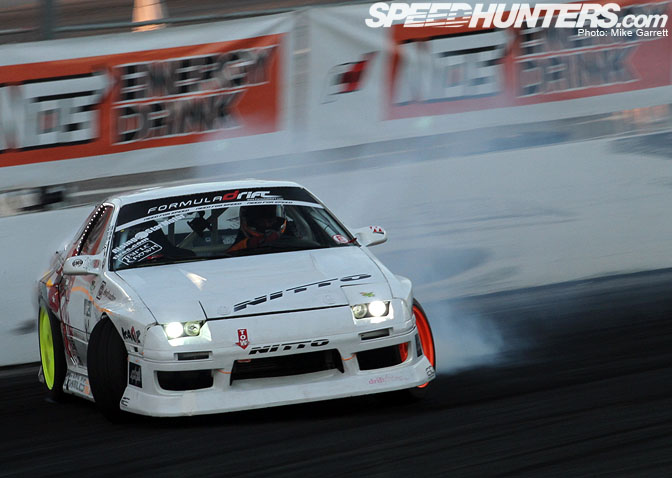 Here's Chales Ng pulling some serious angle through the inner bank. Every event it looks more and more like he's on his way to becoming one of FD's top drivers.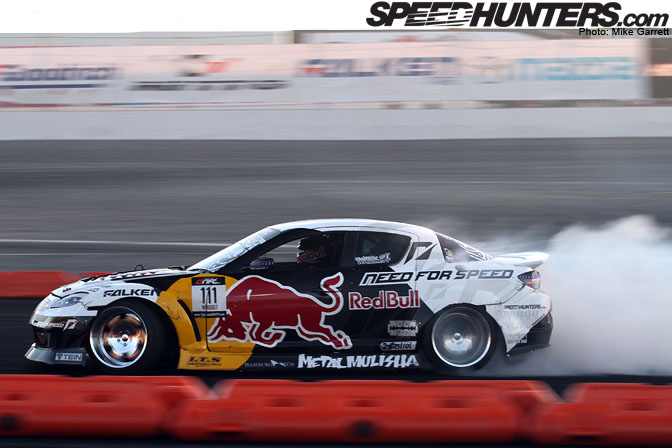 Mad Mike Whiddett had some serious transmission issues yesterday, but thanks to the hardworking fellas from Twins Turbo Motorsports, the car was ready to go for qualifying. Mike paid them back them by qualifying in the 9th position. Nice!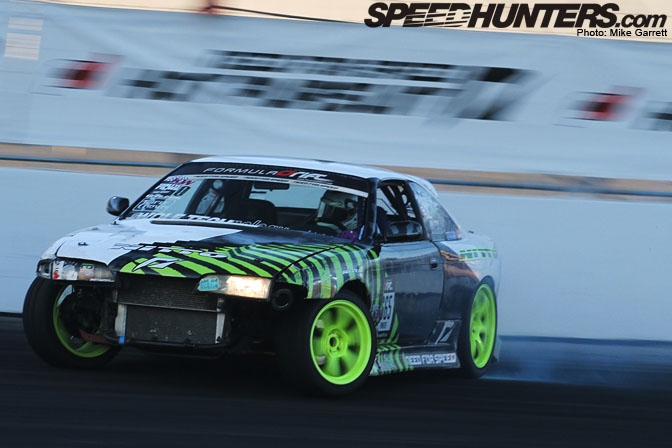 Will Matt Powers be able to repeat his amazing Irwindale performance from 2009? We'll find out tomorrow.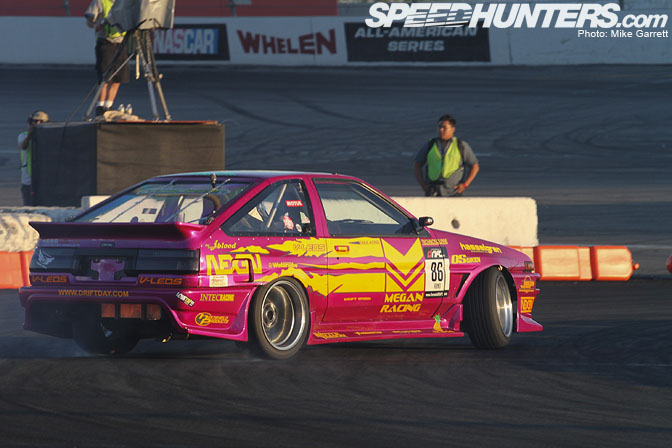 I noticed that Taka Aono swapped out his rear wheels for some larger ones. A lot of the competitive 86's in pro drifting seem to run larger wheel and tire combos, so we'll see what happens with this.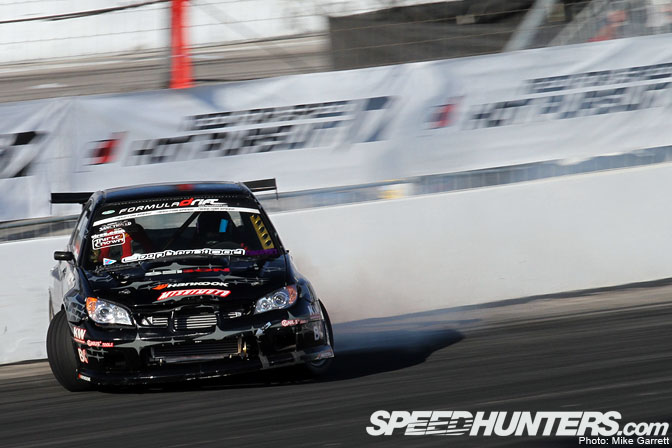 It hasn't been a great season for Eric O'Sullivan, but he's looked very solid so far. I'm sure a good finish at Irwindale will ease that frustration a bit…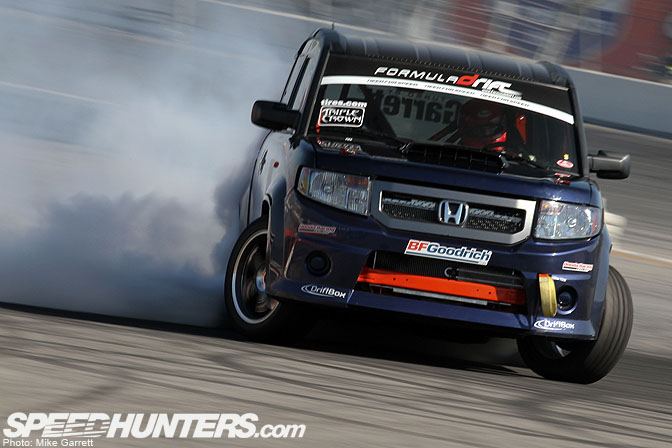 The Drift Element. You can't help but chuckle a bit every time you see in this thing on the track.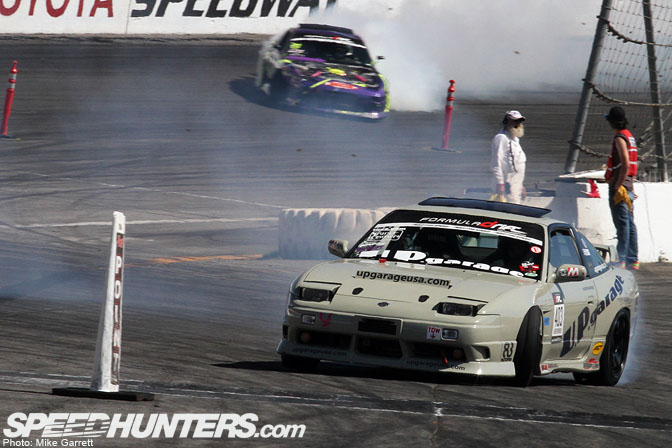 Of course the hard-charging privateers are always some of the funnest drivers to watch.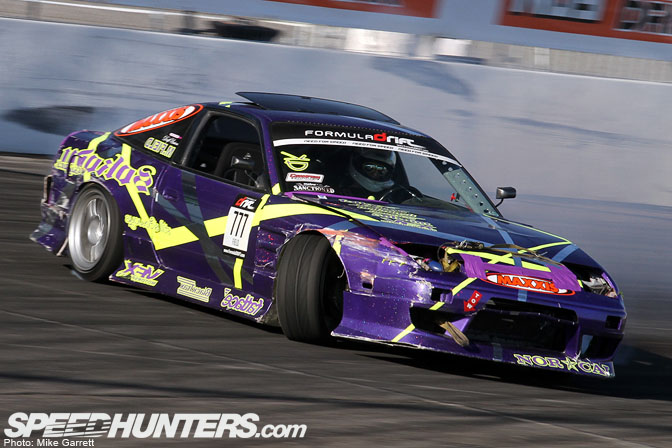 Chek out the steering angle on Matt Field's S13. Cool!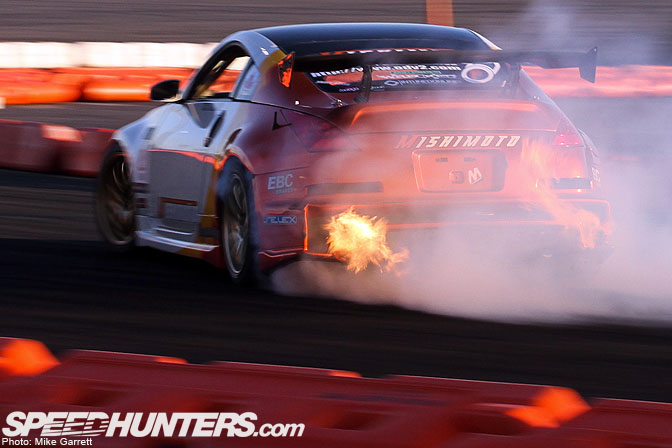 I'll finish up with shot of Matt Waldin buzzing the tower with full afterburner…
Alright, time to recharge for tomorrow. There's a championship to be settled!
-Mike Garrett
Qualifying Results: 
Driver: Car #:
1 D. McNamara #8 8
2 C. Forsberg #64 64
3 D. Yoshihara #9 9
4 R. Tuerck #44 44
5 T. Foust #34 34
6 V. Gittin #25 25
7 S. Hubinette #77 77
8 R. Millen #6 6
9 M. Whiddett #111 111
10 J. Maeng #51 51
11 F. Aasbo #151 151
12 C. Grunewald #79 79
13 J. Pawlak #13 13
14 K. Mohan #99 99
15 M. Waldin #23 23
16 T. McQuarrie #17 17
17 R. Nishida #31 31
18 M. Takatori #5 5
19 M. Powers #665 665
20 K. Gushi #33 33
21 S. Verdier #12 12
22 T. Aono #86 86
23 J. Deane #16 16
24 Y. Kondo 52
25 J. Robinson #902 902
26 E. O'Sullivan #35 35
27 I. Fornier #11 11
28 N. Konstantinov #403 403
29 J. LeJeune #333 333
30 R. Miki #26 26
31 M. Field #777 777
32 B. Sherman #22 22