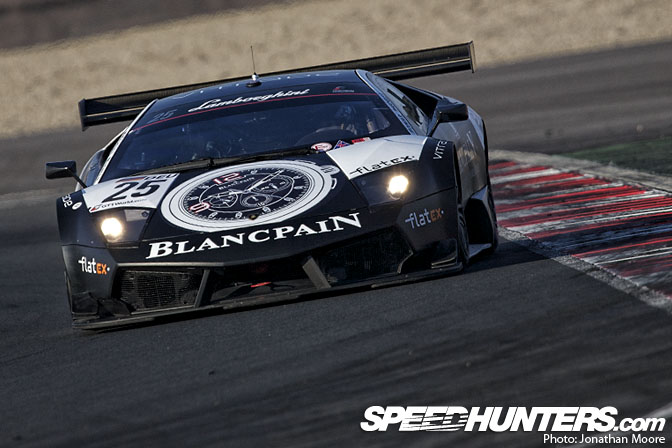 It was celebration for the Reiter Lamborghini team as #25 became the first pairing to sweep qualifying pole and wins in both the Qualifying and Championship GT1 races. It meant a maximum points haul for Ricardo Zonta and Frank Kechele in the fire-breathing #25 Murcielago 670 R-SV after dominating both races in impressive style.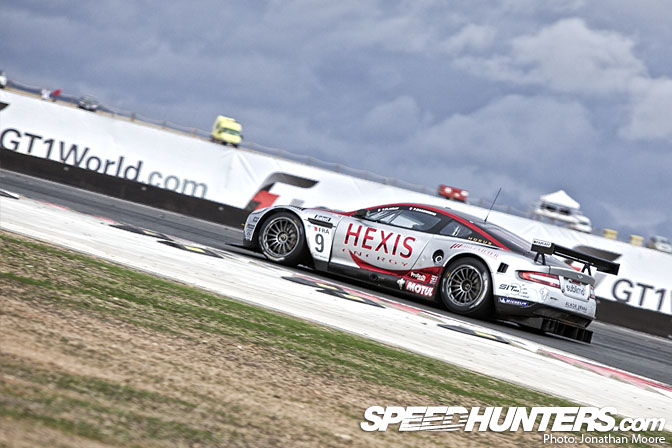 Second placed was the Hexis Aston Martin DB9 of Fred Makowiecki and Yann Clairay: they fought almost race-long with the Lamborghini and came so close to taking the lead after the pit-stops.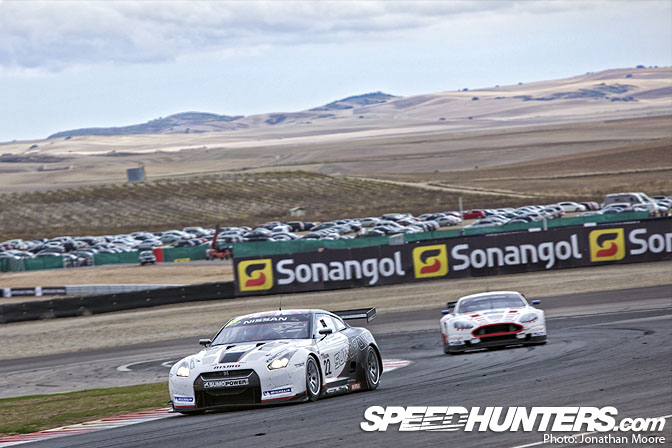 Sumo Power's #22 Nissan GT-R followed up a stunning start with a podium, finishing just half a second behind the second-placed Hexis Aston. Jamie Campbell-Walter out-dragged three cars into the first corner at the rolling start and although he was reeled back in he kept with the leaders. When Warren Hughes took over he was under pressure from the #7 Aston Martin, but the two of them actually dragged up to the back of the Hexis car by the chequer. Champagne is back on the menu at Sumo Power!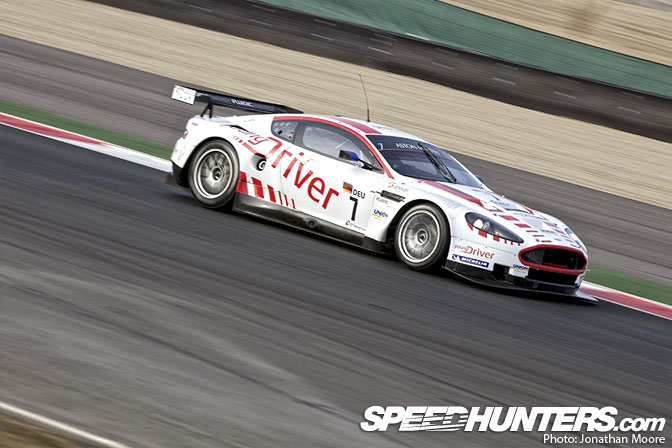 There was no way the #7 Young Driver Aston should have finished in fourth after starting 19th and being punted up onto two wheels at the first hairpin. But Darren Turner put in a mind-blowing first stint to fight all the up to fifth place by the pit-stops. Carnage is the only way to summarise the race though: only 12 cars were classified as finishers and there were various cars left in pieces by the end. These are the cars that need to be put in sea-freight containers tomorrow morning to be shipped to Brazil. Another stunning GT1 race: make sure you check it out on the web re-runs. Crazy. 
WORLD GT1 CHAMPIONSHIP ROUND EIGHT @ NAVARRA CHAMPIONSHIP RACE RESULT
1: #25 Reiter Lamborghini Murcielago 670 R-SV (Ricardo Zonta/Frank Kechele) 37 laps
2: #9 Hexis AMR Aston Martin DB9 (Tomas Enge/Darren Turner) +11.897s
3: #22 Sumo Power Nissan GT-R (Warren Hughes/Jamie Campbell-Walter) +12.352s
4: #7 Young Driver AMR Aston Martin DB9 (Tomas Enge/Darren Turner) +12.968s
5: #40 Marc VDS Ford GT (Maxime Martin/Bas Leinders) +36.026s
Jonathan Moore