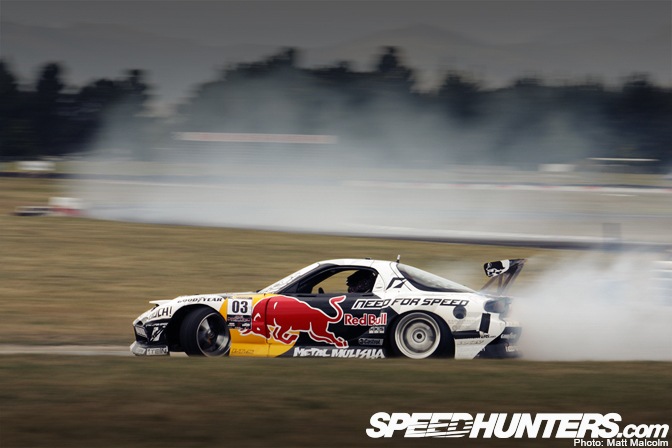 Day two of the Rockstar Energy Drink National Drifting Championship kicked off with a frantic morning practice session. With all of New Zealand's top drifters from around the country putting their game faces on, it was time to get down to business.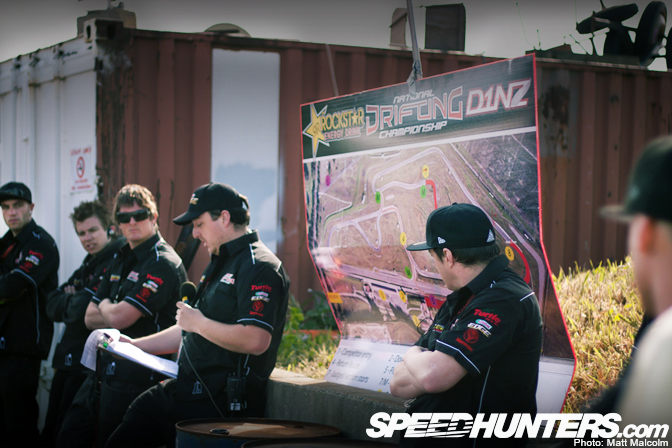 During the morning drivers briefing the D1NZ officials explained the clipping points, judged section and the all important safety flag rules.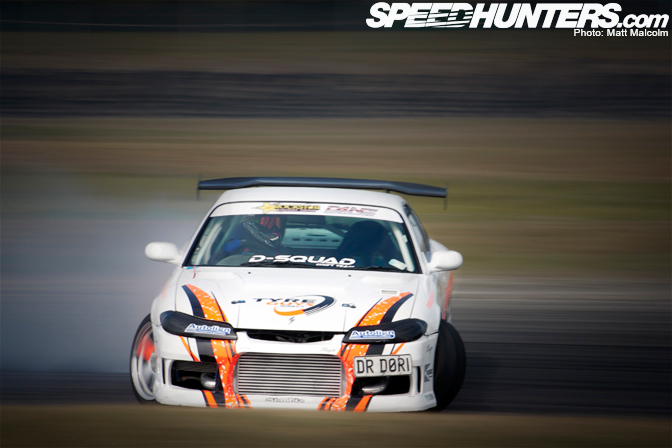 Check out Gene Rhodes backwards entry during the morning's practice session. These South Island boys are mad and were really going for it – there's no holding back – even in practice!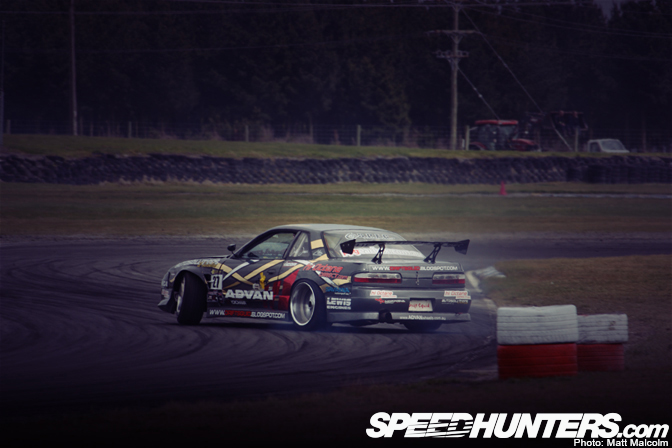 Australian Jake Jones was back out on track after oil supply problems plagued his Nissan Silvia the previous day. He drove consistently even though he didn't get much seat time on the first day.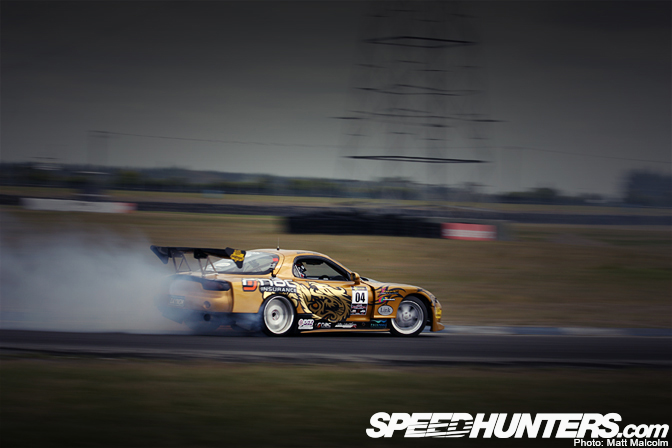 Here's Daynom Templeman showing one of Ruapuna's inner ripple strips who's boss during the morning's practice session.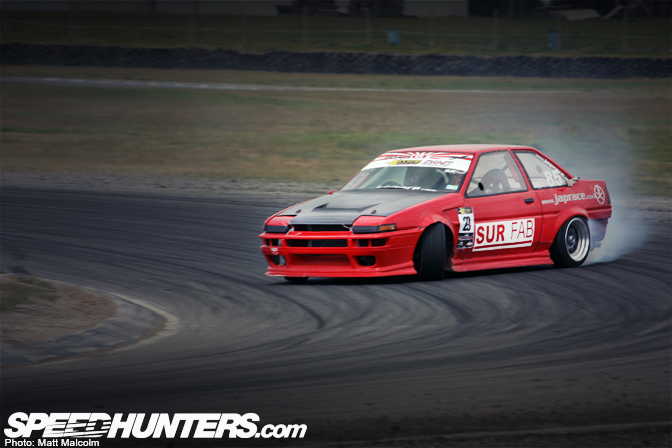 It wasn't long before we were into qualifying and local driver Simon Uquart was showing the higher horsepower boys how it was done. Driving hard he earned himself 11th place.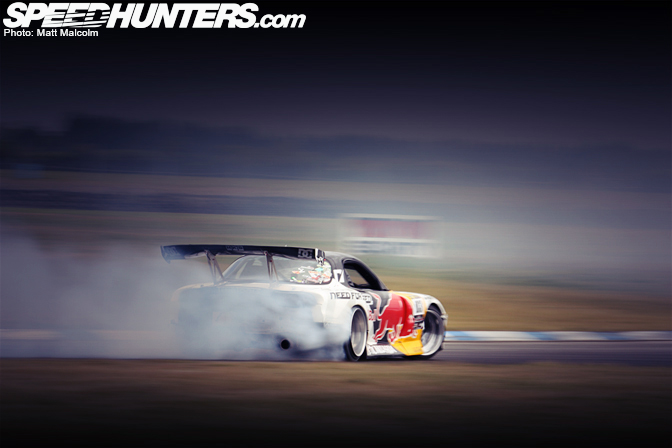 Mad Mike drove to a very respectable 5th place in qualifying.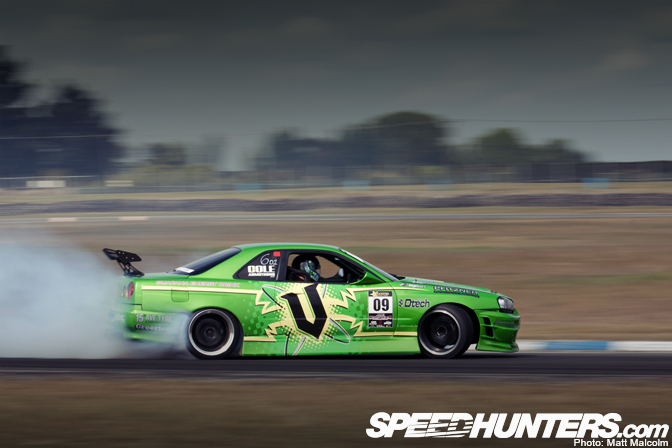 Cole Armstrong in the V Energy Drink R34 Skyline navigated his way into 3rd spot.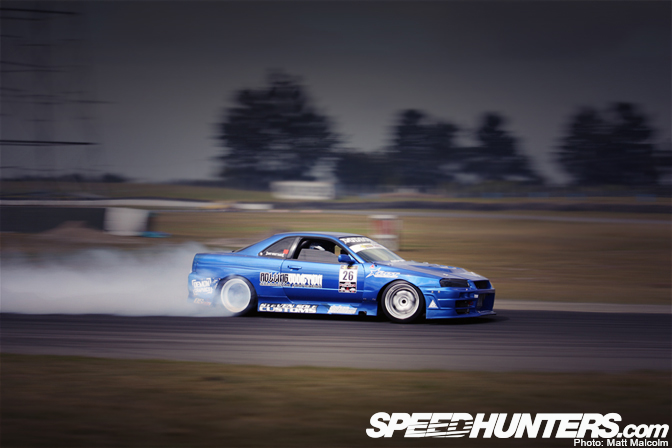 Mountains of smoke streamed from Curt Whittaker R34 Skyline helping him into 2rd place.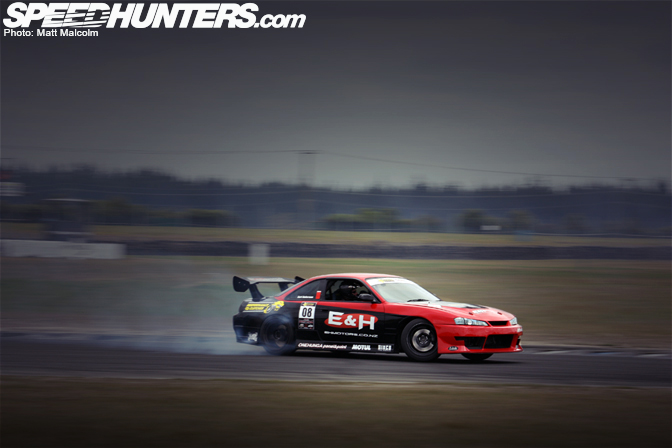 And Carl Ruiterman deservingly secured the top spot after several consistent and methodical runs.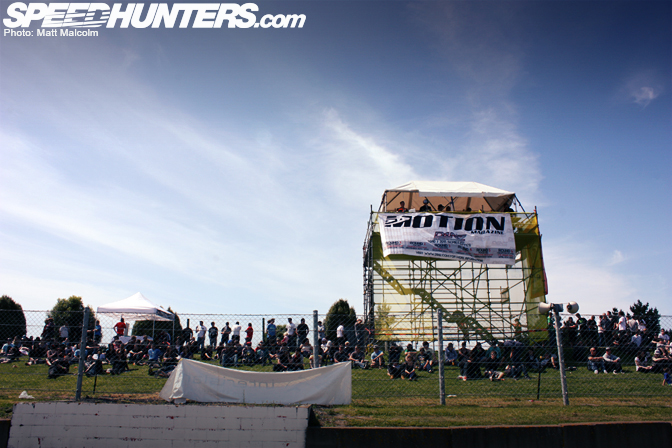 Check out the elevated judges booth. This gives the officials a clear and uninterrupted view of the track… and even a little space to enjoy some mid-day sun!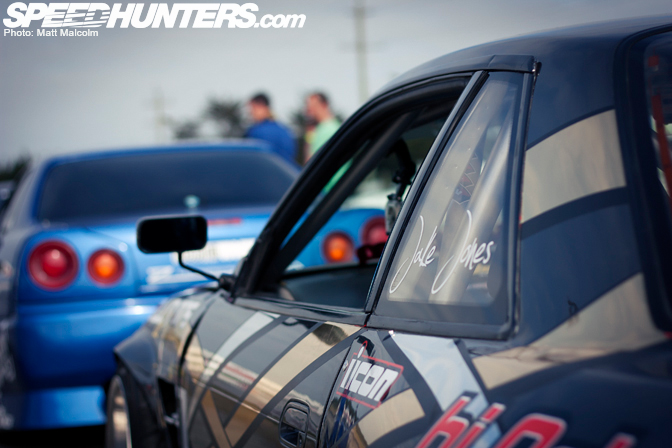 Walking back through the grid I spotted Jake Jones' S13 Silvia sitting idle… let's take a look inside shall we?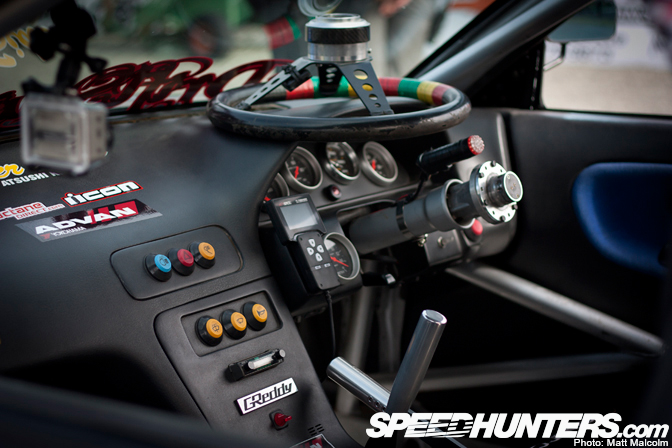 Check out that crazy steering wheel!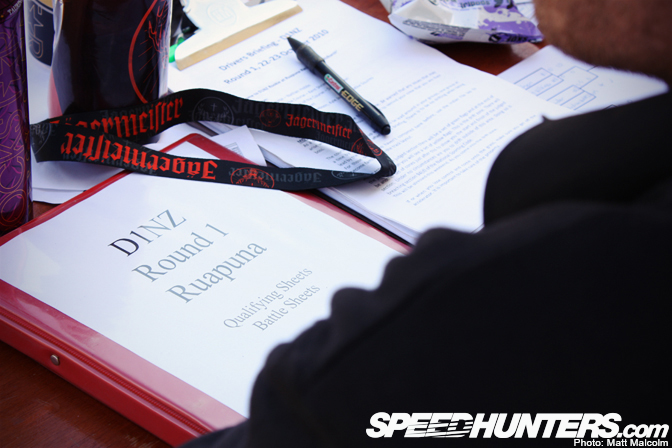 Inside the judges booth I stole a glance at the qualifying scores.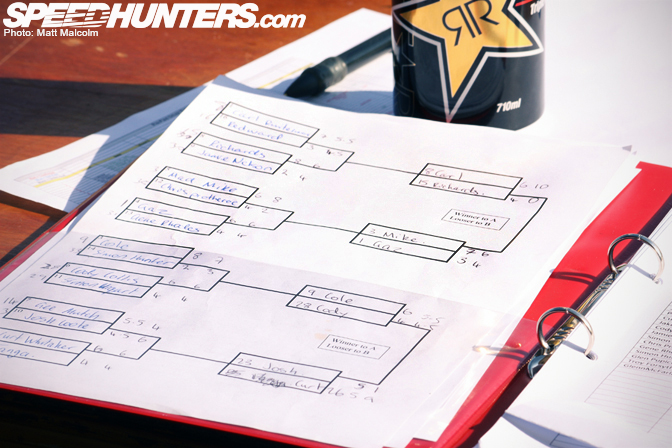 Top 16 Placings:
1st – Carl Ruiterman
2nd – Curt Whittaker
3rd – Cole Armstrong
4th – Gaz Whiter
5th – Mad Mike Whiddet
6th – Cody Collis
7th – Gee Mutch
8th – Adam Richards
9th – Jamie Nelson
10th – Josh Coote (Australia)
11th – Simon Urquart
12th – Chirs Protheroe
13th – Gene Rhodes
14th – Simon Hunter
15th – Daniel "Fanga" Woolhouse
16th – Andrew Redward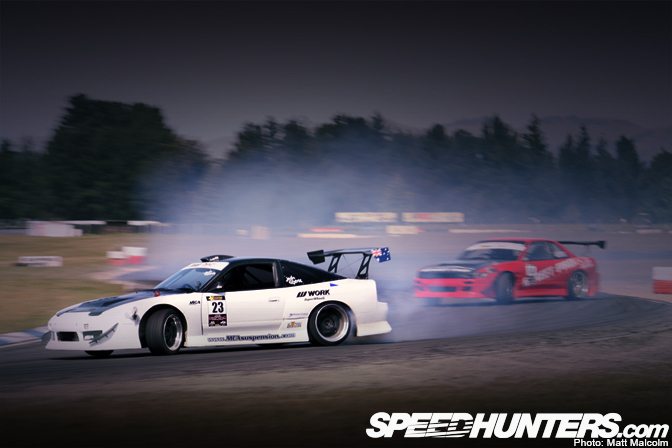 Moving onto the Top 16 battles we had Australian Josh Coote against D1NZ veteran Gee Mutch. Gee Mutch was getting huge angle all throughout qualifying but Josh grabbed the win thanks to his solid driving, proceeding through to the top 8.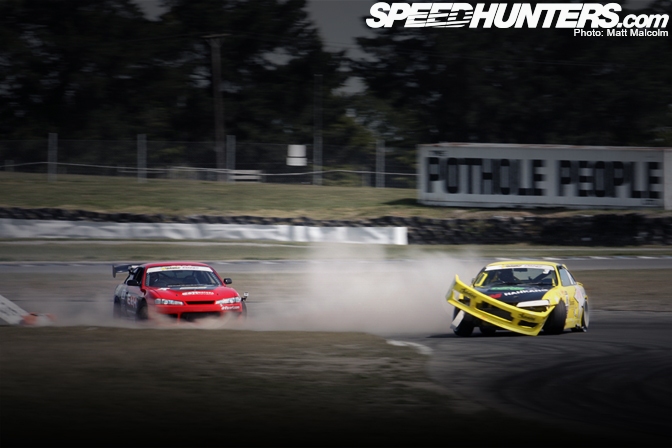 The Top 16 battles heated up with Carl Ruiterman facing Andrew Redward. S14 vs S14, the battle raged but eventually Carl Ruiterman was awarded the win. Andrew Redward drove well even when his vision was obscured by his own flying aero!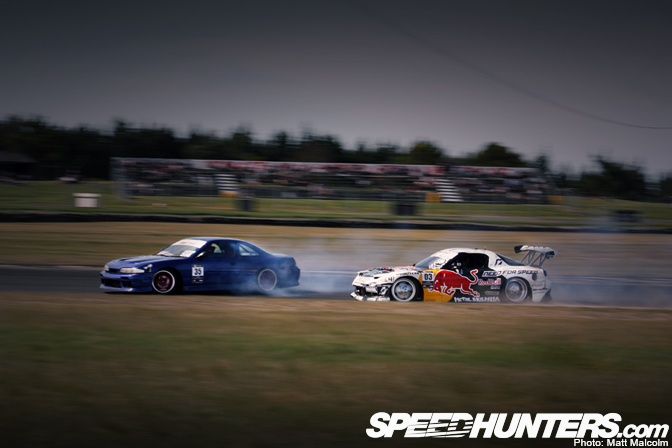 Chris Protheroe fought well against Mad Mike in the battle for the Top 8 but Mad Mike's RX-7 was too much to handle for the S14.  
Top 8 Placings:
Carl Ruiterman
Adam Richards
Mad Mike
Gaz Whiter
Cole Armstrong
Cody Collis
Curt Whittaker
Josh Coote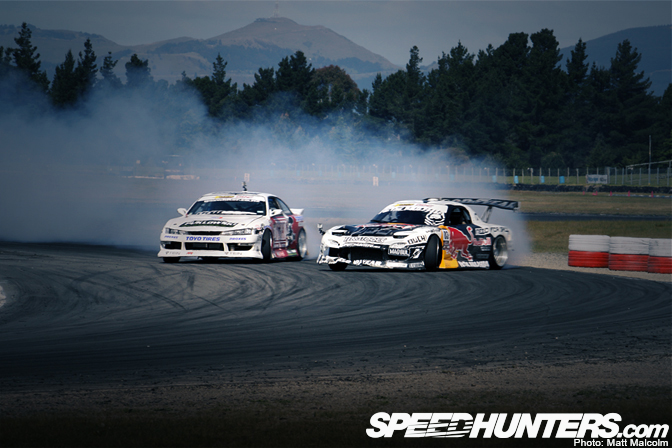 In the Top 8 Gaz Whiter dove down the inside of Mad Mike. Mike managed to fend off an almost relentless attack, moving on to the Top 4.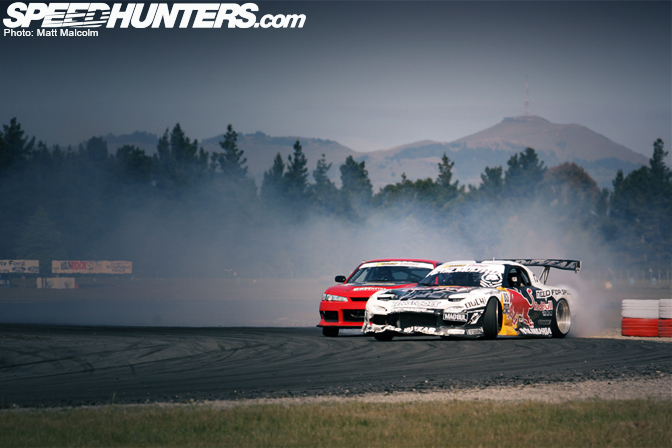 The Top 4 battle between Mad Mike and Carl Ruiterman was, simply put, epic. Carl Ruiterman beat Mike by a very narrow margin and moved on to the final battle.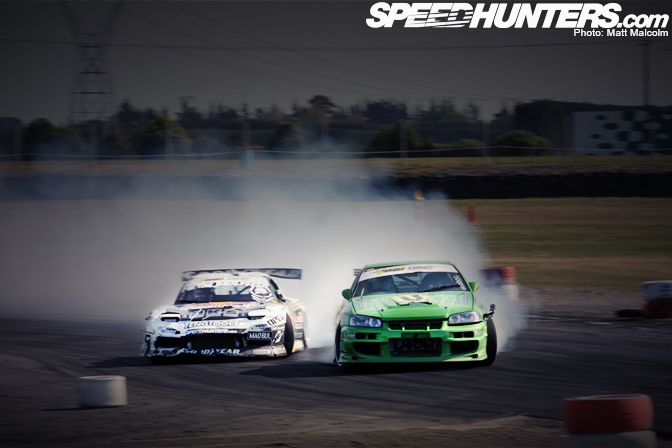 The battle for 3rd and 4th was on. Cole Armstrong in the R34 lined up against Mad Mike. This was always going to be a good battle that would go right down to the line. On Mike's chase run he spun, handing Cole Armstrong 3rd place overall.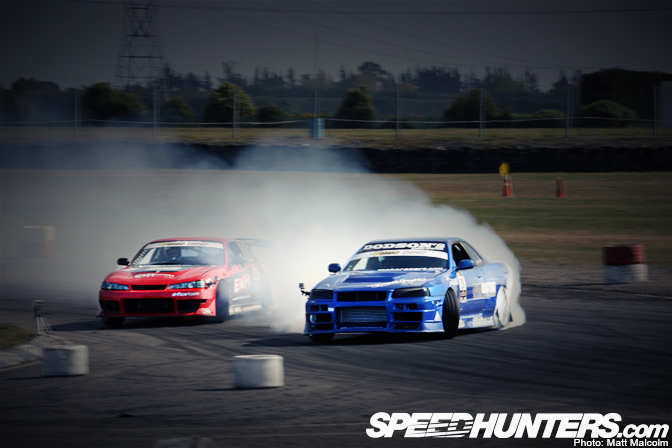 The final battle. Carl Ruiterman in his S14 Silvia versus Curt Whittaker in his R34 Skyline. A near perfect chase from both drivers forced the judges to call a one more time, the pressure was on and the crowd went crazy one more time!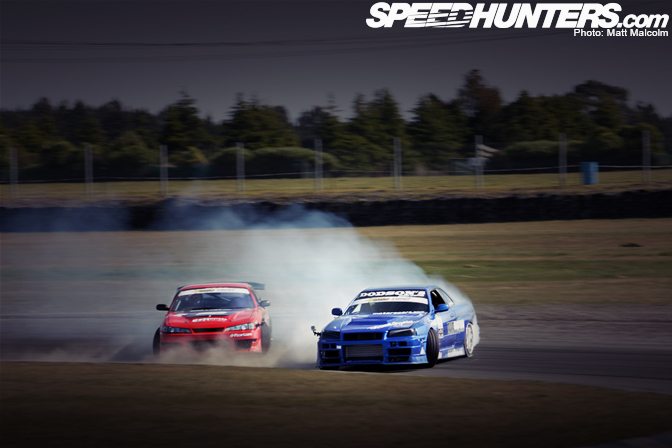 Both drivers drove superbly on their second runs. Carl Ruiterman's speed was simply unreal and Curt Whittaker's angle almost seemed to defy physics. But there had to be one winner, and by a very slight margin Curt Whittaker took out Round 1 of the Rockstar Energy National Drifting Championship.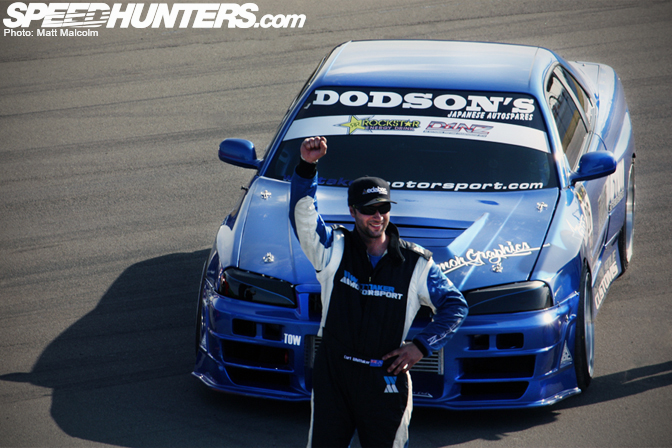 Round 1 winner Curt Whittaker acknowledges the huge and very vocal crowd.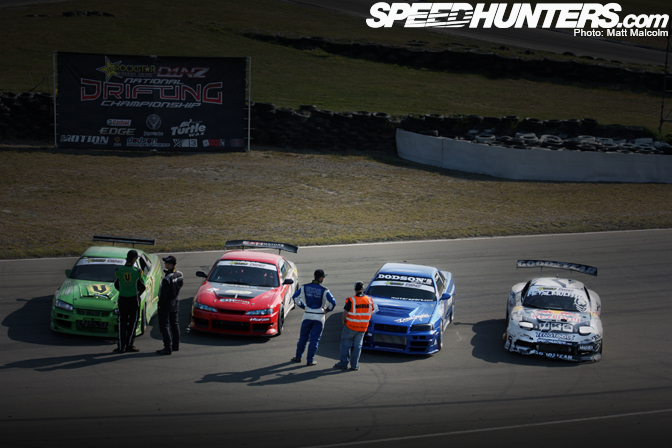 The top 4 cars lined up for driver interviews on TV as well as media photos.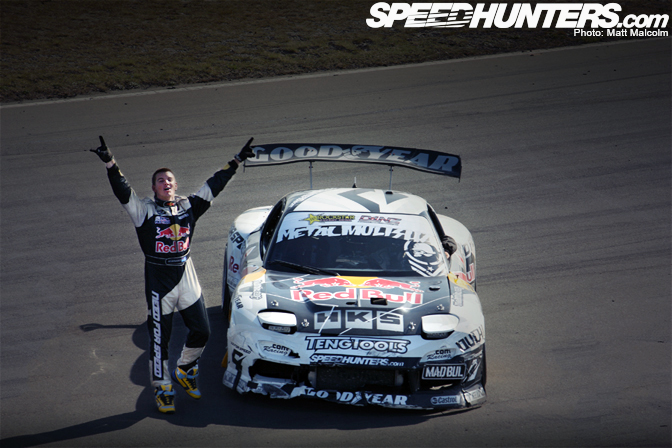 Mad Mike drove well to secure place and 270 points to kickstart his season.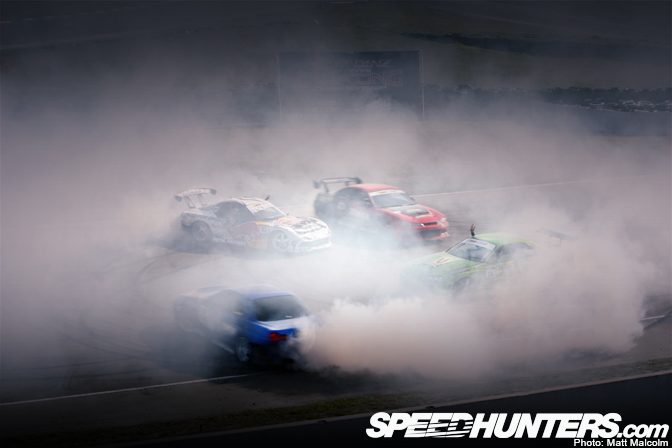 Four car tandem victory doughnuts, it doesn't get any better than this!
Rockstar Energy Drink National Drifting Championship D1NZ Round 1 Standings:
1st      Kurt Whittaker
2nd    Carl Ruiterman
3rd     Cole Armstrong
4th     Mike Whiddet
5th     Gaz Whiter
6th     Cody Collis
6th     Josh Coote
8th     Adam Richards
9th     Gee Mutch
10th   Jamie Nelson
11th   Simon Uquart
12th   Chris Protheroe
13th   Gene Rhodes
14th   Simon Hunter
15th   Daniel Woolhouse
16th   Andrew Redward
17th   Daynom Templeman
18th   Gary Tenana
19th   Sky Zhao
20th   Jake Jones
21st   Paul Tomlin
22nd  Chris Trundle
23rd   Drew Donovan
24th   Bruuce Tannock
25th   Kurt Holland
26th   Hugo Maclean
27th   Glen McFarlane
28th   Steven Sole
29th   Jason Sellers
30th   Blair Martin
31st   Mac Kowk
-Matt