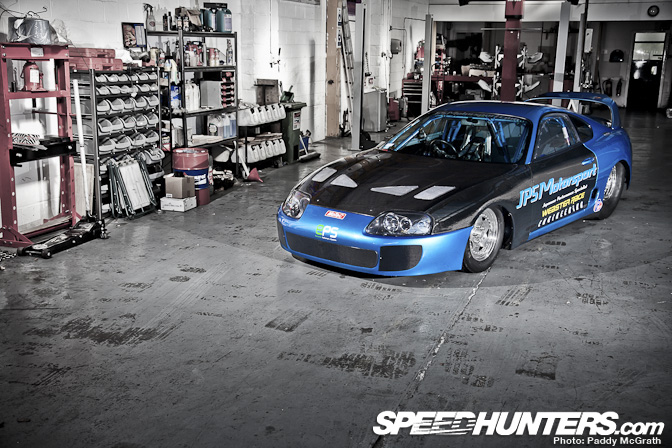 To conquer the Pro class of the HKS Drag Series is one thing, to do it twice in succession takes a very, very special car. Never mind a car that still has it's original steel quarter panels, roof, spoiler, bumpers and lights.
The car before you is that of Leon Green, owner of JPS Motorsport and the car was built for two reasons, one as a test bed for his customer's cars and two for Leon's own personal goal of running consistent six second passes.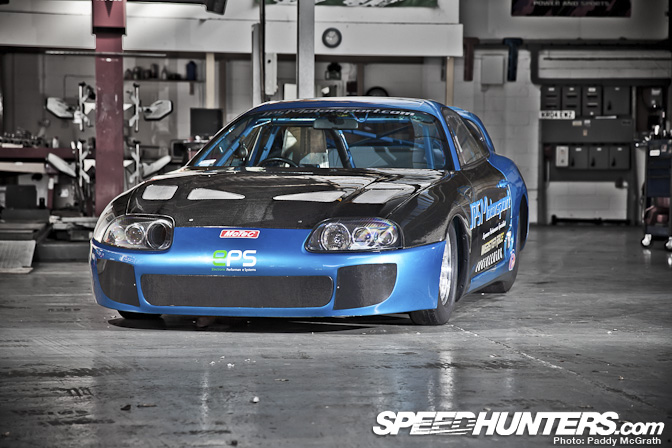 The shell is obviously that of a JZA80 Supra but the critical component is that it's sat atop a Chromo chassis built by Jon Webster and the staff at Webster Engineering.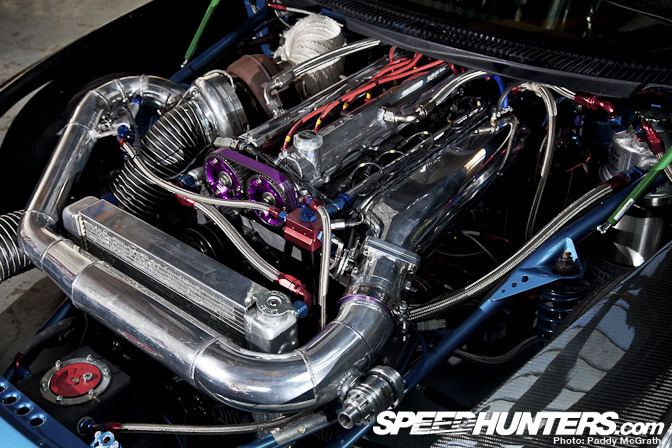 Leon has chosen to retain the heart of the Supra, the infamous 2JZ GTE.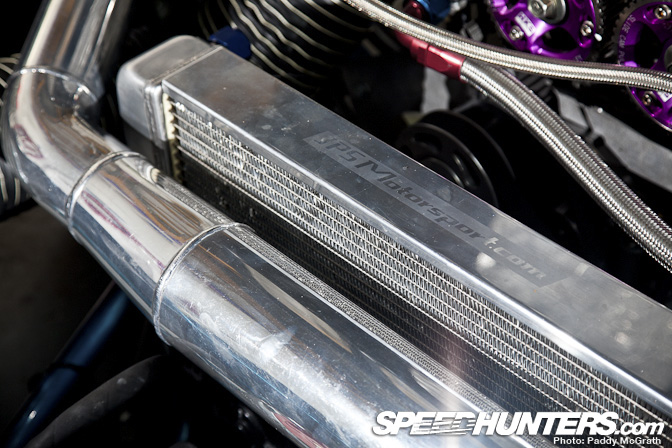 The car has evolved from pretty much a stock Supra before being reshelled onto the SFI 25.1E conforming chassis. Some people in the comments section were complaining about the Abbey Project GTST & ZED cars as being funny cars and not true to their original cars.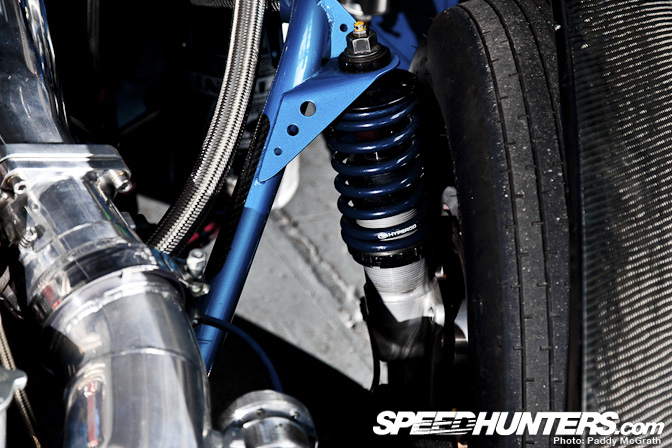 The truth is, you can't run below a 7.49 without the car being built to
this specification. This is almost entirely for driver safety. Has
anyone ever built a full bodied car to 25.1E ? Has a full bodied car ever run a sub 7.49 ? The front and rear coilovers are custom made for the car.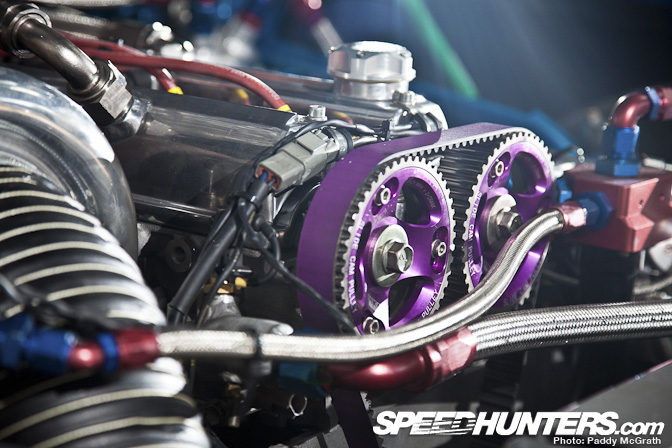 Anyways, let's take a look at what makes this Supra special. First off, the all important numbers. 1400BHP, 7.2 second ET at 183.54MPH. The car has been running consistent low sevens all year in the HKS Series and Leon is intending on breaking into the sixes for 2011.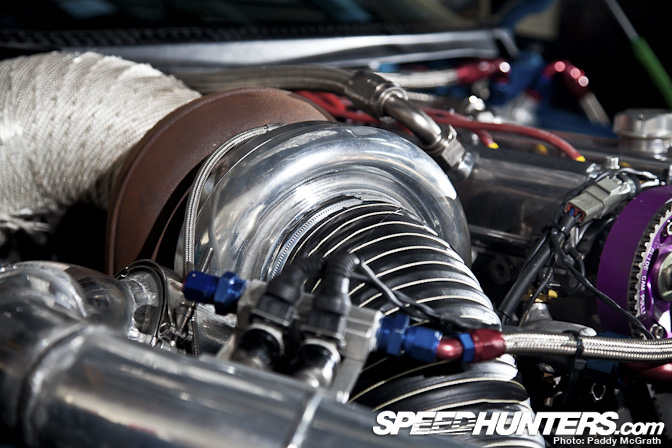 It's running a single turbo setup with a Borg Warner S400 with a 5" exit.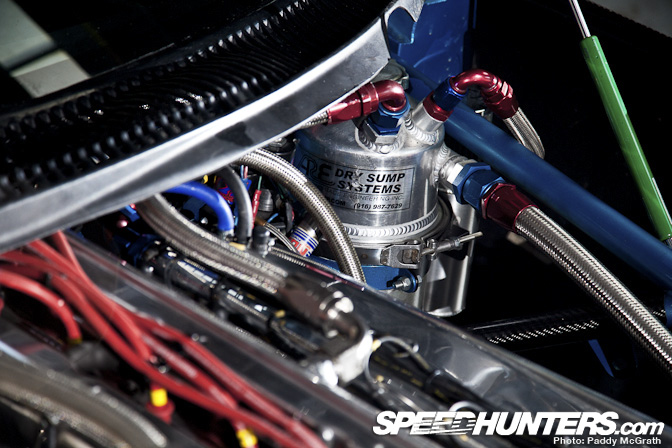 To prevent oil starvation under the rather incredible forces involved during the course of a run, the car is equipped with a dry sump system.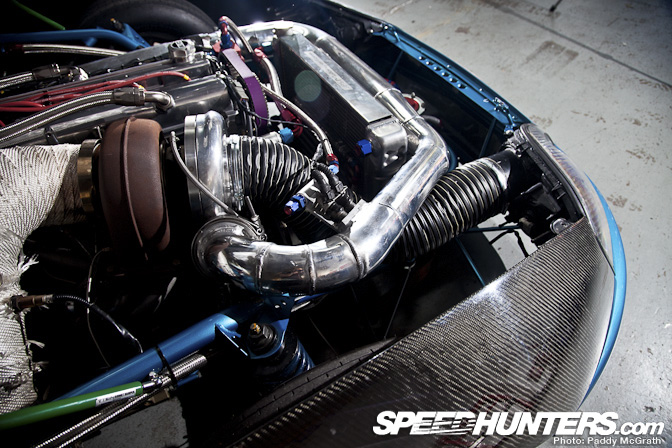 As part of his plans to run a six second pass, Leon will be fitting the car with a chargecooler over the winter months as just one of many changes to reach his target.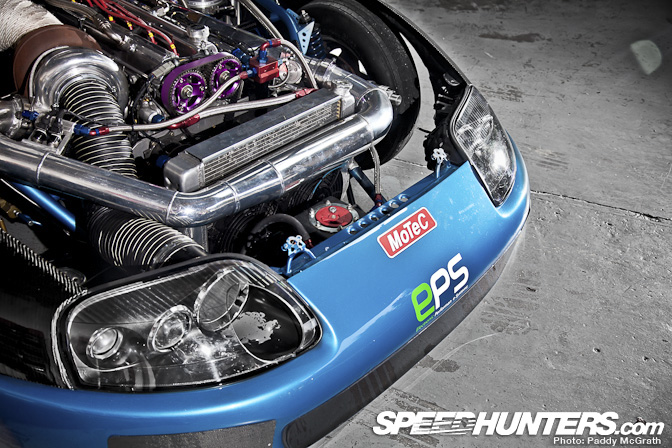 There are a lot of one off parts in the engine bay alone. Custom inlet manifold, custom cams, custom CP Pistons and a JPD one off crank amongst other things.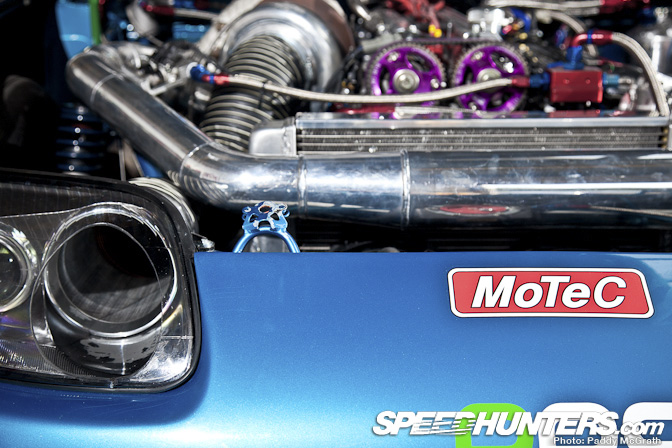 I really like how subtle the air intake in the headlight is.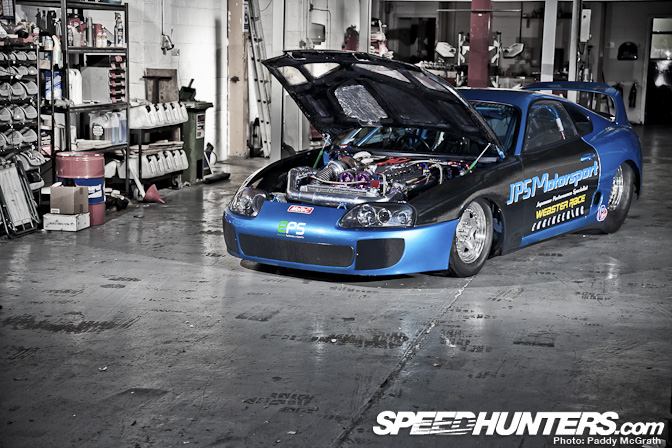 Walking around the car and getting to know it's intricacies throughout the course of the shoot was a pleasure. There are so many neat little details on what is a car built to a very high standard.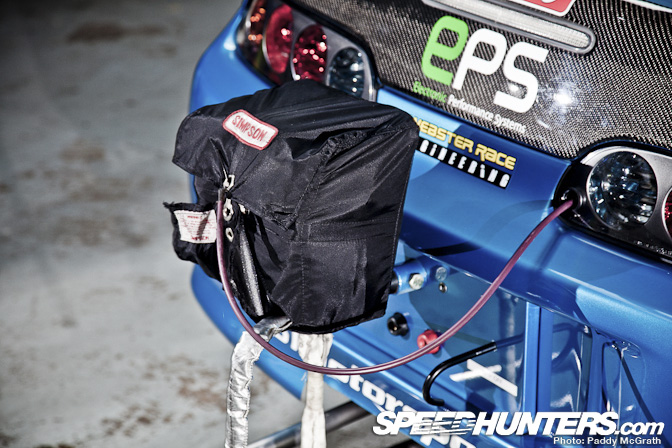 Assiting the Strange front and rear brakes is a Simpson Parachute.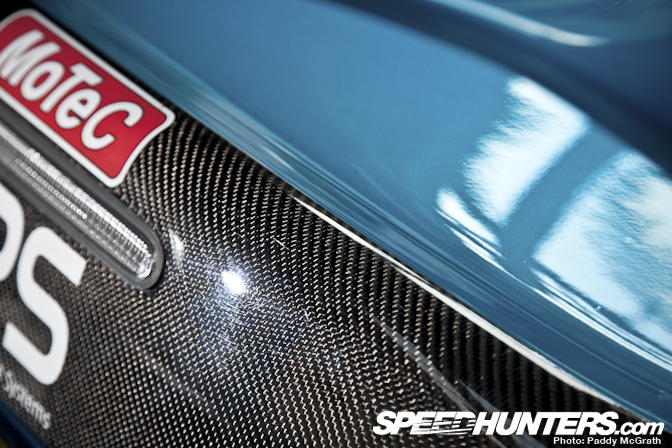 The trunk (along with other body panels) is made of carbon fibre but has been painted the same colour as the rest of the car with the carbon just laquered over.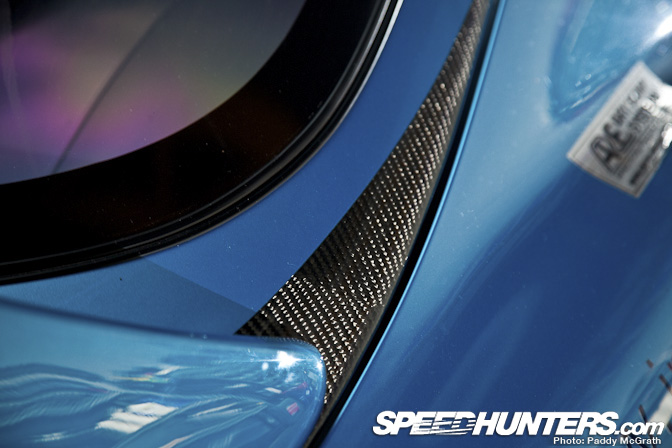 I really liked how the carbon was integrated here into the look of the car. Nothing brash or OTT, just a simple little detail that adds to the overall package.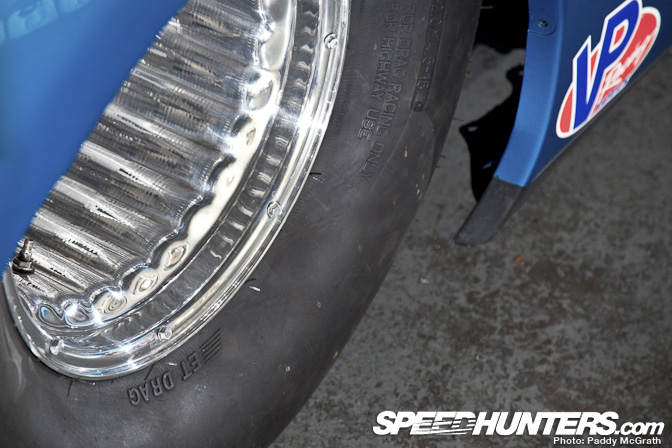 32" wide rear tires on a 15" rim is a whole lot of rubber.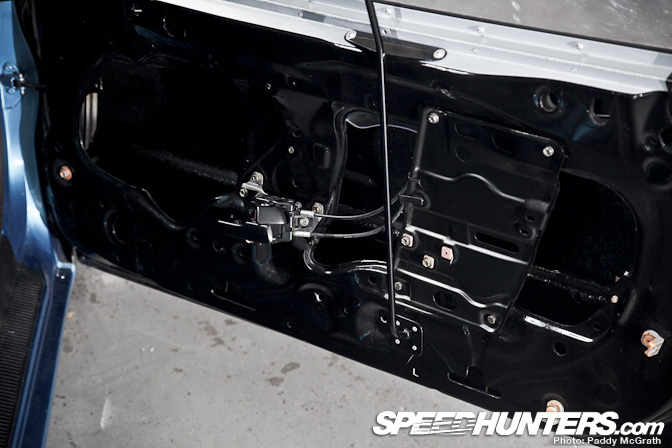 Yup, original doors with a carbon skin. Leon won't have to work hard to chop further weight out of this car.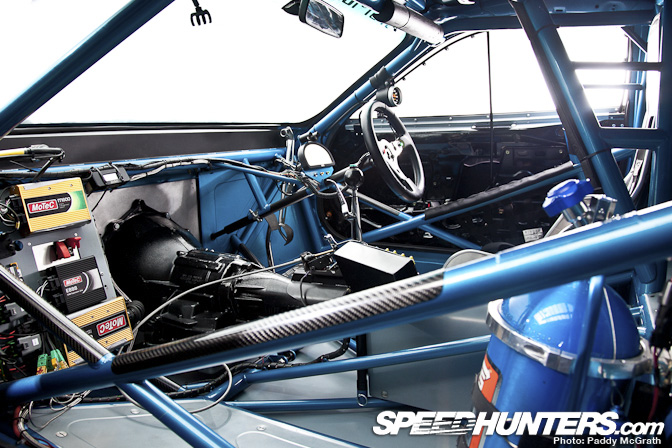 The Office.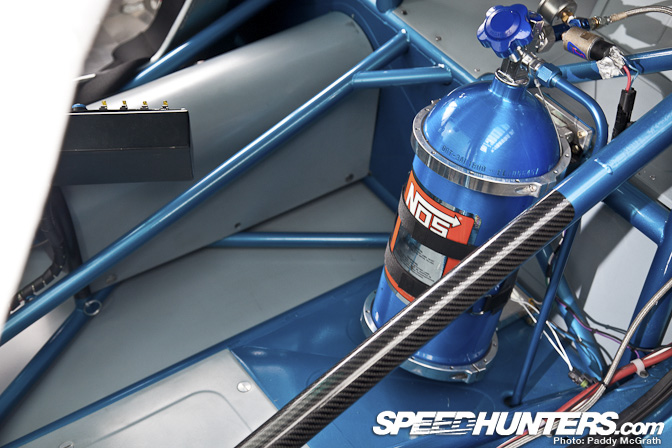 The NOS system is used to build power on the line but isn't used during the run. If my failing memory serves me correct, I think Leon told me the car makes a rather staggering 3.0 bar of boost sitting on the start line.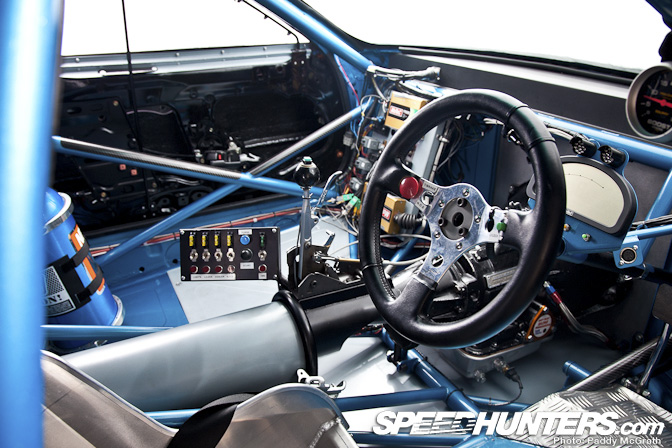 You'd almost think this is a warm and happy place to be. It's rather civilised for a 1400BHP car capable of seven second passes.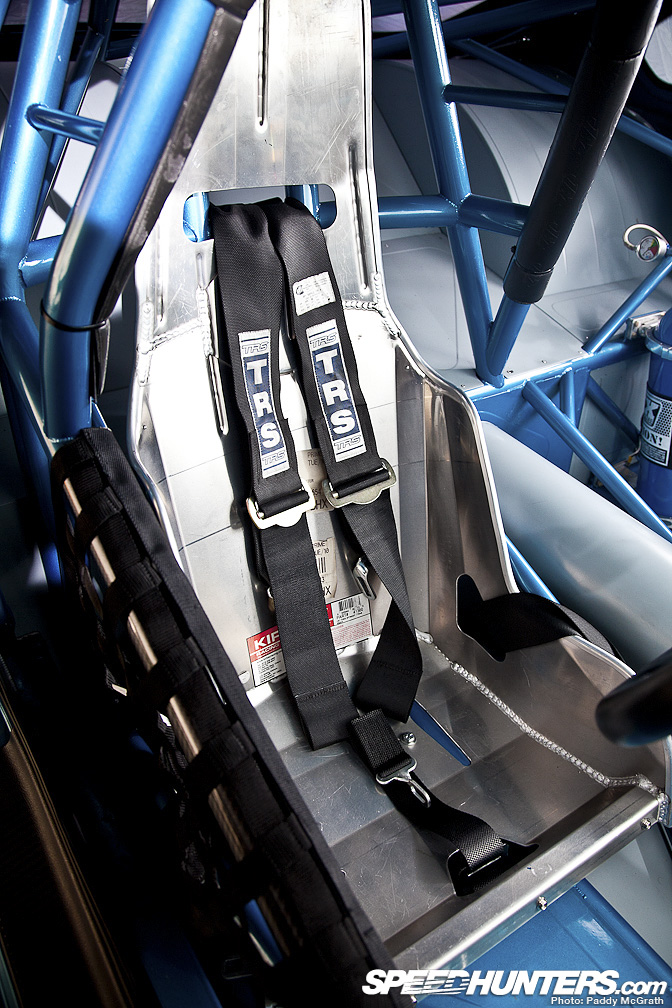 I always find these drag seats fascinating. They're built literally just to hold you in place for your pass and protect you if the worst happens with zero consideration to comfort and looks. Form follows function at it's best.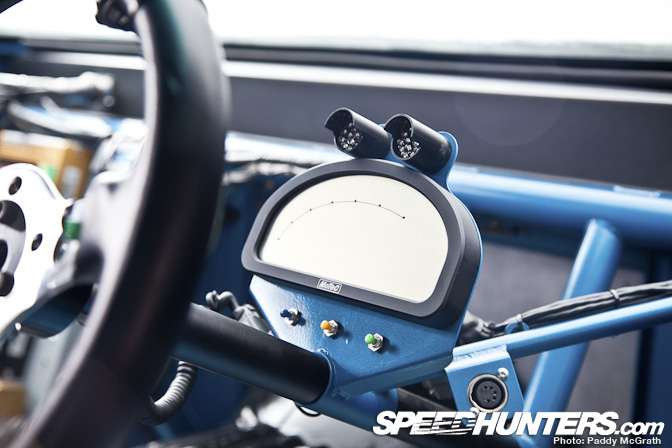 Motec digital dash and shift lights.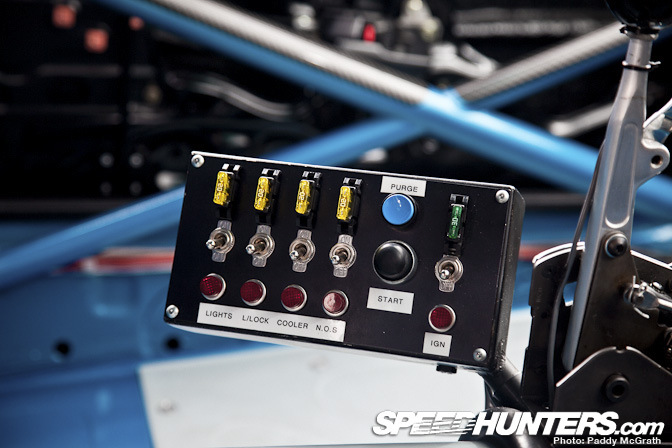 A nice and neat switch box for the important controls.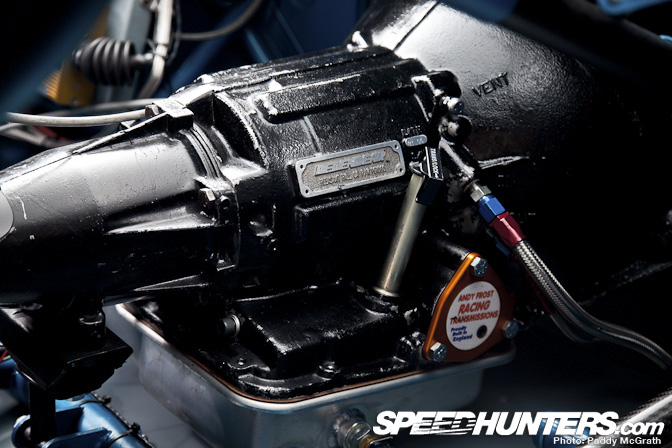 Powerglide two speed transmission.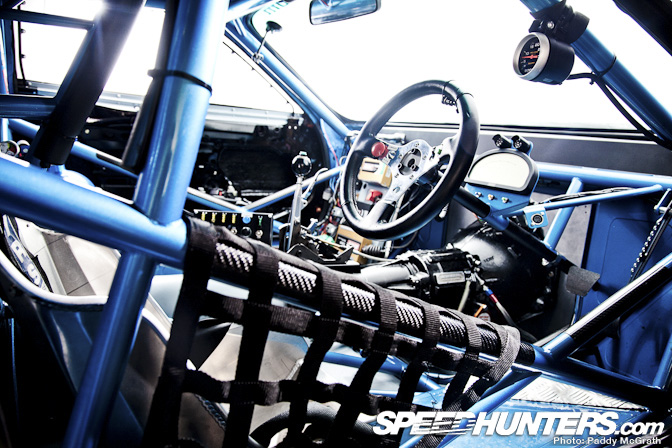 I've been foruntate to shoot a lot of cars this year but I gotta say that this has probably been my favorite interior to shoot. It just popped so easily.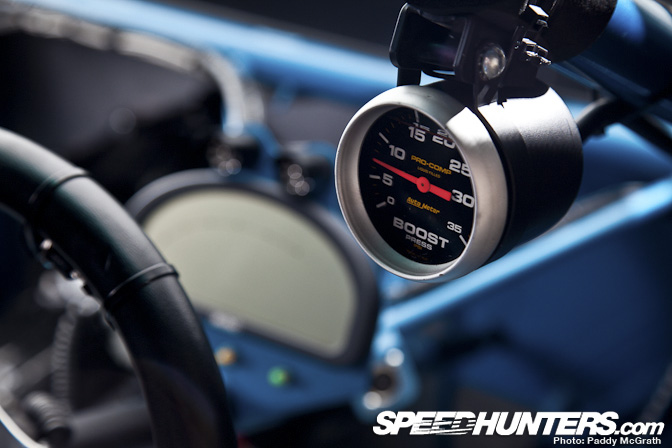 Auto Meter boost gauge where the needle spends most of it's time on the happy / scary side of the gauge.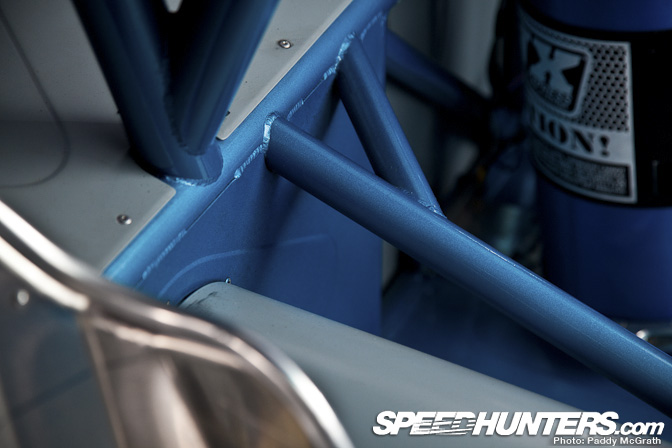 Just a look at how neat some of the interior bracing is.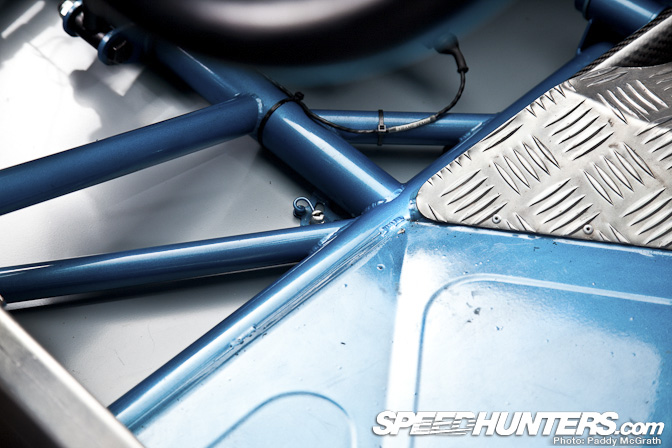 I'm not an engineer (clearly) but I find a strange sort of beauty in a well put together car.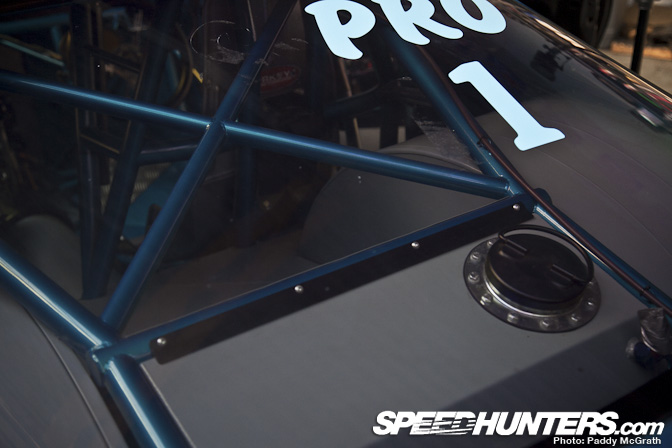 The rear end is obviously tubbed to accomodate the large drag slicks.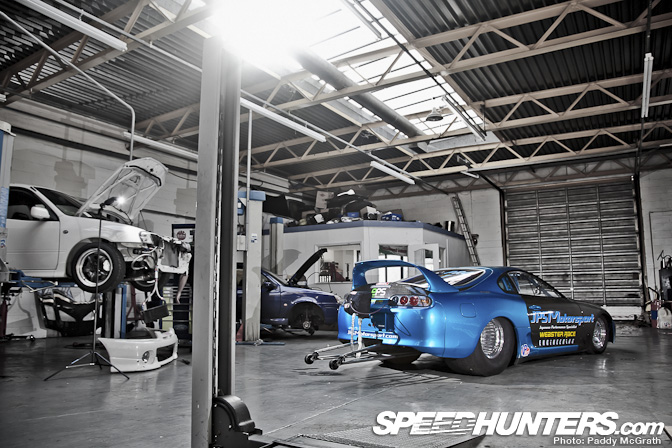 The power is put through a Ford 9" differential.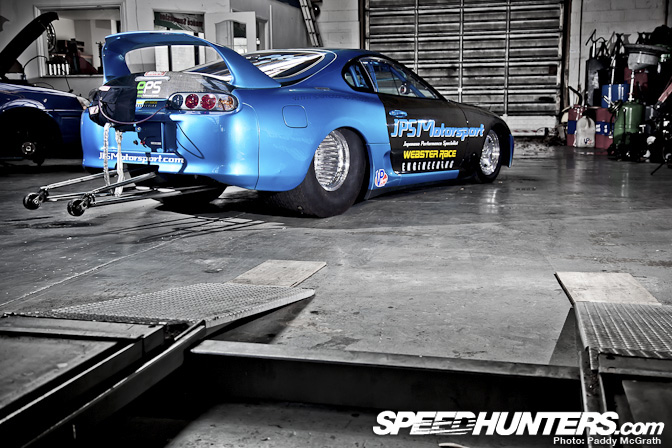 I really think the car strikes a good balance between it resembling a street car and being a functional, all out drag racing car.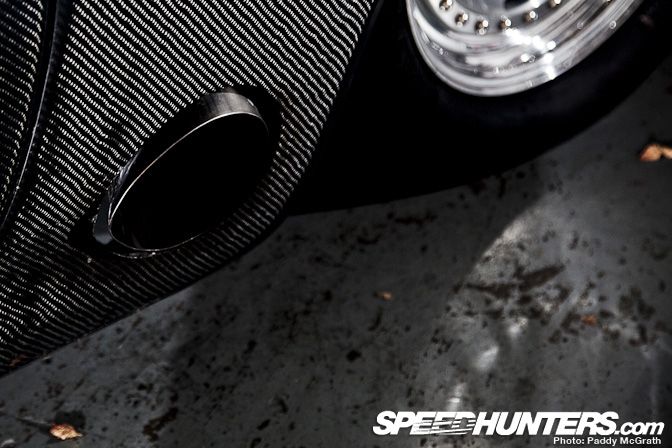 5" exhaust exit in drivers side wing.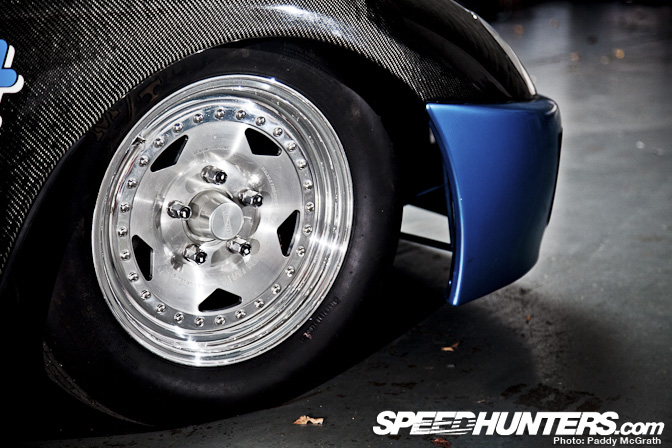 15 x 4.5 wheels on the front with Strange brakes behind them.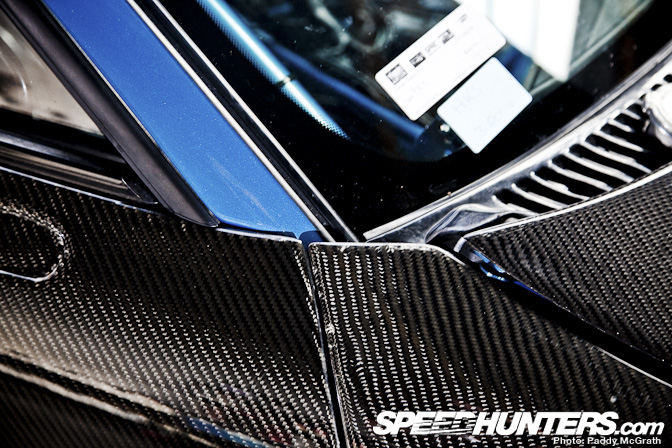 Carbon Porn.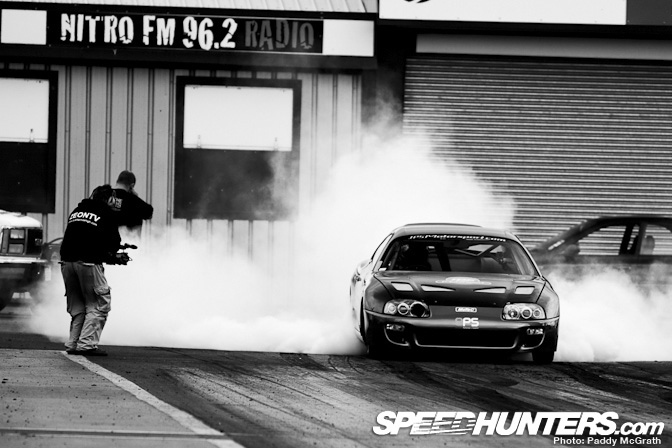 Having hit his target of consistent sevens in 2010, 2011 will see Leon face his largest challenge yet, a six second pass down the Santa Pod strip.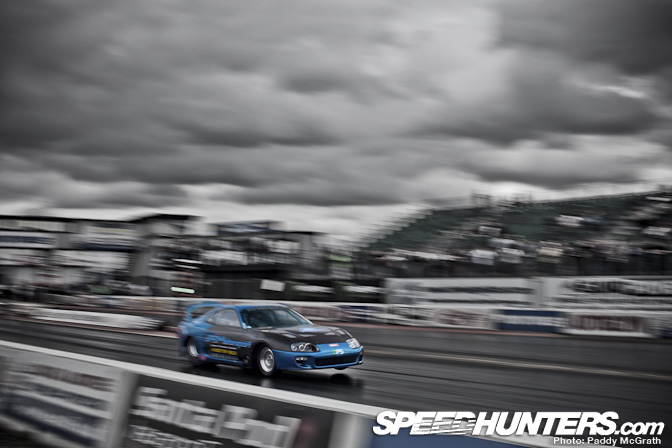 With John Bradshaws Project ZED nearing it's maximum potential it'll be an exciting race to see who'll grab the first six second run for a Japanese car in the UK.
We'll be looking to bring you selected coverage of the HKS Drag Series throughout 2011.
-
Paddy McGrath