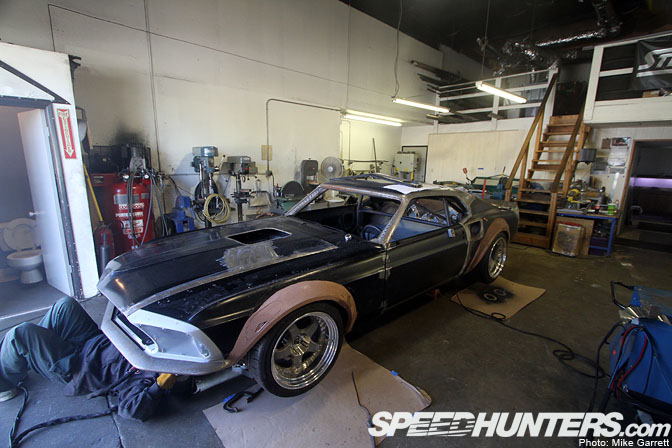 Since the last update, the RTR-X went back to Mark Delong in San Diego to finish up some of the metal magic he was completing. With SEMA approaching rapidly and the fact that we are about six weeks behind the "dream" schedule, we had to literally pry it out of his hands and get it back to Steen Chassis and Twins Turbo so that we could ensure this beast is going to make the big show known as SEMA.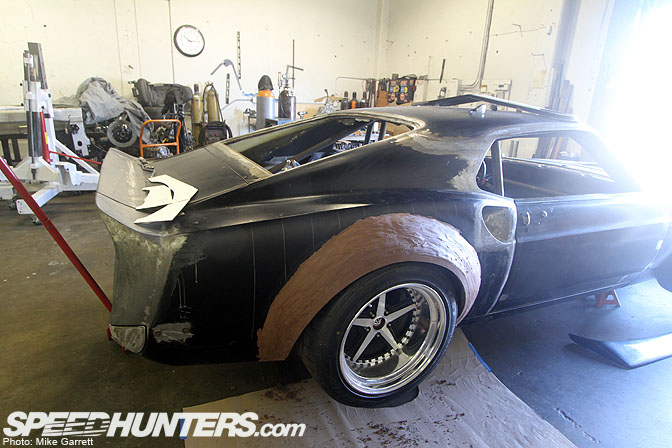 While the majority of the metal work was complete, there was still a bit more to do on top of redesigning the fender flares and building the chin spoiler, amongst many other things prior to heading to paint.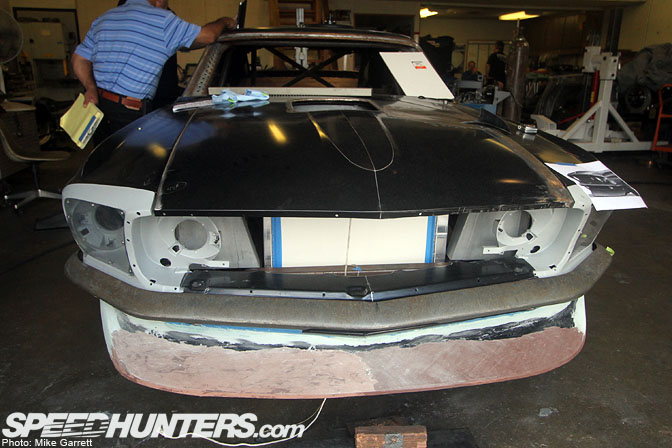 With only about four weeks until the reveal of the car, we were in need of a miracle and the entire team knew it. Passion is the driving force at this point and I am very fortunate the crew that signed up for the project has plenty of it to go around!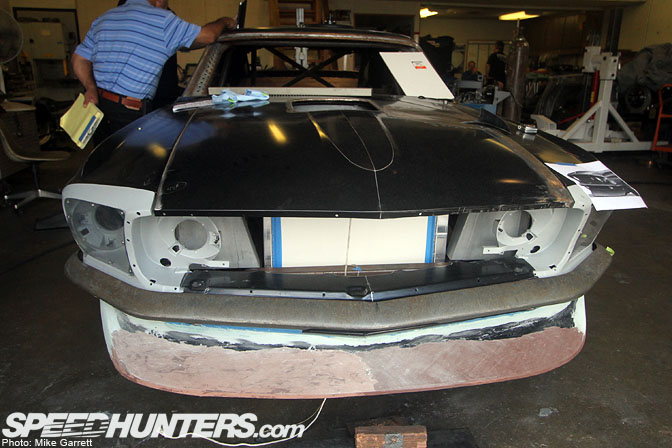 Here you can see what Mark did to delete the bulky factory drip rails.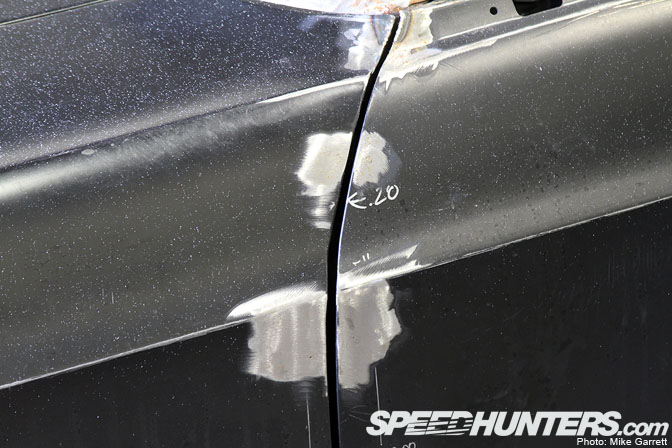 Mark ensured the doors were in factory spec, however, once I saw them I came to the conclusion that they needed to be tightened up a bit. This is the first older car I have gotten this detailed with and had no idea that the gaps were so big from the factory. We really are spoiled these days with cars off the showroom!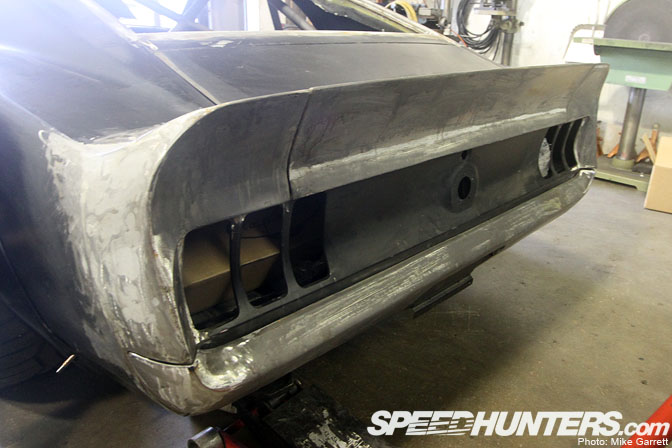 The rear spoiler and flush bumper look great.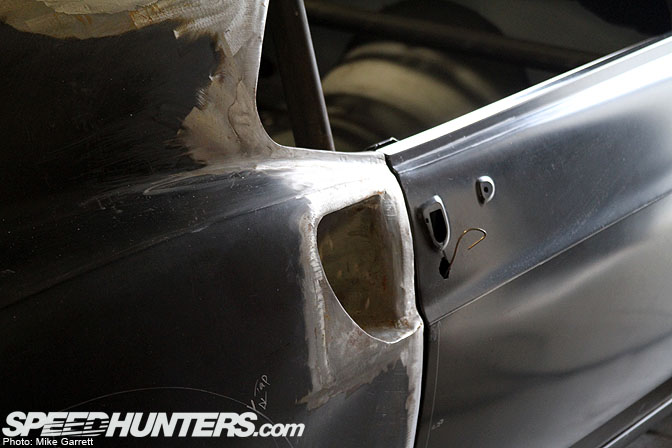 As does the brake ducts.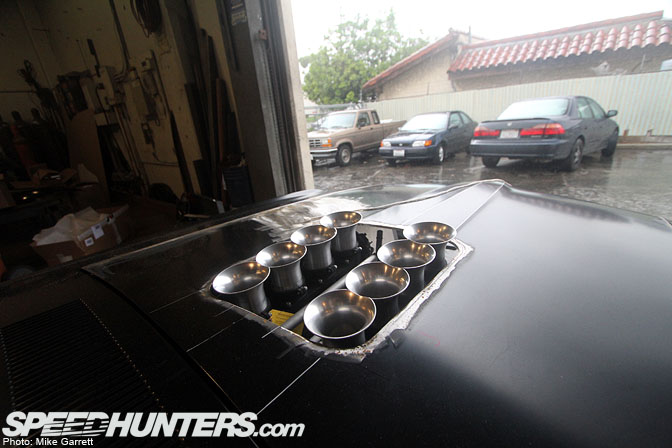 And the hole he cut for the hood looks factory. Seriously an unbelievable craft to work metal like this!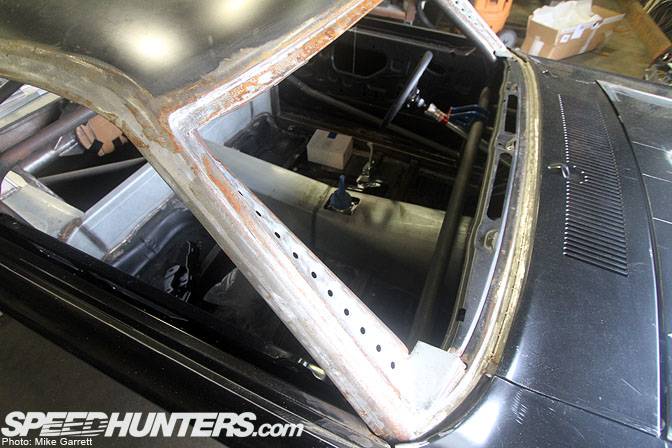 Here you can see what we did to make the windows flush mount, adding some metal to the roof.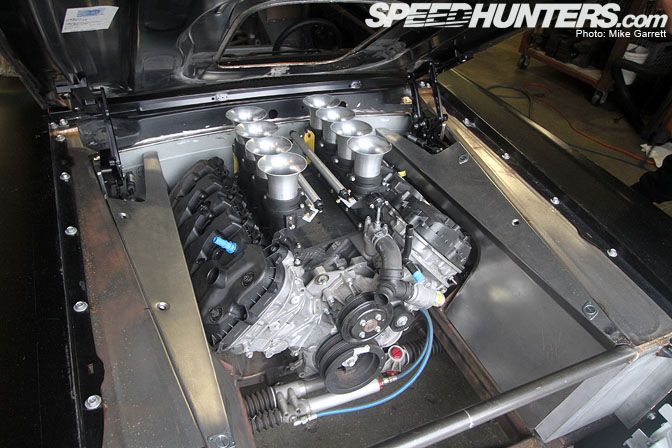 The removable inner fenders wrap around that new 5.0 like they were a match made in heaven from the factory.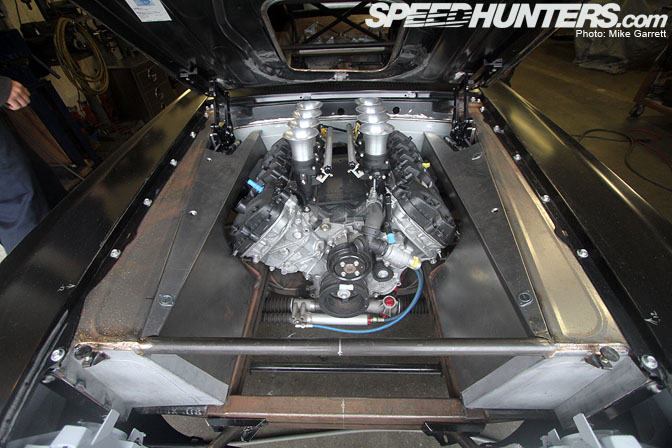 Agree?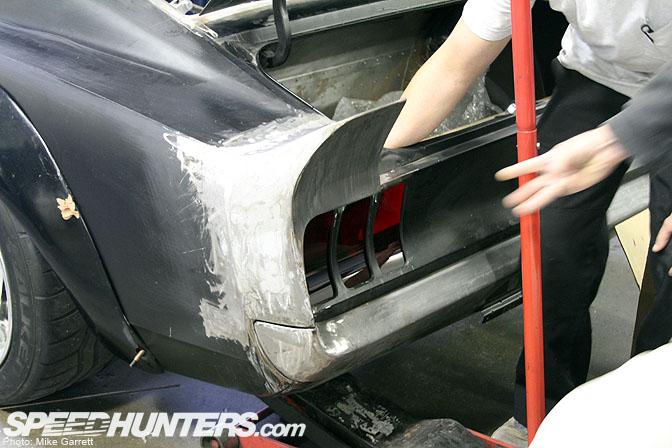 Now that the car was back to a central location, it was time for everyone to get nuts! Time to test-fit and get to work on the long list that is our only route to the Ford booth at SEMA.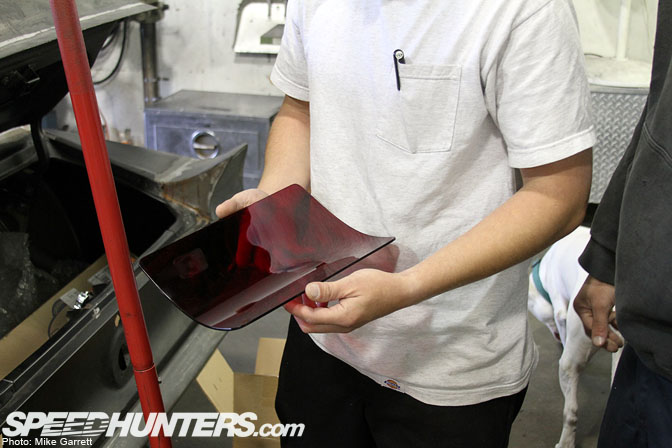 Here is Koz test-fitting our slick flush-mount LED taillights that Classic Design Concepts made custom for us.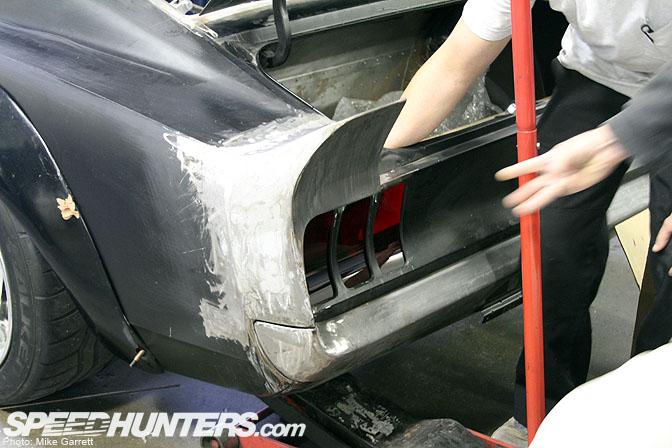 Classic Design Concepts also made us these sweet lenses for the headlights. If you don't know CDC check them out . They are just unbelievable with the things they can do. They also produce everything for the Mustang RTR dealer package. Top notch people and products!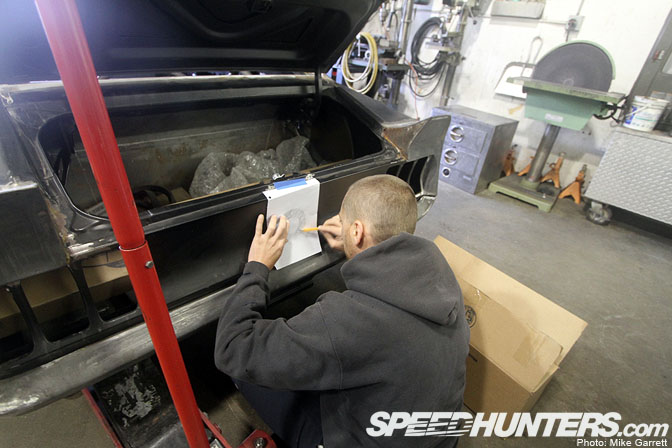 Here is Koz coloring. He has a weird problem that he just grabs paper and starts coloring. Great dude, but it seems kind of weird to me… He swears it's going to turn into a sick billet badge. I have seen some of his magic, so I have to trust him.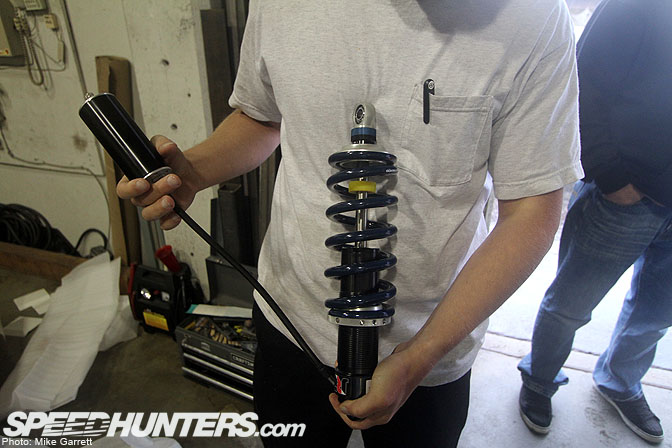 JRI Shocks sent us these custom shocks; built and valved to the exact specs we requested.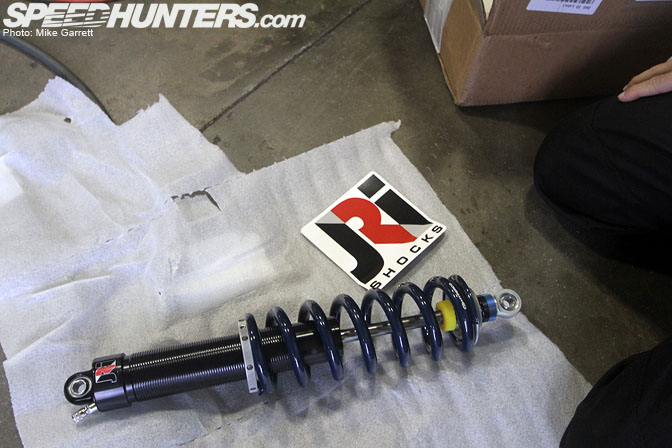 I have heard nothing but great things JRI and I cannot wait to feel them in action.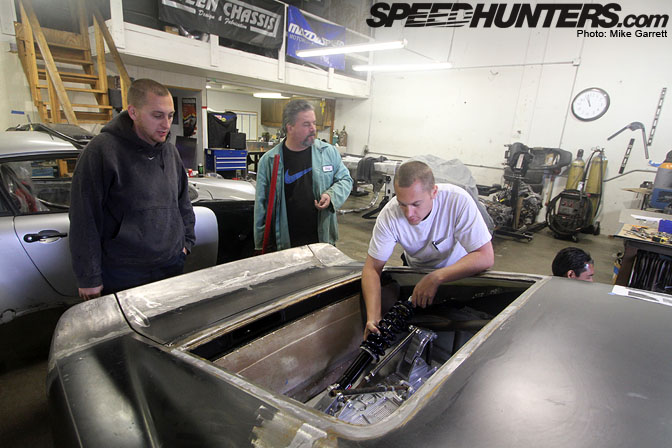 Here are the Twins and Gary Steen eyeing the shock fit and it was perfect. Things are now rocking and rolling at this point. The Twins and the Steen crew make a great team. I don't really need to say it again, but the odds were really against us at this point and even though some of what I'm about to share was not what Steen Chassis signed up for, they were more than willing to go hard and help us make up some time. Gary and his team were commited to work nonstop with the Twins until the car was ready for paint.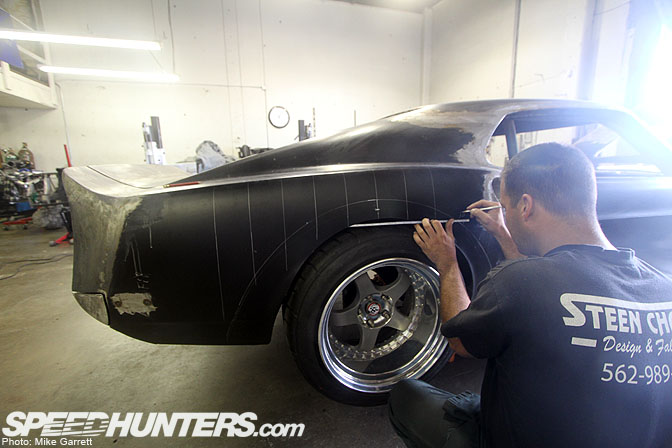 It's unbelievable how Gary, his son Jason, and Abraham can do seriously anything as you will see below. Next on the laundry list… custom over fenders. The ones that we started with just were not gonna cut it. The guys at Maier Racing spent a lot of time helping me out and doing exactly what I asked, but the bottom line is that my goal of saving time getting them early on in the project bit me in the ass and it was my fault. Here is Jason marking everyting out so that the fenders are made straight. Minor detail!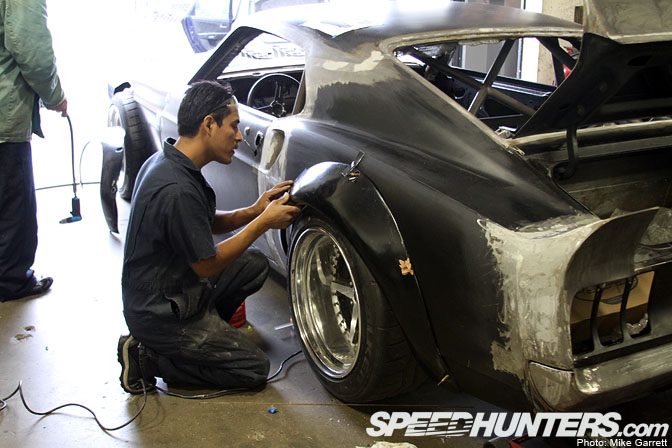 Due to the time crunch it was better to start with the original over fender and build off of them to make new molds. Abraham Morales is an extremely talented clay\carbon\fiberglass artist. Here he is getting ready to give a makeover.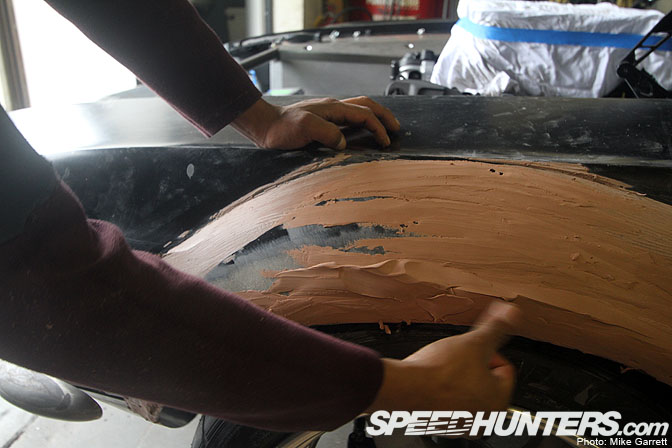 It was very cool seeing these made.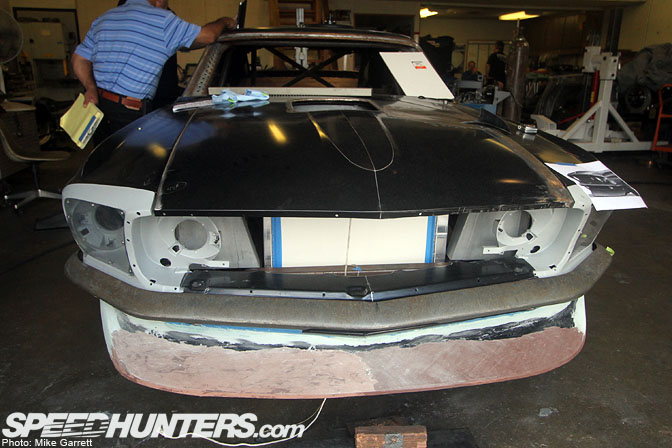 While most of my Round 7 competitors at were in bed, I was at Steen until midnight the night before qualifying for the Formula Drift Championship making sure the flares were perfect.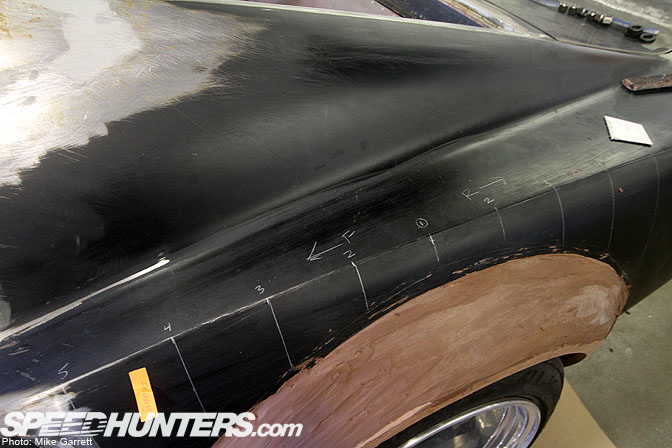 I guess when it hits the fan, a man's gotta do what a man's gotta do right?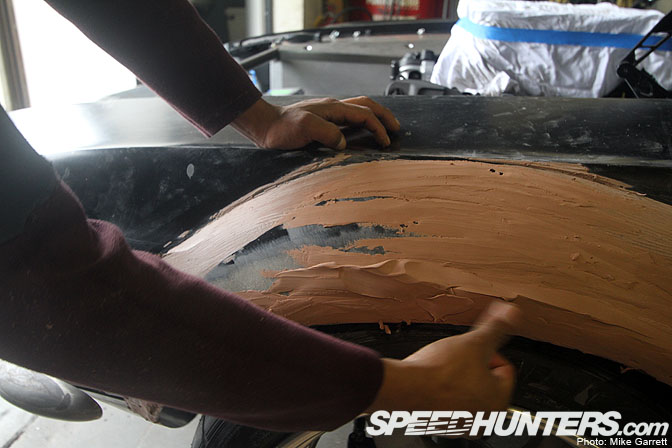 Abraham probably wanted to kill me but he was all smiles when I asked him to adjust them for hours. It was an exhausting process of eye-screwing the car and of course your mind wants to play tricks on you forcing you to second-guess your moves. Jason is seen here under the car welding the mounts for our sweet custom Griffin Radiator. EFFICIENCY!!!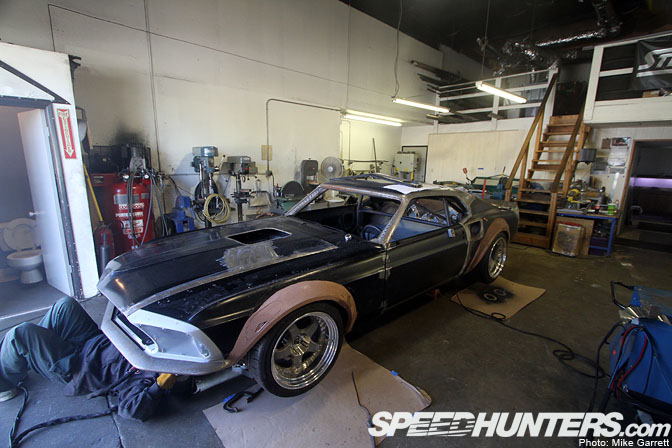 To go from the above picture to the molds took two days.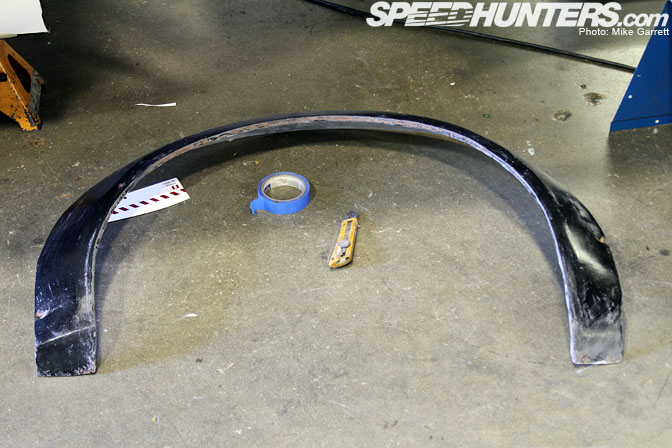 I came back Tuesday after the three days of celebrating my Championship win and the Formula Drift banquet to find the first parts popped out of the molds.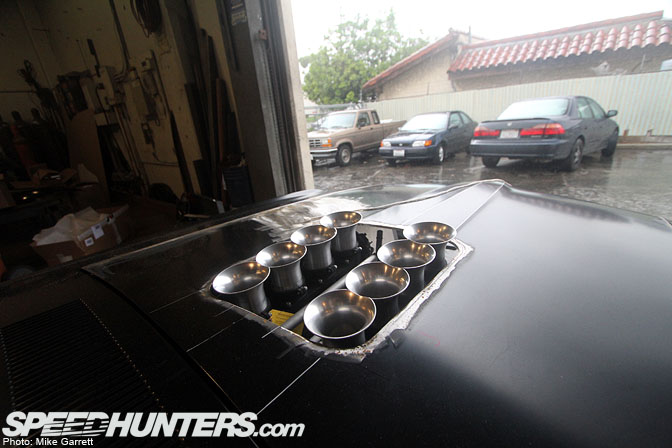 This made me a happy man! It didn't hurt that I had locked down the FD Championship three days prior! I definitely didn't feel as good as I was acting here. Saturday and Sunday after the event were insane celebration parties and we had a Team Falken fishing trip on Monday which ruled!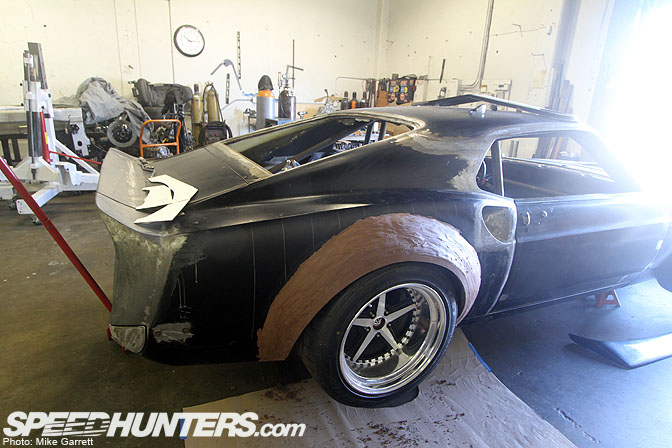 Needless to say I was anxious to see our new creations mocked up.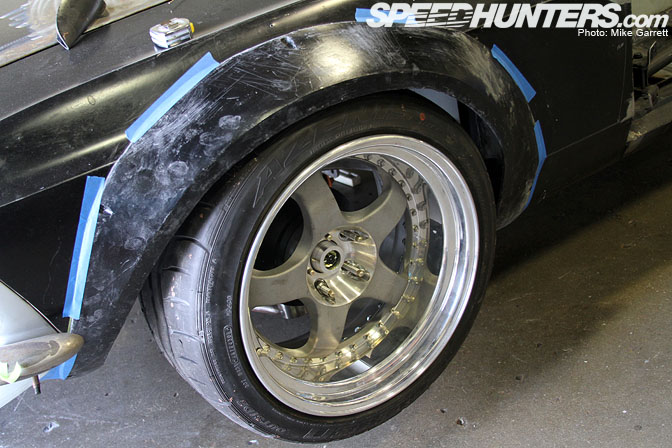 I am very, very, very happy that we decided to start over.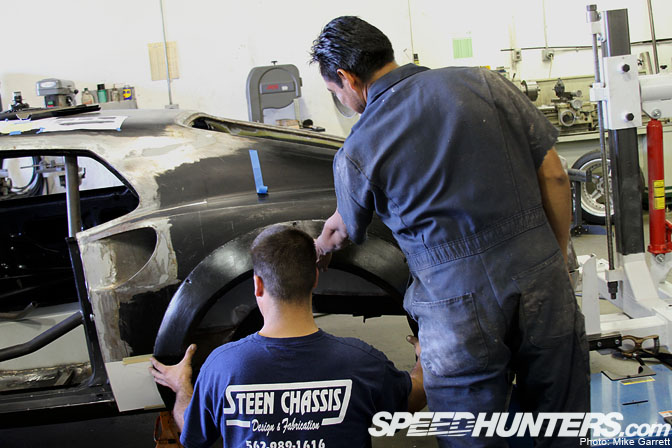 These flares fit the lines of the body much better.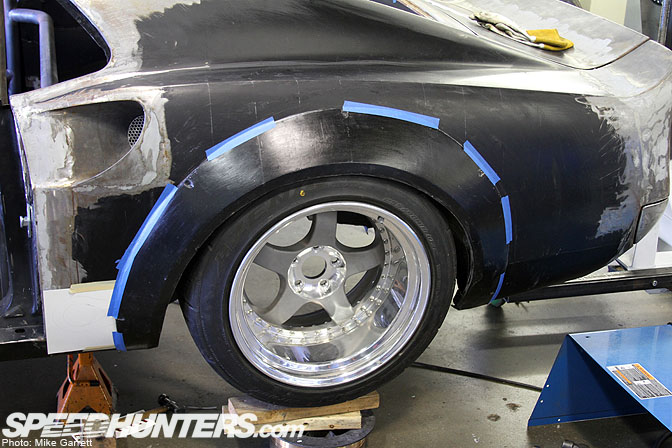 BOOOOOOOOM!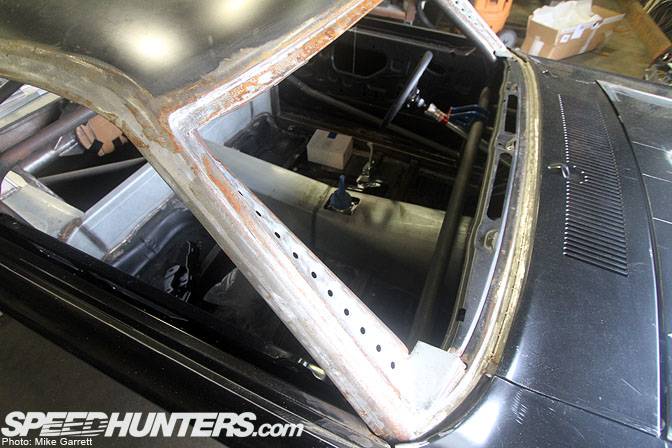 Flush it!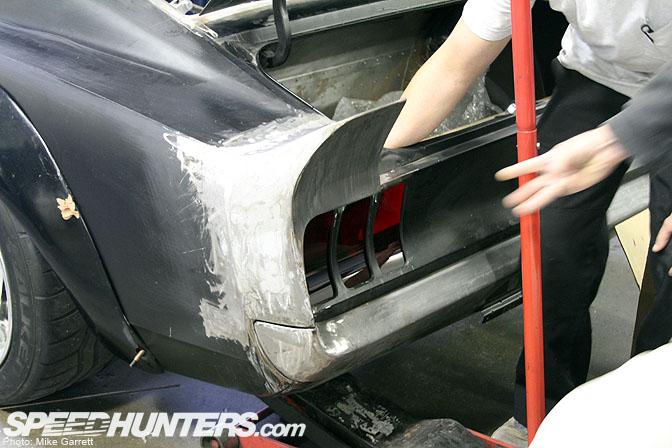 The list is getting smaller but still plenty to do. GO TEAM RTR-X!!!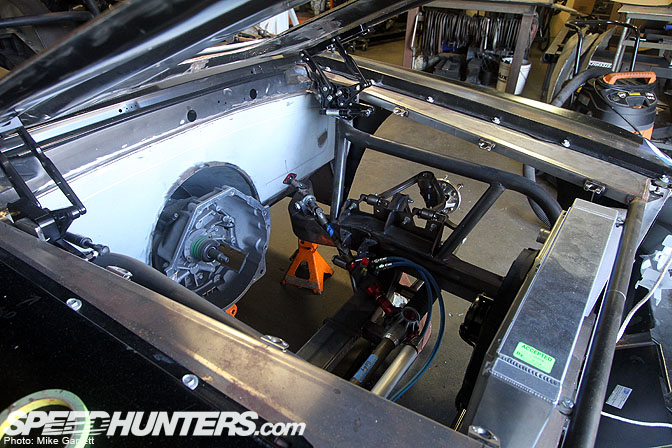 Here is a cool shot of the engine bay, our sweet Griffin Radiator, and the removable Dzus fastened inner fenders.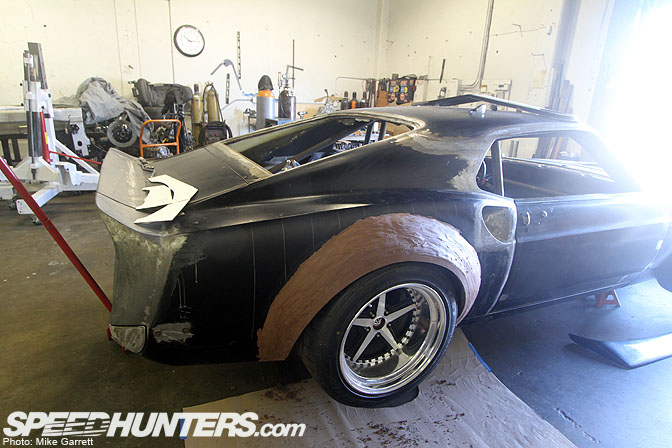 Abraham wasted no time jumping on the front spoiler build!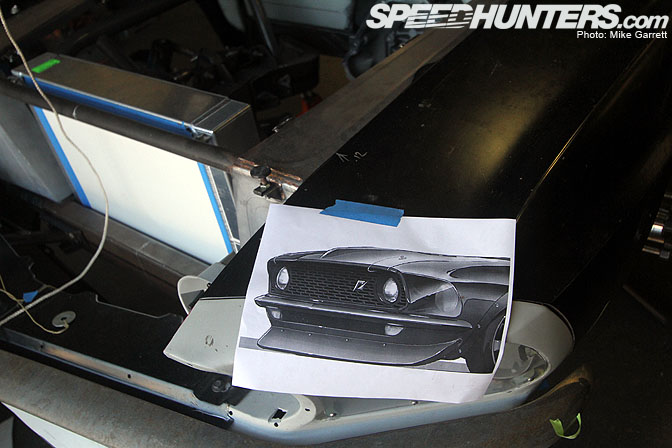 Pretty much the spoiler was the last part or "art' to complete the exterior vision.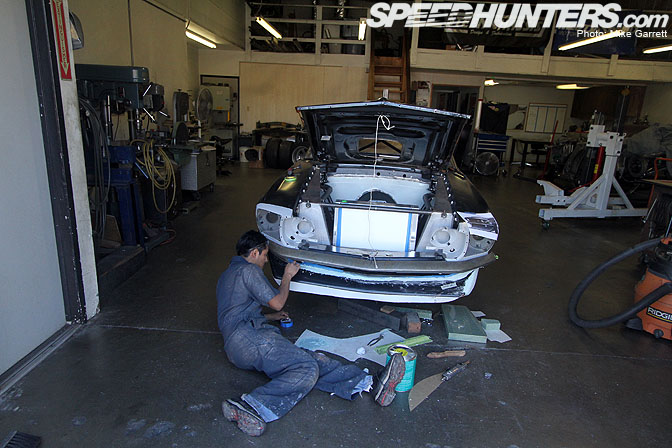 We started with a factory '69 front spoiler and built off it.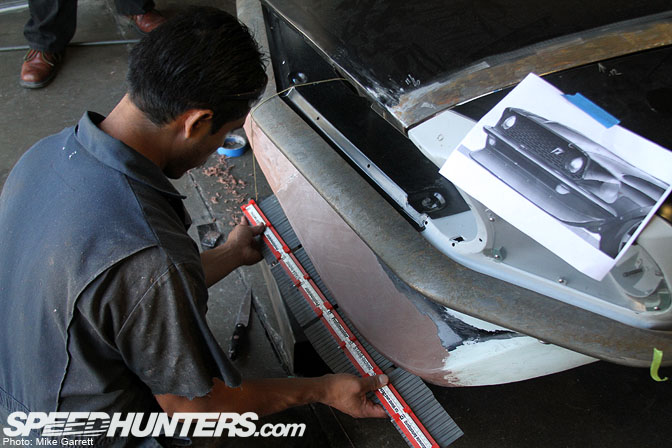 Once again Abraham probably was cussing me out under his breath. I asked him to change it like five times till we got it perfect. "Widen this, angle that, take an inch here, add two there, more sweep…" Blah blah blah!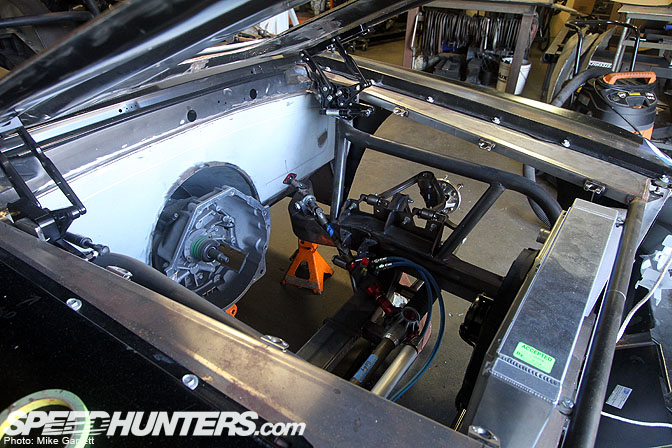 All good though – we were in it to win it! I think we landed a Championship here. I am thrilled with the final product shown here.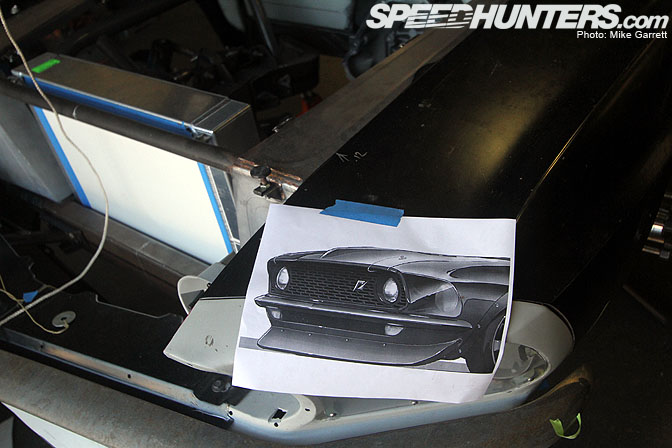 I was teasing Andy Blackmore all day as he watched our girl come to life from Vancouver.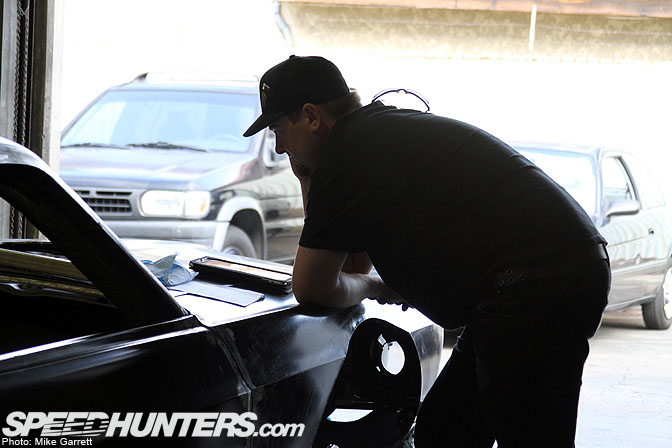 Ok so fenders done! The chin was about done and ready to be molded. NOW…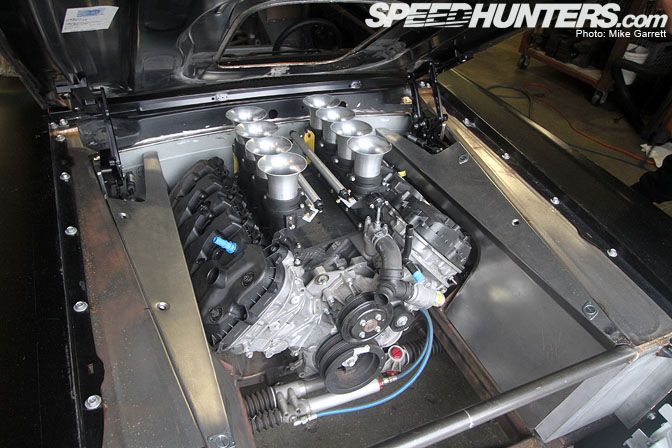 Time for a meeting number fifty-three. Paint! Estiban from Auto Explosion in Gardena, CA took on the project with a smile. Grim and him came to go over everything paint and body-related. In the background behind me is my man George Huismann, owner of Classic Design Concepts of Novi, Michigan. Classic Mustangs are his passion and he came over to give me a critiquing. His attention to detail is impeccable and I am very glad he offered his time to go over some of the tedious things that a lot of people will be critiquing at SEMA that I would have never even thought of. Thanks for the help Pal!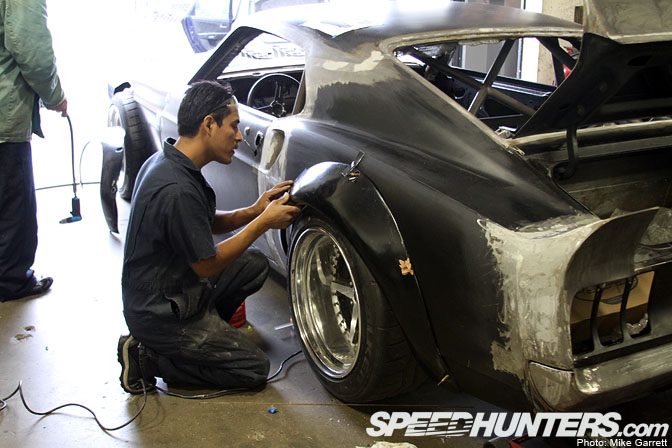 Estiban and I walked over every inch of the car. He knew his body guys had some magic to work, but he was not even phased.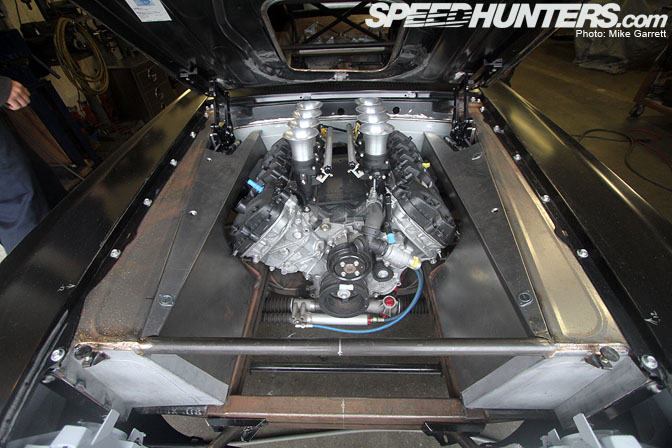 A LOT going on here. This sums up the SEMA crunch right here. The guy in the white shirt in the background is fixing a broken welder that got too hot from going nuts when adding metal to seams.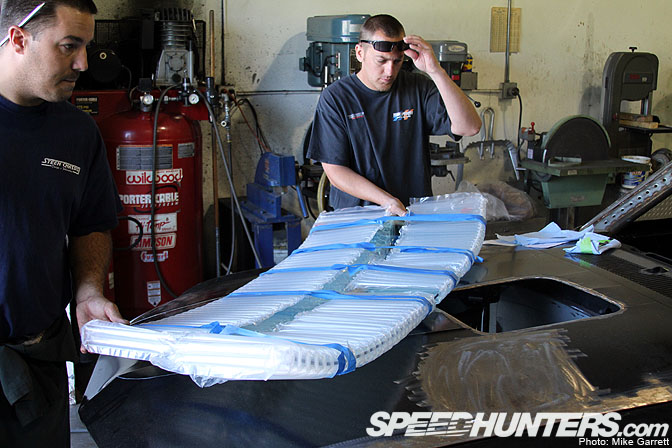 After we went over all the paint fun, we test-fitted the windows to see what kind of body work was required to get that factory look.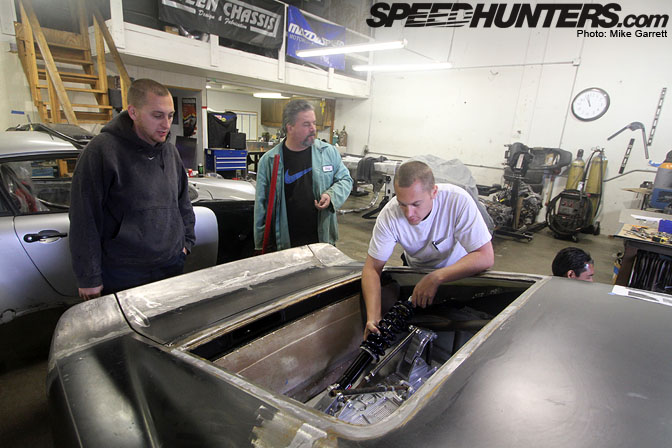 Don't break it! We don't have the time for that!!!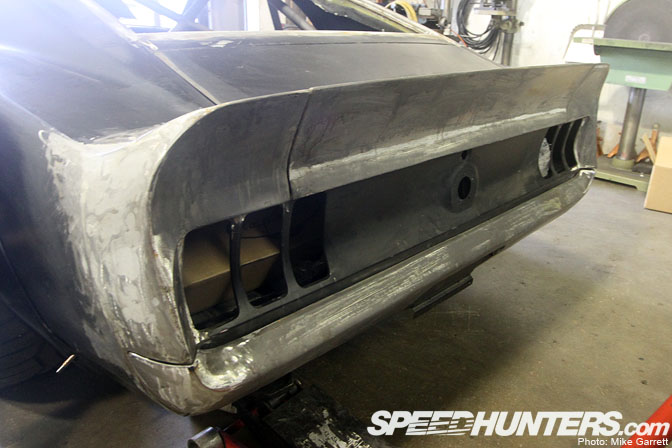 The results were not the best, but our passion will prevail!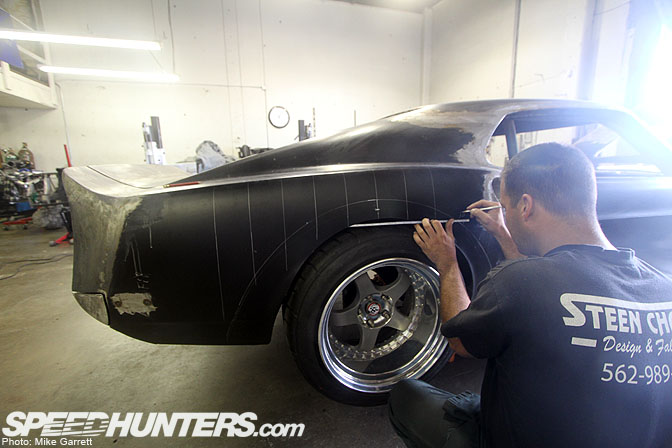 Over the next couple of days, Gary and his team went through and tightened up all of the jams.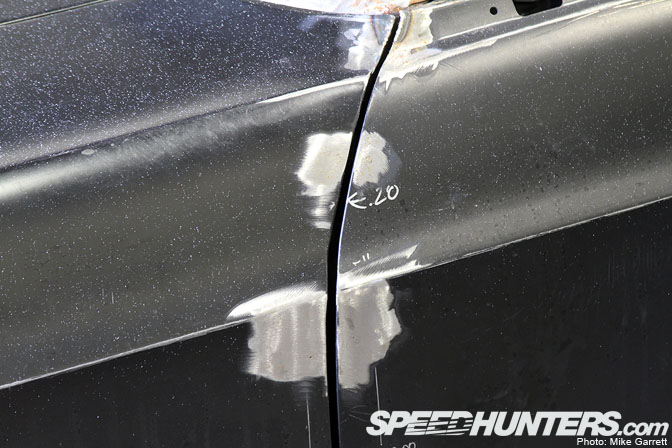 Steen finished up the final metal work to make sure that body was ready for paint so that we could get the car back in two weeks.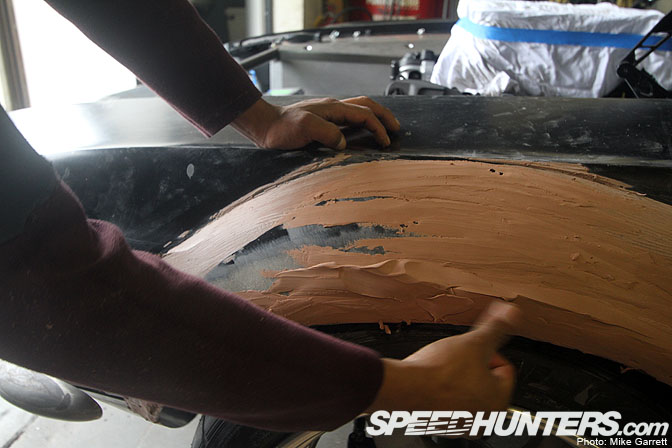 Here the car is on the rotisserie and ready to head to Auto Explosion for paint! After paint it goes to Stitchcraft for the interior to be installed then to Twins Turbo for final assembly. Did I mention there are 10 days until SEMA roll-in? At least it's called "roll-in" and not "drive-in". Optimism is at an all-time high for the RTR-X team and with everyone's "can do" attitude. We will be there Ready to Rock (but unfortunately not ready to run.) Will keep everyone posted on progress throughout the next week the best that I can. Most likely it will be very short updates with one or two pictures leading up to SEMA. Then I will get back to the detailed build posts after SEMA. Thank you all for your interest and feedback towards the project. It is really cool to have a large part of the automotive world's support on here. I cannot wait to unveil this thing to the world!
- Vaughn Gittin Jr.