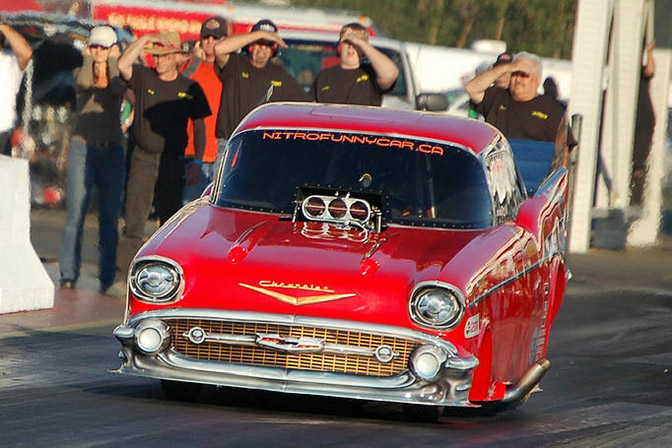 When the editorial team at Speedhunters decided that October's theme would be drag racing, there was only one thought racing through my mind; I had to get hold of my childhood friend, Jay Mageau. Back (way back) when I first moved to Canada at the age of twelve, Jay was the only guy in the neighbourhood who had any sense at all about cars and racing. The only thing was, my understanding of motorsport came from rallying and F1, and he was totally into drag racing. Our completely divergent interests made us fast friends (pun intended). Jay used to talk about his dad, a seasoned drag racer and car builder, like he was a god – and to a little kid from Co. Cork, who found Canada itself just a little wild, this drag racing thing was what put me over the edge. Thanks, man!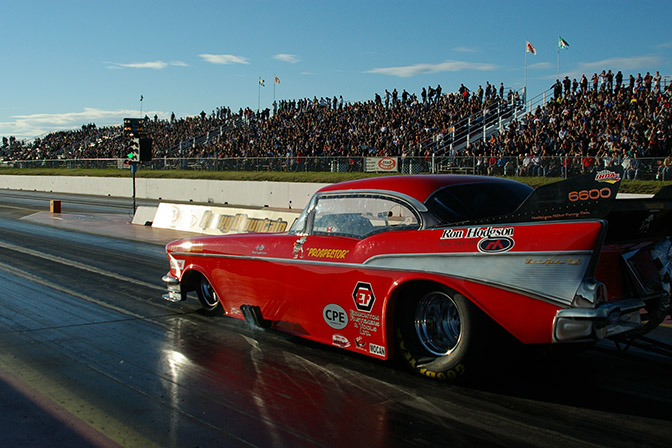 The interesting point here is that Jay has stuck with his childhood dream ever since. A couple of years after high school was done, he moved back to Edmonton, Alberta (the centre of Canada's drag racing scene) to work with his dad, moving up through the ranks to eventually become the driver of the already famous 'Prospector' (this is Gold Rush country, folks). He's continued all these years, and is now extremely successful at doing what he loves. It's an inspiring story.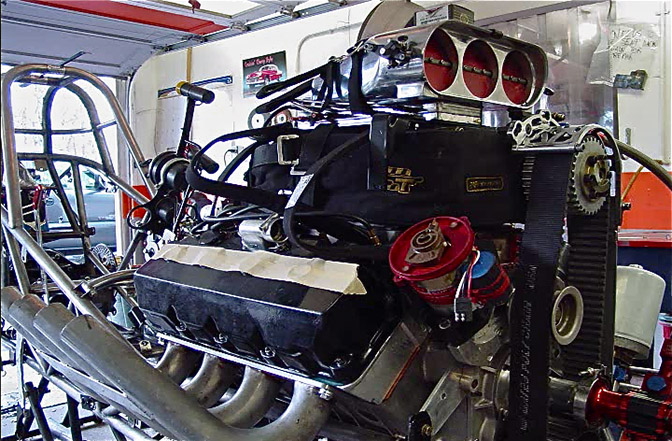 In drag racing's classic era, the late '40s through to the '70s, it was common for cars to have names – and for drivers and teams to be identified that way, even after vehicles changed. This is the case with 'Prospector' – originally a '57 Belair run by Jay's dad, Bob Mageau in the '60s. There were other machines from his speed shop, Magoo's too of course; the Sandman is a name that still resonates. If memory serves, that was a Mach 1 Mustang.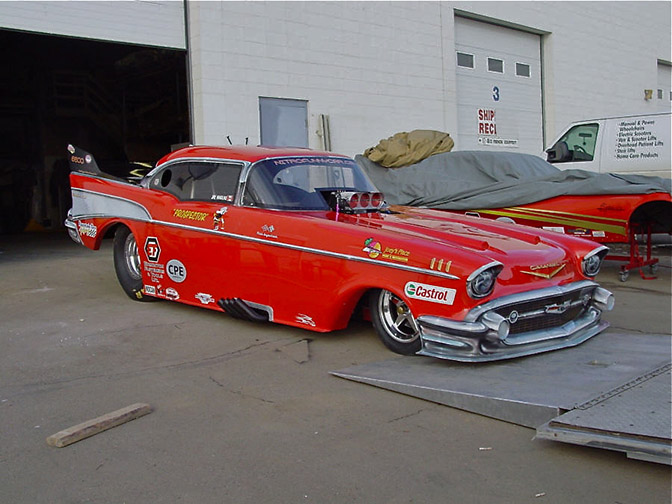 Here's the fan-favourite '57 Chevy, and peeking out from under wraps behind it, the teams's other machine, a '78 Corvette Stingray.  Both cars run under the same rules, designed to recreate the performance of the funny cars of the '70s. That means times of 6.50 seconds on average, and speeds of 225 mph – or faster.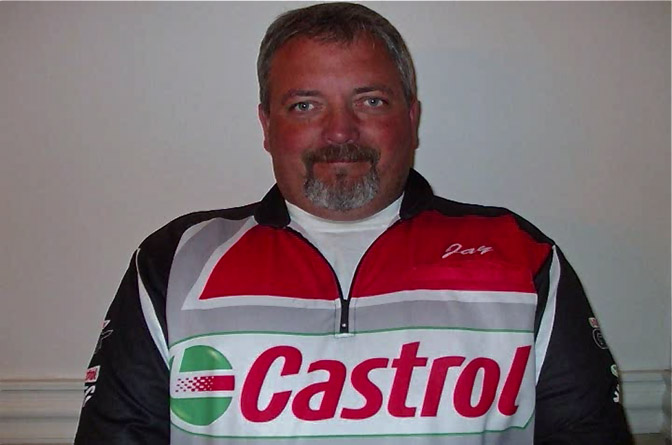 Here's the head of operations today, Jay Mageau. This isn't 'designer' racing, it is this man's life. Pure, unadulterated need for speed!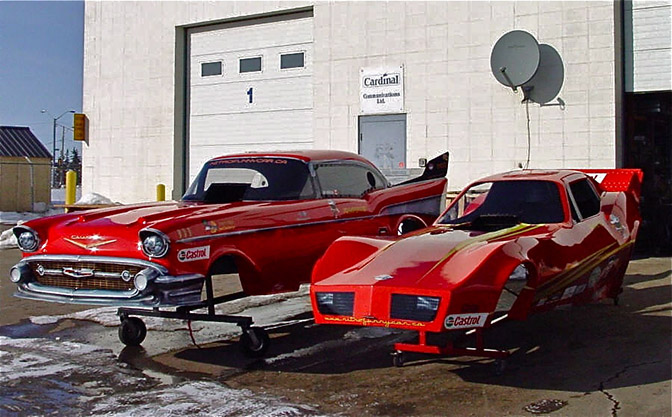 The cars run maximum percentages of nitro "so you get the smell, crackle, noise and performance you want!" In terms of power, we're talking 3,000 hp. One quarter mile run uses 45 litres (just shy of 12 U.S. gallons) of Nitromethane – in 6 seconds!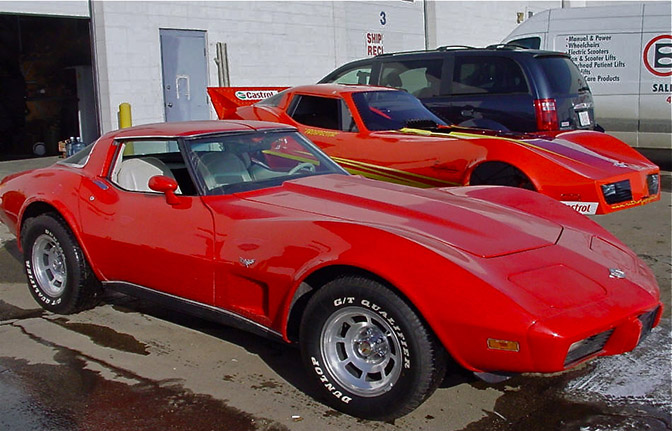 Just to show you how close to the original the '78 Vette Stingray is, here's Jay's daily driver for comparison.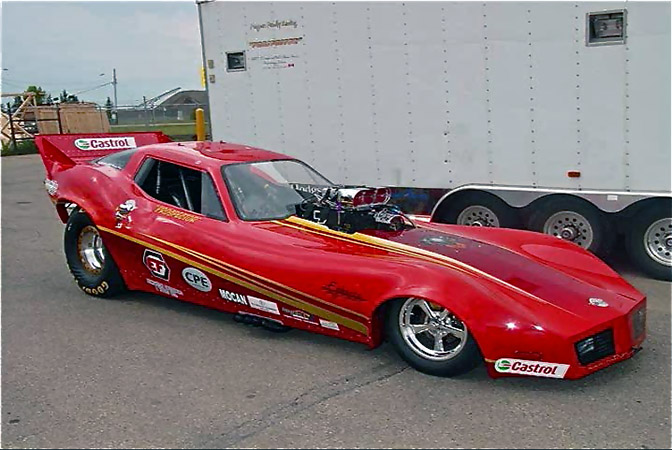 With the flip-up body on its chassis, it looks mean as hell! The car sits on 36 x 17″ Goodyear Eagle tyres from Fountain Tire which are good for 10-11 runs. Wheels are Weld or American Racing. Up front, 25 x 5″ Goodyear Eagles on Weld front spindle mounts.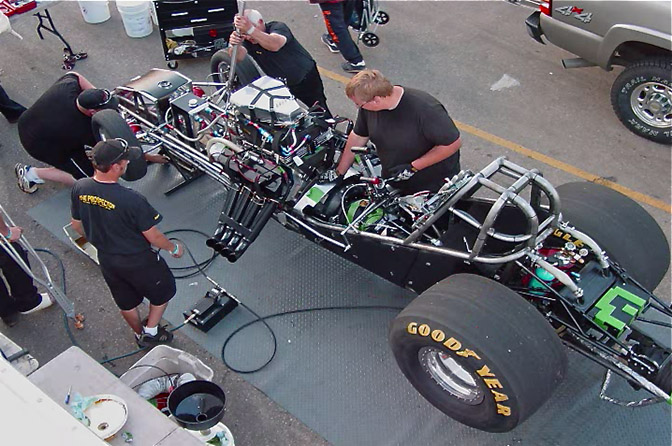 The team is made up of specialists and drag racing veterans from the Edmonton area, seen here in the final stages of preparation on a recent race weekend.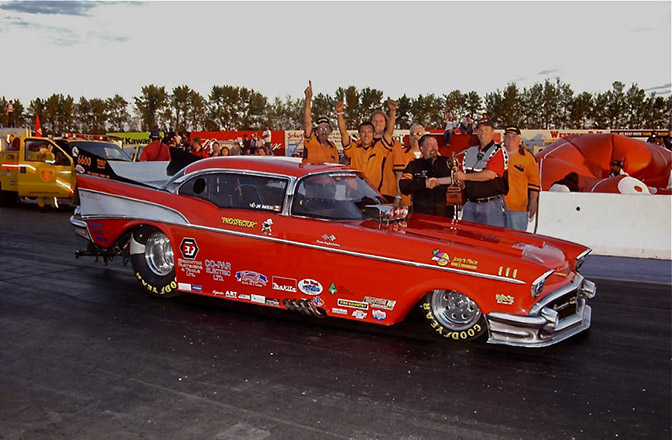 The Prospector sits at the line at the Rocky Mountain Nationals, one of the biggest events for Nostalgic Nitro Funny Cars.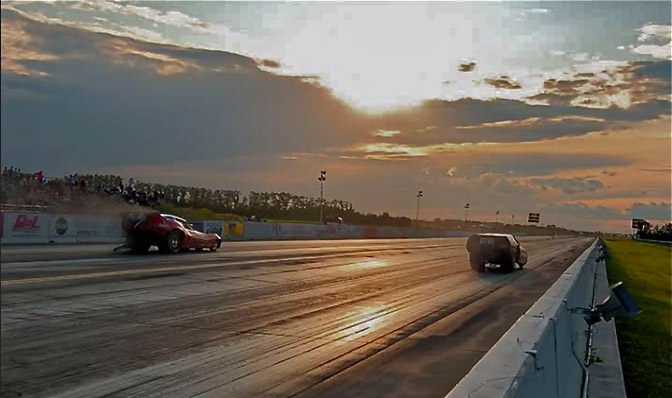 Racing goes late into the evening up in the Great White North!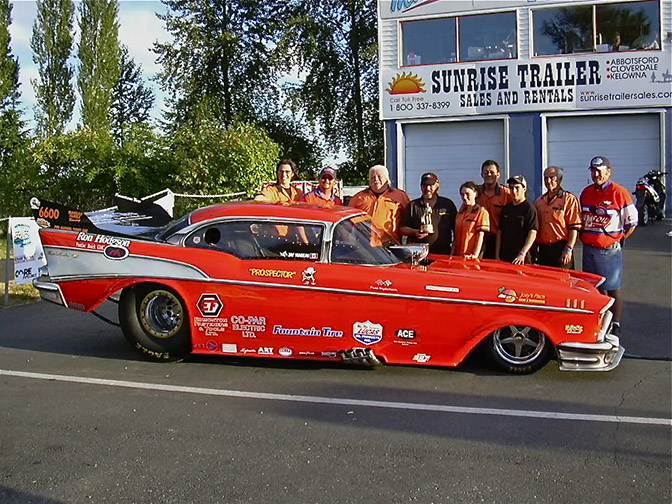 The team take a moment to strike a pose after winning outright at Mission, B.C.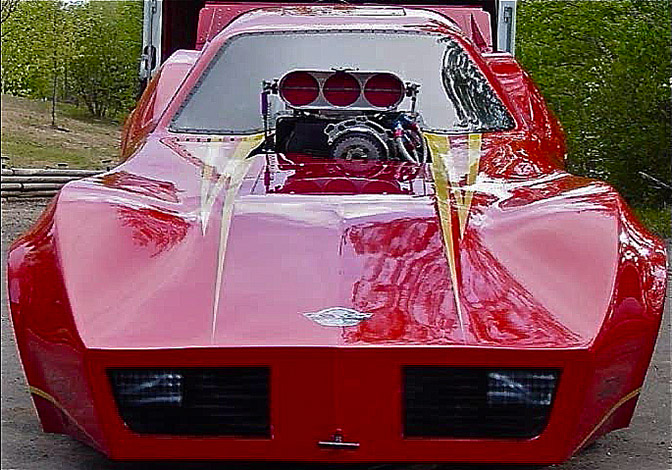 The freshly-painted '78 Vette, looking menacing right out of the trailer.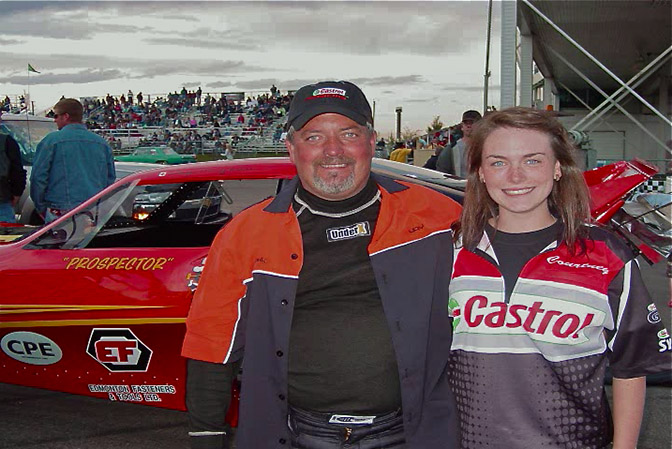 Ah hah! The third generation of Mageaus to tear up the quarter mile. This is Jay's youngest daughter Courtney, already an established competitor in her own right.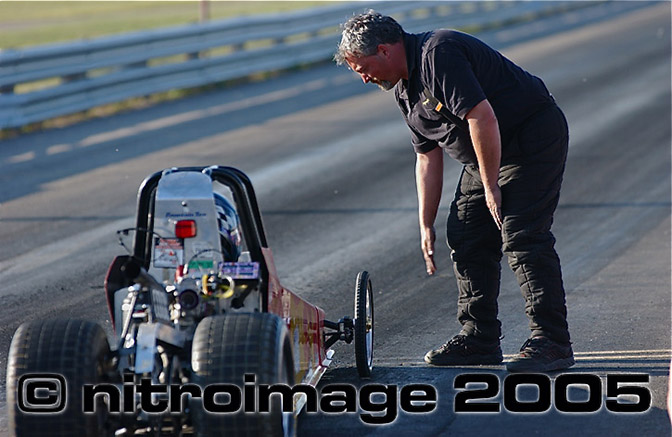 Only five years ago she was in Juniors, short dragsters running small Briggs & Stratton motors. Still an absolute blast, I'm sure!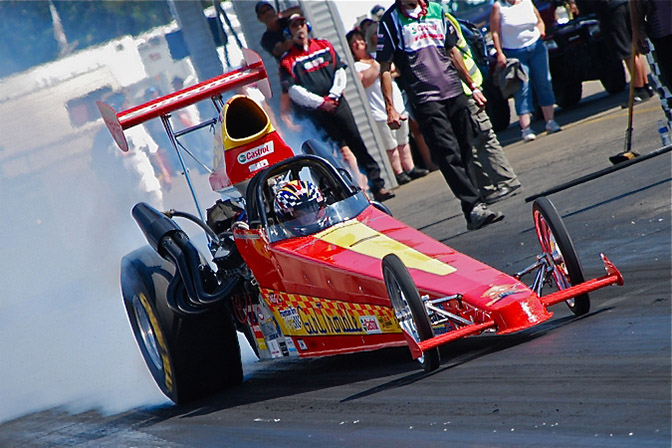 And here she is after moving up to Super Pro, in an aptly named car, Girl Trouble.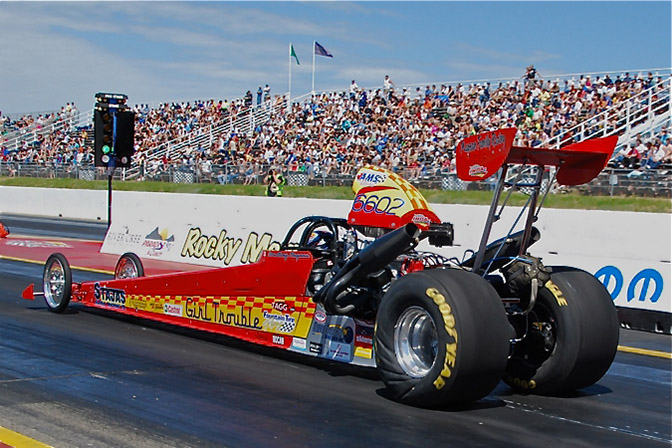 Now she competes in topflight events like her dad, and has an incredibly bright future ahead of her. She's already beating the guys, guys.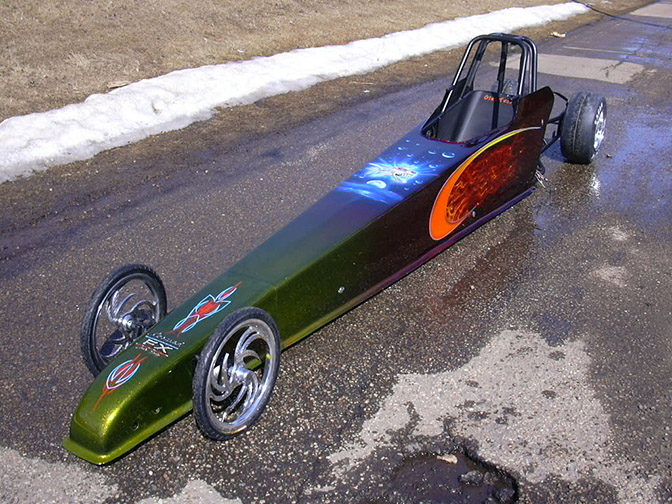 Jay told me that all four of his daughters raced until they were 16, and were then given a choice to continue up the ladder from machines like you see above. His youngest Courtney 'has the sickness, bad' Jay explains, and you can hear the pride in his voice.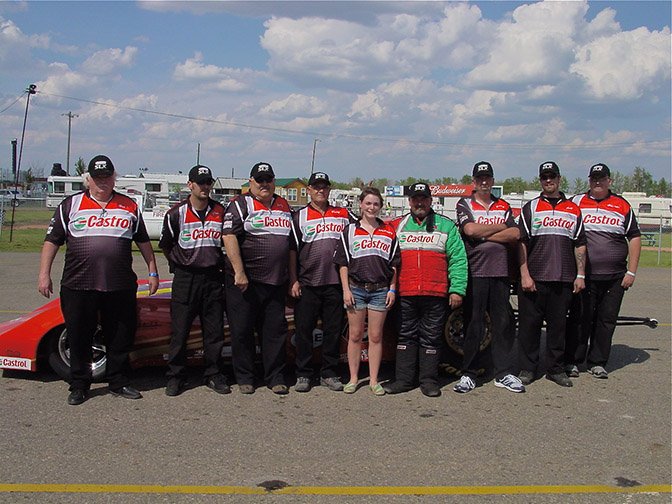 The centre of attention, Courtney stands with the rest of the MFR (Mageau Family Racing) team, Jay's dad Bob Mageau on the extreme left.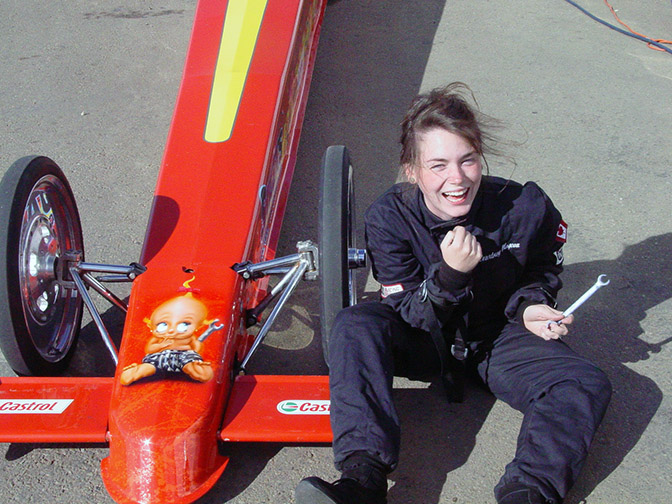 Lovin' every minute of it – and living up to the name, 'Girl Trouble' She's a chip off the old block, there's no doubt about that!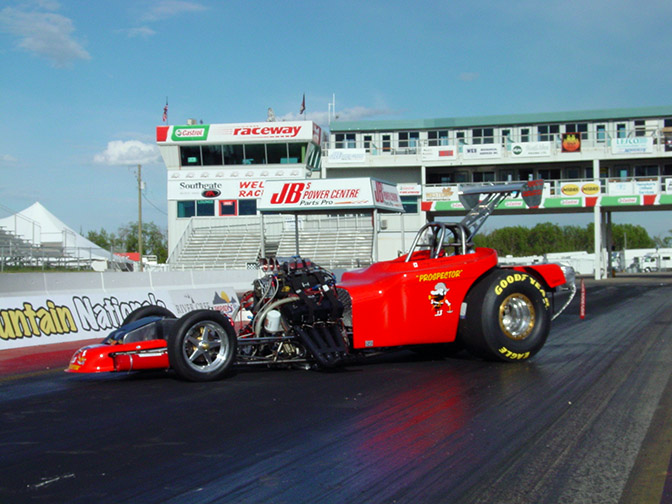 The team also run a AA/FA Fuel Altered – just to keep things interesting!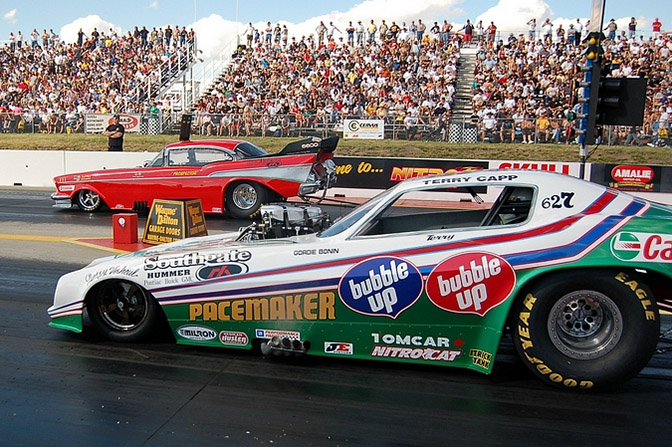 Here's the Prospector up against one of the most famous funny cars of the late '70s. Gordie Bonin's Bubble Up, now run by Terry Capp.
This picture is from one of their wins at the Rocky Mountain Nationals. In case you're wondering just what kind of pace the car gets up to, their best finish this season in Edmonton was in August when they ran a 6.11@234 miles per hour!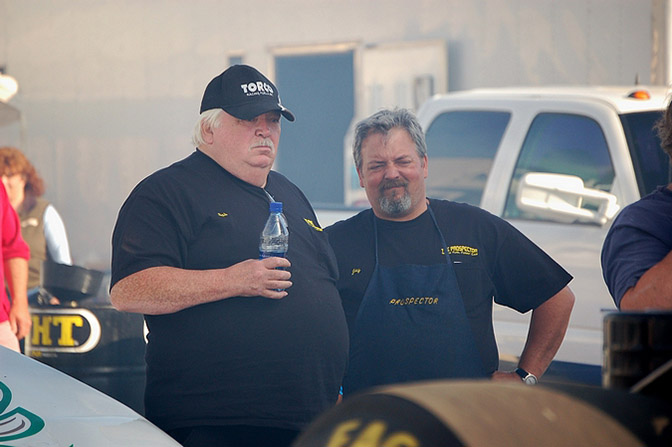 Jay's dad Bob (or 'Pops' as he's known) recently stepped down from his role in the team, though still has other projects on the go – and occasionally drops by for a few 'cold ones' on race weekends.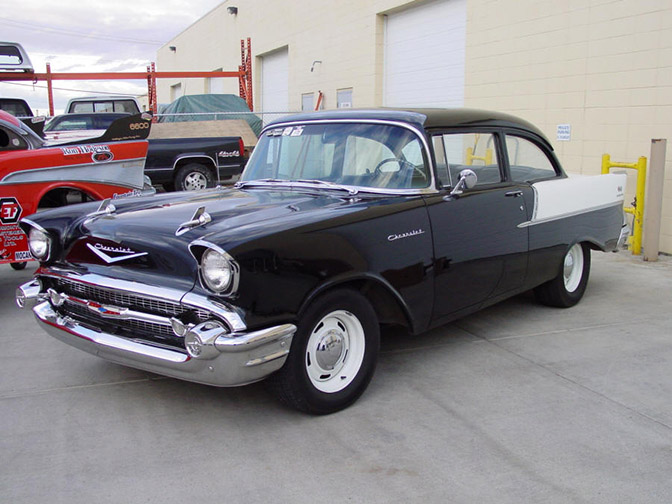 A bit of nostalgia. This is actually one of the first iterations of the Prospector, a '56 Belair raced by Jay's dad 45 years ago. It's now used as a tow vehicle – and what a beauty!
The whole Mageau Family Racing story is an inspiring one, proving that no matter what the breaks are along the way, sticking with your dream is absolutely worth all the hard work. MFR will be in action throughout the 2011 season at events in Canada and the U.S. Check out their websites below for further details.
– Len Clarke
Photo credits: Mageau Family Racing and Sheryl Ogonoski