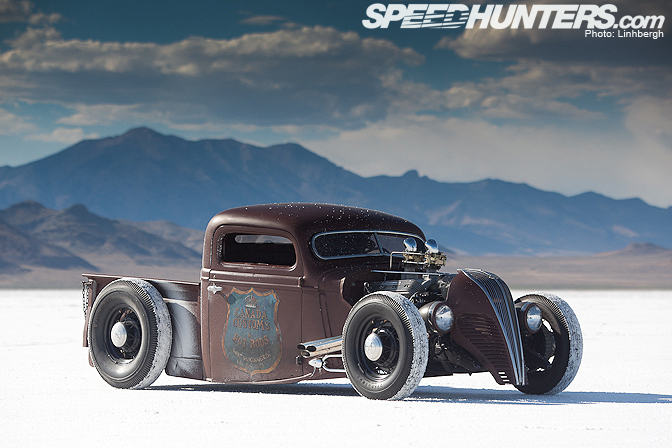 How many of you consider Speedhunters to be an American website? Quite a lot I would imagine? Perhaps you'd be surprised to know that Speedhunters HQ is in fact based in Vancouver, Canada. This misconception of nationality might be based on the fact that we don't really feature a lot of our local West Coast, Canadian scene on Speedhunters. I suppose we should really try and be more supportive of local happenings, but unfortunately the time between Speedhunting trips is normally taken up with our parallel Need for Speed video game production duties.
However, we did get a chance to feature some local Vancouver Speedhunting content while visiting Bonneville last month. On our first day on The Salt we bumped in to Laurie Peterson from Canada Customs and had a chance to chat with him.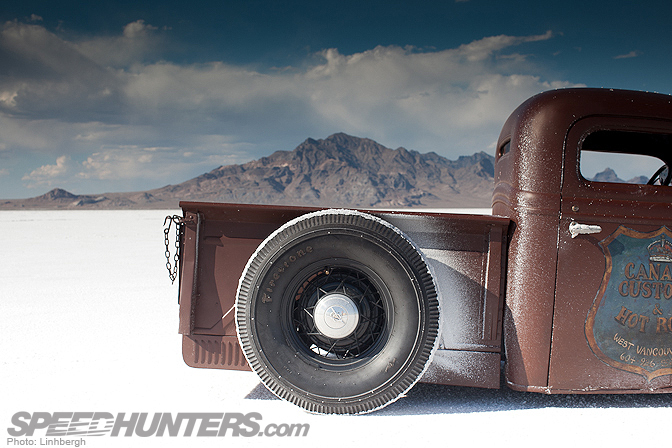 Speedhunters: Tell us who you are, where you are from and what you do.
My name is Laurie Peterson from Canada Customs Hot Rods, I live in Vancouver, I am a licensed mechanic & I build custom cars for a living. I have co-owed & operated an automotive repair business for the last 20 yrs. Five years ago a fellow asked if I could build a 58 Ford truck for him, and that is when I began doing this full time. Prior to that build I built a gold 54 Chevy for Mike Frisk in my spare time.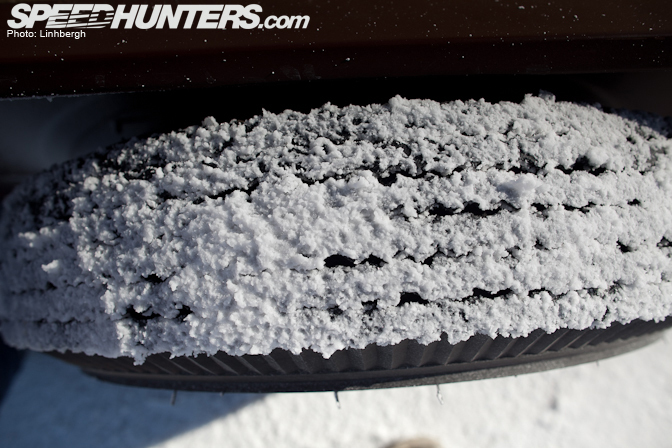 Speedhunters:  What was your first build/how did you get started?
Since my teens I have always had some sort of modified vehicle. As far as the first thing I remember modifying I would say it was a toy of a policeman on a Harley Davidson motorcycle, that I bobbed the rear fender , cut off the front fender & shortened the exhaust -all with a pair of scissors!
When I was young, model building was my passion. Models were excellent for details because they were an exact scaled down version of a real car. So as a young kid you could learn the differences of all cars, engines suspensions etc. This became a great foundation for modification & parts swapping. There was even a modelers "bondo" for custom work. So this is really where it all started for me!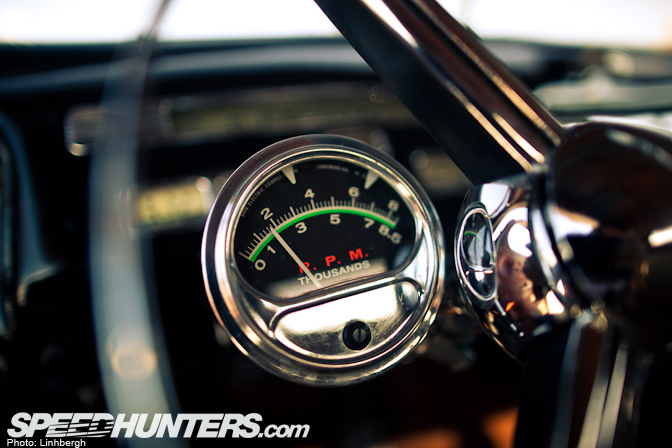 Speedhunters: Who is your biggest influence?
My biggest influence would have to be Troy Trepanier of Rad Rides by Troy. Not only are their builds state of the art cutting edge, Troy & his team are the nicest group you could ever meet.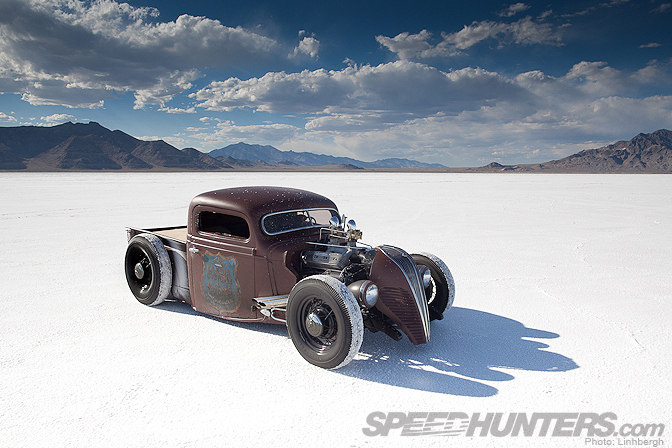 Speedhunters: What inspires you?
I am inspired by guys like Gene Windfield, Barris & Bill Hines – The original custom builders that I always saw in magazines when I was a kid before the days of computers. I also was inspired by shows like Biker Build Off, Rides & American Hot Rod etc.
Speedhunters: You and your brother Geoff work together on these projects, is there a hierarchy in terms of who gets to do a certain part of the build since you are the older brother?
Geoff & I work well together because we both have the similar vision of what something should look like. When we are on the same build one will work the front & the other the back.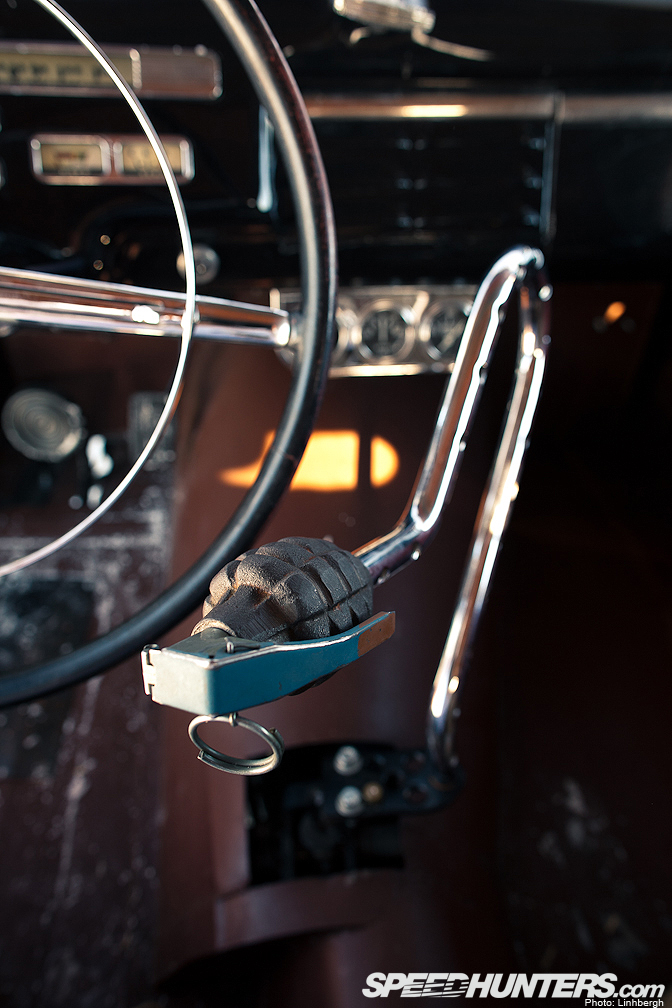 Speedhunters: What is your favourite part of the build? Is it hard to hand over the keys to a customer after putting so much in to a project?
All aspects of the build are good – from the suspension & stance to the huge visual achieved from chopping a roof to the tear down after everything is mocked up. Final assembly is always good, it's clean and a huge visual payback at that stage. Once the project is completed it is not difficult to hand over the keys. At this stage you have looked at it for over a year every day so by this time a new project is always refreshing. Also now the customer has something to show for all their expense & they can start enjoying it.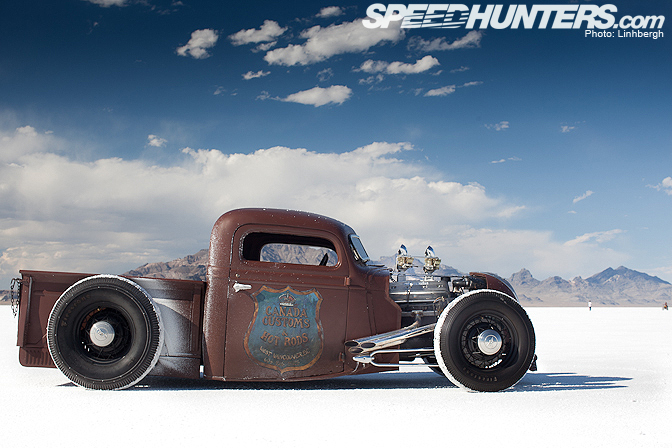 Speedhunters: The crew at Speedhunters love the '37, could you talk about how that came together?
The 37 truck was inspired by Rudy Rodriguez's truck. After collecting pieces I had it built in a relatively short time without a lot of expense. I had no idea the impact the truck would have once it was done. It was funny how the least expensive quickly built vehicle would have the greatest impact & following.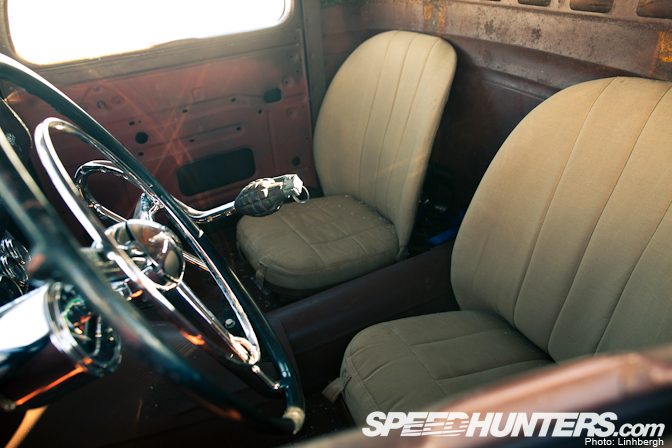 In 2005 I bought the 37 cab & 36 frame from the Monroe swap meet. The box I found on e-bay & drove to Spokane with Geoff to pick it up. I shortened the frame 12 inches behind the cab & kicked up the rear frame 8 in. I removed the ft cross member – made a new low cross member & moved it ahead 2 in.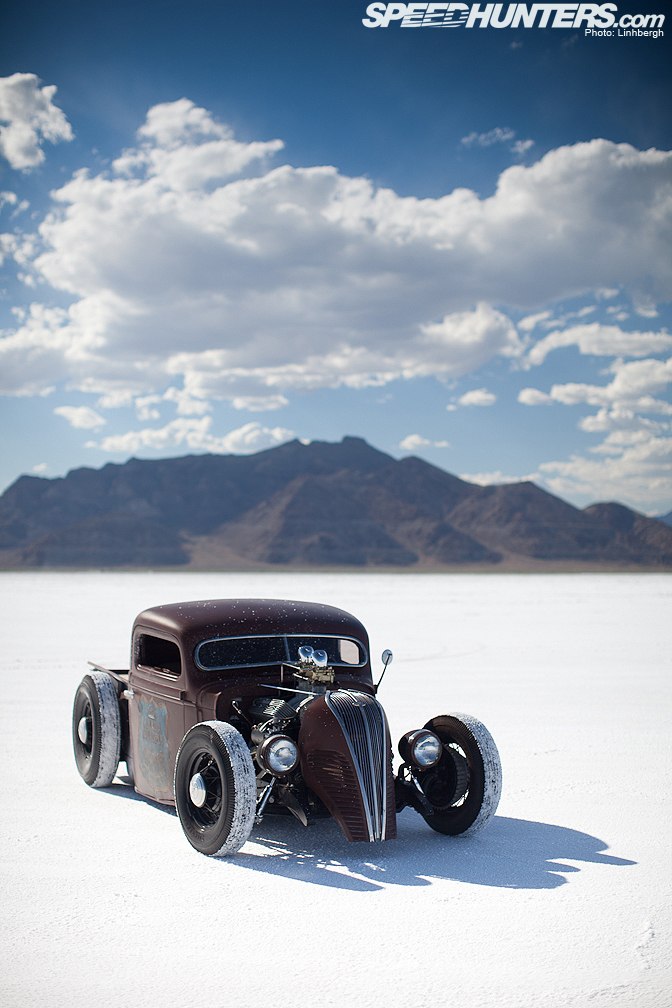 The 4 in. dropped axle is from Speedway Motors. I chopped the cab 7in. channeled it 7 in. & moved the firewall back 4 in. The box was shortened 22 in. The rear axle is a 40 Ford banjo converted to open drive.
Wire wheels are 36 Ford with 6.00×16 firestones ft & 7.50 firestones rr.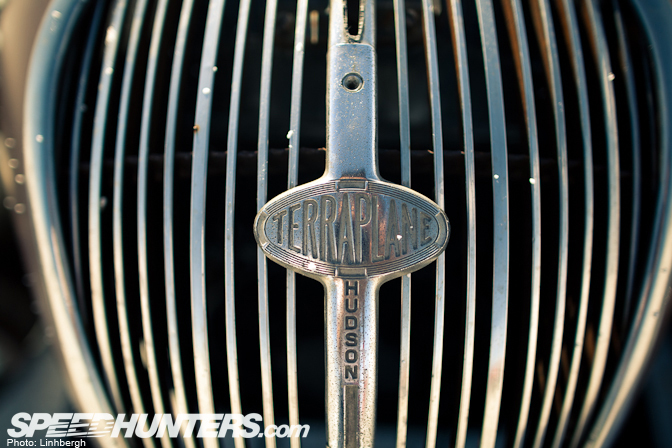 My buddy Mark Freeborn supplied the 37 Hudson Terreplane grille, Headlights are late 30's Ford.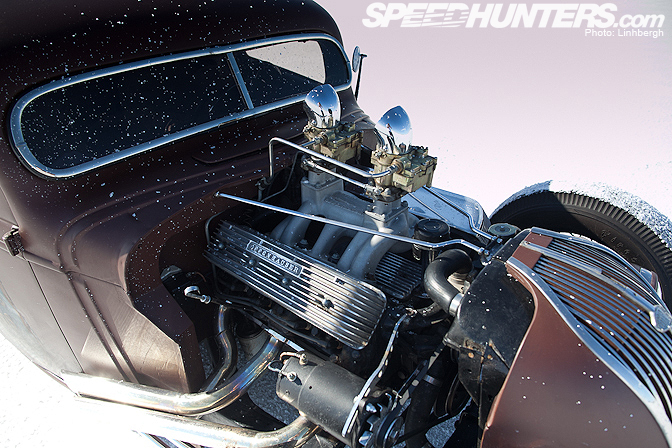 The engine & trans came out of my dad's 63 Studebaker  – 289ci & T-10 trans. (He bought the Stude in 65)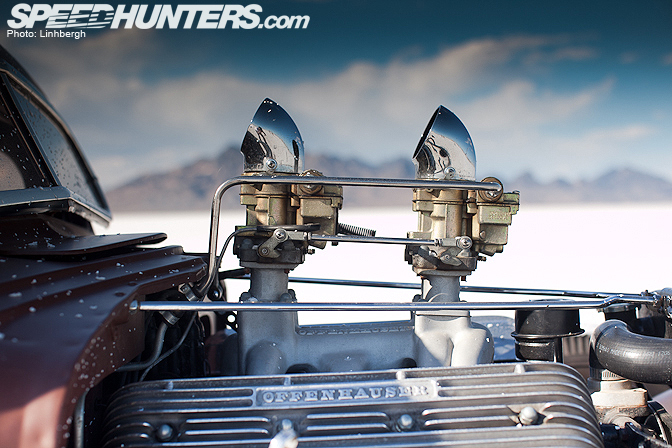 The Offenhauser dual deuce intake manifold is from a 331 Cadillac (Studebaker & Cadillac are very similar in design)
Carbs are Rochester 2G's. Finned valley cover & Offenhauser finned rocker covers.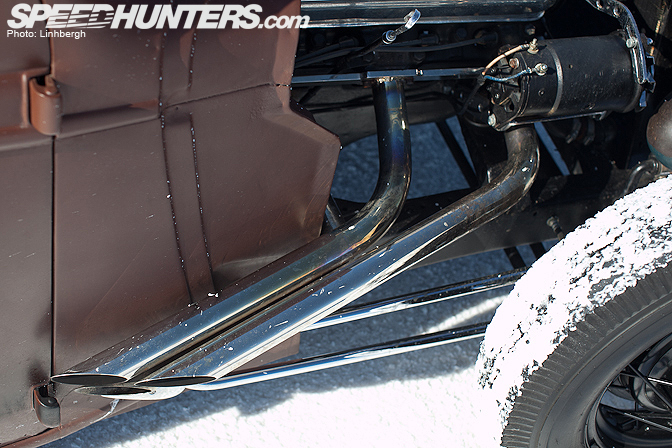 I made a set of headers with baffles. (There are 3 pipes per side because the center 2 ports siamese at the head – similar to Cadillac, Olds Pontiac & Flathead Fords of the time.)
Front brakes consist of 41 Lincoln backing plates & Buick finned aluminum drums & rear brakes are original 40 Ford juice brakes.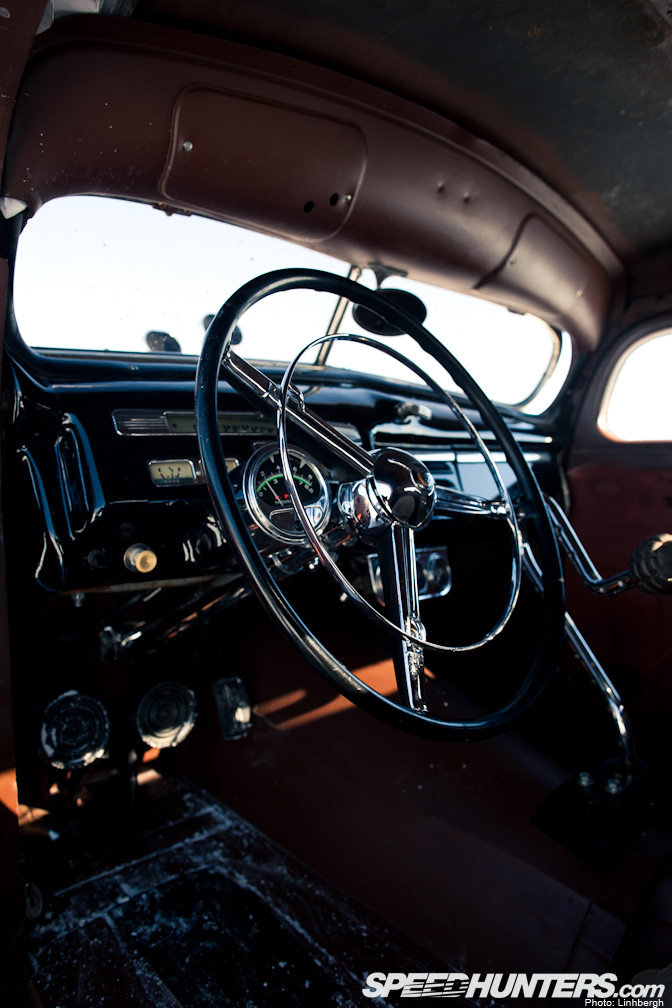 Inside I used a dash from a 41 Merc , steering wheel from a 37 Chrysler & made a custom drilled shifter with a hand grenade from the army surplus store.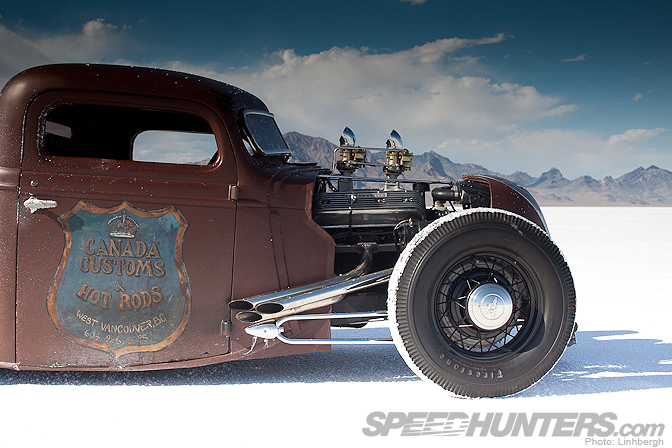 The door logo was hand painted by my sister Gill Peterson.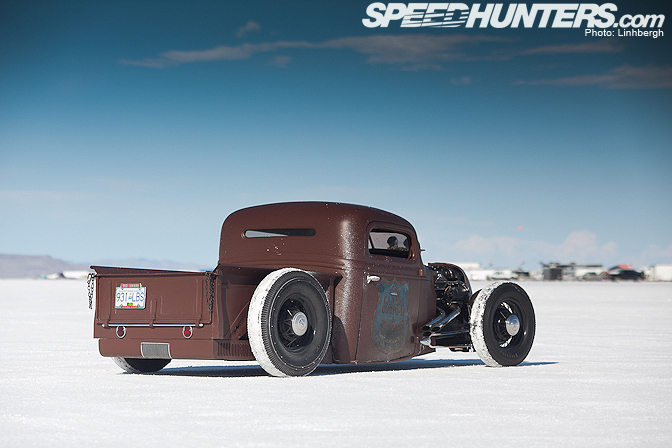 Speedhunters: There is a bit of controversy in the the car world regarding the term "Rat Rod", what do you think? And do you consider the truck a Rat Rod?
The term "rat rod" is a love it or hate it term. I would class this truck somewhere between a rat rod and a hot rod because there is a little more detail & finishing to the truck. It was intentionally left rough around the edges to show the 70+ yrs of use & abuse (rust,dents etc.) I have seen some rat rods that are compiled of junk and are out right dangerous and this is possibly what gets the haters hate'n.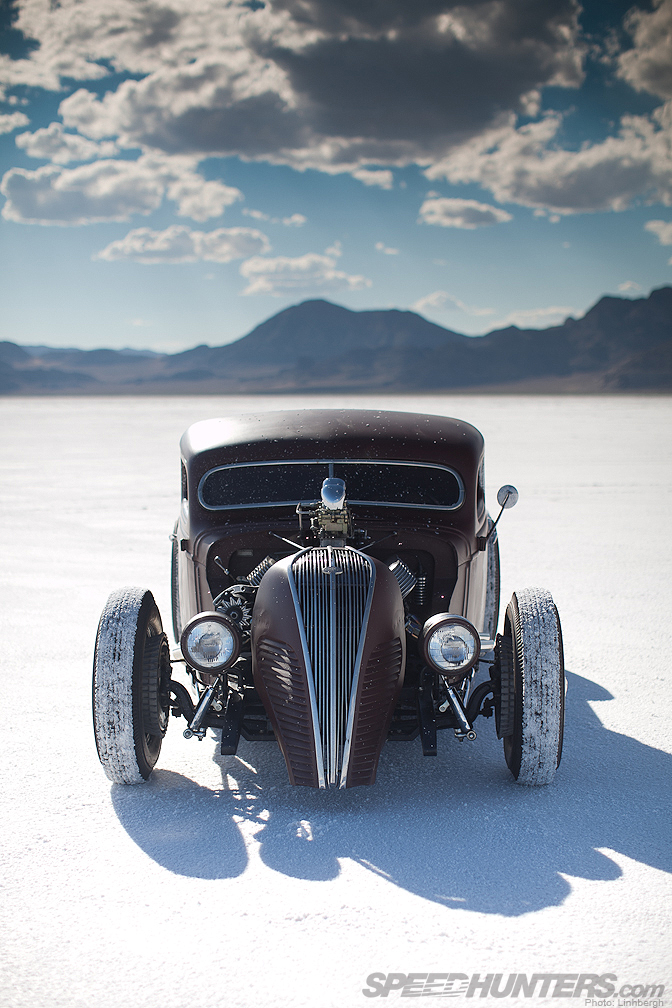 Love it or hate it – this is what makes the car hobby interesting!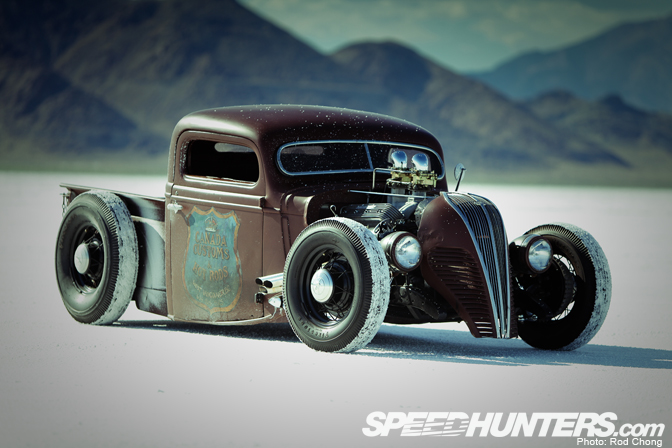 Speedhunters: How was Bonneville? What brought you there- how was the trip home?

This year my son Kyle, friend Dave York & I took the truck to Bonneville (not to race) Dave spent most of his time helping a team run a Streamliner while Kyle & I bombed around on the salt checking out the pits & the races. On the way home Dave & I were so hyped up from the whole experience that we drove all day on the wrong highway & ended up going back through Reno , Sacramento & up the I-5 ( about a 10 hr mistake)

Speedhunters: Fave modern car and why?
My favorite new car would be the Aston Martin Vantage or Zo6 Corvette. When Kyle & I were in Vegas for the Fastest Street Car Shootout – the track next to the drag strip you could rent a ride in one of a few different high end cars. Kyle chose the Z06. They went out for four hard laps with the Vantage behind them. When they returned to the pits the Vette showed no signs of being over worked however the Vantage's brakes were seriously smoking & overheating. So what I am saying is – the Aston Martin may not be the car the Corvette is, however for outward appearance I think it's got it nailed.
Speedhunters: What do you think of Vaughn's Mustang build?
The RTR-X Mustang build is killer. This is the type of build that gets my blood flowing. Older bodies with character combined with today's technology. This type of car does everything well – power stopping, handling & fuel economy – PERFECT!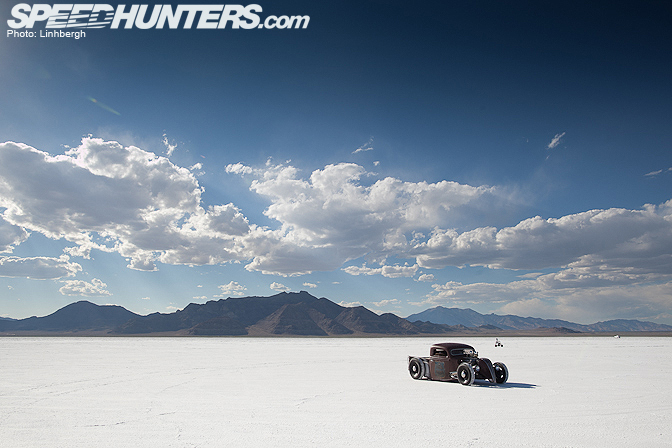 Speedhunters: Thanks for chatting with us Laurie and we are all looking forward to seeing these projects on the road!