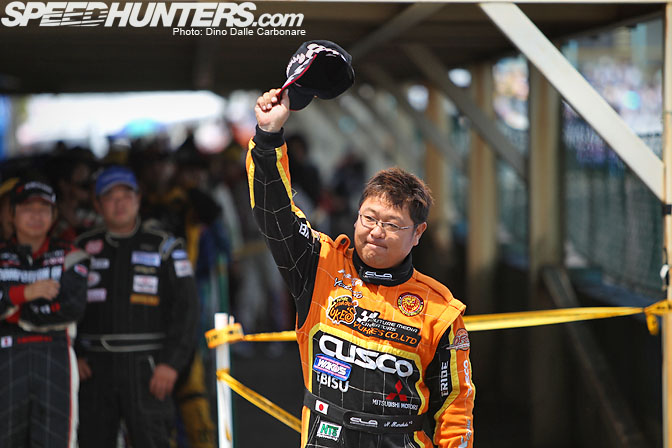 What Kumakubo has done for drifting, goes beyond the duties of a simple driver. He was right there when the scene got started and his fascination with the art of going sideways drove him to create what everyone refers to as Drift Heaven, Ebisu Circuit.  On my last visit up to the town of Nihonmatsu in Fukushima-ken where the circuit is located, I stopped by Kumakubo's tuning shop, K Style, to take a look at a car that the whole drift community is anxiously waiting to see, the new Team Orange Nissan Laurel.  Kumakubo was kind enough to take time out of his current exhibition tour abroad to reply to my questions via e-mail.  Let's find out more about the new car and his plans for the future.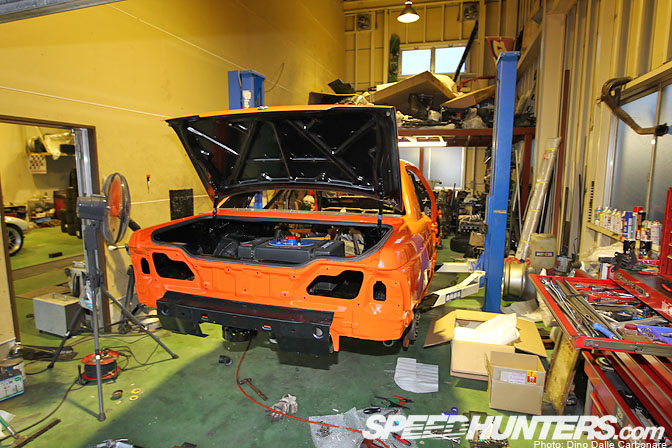 Speedhunters To get started, the obvious question.  Why did you decide to change car?
Well, honesty, I didn't want to change car! The Evo X is a true Team Orange car through and through, it has served me well and I love the way it performs and would really like to keep driving it.  But these days D1 requires lots and lots of power.  If you don't have enough power you are just not competitive and it makes it much harder to even qualify for the tsuiso battles.  This is especially true this year.  So despite not really having a choice I'm also very excited to get into the Laurel and drive and experience a true Koyama-built RB26!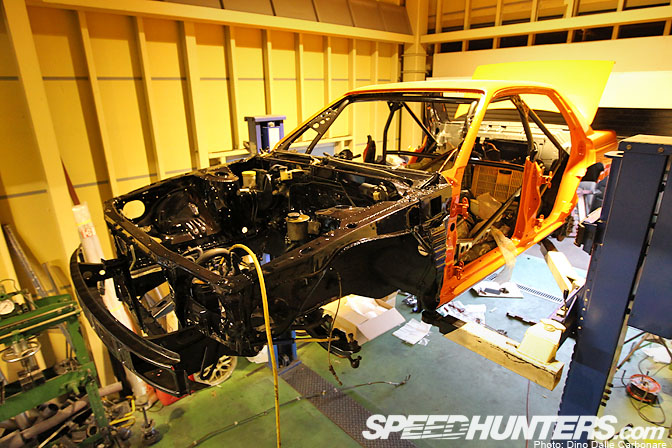 Speedhunters So power has become the most important thing in D1 now?
Unfortunately yes.  You definitely need power!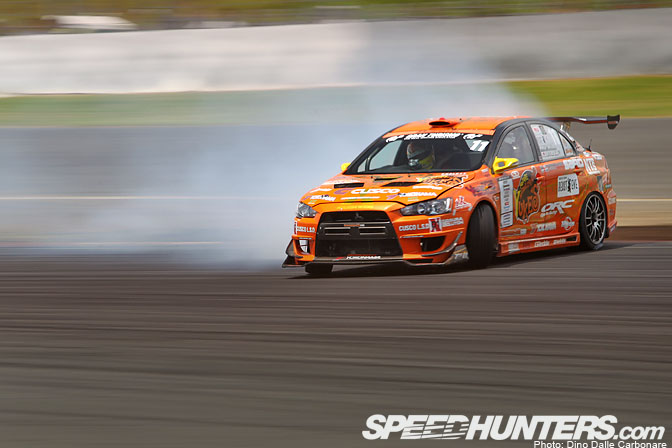 Speedhunters  So will we be able to see the Laurel in action at Fuji in a couple of weeks?
That was the original plan but we just can't make it. I apologize to all my fans.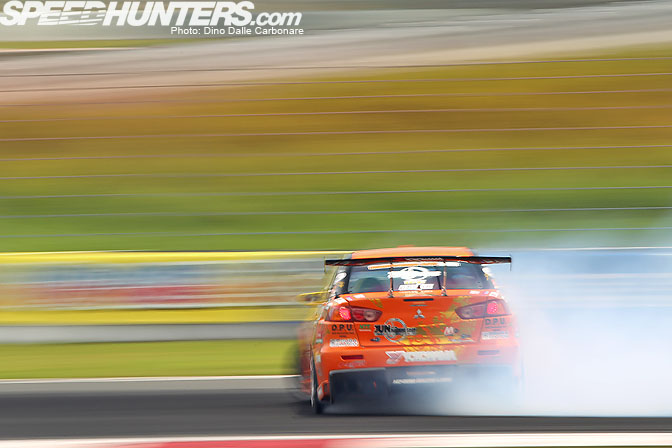 Speedhunters What will happen to the trusty Evo X?
I'm not sure yet, I haven't really thought that far yet. I might use it overseas for all the exhibitions Team Orange does or for the drift schools and seminars we host in various countries. Or maybe if we find another driver to use our team…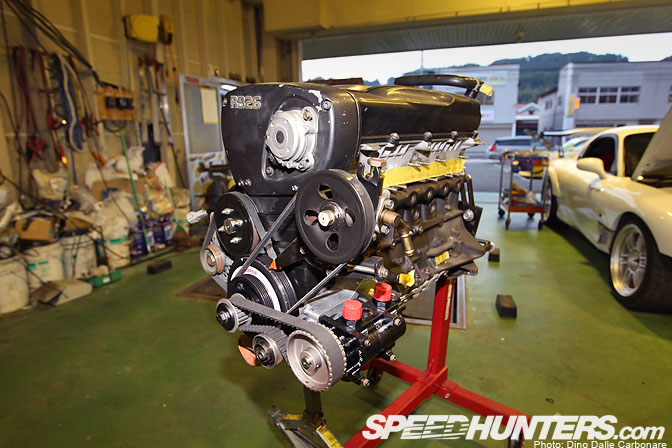 Speedhunters Why was it decided to dry sump the RB26 that will power the Laurel?
Well drift engines are continuously run at very high rpm, often bounced off the limiter for extended periods of time so we eliminated the possibility of any type of oil pump failure. The custom system also provides much better lubrication under lateral load. Plus it's cool! LOL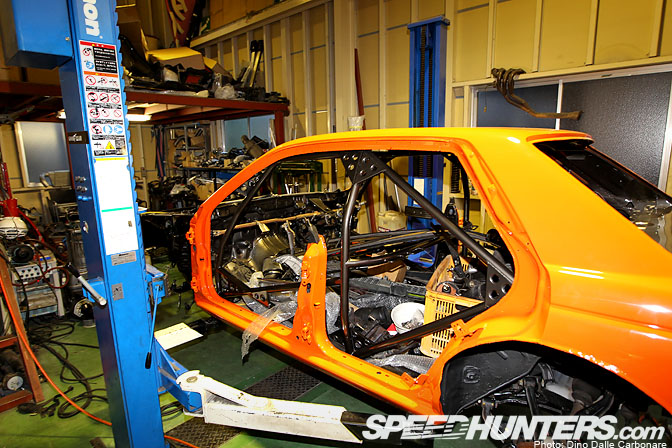 Speedhunters During our visit to K Style Iwata-san showed us all the custom work that has gone into the car…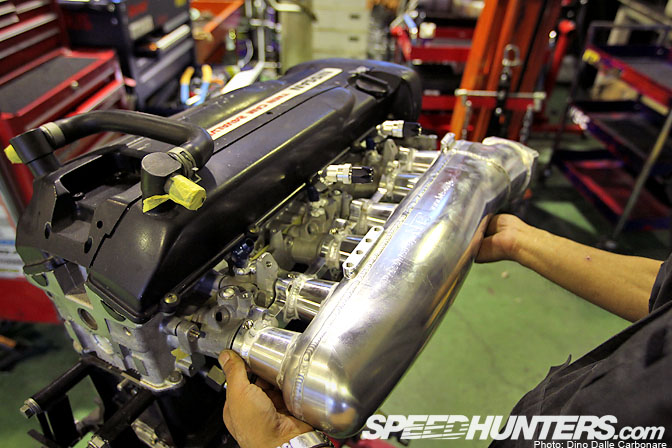 …as well as the engine. How many companies are collaborating in the project?
Most of the engine parts have come from JUN Machine Shop while all of the custom parts we needed have been created by the guys at NTS…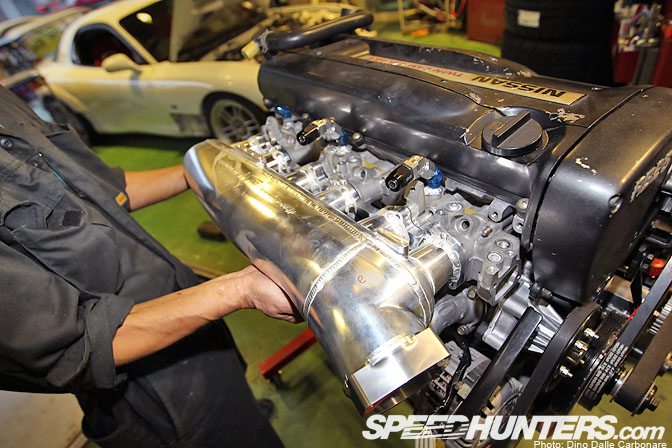 …like the one-off big-capacity intake plenum and dry-sump system.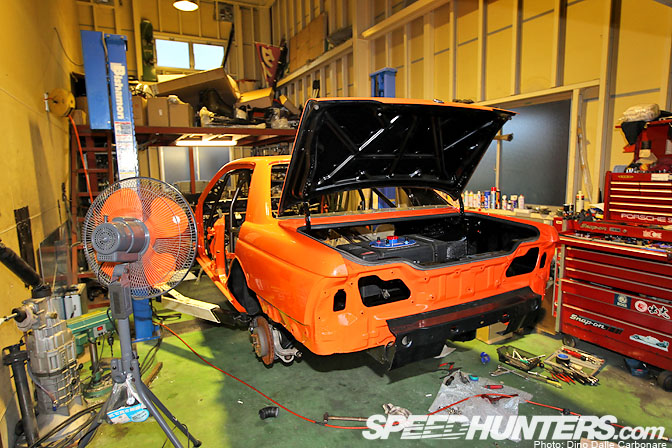 Speedhunters So how much power is this engine going to develop?
We are shooting at somewhere in the region of 900~1000 HP.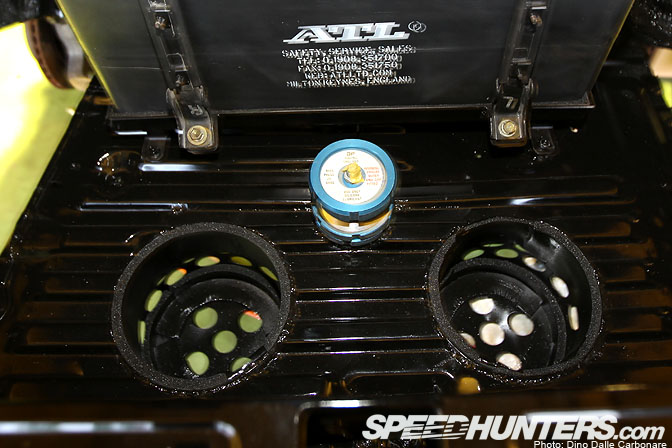 Speedhunters We noticed that there will be two bottles of nitrous oxide fitted in the trunk of the Laurel, just behind the ATL fuel cell. Do you plan to use nitrous all the time?
If possible I don't want to use it at all! But if the D1 regulations insist in not banning the gas then I have no other choice but to use it to get the necessary power boost when I need it.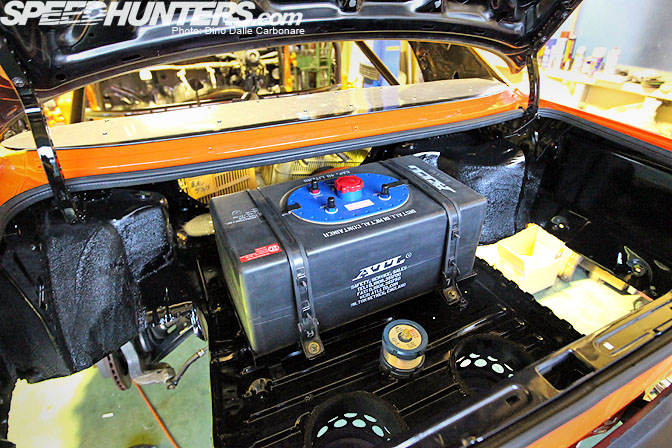 That will be the only way to stay competitive. I think if D1 will ban nitrous oxide I will be going back to the Evo X. I will then use the Laurel for something else.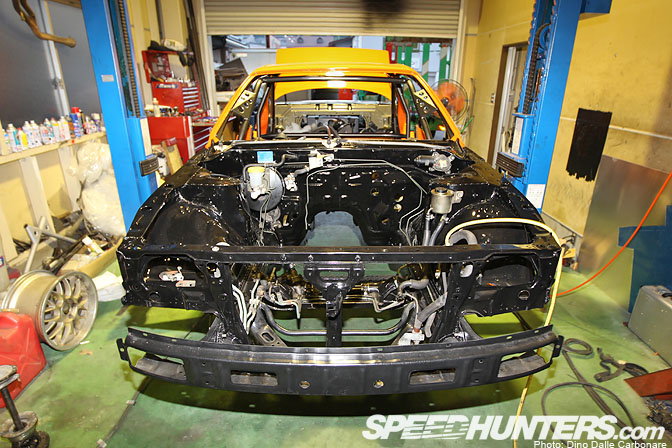 Speedhunters The 2010 Championship has already been won by Imamura, but do you think the competition will be as fierce as ever at the final round in Fuji?
For me at least it will be tough, as I need to drive the Evo X, which is just not powerful enough anymore to keep up.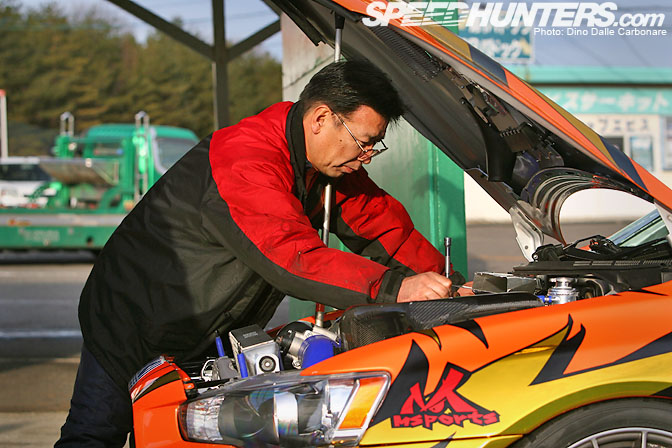 Speedhunters And finally, everyone by now knows that Koyama-san of Koyama Racing Labo has had some very serious medical problems over the last few months. How is he doing and will he be well enough to complete the final set-up of the Laurel? Also, any final thoughts?
I'm sure everyone knows yes, but what we can do is all wish for his quick return. Presently Koyama-san is putting a lot of effort into his rehabilitation and his will to recover is really unimaginable, everyone is so surprised at how quick he is improving. He is planning to come to the last D1 round in Fuji on the 16th and 17th to watch the action. It will although take time until he will be able to work on cars again, but he will definitely return to the scene. This is also the reason work on the Laurel has stopped; everything that could have possibly been done without his supervision has been completed. I want it to be him that cranks that engine for the first time! Saying this however, I would really love to win a round with the Evo X as a present to Koyama, a car that he worked so hard to create but the only one that hasn't won out of the other Team Orange cars. Then it will be the time for the Laurel!
As a final comment I'd like to say that I'd really like to see nitrous oxide banned in D1. If D1 continues as it is now we will all be using older cars with tons of power that are all too easy to drive. We at Team Orange have had to start using it in an attempt to keep up with the rest of the field. My goal from now won't be on winning but more on finding and helping younger drivers evolve. I'd also like to drift in as many foreign countries as possible!
Interview by Dino Dalle Carbonare