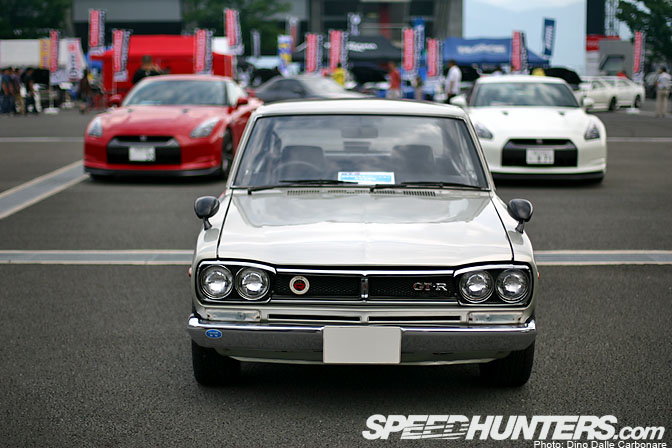 Let's dive right back into GT-R Heaven with another selection of shots from the biggest 2010 R's Meeting yet. With so much to see in the display area set up at Fuji Speedway I was struggling to keep focused, every little cool tuning part or crazy modified R distracting me from getting on with covering the event.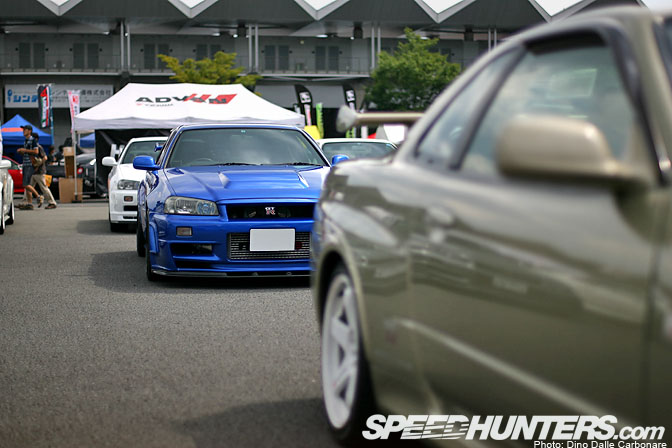 It was a non-stop parade of GT-Rs wherever you looked, in the paddock, on the race track, around the access roads and of course in the car parks. GT-Rs everywhere! In fact I spent a lot of time walking through the parking lots, looking at owner cars and the way they have personalized them. We'll go more into that later on.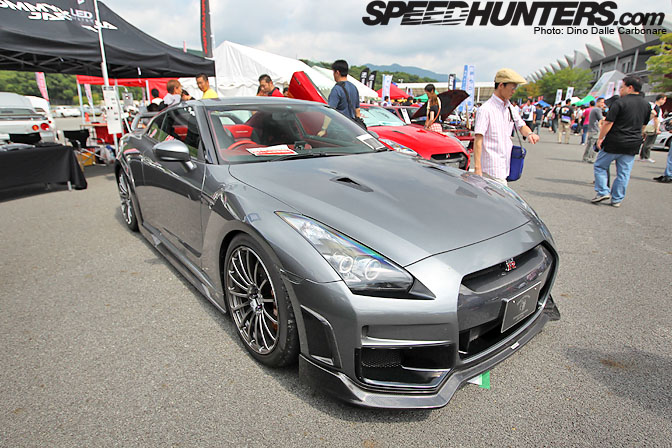 The Tommy Kaira official demo car, or Silver Wolf Edition Ebbrezza-R.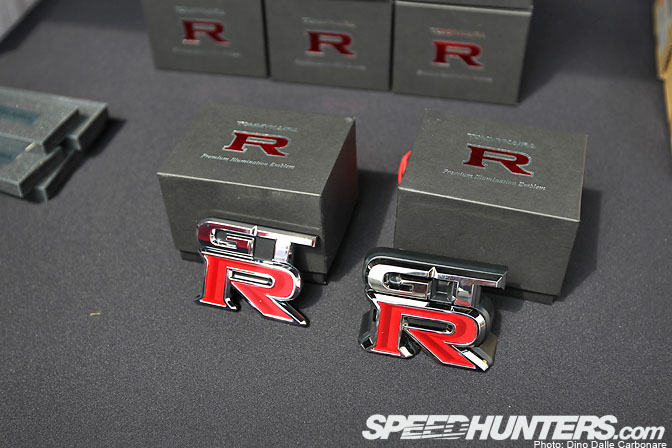 I thought Tommy Kaira was selling new-gen GT-R badges but then noticed there were a few wires coming out from the back. That's because they are illuminated by 10 small LEDs! Price, just over $1,000!!!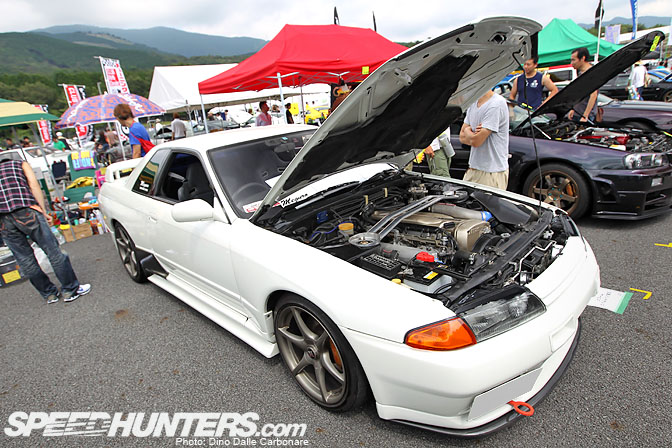 BNR34 wheels on R32s just look so good if spaced properly. This particular san-ni had a few simple carbon fiber parts to enhance the exterior looks…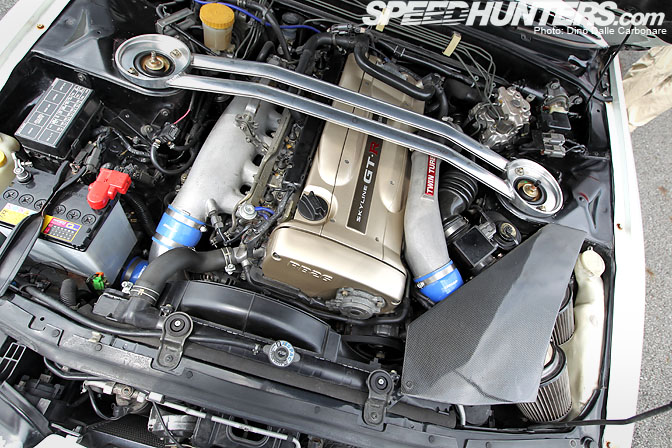 …and an R34 Nur engine to complete the modifications.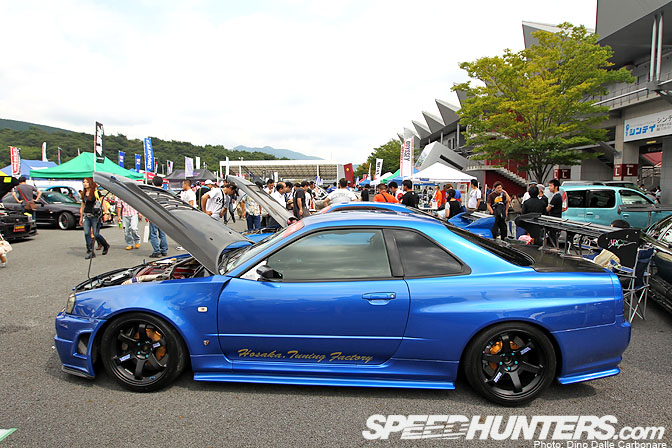 Hosaka Tuning Factory brought their black R34 time attack car for the track tuner exhibition, and had this Bayside Blue san-yon for display.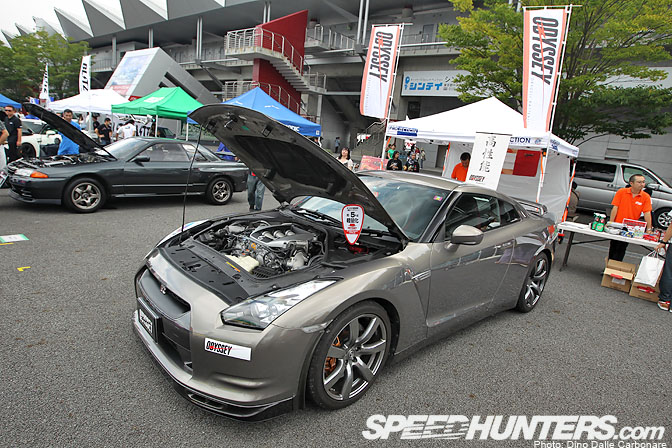 Odyssey has a quick and easy way to instantly shave 5 kg off the weight of the portly R35…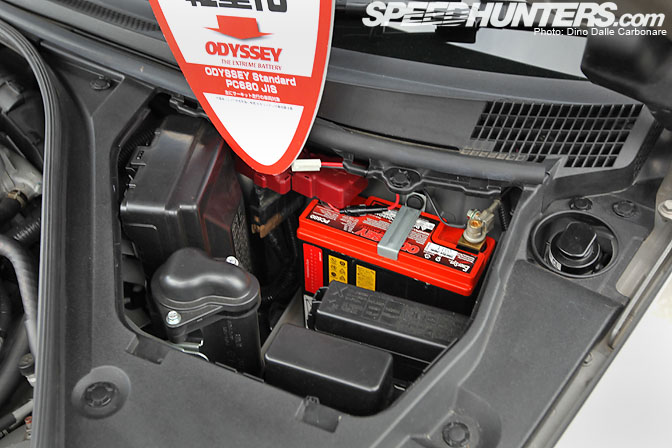 …thanks to their tiny race-spec battery.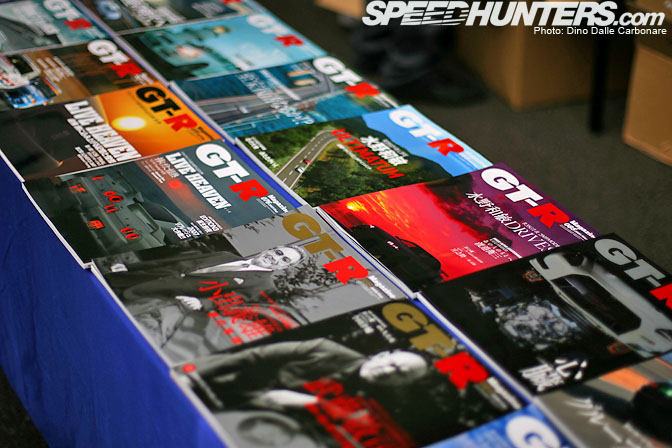 I stopped by the GT-R magazine stand where they had tons of back-numbers for sale…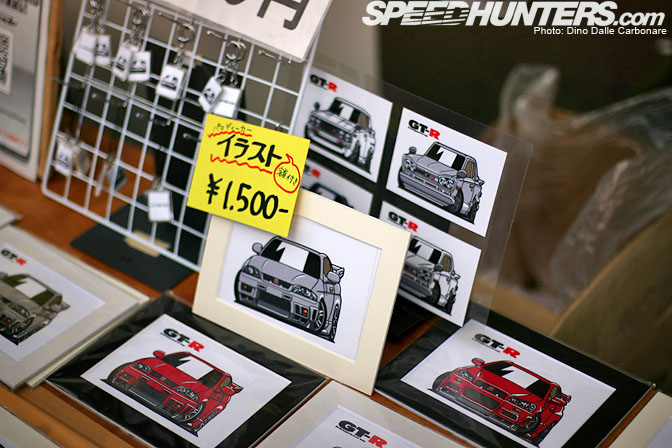 …as well as GT-R related gadgets and caricatures.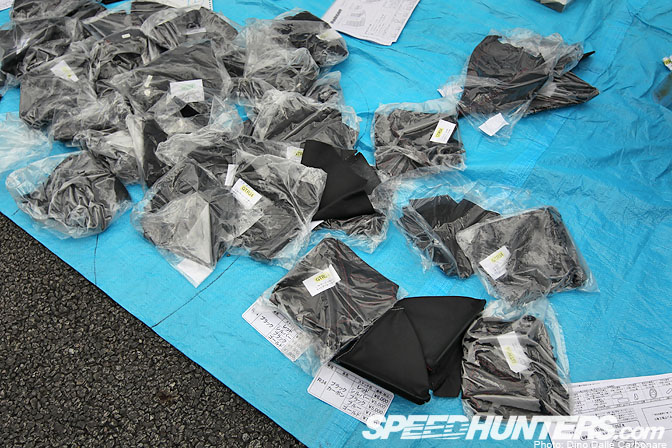 Masa from Robson Leather looked very busy as people rushed to their makeshift market stall to take advantage of the slashed prices. Popular items on sale included leather boots for the gear shifter and handbrake…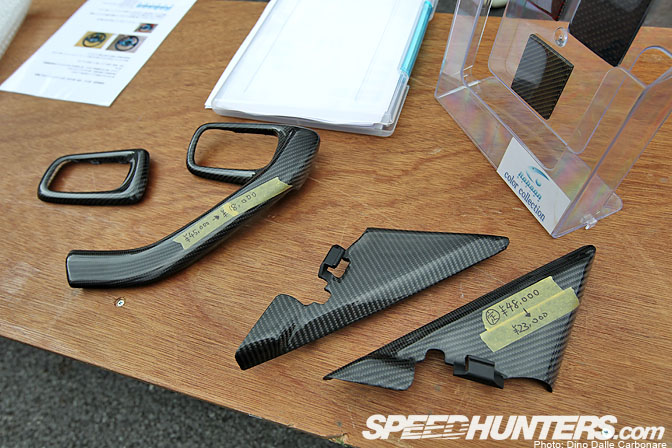 …as well as carbon fiber interior trim which was being sold at less than half price! Talk about a deal!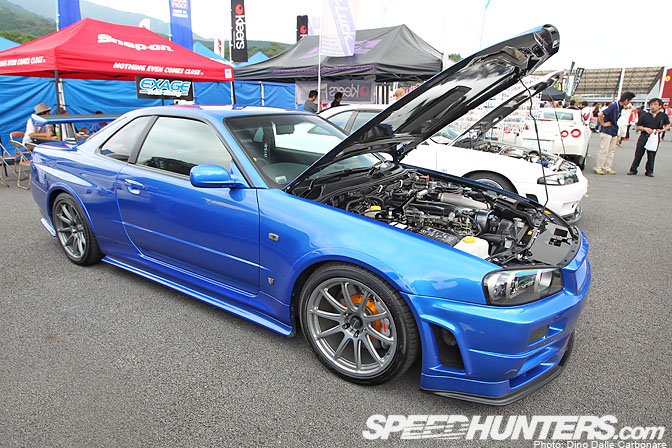 This V-spec II was on display at Exage, specialists in RB26 maintenance and rebuilds.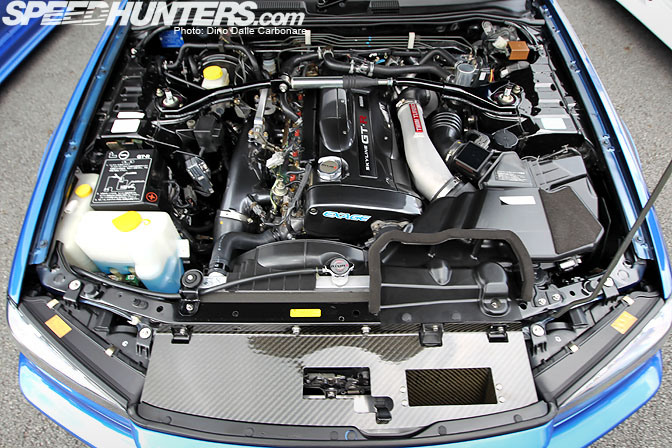 Despite the stock look I really liked the dark silver color the engine covers and inlet plenum were painted in.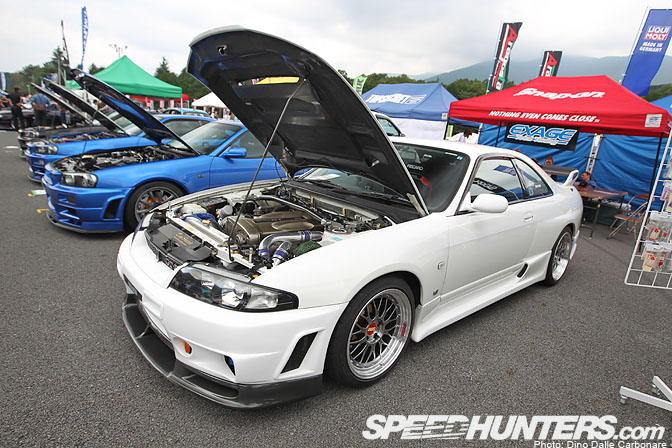 Next to it was this time-attack looking BCNR33 running a 650 HP Nur engine.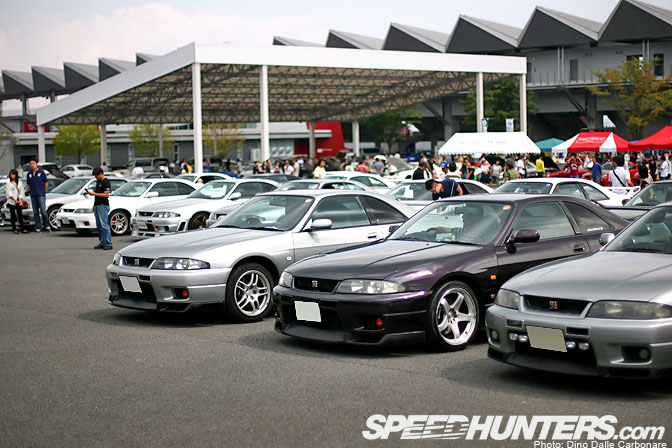 And talking of R33s these were the cars lined up…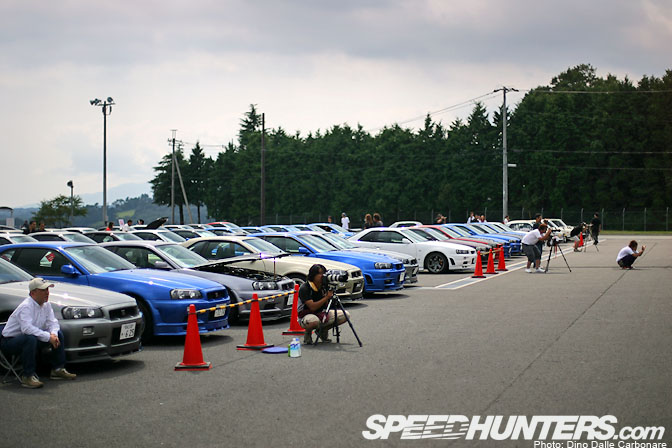 …ready to be immortalized by the GT-R Magazine snappers.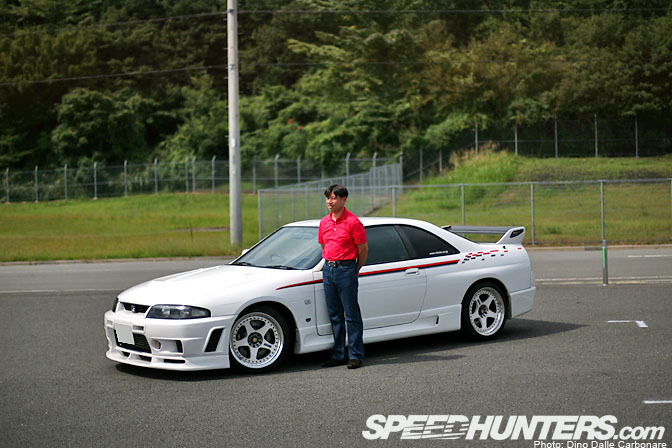 All pictures were taken using the same car position and owner position to make shooting as quick and as efficient as possible.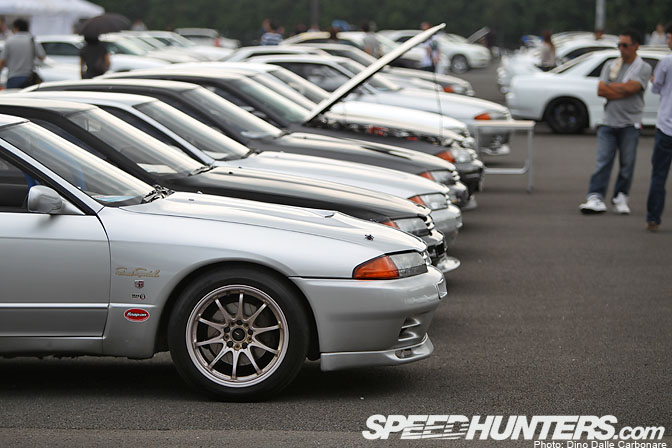 And let's not forget all those lines of nice R32s!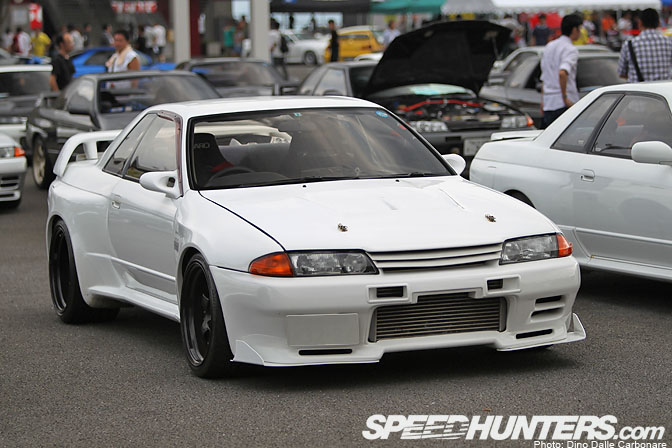 Spotted this aggressive Veilside widebody kitted one tuned by Pentroof…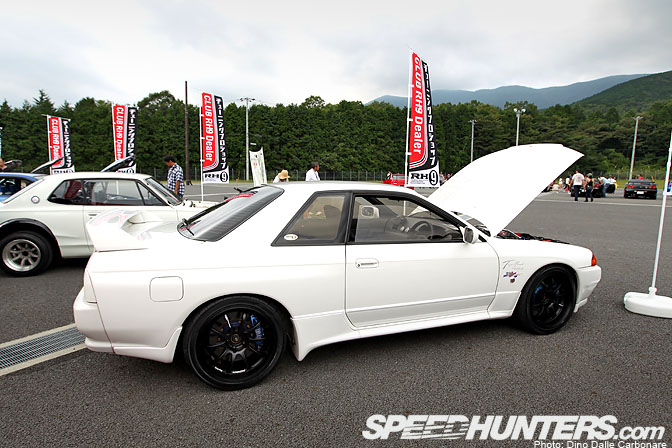 …and then a little further up another R32 fitted with the same massively blistered Veilside fenders.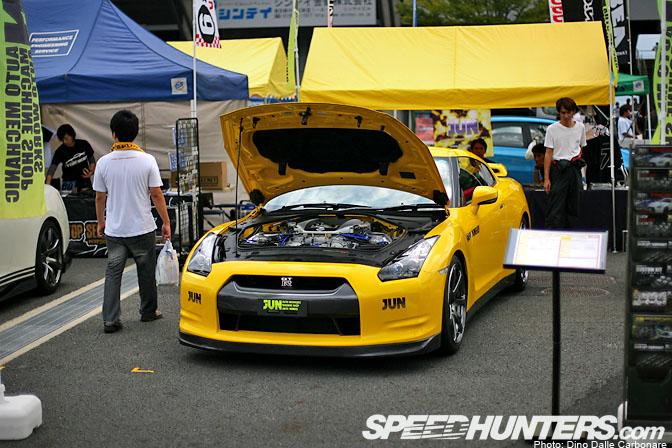 JUN showed up with their freshly painted R35 demo car. Now that all development on the Evo X has ended it's now the GT-R's turn to be transformed into a time attack machine.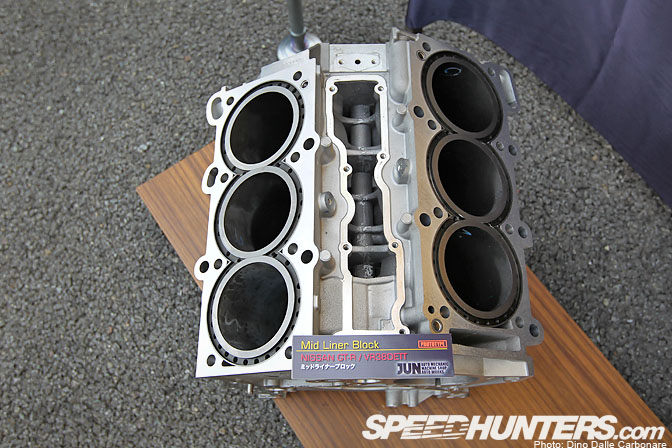 The engine is still stock on the car, but things move very fast at JUN. This is their latest prototype VR38 block which boasts a capacity of 4.2 L. They also have a 4.0L short block already on sale…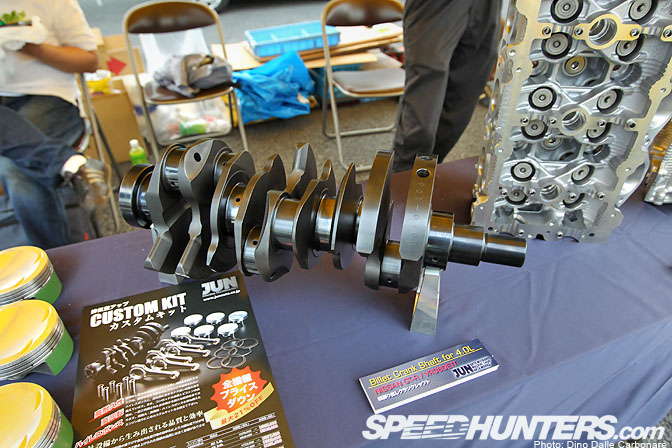 …along with the 4.0L forged and balanced crank, H-section connecting rods and pistons.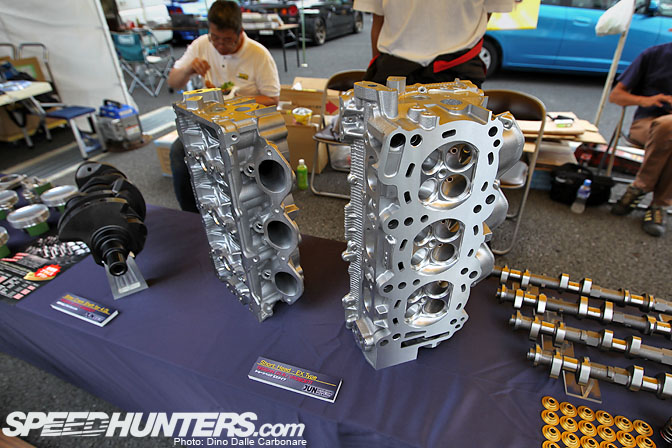 They even have ported and polished heads ready…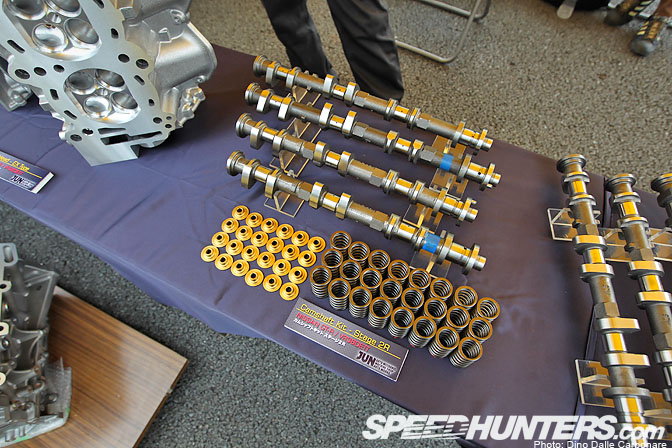 …with upgraded valvegear and a choice of camshafts!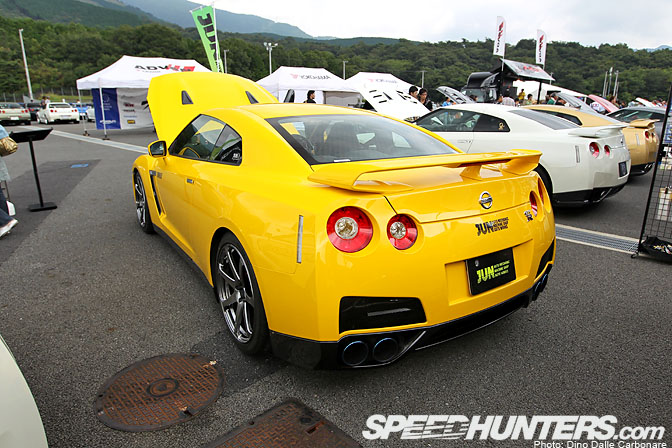 According to Watanabe-san of JUN the VR38 has a lot of potential for big power but the limiting factor will be the lack of space to fit larger turbo chargers. It will be really interesting to see how the R35 power-wars will develop!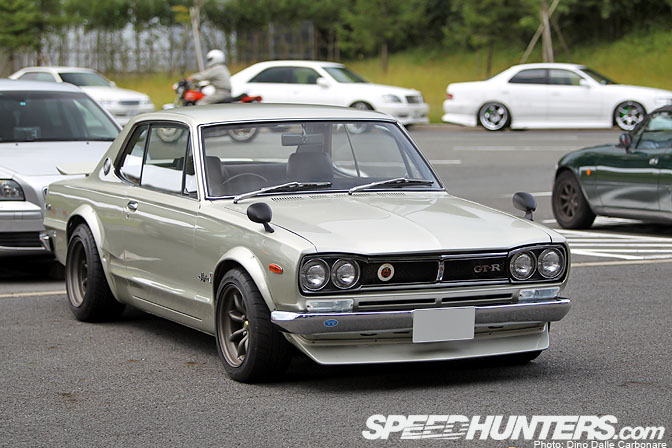 Someone asked for more oldschool Skyline love, so here you go!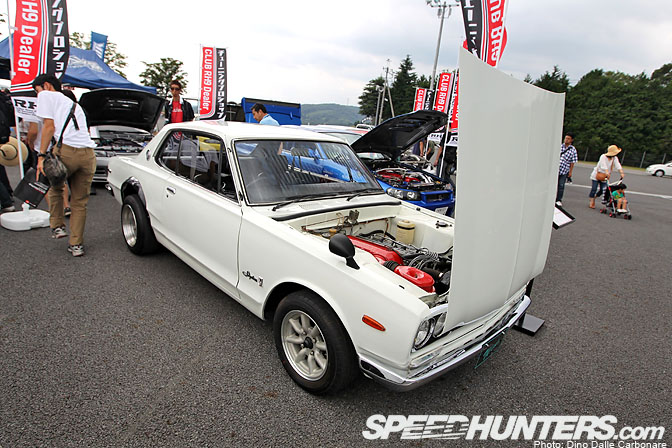 All the GT-Rs I came across were the real deal…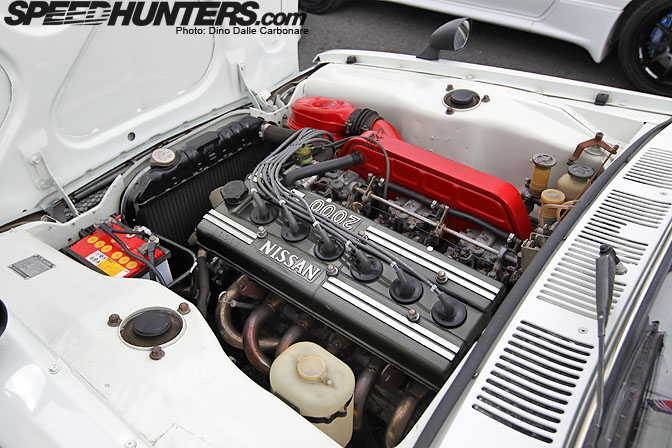 …powered by the 2 liter, straight six S20 motor.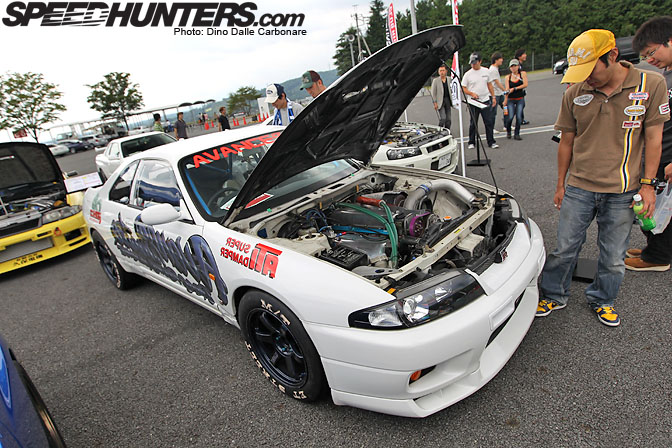 On the RH9 display area I run across this serious looking Avance Meitou BCNR33…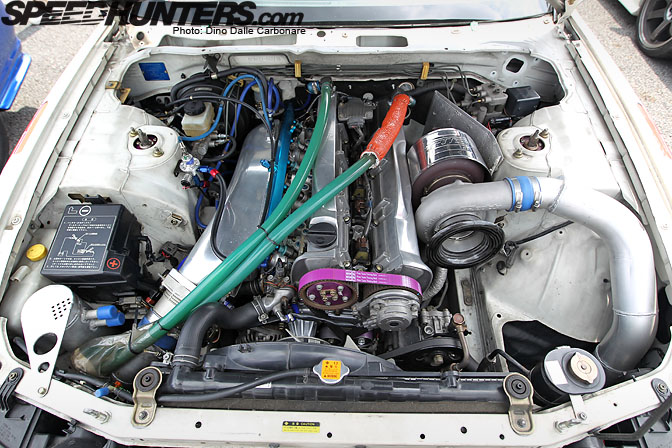 …running a T88H-38GK turbine good for 900 HP.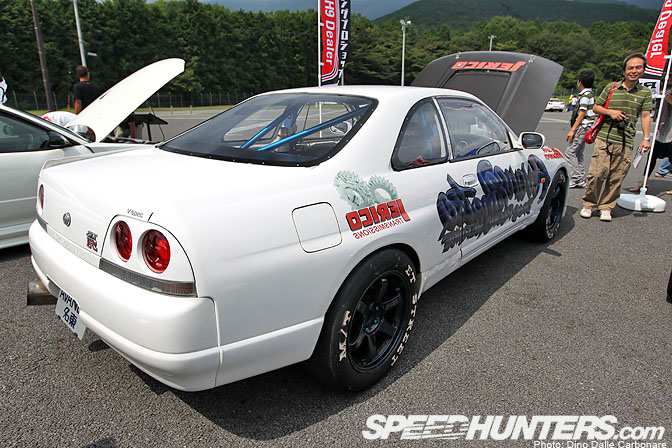 To put all that power down on the strip the Nissan transmission has been replaced by a Jerico 5-speed air shifter. And how cool do the 17-inch TE37s look wrapped in Mickey Thompson ET Street drag radials!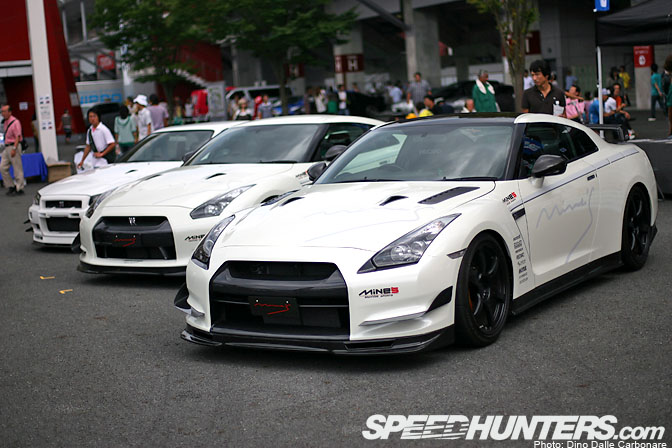 What would an event like this be without the presence of Mine's, sporting this tantalizing line up. We'll take a closer look at them…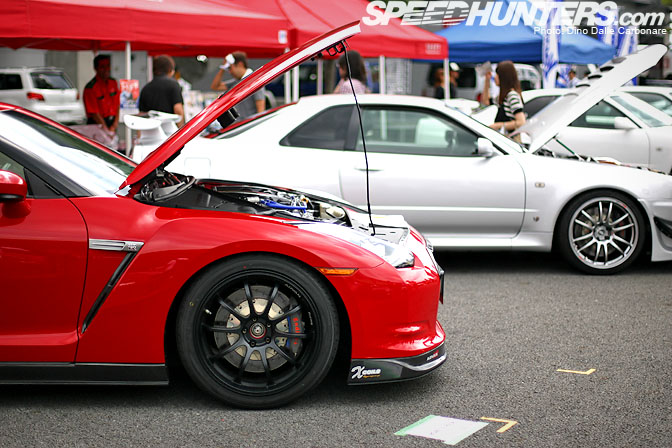 …along with the MCR cars in the next installment from Fuji. Don't miss Part 3!
-Dino Dalle Carbonare