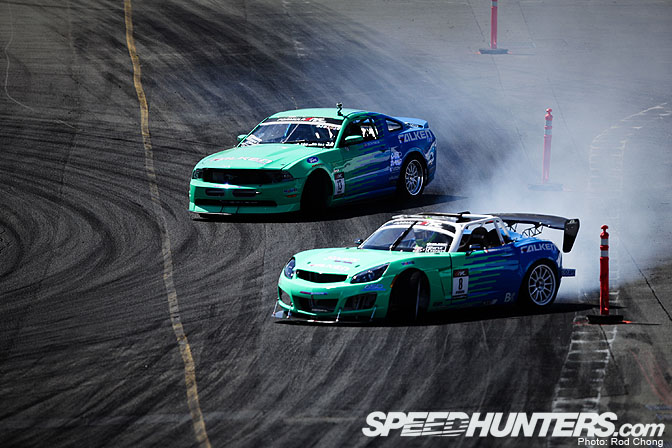 The northern Californian wine country lived up to it's name this previous weekend. The skies were a crisp blue, and the temperatures were the most enjoyable to be had of all the Formula D stops this year! And with the passing of the weekend means the passing of the penultimate round of the 2010 season.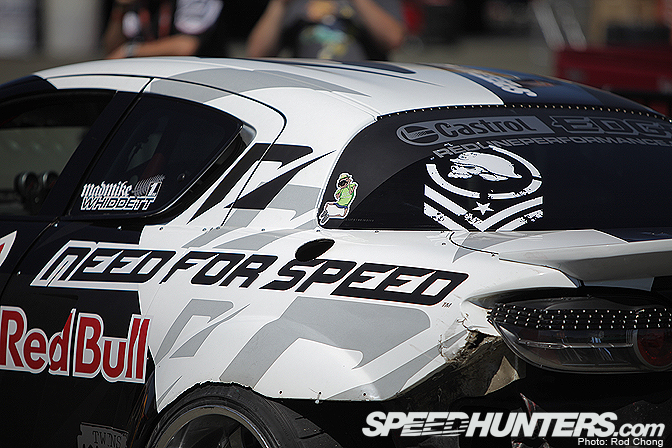 We decided on taking a different route on the battle breakdown at Sonoma. In addition to myself, Rod and Larry Chen will also add their bit of commentary to each run. Without further adieu, let's get straight into the top 32 battles!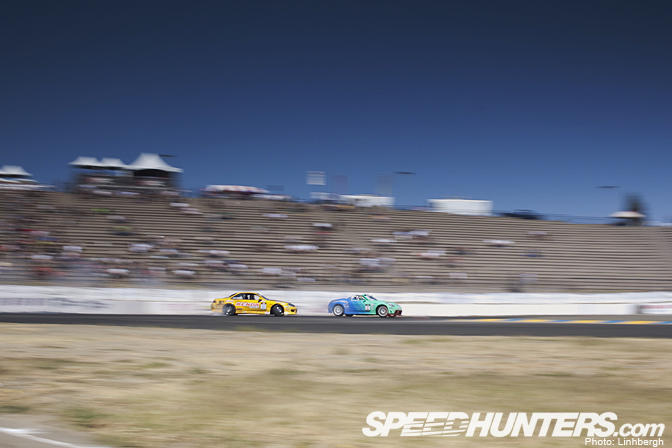 Linhbergh: The top 32 tandem action started with Dennis Mertzanis and Tyler McQuarrie, who qualified first the day previous. The battle was fierce and aggressive. But in the end, Tyler took the win.
Rod: I missed this battle as I was walking out to the grand stands with the NFS Girls when Top 32 kicked off.
Larry: One thing I would love to see is the number one qualifier getting knocked out by the 32nd qualifier. It could be a winning strategy since you are pretty much knocking out the best driver. However this battle was like taking candy from a Kenda Tire sponsored baby.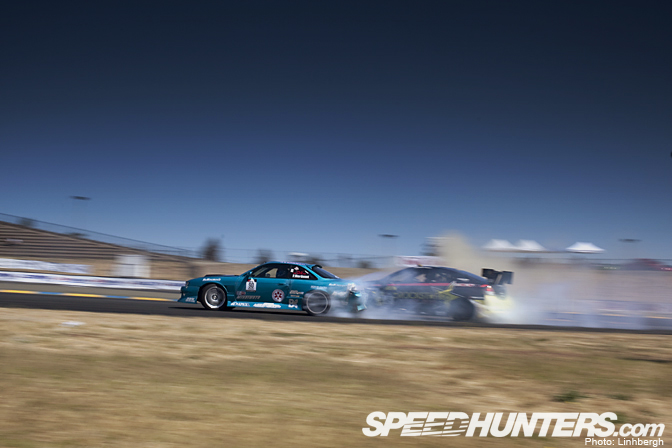 Linhbergh: It was great seeing Pat Mordant in his blue S14 again as his 350z was having a bit of trouble. But the battle was a pretty open and shut case. Tanner "the Robot" Foust laid down the hammer with strong consistant follow and chase runs which lead to him winning and moving on to the top 16. That NASCAR V8 with tanner behind the wheel is something to be marveled at in person.
Rod: I heard he blew up the transmission of his 350Z while drag racing…. I'd also add here that Tanner Foust's driving is something to be marveled at in person.
Larry: Poor little Pat piloted a drift car to battle against a Star Destroyer.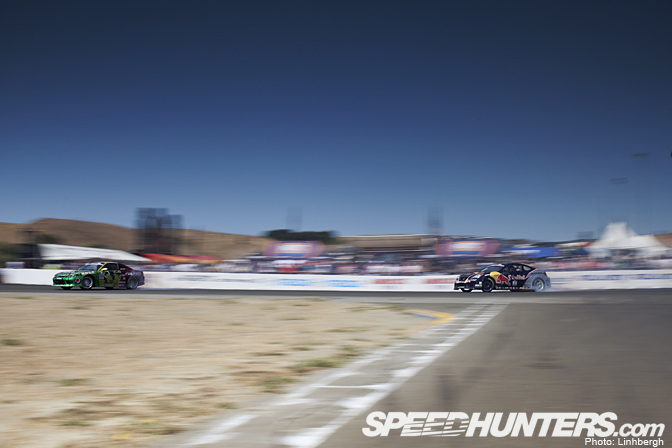 Linhbergh: The battle between Rhys Millen and Ross Petty was another one of those open and shut cases which Millen waltzed away with the win. Rhys has been a bit off all season and it was a nice change to see him at his almost usual competitive self.
Rod: I was hoping this would be a fierce battle to match their rivalry of previous years. Looked like Ross out-psyched himself.
Larry: Ross Petty gets the win girl. The real winner of Formula D Sonoma period.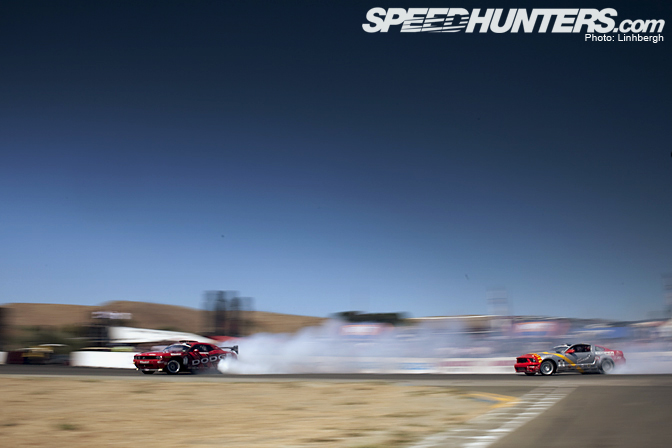 Linhbergh: The battle of the the modern American muscle car. You would think Sam Hubinette's RV sized Dodge Charger would just walk over privateer's, Tony Brakohiapa, Ford Mustang but you'd be wrong. Tony proved to that it's not about deep pocketbooks, but, rather, shear driving prowess. I distinctly remember the crowd roaring when the voice of Formula Drift, Jarod DeAnda, announced that Tony would move on to the top 16. It's these upsets that keep make FD exciting.
Rod: Linhbergh you sound so formal… I am taken aback.
Larry: Irwindale may be the House of Drift. But Sam's car is the Drift House. Tony's car looks like a Pokémon fish (Magikarp).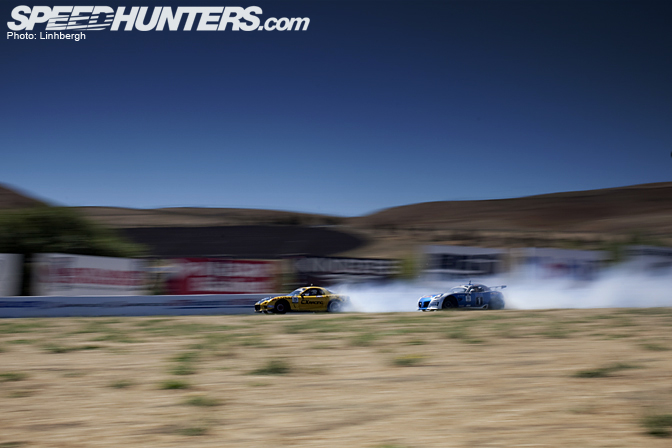 Linhbergh: The battle between Jeff Jones and Ryan Tuerck was another one of those David vs. Goliath matches. Jeff drove his heart out and Ryan seemed like he was still trying to get used to his new LS7 powered Solstice.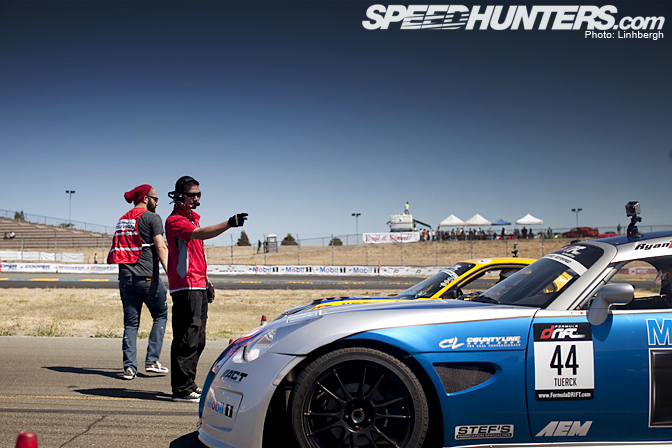 Linhbergh: Sadly, David did not defeat Goliath.
Rod: Hang on a second. How can Goliath be such a small car?! I contest your analogy!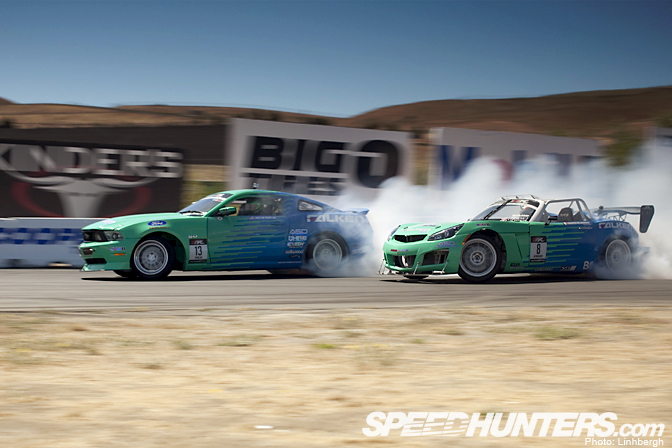 Linhbergh: I'm sure Falken hates it when two of their own teammates go against each other. But it does make for some amazing photos when the two of them are door to door! The battle between Darren McNamara and Justin Pawlak an amazing battle to behold. Both cars smoked up like crazy, each drive drove insanely aggressive during both runs. I'm sure it was a tough battle to judge, but in the end, they awarded the little rocket ship and its irish driver, DMac, the win.
Rod: You can see I was shooting this from the stands… This is more or less what the crowd saw. From my POV, Darren looked to be quite easily be able to accelerate away from JTP.
Larry: I think Darren's car is the only one who can drift within a drift.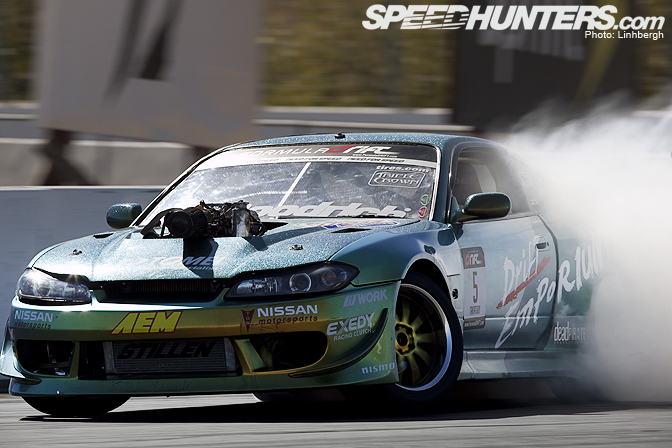 Linhbergh: Michihiro Takatori was up against Bill Sherman. Unfortunately, Bill had some car issues and had to bow out, thus giving Takatori the win.
Rod: Burp.
Larry: Is it me or is Takatori the tallest Japanese man you have ever met?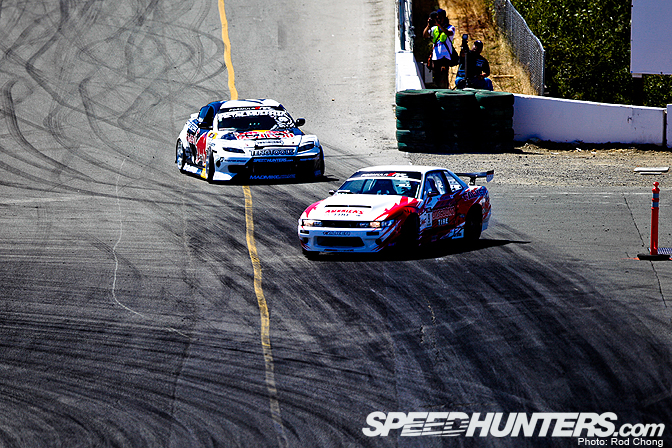 Linhbergh: Mad Mike was in high spirits coming into Sonoma as he finally made it into the top 16, for the first time, in Las Vegas. But fate would happen that he would be put up against the same driver he's went up against all year at the top 32, except for Seattle, Daijiro Yoshihara –a juggernaut of a driver.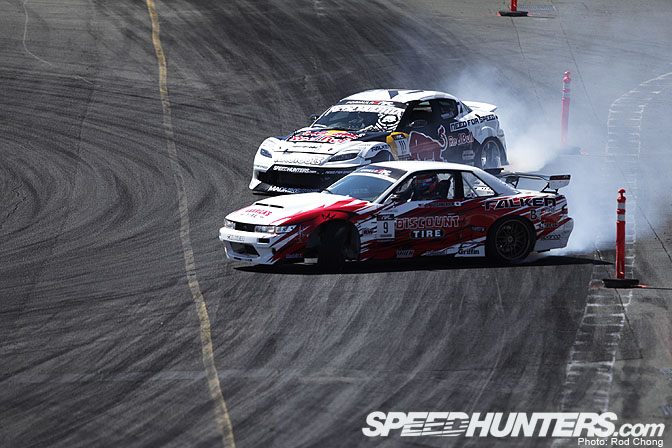 Rod: It's interesting to see how EARLY Dai initiates his drift.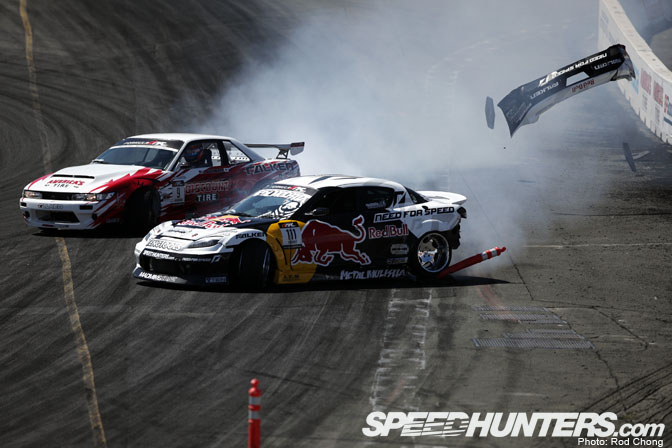 Linhbergh: During both the follow and chase runs, Mad Mike drove like he never has before….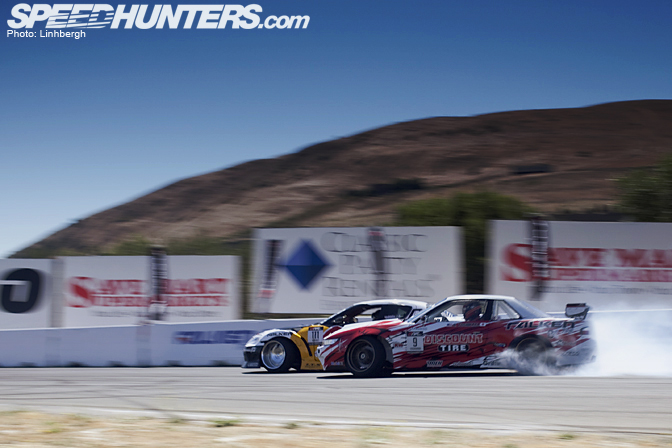 Rod: Mike was really going all out as he hit the pylons… he had the rear of his car up in the air at one stage.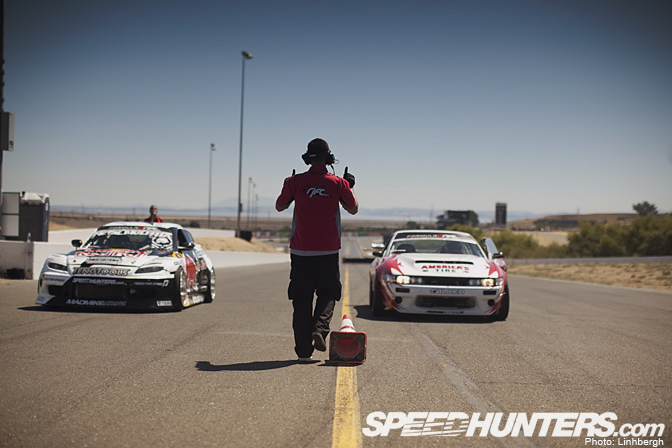 Linhbergh: … so well that the judges could not decide which driver should move on. So, for the first time that day, a one more time was given.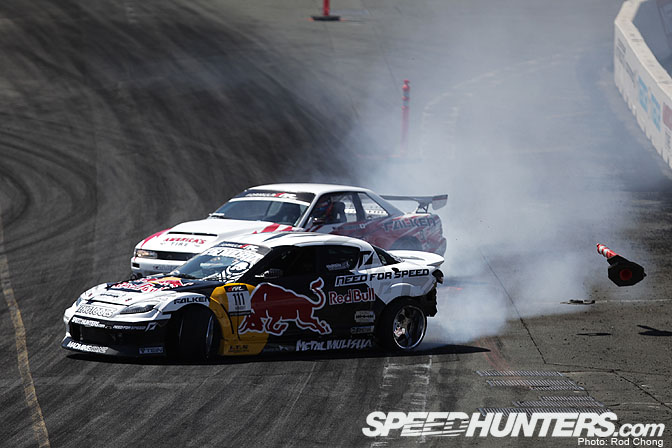 Rod: Mike completely bent up his rear suspension arm on this run. Look at the angle of his rear wheel…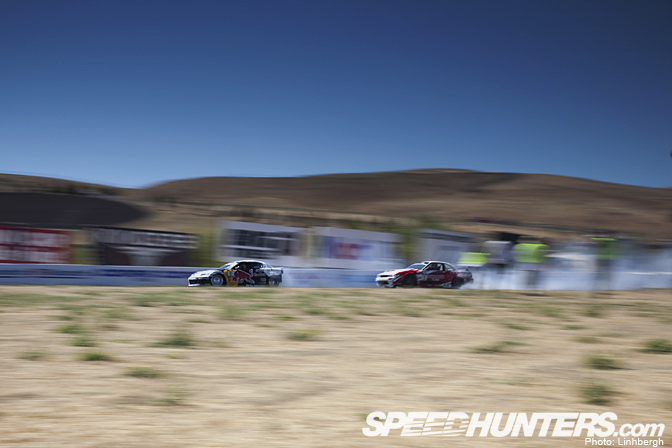 Linhbergh: Mad Mike and Daijiro Yoshihara once again drove all out during both OMT runs. In the end, the judges deemed that Dai was the stronger of the two and thus, knocking out Mad Mike.
Rod: I think in this case it was more a question of equipment rather than driving skill. Mike's RX8 was just unable to keep up with Dai's V8 Rocket Bunny.
Larry: I would put my money on Mad Mike if he was going up against Dai in a break dancing competition.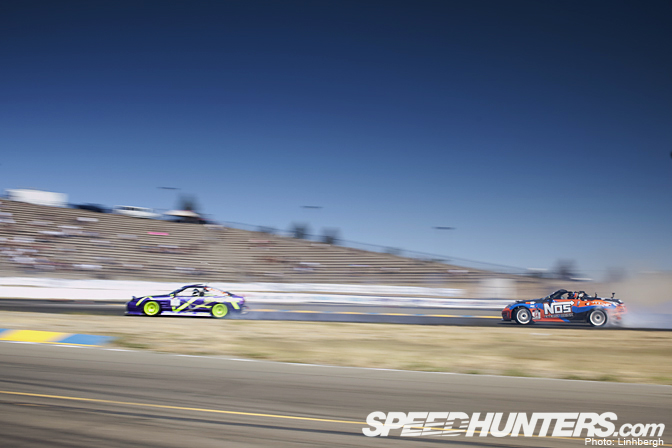 Linhbergh: Privateer, Matt Field, went up against the force that is Chris Forsberg. He did his best to best the champ, but when you're up against a driver that is consistant all day long and driving a car that has a CORR Titan V8, even I would say that is a hard combination to beat.
Rod: Forsberg was on fire all weekend. His consistent and smooth style was always going to be tough to match.
Larry: Matt left all these cool souvenirs for the highly accredited media covering Formula Drift with their cell phone cameras.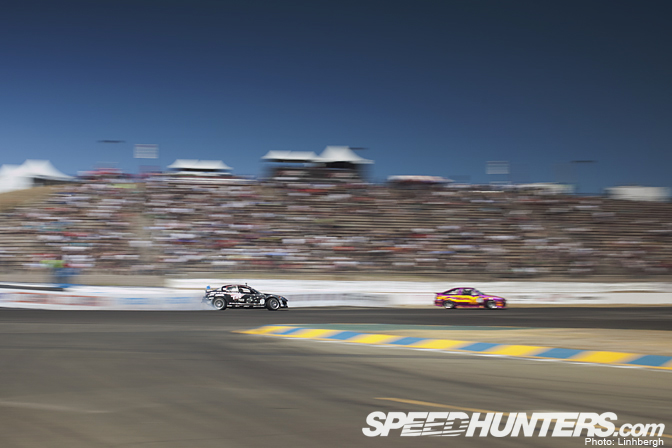 Linhbergh: I have to admit that it does sadden me a bit to see such a drifting veteren, like Taka Aono, to struggle so much this season. Yet, even after sustaining an injury back in Seattle, he still comes out and drifts his heart out. Sadly, it that wasn't enough, for Joon "the nicest man in the world" Maeng. During both runs, Taka either spun out, or took his car into overdrift (sadly, sans dinosaurs…). Joon would move on to the top 16. Joon <3
Rod: Strangely, Taka looked pretty good in qualifying…
Larry: Too bad no one runs open face helmets anymore. It would be great to see Joon's smile even when he is drifting. Joon <3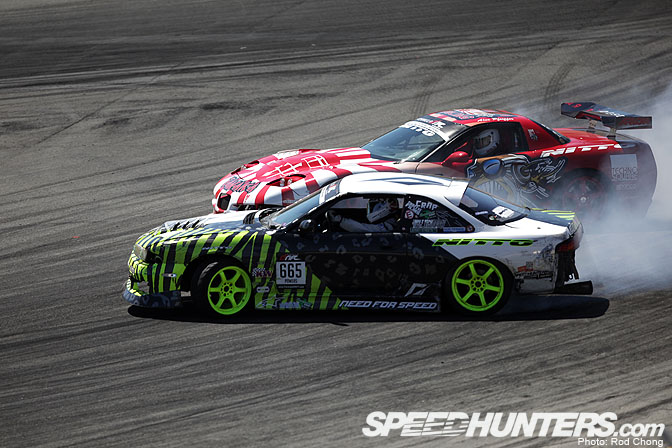 Linhbergh: It was a good weekend for Matt Powers at Sonoma. During the first run of the top 32 battle, with Alex Pfeiffer, Alex lead and went in a too hot and spun out. So, on the second run with Matt leading, all Mr. Powers had to do was put in a really solid run and he would move on.
Rod: I was using the force on Alex.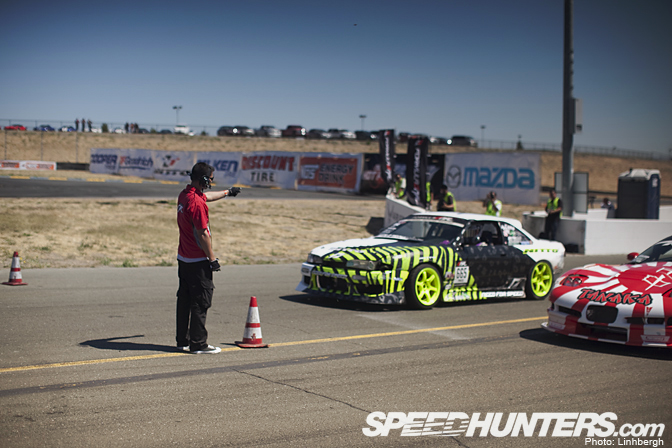 Linhbergh: …and a solid run was put in and for the first time this year, Matt Powers moved on to the top 16!!
Rod: Yippie!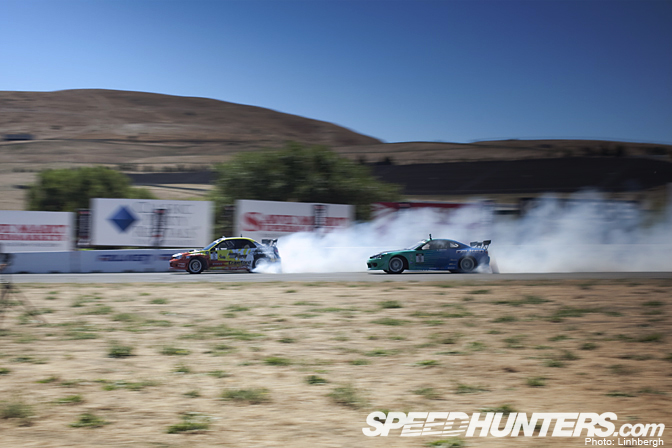 Linhbergh: The Irish driver who can't even legally drink in the States, James Deane, went up against last year's event winner, Stephen Verdier, and walked all over Stephen. This kid has talent. I'd love to see what he can do in a full season and in a car that is developed a bit more.
Rod: I went back to the NFS Electro Lounge after Matt won to take photos of him getting out of the car… so I missed this one.
Larry: Is it just me or is there heat ducting from Home Depot on Stephan's car?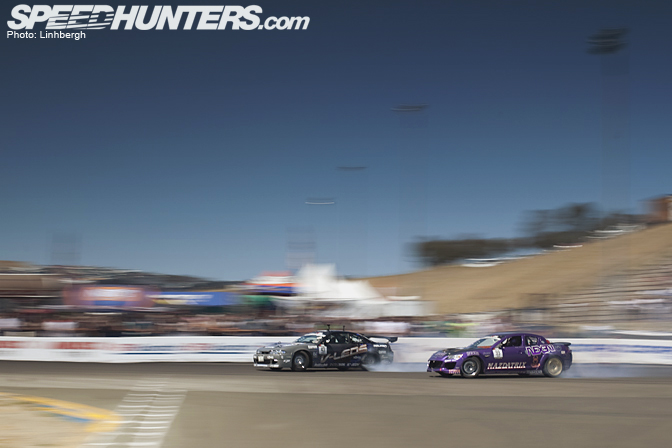 Linhbergh: Kyle Mohan put in a fantastic qualifying run the previous day which put him up against Dean Kearney. For reasons I don't know, Kyle just couldn't get into the rhythm. Dean just put in his two solid runs and moved on to the top 16.
Larry: Dean pulled a potato out of his driver suit and stuffed it in Kyle's exhaust.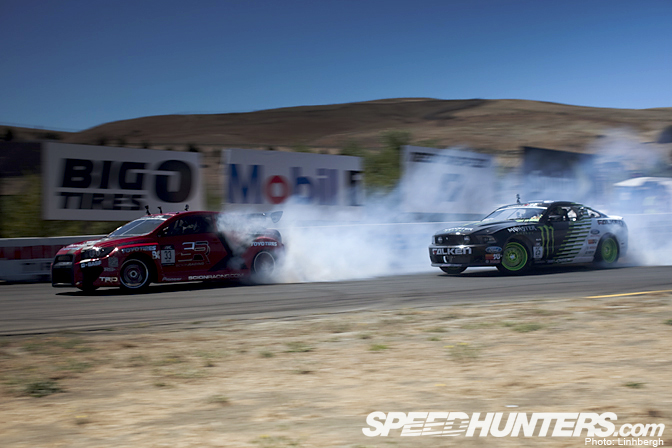 Linhbergh: It's safe to say that Vaughn is on fire this year. Each round that he comes into, he just dominates (well, with the exception of Seattle, of course). His domination continued in Sonoma. He battled Ken Gushi during the 32 and easily walked away to the top 16.
Rod: JR is going to be tough to beat for the rest of the year isn't he… what a year it's been for JR so far!
Larry: I still can't believe Vaughn used to fix computers for a living. Can you imagine Vaughn swinging his hat around and crushing monster energy drinks with his bare hands in celebration after he gets to level 80 in his favorite MMORPG?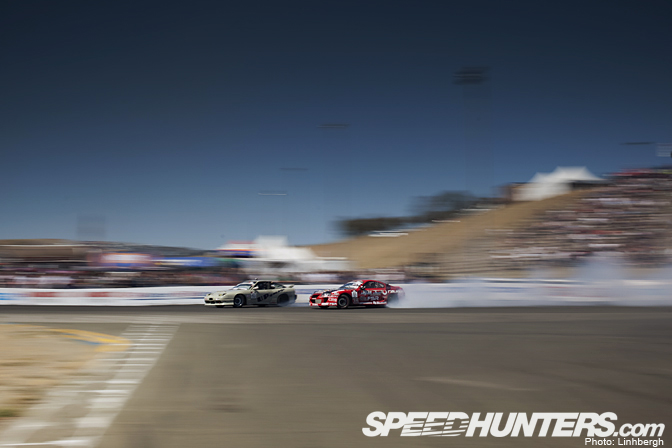 Linhbergh: The second to last battle of the top 32 consisted of the people's drifter/champ killer, Fredric Aasabo, and Nikolay Konstantinov. Aasbo smoked up his Falkens like none other, put in two absolutely amazing runs which resulted in the judges awarding him with the win. Fredric never seems to disappoint.
Rod: This guys has unbelievable levels of talent. I'm half convinced he is the NEW MAN of drifting. We'll see!
Larry: I honestly thing Aasbo's girlfriend would kick Nikolay's girlfriends ass. Aasbo is a little over 9ft tall which makes his girlfriend at least 8ft 6in.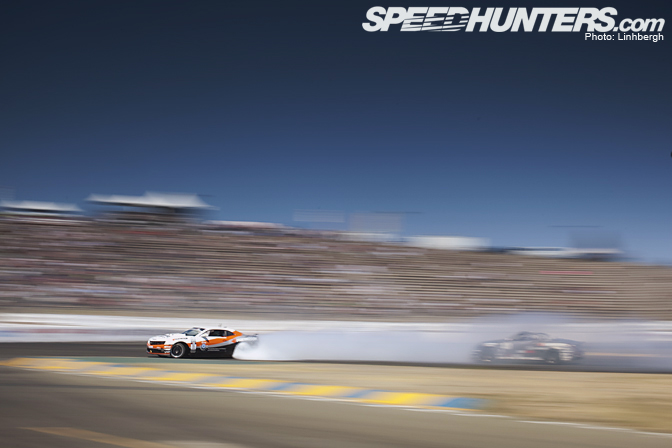 Linhbergh: The last battle of the afternoon's top 32 was with Conrad Grunwald and Ryuji Miki. Ryuji has been struggling with his new SC430 since New Jersey, but in Sonoma, the car worked perfectly and it seemed like he was finally getting used to driving it –and it showed. Conrad tried his best to smoke screen Ryuji, but Ryuji would have none of it. He drove that SC430 like he never did before and that resulted with him moving on to the top 16 for the first time this year!
Rod: Wow you are getting good at this style of reporting Linhbergh… Don't you agree Larry? His talent knows no bounds! But let me ask this question: Who is Steve Chow?
Larry: Stick to writing Linhbergh. I heard Steve Chow wears Speedos while shooting on track and he only owns lenses that are F/1.0 or larger. You've been replaced.
Linhbergh: :'(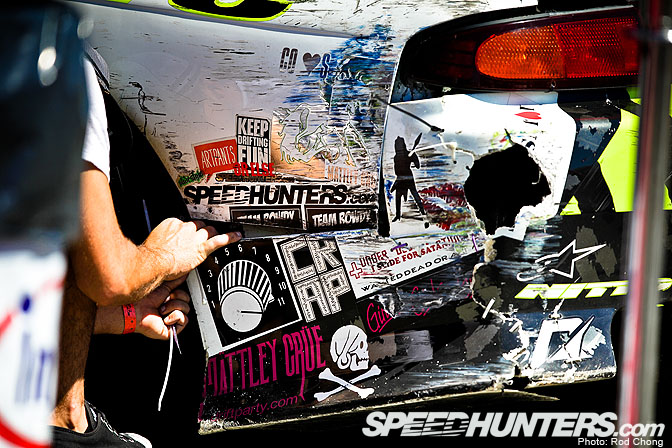 The top 32 action was fierce and aggressive and consisted of a few upsets and surprises. Next we'll look at the the top 16 and beyond!!
-Linhbergh