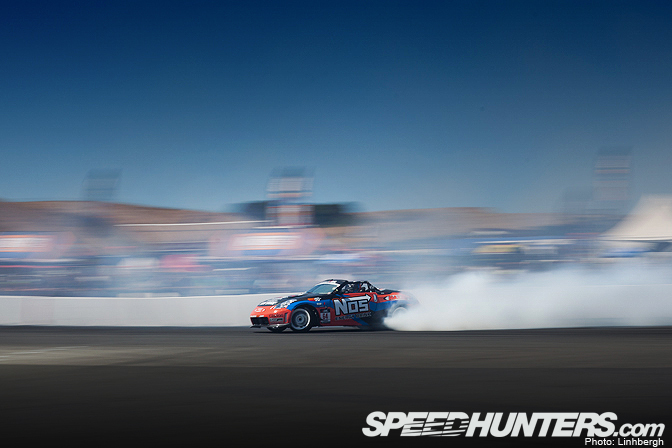 With Mike Garrett not in attendance at Sonoma this weekend to cover this year's Japanese Classic Car Show back in Southern California, I will do my best to do take over his duties. So, without further adieu, let's get on with the drift action! 
If there was a simple way to sum up day one, at Infineon Raceway, it would be to the tune of "Spanish Flea" by Herb Alpert. It was pure insanity out on the track.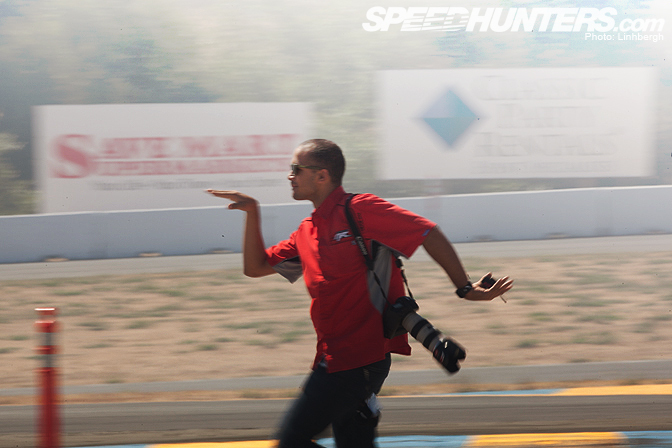 Even the media personalities felt a bit wonky in the head.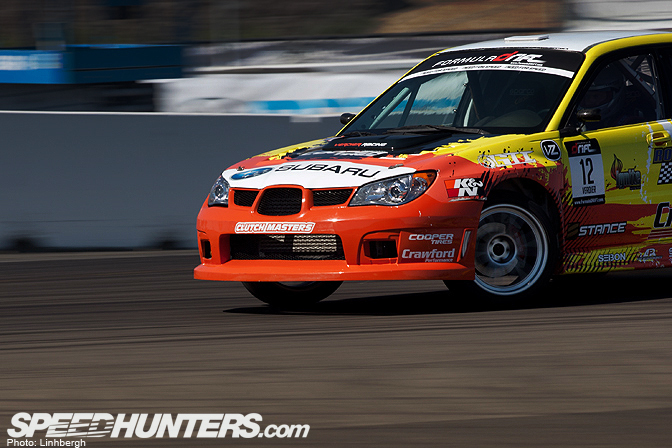 Because there was no practice the day before, a lot of the drivers were having a bit of trouble getting used to the course. The high speed entry into the first corner slows down considerably into a series of very tight turns. Even though the drivers were having a bit of difficulty, the speed, and level of skill that has reached wine country has progressed quite a bit from a year ago.
Spanish Flea really would've been an amazing soundtrack to today's qualifying session. There were tons of spins, overshooting at turn one, and unfinished runs. With 32 spots needing to be filled for tomorrow's tandem action, qualifying went underway.
Last year's Sonoma winner, Stephen Verdier took the 10th spot on the qualifying grid.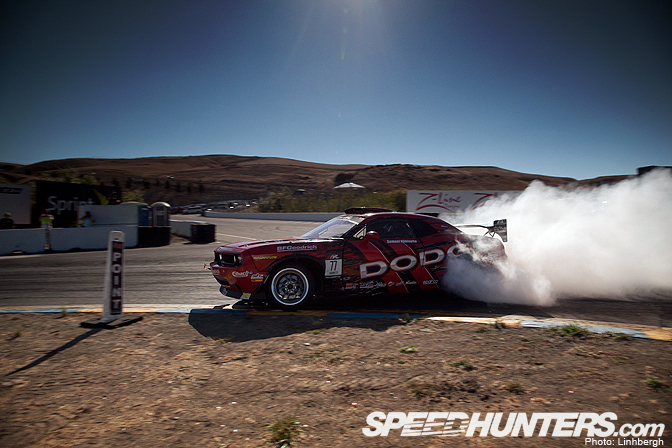 The crazy Swed, Sam Hubinette took the 9th spot…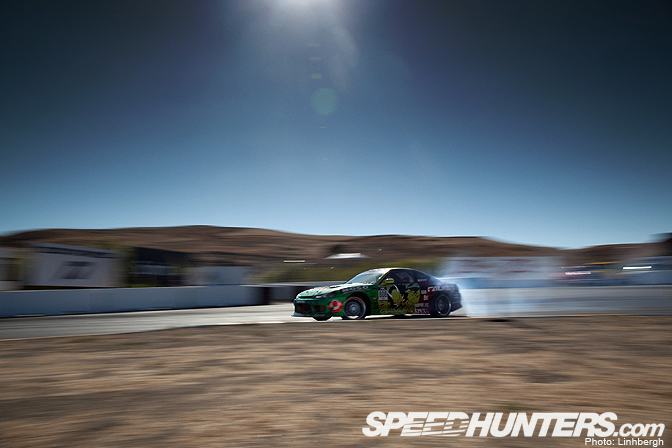 and Ross Petty took 8th.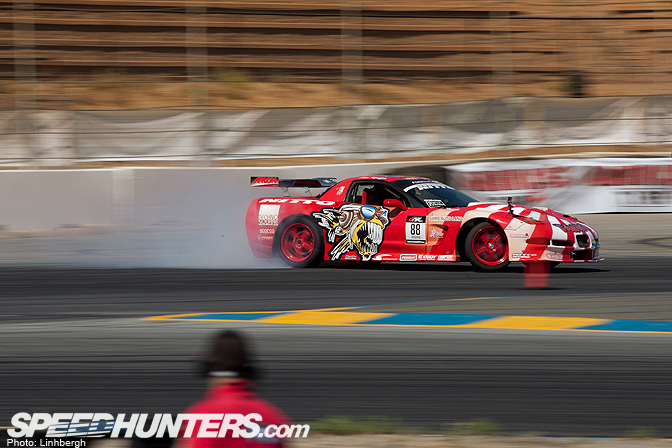 With everyone a bit off sync during today's qualifying session, it lead to some interesting qualifying results. Alex Pfeiffer took the 7th spot.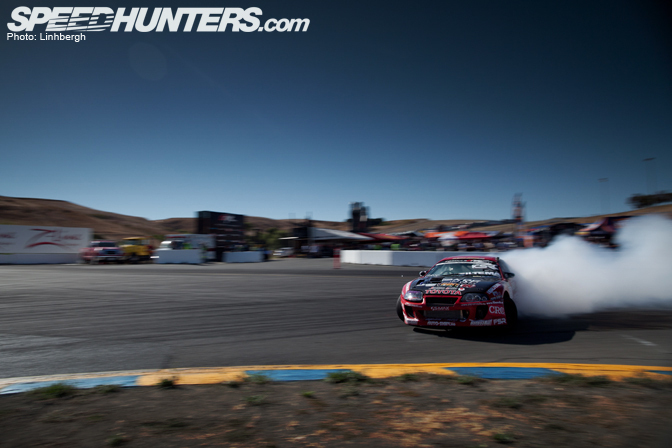 The champ-killer, Fredric Aasbo, put his car 6th spot. An amazing result when you realize that the car is put together with nothing but sticks, stones, and a  a few loogies.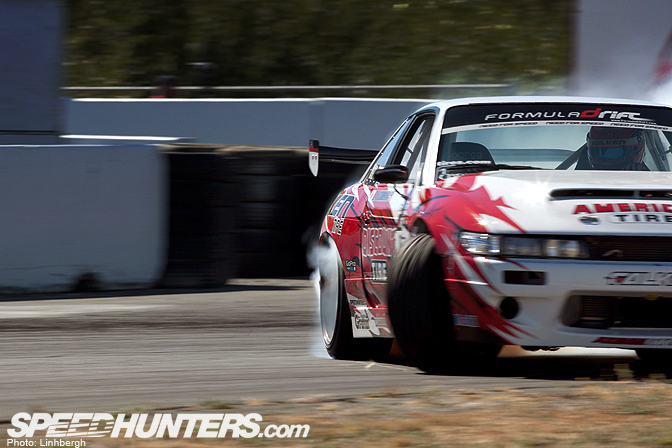 Daijiro Yoshihara, who currently sits second on the driver's championship, put in a great performance which landed him in 5th.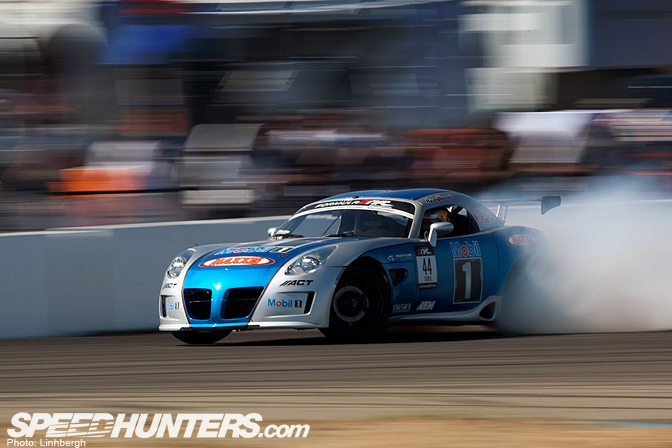 Ryan Tuerck took 4th with no problem.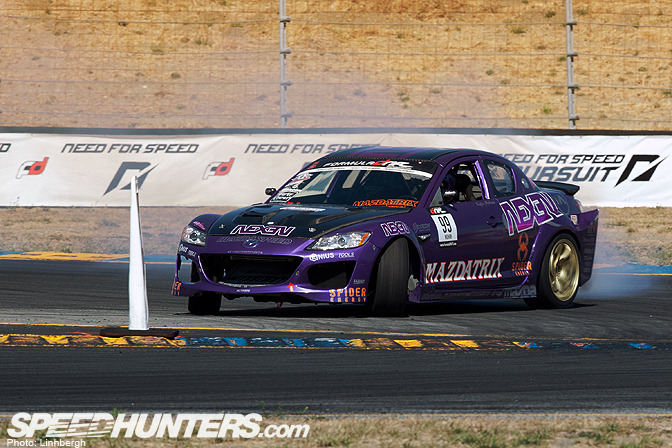 The big surprise on the qualifying list was Kyle Mohan which took 3rd. Chris Forsberg put in an amazing run which threw him in 2nd. And the top qualifier today was someone that knows Infineon Raceway better than anyone else on the grid…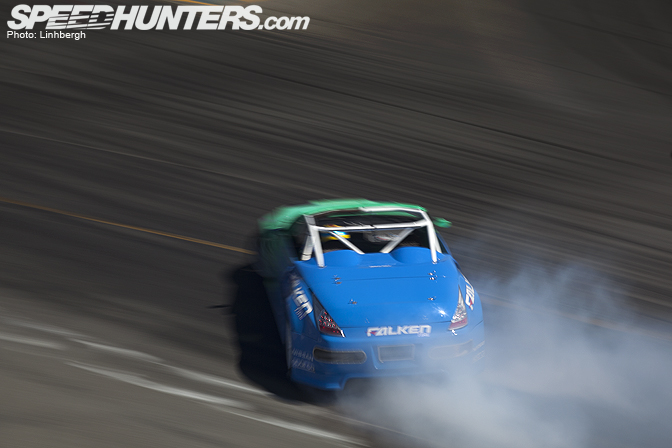 …Tyler McQuarrie!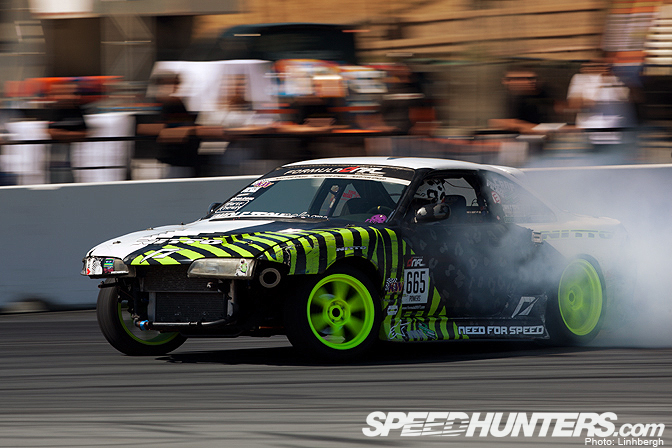 Team Need for Speed driver, Matt Powers landed in 26th…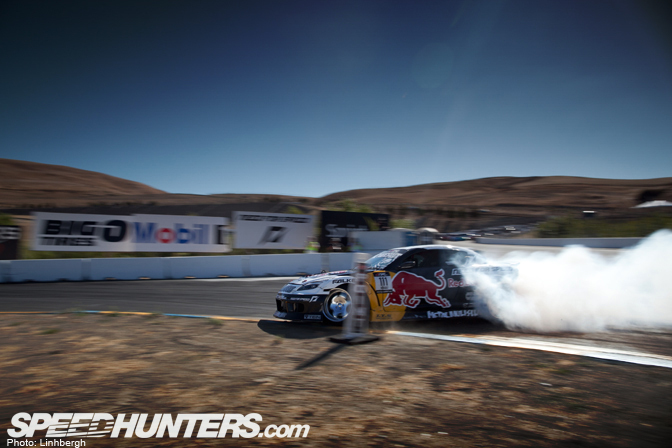 …where his teammade, Mad Mike, qualified 28th.
If any of you watched the qualifying proceedings on the DriftSteam, you all would agree that it was a bit on the "Spanish Flea" flavor. But those of you that know Spanish Flea know that it is nothing negative, but rather, it's nothing but good plain fun. 
And that's what transpired today out on track.
If you'll excuse me, I must clean out tire chucks from my ears, hair, fingernails, nasal cavity, or any other unhuman crevice which mysterious black chunks can hide in.
Food sounds good also. 
-Linhbergh
Driver: Car #: Speed 1: Speed 2: Score:
1 T. McQuarrie #17 17 88 32.3 86

2 C. Forsberg #64 64 90.5 16 83.3
3 K. Mohan #99 99 86.1 26.2 83.3
4 R. Tuerck #44 44 95 16.8 83.2
5 D. Yoshihara #9 9 90.5 24.7 82.3
6 F. Aasbo #151 151 89.9 23.3 81.6
7 A. Pfeiffer #88 88 96.2 25.4 81.1
8 R. Petty #808 808 88.9 23.8 81.1
9 S. Hubinette #77 77 93.5 23.7 80.8
10 S. Verdier #12 12 91.6 11.4 80.2
11 C. Grunewald #79 79 89.5 21.3 79.4
12 M. Takatori #5 5 86.8 19.6 77.6
13 J. Pawlak #13 13 89.8 24.4 77.3
14 V. Gittin #25 25 96.1 22.8 75.8
15 J. Maeng #51 51 86.2 19.6 75.8
16 P. Mordaunt #90 90 84.8 25 74.4
17 T. Foust #34 34 93.5 19.5 74
18 T. Aono #86 86 87.9 23 74
19 K. Gushi #33 33 96 20.3 73.6
20 D. McNamara #8 8 93.2 26.7 72
21 B. Sherman #22 22 88.8 23.3 71.4
22 R. Miki #26 26 83.1 21.8 71.2
23 J. Deane #16 16 91.4 21.8 71
24 T. Brakohiapa #18 18 88.2 21.5 70.4
25 R. Millen #6 6 92.4 21.9 69.1
26 M. Powers #665 665 85.9 21.5 68.3
27 N. Konstantinov #403 403 86.1 21.4 63.4
28 M. Whiddet #111 111 85.2 24.2 63.2
29 J. Jones #29 29 84.2 21.8 63
30 D. Kearney #43 43 85.3 19 61.9
31 M. Field #777 777 85 19.8 59.4
32 D. Mertzanis #323 323 85.6 22.6 58.4