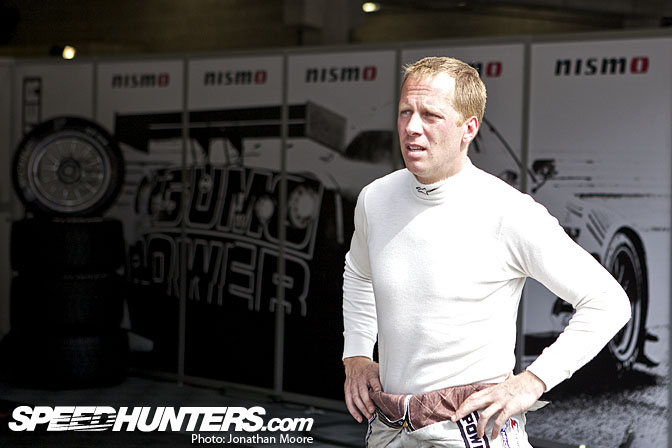 Hello again Speedhunters! This is my second blog for the site and it's all about my weekend at Nürburgring for the sixth round of the FIA GT1 World Championship with the Sumo Power GT team. As we did for the previous round at Spa, Peter Dumbreck and I drove over from the UK, but this time our journey was a little more sensible as I didn't have to do any filming like last time – and we didn't have a Nissan GT-R. I have to say that I was pleased to be back at a race meeting and feeling 100%. For the main race at Spa I contracted a virus of some kind and had really only just recovered fully a few days before setting off for Germany.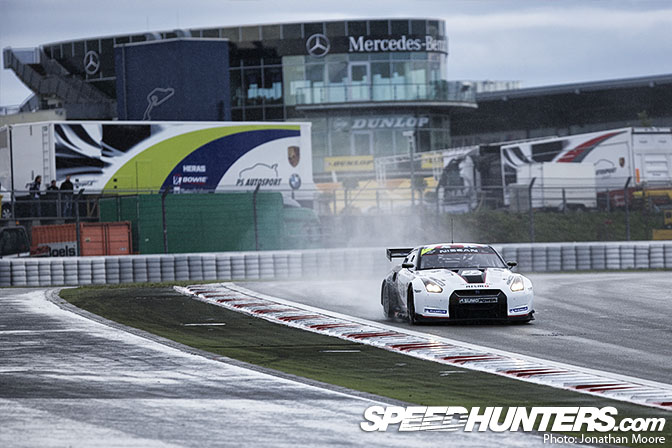 Now, the Nürburgring we were competing on is the 3.1-mile GP track of course and not the infamous 14-mile Nordschleife. Although the GP circuit has changed a bit over the years, I have very fond memories of Nürburgring, as I won the last FIA GT race that was held there back in 2001, driving a Lister Storm.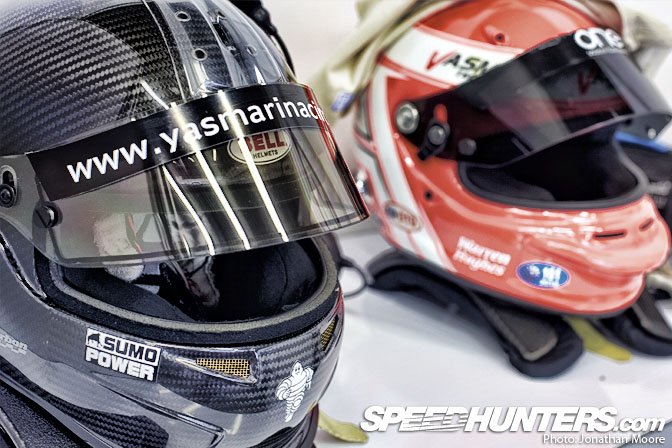 Arriving on the Thursday before race weekend, Peter and I met up with our respective team-mates, Michael Krumm and Warren Hughes and did the usual signing-on and admin stuff. We then went back to the team hotel for a catch up on what we've been doing since Spa.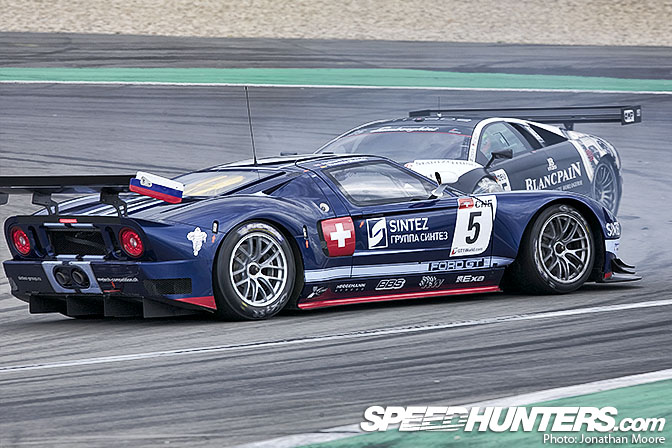 Back at the track on Friday Morning we went to the drivers' briefing, which was a bit more exciting than usual. After all the argie-bargie at Spa, the race officials have, I'm pleased to say, decided to do something about driving standards in our championship and have pledged to penalise anyone with at least a drive-through penalty if they hit someone. However, this a fairly subjective, as some of the knocks are racing incidents, so a few of the drivers got a little vocal, but it ended up with the line being defined by either punting someone from behind or causing them to spin with an unrealistic overtaking move. This is good news in my book and I hope the officials apply the rules consistently.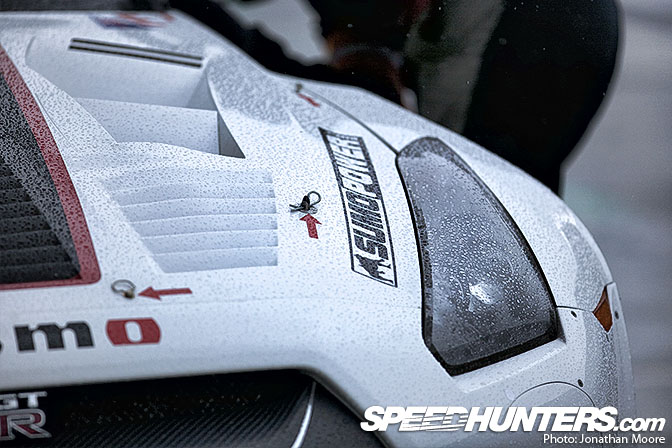 Nürburgring is not all that far from Spa and therefore it also suffers from crazy changes of weather. Locals say that they have known races stopped because of ice and snow in May!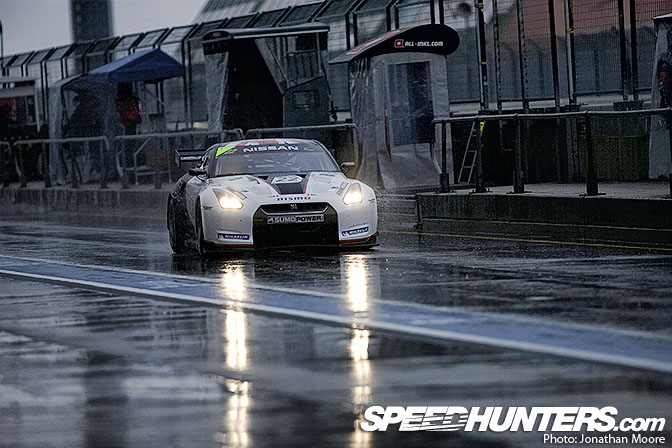 The first GT1 track action started at 10.40 for the one-hour, 20-minutes of free practice. And, surprise-surprise, it was raining. Warren was out first in our car (#22), although the plan wasn't to do much running, so we could save on tyre wear.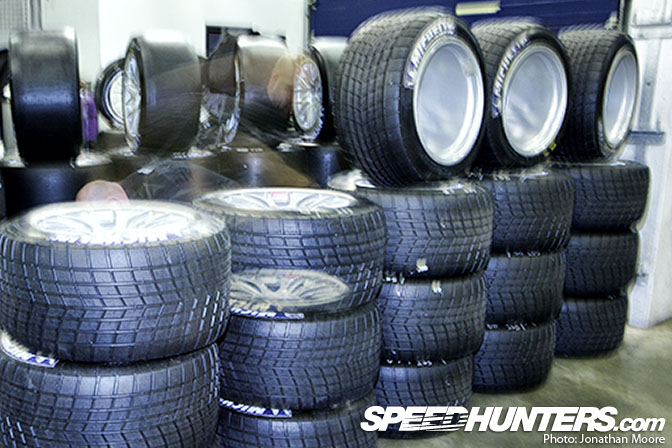 Perhaps I should mention at this point that probably the most important factor towards performance in this championship is tyre management. We're only allowed four sets of slicks per car for qualifying and both one-hour races. They're a fairly soft compound, so on abrasive tracks and in hot conditions (not that this was the case at Nürburgring), the degradation is pretty quick. Therefore, we've got to look after them as best we can.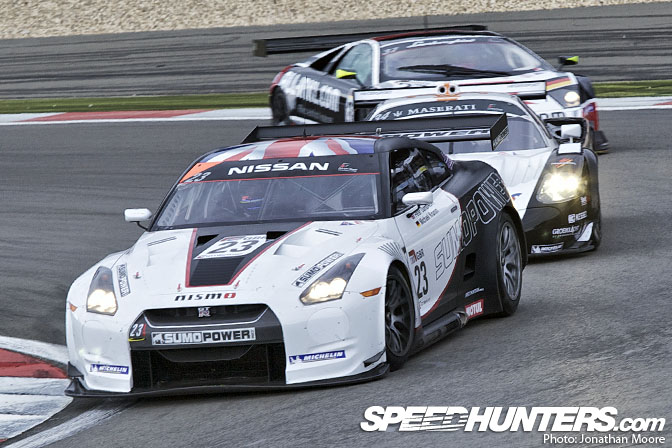 Of course, the same applies to all the other teams as well. This means that you only do as much running in the practice and warm up sessions that you have to and you try to drive with this in mind in the race but, needless to say, that's difficult sometimes.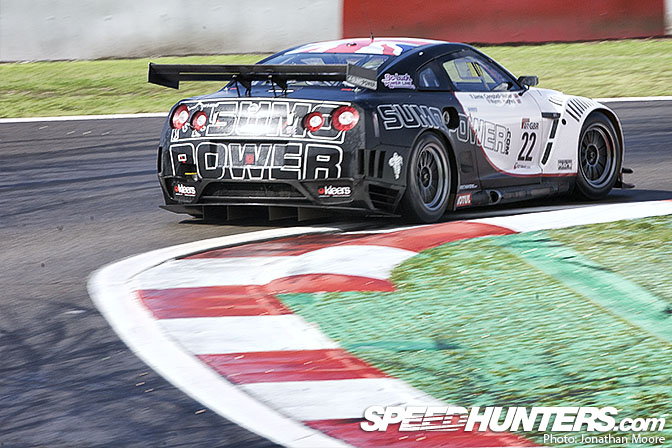 Wazzer went out first again in the second practice session, whilst it was dry. It had just started to rain when I got in, but after a few laps to say it got worse was an understatement.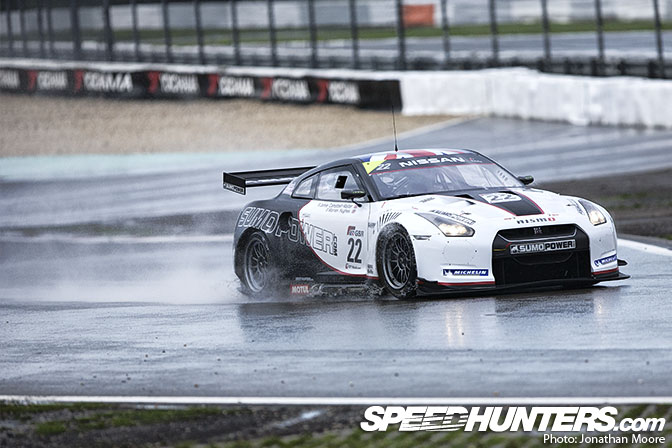 I was driving down one of the straights when suddenly there were gallons of water coming out of the sky. It was just like someone had emptied a bath-tub over the windscreen!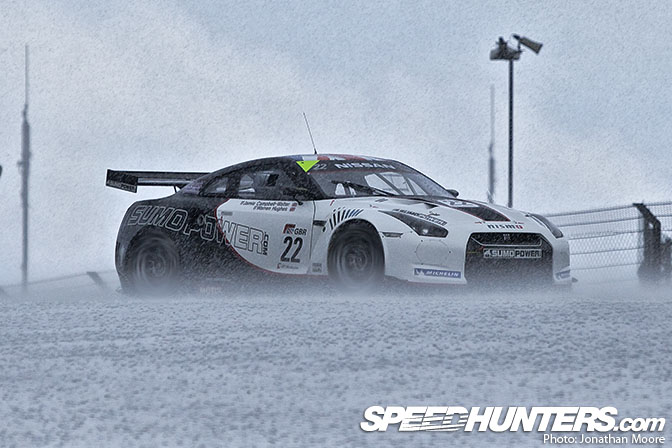 Obviously, as I was on slicks, I slowed down straight away, but no matter how slow I drove, the car aquaplaned. I radioed Ian, my engineer, to let him know what was going on and the conversation went something like this:
Me: "It's aquaplaning."
Ian: "Well slow down then."
Me: "But I'm only doing 35kph."
Ian: "Well slow down then."
Me: "I can't."
Ian: "Why?"
Me: "Because I'm on idle!"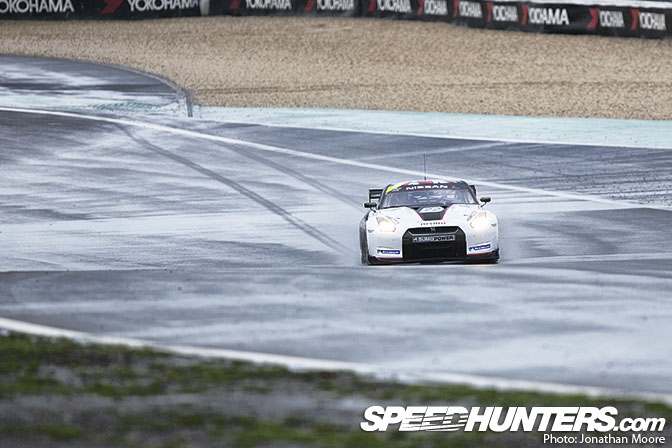 I managed to 'surf' back to the pits and received a round of applause for doing a six-minute lap (race-pace is around two-minutes). The rest of the session was a wash-out so we packed up and went back to the hotel.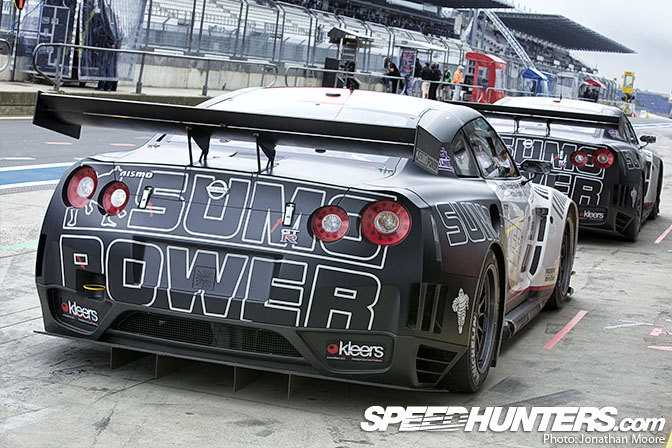 Saturday started early, with qualifying at 09.00. As I think I mentioned in my previous blog: Q1 is 20-minutes long, where the fastest 16 out of 24 cars go through to the 15-minute Q2. The fastest eight then go through to the ten-minute Q3 to decide grid positions for the first and, what the organisers call, the Qualifying Race.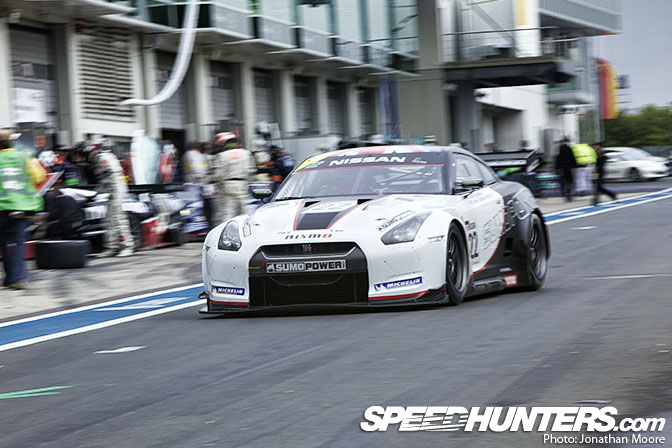 Warren always drives Q1. Only wanting to use one set of tyres, he waited for five minutes before going out, then brought the tyres up to the right temperature and went for a quick lap. However, he got baulked in traffic and had to back out. He then slowed down to give himself some room and went for it on the next lap, only to find his tyres had gone cold again and, before he could do anything about it, the session was over.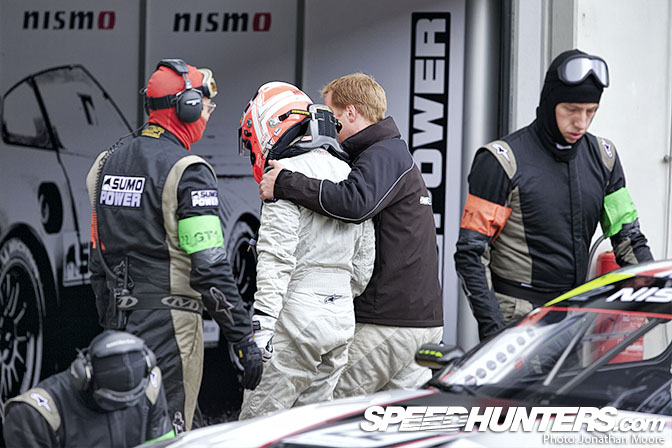 Poor old Warren was a bit upset, but that's how it goes sometimes. I was disappointed, as it meant I hadn't done much driving – in fact, none at all in the dry. It also meant we started 19th in the afternoon's qualifying race. Michael and Peter managed to get through to Q2 and just missed out on a place in Q3 by 0.09 of a second. They therefore started in 9th place.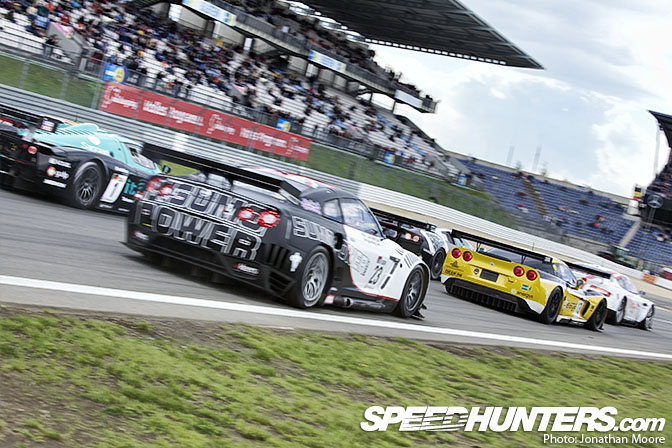 I was first to drive in car 22 and Peter in car 23. The race started off in the dry and, on the run down the hill to the first corner – where it was like the M25 at 8.00am – I managed to keep out of trouble. Unfortunately, the same could not be said for Peter who was pushed wide and, when he came back onto the track, he had gone past his braking point and punted the back of the eventual winning Aston of Tomas Enge and Darren Turner. This spun him round – and then he got rammed by another Aston. For a few seconds it was chaos, but I managed to pick my way through the various bits of broken carbon-fibre and carry on. Peter, however, had to retire.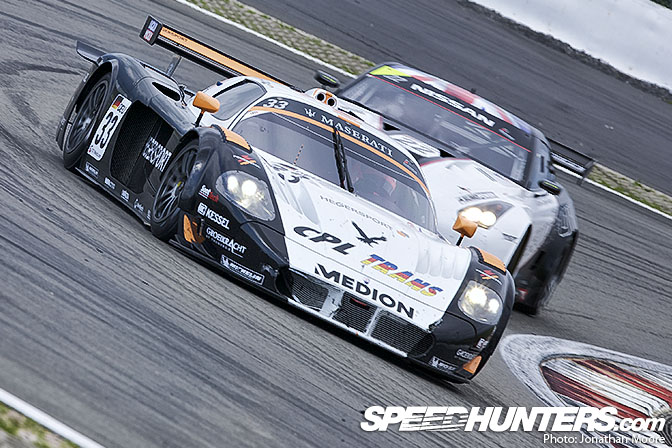 I was able to overtake a few cars and managed to climb up to 13th, but then got stuck behind the Maserati of Alex Müller. What a nightmare.! He is another that doesn't know how to defend properly. He just cut me up every chance he had, even though I was quicker almost everywhere on the track.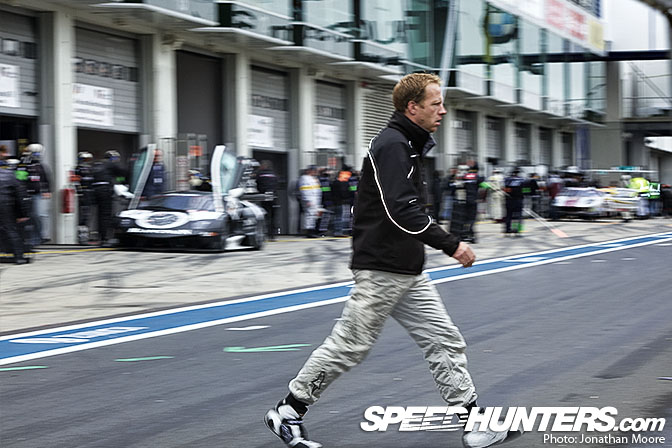 By the time I got back to the pits I was so wound up about his ridiculous antics, I stormed down to the Triple H garage to have a word. Surprise, surprise, he was nowhere to be seen. Probably hiding his face in shame. Actually, it was probably just as well I didn't find him!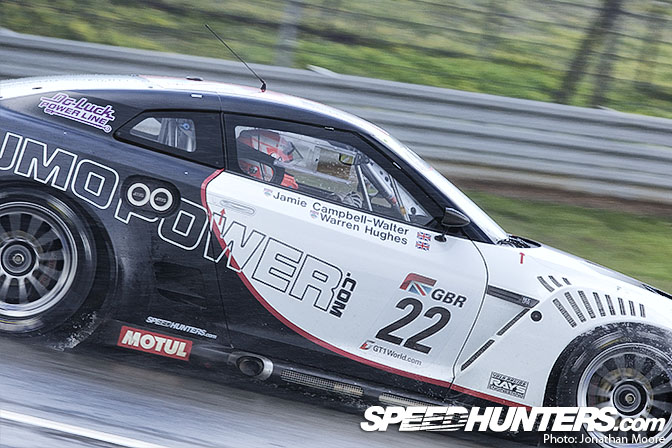 After I got out of the car, a good pit stop by the lads allowed Warren to rejoin in 11th, but then, two laps later, it started raining. The track didn't seem to get too wet and Warren said the car was handling okay, so the team decided to keep him out there on slicks. This strategy worked at first, as everyone else came in to change onto wets, and Wazzer was suddenly up to sixth.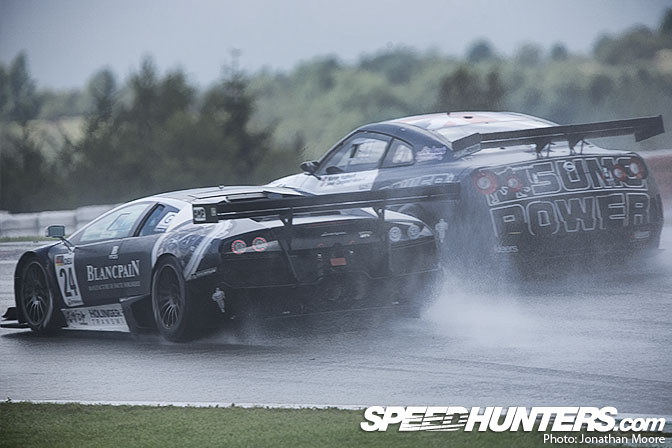 It then stopped raining and we all thought if he could just hang on then we'd cracked it, but the track just didn't seem to dry out. Lap-by-lap, Warren was passed by the others until he was back to 16th when he crossed the line.  He did really well just to keep it on the track and had finished higher than our start position. At the end of the day we had nothing to lose and it was worth the gamble.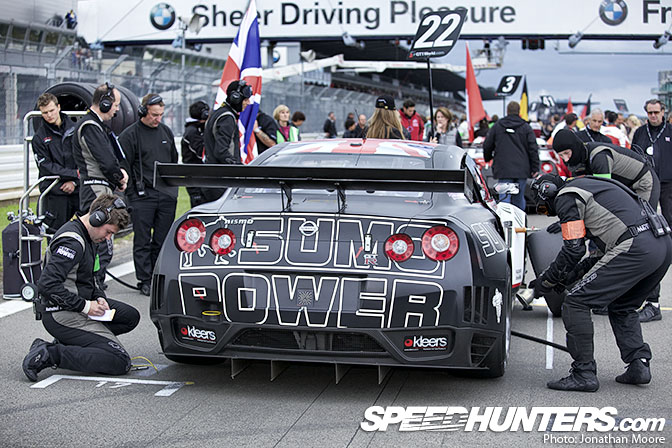 Sunday's the big day, with the main Championship race – and when the big points are scored. It was not the best ever grid line-up for the team, with us 16th and Michael and Peter 20th. In a way we wanted it to rain as we were happy with our cars in the wet, but on the other hand, being as far back as we were, we would have been driving in spray and that would make overtaking difficult.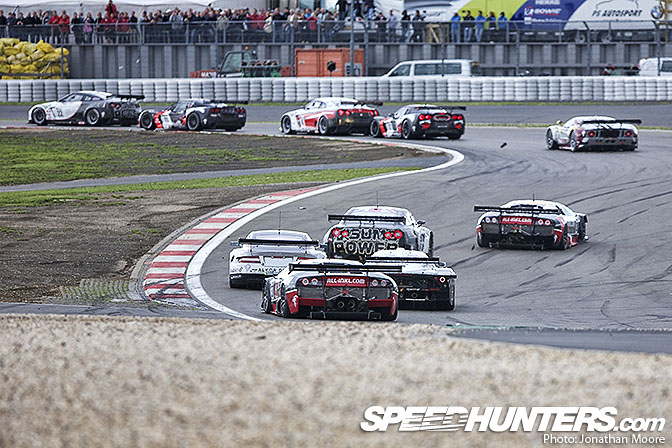 Warren was in the car first and made a great start, blasting down to turn one overtaking four cars on the way. Michael backed out of any conflict to make sure they got through the first corner this time.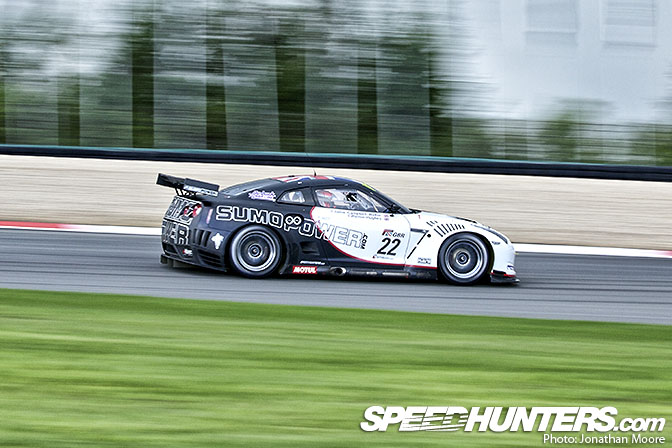 As Warren continued to make up places it was clear that our car was handling well and, when he came in to swap with me, he was ninth. It was another sub-30 second pit stop from our boys, but I rejoined in traffic, which cost me a bit of time.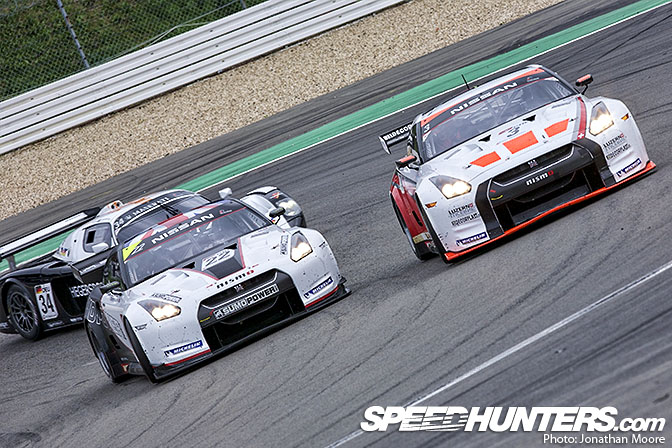 I then got by the SRT Nissan of Henry Moser and moved up another place when someone got a drive-through penalty – but that was going to be it and, although I was gaining on the Aston in seventh place, he was just too far ahead to catch.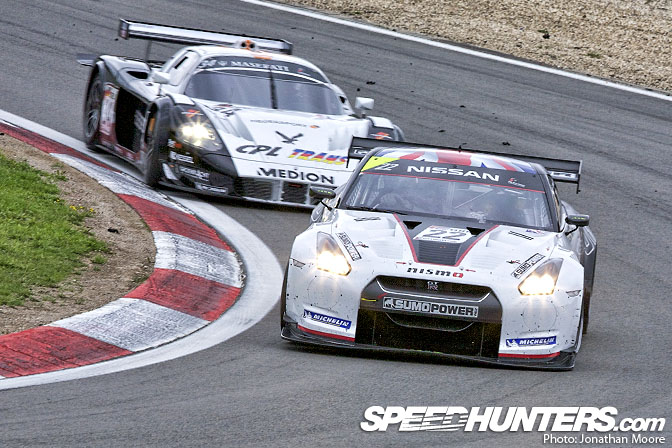 Light rain then started to fall and, as our cars like it either dry or wet – and not something in between – I ended up having to defend my position in the closing stages as a Maserati caught me up. I'm not sure if it was Müller, but if it was, then I gave him a lesson in how to defend properly.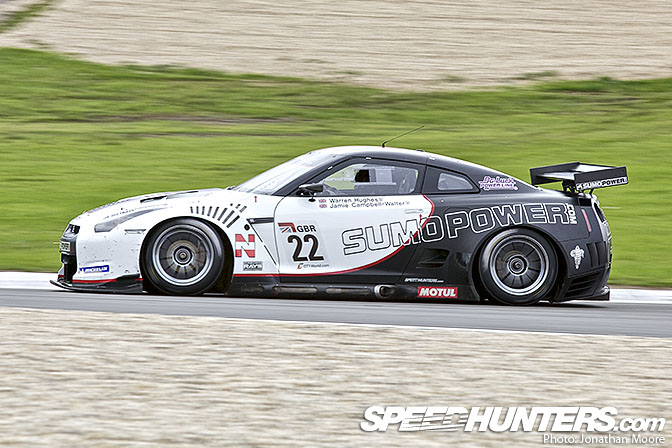 I therefore crossed the line in eighth place, which isn't too bad when you consider we halved our start position. It also meant we scored points towards the drivers' and team's championships, where we now lie sixth and twelth respectively.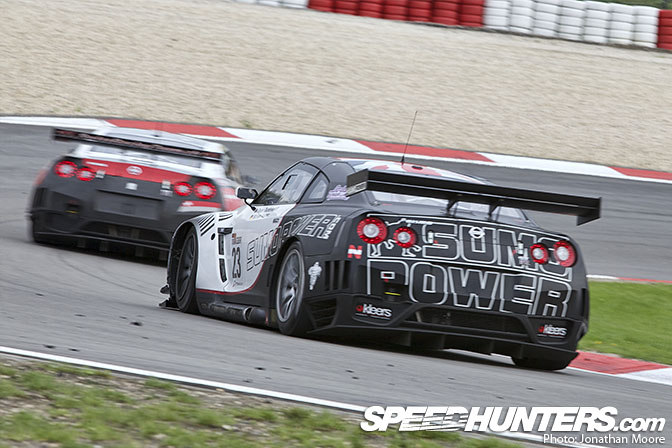 Michael and Peter ended up 15th, finding it difficult to get past the slower traffic ahead of them.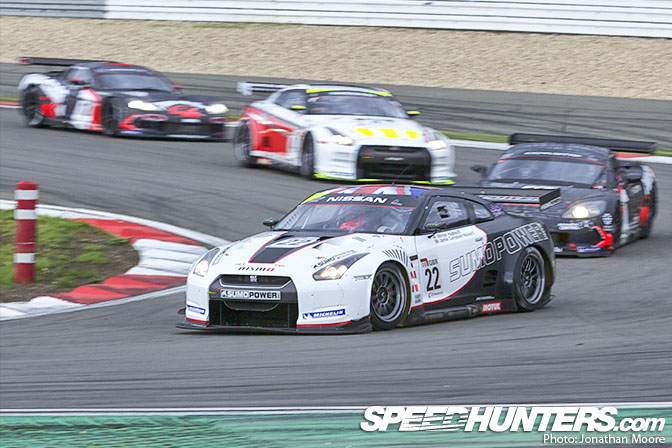 All in all it wasn't the weekend the team was looking for, but when you compare our lap and sector times, we're still on the front-running pace. It's really down to the low start positions and the problems that brings with it that has the most drastic effect on our end results. Therefore, if we can get on top of things in qualifying – I think we've cracked it!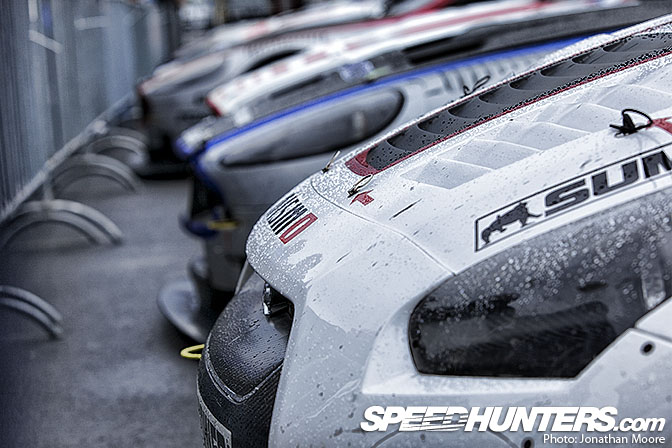 So that was Nürburgring. There's a gap three weeks before the next round at Portimao in the Algarve on 18 & 19 September. At least the weather should be better in Portugal than it was in Germany!