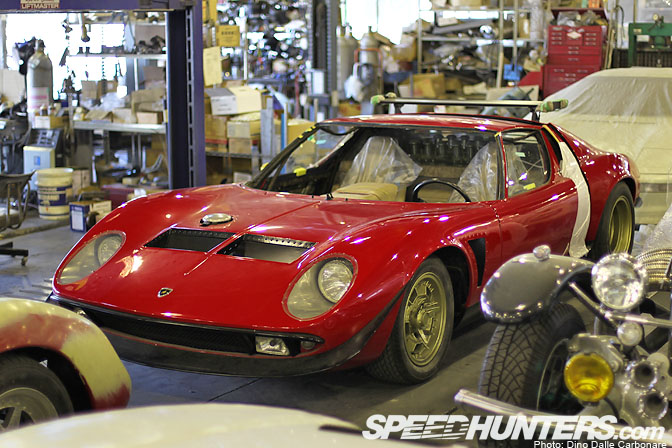 With all the incredible exotic machinery tucked inside the massive Kreissieg workshop it would be a pity not to take another look at what was lying around during my visit. The Group C Porsche might have surprised some, but for me it was this Lamborghini Miura Jota replica that impressed me the most. Only 5-official replicas were ever made by Lamborghini and usually referred to as the Miura SV/J. This one is in the final stages of a restoration and was looking very menacing with the recessed headlights, rather than the pop-up ones, and the additional hood and fender venting. Only one real Jota was ever built in 1970 by Lamborghini and destroyed in a crash soon after that.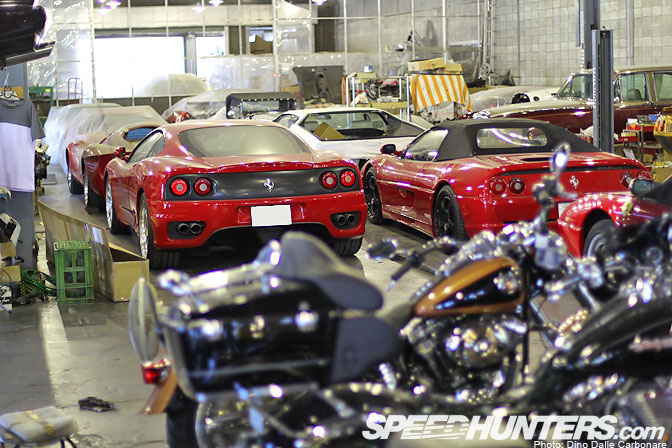 Once I had taken a fair amount of time in the main restoration and workshop area…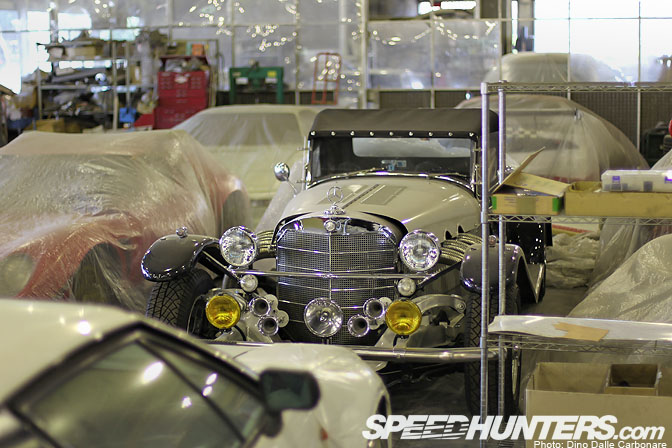 …taking a look at all the incredible cars there, Jaewoo took me onto the other end of the building where the body-shop side of the operations is located.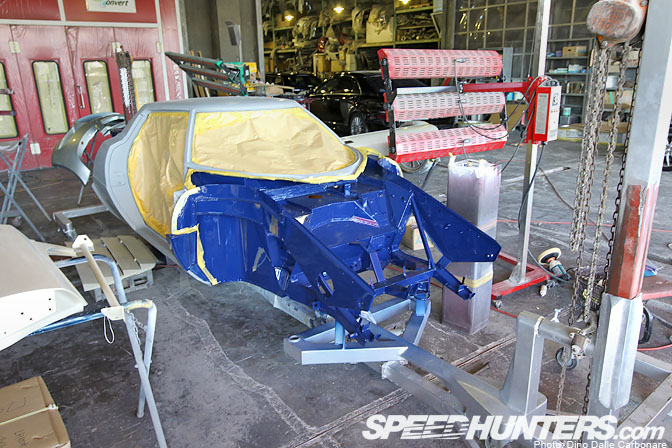 Despite being a bare chassis this is an easy car to recognie! This Lancia Stratos will soon be brought back to its original glory.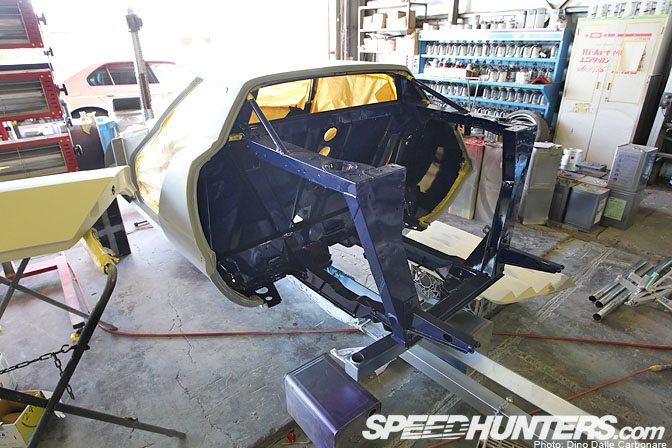 The chassis was painted the same dark blue…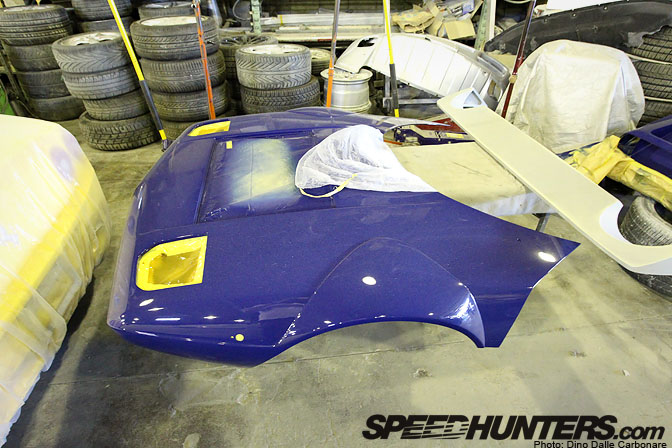 …as the rest of the bodywork which was already completed and waiting to be fitted.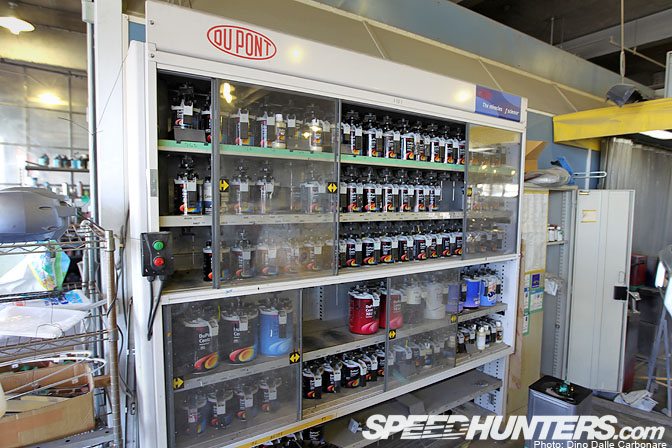 Since this area of the shop was filled with customer cars in for some work and damage repair I wasn't allowed to shoot, for obvious privacy reasons. I did however get a snap of one of the color cabinets. These guys can mix up any shade of any color you could ever want, or of course source period correct colors hues for any car.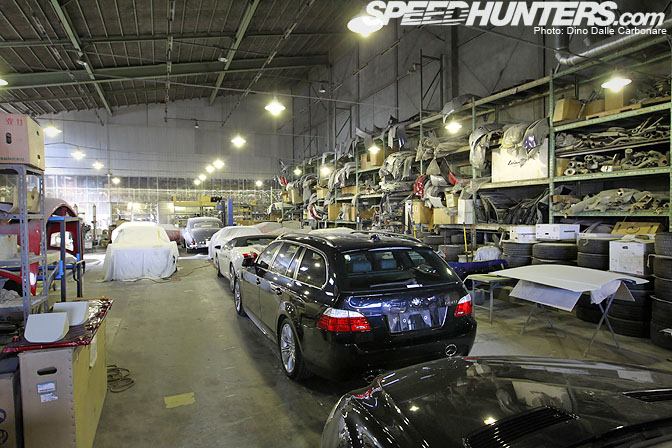 This is yet another workshop area which doubles up as storage and where cars are left as they await for work to be done.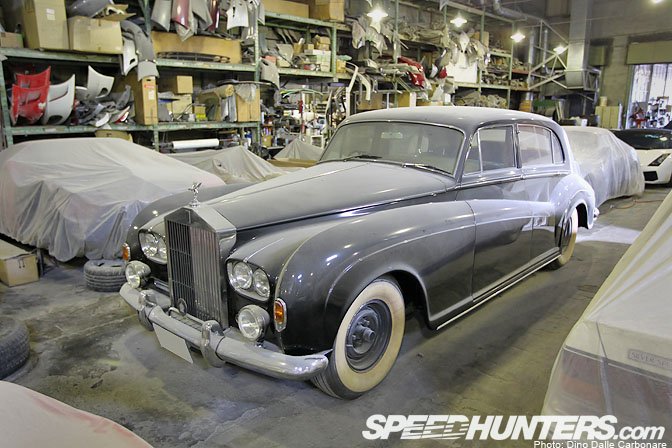 Among the covered up cars I came across this huge Silver Shadow, which was in for some general maintenance.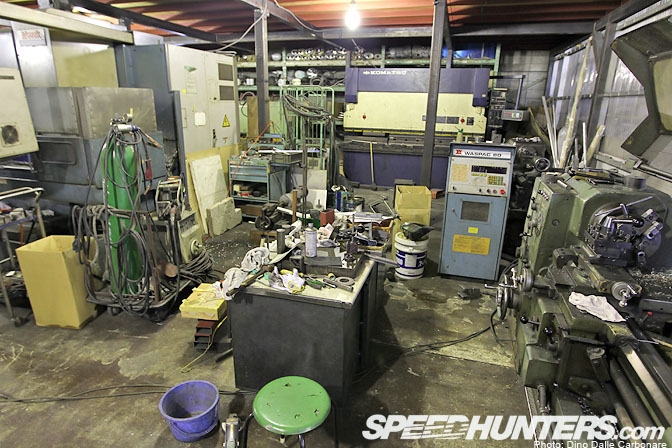 It was then onto the machine shop where all custom fabrications are taken care of. Anything that is needed can be made in house.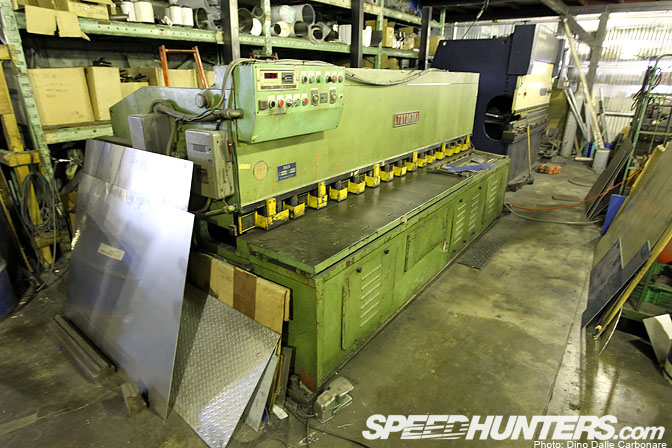 Big press for cutting and bending sheet metal.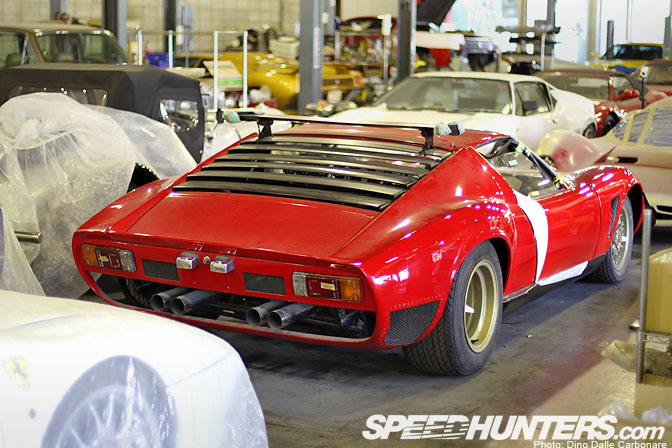 Sorry I can't resist showing a couple of more shots of the SV/J. The Miura is to me one of, if not the most, beautifully designed cars of all times. I would take one in green and P400SV guise.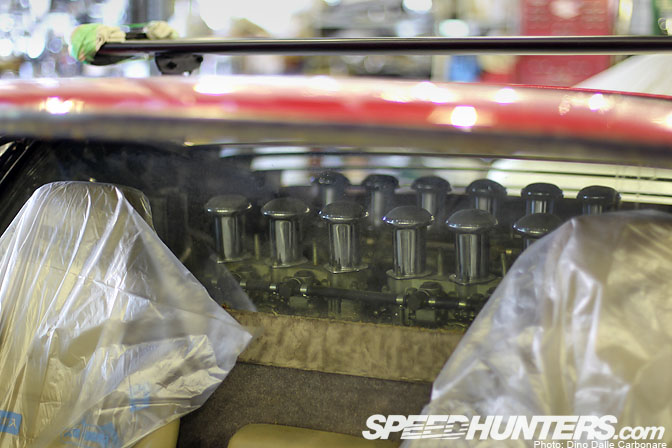 The transversally mounted 4L V12 breathing through four Weber carburetors. Imagine driving around with one of those monsters behind your ears!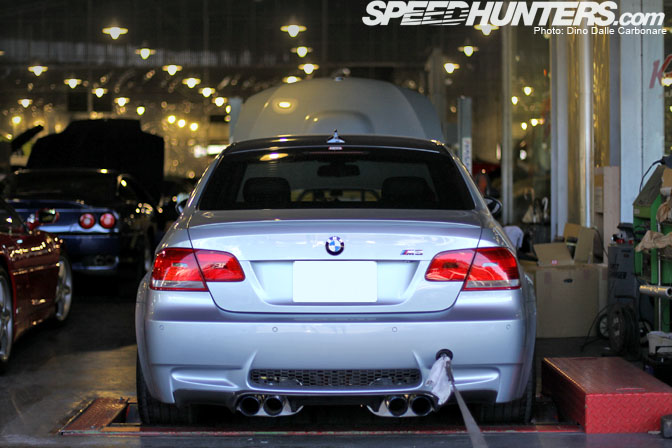 At the front of the main shop a BMW M3 was strapped to the dyno ready to be put through a power check to see the improved power curve the stainless exhaust system can provide. The sound with the valves opened has be heard to be believed. In fact I recorded a movie of it so you can hear it here! There is also one of a Maserati Quattroporte as well!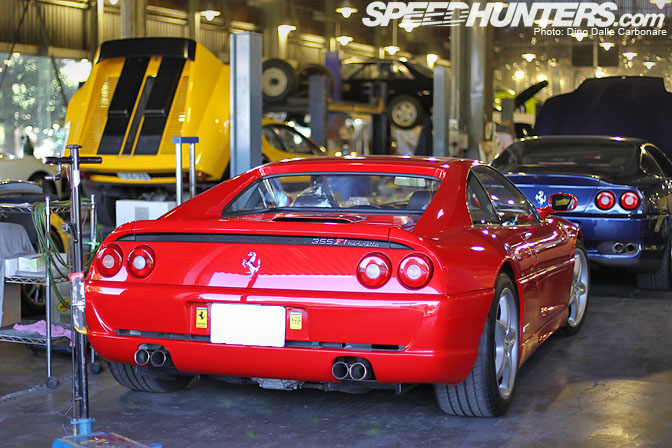 A few more Ferraris in for maintenance…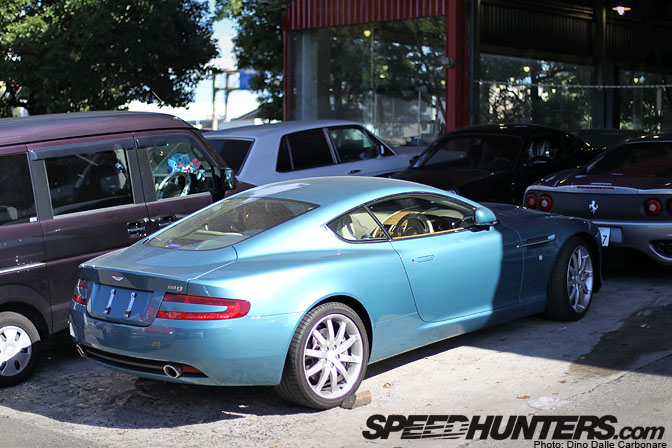 …and a brand new DB9.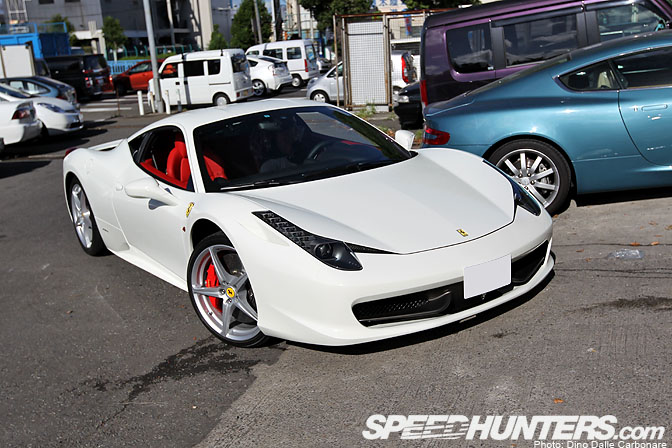 As I was shooting inside, another 458 Italia was delivered, in like the other one we saw in part one to get the suspension lowered. These cars really do look phenomenally good in white! I'd stick on a set of bronze TE37s for optimal perfection!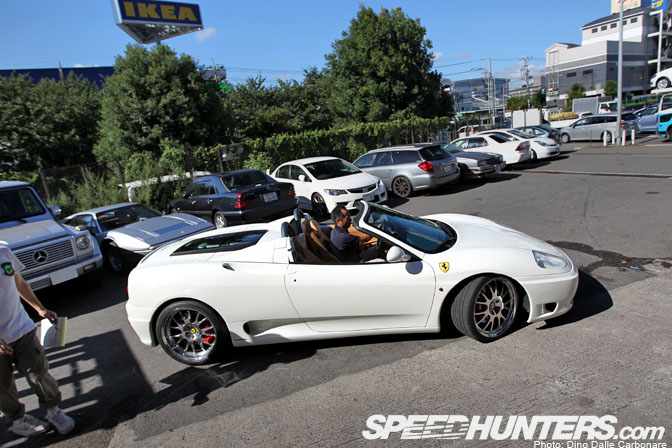 The highlight of the day was going out for a ride in an F360 Spider to hear how the Kreissieg exhaust sounds from the passenger seat.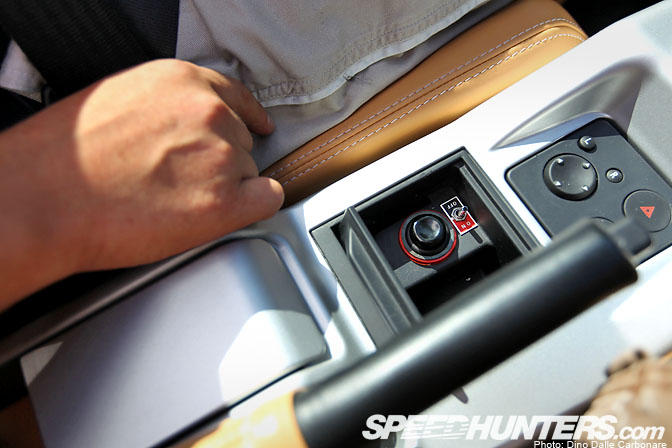 In this particular car the exhaust valves can be controlled via this little switch in the center console. Since pictures can't relay the aural delight a screaming flat-plane crank V8 can give, here is a short video of the ride.  
I'd like to thank Jaewoo and the guys at Kreissieg for having me over and showing me what their company is all about! 
-Dino Dalle Carbonare