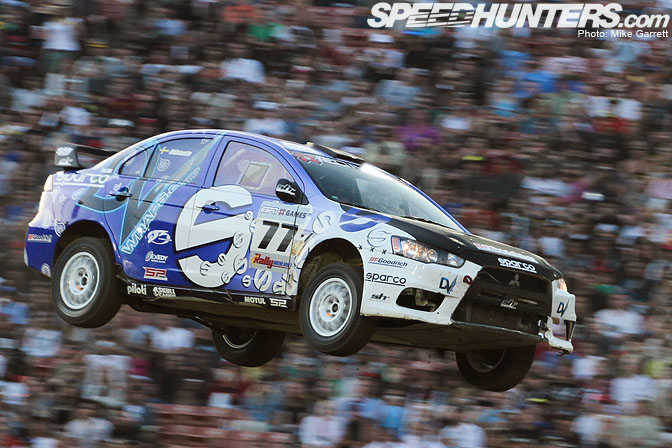 Following the somewhat anti-climatic end to the rally car competition at X Games 16, all of us were looking forward to the debut of the SuperRally event.
With four drivers running wheel to wheel around the track, everyone hoped this new event would bring some much needed excitement to the day.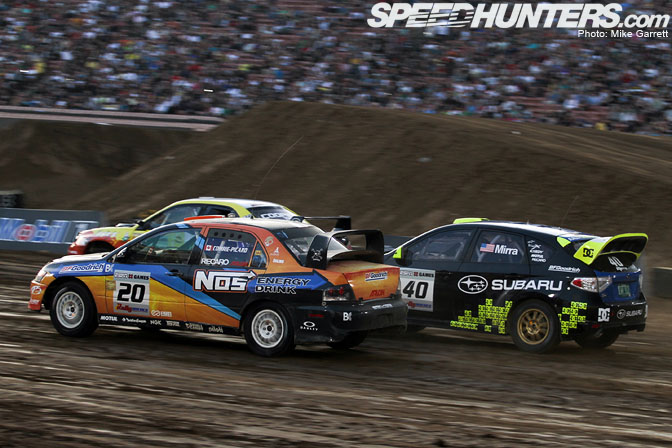 12 qualifiers would be divided into three groups of four cars, and each group would do a four-lap race around the course. Every driver would be required to clear the jump once, on the lap of their choice.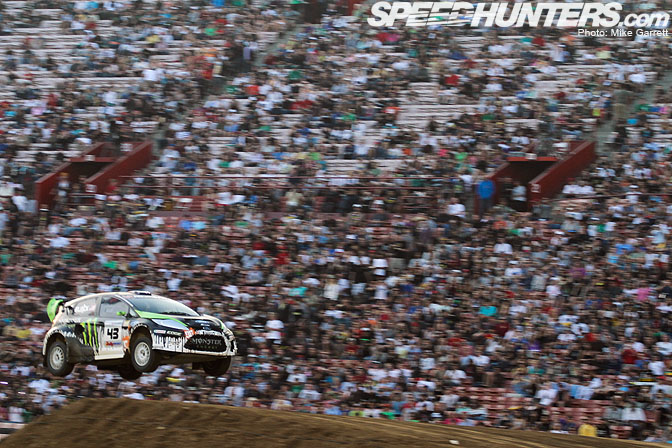 After a disappointing result earlier the day, Ken Block and his Fiesta were good to go for SuperRally. Even after getting left behind at the start, Ken made up enough ground to finish second in the first race. Each of the second place finishers would get one more shot to make into the final as part of the "last chance qualifier" race.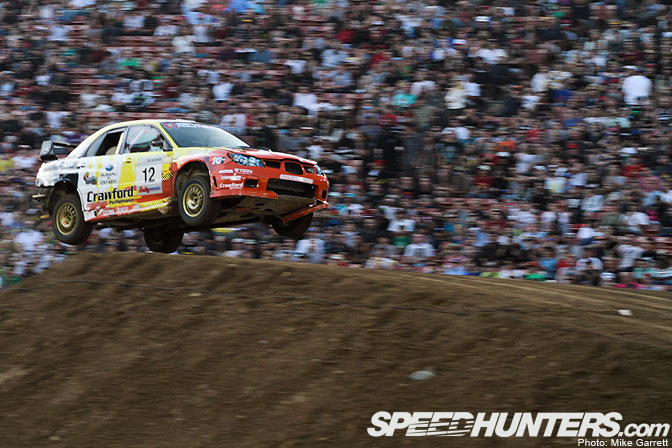 As fast as Ken was, he couldn't catch up to the race winner, Formula Drift veteran Stephan Verdier.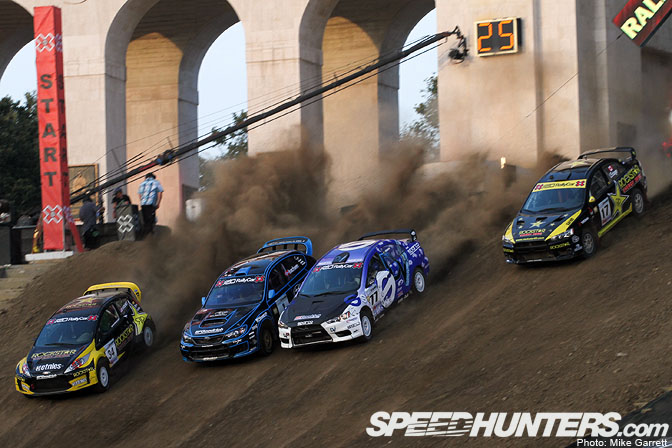 With four drivers battling to share a compact course, the excitement was definitely there. A nice change from the confusion and mistakes seen in the earlier rally event.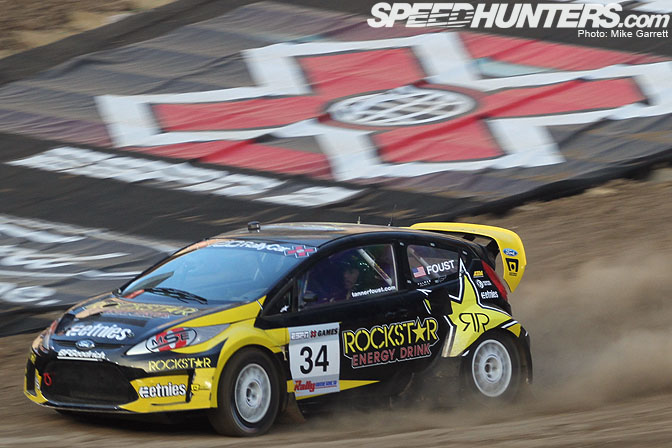 Tanner Foust jumped out in the lead of the second race and stayed there. Obviously that European rally cross experience was helping him.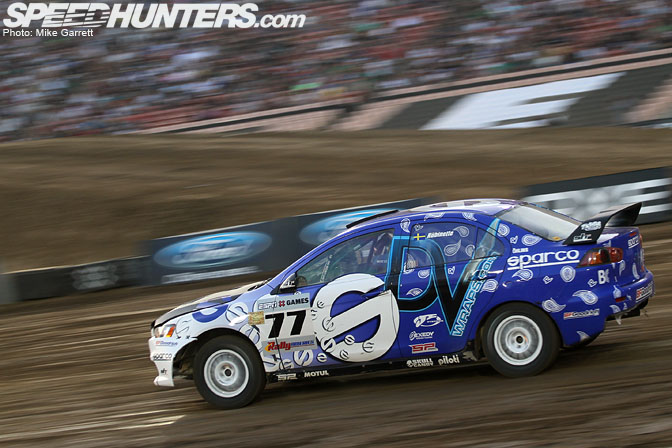 Finishing second would be another FD veteran, Sam Hubinette in his Sparco-sponsored Evo X.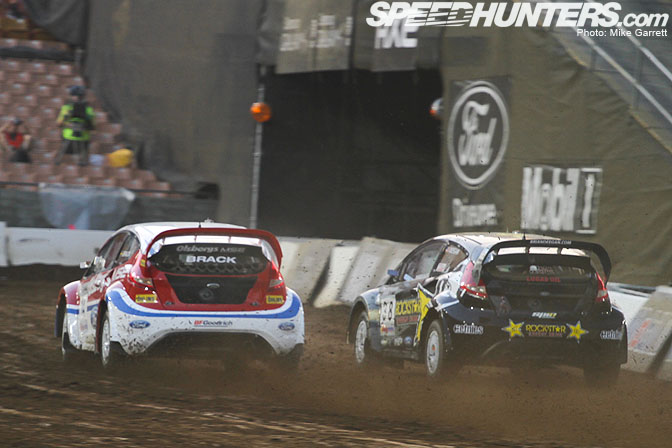 Here Kenny Brack and Brian Deegan battle it out in the opening moments of the third race. It was pretty intense watching these guys fight for position into the first corner. Brack would end up retiring early, with Deegan taking the win.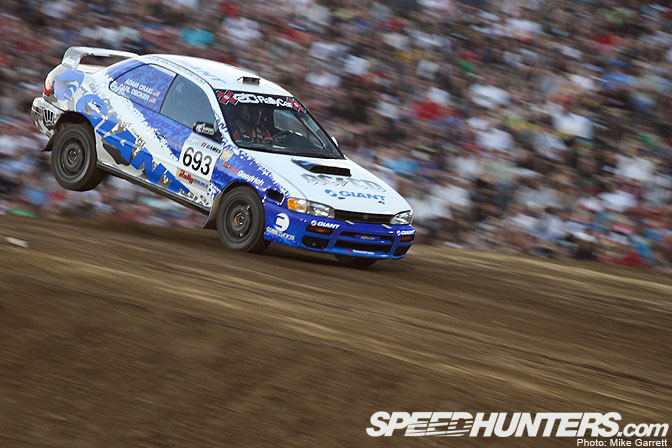 You gotta give it up for Carl Decker, out there battling big budget factory teams in his first gen Impreza.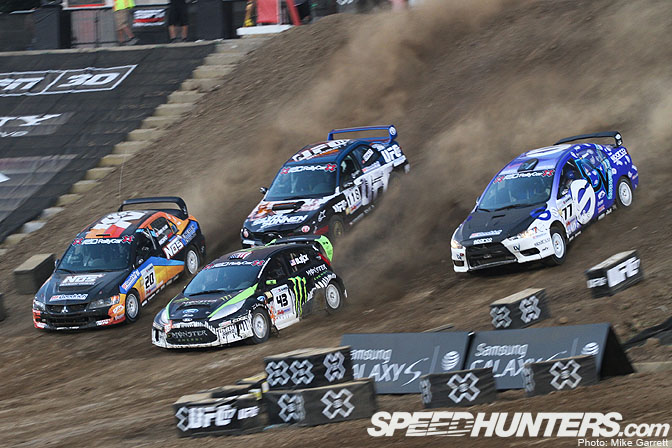 The opening moments of the LCQ race, with four drivers fighting for the remaining spot in the final heat.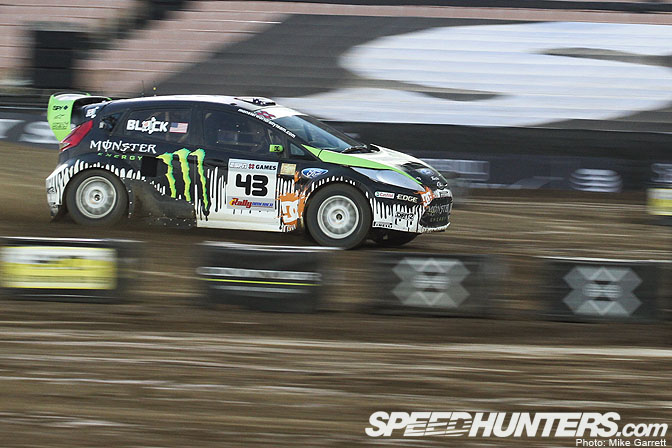 Ken Block was on top at the start of the race, but it wasn't to last…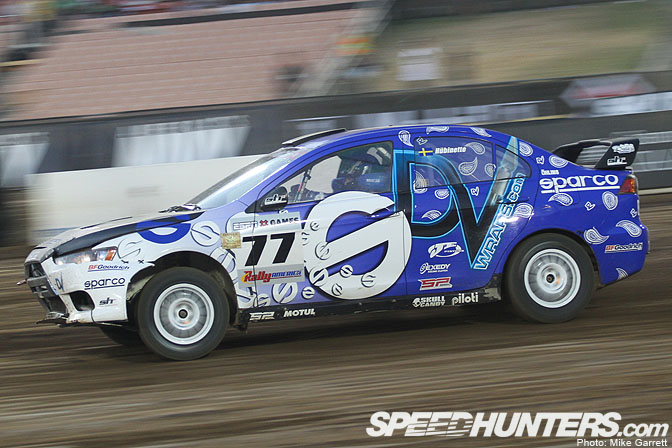 It'd be Sam Hubinette, who came from behind and grabbed the last spot in the final.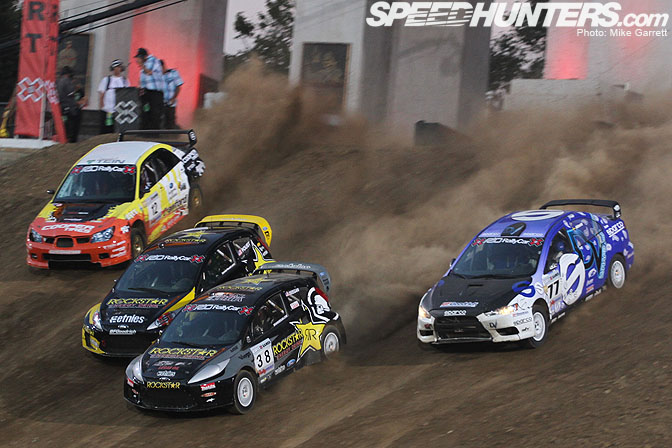 And so, the final would feature Stephan Verdier, Tanner Foust, Brian Deegan, and Sam Hubinette. Interesting to note that Deegan is the only one these four who isn't an FD competitor…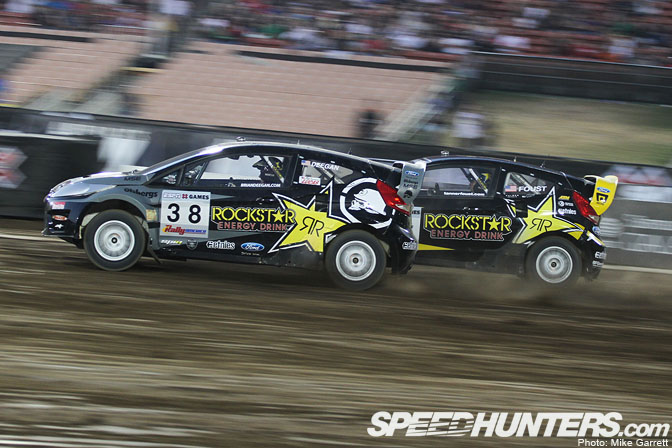 Deegan and Foust, battling it out from the start.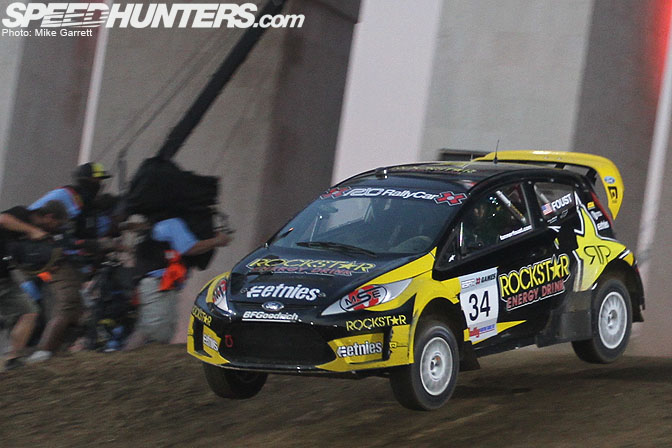 Once again, it was Tanner who seemed to be on the fast track to gold.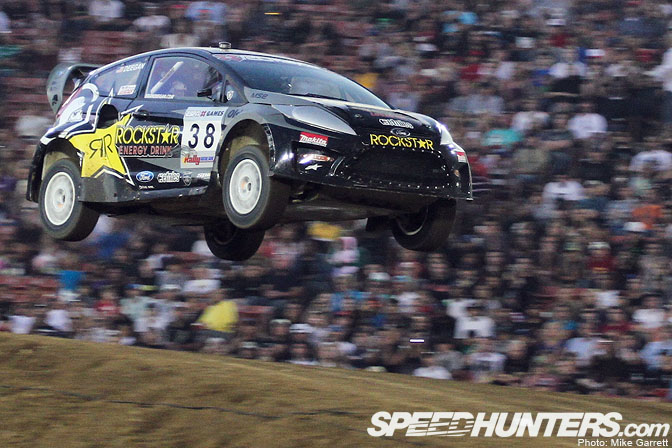 Deegan gets airborne on his way to silver.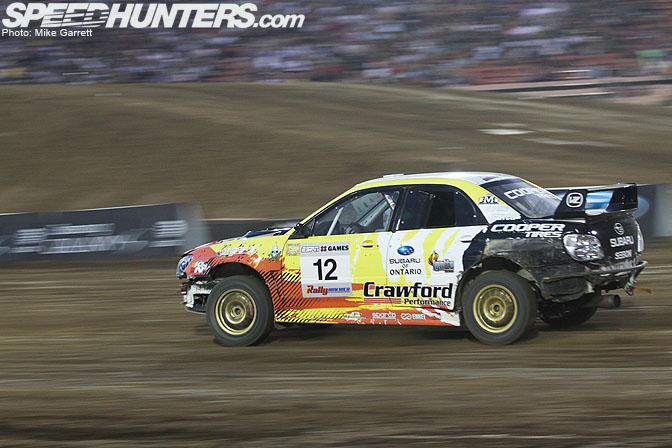 Verdier's car was looking quite battered by the end of the night.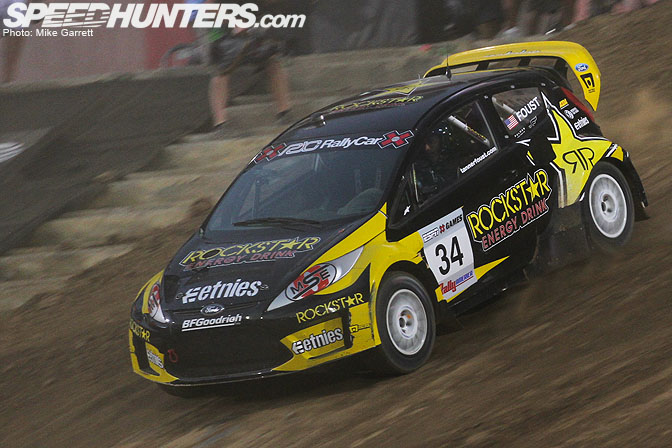 In the end, Foust and Deegan would repeat with gold and silver respectively, while Sam Hubinette took bronze.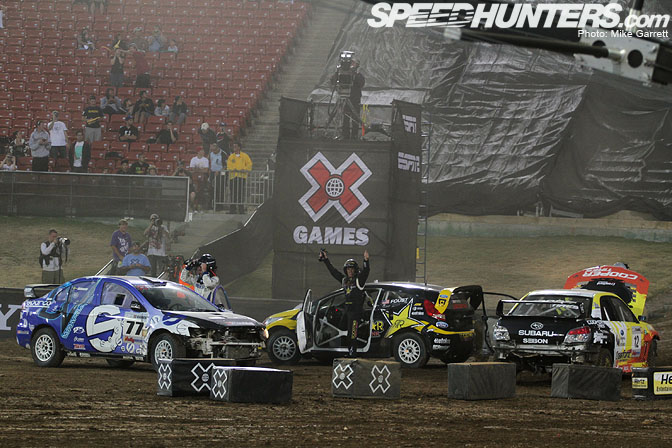 So another year of X Games rally was in the books. Could it have been better? Certainly, but there was lots of potential out there.
Hopefully the event format will see some tweaking for 2011 and rally in the US will continue to change for the better.
-Mike Garrett