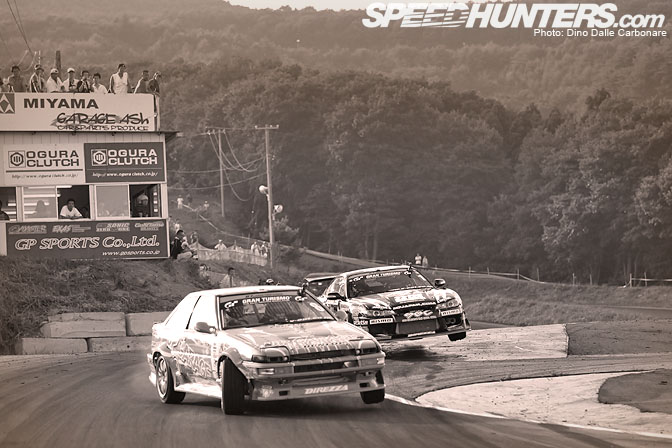 It's been almost a week since I was up in Ebisu for Round 5 and 6 of the D1 Grand Prix, and I'm already getting ready to go up there again in a few days for what has to be one of the most enjoyable events of there year, the Drift Matsuri. But before all hell brakes loose with crazy missiles aiming for pit walls and a new wave of gaijins from across the globe coming over for the G1GP, let's finish up looking at the epic battles and atmosphere from last Sunday's Round 6.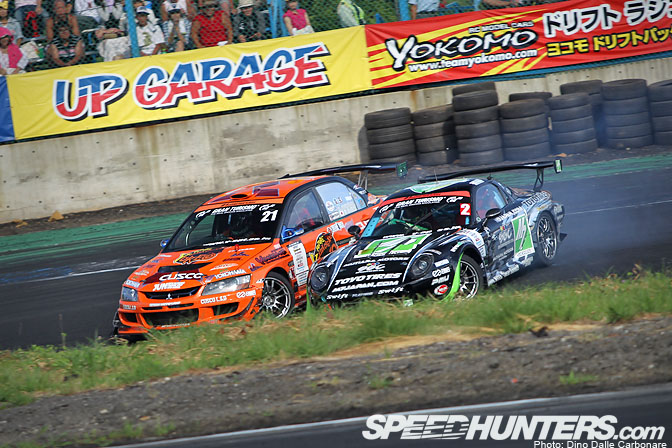 How about this for brotherly love! No mercy as the Suenaga brothers head into their Best 8 battle. Naoto, on home turf, gave his younger brother Masao a lesson in precision and consistency, fighting hard for the win. The Team Orange guys were very happy with his performance!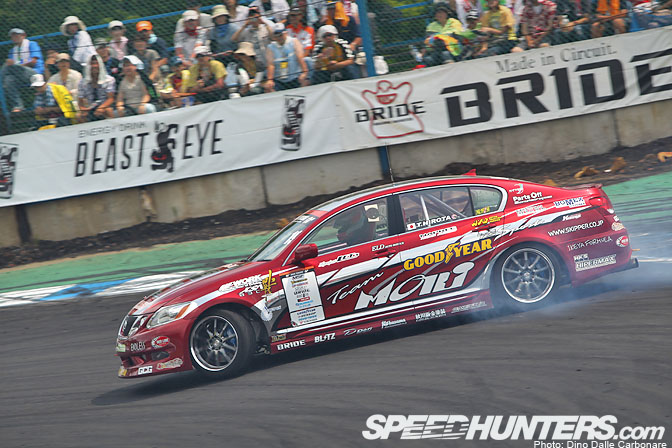 Hirota in the Team Mori Lexus GS.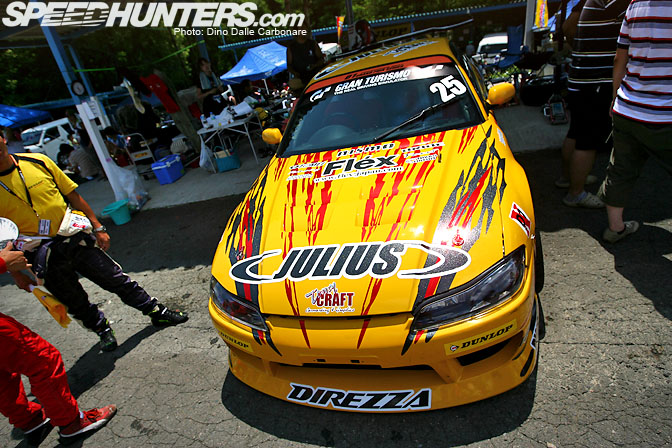 Fukuda's S15 looking hot as ever in the pits.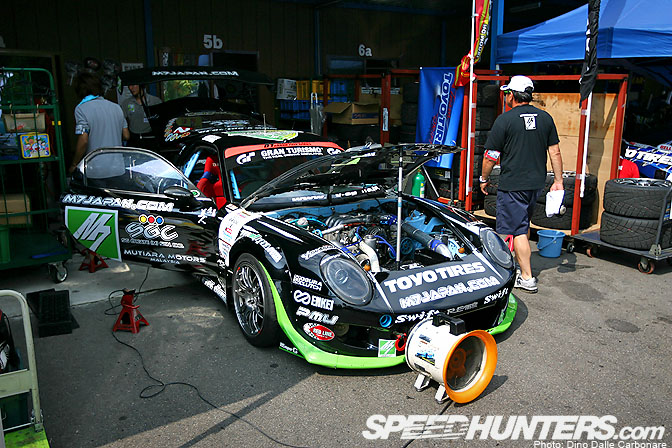 Despite rumors that the RE-Amemiya RX-8 might make an appearance at the last round at Fuji in October, I think the team will try their hardest to be as competitive as possible to keep Suenaga in second position. Hibino is only 6-points behind him in third and seeing his kamikaze style at Ebisu he will be going full out to finish the season behind Imamura.  The FD will be the safer car to go with!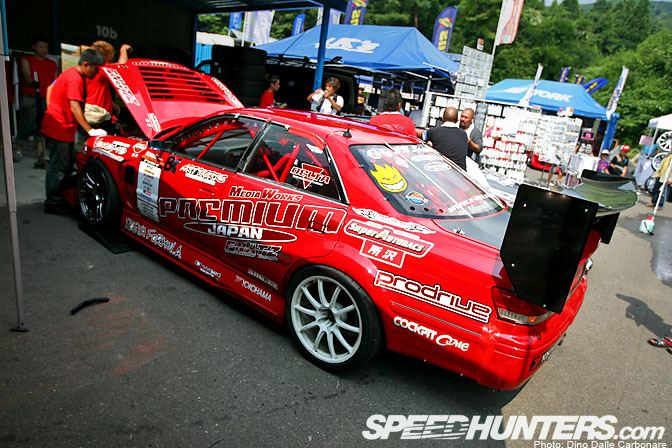 With the amount of "flights" this car had over the weekend most people were surprised it was still going by Sunday afternoon. At every landing Saito's big JZX100 would compress hard on its suspension, with all of the bodywork as well as the underside of the car, scraping hard on the ground. Might be needing some TLC before Round 7 in Fuji!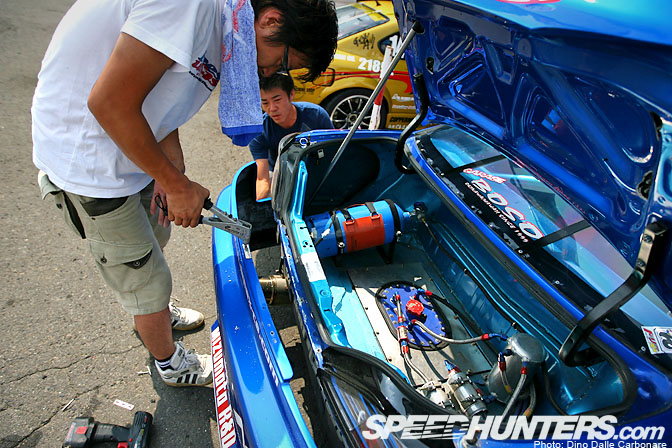 Nakamura makes me laugh. The guy drives so hard and so close to his competitors that he always manages to knock his bumpers off. His mechanics were trying their hardest to rivet the rear bumper together and fit it before the Best 16.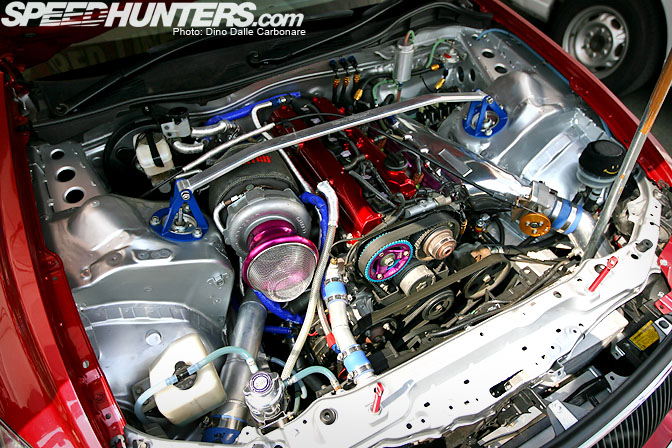 A look at the 2JZ in Team Mori's Lexus. This engine will soon be replaced with a twin turbo modified version of the GS350's stock V6.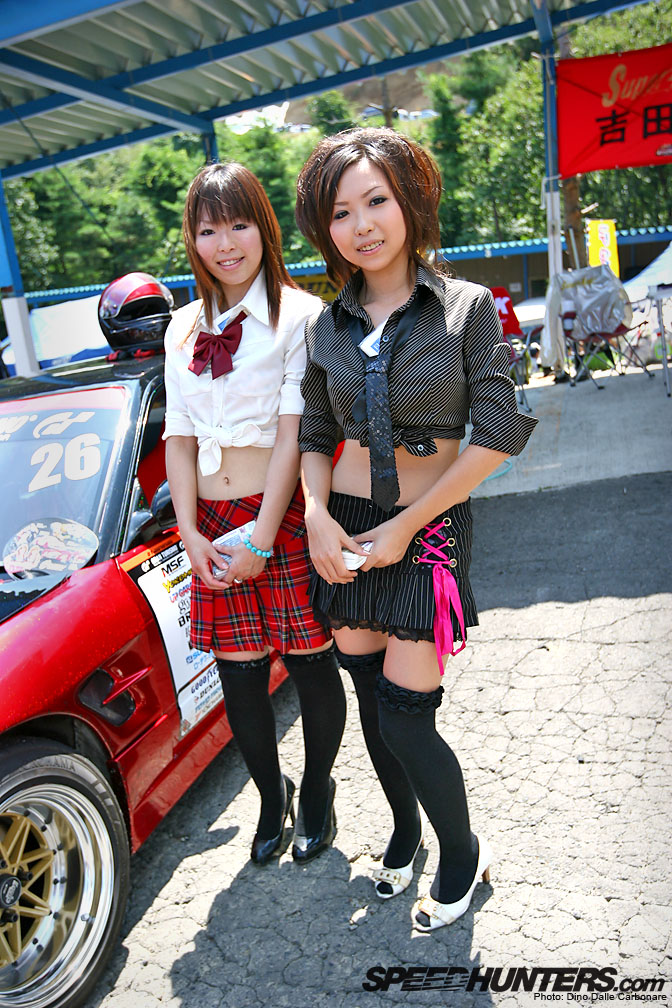 You have got to love some of these outfits!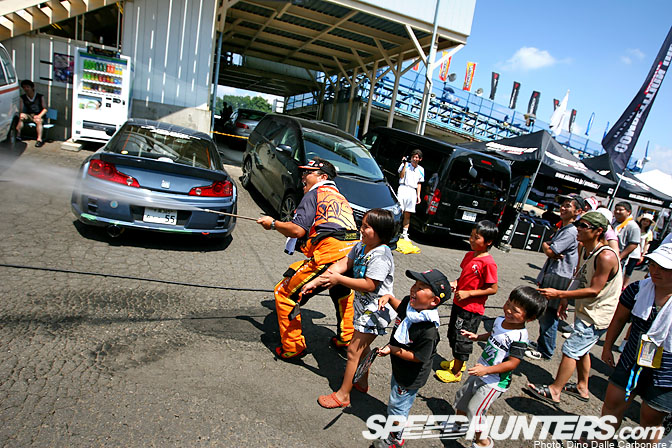 During the lunch break Kumakubo was supposed to help keep people cool off by gently vaporizing water with his high pressure lance, but it all soon turned into a big water fight with some of the Ebisu staff!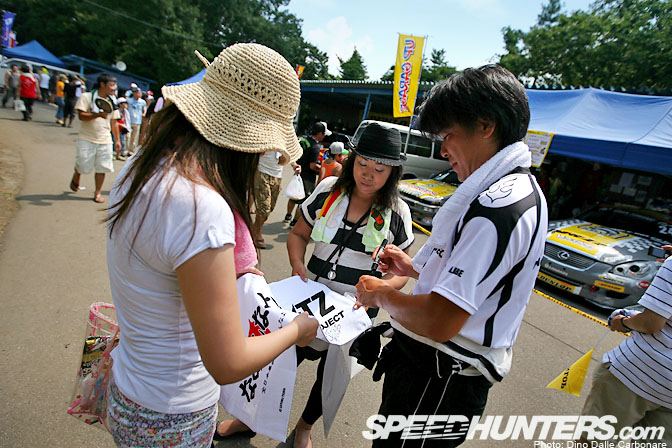 Abe-san of Blitz signing autographs for fans. He is the man behind Nomuken's ER34 and the guy that has single handedly built the Blitz RWD R35 GT-R. Now that Nomuken's Skyline is nothing more than a pile of bent metal, will we be seeing an early debut of the GT-R at Fuji? I certainly hope so!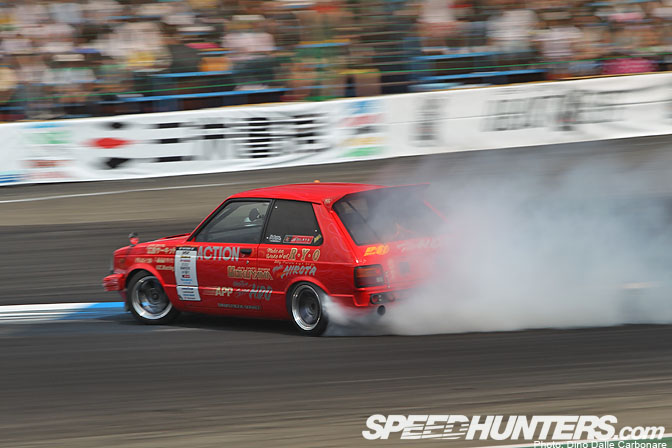 Iwai in the RYO KP61 Starlet wasn't getting the same kind of speed as the seeded drivers at Ebisu, but the little Toyota did well in all it's runs pouring out crazy amounts of tire smoke from its rear arches!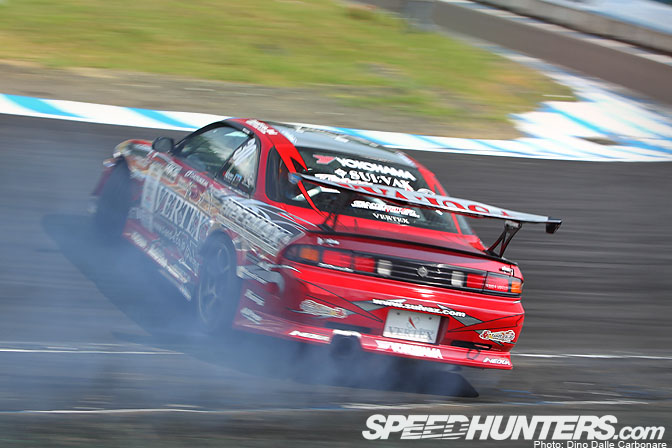 The second member of Team T&E, Hasegawa, was not having a good weekend spinning out during his qualifying run, ending any chance to make it into the Best 16.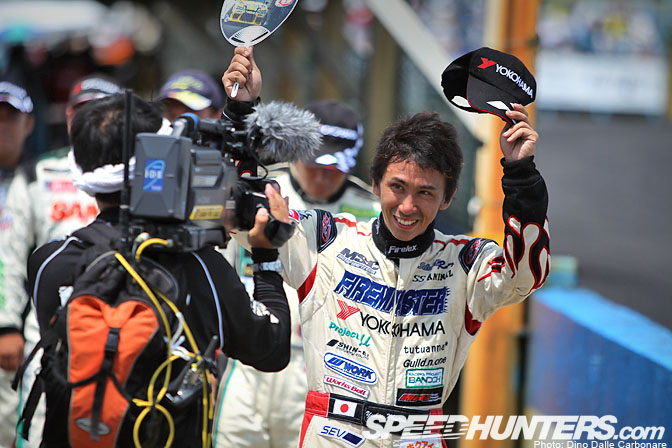 Matsui, after his massive crash against the wall on Saturday, was back…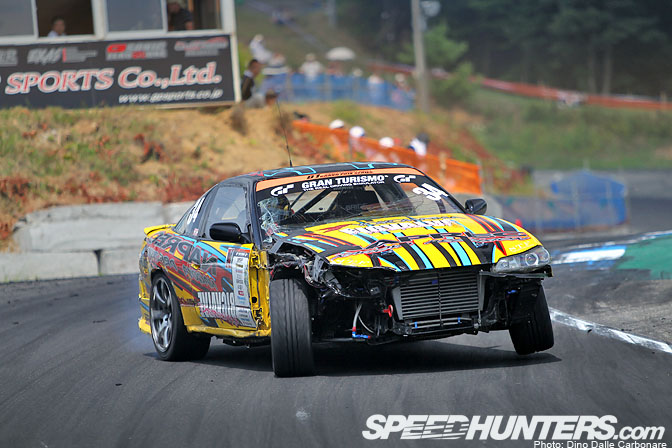 …as was his RPS13. I have no idea how his mechanics managed to get the car fixed in time for Sunday, but I'm sure they didn't get much sleep! The chassis took a very big hit so the car will no doubt be getting replaced.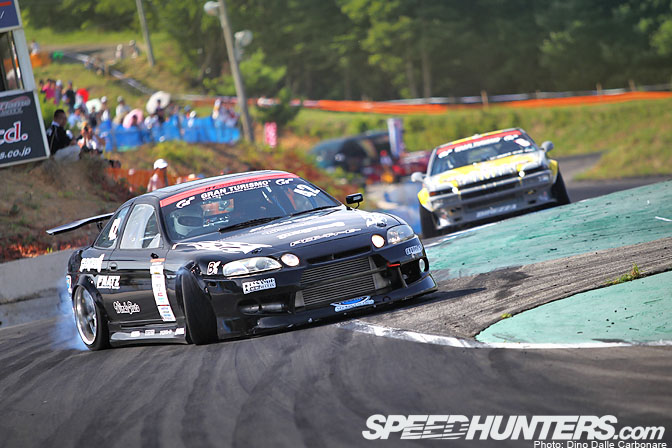 So we've seen a lot of jumps from Ebisu, but I found the cars compressing hard on landing just as cool as when they are in the air. This is Robbie Nishida during his Best 16 battle against Hibino. Check out the puff of smoke coming from the front tires as they hit the fenders. Now that, is very cool!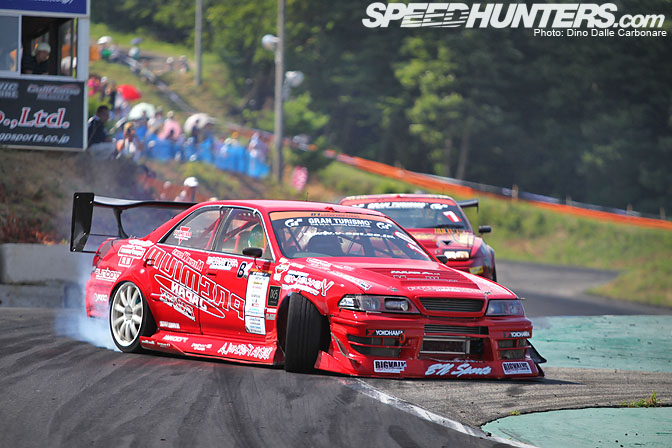 And Saito doing the exact same thing!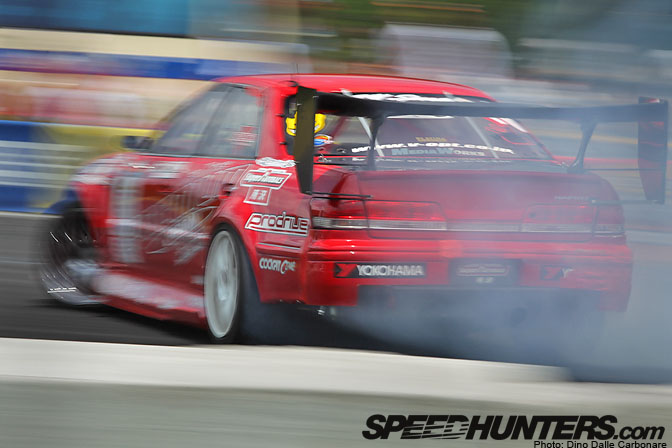 The smoke machine as seen from the rear!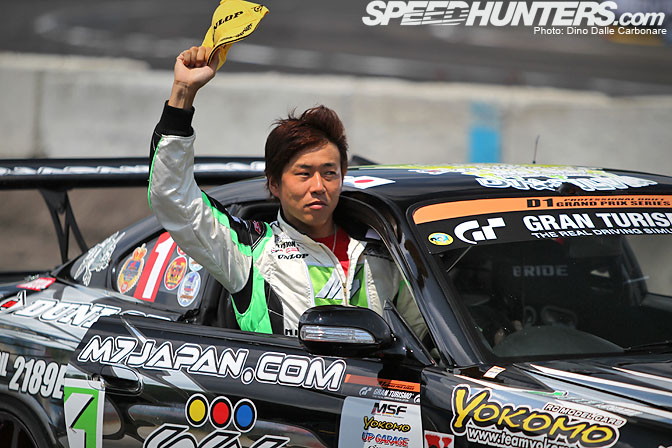 Imamura now heads into the final at Fuji as the 2010 D1 Champion. Last year he was the first man to ever win two D1 championships, this year he will be the first man to do it three times, and twice in a row!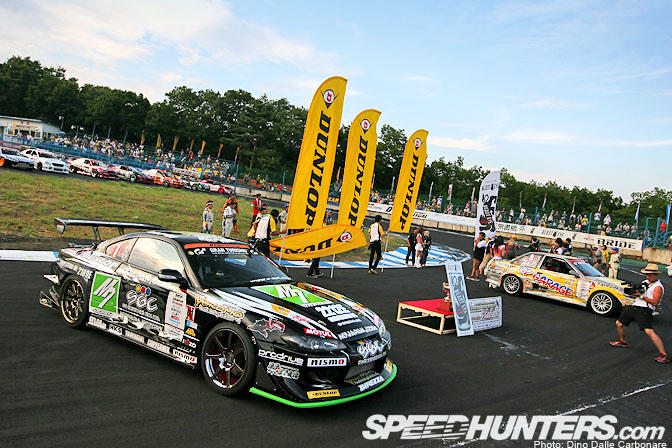 His consistency as a driver and the bulletproof performance of his car have come together once again, but now all eyes will be on Suenaga, Hibino and Kawabata as they will fight to grab second and third position. October is a long way off, but until then there will be a series of grassroots drift events to entertain us starting with the G1GP next Friday and the Summer Drift Matsuri on Saturday and Sunday! I can't wait!
Here is a look at the current standings:
1. Imamura         118 pt
2. Suenaga           87 pt
3. Hinino               81 pt
4. Kawabata         79 pt
5. Nomura            78 pt
6. Saito                 69 pt
7. Takayama        57 pt
8. Tokita               51 pt
9. Orido                50 pt
10. Koguchi          46 pt
-Dino Dalle Carbonare