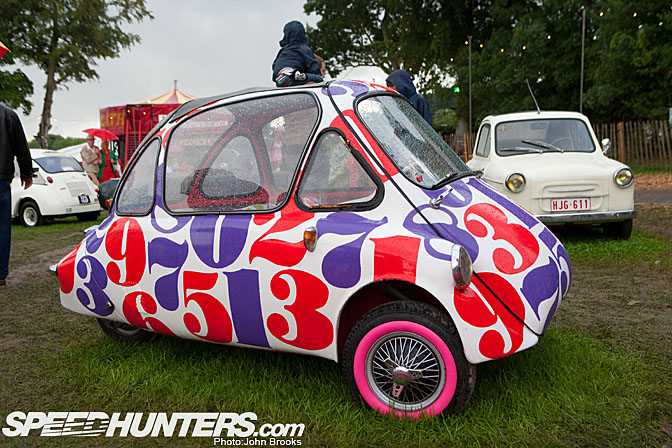 I disagree with Editor Rod. There I've said it. In fact I'll shout it. I DISAGREE WITH EDITOR ROD!
OK, I hear the sharp intake of breath and the thought arising in the gentle reader that this is Crazy Talk and that the old boy has finally gone over the highside but give me a minute and maybe I'll convince you too.
In the recent EA-Rogge summer blockbuster, Four Men in the South of France with a Big Lens, which, incidentally, is playing to packed houses in Cannes when repackaged as Quatre Hommes en Provence avec une Grosse Lentille: The Director's Cut, but I digress. Editor Rod asserts that "Speedhunting, is a verb" – the act of hunting speed".  Nonsense! Piffle! Balderdash! Speedhunting is an attitude of mind, an approach to life, a Bushido for the 21st Century petrol head. It certainly is not to be reduced to a mere series of actions, it is however a connection between head and heart, a meeting of intelligence and spirit, art and technology.
SpeedHunting only exists in the context of the environment that surrounds it. Cars may, at their basest level, be a means of transport from A to B, but applying the SpeedHunting elements liberates the mere functionality to enable cars to aspire to being objects that have a personality, potentially even works of art, a reflection of the core being of those of us who interact with these machines. This is reinforced by the other elements that are interwoven into our daily lives when we encounter cars; music, design, fashion, they reflect us and we reflect them
.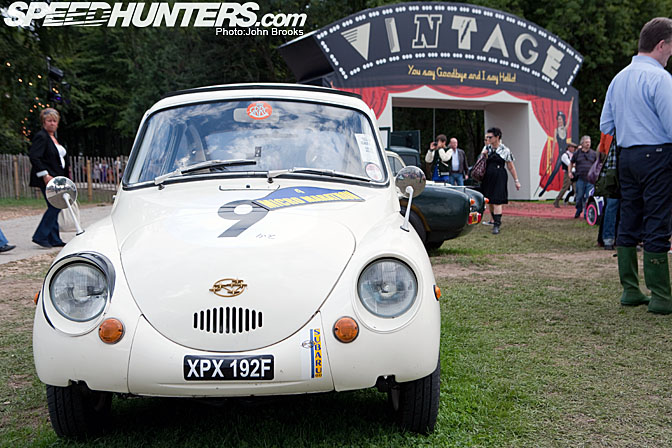 That brings us neatly to a new event, Vintage at Goodwood. 
 A few years ago after my first visit to the Goodwood Revival I wrote this:
 However, for those of us still living on these islands, the 40's, 50's and 60's have a great nostalgic appeal. Pride in the achievements and courage of the nation at the time of "their Finest Hour" is enduring. Freed from the drab world of rationing and shortages of every kind, and regaining some of the national energy totally drained in the struggle for survival during World War 2, the country burst forth with creative forces and a sense of progress, both material and social. The "most of our people have never had it so good" Fifties succeeded by the Swinging Sixties of the Beatles and Carnaby Street, were times of optimism, a feeling that things could only get better. Well, now we know better. As the song goes, "Meet the New Boss, same as the Old Boss", we will get fooled again.
The impulse to look back is a natural one, particularly as we advance along the years. Which of us does not contemplate the past wondering what might have been, if different circumstances had prevailed? From there, it is but a short step to try and recreate the past, smoothing out some of the imperfections along the way. Most do this as an exercise in the mind; a few are more ambitious……..which brings us to the Goodwood Revival.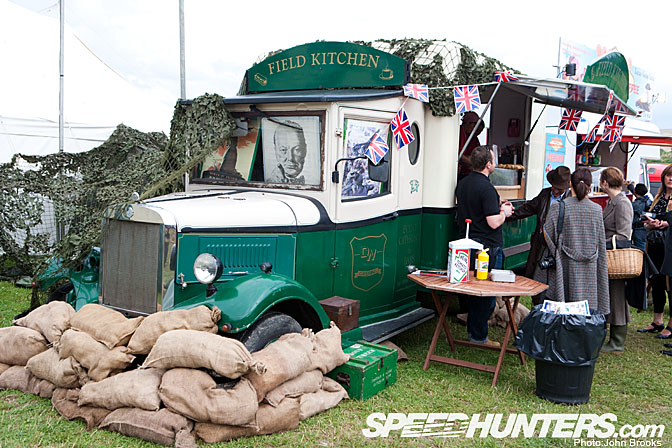 Lord March and team at the Goodwood Estate have, by luck or by design, found a rich seam to mine. The Revival is a fine event but by being constrained by the period it covers, 1948 to 1966, and by the scope of the activity, motor racing, it does not hold an appeal to everyone. However that element of nostalgia and of recognising the successes and style of the past 50 or so years in Great Britain, could have other forms of expression, attract other audiences to that very agreeable part of West Sussex, hence Vintage at Goodwood.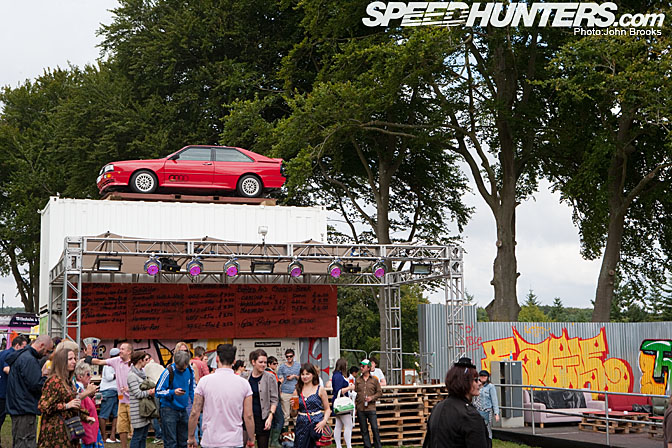 Motor cars would play a part in the new event, I would not have attended otherwise, but they are more of a sideshow to Music, Fashion and Shopping, all done with the usual Goodwood style. There were also manifestations of the creative businesses that have been very successful in the past 40 years in the UK. I spent 15 years working in advertising and design in Fitzrovia and Covent Garden, so I have a more than passing interest in these areas, another reason to attend.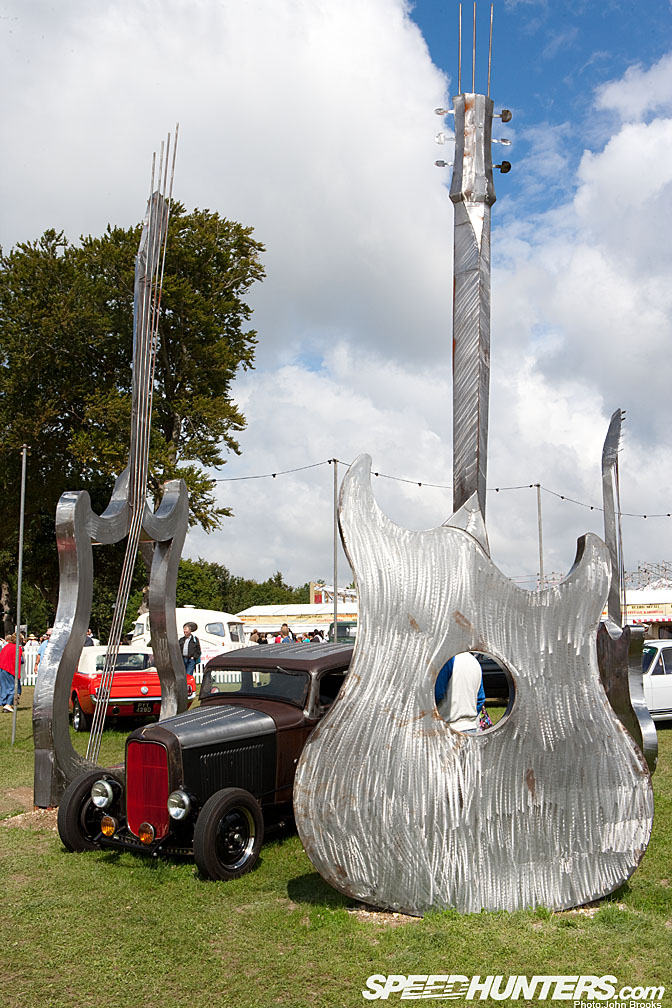 But Vintage at Goodwood is first and foremost about the music. Cars and music, like Gin and Tonic, a perfect match ever since "Maybelline" and Chuck Berry. "That Highway Sound" accurately and concisely sums up the relationship and freedoms inherent in popular music and the freedom of the road. Or maybe not.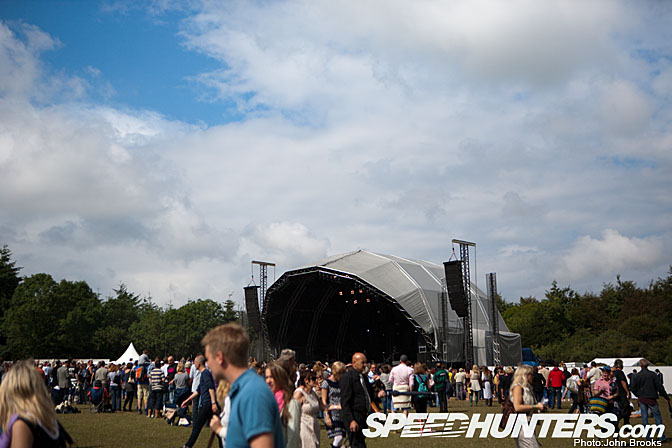 But before I disappear up myself, perhaps it is in order to just look at what was happening. The Vintage at Goodwood Main Stage was supported by six other stages, ranging from the Soul Casino to Let it Rock. Most of the live action would take place outside of the few hours that I was at the Show but appearing were acts that even I had heard of. Topping the bill on Friday would be a performance from rock legends, The Faces. Of course Rod Stewart is too busy these days to sing with his old mates, so ex Simply Red frontman, Mick Hucknall, stepped in, as did ex Sex Pistols bassist, Glen Matlock, for the late, great Ronnie Lane.  It was odd to reflect that 39 years ago I trooped up to the Oval Cricket Ground to see this band in action; who would have imagined that in the 21st Century that they would be still performing and in Lord March's backyard to boot. We have all come a long way since those days.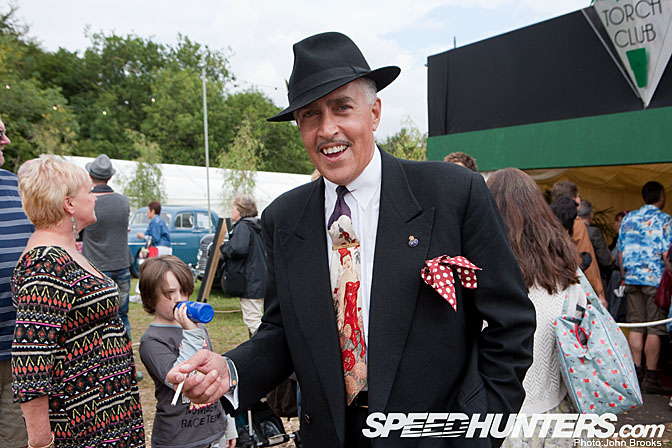 At the other end of the scale were the denizens of the Tanqueray Torch Club who Swung, Tapped and Boogied the days and nights away. And, as in the case of this gentleman, they did it with some real style.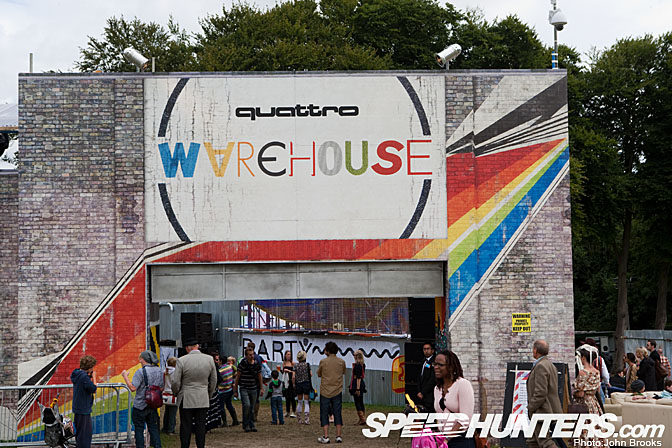 Confirming that musically Vintage at Goodwood was a broad church was the Quattro Warehouse with its urban styles and "attitude". Not sure about the typography, could do better would have been my verdict.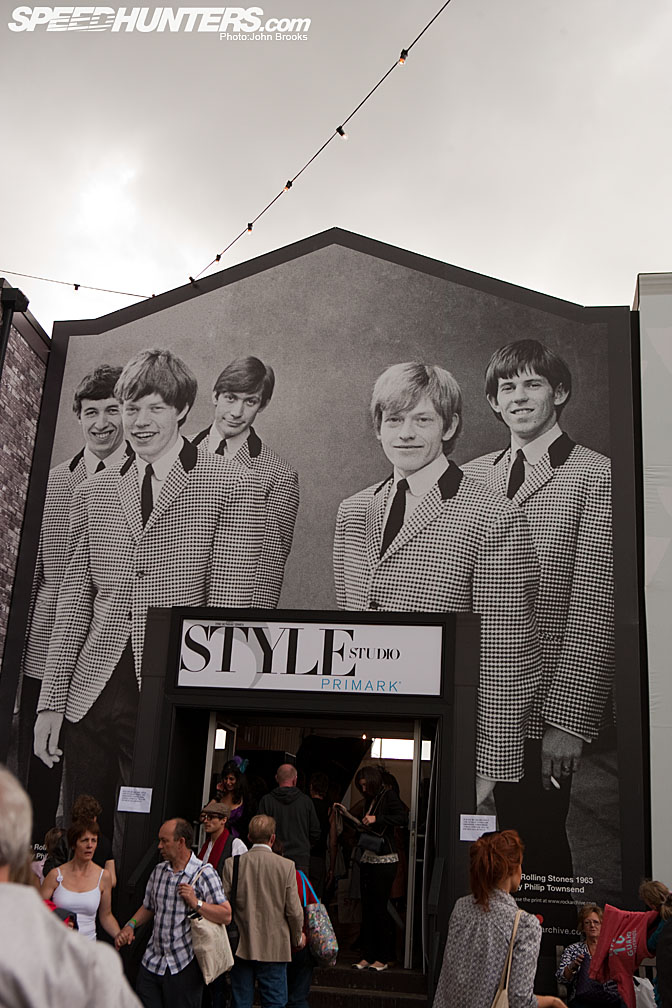 Where music meets fashion meets retail. The wild men of youth back in 1963, The Rolling Stones, are now used by High Street retailer, Primark, to entice in the punters.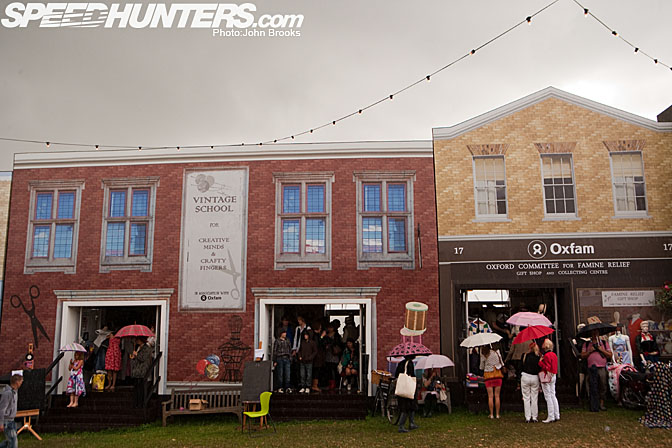 These days retail therapy is on the increase, shopping is almost at a religious level amongst half the population, so the notion of creating a High Street slap in the middle of Vintage at Goodwood was inspired and very popular. Familiar brands ranging from John Lewis and The Body Shop to Fortnum & Mason and Penguin Books were well represented.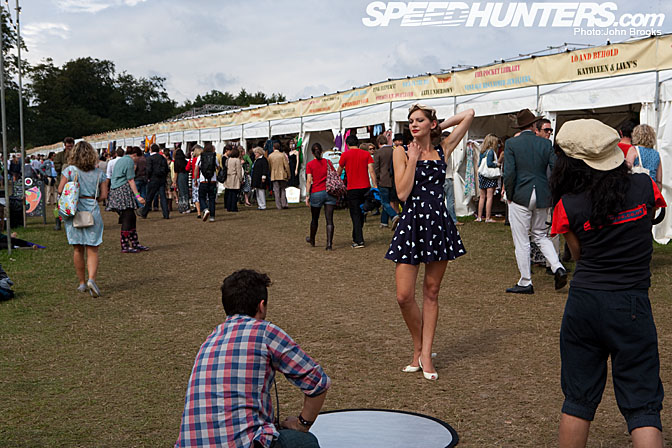 Equally well supported were the two rows of covered stalls, which sold just about anything fashionable that could carried away by hand. Impromptu photo shoots were the order of the day, most of the snappers looked a bit better than the author.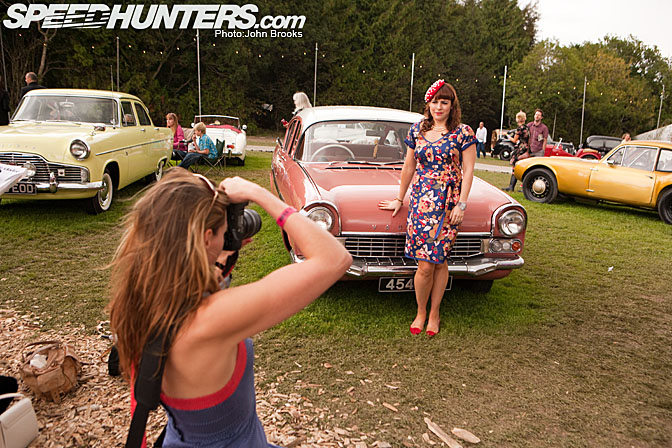 And what better background for another period fashion session than a period pink Vauxhall Velox?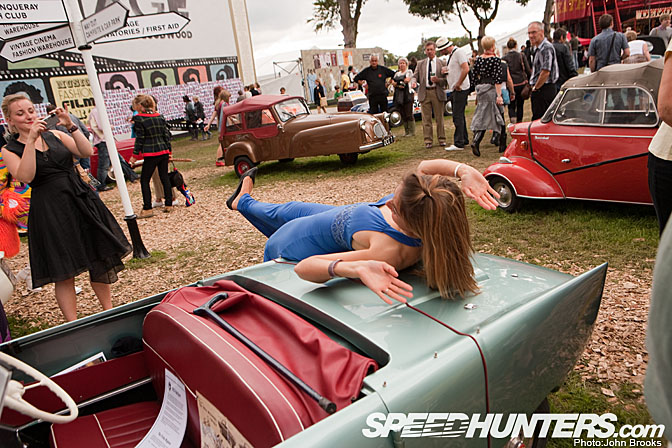 Getting frisky on a Frisky. The car's owner was a bit nonplussed when this elegant creature flopped on to the back of his rare Meadows Friskysport, while her mate snaps away.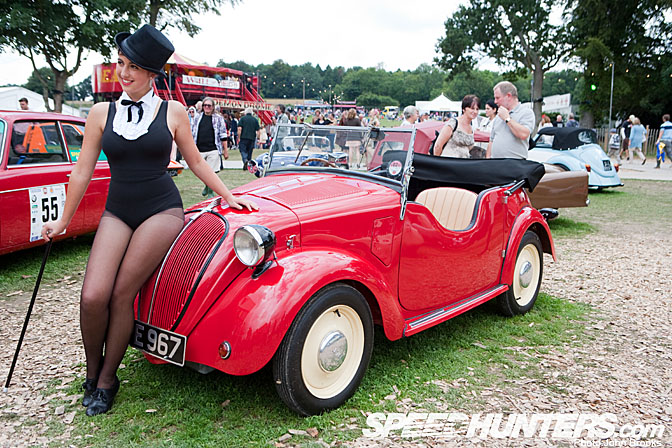 A showgirl with a Fiat 500 "Topolino".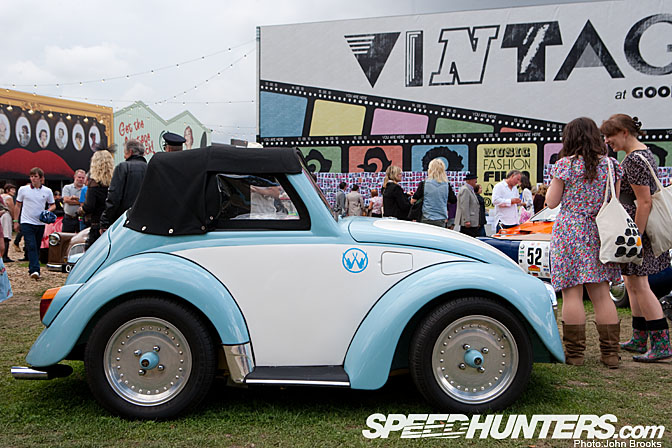 Not all the vehicles at Vintage at Goodwood had totty draped over them and most were organised by theme, this odd contraption was in the small car section…………..why? No idea, but it is a fact that VW folk can be quite eccentric.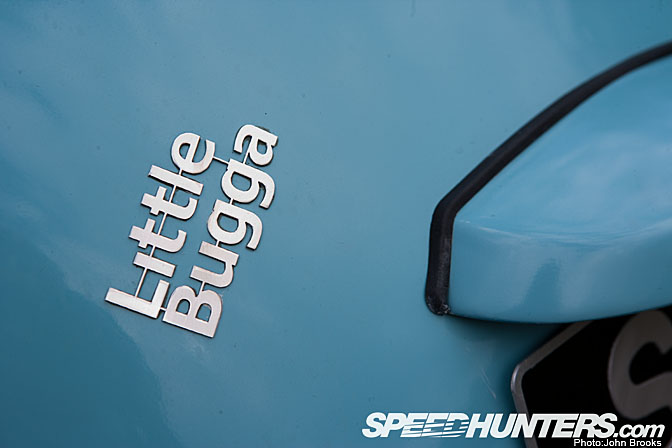 Little Buggas in fact.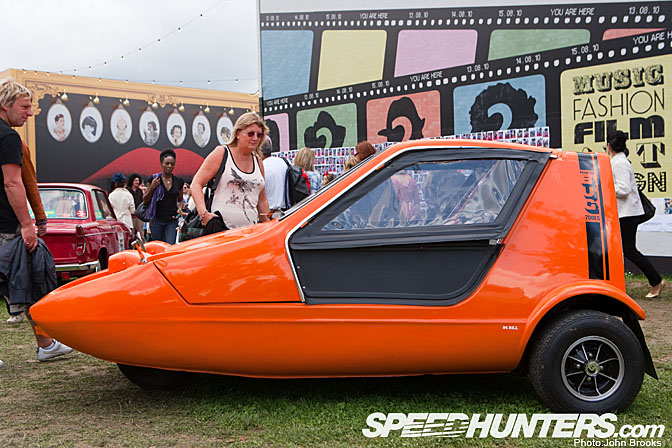 Speaking of Bugs, a real illustration, if one were needed, of how 70's style was often a blind alley, the Bond Bug.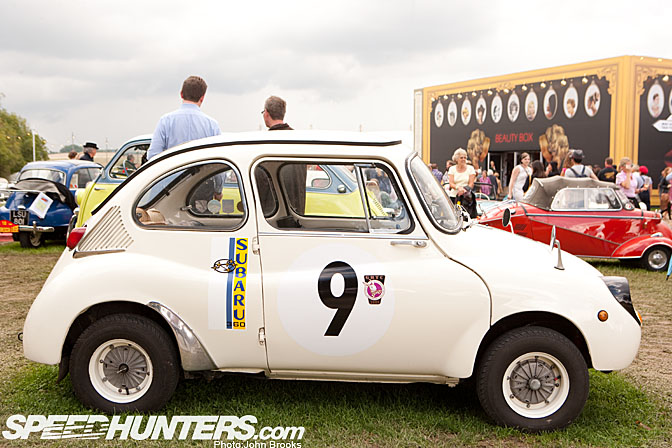 Small but perfectly formed, a Subaru 360, from little acorns…………..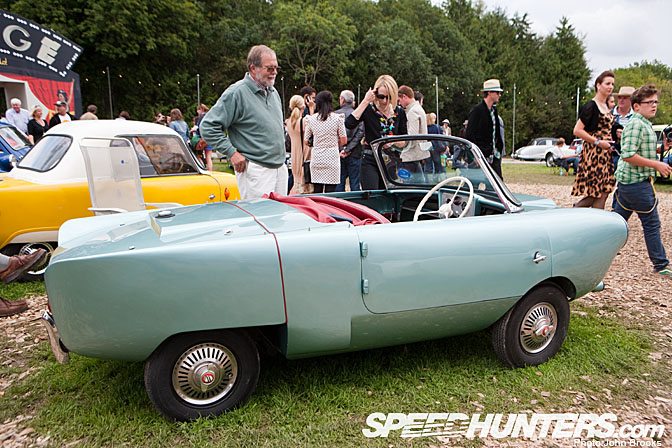 Vintage at Goodwood had a heavily British content, some familiar, some not. This Meadows Friskysport first appeared at the 1957 Geneva Motor Show with a gull wing door configuration. This design from Michelotti was not a practical option for cost reasons, so a hasty rethink led to the above. The car was powered by a Villiers twin cylinder two stroke engine but financial problems overtook the project which never achieved its original promise.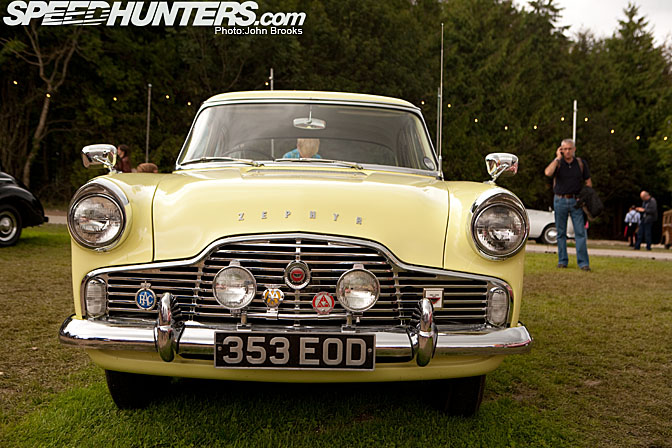 A contemporary of the Friskysport was the Ford Zephyr, which sold in big numbers, around 300,000, representing affordable luxury motoring to the increasingly affluent British public in the late 50's.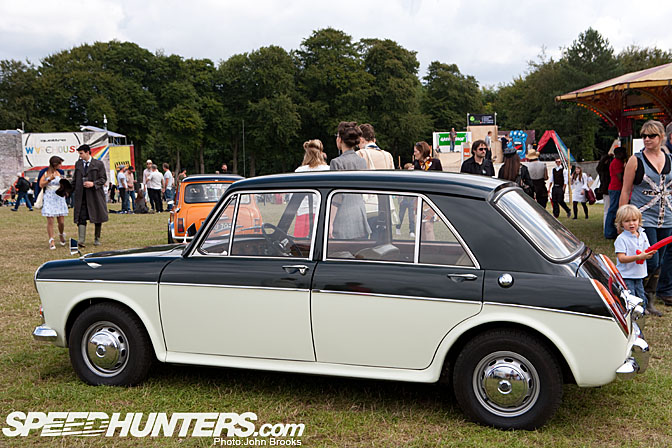 Hard to imagine now but the ADO16 design for BMC was the best selling car in the UK during most of the 60's, over 2 million rolling off the assembly lines. This well preserved example is an MG 1300.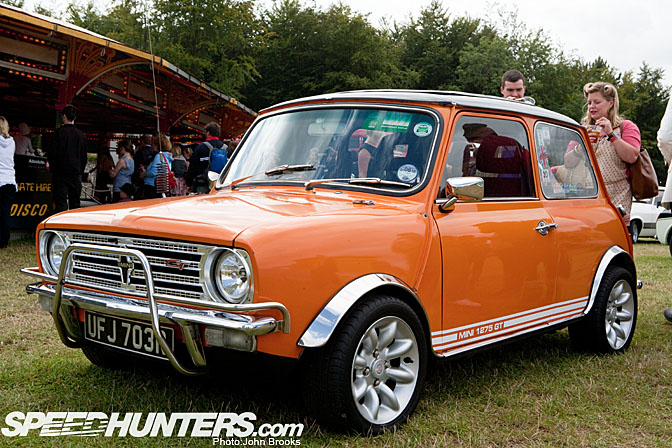 As early 70's as platform heels and hotpants, the Mini 1275 GT was what any fashionable young blade wanted back then to complete the boy racer look. All you needed was a pair of Les Leston driving gloves, an open shirt displaying a hairy chest complete with gold medallion and you were good to go at any disco. The Horror, The Horror.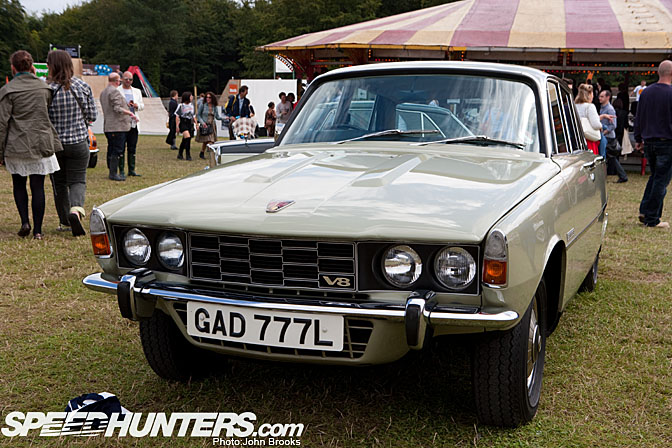 For the more mature and well healed, an early businessman's express, the Rover 3500.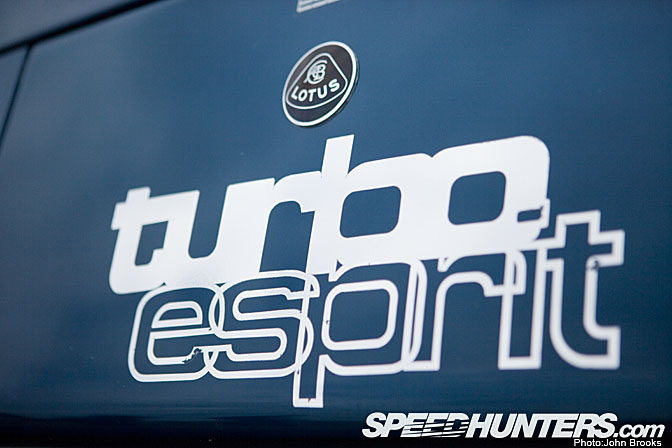 It was not all bad news on the car front, Lotus were turning out the Essex Turbo Esprit, James Bond even drove one in this spec, if not the colours, at the time in For Your Eyes Only.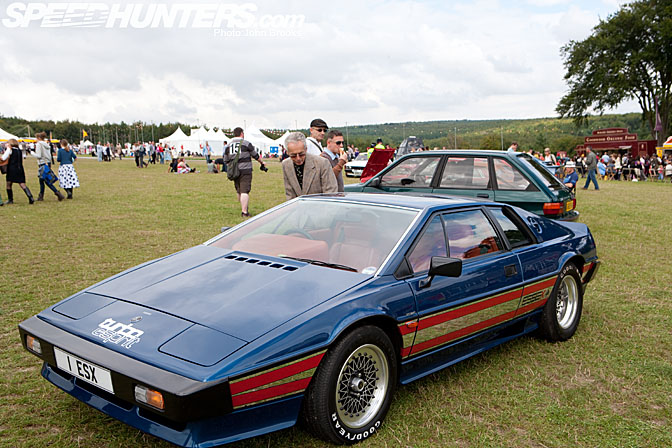 Essex Petroleum sponsored Lotus in Formula One and Porsche at Le Mans, it disappeared as quickly as it arrived, leaving some unpleasantness over financial arrangements.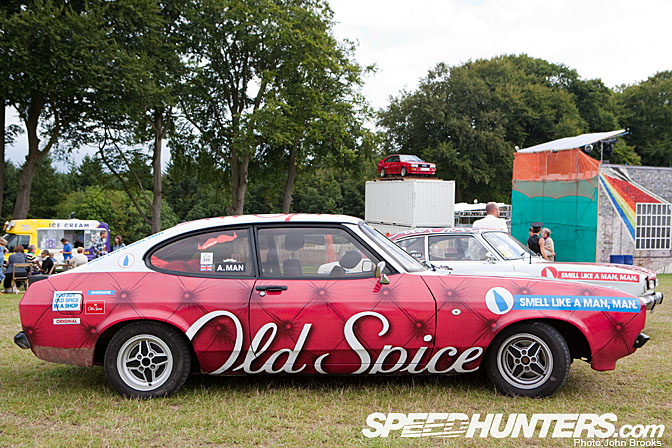 A brace of Capris, Mark 1 and Mark 2 with aphrodisiac branding.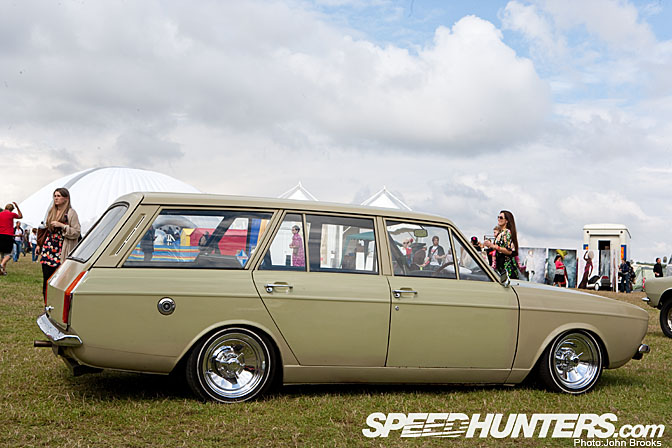 One for the low riders, based on a Hillman Hunter Estate.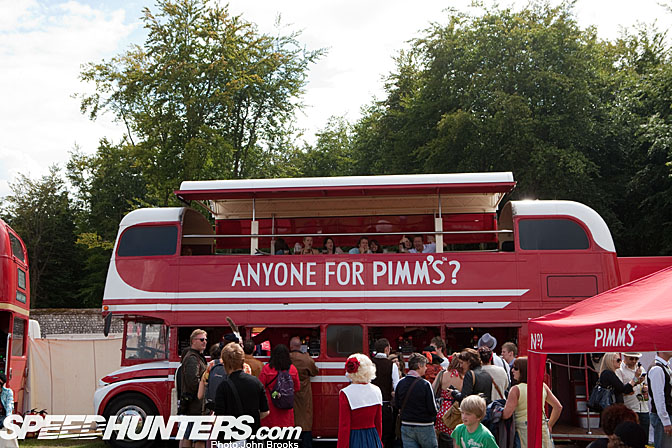 Of course all this dancing and shopping is thirsty work, so a Double Decker is called for.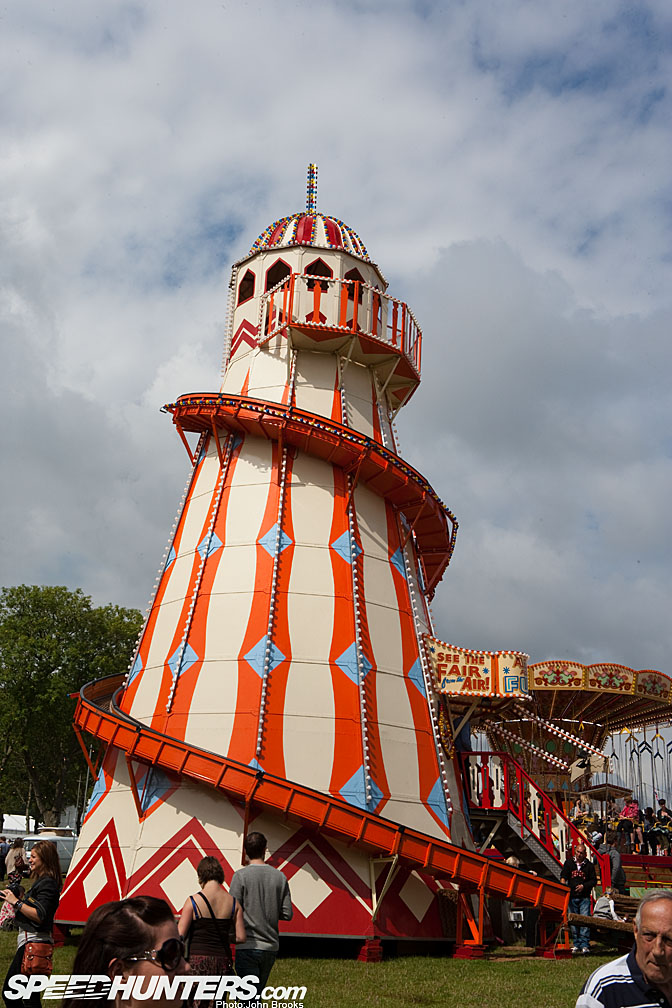 Maybe some exercise.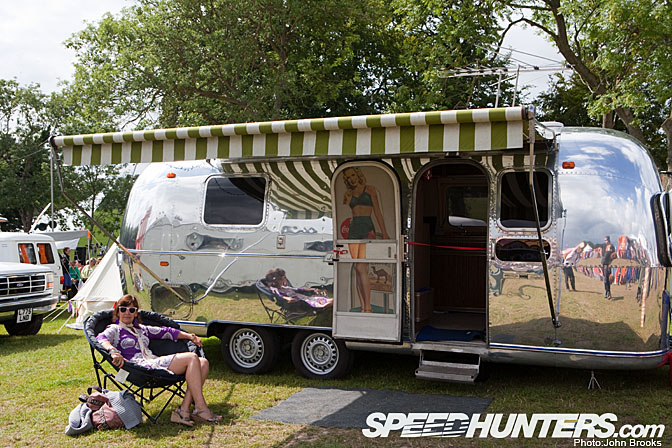 Perhaps the best way to enjoy the three days of festivities was to camp and in such style.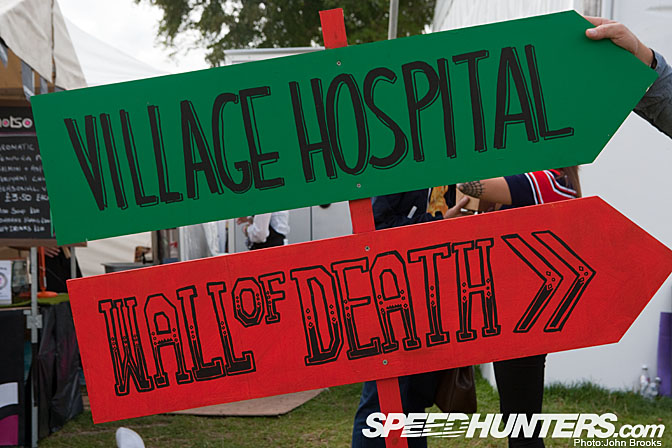 The signs are not connected are they?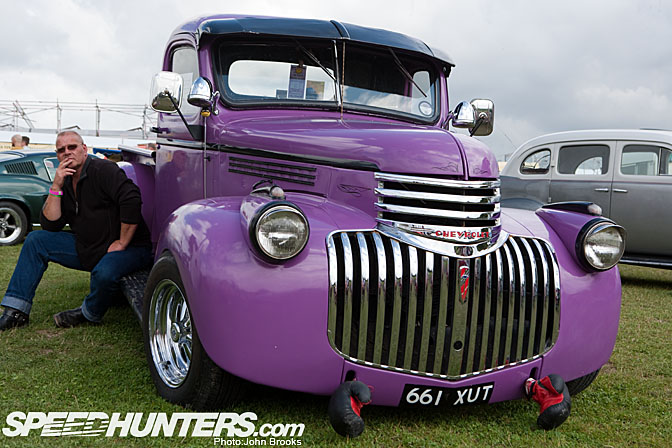 Over the other side of the High Street was the American car area.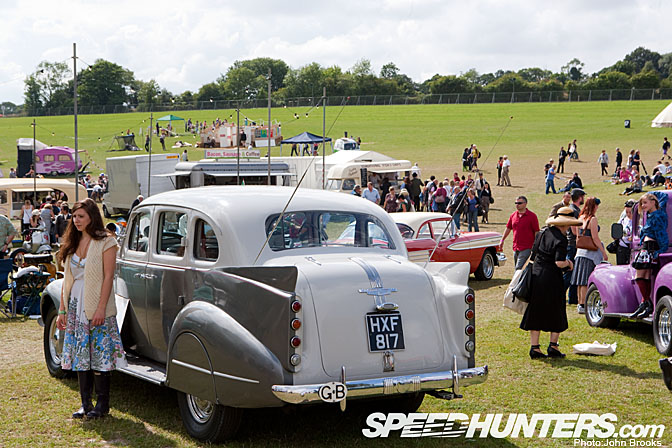 Another photo shoot, this time with a Pontiac. Posh frocks and wellies, la mode du jour.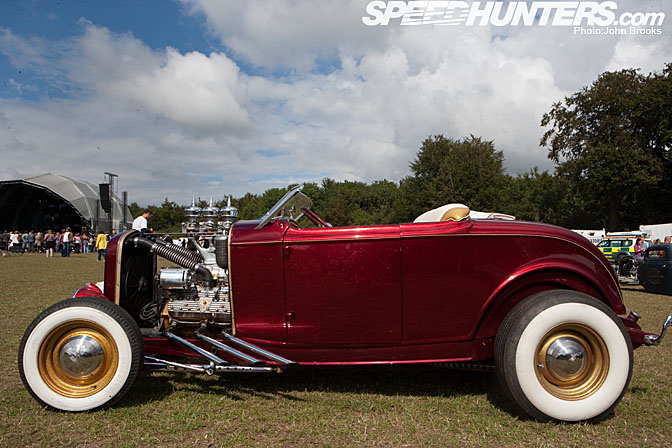 Hot Hot Rods.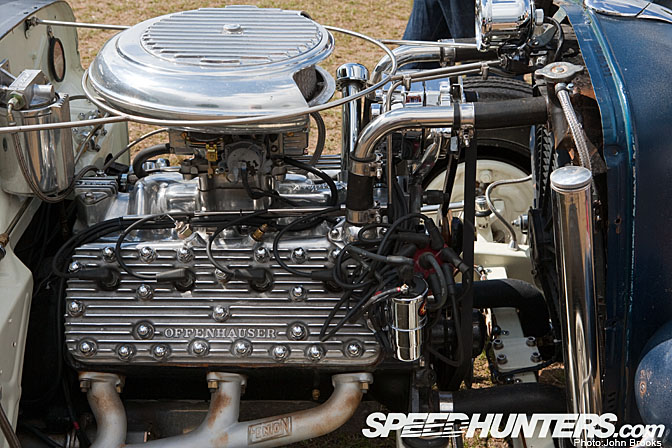 American Muscle.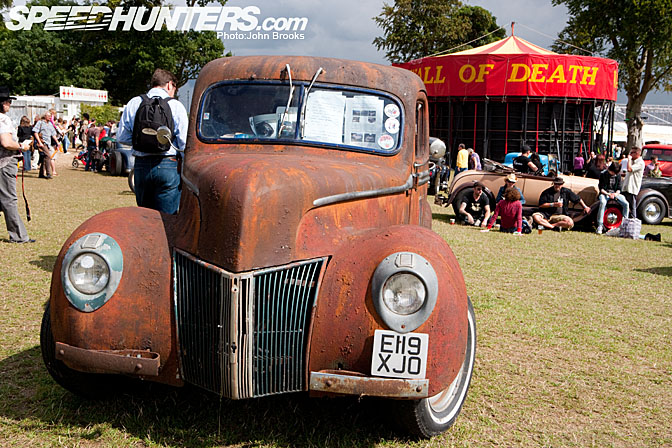 Some work required………………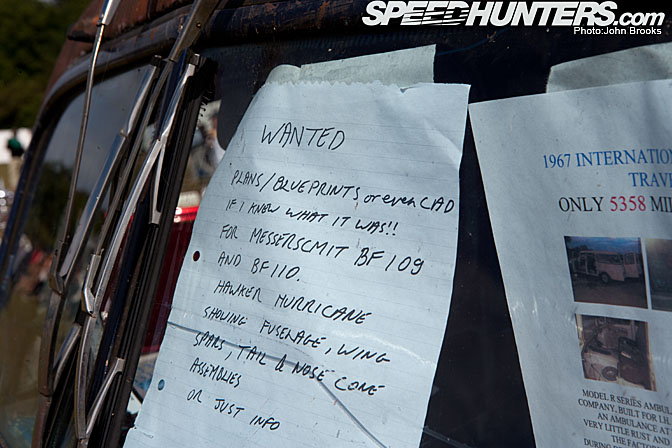 Optimistic or what? The mechanical equivalent of putting a message in a bottle and flinging it out to sea. CAD of a Messerschmitt BF109? Pull the other one.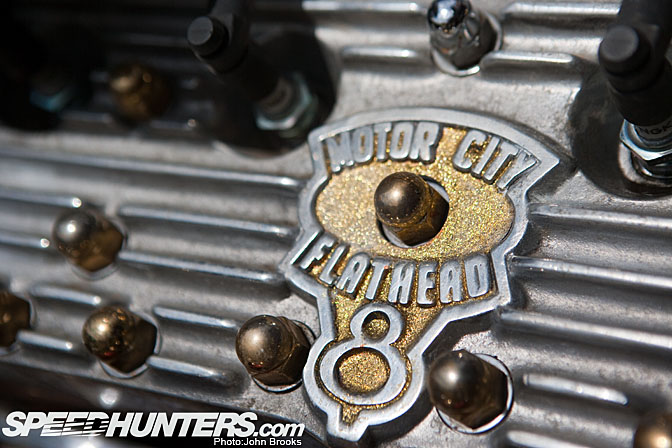 Timeless Classic.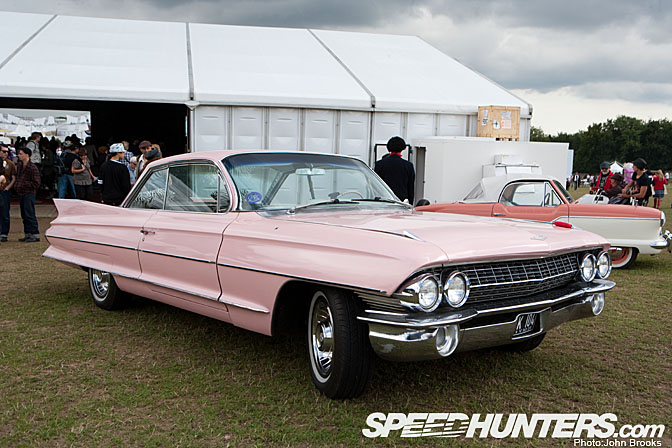 Without a Pink Cadillac, the Show would not be complete.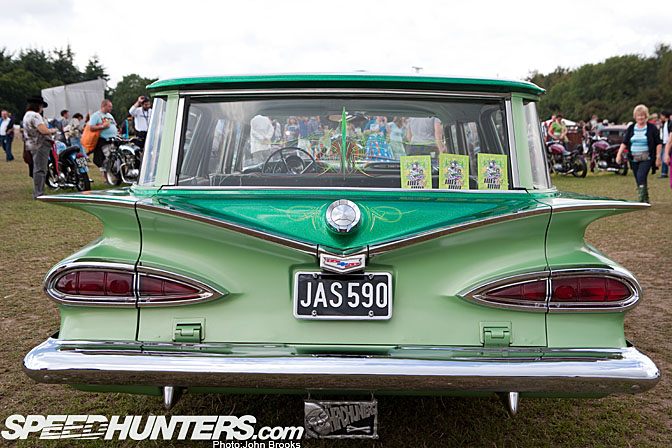 Art from a more confident time.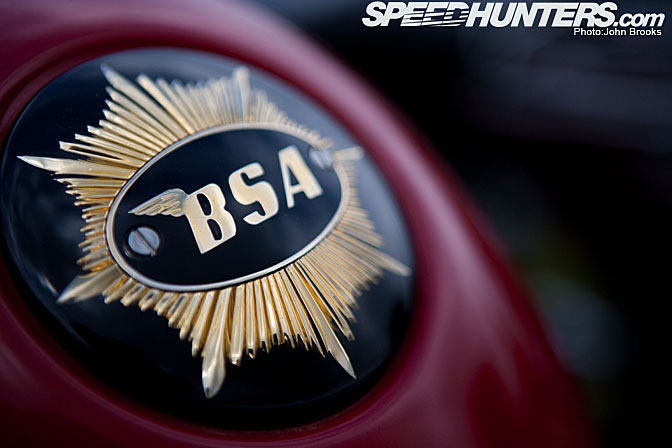 There were bikes around too.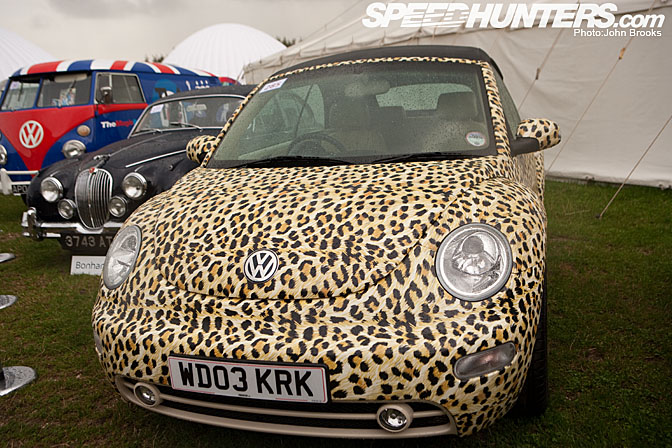 As the summer rains came I found this, maybe a step too far for the fusion of art and transport.
Vintage at Goodwood was the Estate getting in touch with its feminine side, the fashion, the shopping, the style made it a much more Girly event than the motorsports cousins. Familes too got into the act, watching fathers and sons playing air guitar together as the PA blasted out 70's rock anthems and seeing couples jive together gave a very positive feeling. The weather could not dampen the audience's sense of fun, even if it did soak me. I am sure that the 2011 event will be even better with or without the sunshine.
John Brooks