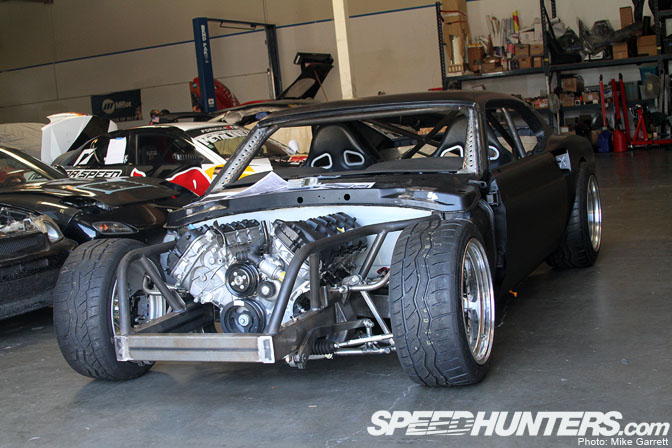 Well… here it is as promised! The first picture of the RTR-X off of the chassis plate on the ground and rolling (with the help of a little man-power). As per my last update, most everything had been fabbed up and there were just a few things that needed to be buttoned up, reinforced, and final welds applied.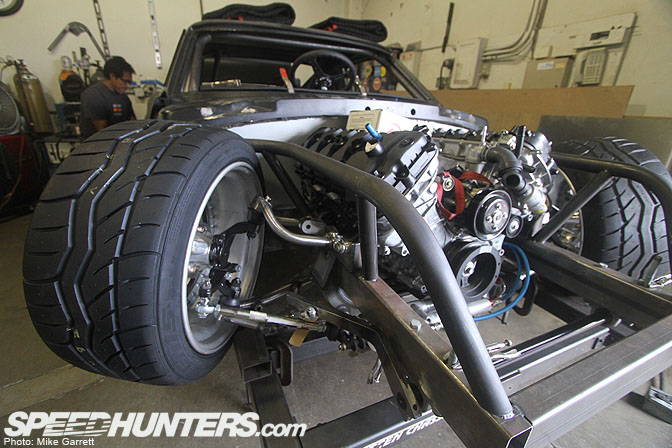 As you can see the crew at Steen Chassis once again pulled through as promised with exceptional quality. Here you can see the Wilwood hubs are on and allowing our mockup wheels to roll. The engine\transmission mounts and the adjustable swaybar have been installed.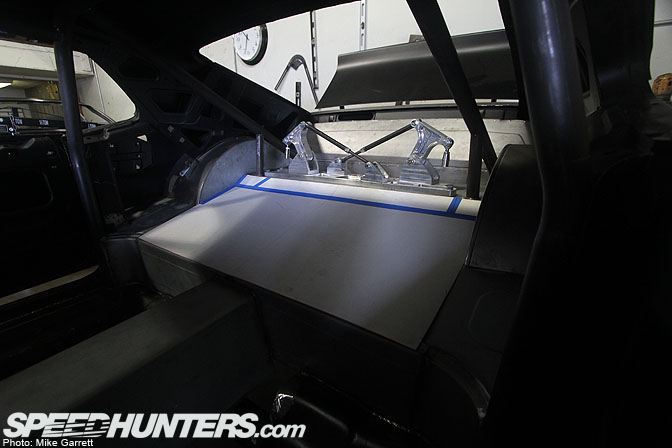 The final metal work was completed and it soon would be on its way to Twins Turbo for a few days of test-fitting parts, measuring, and making lists before heading to StichCraft Interiors for interior mockup!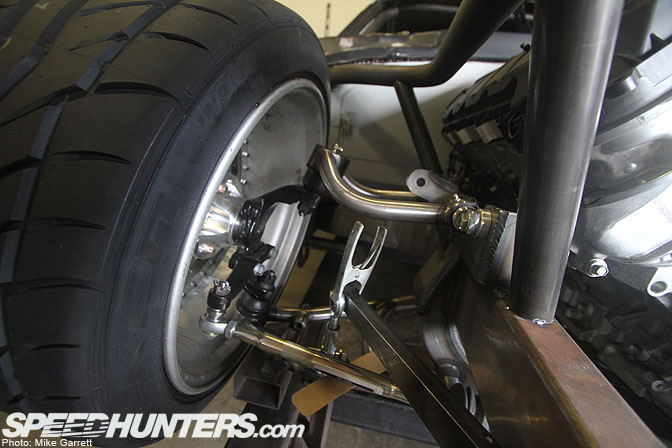 Since our wheels are currently being custom-built by Work in Japan, we desperately needed a set of mock-up wheels the same size and offsett so we could confirm clearances before leaving Steen. Lucky for me, my man Justin Pawlak had pretty much exactly what we needed and made up for the difference in a few small spacers. Seriously… who has 18×12 – 20 and 18×10.5 – 20 wheels just laying around? JTP does!!!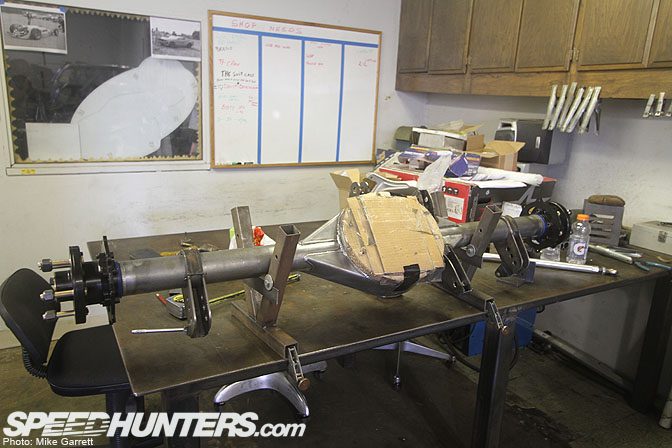 Here is the rear-end housing getting all the brackets reinforced.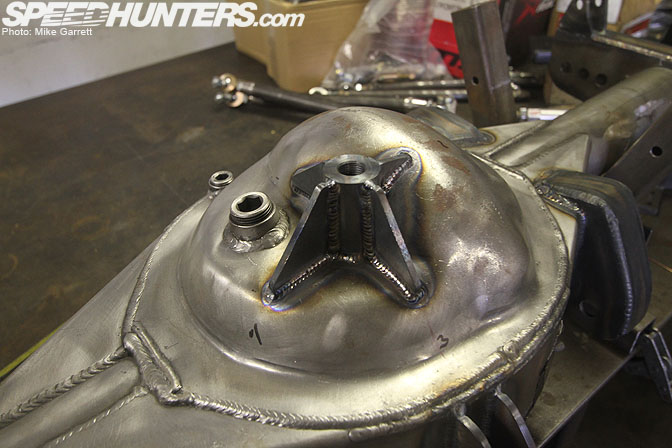 This is where the Watts link pivots on the backside of the rear-end housing, so it obviously needs to be very strong.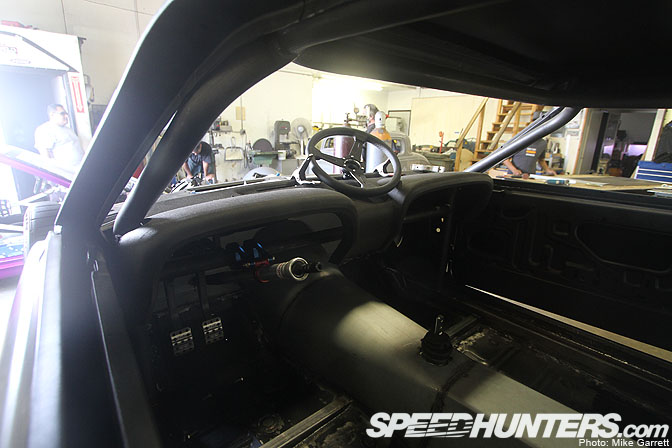 The Dynacorn dash pad was cut and fitted around the cage and gussets.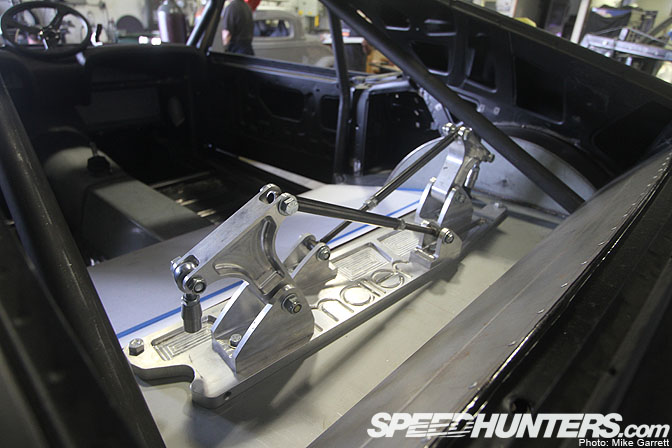 Last, but surely not least, this piece of art was bolted down. Like our shocks? Performance!!! Just as Gary Steen promised, the RTR-X was ready to leave and head to Twins Turbo the week of X Games. Which was perfect since I was in town that week and it was a perfect time to confirm the schedule and assess everything moving forward with the Twins, as well as have have our final meetings regarding interior and paint.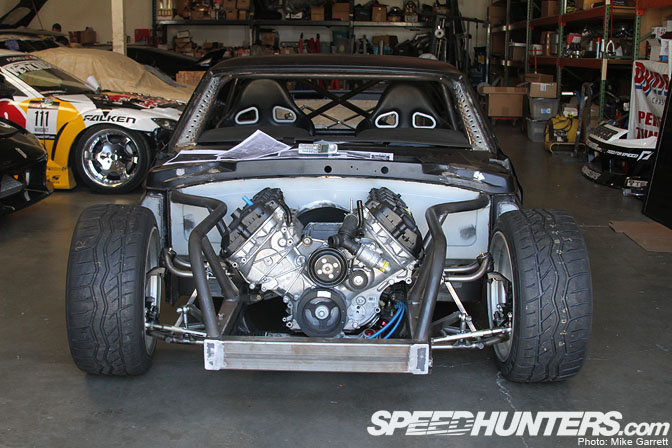 Once I got word the "eagle had landed", I rushed over to Twins Turbo to be greated by Gary Steen, the Twins, and this beautiful view.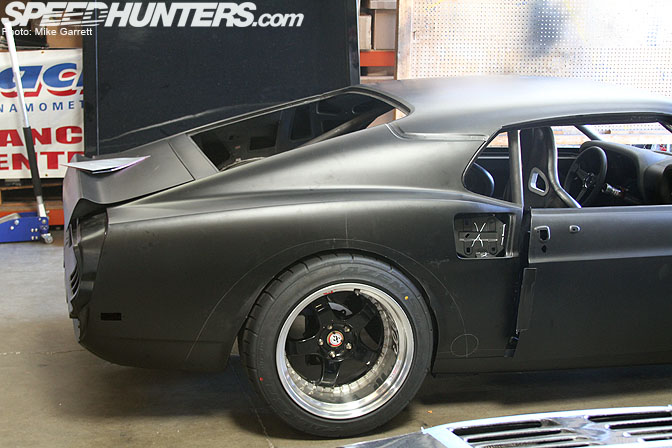 I immediately took a walk around the RTR-X. I just could not believe it was on the ground rolling on all four wheels. You could not have gotten the smile off my face with an electric grinder if you tried.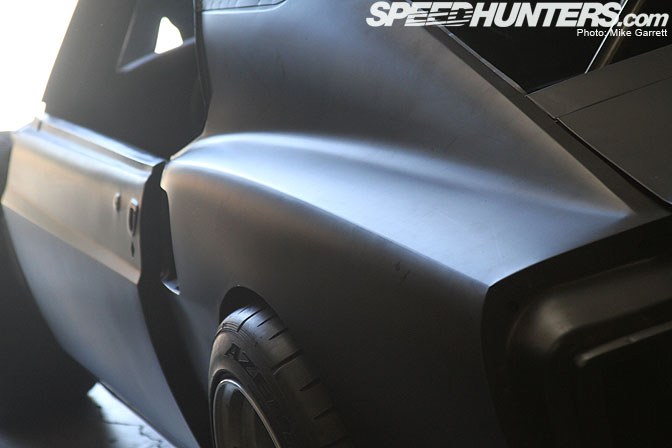 Just a little poke!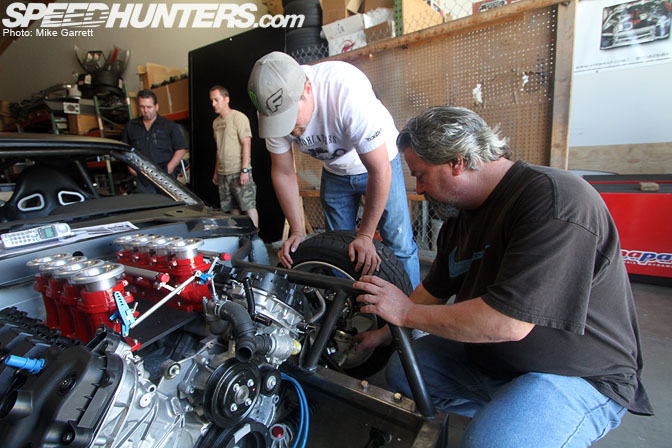 Here is the west coast chassis wizard, Mr. Gary Steen himself, giving me some details. It is so awesome to work with someone like Gary that is so passionate about his work.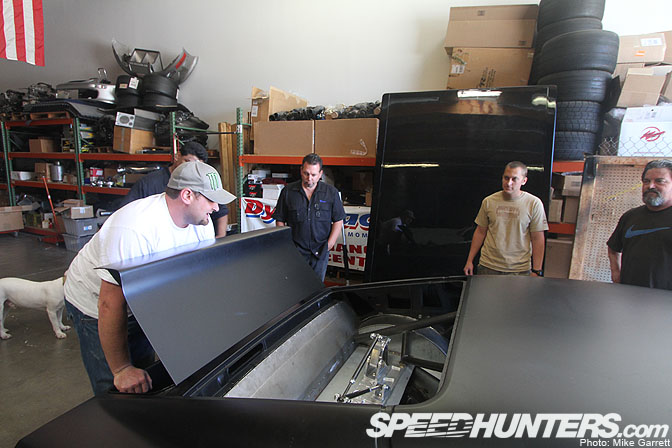 This is me finishing up my "walk around" telling Gary how happy I am and that I really appreciated him and his son Jayson for the incredible and timely chassis work. I look forward to taking them both for a ride in the near future!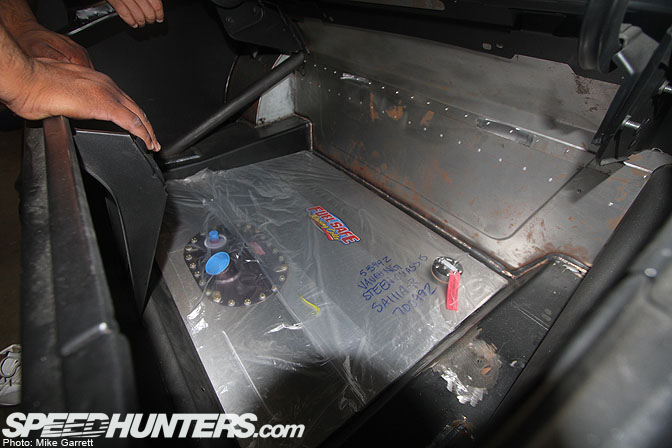 Fuel Safe makes this sweet fuel cell that replaces the factory cell. They customized a bladder based on our request to make sure our Bosch 044 fuel pump would never have fuel starvation during track sessions.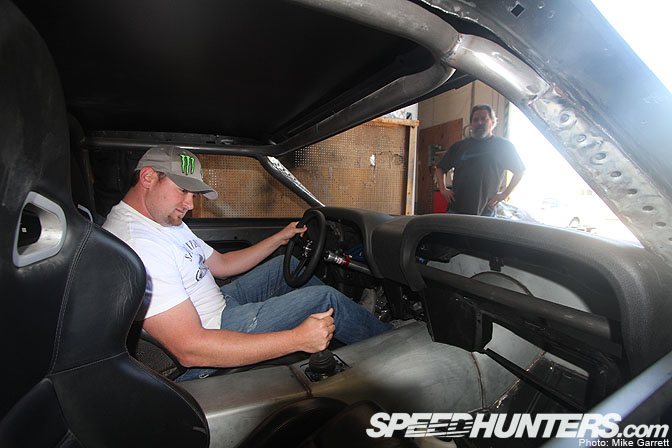 Here I am banging gears in my head while Gary looks on… I would say he is most likely thinking "If you crash this thing, I will murder you." He was very proud to deliver the car and it was really cool to see him smiling almost as hard as I was.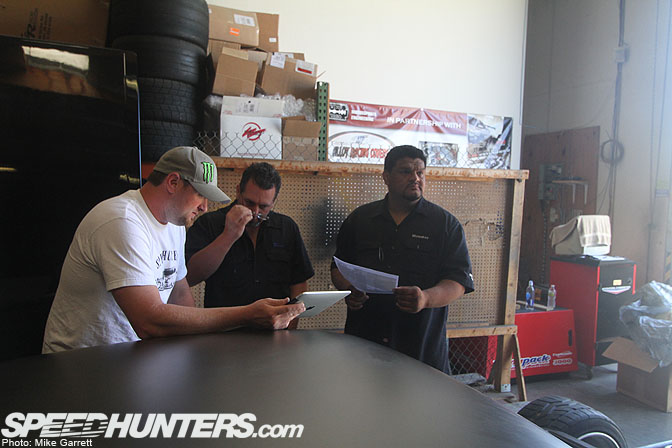 Like clockwork, Revo and Monster from StitchCraft Interiors stopped through so that we could go over the interior needs.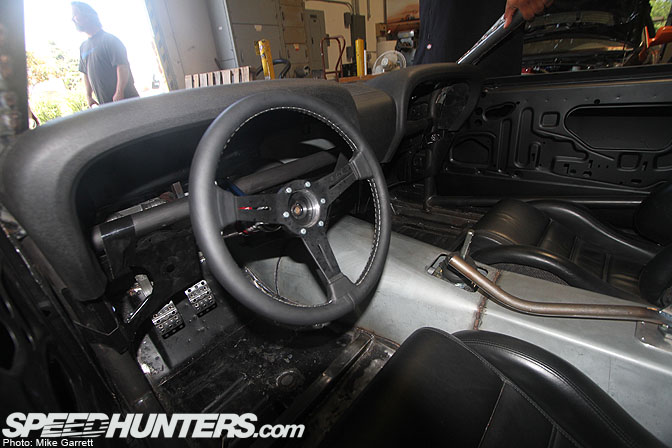 These guys are some of the best in the business and are going to help our vision for the interior come alive.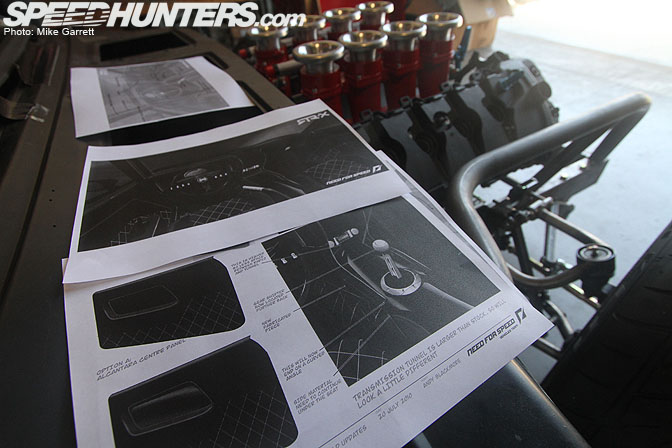 The Twins even printed out our renderings for reference, just in case I didn't come prepared… HA! Me? Not prepared?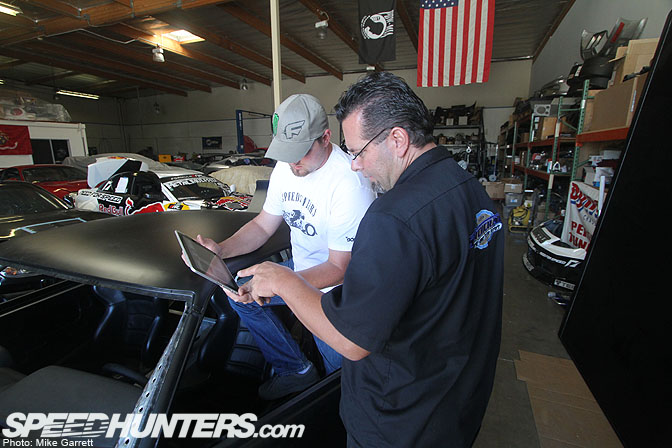 I brought my paper saver and we went over every single element of the interior and came up with a plan.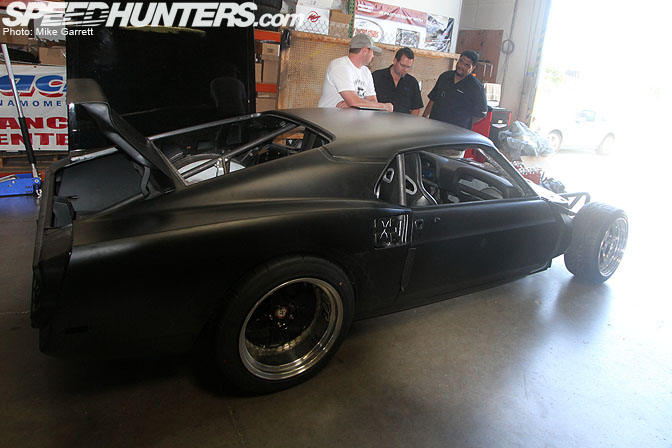 You know you have chosen the right people to work with when they don't agree with everything you say and "yes" you to death. The feedback, corrections, and suggestions I received from Revo and Monster confirmed everything I had heard about these guys and I am very glad they will be handling our interior needs. This picture gives you a good idea how low the RTR-X really is. I am 6'2" and not even standing straight up!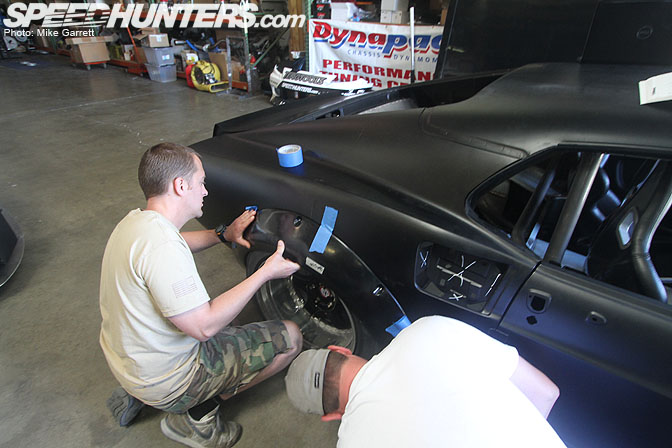 Once the meeting with StitchCraft was done, it was play time for me and Eric. We could not wait to play with the parts we have compiled over the last couple of months. Fender blisters first!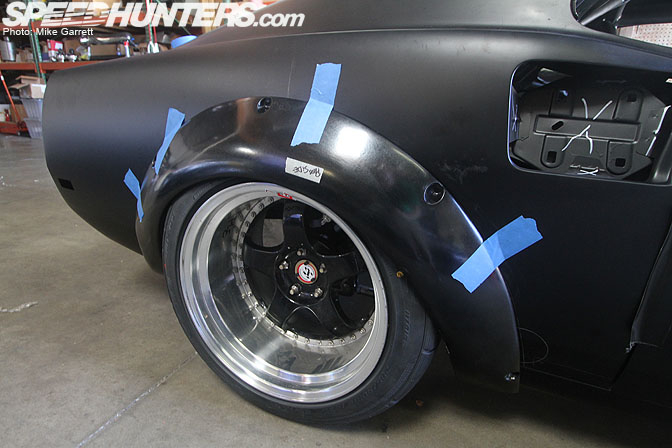 Maier Racing made us these custom over-fenders. They will be modified slightly but look great!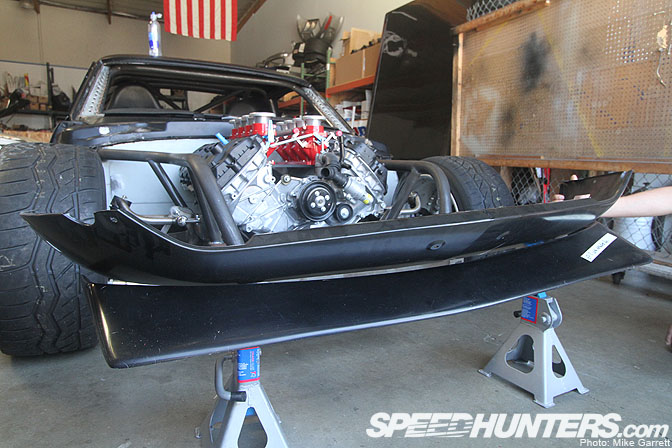 Maier also made us this chin which we will also be modifying to fit the vision, but it's a very good start.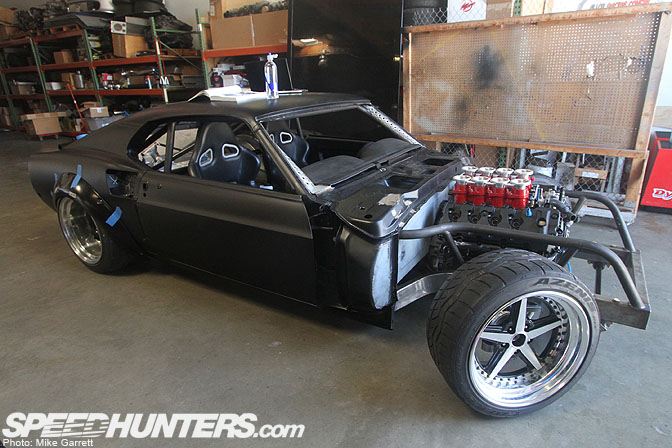 Have you ever seen a '69 Mustang with this much steering angle?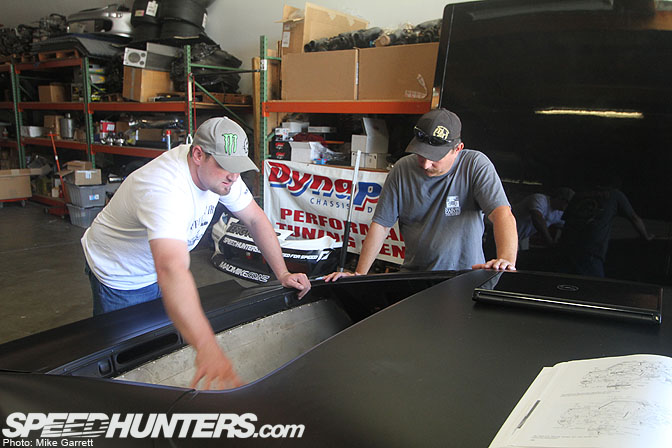 We had to put play time on hold when my man Jim from Sam's Auto Land in Gardena stopped by to discuss the plans for paint. Due to the schedule, it is essential to plan everything way in advance so that we can make sure the car comes to him exactly how he is expecting it. He will be the last man to have the car before final assembly and his on-time delivery is detrimental to making it to SEMA!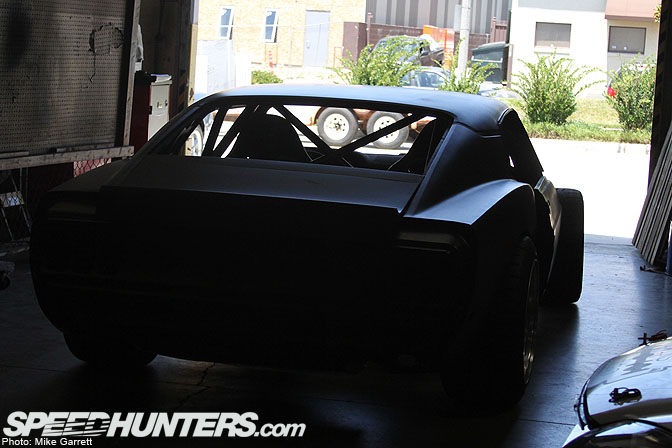 When Jim left I took the Twins to dinner and we downloaded our post-meeting brains and filled in the blanks. The plan was they they were to have the car for a few days to mock-up some parts that Koz is fabbing up and confirming fit for other parts. It then had to go to StitchCraft for a three day mock-up, then down to San Diego for the metal work on the body to begin!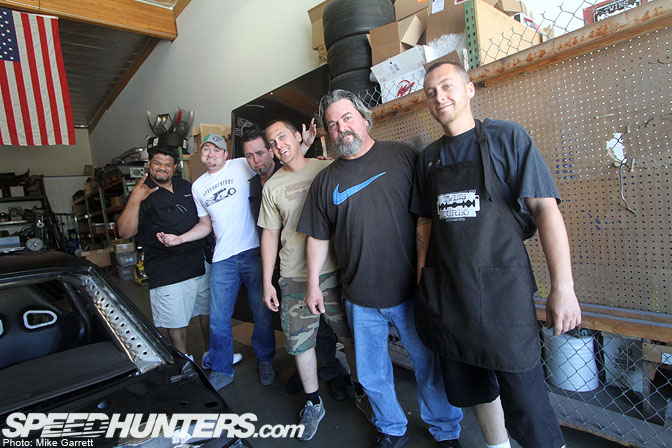 I will leave you with this shot of the team behind the madness! From left to right: Monster (StitchCraft), Me, Revo (StitchCraft), Eric (Twins Turbo), Gary (Steen Chassis), Marc (Twins Turbo) and unfortunately Jayson from Steen couldn't make it. Without these dudes, this dream would not be turning into reality any time soon! More to follow!!
- Vaughn Gittin Jr.