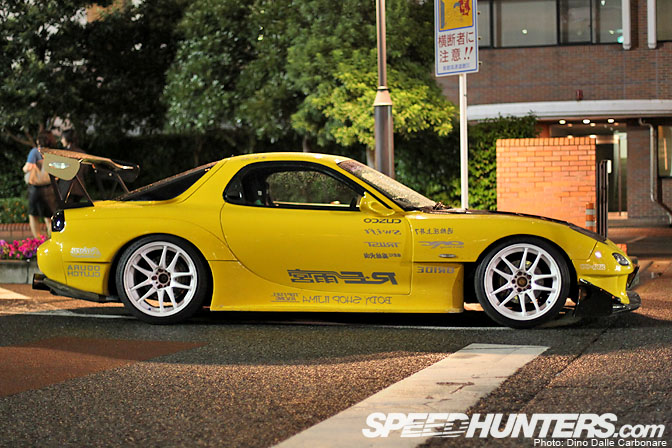 As darkness fell on Daikoku the other night the rotary presence had no intention of dying down, much like the rain. It was obvious people were there to enjoy themselves, and the crappy weather nor the lack of space, was going to stop them.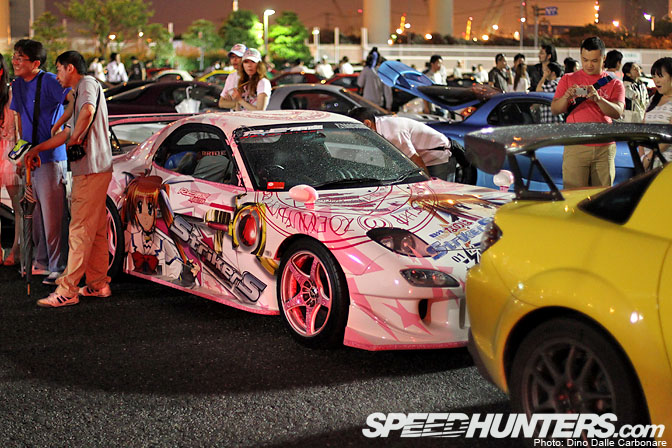 Along with the RE-Amemiya crew was this itasha, one of many I spotted on the night. Talking to people it seems this trend of covering cars in anime characters and graphics is loosing popularity but I seem to see more than ever these days so I don't think that is the case quite yet.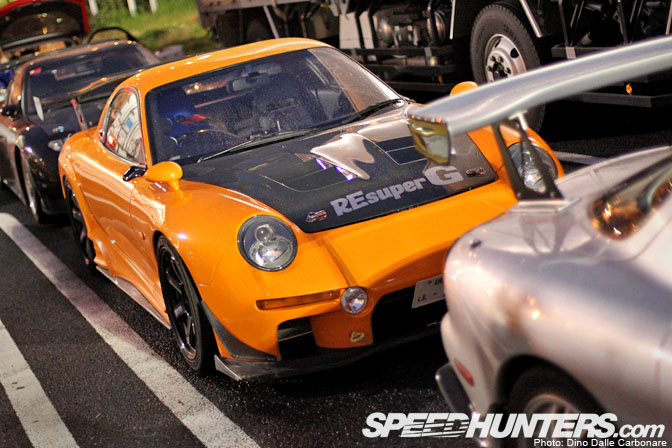 Another Super GReddy from RE Amemiya. Those are of course Porsche 997 HID lights, which make this a very expensive conversion.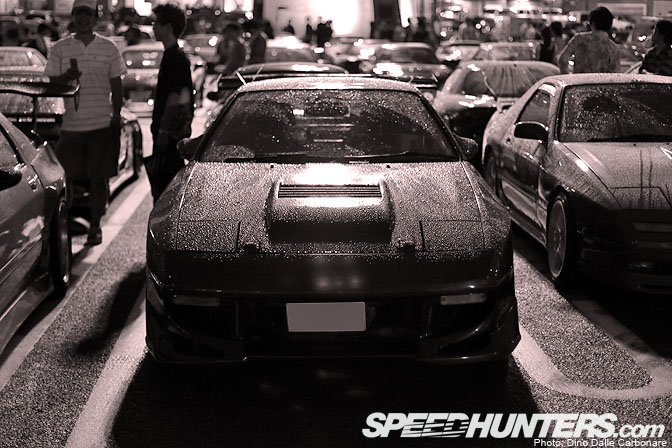 Sweaty FC!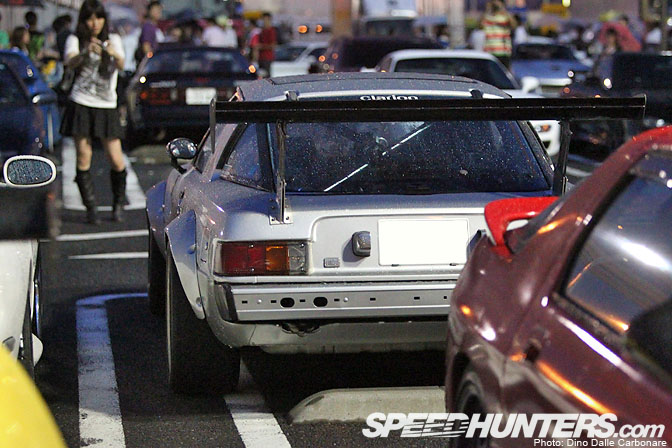 Remember the SA with the bolted-on fenders, well this is what it looks like from the rear. Not often you see these cars with such massive GT-wings!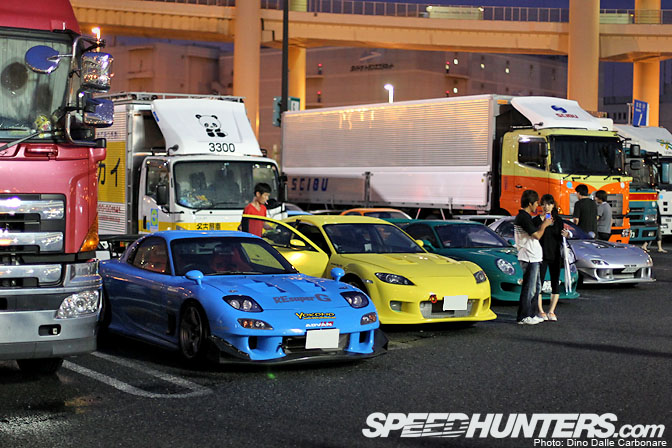 Super GReddy 3. Amemiya always has the most colorful cars!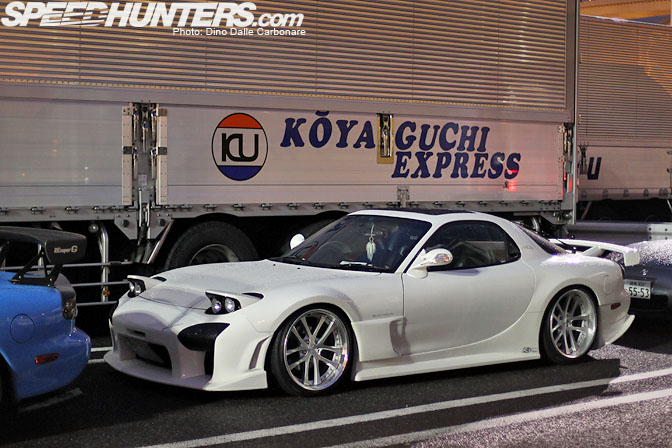 We saw this FD already in Part 1 but I just had to post another picture showing its very unique profile. I first saw this car at last year's 7-7 meet and thought it was one of the most unique looking RX-7s out there.  I especially like the combination of the front wide Burnout fenders, the R-Magic side skirts and Fujita Engineering rear fenders.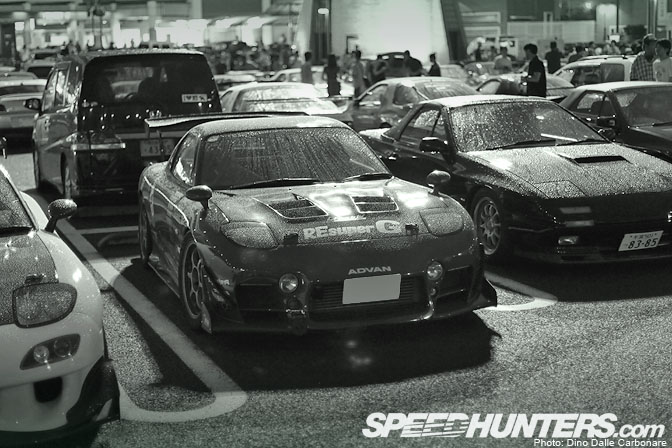 More wet cars.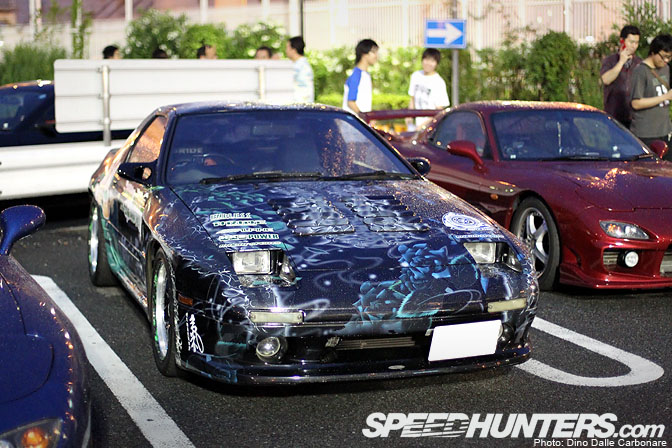 Ok so I'm not sure what to make of this, I thought it looked pretty cool but not sure if it classifies as an itasha.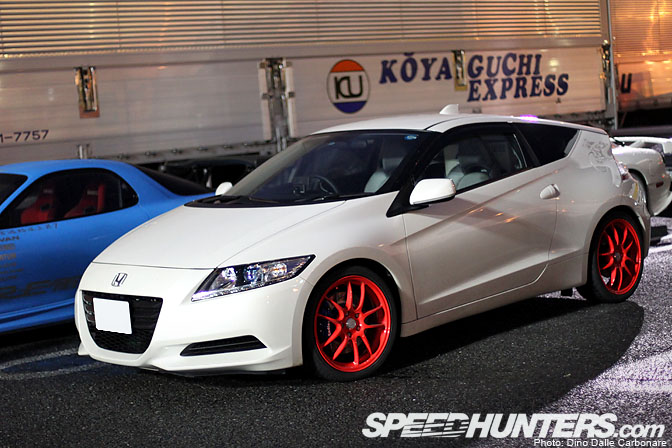 Of course there were plenty of other cars other than rotaries present like this tuned Honda CR-Z running on some pretty bright orange wheels, fluorescent yellow on the opposite side of the car!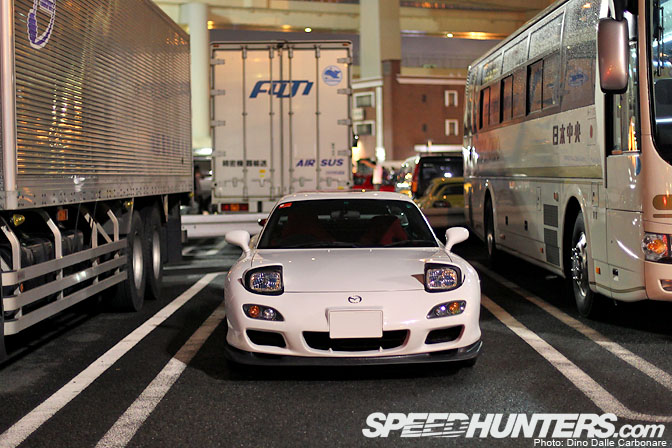 When in doubt, sticking to the stock look is not such a bad idea. To me this looks absolutely perfect.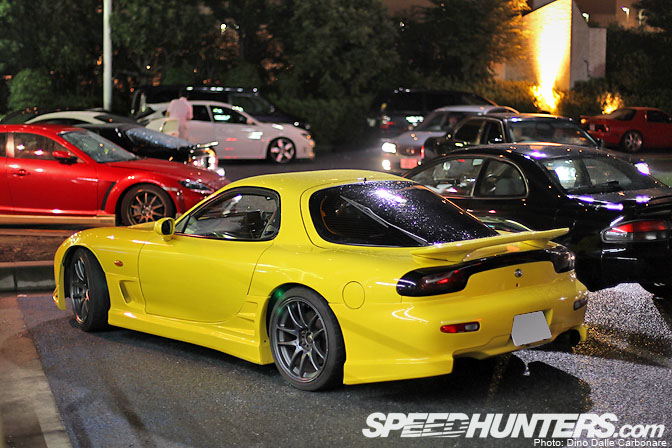 This is what the far side of the parking area was looking like at around 8 pm. Cars sporadically parked everywhere and a big line of trucks, busses and regular motorists waiting to leave.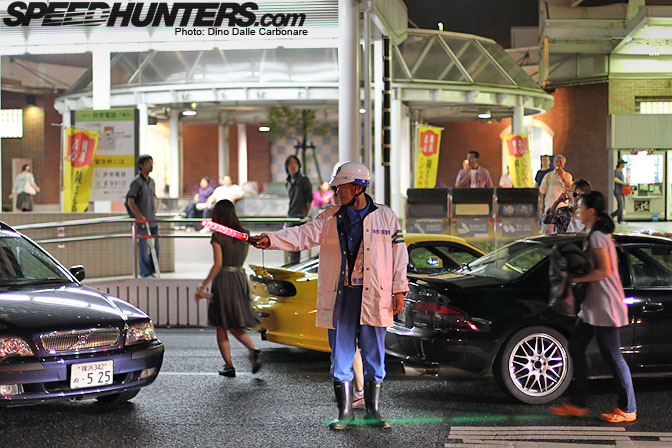 With no movement whatsoever happening in over 15 min the Police were called out to help find owners of illegally parked cars, trying to get them to move so the bigger trucks could make the last corner that gives access to the exit.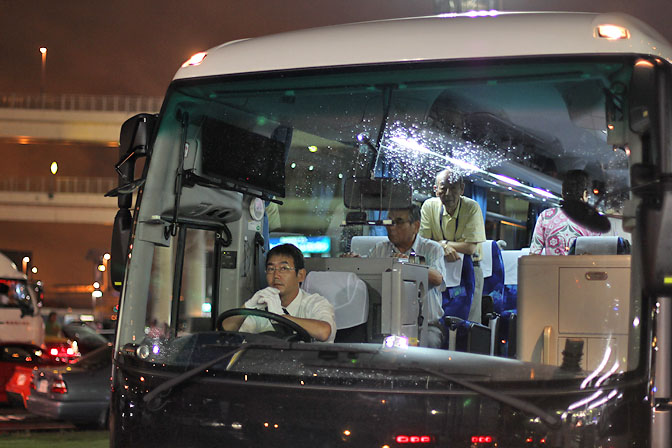 At one point one elderly gentleman from this bus stormed down and went to shout at the Policeman directing traffic asking him why on earth they allowed this massive overcrowding to happen. He was obvious anxious to get home!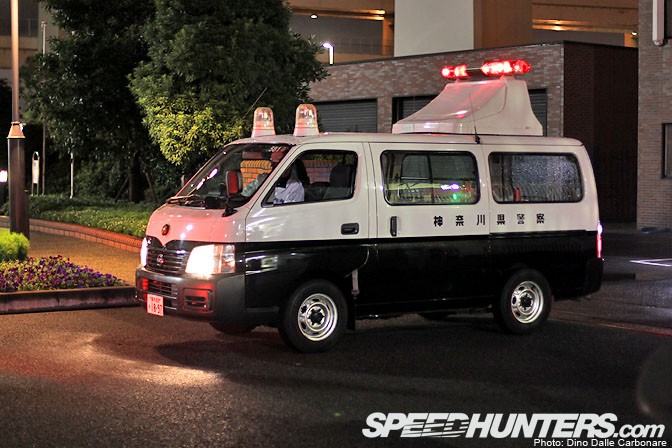 More Police were sent out and the entrance to the parking area was closed. I have never been to any meeting at Daikoku where the gate got closed at 8 pm!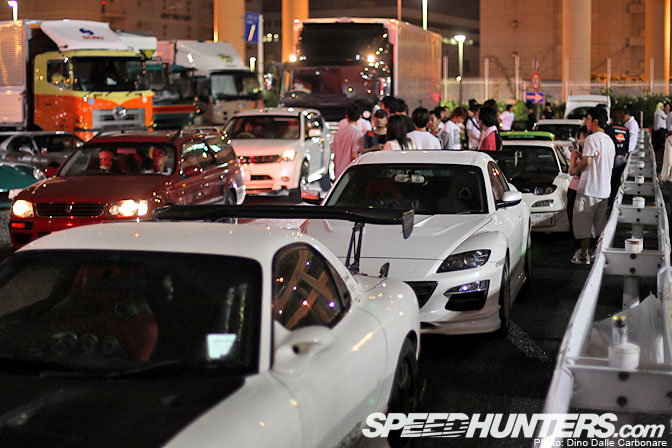 You can see the line of cars trying to get out as the participants of the meet continue to enjoy the party.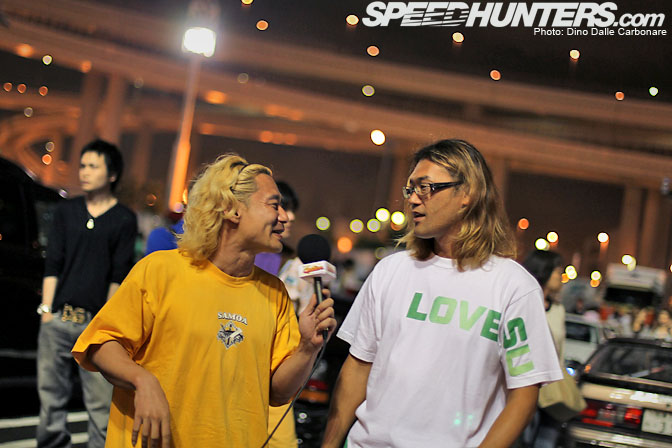 Bomber managed to get in before all the commotion and was let loose with a microphone interviewing people at the meeting. I'm sure we will see some footage of all this in an upcoming Video Option DVD!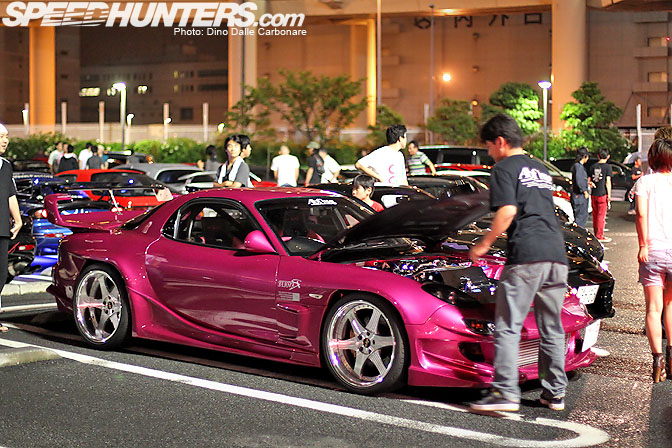 Abflug were also there showing off their recently renewed Pink Spider demo car…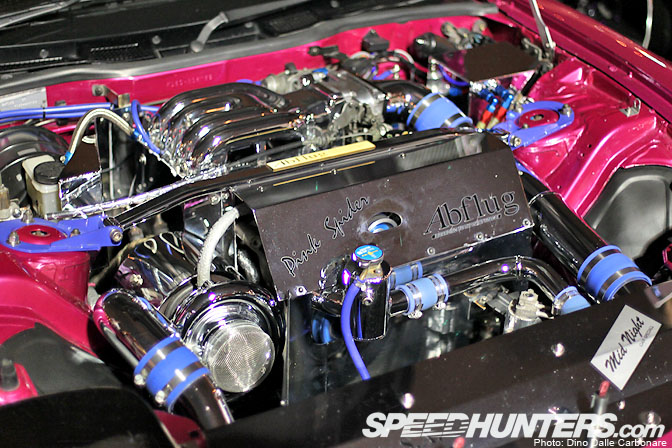 …the FD with possibly the shiniest engine-bay around!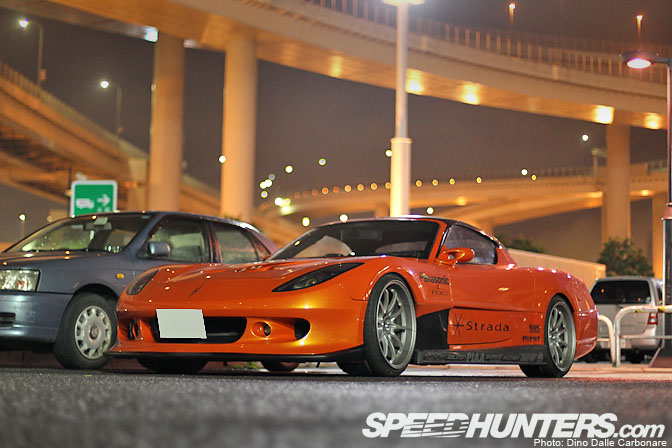 You can always expect the guys from Tamon Design to make an appearance and for this year they came up all the way from Mie-ken with this cabriolet version of their FD-based show car.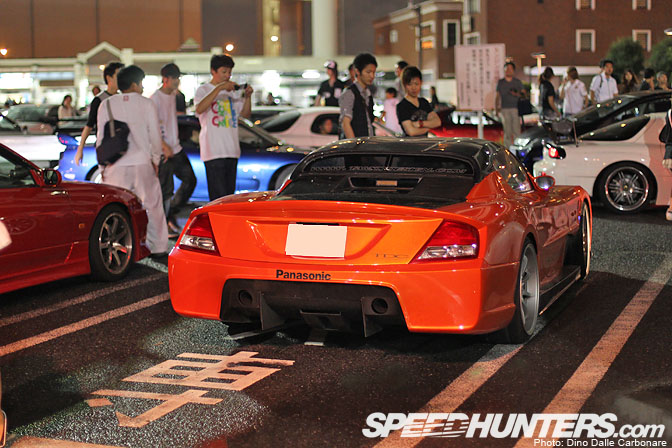 At the rear the Cedric taillights remain and if you look closely enough you can spot the carbon fiber hard top.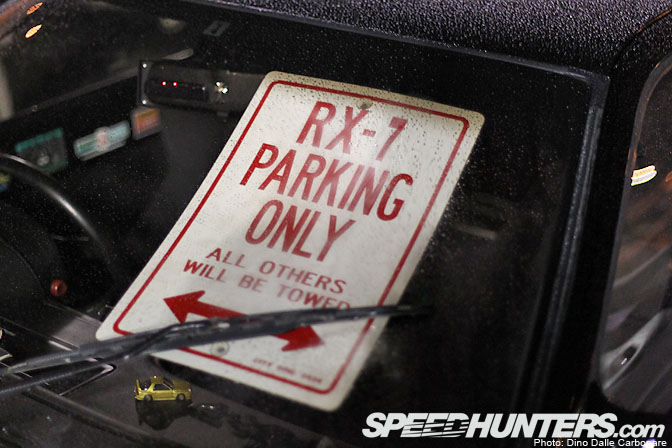 Too right!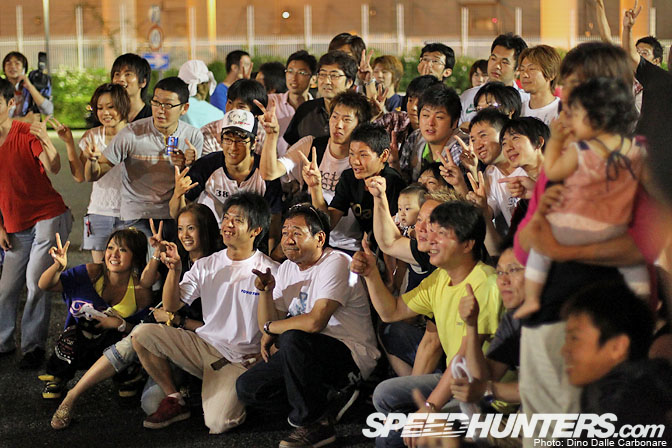 What would a gathering of this nature be without a nice little group picture! Amemiya-san and Suenaga-san can be seen in the center while the guy in the yellow t-shirt is none other than Koseki-san of Scoot, the guy that created that mental 4-rotor FD with the full Tamon kit.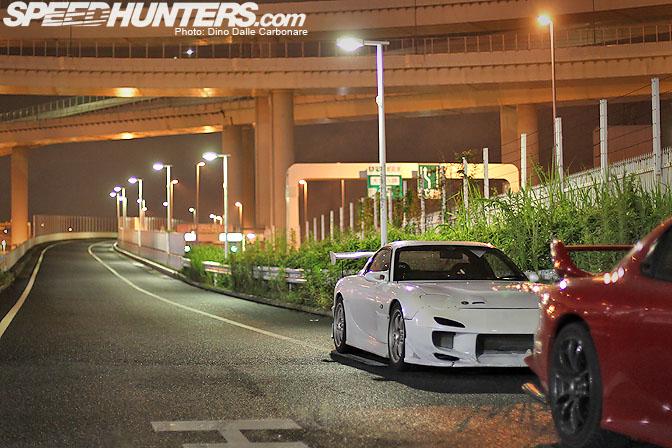 With the gates closed and no more cars allowed to enter people decided it was about time to leave and go and gather somewhere else….
To find out where we all headed to check back soon for the next installment from the 7-7 meet!
-Dino Dalle Carbonare