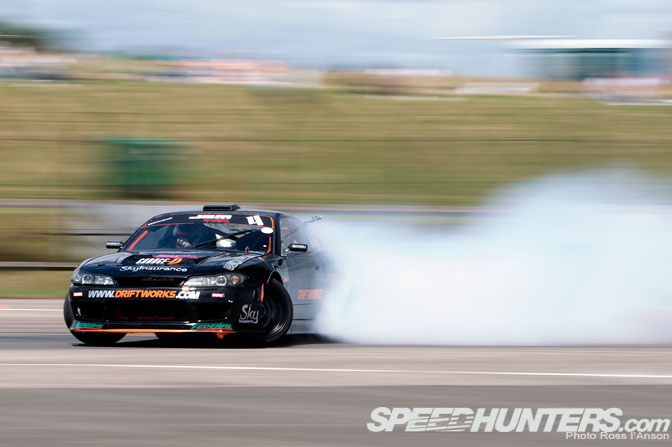 With the dust still settling from JDM Allstars Round 2, I headed North to Sunderland for Round 3 this past weekend.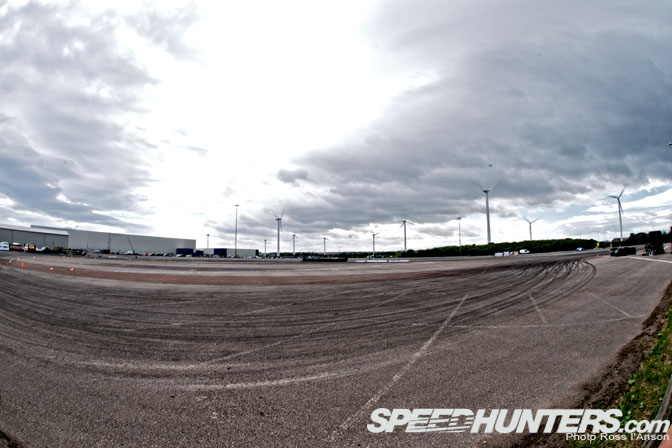 The venue was Nissan's enormous production facility. A huge holding park normally used for storing newly built cars was cleared specially to create a custom track..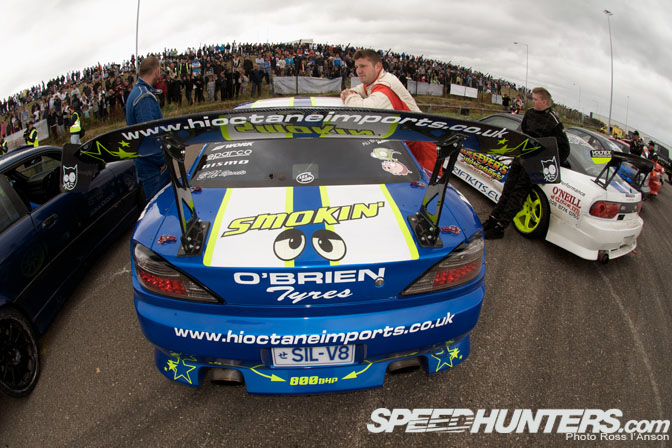 … A huge high bank making a natural grandstand allowed uninterrupted views of the entire circuit.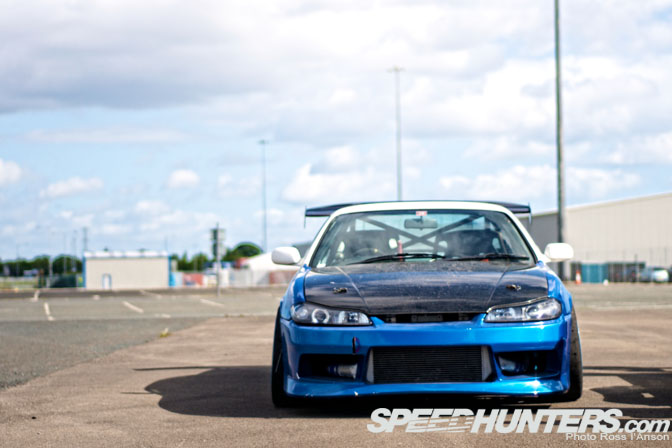 The competitors started arriving early Saturday morning, Martin Ffrench absent from round 2 was back in a RB25 powered S14.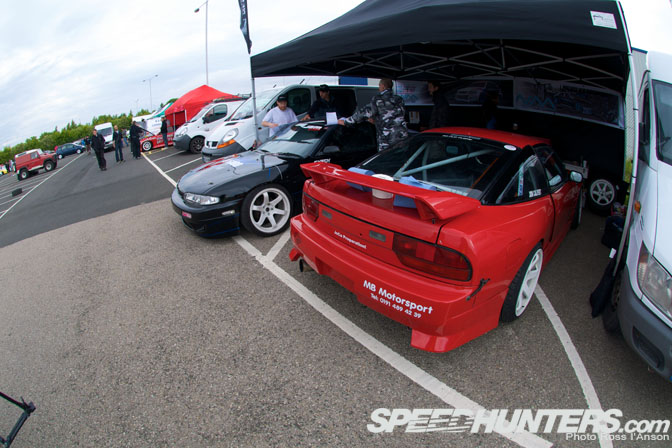 After destroying his car only a week earlier I really didn't expect Jon Calvert to be competing at Round 3. However sitting in the paddock was a re-shelled and fully working S13. Lee Blaney and the Mashamoto crew had sourced a new shell and completed the rebuild in just 4 days! Huge props to the crew for the dedication to undertake this mammoth task.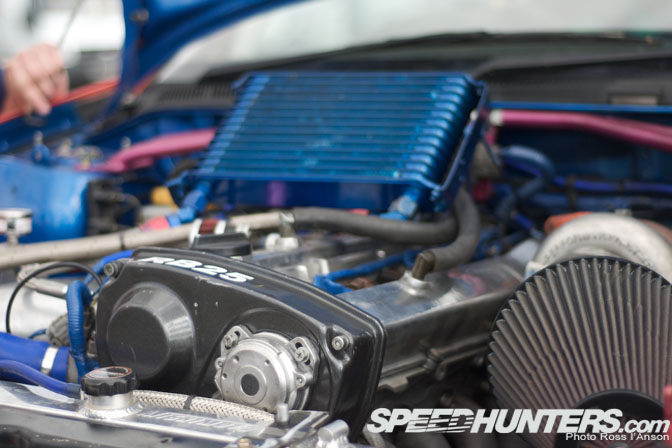 Yep its a RB25.. Normally found under the bonnet of Nissan's Skyline and a few other models.. Nothing astounding about that really…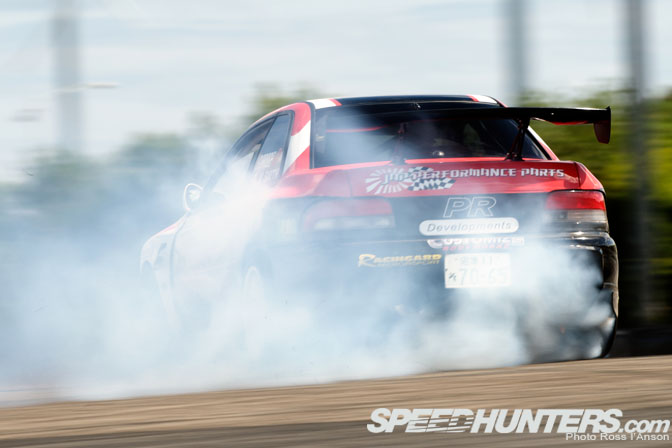 …but the RB25 in question is actually installed in the Jap Performance parts Subaru Impreza… Now thats pretty crazy!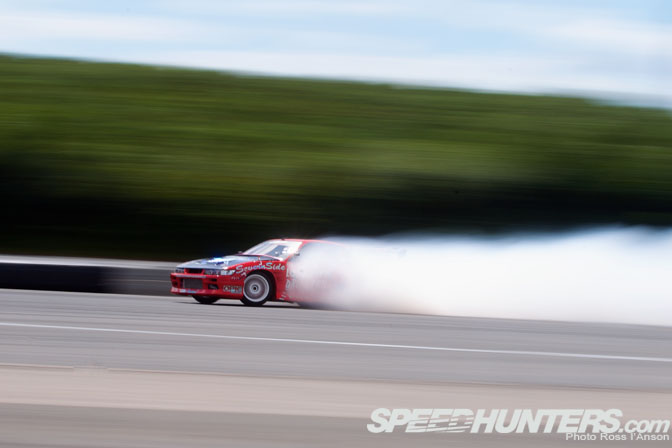 Round 2's 3rd place man Luke Fink, was back in the repaired Low Brain Drifters PS13. Ripping the track up in practice, it was clear he was looking to move up a couple of steps up on the podium for round 3.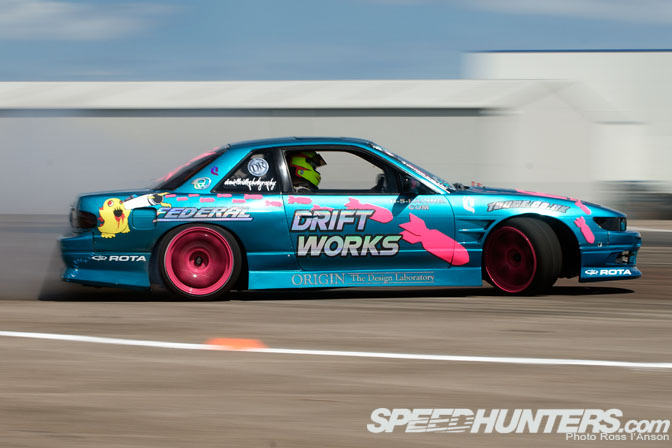 Dan Chapman was suffering with a few mechanical gremlins during open practice but still looked as impressive as ever…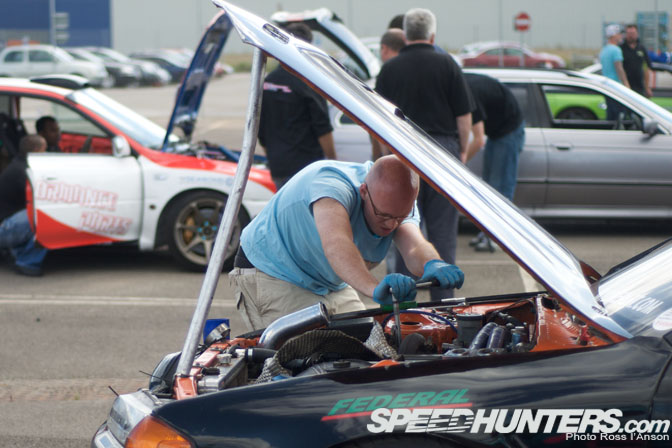 Teammate Ben Broke-Smith was also suffering at the hands of the mechanical goblins. Having to refit his turbo he missed all but 20 minutes of the Saturday practice.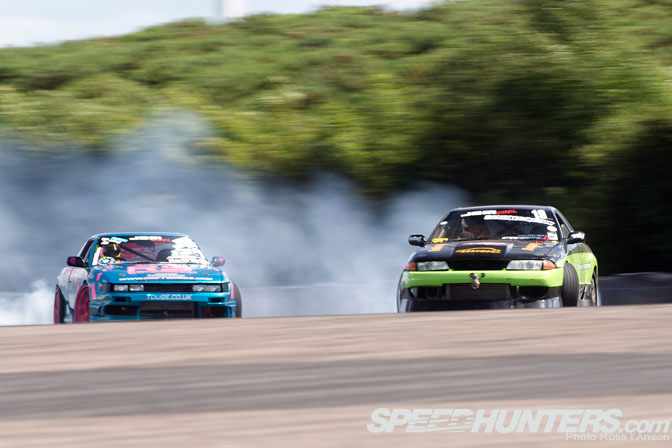 George Tilling was holding his own despite driving the least powerful car in the the field. Great lines just lacking a little speed.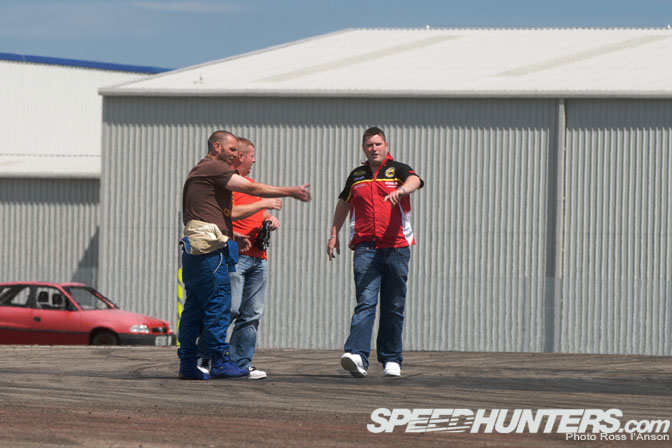 With Saturday practice coming to a end, it gave drivers a chance to walk the track and discuss lines..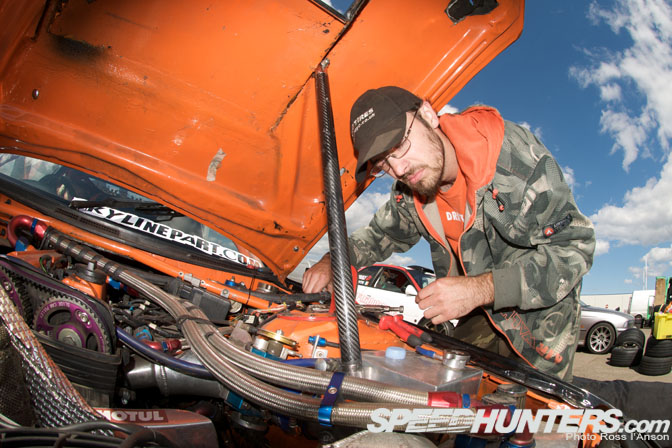 … And make a few last minute adjustments for the following days competition.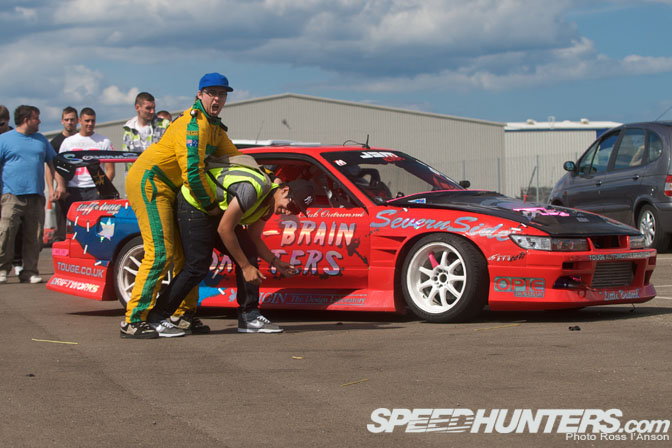 Walking round the paddock you see the shot you want… Then suddenly the competition jumps in front of the lens to ruin it for you. Luke Fink kindly removed Motor Mavens' Daniel Bridle for me… Well i think that's what he was doing.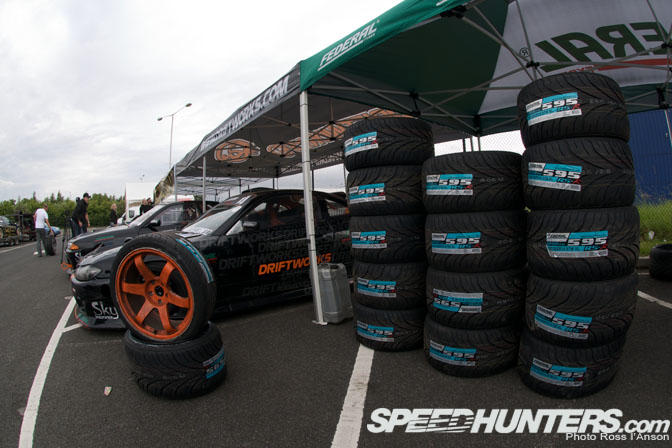 Sunday morning and we were greeted with a overcast sky and a promises of very changeable weather..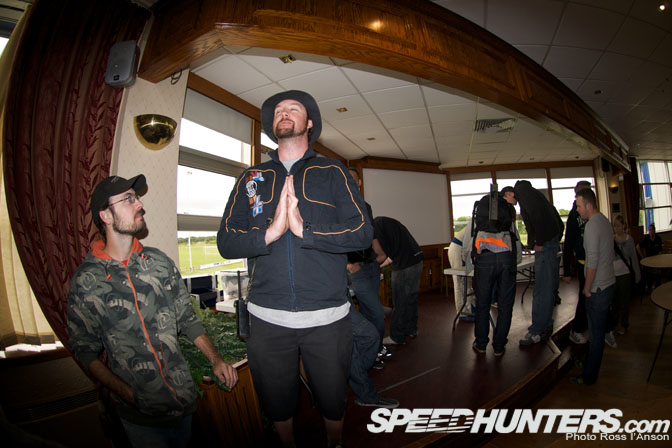 … All you could do was pray to the gods of the North East and ask to be spared from a biblical soaking.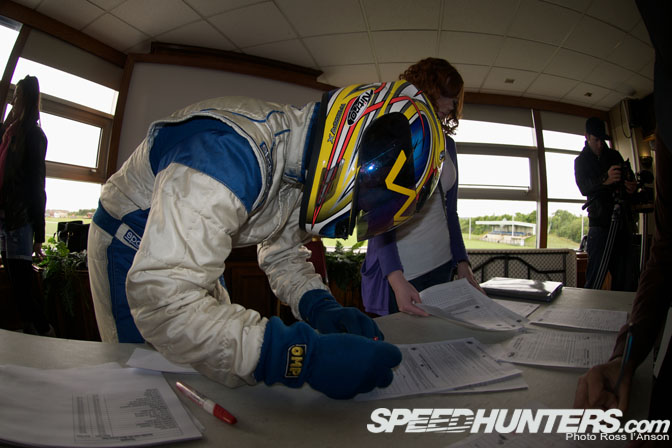 Some say he had a hand in the Manhattan Project..And on race weekends he actually sleeps like this… All we know is his name is Martin Ffrench and he takes things very seriously.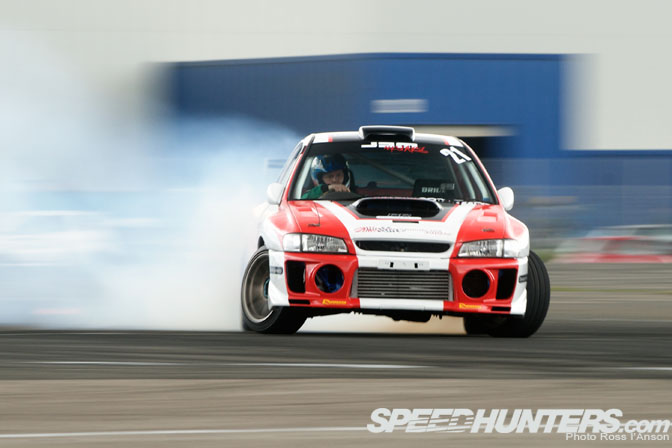 10am and first practice got underway. Walton Smith was getting to grips with the brand new RB25 powered Subaru.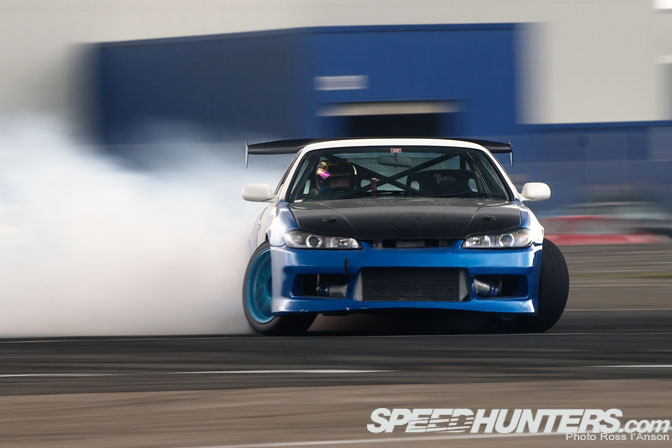 Martin Ffrench had got to the bottom of his power issues from the day before…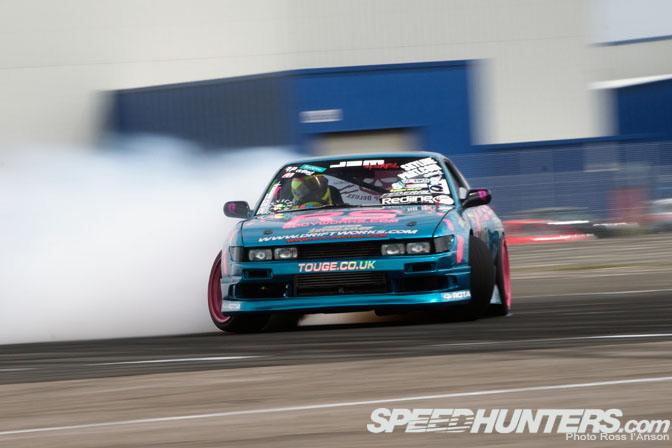 … As had Dan Chapman, now looking particularly menacing killing the course run after run.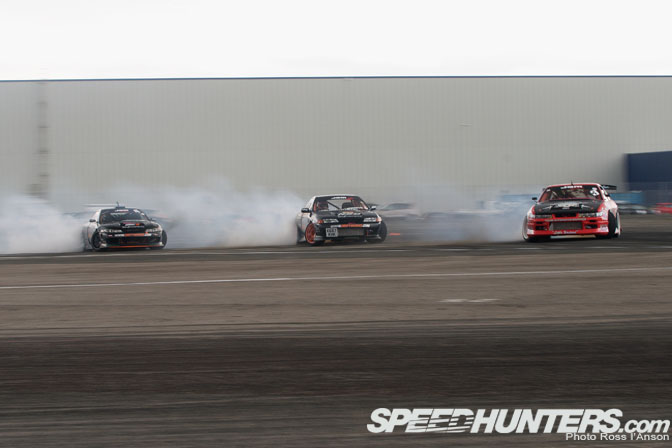 Towards the end of the 1st practice session Luke Fink, Ben Broke-Smith and Phil Morrison came out in a 3 car train. Matching each other move for move the proceeded past my vantage point in perfect formation putting on one hell of a show for the rapidly growing crowd. As they looped round to pass me for the second time and head into the final turn, all 3 cars disappeared into a thick billowing cloud of smoke that only 6 tires and close to 1500hp could make..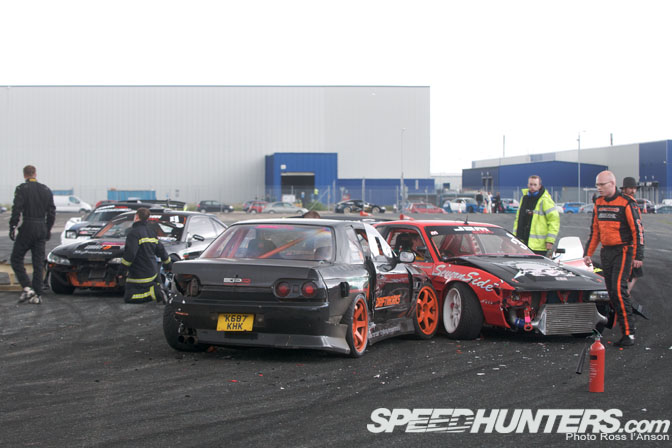 ..A dull thud from the smoke cloud indicated something was wrong. As the smoke dissipated it was instantly clear the worst had happened. Luke had span leaving Ben to take avoiding action… driving at 100% commitment Phil had been catching the two leading cars in the thick smoke cloud and without even the time to brace had plowed into his teammate's car. The damage was heavy, but thankfully the only injures were a bitten tongue and a few bruises.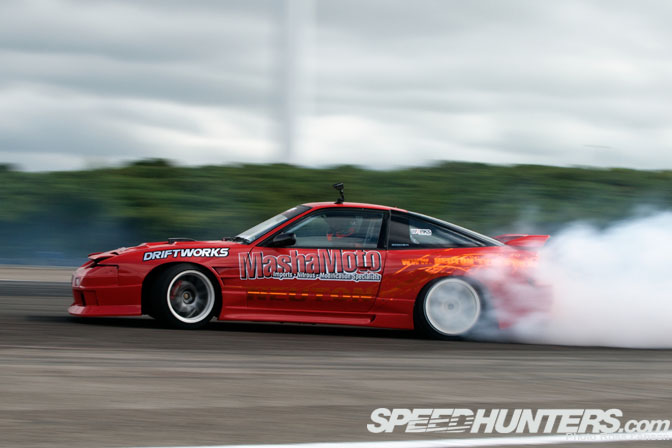 Jon Calvert was getting to grips with the newly built car. putting in a strong qualifying performance.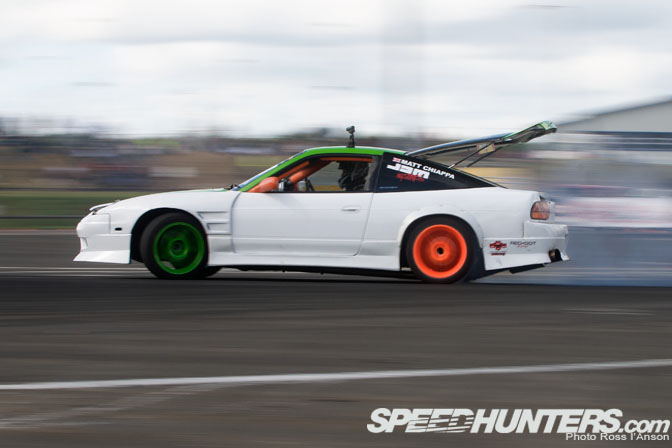 Matt Chiappa was having quite a weekend of it. Having to change a clutch the day before, he was then distracted on his qualifying runs by his boot lit popping open.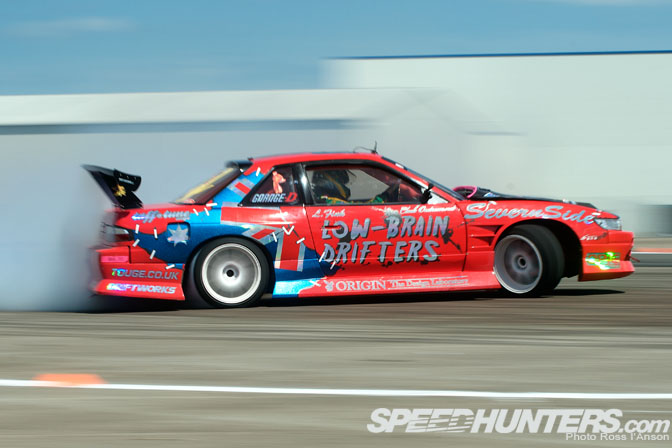 Luke Fink put in a near perfect run to secure the 2nd spot in qualifying..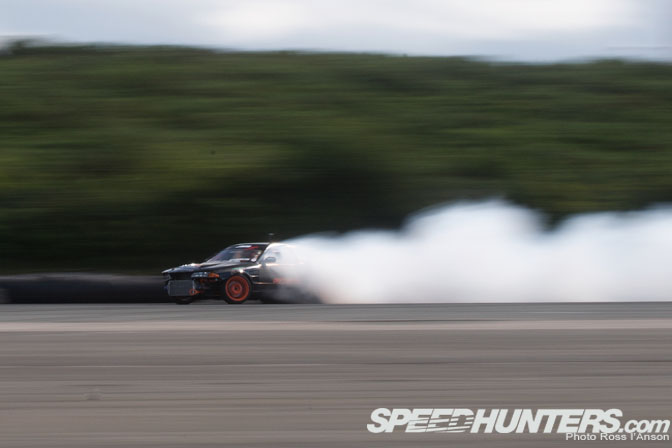 But amazingly Team Driftworks had got the R32 running by cannibalizing the S15 for parts. Ben went out in the battered R32 and qualified 1st!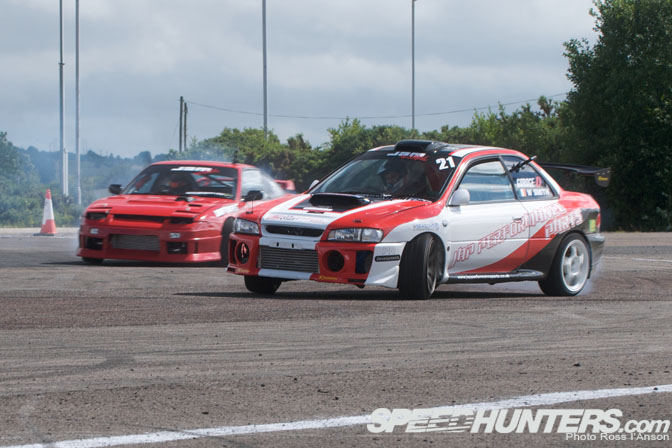 Into the competition Jon Calvert beat Walton Smith..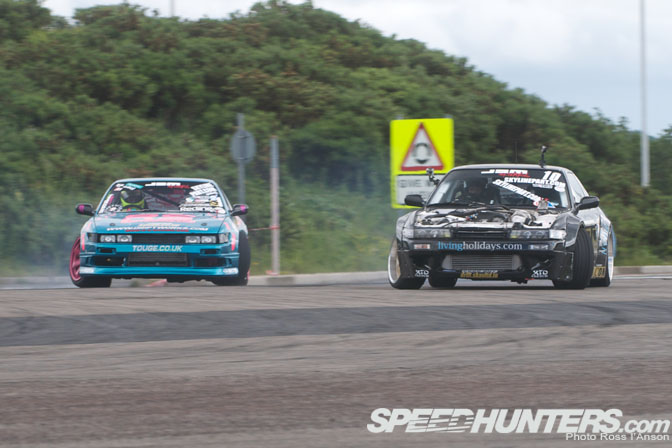 Dan Chapman shadowed Anthony Scott taking a small advantage in the first run. Then took the win in the second.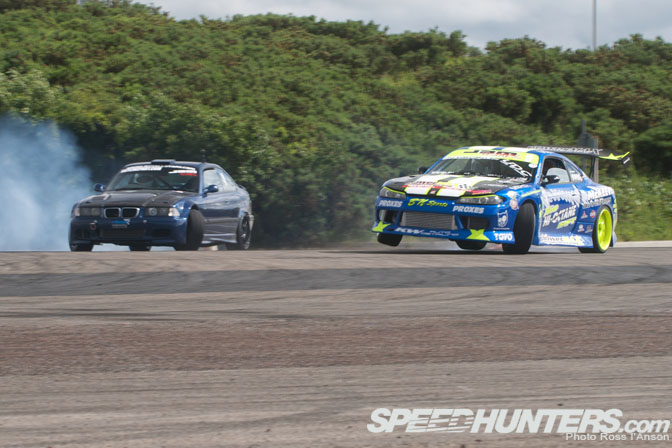 Alan Mccord was faster throughout his runs with Steve Will and progressed to the next round.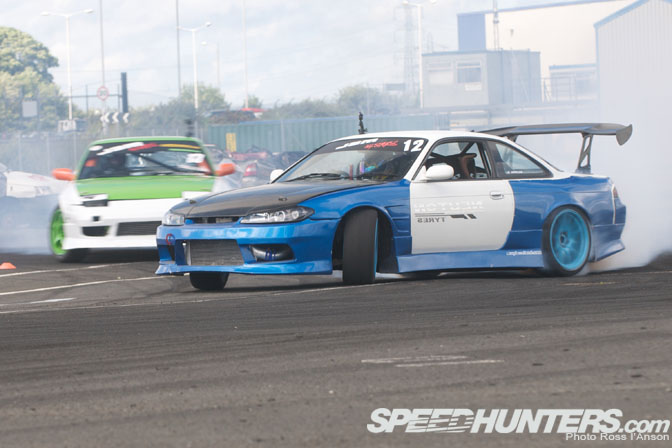 Martin Ffrench beat Matt Chiappa…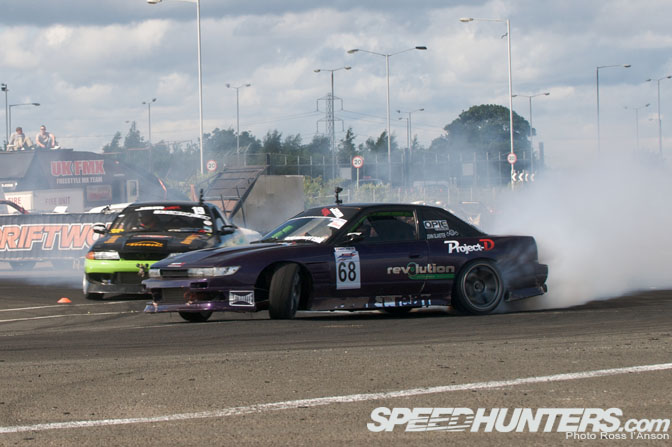 And George Tilling Beat John Glasier.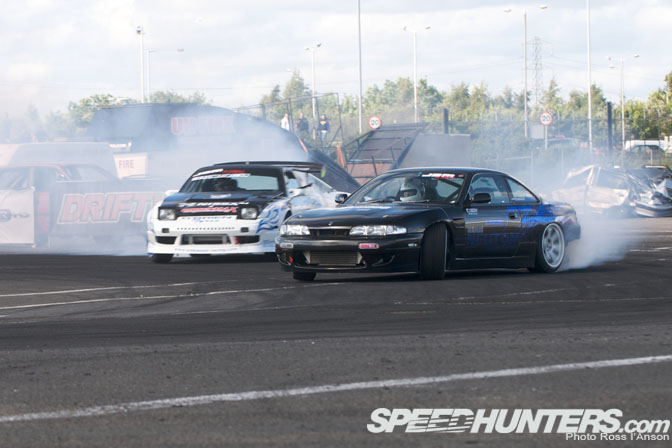 Matt Steele vs Dwayne McKeever was too close to call-running OMT. McKeever narrowly took the win on the rerun.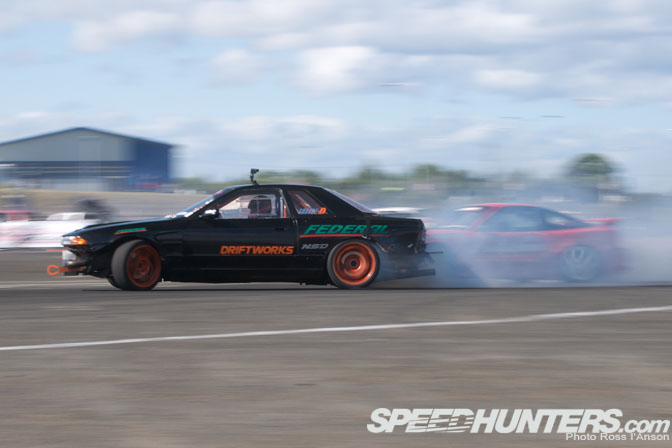 Into the top 8 and Ben Broke-Smiths power steering broke against Jon Calvert. Neither driver giving a inch, the battle went OMT.  Jon Calvert now fully up to speed with the new car pushed hard and Ben span. Jon Calvert went through to the next round.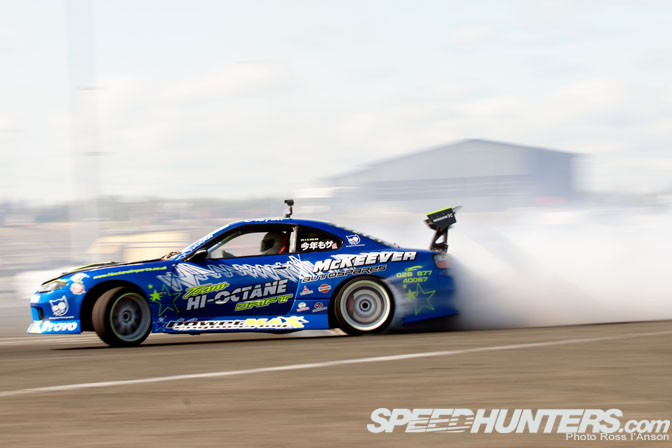 Chapman vs Mccord was a very close battle. Door to door, Dan was lost in the smoke from the 800hp supercharged LS2 S15, But took a slight advantage and progressed to the semi finals.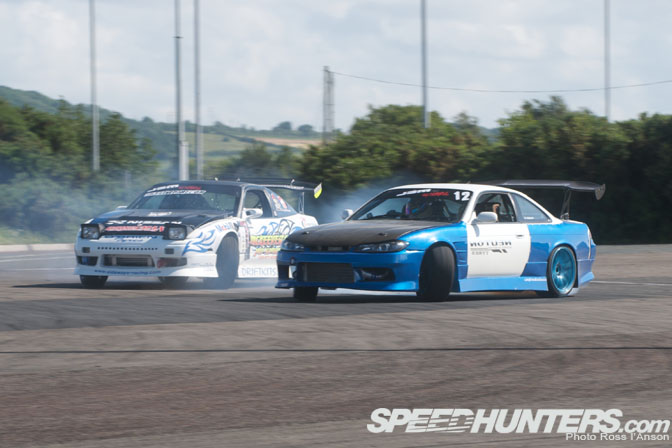 Martin Ffrench went through against a over-heating Mckeever.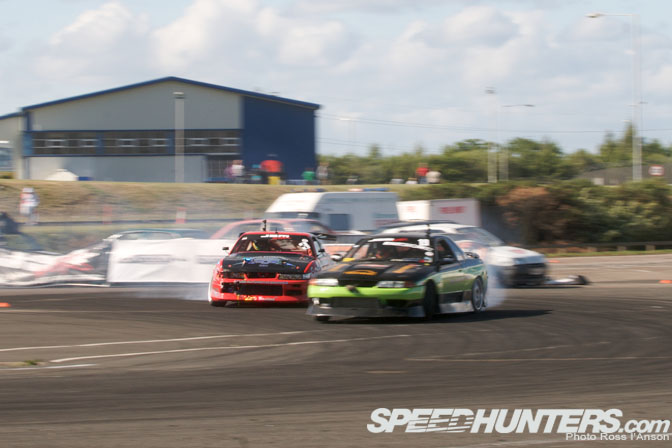 And Luke Fink put end to George Tillings day.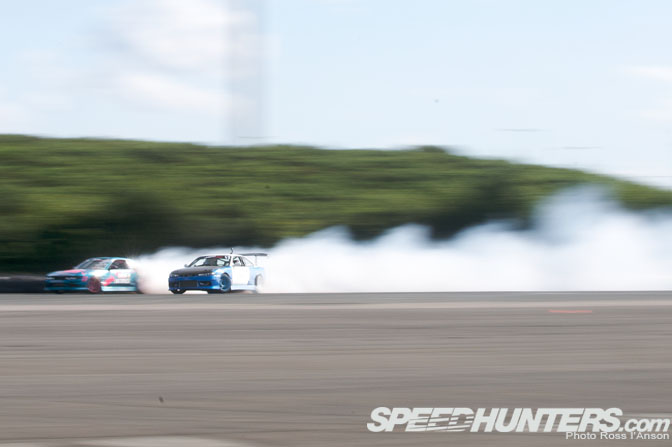 In the run off for 3rd place, Dan Chapman took the win against Martin Ffrench…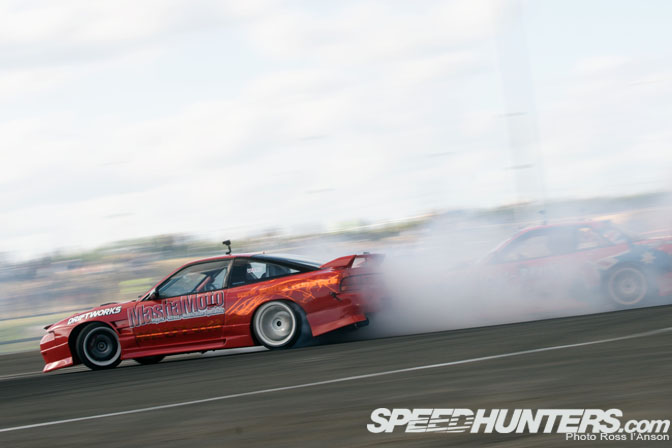 … Leaving Jon Calvert to fight it out with Luke Fink for the over-all win. In a  super close battle Luke Fink Sat on Calvert's door for the entire 1st run, and pulled a gap in the second giving him the overall win.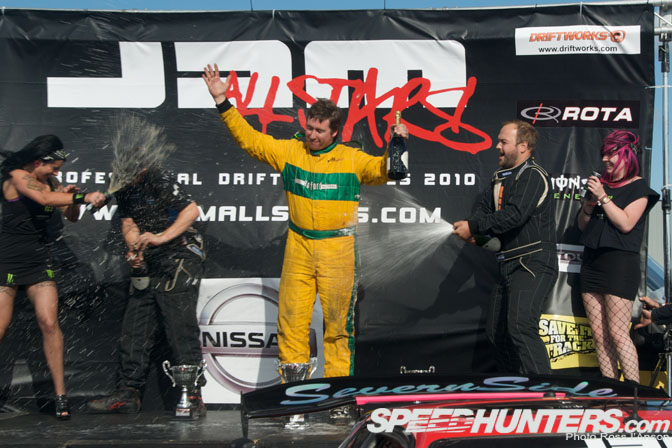 With Luke Fink 1st Jon Calvert 2nd and Dan Chapman 3rd the championship is is still anyone's, Round 4 is JDM Allstars' flagship event held at Wembley and will be something a little special for sure.
JDM Allstars coverage on Speedhunters.com
-Ross