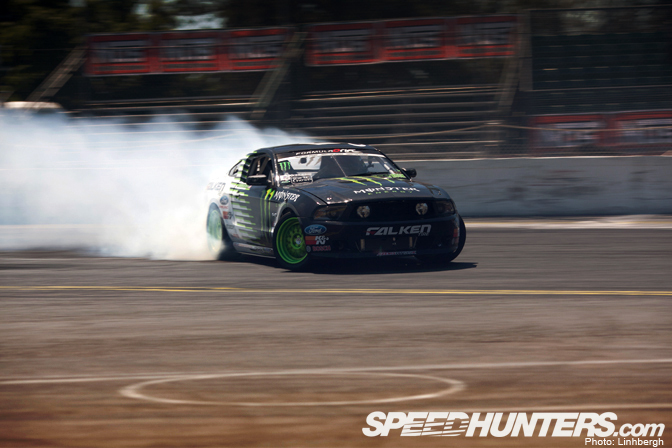 I look forward to FD Seattle every year. The crowd is hands-down one of the best of the series. The track is extremely fast and fun, and the bank there is like a never-ending drift inches away from a wall.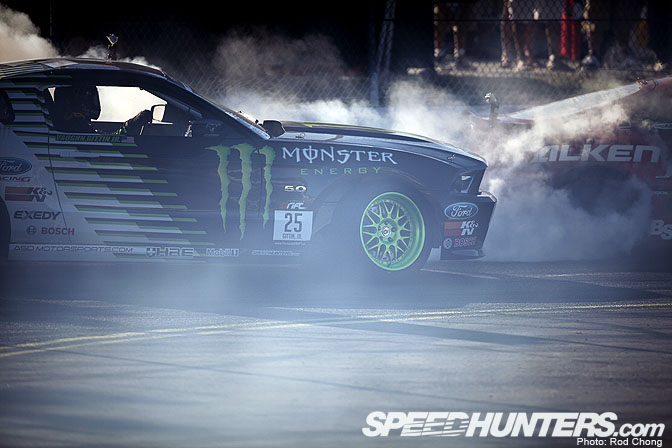 This event always makes for very tight battles and for some reason a lot of them end up in carnage!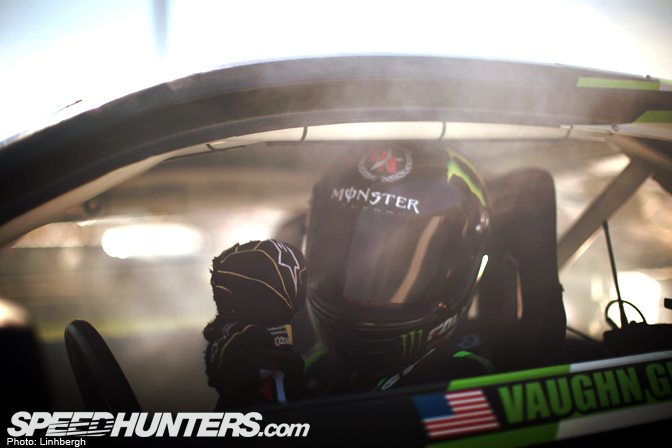 Team Falken and I showed up ready to rock and I was looking forward to keeping our podium streak alive.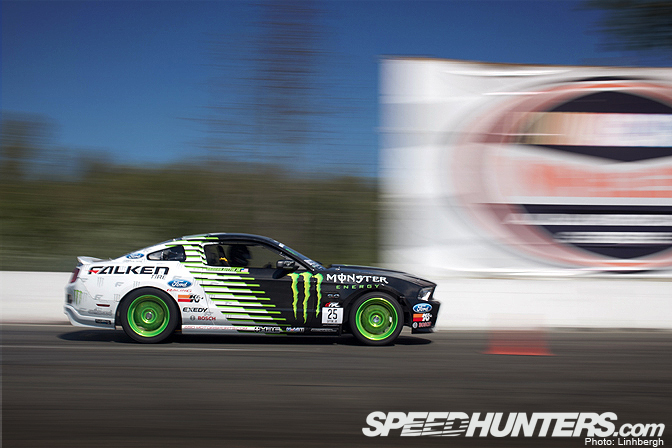 Thursday and Friday practice went great. I focused on getting the car dialed-in for qualifying. Here is a quick run-through of how I atttack this track! Accelerating down the long straight into the first turn at ludicrous speed outs a smile on my face.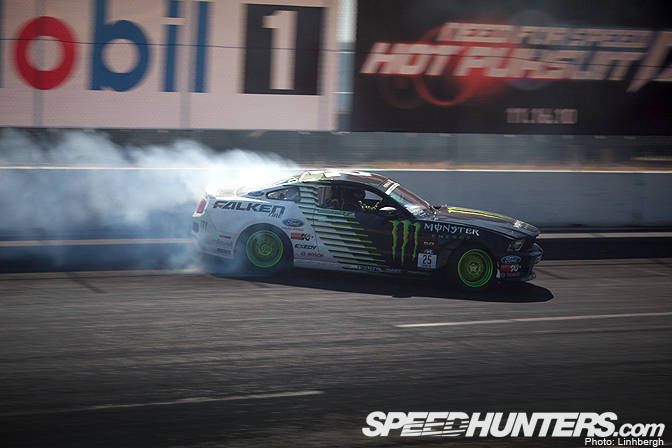 Still smiling while drifting the never-ending bank.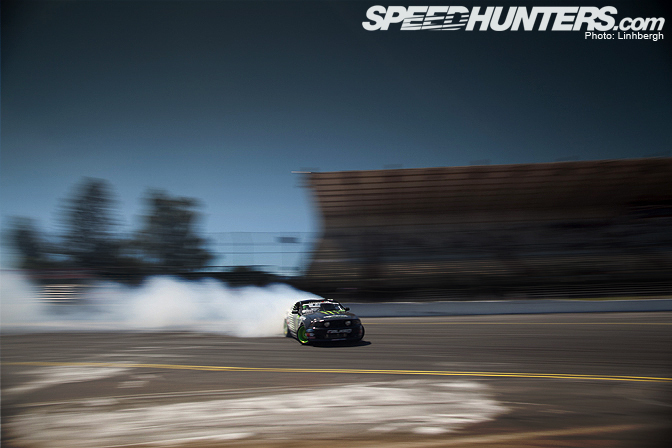 Full-throttle through the first clipping zone and off the bank into the "power alley".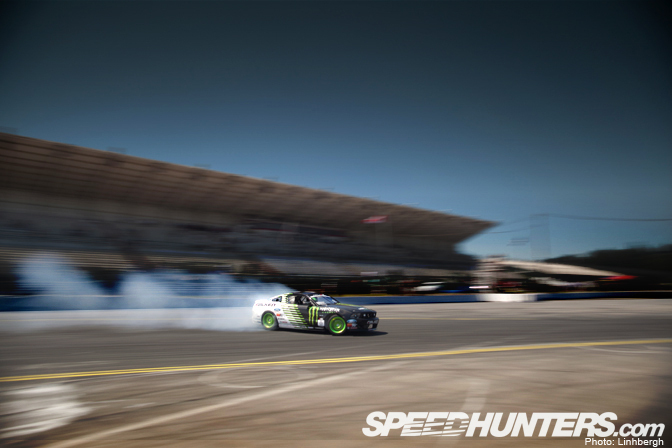 Still wide open until the last second before the switchback.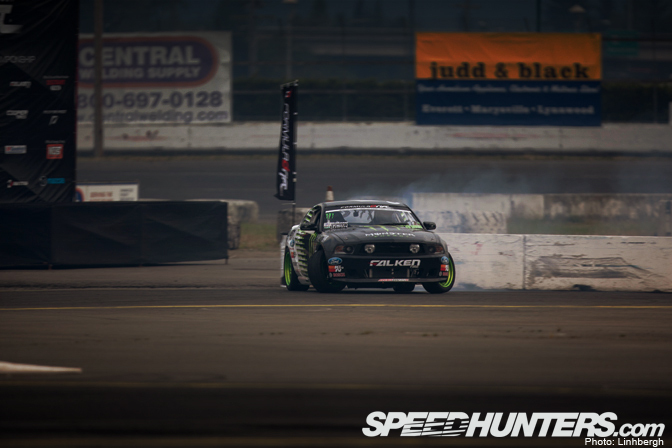 A quick pull of the ebrake and stab of the brakes to rotate the car through the second clipping zone at full-lock  tight on the wall.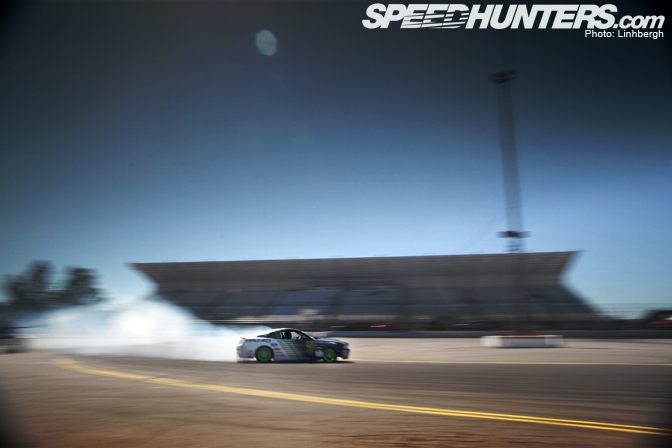 Down-shift to second while on the throttle hard!!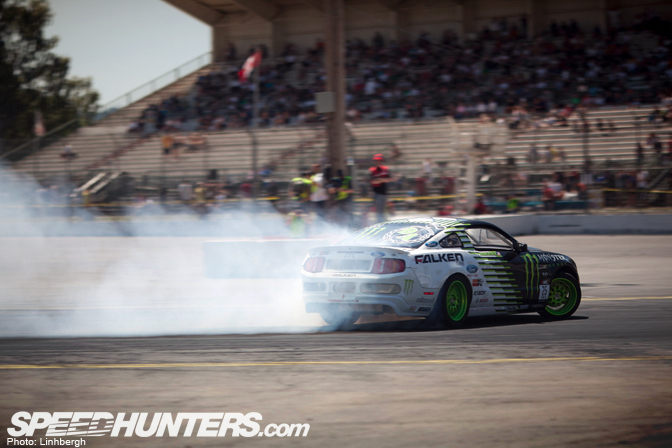 Tight on the third clipping zone, then a handful of E-brake to help rotate through the final hairpin. After quite a few changes, "The Muzzy" felt great as did I. We were ready to tackle qualifying.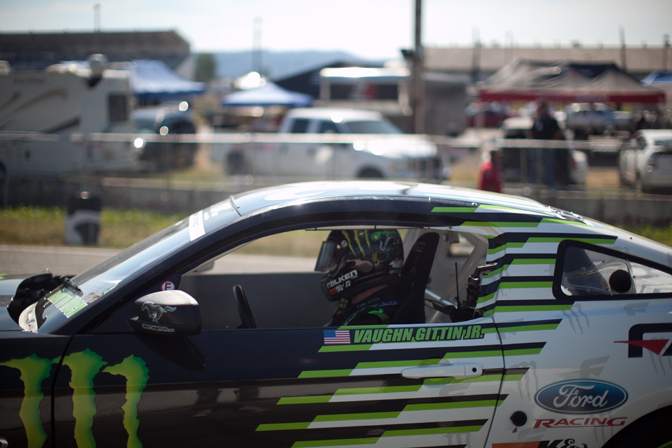 Being 1st in points is obviously awesome… BUT waiting until last to qualify is not my favorite thing.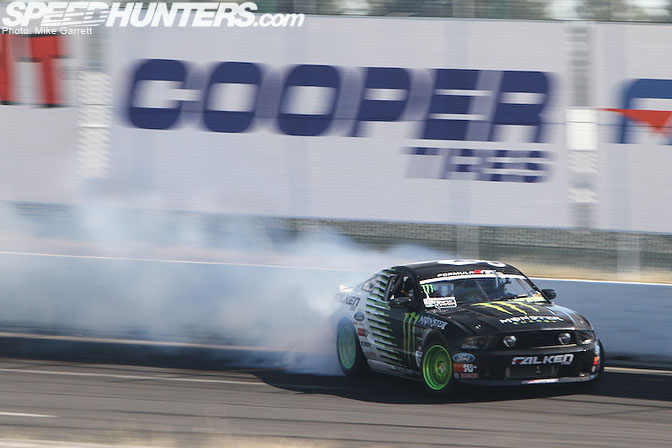 Like most drivers I always plan to make my first qualifying run one that gets us into the top 32; nothing too crazy just enough to guarantee us in the show. After my first run in Seattle we were sitting in 5th place and I had all intentions of turning it up for my second run!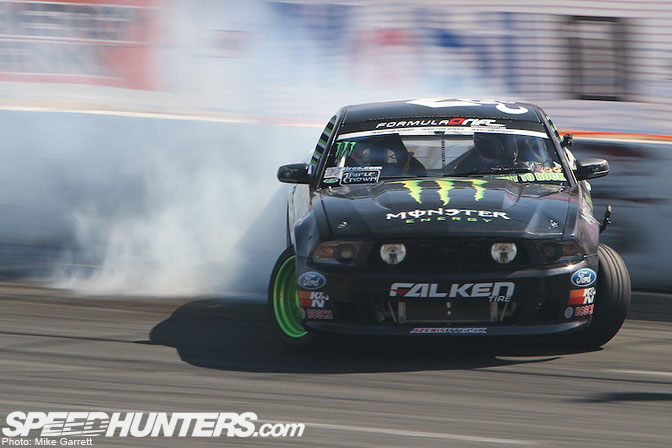 Just prior to me heading up to the line, I knew fellow BroStanger "JTP" was sitting in 1st after his insane first qualifying run. In my mind, there was no way I was letting him out-qualify me like he did in New Jersey, so I turned my brain switch to berserker-mode and went for that that number one spot! I entered the bank fast and high.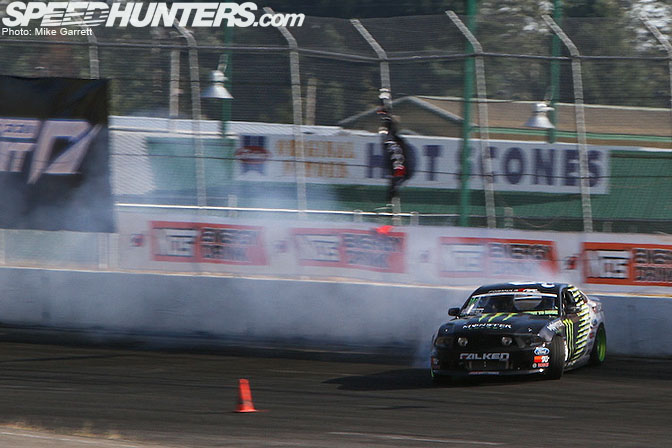 Inches from the wall with a ton of angle.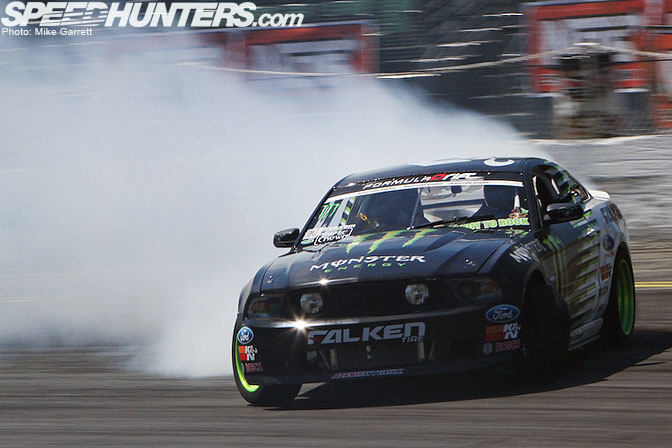 Coming off the bank at full-throttle, I kicked the clutch to add a bit more angle to the point of where I was pretty much backwards and thought I was going to loose it for a second…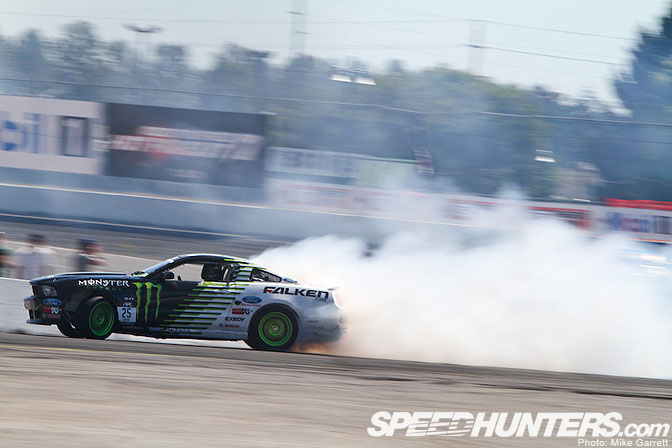 The momentum and our incredible tires allowed me to hold it.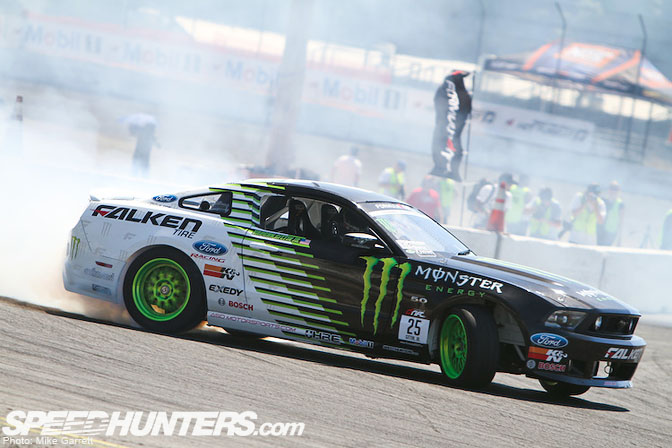 After the flick through the second zone, I knew I was pulling off an incredible run and stayed focused on finishing it up clean.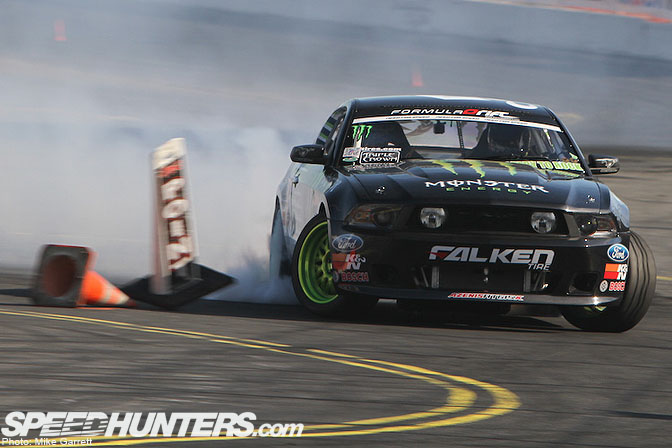 I lightly kissed the final clip for good luck, making it rock back, but not fall.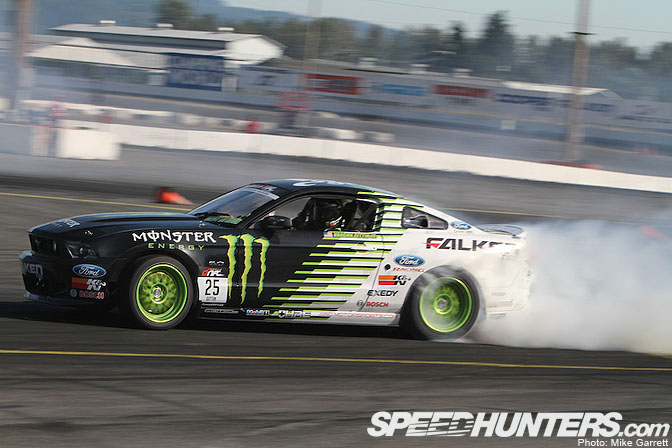 Then I gave the wall at the exit a kiss as well before shutting it down. Ian came on the radio and confirmed I just layed down a great run and a few seconds later he congradulated me on taking the 1st place spot in qualifying. Sorry JTP!!!
For those of you that don't know, JTP and I push each other very hard. The smack talk between us is hilarious and all in good fun.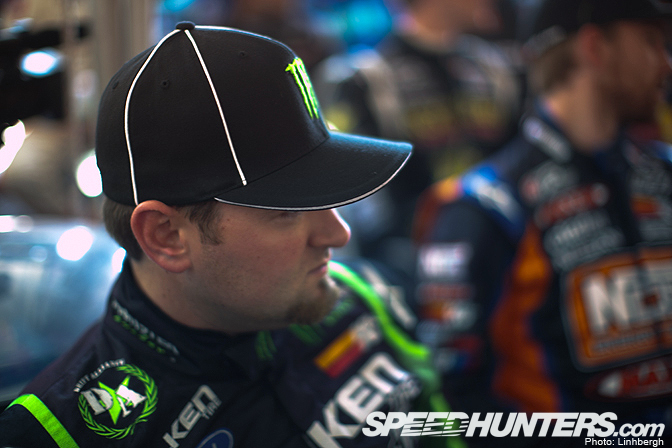 After practice I headed to the final drivers meeting of the weekend where Jarod announced qualifying results and the judges went over what they were looking for in tandem battles.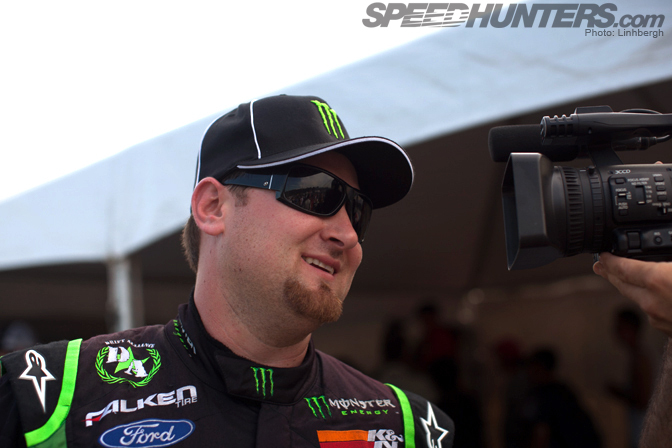 Andy ran over to get the first impression of me officially knowing that I nailed 1st place in qualifying. I was pumped! I think this actually is my first time getting first in qualifying since 2005 or 2006.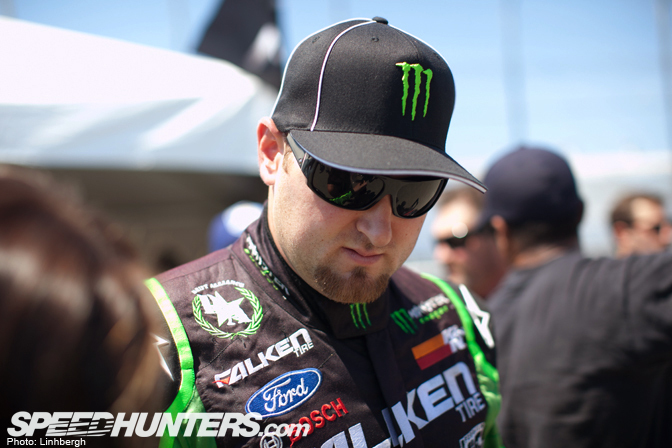 Here is Abby and I going over the top 32 ladder and me seeing for the first time how insane my bracket was. I knew it was going to be a tough competition at first glance. I used the rest of the evening focusing on tandem practice.
Saturday morning when I rolled up to the track my main man Dean had the "Muzzy" on jackstands and was just finishing going over everything in his pre-event rituals. I, on the other hand, had just finished mine and it was now time to get down!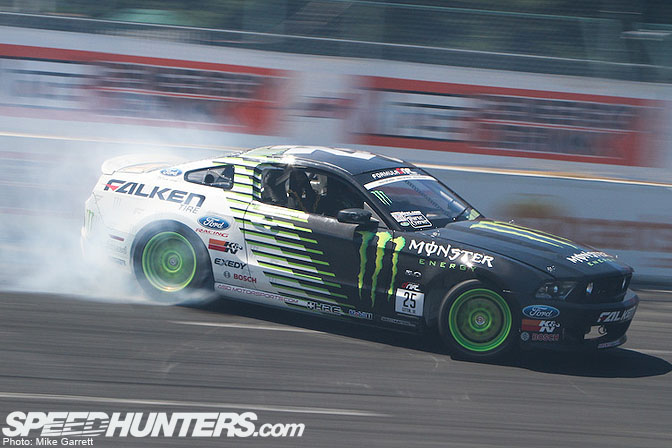 Saturday's practice serves as a warm-up; a way to get my confidence up and my mind ready for the battles ahead!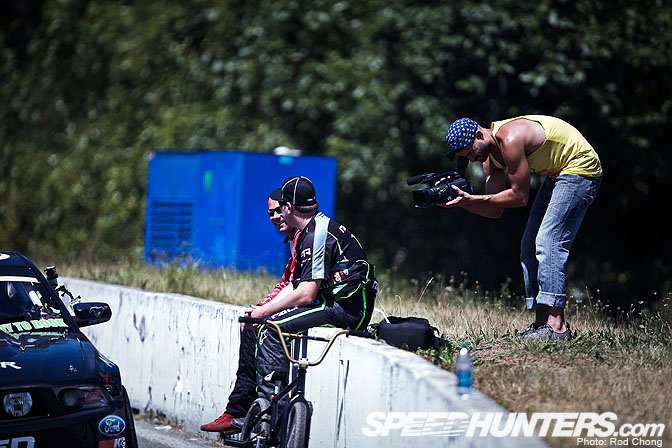 My top 32 battle had me lined up against Alex Pfeiffer. In 2009 I beat him here in Seattle and he beat me at Irwindale. You can never sleep on him as he is a long-time competitor and great driver. Here we are joking around talking a bit of smack before the round. I don't know who is making more of a style statement this year… DA videoman Andy or Linhbergh!!!???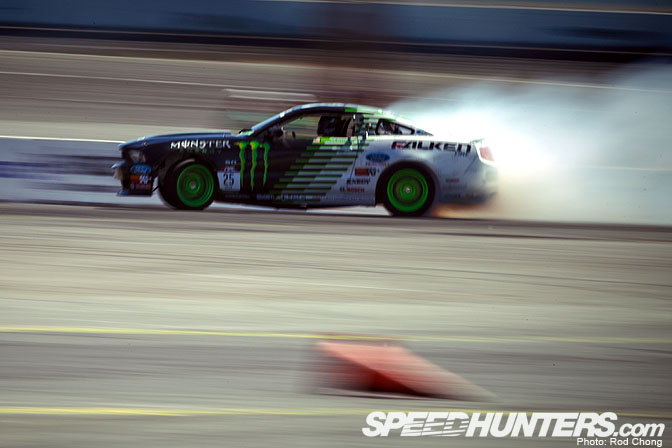 When leading Alex, I pushed very hard, making sure I was fast, tight on the wall, and of course that I hit all the clips.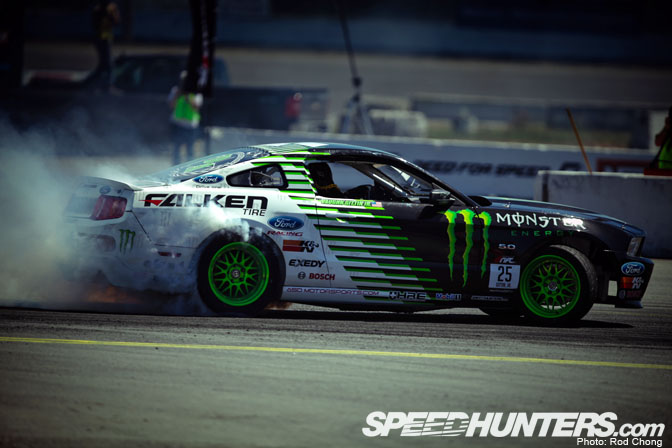 I pulled a pretty good gap on him through the course and although we felt we had a decent advantage, I am not the type to sandbag!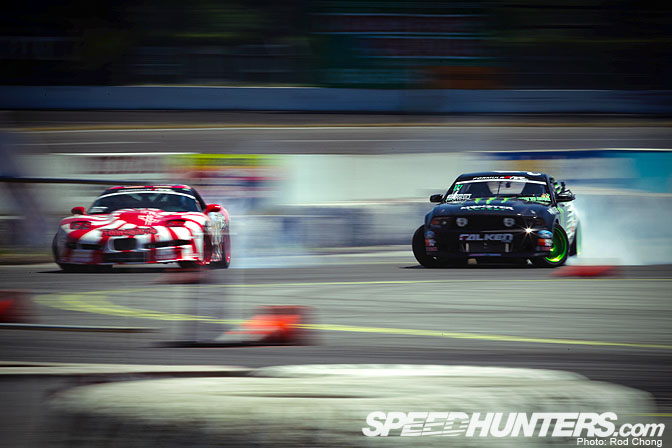 When following him, I applied the pressure, making sure he saw and felt my presence.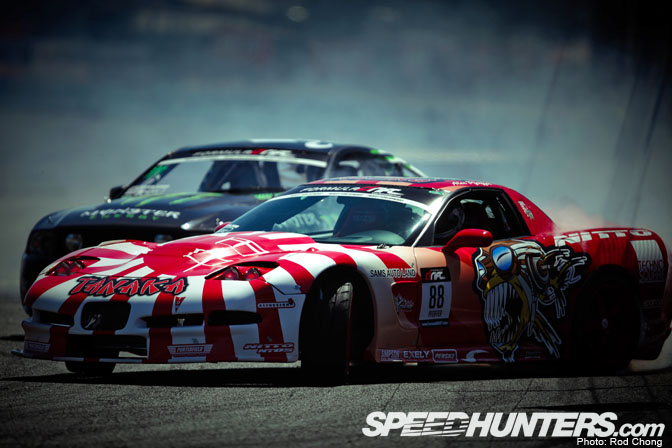 He laid down a solid run, however we moved on to the top sixteen!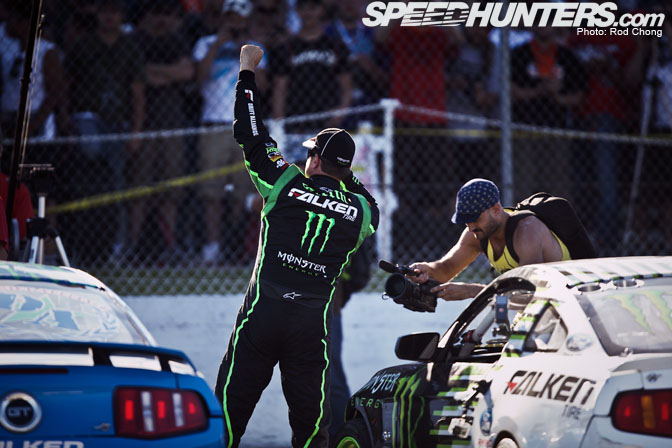 Top 16 introductions are always fun. The Seattle crowd gave me an incredible welcome and it felt great!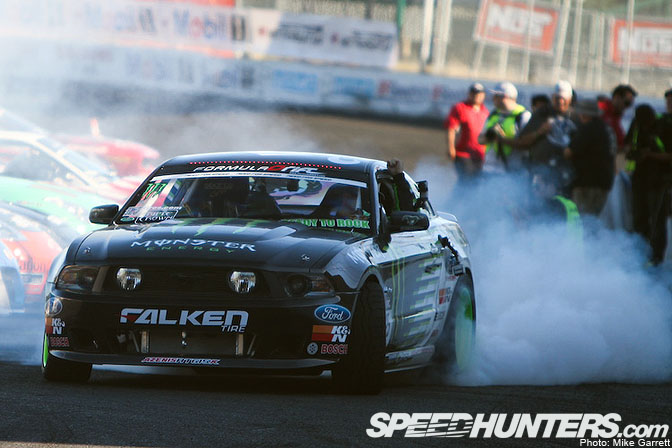 After a small burnout for the crowd it was game-time! I was set to face Aasbo, who I had defeated in Long Beach. However, he had been killing it all weekend and I knew playtime was over.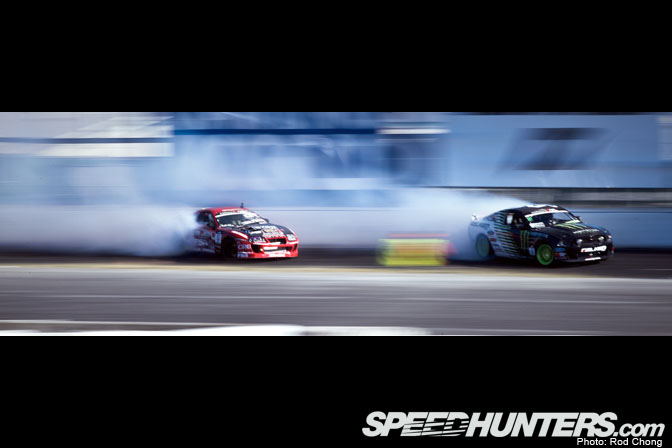 I knew Aasabo was fast off the line, so we had a great pace going into the bank. I threw it in hard and high.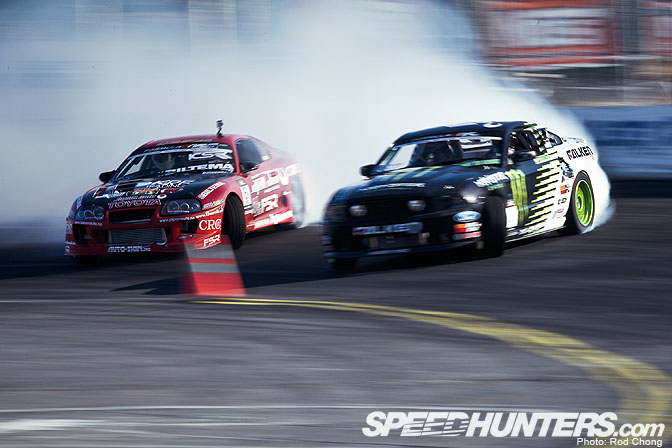 Driving as hard as I could I ran a perfect line with no lack of angle…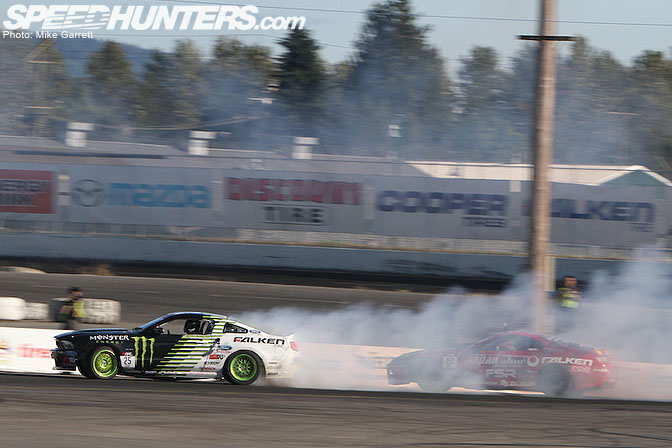 … and great speed!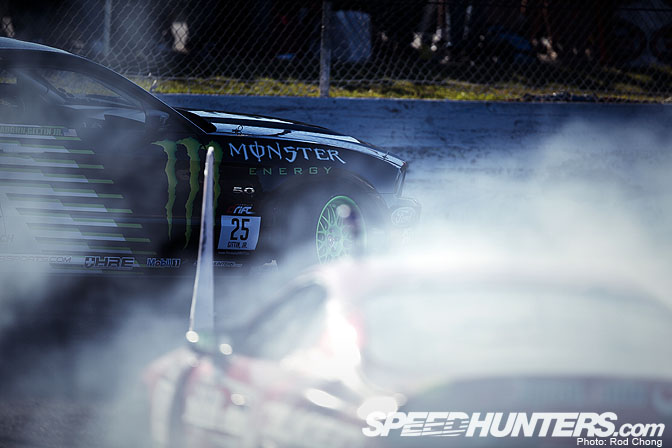 Coming around the final hair-pin I glanced over and noticed he was pretty far away from me.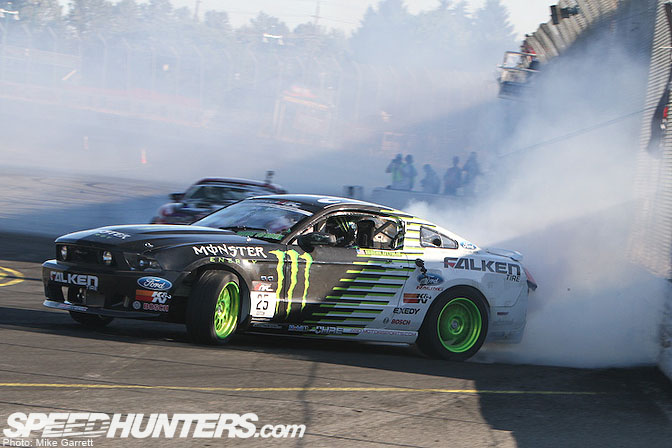 Ian came on the radio and let me know he made a very large mistake straightening behind me. Knowing that we had a huge advantage is a good thing, but I refuse to sandbag just to get a win. The crowd came to see a battle and I came to battle too.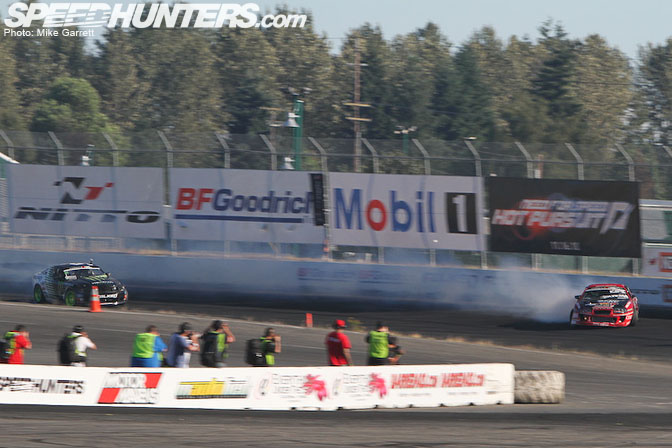 When following Asabo, I entered right with him, high and tight on the bank. He hit the wall pretty hard with his rear left, and parts and debris started flying at me pretty good. I was thinking he might have crashed and, not being able to see very well, I lifted for a second which put me up into the wall. I clutch-kicked to get off the wall, which was pretty insane I might add! Check the video HERE to see how insane it was from my view.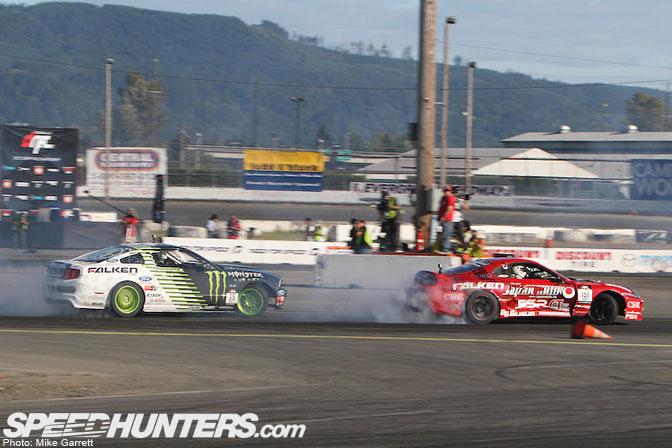 Once I got off the wall, I drove as hard as I could, closing up the large gap that was created by my run-in with the wall.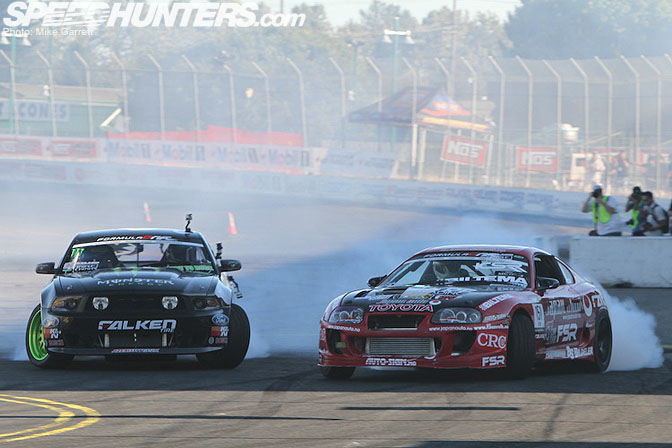 Still closing…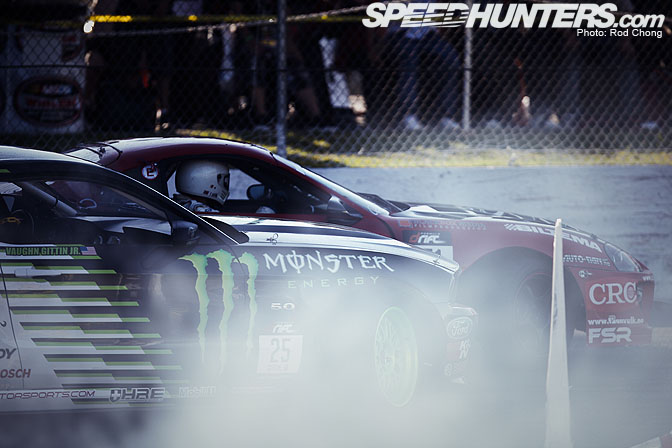 … and closed! But it wasn't enough. When I made contact with the wall, it straightened me up a bit which was a mistake, and the judges called for a one more time! When we got back to the grid we had to call 5 minutes as the rear left heim on my shock broke when I made contact with the wall. I guess we learned that we can run Seattle pretty well without a rear left shock… pretty crazy right?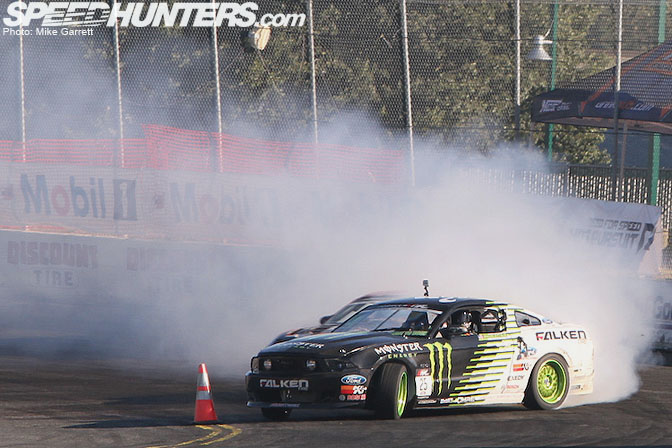 I was determined to end this battle in this one more time round.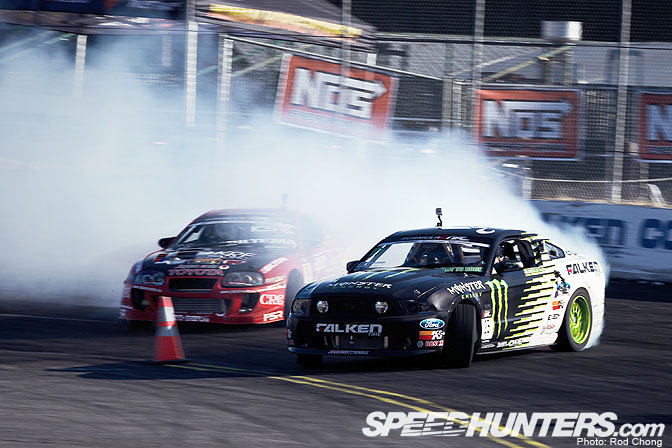 From the looks of these pictures so was Aasbo! I had a great lead run going until…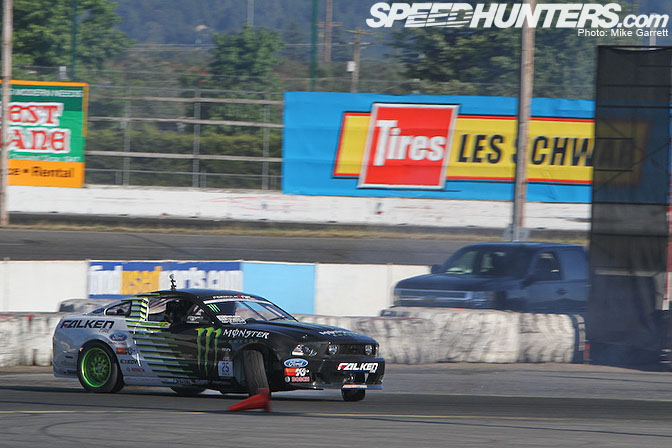 I flicked the car a bit too hard towards the second zone and over-rotated just after the "power alley".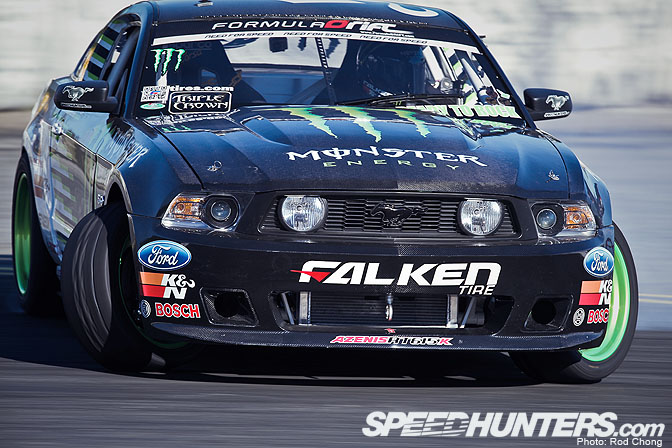 This is a pretty interesting picture. It looks as if I am driving at full-lock trying to save it, but I am looking at Aasbo coming at me at full-speed. I already knew I had spun and couldn't believe it. Now to top it off I was about to get smacked by a crazy Norwegian
In a Supra at-speed!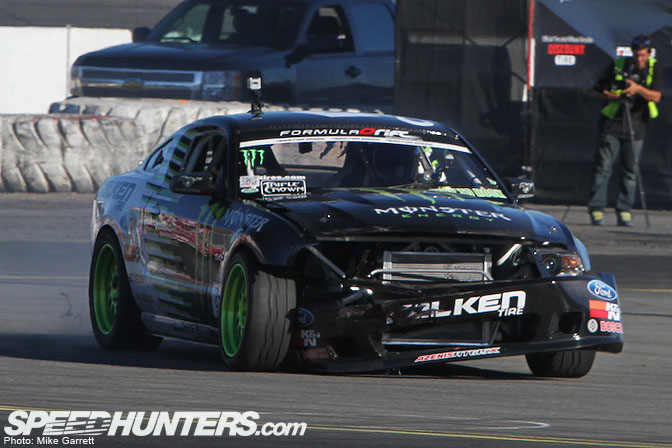 I tried to stay as relaxed as possible prior to impact as the inevitable happened. I ended up with a smashed front-end and Aasbo ended up with the front end of a Mustang imprinted on his door and quarter panel. That video link from earlier shows the impact pretty well. Surprisingly enough it was only cosmetic damage. Talk about built Ford tough! I was pretty mad at myself to say the least!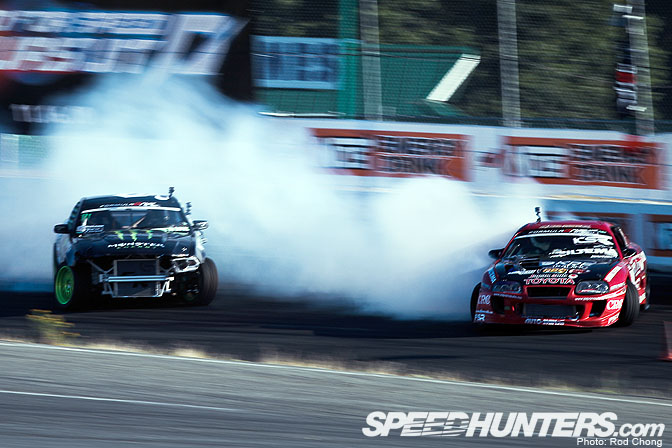 Knowing that it was going to be hard to overcome the spin, I lined up again and drove 110%.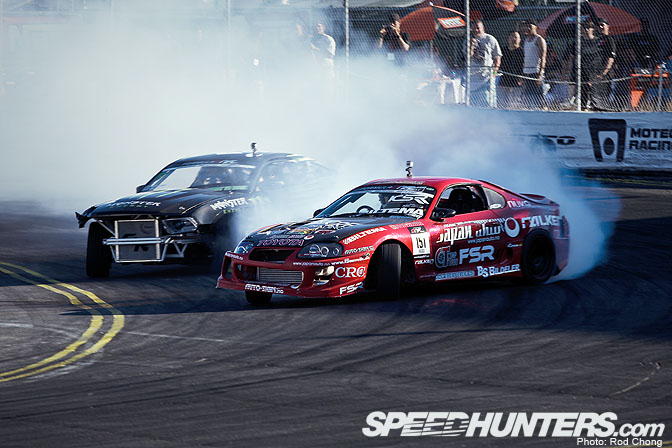 It was a great battle.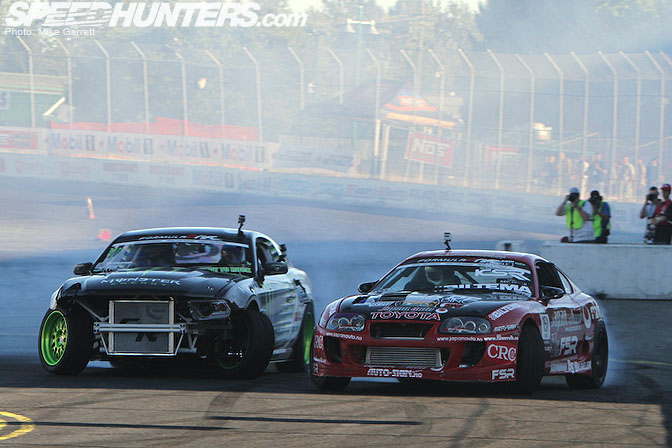 But just not enough to overcome the spin!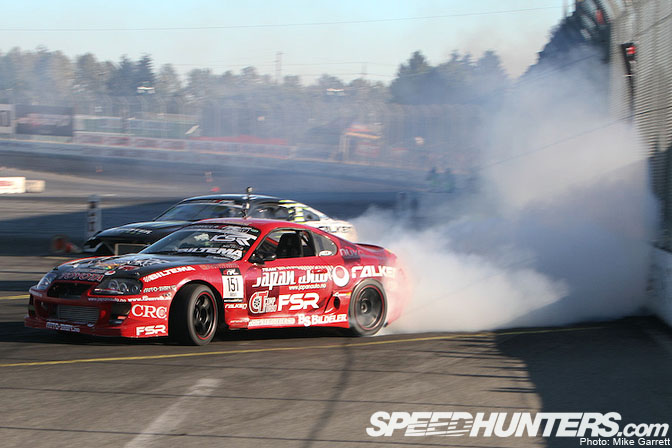 Losing a round is never easy to swallow; beating yourself by making a dumb mistake and spinning, consequently handing an opponent the win is the hardest thing imaginable. I know I have crosshairs on my back being first in points and I would have much rather this win mean something for Aasbo then him simply benefiting from a stupid mistake on my part. My apologies Fredric, as I look forward to battling you again this year. You are a great driver with the true spirit of drifting and it has been a lot of fun both times we have met in competition.  Sin City here we come!
- Vaughn Gittin Jr.