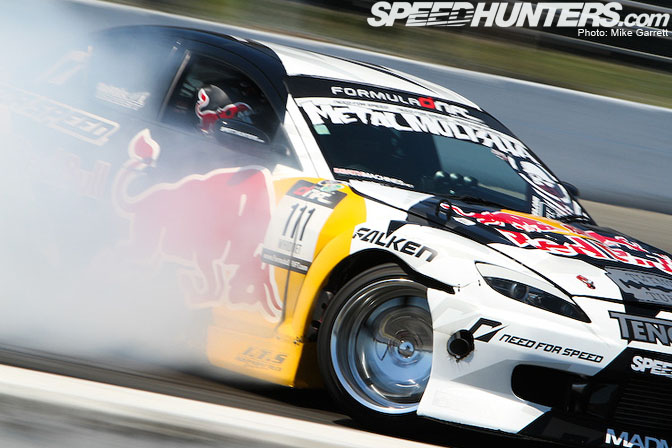 Oregon and Washington are beautiful states and a lot like New Zealand: green, fresh, a lot hotter and with Bears! In Oregon I learned that it is illegal to pump your own fuel and that the kiwi accent pronunciation for "diesel" sounds like "regular." Which resulted in gallons of "regular" pumped into my diesel truck.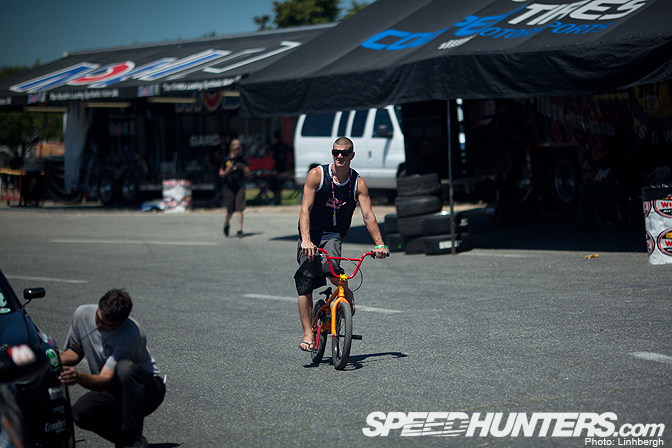 So anyway, we finally arrived to Evergreen to find a lot of the other teams were already set up and immediately unpacked the BMX bikes to take a quick lap around the track.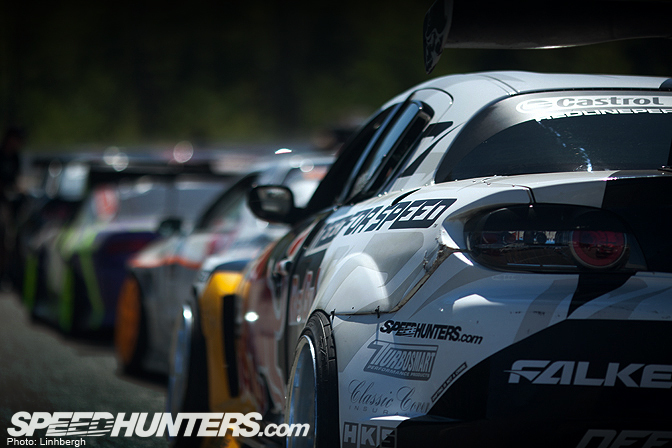 Thursday was a practice day from lunch time on. We had a good set-up from Wall Speedway. So we kept the suspension, tyre pressures, alignments and offsets the same. Twins Turbo Motorsports had installed a LSD diff and over sized drive shaft shop axles since I blew my welded diff and all my factory axles on the harsh terrain at Wall so this was my first time ever driving without a lock diff.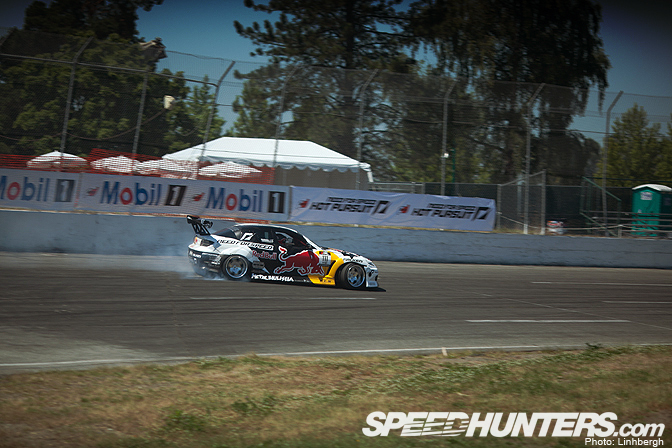 I was eagerly anticipating Evergreen after studying hours of this track on dvds and youtube clips. Here I am just feeling out the length, camber and line of the bank. The judges wanted us to be on the wall through the zone at the end of the bank but if we could pull it off they wanted us to keep it up high the entire way around. Every driver found their limits and pushed the boundaries making it a real spectecal for the crowd and causing carnage to vehicles and drivers – get well soon Taka!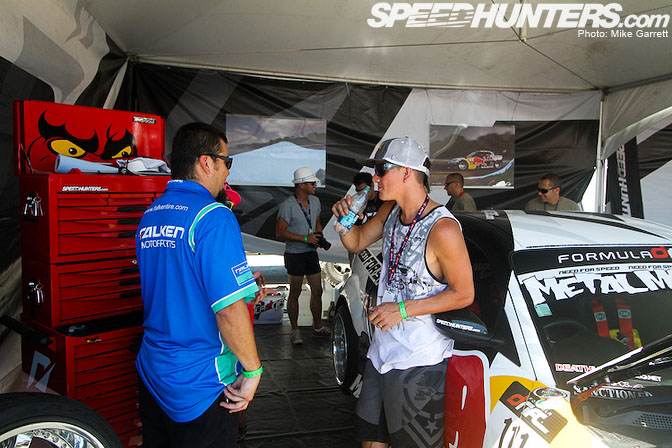 Thanks to Tengtools we have all the quality tools we need on hand in our NFS electro lounge pit bay. Here I speak with Roman of Falken regarding tyre specs. Also notice Linhbergh bringing sexy back.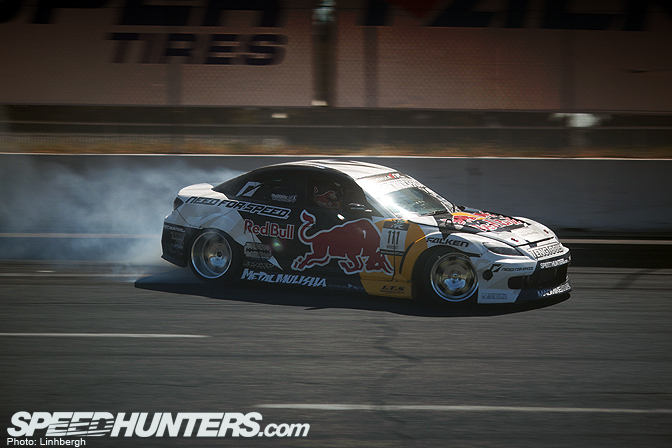 As I sit here writing this story, my 2 ½ year old son, Lincoln, sees this picture and the first thing he says is "Daddy you have no wing on Red Bull!" Ha!
The car had too much side grip for the bank and I was running out of wheel speed half way around in 4th. So here was the first set up change removing the wing. I needed to loosen up the car enough to be able to dial 5th gear before the bank.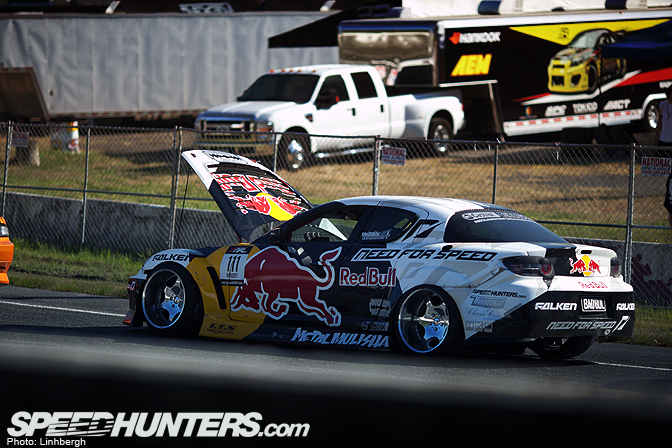 It still had too much grip so the team dropped the rear down 35mm. This not only stiffened the suspension but gave us more negative camber to get some tyre off the track. We also installed a Mazdaspeed sway bar in the rear. I like the look of the RX8 in this pic with no wing and the wheels look amazing.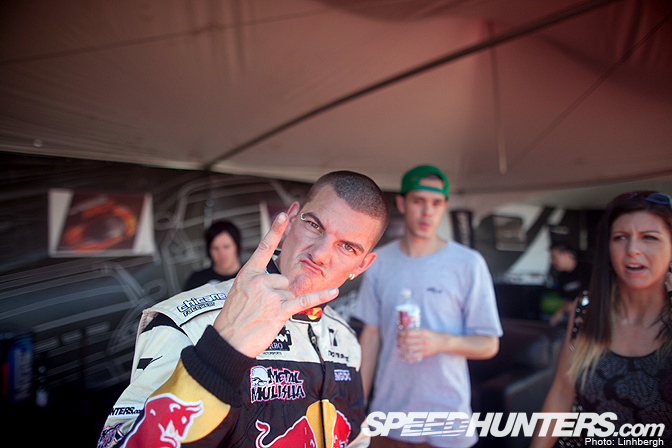 Clowning around in the pit before drivers briefing. JR's better half Abby organizes my PR and media for EA. Everyone here seems to be looking at me like "What the..?!"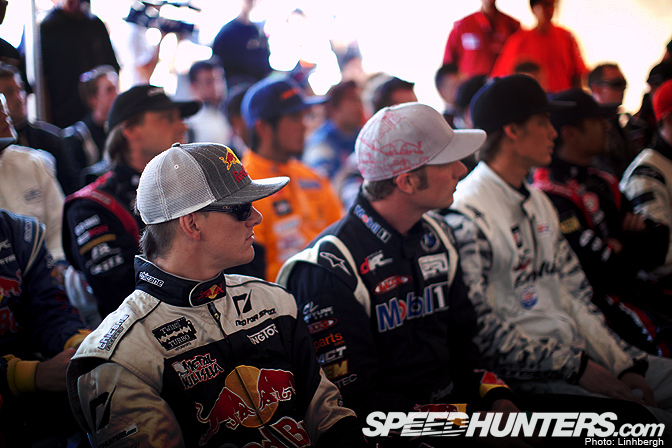 Taking in all I can from the judges to ensure I deliver the most explosive runs I can on this wicked course at Evergreen Speedway Seattle. Next to me is Ryan Tuerck of Drift Alliance. His Gardella team were an amazing help back in NJ and Ryan also gives me great advice and tips for the tracks and other drivers techniques.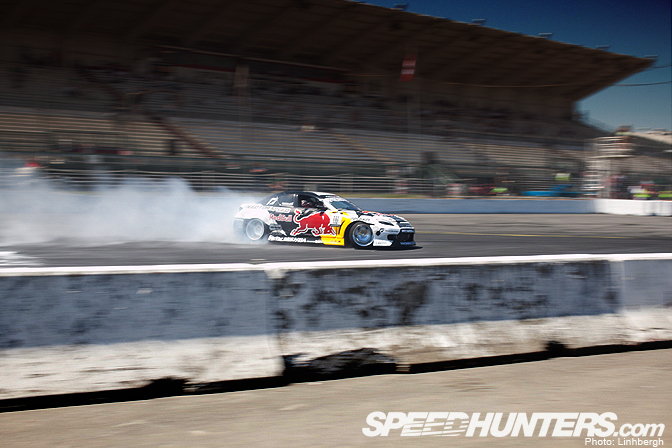 The RX8 felt super loose with the new set-up, I felt an immediate improvement, when I switched it held it's angle better. Reminded me of my old FURSTY FD with the 3rotor at Irwindale D1GP in 07.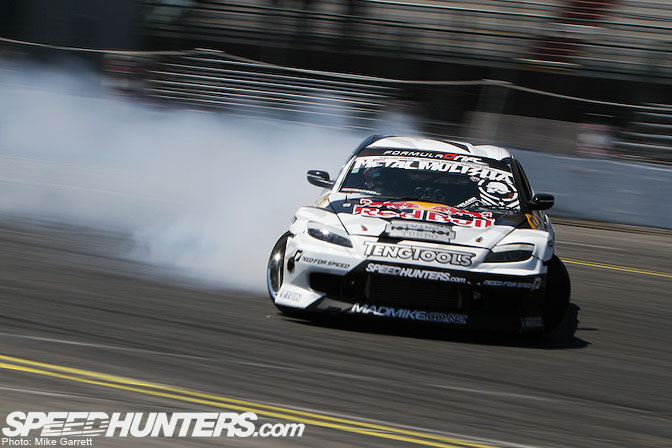 The wastegate screamed as I flew off the bank. The biggest difference was adapting to the LSD. It didn't feel much different whilst drifting on power but it was most noticeable on decel mid drift. Each wheel is now able to slow to the speed of the circumference of the circle as with the locker they just fight with each other. This meant with the LSD I could throw it much harder and still catch and hold the drift.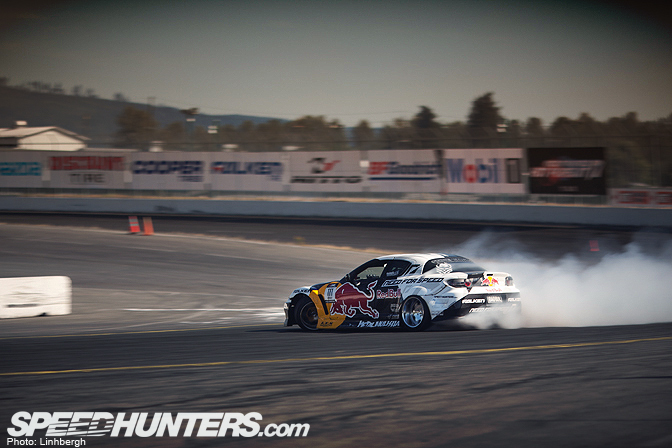 This meant BIG angle drifts. It felt so good throwing it off the bank hard then switch back to the next outside clip on the right. Thanks to my NZ team for setting up my steering lock.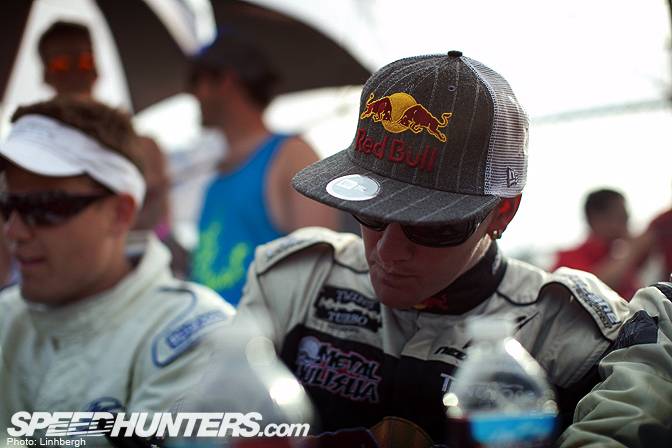 After testing we had an hour signing session meeting and greeting fans and getting to chat with all the cool little kids from Seattle that loved my rowdy Mazda RX8.  I sat next to Fredric Aasbo, truly a wicked driver with huge dedication. I wish he had competed at the other rounds, he brings a great vibe to the track and is also a super friendly dude that kicks ass!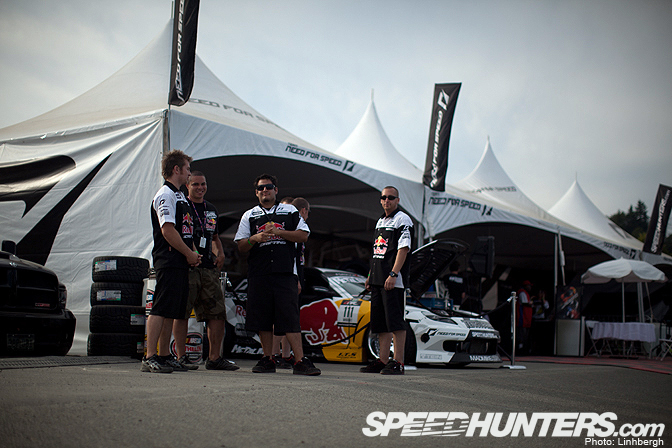 From left is good buddies Dan and Marcel, and also C-Los and the twins of Twins Turbo Motorsports. These guys did a fantastic job over the weekend and made us a force to be reckoned with. Here they have just finished prepping the RX8 for qualifying.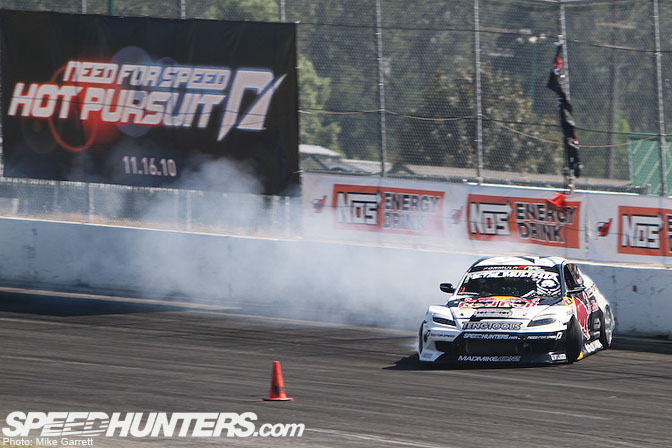 Railing the bank for my first qualifying pass. 'Hot Pursuit' NFS we have a surprise for you in Las Vegas next month.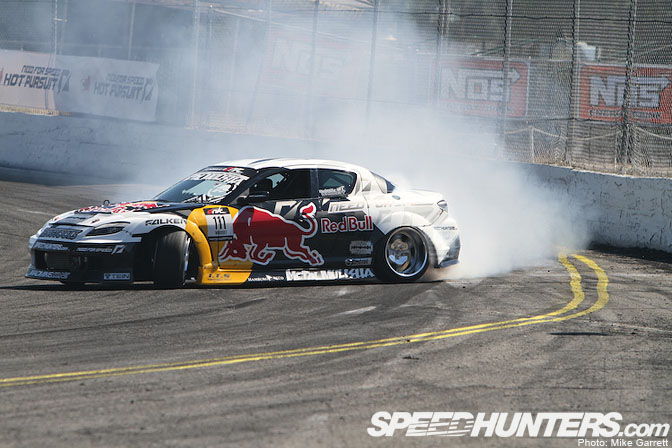 Now throwing it off the bank with maximum angle, if you look close enough you will see my front tires peeling from the bead. It's funny how well this car works with such ridiculous wheels, stretch, ride height and weight.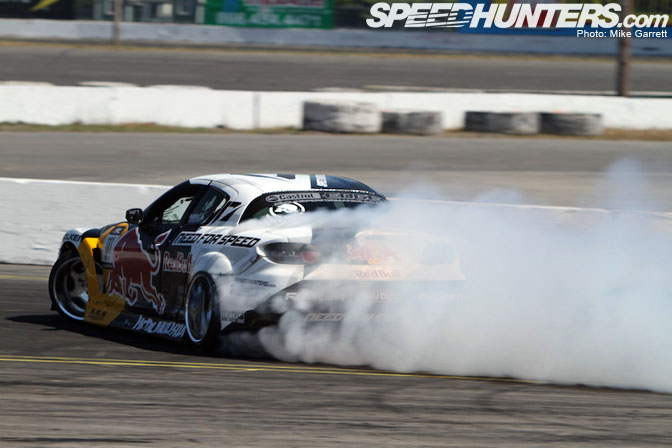 I like the smoke billowing out of the fuel filler hole in the wide body across the trunk in this shot. I am now setting up for my switch to nail the next outside clipping zone.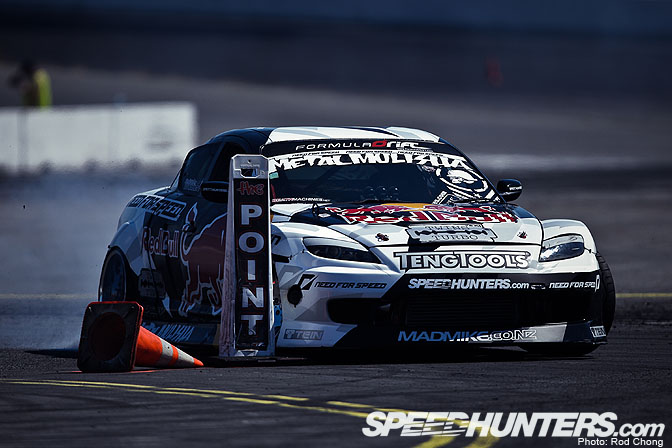 Bang on the last inside clip before powering out to the final outside clipping zone. The retro reflective vinyl looks sweet in this shot as the light reflects off it.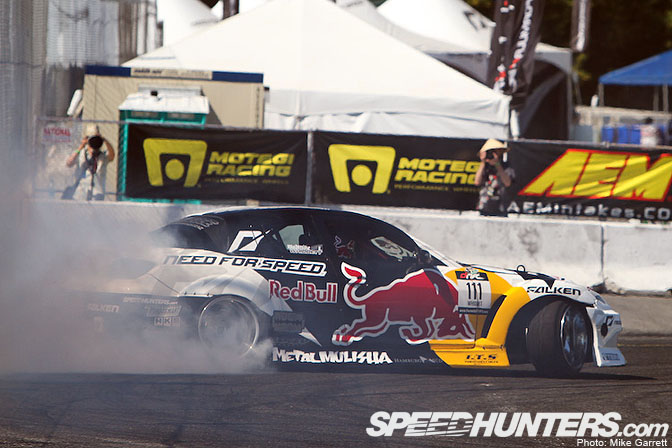 This is the final corner of the section. I was stoked with my first pass and thought I would have scored well.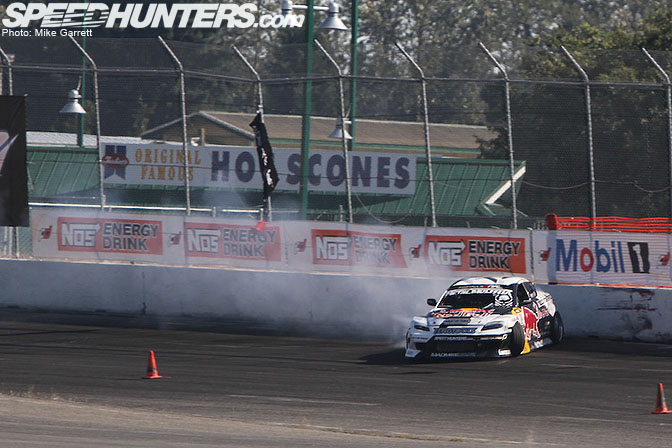 My second and last pass I attacked with 110% I threw it in much before the bank and held a high line around the wall. You knew who had the right line on the bank by watching the banners flap around from the velocity of the cars.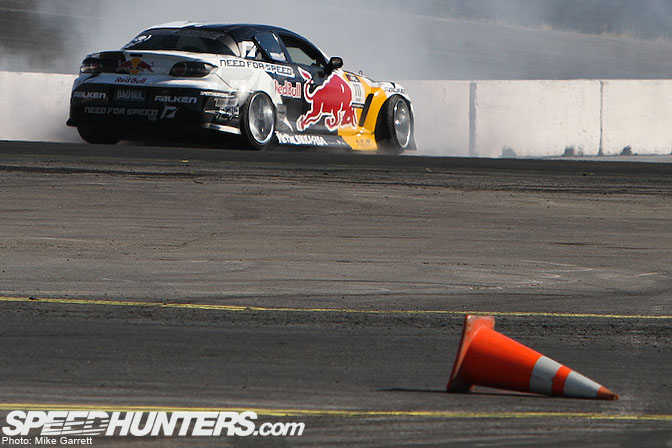 Too much aggression and spun off the bank. I was surprised my first pass only earned 24th in the qualifying field. I was also in the top 5 for speed even with the car set-up for less grip. But top 32 is a new game from here on in. A good percentage of the drivers have different settings for each opponent, this is drifting so anything can happen.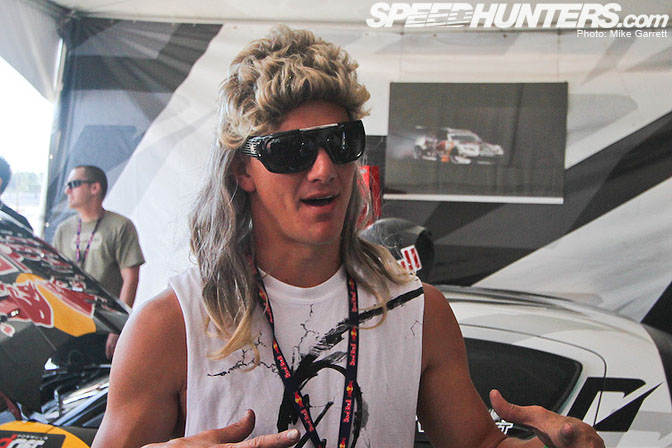 Rockin' my wig that I had for the Hall and Oates concert that we went to in Baltimore with JR and crew. Business up front and party in the back.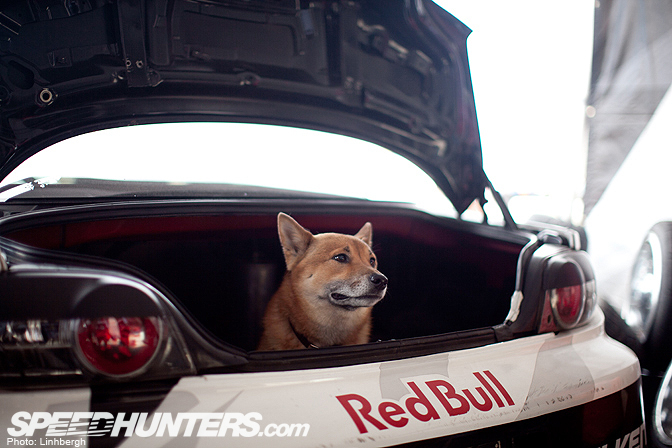 Dan's dog Turbo was boosting around and keen for a ride as we prepped for battle practice.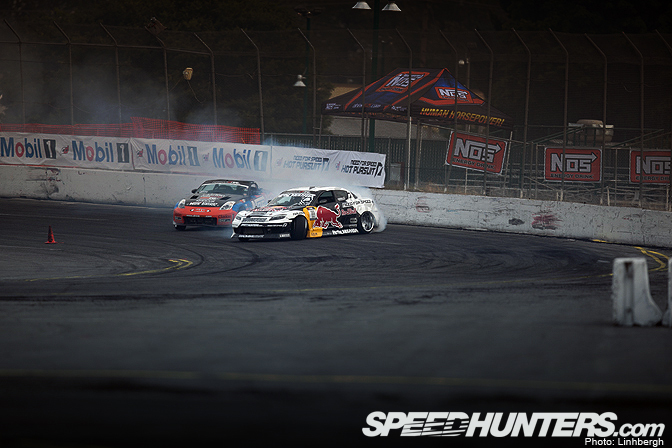 Here I lead Chris Forsberg the 2009 Formula D champ.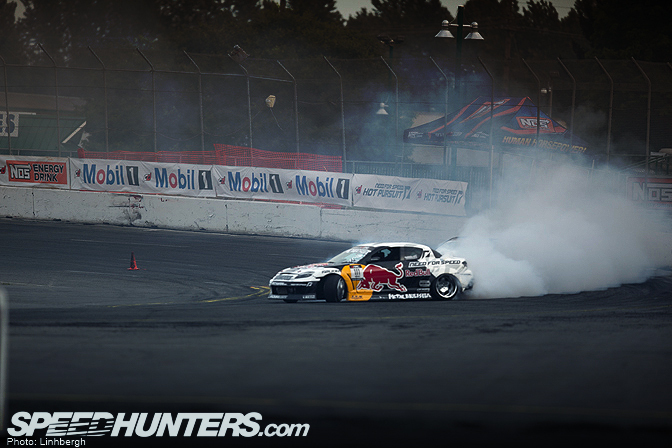 I try to bury him with Falken rubber. This was by far my favourite track yet. I seem to say that as I get to each round maybe it's just because as a driver I love the new challenge.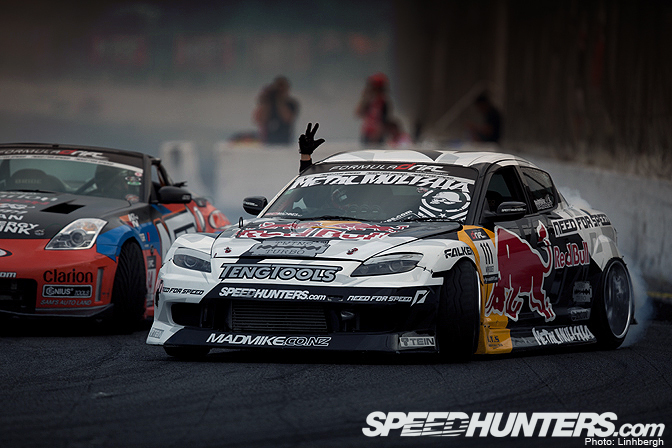 Chris stuck to my door but he said my car had real good pace throughout the entire section. My confidence level couldn't be any higher.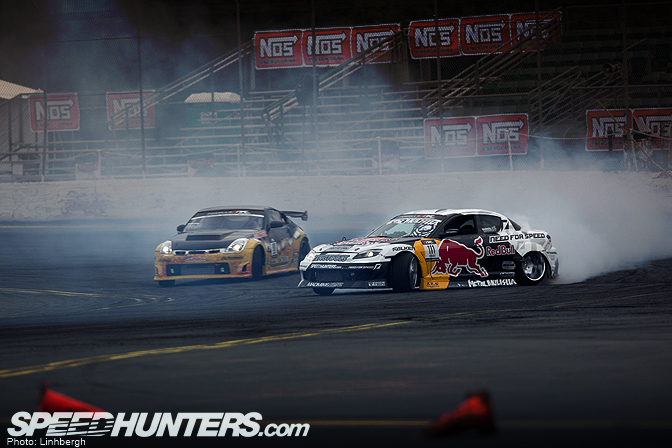 Daamn! look at the squat in the rear!! Sure tucking those Weds! We started to do three up battles here you can't see Ross Petty but he is flying off the track in front of me.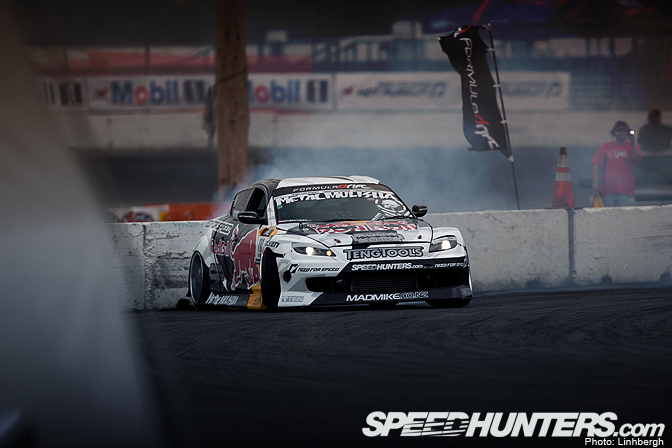 As I scrape the next out side clipping zone I am looking at the underside of Petty's Boso S15, he hit the monster truck tyres hard perfectly side on. I didn't want to shut off the throttle as I had no idea whether Pat had seen Ross and I didn't want him to slam into me. Ross was okay and the damage was rather minor considering how hard he went in.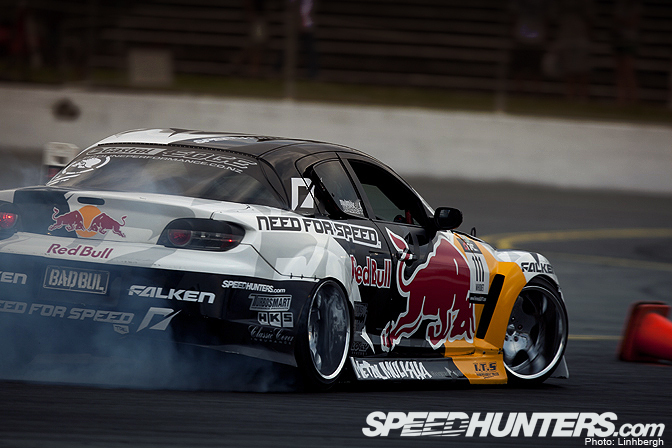 Looking at this pic I think the RX8 would suit a flat duck tail style drag wing, off course it would have to be large long and over the top.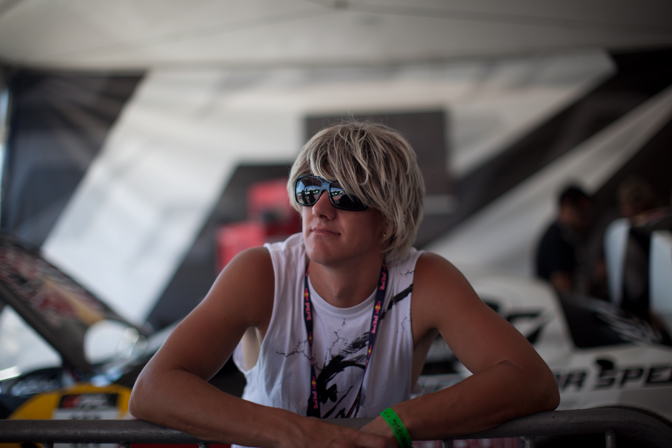 Under cover. Man, come to think of it we have so many wigs in the NFS electro lounge. After todays efforts I was pumped and couldn't wait for top 32.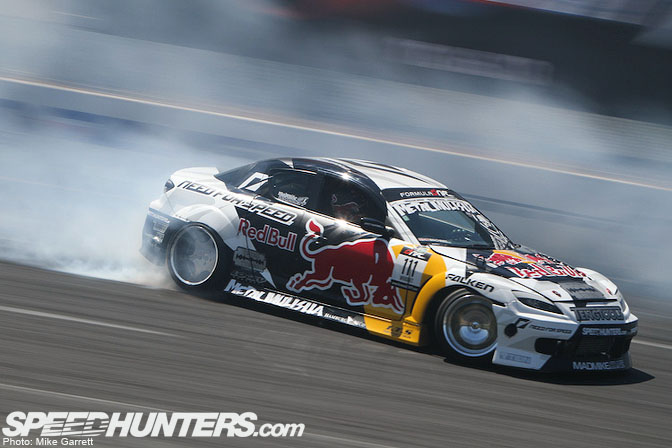 After a great nights sleep I was determined to do well today. I had a hard ladder of drivers on my table. If I had of got through the 3 time Formula D champ Samuel Hubbinette I would have then meet 2 time Formula D champ Tanner Foust then faced up against current Formula D points leader JR. So I had my work cut out for me.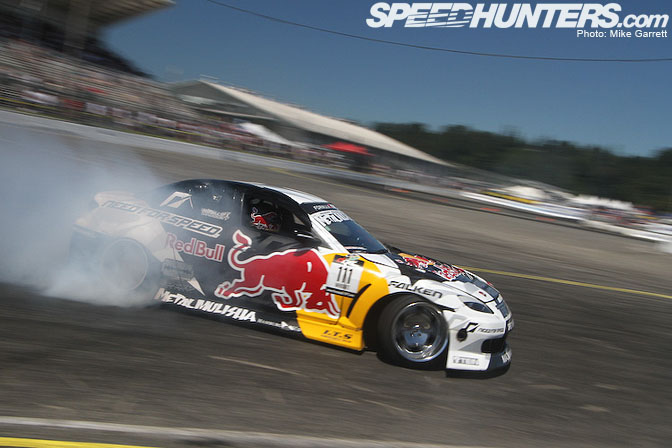 However I felt I could take it all the way after having some good tight battles in testing with Tanner, Tuerck, Gushi and Joon Mang (that must have sounded crazy with two 20b's screaming side by side). For this round there was a pace cone halfway down the runway into the initiation point. Cars such as Tanners would pull a couple of car lengths on mine even if they paced me all the way to the cone.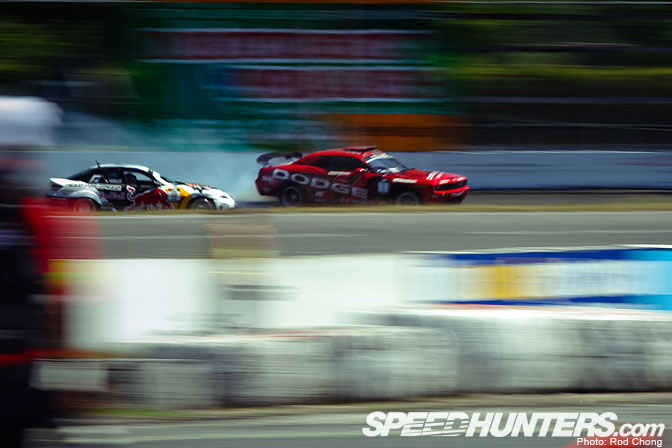 Here we go: I chased first. Samuel paced me to the cone, I was full throttle slamming through the gears he actually didn't pull a gap on me after the cone so I was just waiting for his initiation not leaving him an inch as his car had twice as much power and grip. The very second I saw his car start to weight transfer into a drift I threw my car in hard and stabbed full throttle. This pic catches the very moment his car slowed rapidly and forced me to left foot brake hard. I kept my right foot flat to the floor so the car didn't straight line. At this point I was mad!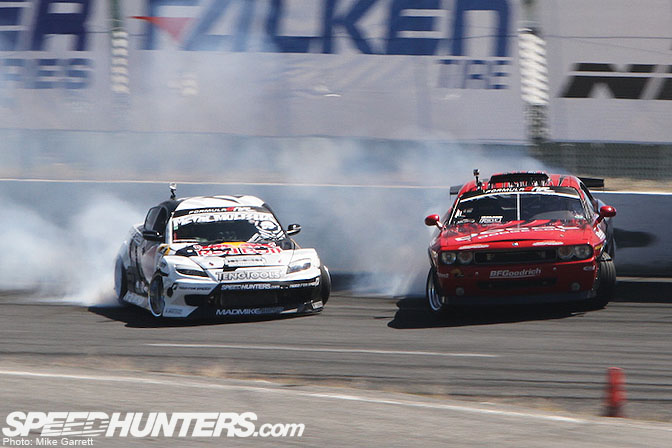 He didn't manage to pull much of a gap despite the antics.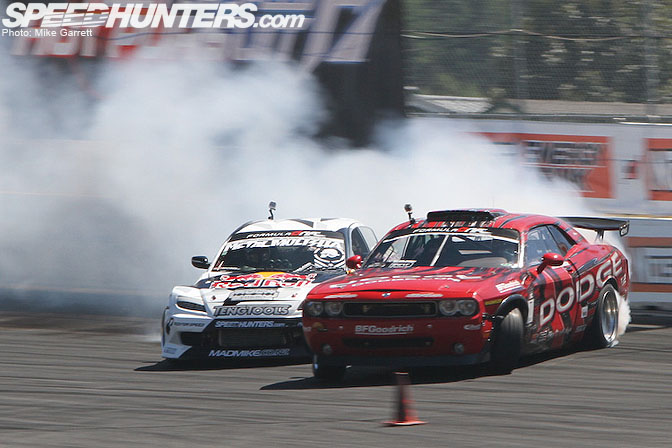 In fact, I reeled his Mopar Monster right back in. I wanted to slam straight into his door but kept my cool to shadow his movements. The Challenger is so big it was impossible for me to see the line of the track so where he would go I would go.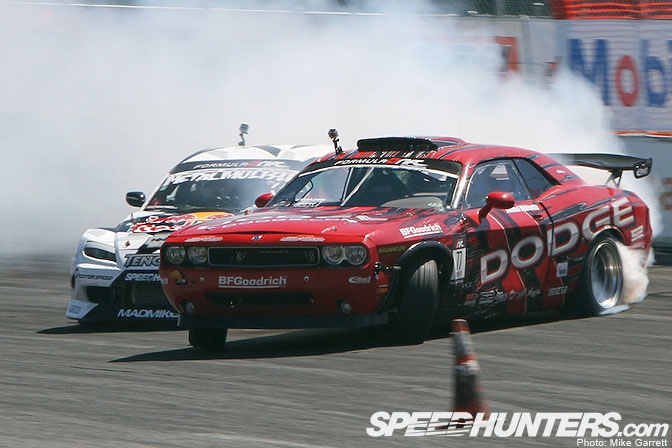 You have to hear this car in real life to feel what a monster it really is. Breaking spokes on his wheels, frying 335's with ease prove this thing is the King Kong of FD.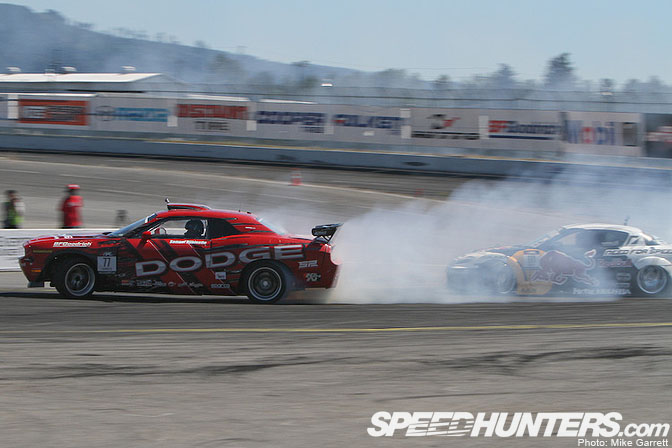 I didn't give up angle for speed as the judges said the most important factors were line, angle and chase distance to show domination.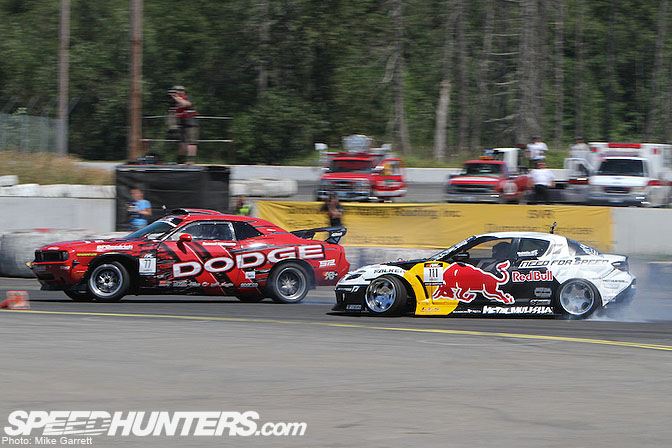 I braked late to close into his door again hanging onto full lock for maximum points.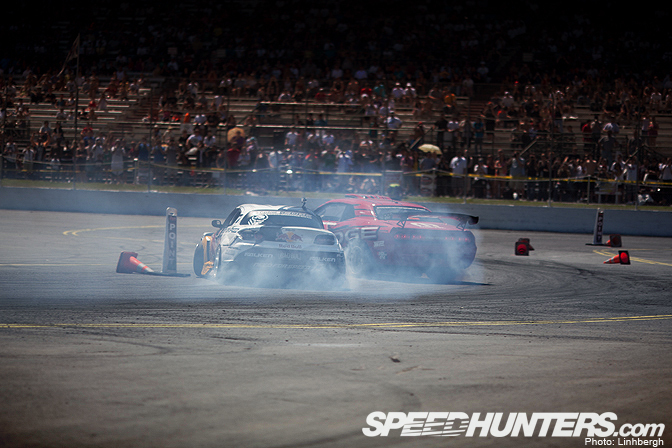 Again nailed the clipping point and now falling back for his fat *** end to wail in front of me.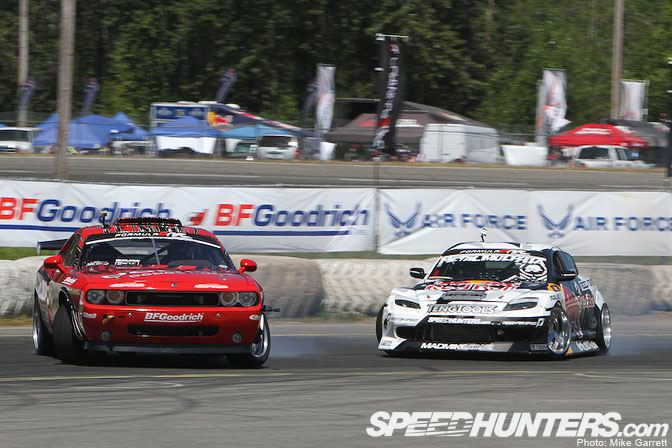 I noticed that I can see where I'm going by looking under his car. haha. I could barely hear the sound of my straight piped 20b over his straight piped Hemi.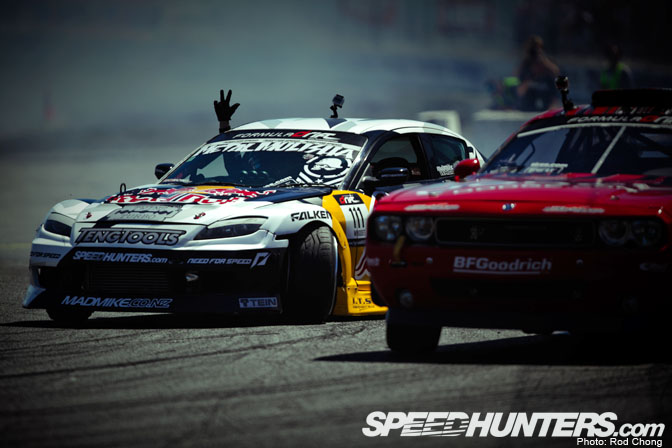 I switch back and see all the fans hanging off the fence, yelling their support I was pumped and gave them all my appreciation before I had even finished the pass I knew it was good and the team radioed through that my chase was epic.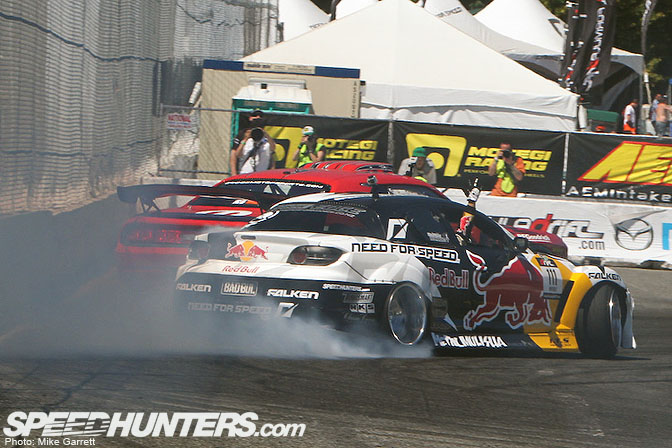 Another shot of me giving Samuel no room between us coming around to clip the wall…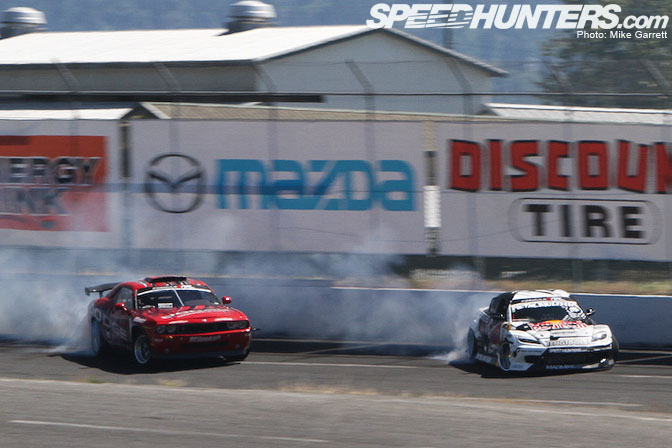 My lead run I pushed the RX8 so hard. Samuel leaving a gap. They want to see commitment from before the initiation point.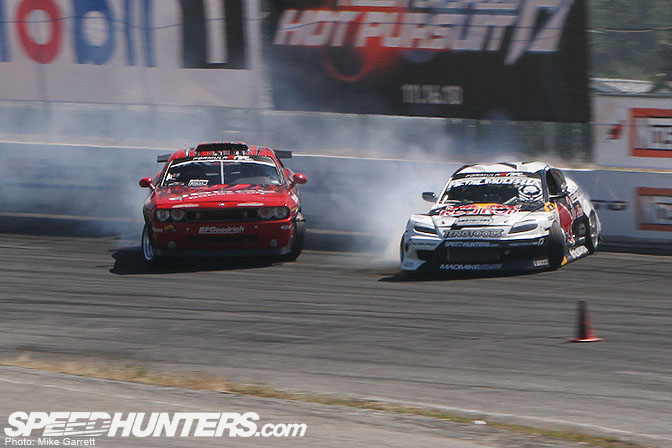 I was on line, full lock and full throttle the whole way around the bank. Samuel still has a slightly bigger gap than what I gave him.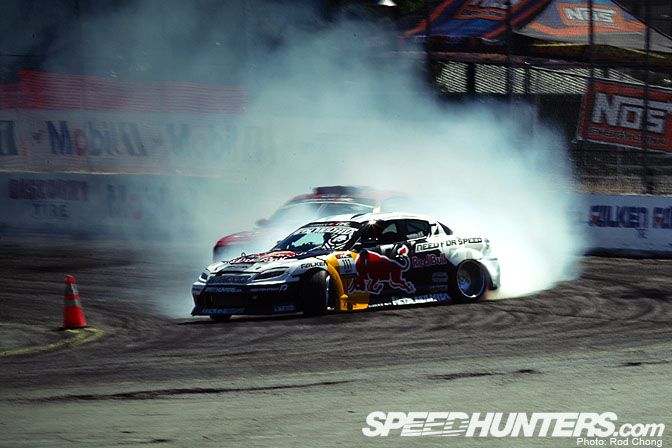 My stretched tyres are maxed out and coming of the bead as I do everything to keep the car tapped and on the lock stops.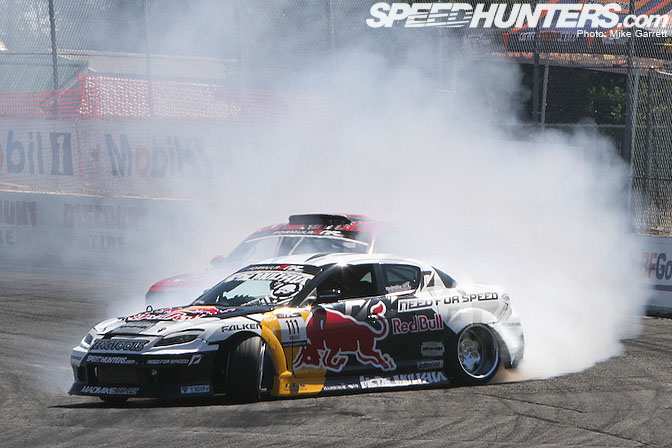 A closer look at the stretch, yikes! Samuel has also shallowed in the last couple of pics to close the gap.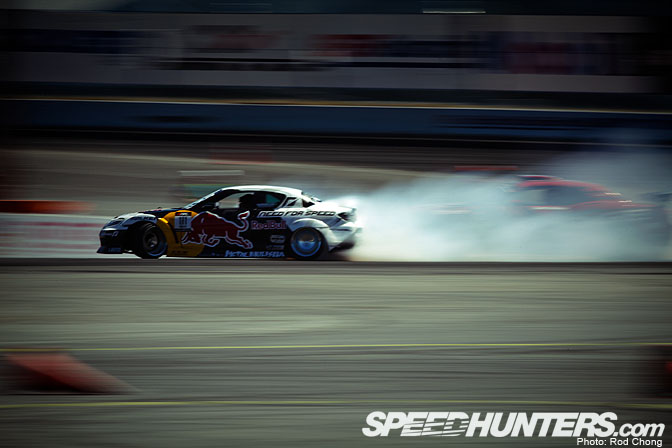 Another one of my favourite pics as the RX8 squats away. Makes me think of a little dog running from an oversized tomcat. Ha!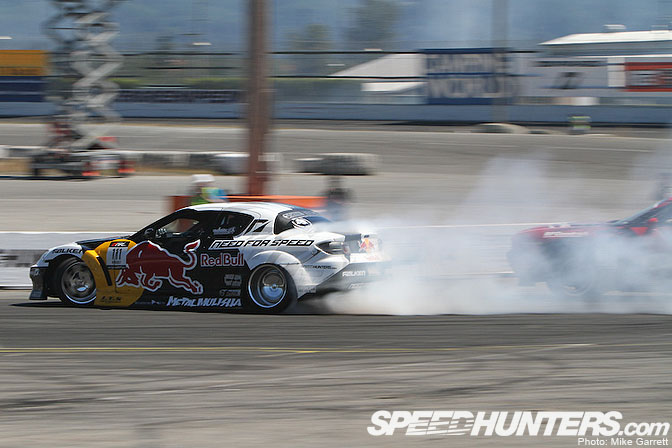 Now setting up for my switch into the rear clipping zone.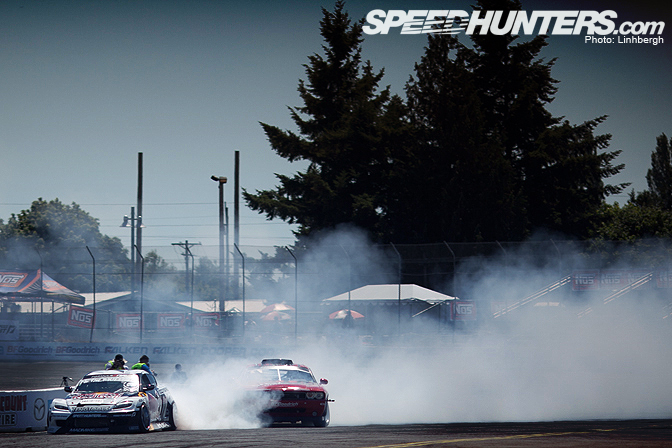 Sam closes the gap coming into the left hander.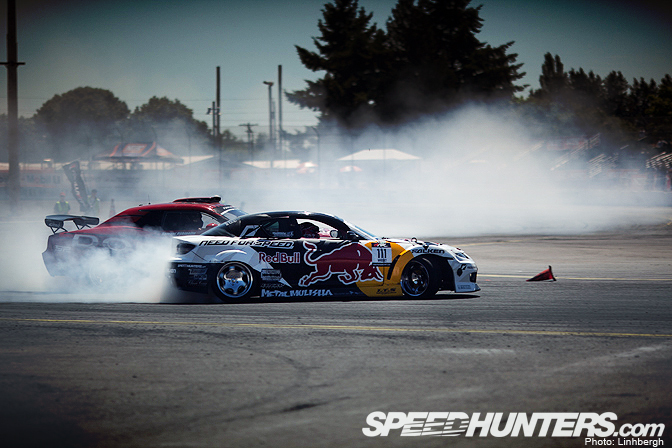 Here he tries to show dominance over me.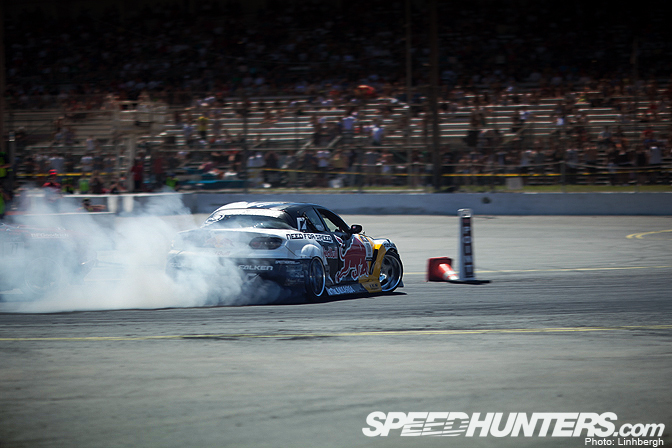 You can see here all the fans hanging off the fence, (the ones brave enough to stay out in the sun!) I change up into 3rd and powered ahead full throttle for the inside clipping point.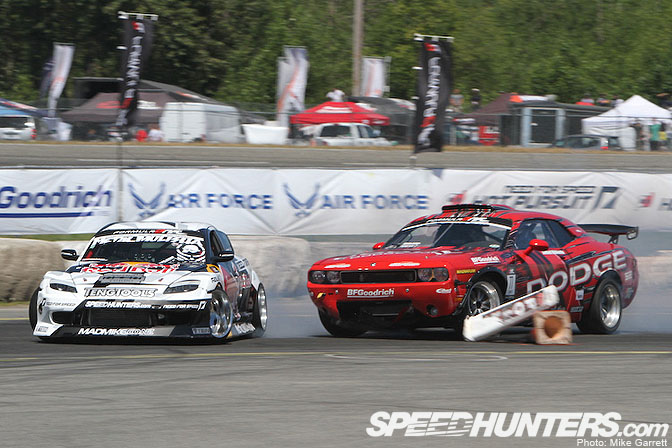 This pic cracks me up, my car looks so small! Samuel takes out the clipping point on the inside which is points deductible.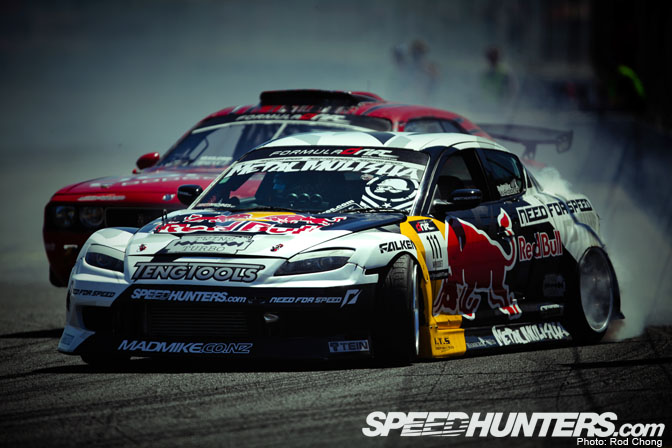 Power full throttle around the final corner….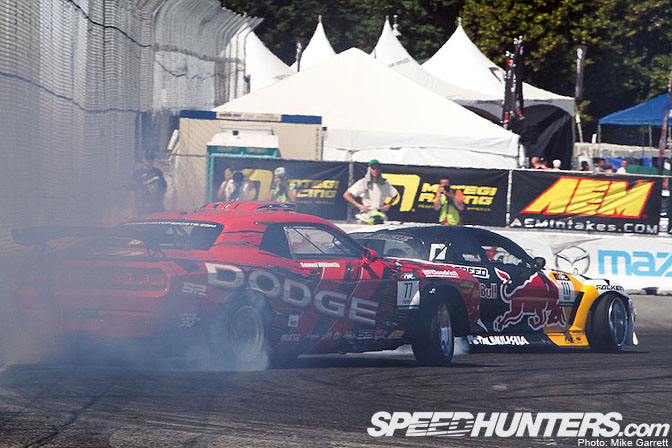 What a battle and the crowd were going nuts. I was so freakin' pumped as I pulled up to the grid waiting for the results, the other teams and drivers were giving me the thumbs up. Then the FD officials finger pointed to Sam their other hand with the thumbs up…. I was gutted but figured that Sam must have deserved it pulling off something awesome behind me as I couldn't see his exact line and angle but I knew my chase was close. I lost count of the public, teams, and drivers who came by my pit and said we were ripped off. And now after reading the feedback online from the viewers also saying the same thing just fuels my hunger for it next time. No love lost though I am still honored to have paired up and put down a solid run against Sam. He's just put out his new website which I think deserves a mention – go check it out.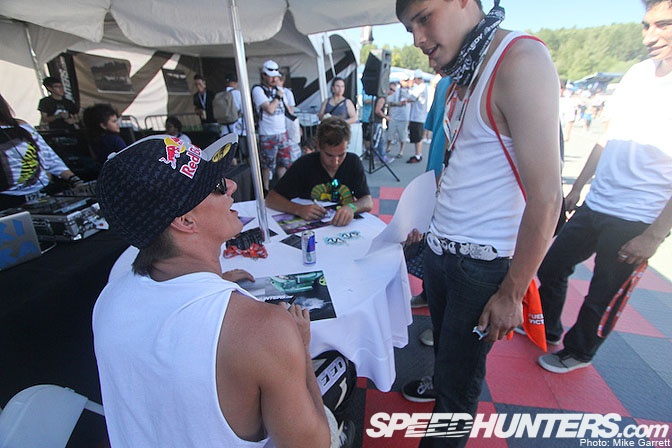 Matt and I signing the rest of our posters which then turned into a breaking comp for the public to win NFS merchandise and games. We had a massive audience and whole bunch of different styles of dance from popping, robot, breaking, Michael Jackson to crazy windmills. It's always a fun atmosphere.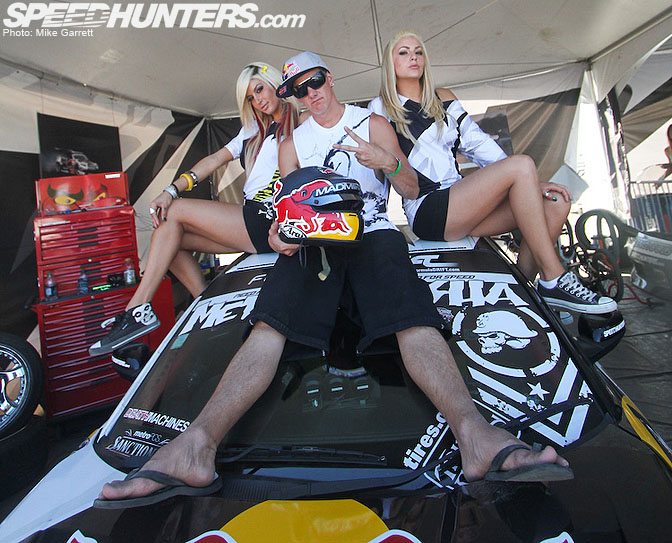 Our NFS models Vanessa and Courtney dent my roof.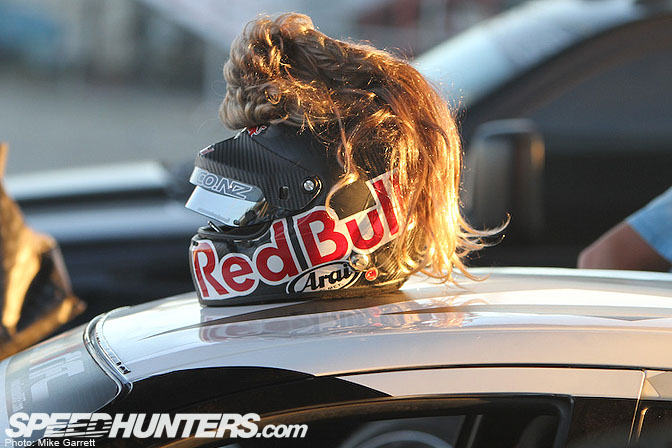 Road trip continued…. 
After the event we jumped in with Linhbergh (A.K.A Steve Chow) and Will Roegge we drove up to Canada to visit the incredible EA Games H.Q. Its unlike any office I've ever worked in, basketball court, beach volley, soccer field, gym, movie theatre, you can take your dogs to work! A huge lunch room and Starbucks coffee on each level!
Vancouver is a great place with lots of big trees, a long sea wall, lots of trams and out of this world sushi (@dream sushi) Snow capped mountains and false advertising (25c peep shows) 
After Vancouver we were back in the rental across the border.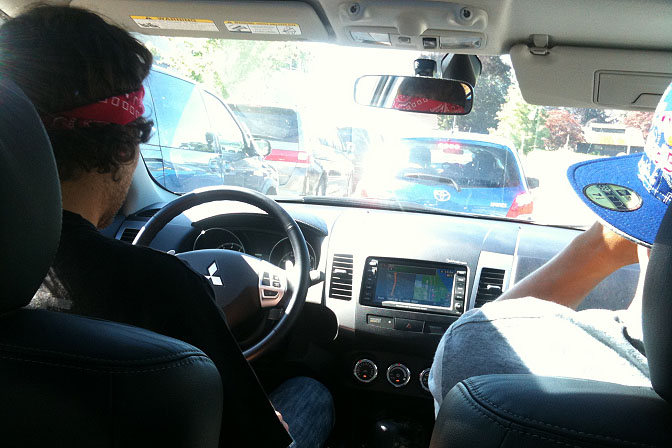 We picked up the truck and then we followed Will to drop off his rental car. He loaded up his bags and jumped in, then as fate would have it, the GPS was wrong and we missed the on ramp to the freeway, stopping at the next set of lights. We were planning our detour, then upon taking off on the green light the torque (towing the trailer) snapped the trailing arm right off the diff, so from where we were, we turned left into the shopping complex car park.
(We maintain it was the added weight of Will Roegge and his camera gear that did the damage)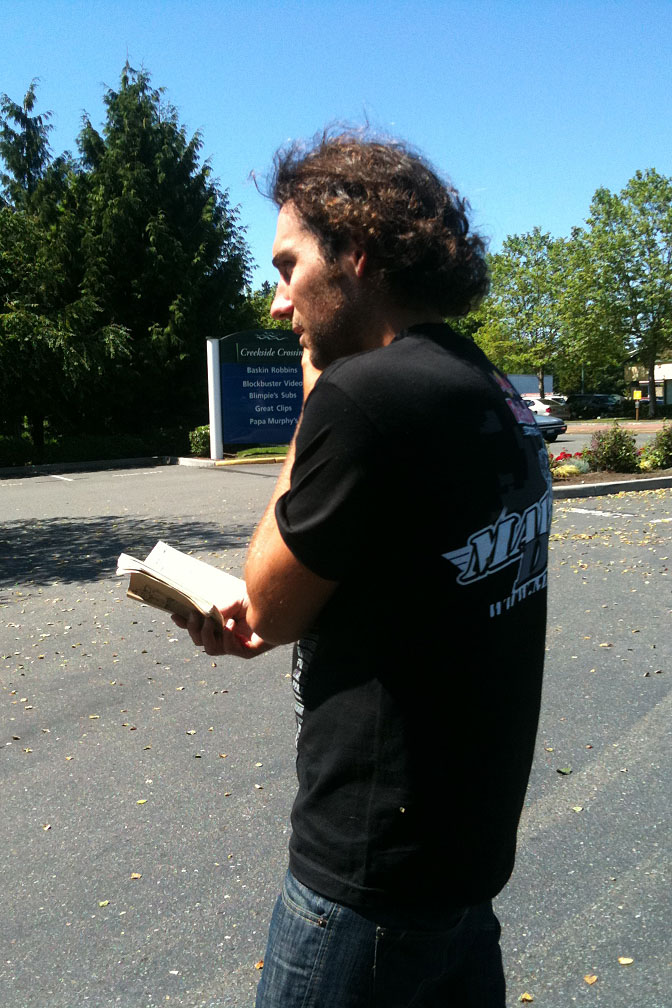 So after a few phone calls we had the truck sitting pretty on a tow truck – Will models our MADBUL shirt.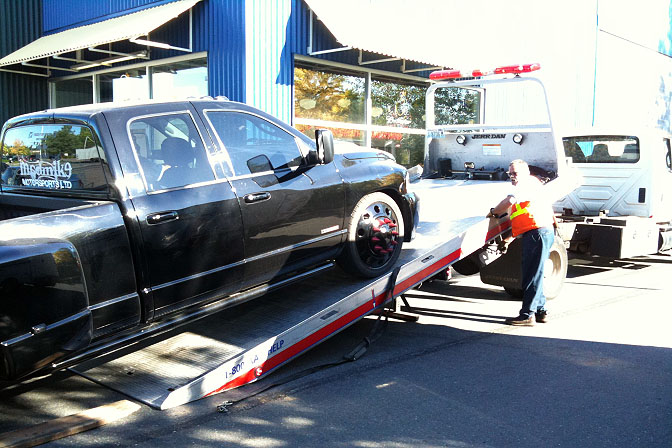 Will taxied to catch his flight to Vegas and were off to Intec Racing to start the fix up leaving BADBUL sitting in the trailer at the car park.
After arriving we discovered a shop 2 doors down that specialized in custom air bags and Hydraulics called Switch Man Inc.  Over the night they started cutting, grinding and welding to get the truck road ready.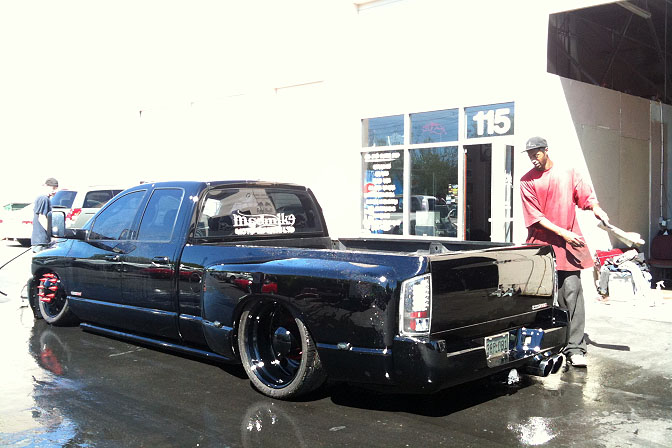 Lamar AKA Switch to the right wiping down the truck.. It has removable bump stops for towing installed here hence why it isn't laying flat on the ground. By the next afternoon we were set to get back on track and head to Long Beach to Twins turbo, after showing the locals the race car I headed off to the pay the bill only to hear a car revving, skidding then ending with a crash!  I came out to see the tail end of a 70's Oldsmobile Cutlass with the front end biting into the trucks dually wheels!  I ran towards it as fast as my little jandals would take me in disbelief.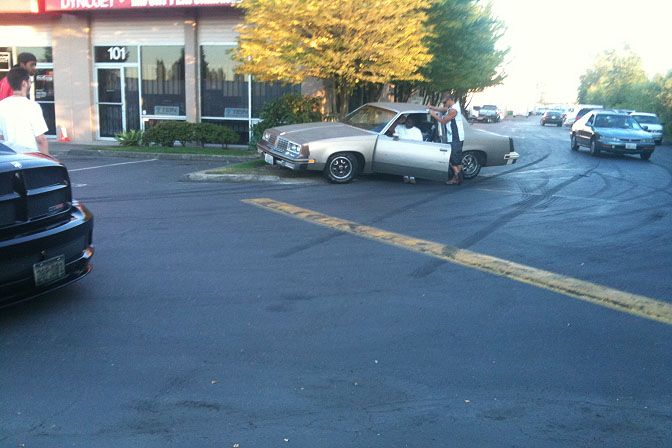 That's Intec Racing in the top left and that's the Cutlass that failed to skid/drift/stop.  The skid marks evidence of the event just taken place. I have moved the bro dozer back, now you can see the four skid marks from the duallies rear wheels to show how hard he hit and yes the 44ft trailer was attached. The damage was not as bad as I thought and was only cosmetic, so not wanting to miss our flights we were back on the road again for Long Beach.
The fun didn't stop there… in Avenal our front tire started to flap against the inner guard (a scary yet familiar sound) no one at 2am in the open garages and petrol stations could speak English… We decided to sleep it off and start our mission the next day.
6am – too hot to sleep (it was already 30C) we crept about 40miles along the I5 going 35mph.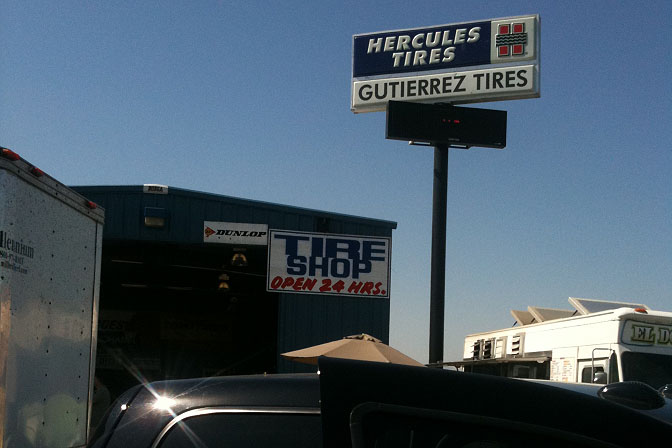 We found a place to change the tire in the Lost Hills and then after that the rest of the trip was pretty much non eventful.  Just the way I like it…
Special thanks to Will, Steve (Linhbergh) and EA for your hospitality after the event and to Lawrence and company @ Intec Racing.  Also a huge thanks to all the team for your hard work and support at Evergreen! We are ready to bring the heat in Vegas.
PEACE
MM